Another Skokie Theatre Story
You can't be a serious film geek without accumulating along with your ticket stubs and memorabilia a raft of stories about your movie-related experiences. Some of the stories are impressive. For instance, I can boast of having a three-hour dinner at a film festival with Sam Elliott, as well as winning a vintage program from the 1961 King of Kings by naming three actresses known for playing flappers in the silent era (Clara Bow, Gloria Swanson, and Colleen Moore) at Roger Ebert's Overlooked Film Festival.
Then there are my endurance anecdotes, like standing for 45 minutes in Arctic-like cold to attend opening night of The Exorcist at the Gateway Theatre; nearly bursting a kidney by refusing to miss one second of Edward Yang's 4-hour A Brighter Summer Day; and sitting through not one or two, but eight film breaks to see Jean Renoir's French Cancan at the Music Box.
And every film buff has a theatre that fills her or his imagination in some way. Some theatres, like the Elgin in New York City ("The Radio City Music Hall of Midnight Movies"), are the stuff of legend. Others are uncomfortable, even deplorably shabby, but still beloved for presenting those cherished or rare films we live for. And then there's the Skokie Theatre.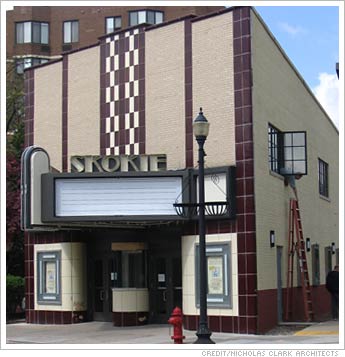 Since 1915, this narrow rectangle of a theatre has been located near the heart of the near-north suburban town from which it takes its name. In its early and middling days, the Skokie functioned like many of the one-horse theatres in small towns across America did - presenting features, newsreels, serials, and cartoons for the locals. In the 1950s, suburban sprawl started to spring up around Skokie. Kids like me from neighboring towns started invading the tiny Skokie Theatre, literally gumming up its seats and floors and then abandoning it for large 60s-style movie palaces, like the Old Orchard and the Golf Mill. Those and other grand suburban theatres died to make way for other uses, but the Skokie endured, a cramped island of entertainment nobody cared enough about to close.

When I moved into downtown Skokie in 2000, the theatre was a $1.75 second-run house. For a while, it had two showings nightly and several on the weekend. Then a change in ownership brought an international line-up to the already international neighborhood. Indian films predominated, though second-run Hollywood films were also shown for the gringos. Under this management regime, the theatre might be open, or it might not. I went to an advertised 9 p.m. showing of The Center of the World, only to be turned away. "Nobody wants to see that movie," the owner/ticket seller said. "I do!" I protested. "It's not a very good movie," he countered as he slid a wooden board in front of the money hole and prepared to go home for the night. I never did get to see it.

The theatre closed. Then it opened, and the fun family movie Holes played for the entire 2003 summer. The theatre closed again. It was re-opened by a couple of starry-eyed film geeks whose dream died quickly. After that, I could only watch and wonder if I'd soon see a wrecking ball and more stripes on blacktop for the convenience of SUVs everywhere.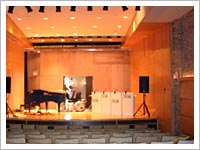 Which leads me to another Skokie Theatre story. The Cavalcade of Music Foundation, a nonprofit dedicated to teaching musicians the business of music, announced that it was buying the theatre and renovating it as a performing arts center. I was delighted that our condo-threatened downtown area was keeping at least one entertainment venue for the pleasure of locals, the attraction of near neighbors, and the enrichment of several fine, but underutilized restaurants.

There was the inevitable gnashing of teeth by the theatre preservationists. At Cinema Treasures, there was much moaning about the new marquee and gutting of the interior. Frankly, the Skokie was never a beauty, and the interior was a porn theatre without the porn. Nonetheless, a good deal of what was unique about the Skokie seems to be alive in the building. Architect Ann Clark, who took on the redesign, has her own Skokie Theatre story: "One of the workers was talking to the general contractor and said about a detail, 'It's the same, but different.' We stopped, looked at each other, and starting laughing. It became a big joke, but in the end, he was right about the whole place: it's the same, but different."

I walked over to the Skokie one Friday evening to enjoy, in resplendent comfort, a live jazz concert by The Diane Delin Quartet. My new Skokie Theatre story is how the band and the audience spent 5 minutes discussing the word "defenestration" as it related to Delin's song "Through the Window." Yes, indeed, it's the same, but different.




Posted on June 25, 2006





MUSIC - Chief Keef Changed The Industry.

TV - Vizio's Best Product Is You.

POLITICS - UIC: Soda Taxes Work.

SPORTS - More McCaskey Malpractice.

BOOKS - All About Poop.

PEOPLE PLACES & THINGS - Don't Let Your Pet OD.

---




Search The Beachwood Reporter




---

Subscribe To Our Newsletter

---