A DQ Dream Come True!
DQ® Orange Julius® Opens In Chicago
Lincoln Avenue Location Is Second In The City

CHICAGO - The newest, most exciting restaurant concept from treat industry leader Dairy Queen® has again arrived in Chicago. The second DQ® Orange Julius® restaurant in the city, featuring signature DQ and Orange Julius craveable treats on the menu, recently opened at 2200 N. Lincoln Ave., bringing more than 25 new jobs to the area.
Operated by franchisees Jon and Erica Goldman, the new 2,500 square-foot DQ Orange Julius seats 20 inside, 12 on the outdoor patio and offers a separate party room. There's also a walk-up window, reminiscent of historic DQ treat stores.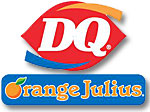 "We are absolutely thrilled to open a DQ Orange Julius in Chicago," said the Goldmans. "Dairy Queen is the worldwide treat leader and we've paired Orange Julius and an innovative, modern building design with a fabulous selection of craveable treats including all of the Dairy Queen and Orange Julius favorites. Our customers will love what we're bringing to the community."

The new DQ Orange Julius concept began its test phase in 2005 with both mall and free-standing locations. Featuring all of the DQ favorites - such as the signature Blizzard® Flavor Treats, MooLatte®, Blizzard cakes and a wide variety of other soft-serve treats - as well a full line of Orange Julius premium fruit smoothies and fruit-blended beverages.

The menu also offers desserts typically found in upscale casual-dining establishments, such as hot treats including Chocolate Molten Cake and Caramel Apple Turnover hot treats. Customers entering the restaurant will be welcomed by the warm, sweet aroma of made-fresh-daily waffle bowls and cones, which are served plain, dipped-in-chocolate and/or coated in nuts and candy. Waffle bowl sundaes come with a complete line of toppings.

"We are strengthening our position as the premiere treat destination by introducing new products, updating our design and improving speed of service and operating efficiencies," said Aric Nissen, vice president of treat product and brand marketing. "According to the National Restaurant Association, restaurant sales in Illinois are expected to grow by 4.1 percent in 2007, which we will contribute to. Chicago is a great location for us because of the area's demographics and the strong relationship we have with franchisees."

The new DQ Orange Julius in Chicago has a sleek, new look with the feel of a traditional ice cream shop. The open design of the interior counter space maximizes customer service and also affords customers a fun and entertaining view of how their treats are made. The dining room is filled with comfortable booths, tables and chairs accented in vibrant colors.

"We continue to revitalize our brand and create new treats for our customers to enjoy," added Nissen. "Our aim is to provide an even broader appeal to our loyal customer base, as well as attract a whole new generation of DQ and Orange Julius fans."

For more information about Dairy Queen and Orange Julius, visit www.dairyqueen.com and www.orangejulius.com.

*

Chicago DQ Orange Julius at a glance:

Employees: 26
Square footage: 2,500 square feet
Interior seating: 20 plus a party room
Patio seating: 12
Hours of operation: 10:30 a.m. to 10 p.m.
Contact Information: Store number is (773) 871-2200

*

About IDQ:

International Dairy Queen (IDQ), which is headquartered in Minneapolis, Minn., develops licenses and services a system of more than 5,600 Dairy Queen® stores in the United States, Canada and other foreign countries, offering dairy desserts, hamburgers, hot dogs and beverages. IDQ is part of the Berkshire Hathaway family, a company owned by Warren Buffett, the legendary investor and CEO of Berkshire Hathaway. Following the successful rollout of DQ® Grill & Chill®, Dairy Queen's quick-service food concept that features an all new expanded menu, addition of the Orange Julius brand and products, and newly designed restaurant interiors began testing the DQ® Orange Julius® concept in August 2005.





Posted on November 2, 2007