« March 2007 | Main | May 2007 »
April 30, 2007
Ebertfest: A Champaign Toast
Roger Ebert's ninth annual Overlooked Film Festival almost didn't happen. The beloved and influential film critic who started the festival became deathly ill almost a year ago when his carotid artery, weakened by radiation therapy to treat his cancer of the thyroid and salivary gland, finally split following surgery. His recovery, watched anxiously by his family and friends as well as his many fans, has been very slow. The fate of his annual festival of offroad films, though a much lesser concern, still had many of us wondering and hoping that this very special event would somehow pull through, too. When Roger got the news that the full-festival passes had sold out a week after they went on sale, he was determined to go on with the show.

Therefore, this year's festival, held April 25-29, was the most special of them all. I attended the very first Overlooked Festival, and I knew right away that this was not like any other film festival in the country. There is only one venue, a movie palace from the 1920s named the Virginia Theatre, in the heart of downtown Champaign, Illinois. This town and its twin city Urbana are home to the University of Illinois, Roger Ebert's alma mater; the university's film studies department has been the benefactor of proceeds from the festival. Mainly locals filled the seats of the dilapidated Virginia the first year.
I've watched the festival grow more national in scope - and the theatre get some much-needed repairs - but it is still primarily a local affair with a relaxed, almost picnic-like atmosphere. Pass holders throw their coats, umbrellas, and festival programs over their chosen seats for the duration of the festival (a real annoyance to single-ticket holders like me); this year, one woman in the row in front of me made a mad search for her bag of knitting, which had mysteriously vanished (she found it). Two food tents selling burgers and polish sausages feed a horde of festival goers who sit at picnic tables or go off to the nearby park for what invariably turns out to be a warm and cloudless day.
The films Roger chooses have given me some wonderful surprises, from the searing portrait of the dysfunctional marriage of Norwegian novelist Knut Hamsun of Hamsun to the beyond dysfunctional relationship between a misogynist and his junkie male roommate of Surrender Dorothy. He always draws top-flight guests, too. I took in four films this year - reviewed at Ferdy on Films - and was honored to share air space with the legendary and hilarious Werner Herzog, actress/director Joey Lauren Adams (Chasing Amy), actor Scott Wilson (Clay Pigeons, The Host), Dutch/Australian director Paul Cox, and film scholar David Bordwell. Others on Roger's eclectic guest list were actors Alan Rickman, Gil Bellows, Fatoumata Coulibaly (Moolaade), singer/songwriter Jim White, and the 60s rock band The Strawberry Alarm Clock.
It was fun to watch Roger's wife Chaz hand out the Golden Thumb awards to each of the film directors and listen to their heartfelt tributes to Roger. It was fascinating to watch Herzog appear in Cox's film Man of Flowers, talk about how they shared an actor across two films (Norman Kaye), and listen to Cox's dire predictions for the human race. Herzog said he didn't agree with Cox, and then said, "Five years ago, you said the same thing. You are always gloomy." After the screening of her film, Come Early Morning, one audience member asked Joey Lauren Adams a question and then asked her and Scott Wilson, who appears in the film, to go for a drink with him. Adams, after a long pause to let the laughter die down, said, "What was the question?" then another pause for laughter, and then "Which bar?" This is typical Ebertfest.
Finally, of course, the most important guest at this year's festival was Roger himself. If you read his April 24 column in the Chicago Sun-Times or saw opening night coverage of the festival on WGN-TV, you know he's not looking very well. I came face-to-face with him in the theatre lobby walking with Chaz and was struck by how tired he looked at that moment. Later, however, I saw him happily signing an autograph seated in his La-Z-Boy lounger in the last row of the Virginia's main floor. While we all missed his wonderful and warm film introductions and interviews with his guests, it was so great to see him stand up to his illness and those who would rather he hide it, and make room for joy. Herzog, in a rare serious moment, called Roger "the consciousness of those of us who love film." In his odd Germanicized English, Herzog got it exactly right - Roger is the voice of film lovers everywhere. I'm looking forward to further explorations next year, when the festival makes its informal name official: Ebertfest - Roger Ebert's Film Festival.
Posted by Beachwood Reporter at 4:48 PM | Permalink
The Blue & Orange Kool-Aid Report: Draft Special
If you survived ESPN's 837 hours of coverage over the weekend, you discovered that nothing is more captivating to teams and pundits alike than draft day trades; nothing except the humiliation of an overdressed dork who still can't win the big one, that is.
The Beloved, however, held on to Angry Lance Briggs, the Bear Most Likely To Be Traded going into the weekend, and instead merely swapped one higher draft pick for a bevy of lesser ones.
Pity. Here are some other trades the Bears should have made this weekend:
Trade: A package of draft picks to acquire Oklahoma RB Adrian Peterson.
Benefit: Allows unknowledgeable Bears fans to accidentally know the name of two Bears running backs when they think they just know one.
Drawback: Gives Bears play-by-play announcer Jeff Joniak a reason to yell "Adrian Peterson Number Two. . . TOUCHDOWN BEARSSSSSS!"
*
Trade: Bears front office for Chicago 2016 Olympic Committee front office.
Benefit: Olympics will come in under budget with outstanding results.
Drawback: Next free agent signed by the Bears will receive a 12-year, $1 billion contract.
*
Trade: Lance "No Missed Games in Four Seasons" Briggs to the CTA for outgoing transit chief Frank Kreusi.
Benefit: Slow zones disappear until Briggs' contract is up for renewal.
Drawback: Team bus arrives late to every game.
*
Trade: Brian Piccolo award winners John Tait and Chris Harris to the City of Chicago for an alderman to be named later.
Benefit: Tait and Harris prevail upon other aldermen to vote their conscience.
Drawback: Aldermen have no conscience; Soldier Field parking lot rezoned for massive condo development that blocks view of downtown Chicago from Soldier Field.
*
Trade: Ability to win in the postseason while in an inferior conference to the Bulls for charm of a multi-ethnic roster.
Benefit: See Bulls appear (and lose) in the NBA Finals.
Drawback: Bears appear (and lose) in the Super Bowl.
*
Trade: Team unit concept to Cubs for sweetheart WGN television contract and a some ivy.
Benefit: Cubs lose as a team rather than lose as individual disparate parts.
Drawback: Bears build team in Jim Hendry's image; forced to play linebackers at wide receiver and offensive linemen in the secondary.

Eric Emery is the Beachwood's resident football writer. Catch up with The Blue & Orange Kool-Aid Report and Over/Under.

Posted by Beachwood Reporter at 3:52 PM | Permalink
The [Monday] Papers
Well, it took the entire Washington, D.C., bureau of the Tribune and Hurricane Katrina coverage from AP to beat out The Beachwood Reporter in the Lisagor Awards held Friday night.
That's who our finalists, Home for the Holidays and Barista!, were up against.
Just think what we'll be able to do when we actually have some money.
Race to the Bottom
Mancow Muller beat Debra Pickett in the television commentary category.
Is that more humiliating to her or him?

Earthbound Obama
MSNBC blowhard Chris Matthews said - astonishingly - after the South Carolina debate last week that he thought Barack Obama gave the most sophisticated performance. Other reviews have been less charitable; Obama showed himself to be out of his depth on foreign policy and unprepared for world leadership.
That's not just me talking.
* Lynn Sweet wrote that Obama stumbled during the South Carolina debate, and provides a list of wrong and wrongheaded assertions. The subhead on her column says Obama "comes across as out of touch on even noncontroversial issues."
* MSNBC host Joe Scarborough on Huffington Post: "Let's face it, the guy wasn't JFK or Bobby last night. He wasn't even Mario Cuomo. Instead, Barack Obama acted like a candidate who was a state senator the last time a presidential debate was conducted."
* Political writer Eric Krol in the Daily Herald opened his report this way: "Sen. Hillary Clinton fired sharp salvos against President Bush on the war, Sen. Barack Obama needed a second shot at answering what he'd do in the event of a terrorist attack and the digs were mostly subtle in the first Democratic presidential debate Thursday night."
* Even Obama courtier Neil Steinberg, who once joyously imagined himself propping his feet up on President Obama's desk in the Oval Office while popping nuts into his mouth, isn't so sure anymore (last item - before Today's Chuckle).
And it's not just the debate.
* Carol Marin wrote on Saturday that she and colleague Tim Novak had to physically chase Obama to ask questions about the slum buildings Rezko built in Obama's state senate district.
* Rich Miller, heretofore an Obama fan, wrote in his Sun-Times column on Friday about where Obama stood in the recent city council elections: "Obama refused to endorse any of the insurgent candidates this year, sticking with the Daley Machine and openly endorsing faded hack Ald. Tillman in her losing race to Pat Dowell, who is truly a breath of fresh air.
"It's more than a little ironic that a self-styled 'new politics' guy like Obama has no strong ties to the newly elected aldermen who seem to share so many of his self-professed political values. He's just lucky that no national political reporter has covered this hypocrisy angle yet."
* Hip hop impresario Russell Simmons said in a New York Times interview that "I wish [Obama] really did raise his money on the Internet, like he said. I wish he really did raise his money independently."
Perhaps Simmons read this.
* On Week in Review, host Joel Weisman asked his panel if Obama is not the kind of politician he's been portraying himself as. The consensus: He's not.
CLTV political reporter Carlos Hernandez Gomez described the "disdain" the Obama campaign has for the press (hey, that's what you get for being pushovers; look at the mayor's attitude); criticized Obama's endorsement of Todd Stroger, and said Obama had "a pattern of questionable judgement at best."
Sun-Times business editor Dan Miller noted that Obama didn't tell his paper - but told the rest of the media - about the belated press conference Obama held to respond to the Sun-Times's story about Rezko's slum properties and Obama's further connections to Rezko. Rebutting a story without facing the reporter who knows the most about it and whom you've already ducked for five weeks; very classy.
* New Sun-Times ad promoting its news coverage: "Running for President or from the Past?"
With a pensive, shadowy photo of Obama looking away from the camera.
Welcome to Planet Earth, everybody. I've been waiting for you.
The Audacity of Obama's Faith
The New York Times has a revealing story today on its front page exploring Obama's relationship with his pastor, Jeremiah Wright. I hope to have more on this later in the week.
Forrest Rezko
Is Tony Rezko the ultimate insider's insider? Seems he had his hooks into every political power and fiefdom in the state. The latest revelation comes in today's Sun-Times, which reports that four years after a company with ties to Rezko "landed a lucrative no-bid Cook County contract, there's no evidence the firm has done any work for the millions of dollars it has made."
The best part:
"For almost a year, Crucial Communications was nominally headed by a dead woman, and John Stroger's personal assistant notarized documents confirming her continued involvement."
Tony and Richie
"What we didn't know was that Rezko had for years been one of the city's biggest slumlords," Marin wrote. "That within days of Mayor Daley's first election in 1989, this Park District hot dog vendor who had no construction experience would begin getting $100 million in city, state and federal tax dollars and bank loans to provide affordable housing for Chicago's needy citizens."
What, Mike North wasn't available?
"While some residents of Rezko's buildings were shivering without heat because he wasn't paying utility bills, Rezko still managed somehow to write checks to politicians."
Being Jackie
Check out the response of the mayor's press secretary to Marin and ask yourself if Jackie Heard ever gets tired of the deceit.
The Torture Mayor
"What went on - plastic bags over heads; shackling to hot radiators; gun barrels in mouths; electrical shocks to ears nostrils and genitals; cigarette burns to arms, legs and chests - is now well known and has been cited repeatedly in court opinions and, last year, in a special prosecutors' report," Rob Warden wrote in the Trib on Sunday.
"No so well known, however, is Daley's own role in the scandal, first as Cook County state's attorney, then as mayor."
Going Condo
A study will be released today documenting "the dramatic changes that took place in the city's housing stock from 1989 to 2004, changes that have transformed the face of neighborhoods and heightened concerns about affordability," the Tribune reports.
"For years, residents have perceived that 'something big was going on ' in the city's housing stock, said report co-author David Merriman," the Trib says. But the analysis of previously understudied data, he said, quantifies the true scope of the boom in housing construction."
Manny's Place
Ald. Manny Flores (1st), whose ward encompasses much of the Wicker Park area where gentrification has been most dramatic, expresses sympathy in the Trib story for those who cannot afford to rent. Unnoted is that Flores lives in one of the very (big and ugly) condos that are part of the problem, not the solution.
Political Development
"Throughout the neighborhoods that Chicago Journal covers," Hadyn Bush writes, "the management of new development trumped everything else this election cycle as the major issue, eclipsing old standbys like crime and education. While the Sun-Times and the Tribune noted the heavy union involvement this election cycle at the grass roots level - with the Tribune endorsing Second Ward Ald. Madeline Haithcock and 42nd Ward Alderman Burton Natarus solely on the strength of their votes last year against the living wage big box ordinance - development along with aldermanic accessibility was the major issue of concern."
Loving Lori
Every time the mayor fills a high-profile position, we get the profile of how wonderful that person is. And so it is with the absolutely amazing Lori Healey, the mayor's new chief of staff.
"After 18 months as planning commissioner, three years as vice chair of the Chicago Housing Authority and eight years with the Illinois Department of Commerce and Community Affairs, Healey believes she's up to the task," Fran Spielman "reports."
I can read a resume too. What did she do in those jobs?
Certainly she made some enemies - or at least opponents. What do they have to say? It's easy to quote friends.
I mean, Healey was the city's planning commissioner. Which plans was she responsible for? Did she let developers get away with carte blanche? Did she have awful taste?
Healey was on the CHA board. What impact did she have on the Plan for Transformation? Or did she just sit there?
And can someone please explain to me just what the mayor's chief of staff actually does? Is she the mayor's Leo McGarry, making political and strategic decisions? Is she the de facto city manager? Does she basically control the mayor's schedule? A little primer would be nice.
New Coke Formula
"$6.7 million In Cocaine Seized At O'Hare."
Will be sold on West Side to pay for expansion overruns.
Slam Dunk
If what George Tenet said on 60 Minutes last night is true - and maybe he's just covering his ass - it is now officially an inescapable conclusion that George W. Bush, Dick Cheney, Don Rumsfeld and Condi Rice are war criminals.
Civility Rules
"Let us be reminded that an adversary is not the same thing as an enemy, nor does an evening of civility mean we are selling out," says Steve Scully, president of the White House Correspondents Association.
Memo to Scully: Civility starts when the administation stops lying to you. Otherwise I find it hard to countenance yukking it up with these guys.
The Beachwood Tip Line: Your civil defense system.
Posted by Beachwood Reporter at 8:59 AM | Permalink
The Cub Factor
Through the first 23 games of the season it has become painfully obvious that the roster of this Chicago Cub team is ill-equipped to play winning baseball. A 25-man roster filled with too many second basemen, too many outfielders, and second basemen who play outfield has left Uncle Lou putting more lineups together than the Chicago Police Department. Square players being jammed into round holes just doesn't really work. What's funny is that this team has a number of nice puzzle pieces; it's just that the pieces belong to a few different puzzles. Jim Hendry is to blame, of course. How he has kept his job the last few years is perhaps the greatest puzzle of all.
So we here at The Cub Factor thought it would be fun to look at some other life instances that remind us of the 2007 Chicago Cub roster.
* You go camping with a tent that has no center pole but two extra corner poles.
* You show up for your SAT with three pens but no pencil.
* You go to the 7-11 to buy a pack of gum but you only have a $100 bill, so you buy a couple cups of Ramen, an egg salad sandwich, some paper towels and an US Weekly to pad the bill. And once you leave the store you realize you forgot the gum.
* You have a 55-gallon drum of baby's milk and a hungry baby, but no bottle.
* You try to buy a Twix from the vending machine at work with the last of your spare change, but the Dried Fruit Trail Mix falls instead. You try to pretend the trail mix is a Twix, but all your work friends can see you have failed to adjust to changing conditions.
* You go camping again without a center pole and try to use a tree branch instead, but it snaps. Then it starts to rain so you sleep in the car, but there's five of you and you drive a Dodge Neon so it's really cramped. So you toss and turn all night and hurt your back and feel like crap the next morning and you're supposed to be on vacation. You blame the weather, not your poor planning.
*
Week in Review: The Cubs went 3-2 this week, losing two of three to the (still in) first place Milwaukee Brewers and taking two games from the Cardinals, to bring their record to 10-13, tied with the Cardinals for last place in the division. But the Cardinals won the World Series last year, so in my book the Cubs are still in last.
Week in Preview: The Cubs take a 3-game winning streak to Pittsburgh for three against a hovering-around-.500 Pirate team; then they are home against the Washington Generals, um, I mean Nationals, the worst team in the National League. Expect the umpires to throw a bucket or two of confetti on the crowd next weekend, good times.
Second Basemen Report: We may have closure! Looks like Mark DeRosa will be the real second baseman. DeRosa started at second for all five games this week just when we thought he was headed to the outfield. In other second baseman news, Ryan Theriot now looks to be the starting shortstop. I'm sure that's what Hendry thought would happen when they got Cesar Izturis from the Dodgers in the Nomar Garciaparra deal for Greg Maddux. It's all going according to plan . . .
In former cub Second baseman news, Miguel Cairo is playing second base with the Yankees this season. He has had 9 at bats this season without a hit, but he's due. He is missed.
Two-Hole Report: In second place in the batting order news, The Cub Factor would like to welcome Felix Pie. He now joins DeRosa, Theriot, Cliff Floyd, Jacque Jones, and Matt Murton as players who have batted second to start a game. Also, in last Monday's 5-4 defeat to the Brewers, there were eight players in the number two spot in the batting order.
Floyd, RF 2 1 0 0 1 2 1 .250
b-Murton, PH 1 0 0 0 0 0 2 .270
Eyre, P 0 0 0 0 0 0 0 .000
Howry, P 0 0 0 0 0 0 0 .000
e-Theriot, PH 1 0 0 0 0 0 0 .340
Dempster, P 0 0 0 0 0 0 0 .000
f-Marquis, PH 1 0 0 0 0 1 1 .273
Cherry, P
Sure, they didn't all take a swing, but this is typically is more of a "ninth" spot-in-the-order situation.
Sweet and Sour Lou: 49% sweet and 51% sour. No change on the Sweet-O-Meter from last week. Yes, the Cubs did go 3-2 for the week, but Lou is still plenty grumpy about the games they fumbled away
Mount Lou: Lou is stable right now as the Cubs show a fraction of life. But losing next weekend's series to the Nationals at home will bring dumb questions and magma to the surface. Look for an eruption around the fifth inning on Saturday.
Beachwood Sabermetrics: A complex algorithm performed by the The Cub Factor staff using all historical data made available by Major League Baseball has determined that on-field temperature affects both teams playing.
Over/Under: Plays a "real" shortstop would make this week but don't "count" as errors for Theriot: 2.5
*
Posted by Beachwood Reporter at 7:32 AM | Permalink
Cab #3067
Date Taken: 4/27/07
From: Roscoe Village
To: Old Irving
The Cab: Heavily fortified and upholstered in rich tobacco hues. Fort Knox-style rear doors. Maybe it was the deep-gauge vinyl seat covering, but the whole thing seemed thicker than a normal cab.
The Driver: Boasted a polite demeanor and smoking-hot physical appearance, yet remained a study in perpetual twitchery. Changed radio stations at least once per block. First it was a Bulls game, then a Sox game, then smooth jazz, then classic rock. A full accounting was impossible as the one-handed dial flipping was punctuated frequently with bursts of the car's horn that outlasted the station selection. The red-rimmed eyes and constant nose-rubbing could charitably be explained as the result of a particularly virulent allergy attack, but factor in the suspicious rear-view mirror stare-downs and general air of paranoia and, well . . . let's just say that had Driver #3067 been more than a passing acquaintance, the northwest corner of Irving and California might have been fertile staging ground for an impromptu intervention.
The Driving: Smooth and proficient. Accented with appropriate bursts of well-measured aggression. Every traffic-avoidance maneuver was a complete success.
Overall rating: 4 extended arms. What? He was hot.
- Natasha Julius
There are more than 6,000 cabs in the city of Chicago. We intend to review every one of them.
Posted by Natasha Julius at 12:22 AM | Permalink
April 28, 2007
The Weekend Desk Report
Here are the stories that will shape our weekend.
Market Update
IBM appears set to weather the storm after the failure of its Big Boris operating system. Investors have expressed confidence in the strength of the company's flagship Cheneybot brand. Meanwhile, Apple Corp's plans to corner the youth market with a line of flashy but largely non-fuinctional androids continues to pay dividends.
Far From Home
U.S. authorities this week announced they have captured a major Iraqi al-Qaeda operative nowhere near Iraq. Just saying.
Oz Update
We appreciate the generosity, but the heart isn't going to do the Scarecrow any good. He still needs a a brain, a soul, a conscience, and possibly a new attorney general.
Campaign '08
Advisors for the top Democratic presidential hopefuls say they have found a novel way to dispense with the record-breaking sums in their campaign war chests: boring the crap out of potential voters in record-breaking time. Republicans reportedly plan to match the effort in the near future.
Governing Class
Meanwhile, panicked citizens this week called for the arrest of our nation's state governors after a recent spate of high-risk behaviors including joy riding and eating disorders indicated a deep antisocial loathing coloring the ruling class. Oh wait, no . . . never mind. Our bad.
Bad For America
Finally, echoing what several incumbent Chicago aldermen have discovered, scientists this week presented hard evidence that Wal-Mart drives just about everything out of business.
Posted by Natasha Julius at 7:48 AM | Permalink
April 27, 2007
The [Friday] Papers
1. Tribune public editor Timothy McNulty responds today to Bill Moyers' Buying the War program, which aired Wednesday night, by examining his paper's performance in cheerleading the Iraq War instead of questioning the basic presumptions that were so obviously false even to many at the time. McNulty also talks to the Trib's editors and reporters about what went wrong and why; the Trib staff was remarkably cooperative in the interest of the transparency, honesty, and truth they say their paper is built on - and which they demand of the subjects they write about.
Oh, wait. That didn't happen. Instead, McNulty served up a bunch of mush.
2. John Records Landecker was forced by 104.3 management when he was on the air there to stop playing a version of the National Anthem sung by the Dixie Chicks. See comment No. 2 in yesterday's column.
3. The best analysis of last night's debate in South Carolina between the Democratic presidential candidates happens to be ours.

4. "Clinton and Obama avoided any direct criticism from rivals," Tribune national correspondent Mark Silva reports.
I guess Silva was in the bathroom when Dennis Kucinich challenged Obama directly - by name - about his hawkish stance on Iran. Former Alaska Sen. Mike Gravel - true, crazy, but he was on stage and part of the debate - also directly challenged Obama by name on Iran. And maybe Silva was fetching another beer when John Edwards said about Obama's vague health care position that "Rhetoric's not enough. High-falutin' language is not enough."
5. "Obama, who had already answered a question about handling terrorism, returned to the issue later without prompting," Silva writes.
Not really. Obama was prompted by the realization that he flubbed his answer the first time.
6. As Silva notes, Hillary was asked if Wal-Mart was good or bad for America. Neither Silva nor moderator Brian Williams mentioned that she served on Wal-Mart's board of directors from 1986 to 1992.
7. Of course, it will be interesting to see how Obama answers questions about Wal-Mart too, seeing as how he endorsed pro-Wal-Mart alderman Dorothy Tillman over her successful, union-backed challenger Pat Dowell.
8. "Not long after Barack Obama entered the U.S. Senate, for instance, his wife was offered a position on the board of TreeHouse Foods, a Westchester-based maker of specialty foods," the Tribune has reported.
"In 2006, the company paid her $51,200 for her board activities, according to the Obamas' just-filed federal income tax return. Factoring in stock options and other payments, the value of her compensation package for serving on the TreeHouse board last year was $101,083, a recent filing with the Securities and Exchange Commission shows.
"TreeHouse packages pickles and other private-label foods for retailers. By far its largest customer is Wal-Mart. Barack Obama has been sharply critical of Wal-Mart's business and labor practices - criticizing the giant retailer last fall for paying low wages and poor benefits while making big profits."
In other words, Wal-Mart has been very good to the Obamas.
"Dining dames: The luncheon drew power femmes including Terry Savage, Leslie Hindman, Deputy Gov. Sheila Nix, WTTW's Elizabeth Brackett and Judy Gold, who helped organize the event and whose baby is due in weeks."
A source tells the Beachwood Judy Gold had her baby two weeks ago.
Editor-in-Chief Michael Cooke and Managing Editor Don Hayner stand by her misreporting.
10. "It's the suburban Spire."
Yes. Nothing like the real thing.
11. "Hillary Clinton's Presidential campaign was designed and built to be a dreadnought, an all-big-gun battleship that would rule the waves without being dented, slowed or thrown off course," Time reports. "But it has been caught off guard by a submarine named Barack Obama, running silent, running deep - until he surfaced with a spectacular showing in the first round of fund-raising numbers.
Yes, Obama has been running silent and deep. You'd barely have known he was campaigning given the dearth of attention he's gotten.
12. The Time article is interesting though in its revelations of just how aggressively Obama the Grass-Roots Reformer is working the phones for campaign cash from the nation's ruling class.
13. From a New York Times story this week on the jinxed Block 37: "Mayor Richard M. Daley, in an e-mail message, said the development "helps strengthen downtown Chicago. And a strong downtown is what holds a city together; it's the focal point, and it gives the city its identity."
Aside from the highly disputable but revealing point made by the mayor, I wonder what the NYT's policy is about putting elected officials' names on comments written by staff - as well as accepting an e-mail response in lieu of an actual interview or the joy of writing that the mayor refused to comment.
14. The funny thing about the Chicago Tonight commentaries by Debra Pickett and Mancow Muller is that neither one has their day job anymore.
15. Baseball Terminology That Sounds Just the Slightest Bit Kinky To Me.
From James Finn Garner, who is also featured in today's Beachwood Reporter explaining the why our skyline perfectly illustrates a lesson you learned in your 8th-grade science class.
16. JFG also has a new book coming out.
17. From an e-mail solicitation for donations sent by the Obama campaign this week:
"Corruption and incompetence paralyze our government, America's ability to lead the world is diminished, and the fundamental fairness of our society diminishes to benefit the privileged few."
Obama's endorsements of Richard M. Daley and Todd Stroger did not appear.
18. From the same solicitation:
"We need a movement of ordinary people to elect our next president because, for so many of us, what our president does is personal.
"Only by electing a president accountable to no one but the people will we restore America's global moral leadership.
"People like you will have more power over the process than ever before.
"And, if we succeed, we're going to elect a president who answers to the American people for a change."
The names of the extra-ordinary folks bankrolling Obama did not appear.
19. Does Hip Hop Hate Women? Find out on Saturday.
20. "Mr. Ryan's exploratory committee includes more members of the Pritzker clan - three: J. B., M. K. and Penny - than heads of local community groups: two. No West Side community group has been named to the exploratory committee, and despite the possibility of labor unrest, a panel that includes dozens and dozens of big-business types has only one union leader in its membership," Greg Hinz deftly notes in exhorting the mayor to open up the Olympic bid process.
I agree, and it sounds good, but I think it's a mistake to think the IOC gives a flying fuck about transparency and community participation. Hello, the next Games are in Beijing!
The Beachwood Tip Line: An uplifting experience.
Posted by Beachwood Reporter at 9:46 AM | Permalink
Mystery Debate Theater 2007
The Beachwood is proud to kick off its Mystery Debate Theater series with last night's Democratic brouhaha in South Carolina. Our commentary is provided by Steve Rhodes and Beachwood contributor Andrew Kingsford.
Note: We tuned in late, but just in time to see Barack Obama asked what he would consider "mission complete" status in Iraq and 100 percent not answer the question. He went nowhere near it. Let's pick up the action from there.

* * *
Obama is asked about his ties to Tony Rezko.
"We have thousands of donors . . . denounced him . . . I have a track record of bringing people together around this new kind of politics . . . my first bill passed campaign finance reform legislation. . . ethics reform in Congress . . . running this campaign, no money from registered federal lobbyists, PACS . . . organizing ordinary people."
SR: He totally didn't answer the question . . . did anyone realize Obama was practicing a new kind of politics in Springfield until he was running for president? . . . He's not taking money from registered federal lobbyists because they're unregistering and then writing the checks . . . He's organizing ordinary people into thinking his not raising money from the same corporate interests with such a stake in the old politics . . .
* * *
Dennis Kucinich is asked why he doesn't have more traction in the race given his prescient, vociferous (my words) anti-war stance.
SR: Because my ears are too big?

* * *
Chris Dodd: "My father was a prosecutor at Nuremberg."
SR: So Chris Dodd is the anti-Holocaust candidate.
* * *
Bill Richardson is asked about saying he didn't call for Alberto Gonzales' resignation because Gonzales, like Richardson, is Hispanic. Richardson spouts a bunch of nonsense.
SR: What he should have said is that diversity is such a rare, precious, and often under-attack commodity that we should be extra careful and sensitive in not prematurely calling for the resignation of a woman or person of color.
* * *
Dennis Kucinich. DK. Dice-K. Last time around, Kucinich said we should bring the troops home immediately. He was right. It doesn't matter. This is not a meritocracy, it's the presidency. More people still pay attention to Charles Krauthammer.
* * *
John Edwards tells the story of growing up the son of a mill worker, and going out to a restaurant once with his family, who had to leave after looking at the menu and realizing they couldn't afford to eat there.
SR: "I still can't afford the prices" . . . "And today, I own that restaurant" . . . we should elect someone who can't afford to eat out.
* * *
Former Alaska Sen. Mike Gravel makes his first statement.
Andrew: You have to go now. You have an appointment with lead poisoning.
* * *
"Some of these people frighten me," Gravel says of his fellow candidates on stage. He specifically cites Obama and his "nothing is off the table, including war" stance with Iran.
SR: Cranks always speak the most truth, don't they? For the first 15 minutes. Then they lose credibility.
* * *
Gravel tells Biden he has "a certain arrogance."
Is Mike Gravel the new Al Sharpton?
SR and Andrew agree we miss Sharpton up there.
SR and Andrew observe that Edwards seems to be giving the most direct answers.
* * *
Brian Williams tells Dodd that he is "the most Washington" guy up there.
Uh, no, Brian, that'd be you.
* * *
Obama on partial birth abortion: Let's move past what we disagree on and talk about preventing teen pregnancy instead.
SR: Ever notice that Obama's new politics is always about avoiding disagreements? But that's what policy is! He sees problems as a distraction, like the kid of divorced parents always trying to avoid conflict and get to a happy place. Like he said gay marriage is a distraction. Yes, to him, not to a gay couple!
* * *
John Edwards has the best tie.
* * *
Hillary Clinton also looks good in her gray and black ensemble, if you can excuse the pearls.
* * *
Obama on health care: What I would do is create a national pool for buy-in . . .
Andrew: Isn't that what HMO's are?
Obama: . . . control costs . . .
SR: . . . like my wife is doing at University of Chicago Medical Center, where she gets paid a ton of dough to kick poor people out of emergency rooms to keep the hospital's costs down . . .
Obama: . . . catastrophic . . .
SR: So he still has no health plan. Hillary has thought this stuff through a thousand-fold.
Hillary: . . . not just for the uninsured . . .
SR: Exactly. The issue is for all of us - not just the uninsured, though that's most important, but the fact that even people with health insurance can't afford it or aren't adequately covered. The whole system needs reform, not just bits and pieces. But to Obama, that's probably a distraction from the real issue, which is that we can all agree we should eat better and get more exercise.
Obama: . . . we need to deal with bureaucracy and inefficiency . . .
SR: Who is this guy, Ronald Reagan? Get the welfare queens out of our emergency rooms!
Brian Willams: This one goes to . . .
Andrew: . . . the crazy guy on the end!
* * *
Dennis Kucinich says his worst mistake in public life was firing his police chief live in the Six O'Clock News when he was mayor of Cleveland.
SR: That is so cool! That would be a lot of pols' best mistakes.
* * *
Obama's worst mistake was Tony Rezko . . . no, it was something about leaving the Senate floor with a distracting Terry Schiavo bill at hand.
SR: That will be the last time he'll use that answer. Axelrod is already reprogramming Obama's conscience.
* * *
Biden's worst mistake was overstimating the ability of the Bush Administration to carry out the Iraq war and underestimating its incompetence, or something. So, Joe, you want to be the president of the free world and have us place our trust in your ability to judge foreign leaders far more inscrutable than George W. Bush? Same for you, Hillary.
* * *
Citizen question: I have to pass a drug test at work . . .
SR: . . . and I was wondering if Obama could tell me where I can get that stuff that cleans your pee, or masks it or whatever . . .
* * *
Citizen question: Why are gas prices going back up when oil companies are making record profits?
Edwards: blah blah blah.
SR: Why not just say "Because the oil companies are greedy profiteers? Say it, damn it! Say it!"
* * *
Edwards: "We need Americans . . .
Andrew: . . . "to ride bikes more" . . .
* * *
Dice-K: For universal not-for-profit health care.
SR and Andrew: Yes!
* * *
Brian Williams asks candidates what they would do on their first day in the Oval Office.
SR: Pray. Get a blowjob.
Andrew: Set up my desktop so I can watch DVDs and cruise the Internet.
* * *
Brian Williams: Switching categories now . . .
Andrew: . . . to Things and People for $500 . . .
* * *
Barack Obama is asked who America's top three allies are. He totally flubs. "The European Union as a whole . . . "
SR: You can't name the European Union as a whole! "Yes, and number two are the Asian countries, and third, everyone else!"
The first answer is obviously England. And second is probably Canada. Who's third, Japan?
Andrew: Say Australia! Say Australia!
SR: He can't name three!
Andrew: He's taking time out of the mouth of the crazy guy.
SR: A nonsense answer to a simple question.
Brian Williams: You didn't mention Israel.
SR and Andrew: Oooooohhhhhhh!
* * *
Biden: Yes.
* * *
SR: Biden stealing from Neil McKinnock's speeches in 1988 vs. Obama's entanglements withTony Rezko. Compare and contrast.
* * *
Crazy Guy: "We have no important enemies."
* * *
SR: Obama is in a red tie. What a sellout.
* * *
Bill Richardson is the gesture king.
SR: Look, he's doing "here is the church, here is the steeple." But he forgot the people! He forgot the people!
* * *
Every candidate on stage except DK raises their hand to agree there is such a thing as the Global War on Terror.
SR: You are now all disqualified except for Dennis. Everyone else, your journey ends here.
* * *
Dice-K: "The Global War on Terror is a pretext."
* * *
SR: Next question: What's your favorite song? Or, If you had an affair with a former intern and the press found out . . .
Andrew: If you had to have sex with someone in George Bush's cabinet, who would it be and why?
* * *
The candidates are asked how they would alter America's military stance if they just found out that al-Qaeda had bombed two American cities.
Obama: The first thing to do . . is . . . make sure we have proper emergency response . . . like we didn't have in Katrina . . .
SR: He totally didn't answer. The answer is something like put ships in the Gulf, send troops to the Pakistan border, call up our allies . . . or maybe "I'd meet with our military leaders to determine that."
* * *
Same question to John Edwards.
SR: John, which cities would you prefer would have been destroyed?
Andrew: Well if it's Tulsa, Sacramento, and, let' say, Toledo, I'd leave it 'til Monday.
* * *
Same question to Hillary.
Andrew: First I would finish reading this children's book, then I would star aimlessly at a camera like a dazed wombat in headlights.
SR: I would invade Iraq.
* * *
Dice-K is the only one willing to impeach Dick Cheney. He continues to impress. But I think his hair isn't meant to be parted on the side. It should go straight back. He's forcing the issue, like Edwards.
* * *
Brian Williams quotesNew York Times columnist Tom Friedman, who was as wrong about the war as anyone on the planet. Question goes to Biden.
SR: I propose we shut Tom Friedman up.
Biden: Some variation on that.
* * *
SR: Crazy Guy would've been great on the two cities question.
* * *
Brian Willams asks Crazy Guy about the French system of, um, something. Nobody knows what he's talking about.
Crazy Guy answers anyway: We are mischaracterizing terrorism! Terrorism has been in civilization forever . . . it's like the war on drugs, it doesn't work.
* * *
Brian Williams asks the candidates what they have done personally to help the environment. Obama says his campaign had an Earth Day event. The question was about what he has done personally. He tries again with a campaign issue. He is asked again. He says he is trying to teach his daughters to use better lightbulbs.
* * *
Dice-K attacks Obama.
DK: "You made a very provocative statement. You previously said all options are on the table with respect to Iran. It's important to reflect on the real meaning of that. You're setting the state for another war . . . the connection between global warring and global warming is oil. Quit using war as an intrument of policy. Use energy policy . . .
Obama: It's not disputed by any expert that Iran is in process of possessing nuclear weapons.
DK: It is disupted!
SR: It is disputed! That's the crux of the issue - Iran says it's only interested in civilian use of nuclear energy, and even if they were interested in nuclear weapons, it's in dispute whether they are "in the process of possessing" them!
* * *
Crazy Guy: You know who is the greatest violator of nuclear non-proliferation?
Crazy Guy, SR, Andrew: We are!
* * *
Crazy Guy: Who the hell are we gonna nuke? Tell me, Barack!
* * *
John Edwards is asked who his moral leader is.
SR: Jesus! Or, "My wife has breast cancer."
Edwards: (uncomfortably long pause).
Andrew: Anton LaVey.
SR: Bon Scott.
Andrew: Because he lived fast, died young, and left a scrawny rock and roll corpse.
* * *
Post-Debate Punditry
SR: The conventional wisdom will be that no one won; Richardson hurt himself; the first tier helped itself; and a slight edge to Edwards.
Andrew: If I send my question in, it will be answered by the end of the campaign? Brian Williams just guaranteed on national television that our question will be answered!
Andrew: No one's shaking hands with the crazy guy.
* * *
Chris Matthews says Obama was the most sophisticated.
Andrew: In a pig's eye! Just like Obama's convention speech was fucking Gettysburg when the best speech was Sharpton's! But he was off-the-reservation . . .
* * *
Andrew, after a few more minutes of Matthews' expert analysis: Did we just watch the same debate?
SR: Yes, but he doesn't know who Bon Scott is.
* * *
Matthews says none of the candidates was willing to look any of the others in the eye.
Andrew: Oh, pig's ass! Crazy Dude was!
* * *
SR: Biden and Dodd were the adults up there tonight.
Andrew: Richardson is an administrator.
SR: A cabinet officer.
* * *
SR: The expert analysis now isn't about the substance of the candidates' answers, but how slickly they strategically avoided questions or manipulated the audience and viewers. Journalists have totally internalized the values of political consultants, who are paid to elide the truth while journalists are supposed to seek it. Partially that's because many of the "reporters," pundits and experts being called on are political consultants! And partially because journalists think they will be perceived as naive if they are earnest, while showing an insider's knowledge of the game shows them to be savvy, when in fact it really shows them to be cynical.
* * *
SR: Obama is getting the George W. Bush standard - he just has to avoid drooling like an idiot to be declared minimally competent. The press never learns.
Posted by Beachwood Reporter at 6:39 AM | Permalink
Seven Simple Machines
A lot of excitement was generated by the unveiling of the newest design for the Chicago Spire, and not just because it looks like a giant vanilla soft-serve. The possible erection of Santiago Calatrava's bright and airy skyscraper brought out the hidden science nerd in everyone, without people even realizing it. Why? If the Chicago Spire is built, it will complete Chicago's set of humongous-scale models of the Seven Simple Machines.

Think back to grade school. Imagine how excited your science teacher would be to see these gargantuan examples of applied science. Archimedes, eat your heart out.

| | |
| --- | --- |
| The Screw | |
| The Inclined Plane | |
| The Wedge | |
| The Gear | |
| And to complete the laboratory, Where Leverage and a little Pull(ey) keep the big Wheels in power. | |
Posted by Beachwood Reporter at 3:34 AM | Permalink
April 26, 2007
The [Thursday] Papers
It wasn't news to those of us who have been paying attention, but Bill Moyers' Buying the War on PBS last night was still enough to make me want to ring up Tony Peraica and lead a drunken midnight march on the Tribune, Sun-Times, and the local television stations for their role in leading this country to a historically tragic war. They have blood on their hands.
And they still haven't owned up.

The show was mostly about the national media's sickening performance in the run-up to the war, but its themes hold true locally. The Sun-Times was the war's biggest local cheerleader, perhaps egged on by corporate director Richard Perle, certainly following the wishes of Conrad Black and David Radler, and at the impetus most importantly of Michael Cooke, who remains the paper's Editor-in-Chief, and John Cruickshank, then Cooke's co-editor but now the publisher.
The paper's pimped-out patriotism was the most vile sort of opportunistic pandering, stuffing the news columns with fantastical claims about Saddam Hussein's weapons programs that never came to be (nor did corrections or apologies for doing so), pushing the administration's case for war even as those in the know - as Moyers' program shows - were aghast at the absurdities of the propaganda so easily placed in the press, and pretending that supporting the troops was to blindly send them to war to die even as the paper was unwilling itself to even embed a single reporter in even the safest military unit. Cruickshank at the time defended that decision by saying the war was best covered from Washington, D.C.
Cooke thought nothing of topping wire stories with the bylines of Sun-Times reporters to give readers the impression the paper was actually producing its own work, and then-city editor Don Hayner, now the managing editor, explained the sudden presence of the American flag on the paper's front page, now just as suddenly gone as it's no longer much useful, as the standard Chicago response to a nation at war.
These are the geniuses running your Sun-Times. Do any of them feel any responsibility?
The Tribune was only better by its blander, colder and more professional presentation of the same pack of lies. Its editorial page continues its contortions justifying the war rather than admitting it was schooled. They should be ashamed of themselves.
Moyers' report isn't only about the past, though. It's about whether the media will learn any lessons - chiefly, how to be journalists. There isn't much indication they will. Both papers are still filled with the pundits who were most forcefully wrong about the war - hell, Charles Krauthammer, among the worst of them, is the favorite columnist of new Tribune Company owner Sam Zell - and independent reporting is becoming increasingly rare as the deadly combination of budget cuts and market research turn our press corps into shopping and fitness experts.
Worse, the Tribune Company is consolidating its foreign and national reporting just as Moyers shows how important it is to have as many different reporters working these stories as possible. Tribune Company prefers a future in which we all get the same single report, invariably from a reporter like Judith Miller. What corporate wankers see as redundancy is instead a basic necessity of doing even a minimal baseline of standard reporting about governments deciding issues with the most deadliest of consequences. Fewer national and foreign reporters equals more dead American kids.
It's no wonder the oldstream news is no longer perceived as an authoritative source, particularly among young people. The old media companies have eroded their brands - not to survive, but to maintain obscene profit levels - at just the time when brand authority is the most valuable marketing tool available to organizations trying to break through the media clutter.
The best business move any news company can make is to invest in real journalists with backbone who are too busy studying documents and talking to sources to make it to all the right cocktail parties or back home to their suburban estates in time for Desperate Housewives. Perhaps the central irony is that committing real journalism is actually good business. Oh, and it also saves lives.
And So It Goes
We're still learning, after all these years, the truths behind the Pat Tillman and Jessica Lynch stories. Like the continued revelations of the U.S. attorneys firings fiasco, those stories teach an important lesson I was taught 20 years ago as a young reporter: Keep going. The truth is 10 times worse than you think it is.
While that isn't always literally true, the approach is the point.
It's an approach I assumed the Chicago press corps would have when I moved here 15 years ago. I was astoundingly wrong. All this nonsense about Mike Royko, City News Bureau, the Billy Goat . . . do you see any evidence in your papers that, as a general principle, Chicago's press corps knows what any of it is supposed to stand for? The flimsiest of journalists in this town worship at the ghost of Royko even as they cower at the shadow of the mayor and other powers that be. They are like gentrifiers - they know there's something happening in Royko's neighborhood, but they don't know what it is. They just know they want it to reflect on them somehow. So they kill it even as they think they are honoring it.
And so you get Richard M. Daley, the World's Greatest Mayor; Barack Obama, the Lincoln-like rock star; and all the rest. What you don't get is journalism. Nobody seems to even remember what that is anymore.
In Today's Reporter
* What Obama doesn't want you to know about his fundraising.
* Scott Buckner is back watching TV, and if you're not reading his reports you're missing out.
* From the archives: The Great American Jobs Machine.
EDITOR'S NOTE: If you liked today's column, send it to as many people as you can think of. If you didn't, maybe I'll be in a better mood tomorrow. Either way, watch the Moyers' program. It should be required viewing in every newsroom (and boardroom) in America.
Comments? Use the Tip Line. You must provide a real name to be considered for publication - or a good reason why you can't.
COMMENTS
1. From Tim Howe:
. . . and high school civics classes.

Well put, but the editorial role taken by the S-T, Trib, et al, is nothing new. There are some who say that Hearst single-handedly started the Spanish-American War. Certainly he played a much larger role in leading the country into that conflict than today's media did with Iraq, though their complicity is unquestionable.
And nationally, there have been significant voices in opposition: Moyers, Krugman and others. They tend to get drowned out though, particularly when the aforementioned players are helping the government stir up a wounded nation's thirst for blood.
If your point is that individual reporters in Chicago today can't hold a candle to their predecessors, you'll get no argument here. But were there ever legions of truly intrepid, strong-voiced journalists in Chicago? Or is it that among those that practiced their trade here were such giants that the rest of the gang got by on reflected reputation?
There are still a few who do the dirty work, like Carol Marin, and who speak truth to power, like John Kass (though I continue to believe that he goes over the line enough that it blunts the good points he does make).
But who's paying attention? Who's reading the papers? Or even watching on TV? You can make the argument that the poor product has pushed people away from reading the daily paper, but readership would be down significantly - just as viewership is down for local TV news - due to fragmentation and the proliferation of alternatives for our attention anyway. The degree to which you apportion that decline can be debated ad nauseam.
Anyway. Your voice on the specific issue of the war is appreciated, and your efforts to prod the Chicago press to do a better job are important. Keep it up.
2. From Rick Kaempfer:
I was getting bad flashbacks watching the Bill Moyers special the other night. He captured the mood of this country leading up to war perfectly. I was John Landecker's producer at the time on WJMK 104.3. We used to start the show every morning after 9/11 with the National Anthem. It was a beautiful version of the song sung by the Dixie Chicks at the Super Bowl. After Natalie Maines said what she did, the program director ordered us to stop playing it. That's right. He ordered us to stop playing the National Anthem. I told him to put that in writing. He wouldn't do it - but he threatened to fire us if we continued playing it. We actually considered allowing him to fire us for that, but we didn't think this was a war (no pun intended) worth fighting. Ironically, we were fired anyway a few months later.
3. Reader's programming note:
It looks like WTTW is rerunning this program only once. So if you're a night owl or have a TIVO/DVR, you can catch it next Sunday, April 29th, at 3:30 a.m.
4. Reader's programming note:
Also, if you have sufficient bandwidth, you can watch the show online here.
5. From Marilyn Ferdinand:
Your column today, like the Moyers report last night, made me feel incredibly sad. I wanted to become a journalist not because of Woodward and Bernstein, but because of the great newspaper tradition Chicago had when I was young. My heart is broken.

I saw that Oprah show Moyers excerpted, and wrote her the one and only time in my life to tell her I was absolutely appalled at her jingoism and slanted show, knowing full well her enormous influence on people, particularly women, who were opposed to the war in large numbers at that time. To her credit, she ran another show a couple of weeks later that showed the skeptics, including Anna Quindlen.

Maybe the media have blood on their hands, but so do many Americans who didn't demand that their news organizations tell them the truth. Vengeance was moving a nation - not just a media that was in bed with the neocons. If newspapers die, it will be suicide, not Internet murder.
Posted by Beachwood Reporter at 8:19 AM | Permalink
What I Watched Last Night
My evening started off with ABC's World News showing President Bush dancing and banging a drum onstage with a highly colorful African drum troupe. What followed for me was the exact same thought a bazillion other people worldwide with access to television sets had at the exact same moment:
Back in the day, the most embarrassing thing an American president would be caught doing in public was trying on a silly hat. President Reagan was good for this. How in the world could the president and his advisers - and the First Lady - not see this disaster coming? Perhaps President Bush was observing the death of former Russian President Boris Yeltsin by paying homage to Yeltsin's dance chops.
At least Yeltsin had the decency to be drunk at the time.

I imagine that sometime within the next few weeks, this video will make its way to a remote cave in the mountain wilderness of Afghanistan and someone will be saying, "Yo, Osama - you GOTTA get a load this . . . "
Ugly Underbelly
I spent a little time last night with ABC-TV's Notes From The Underbelly, which I had managed to miss since its debut a week or two ago. Not much time, mind you, because it's on Wednesday at 7 p.m and the only people around to watch anything at 7 p.m. are the infirm, the hospitalized, and jail inmates. I'm none of those, so I had to make do with the last 20 minutes or so.
Yeah, 20 minutes of my life I'll never get back. So it was a good thing I was using that time to do something else constructive while keeping an ear on this program, or I'd just have ended up annoyed that I wasn't out stimulating the local tavern economy instead.
Here's pretty much all you need to know about this show: Central couple Andrew and Lauren are expecting a baby, so it's an hour of situations and discussions revolving around women being pregnant, attitudes toward children, sex (or lack of it), masturbation as an alternative to little or no sex, looking fat in the shower, and - from what I gather from one of the previous week's trailers - men shopping for a breast pump. For chrissakes, every industrialized country has legions of single unmarried men who know how a breast pump works without actually having to try one out. No wonder the French think we're idiots.
It's supposed to be a sitcom, but it's not funny. It doesn't even feel like a sitcom. According To Jim is a sitcom. Notes feels more like what What About Brian would turn into if it decided to be witty.
If there's anything remotely engaging about this show, it might be Rachael Harris as Cooper, a bitter, mommy-hating attorney. Harris is better known from VH1's I Love The [Insert Decade Here] shows, but compared to Notes, she does better work on her Quaker Oats rice cakes commercials.
Of course, you can watch Notes for Harris until it almost certainly disappears due to lack of interest in a few weeks, but the healthier alternative would be to wait until she surfaces in something that's actually funny.
Crabs Kill
If you're looking for network that features a bottomless cornucopia of people unafraid of a little death by misadventure this season, The Discovery Channel seems to have no shortage of nutcups willing to do it because they're goofballs or so Red Lobster doesn't run out of Seafood Fiesta. Turn on Stunt Junkies next week and some dude named Icarus will be flying too close to the sun on a pair of wings held together with wax.
Tuesday night's collection of Discovery Channel brave and foolhardy were the deckhands on the several ships chasing Alaskan red king crab for the third season of Deadliest Catch The show gets its title from the idea that crab fishing is the most dangerous job on the planet (the injury rate is close to 100 percent), so it's always interesting to watch a bunch of guys try to make it through crab season without getting squashed like bugs against a windshield. There are plenty of opportunities given that the crab season on the Bering Sea is only, like, four days long, so the ships end up being run by crews of sleep-deprived zombies. October and January are the best crabbing months, which means the ships end up being run by half-frozen sleep deprived zombies. Representatives of the health and law enforcement communities claim that working four days straight day and night on an hour of sleep is worse than being drunk, so by and large, it's only a quick matter of time before a respectable number of guys end up getting washed overboard or crushed by something really heavy.
Actually, calling it crab fishing - in Babe Winkelman/Louisiana good ol' boy definition of fishing - is a bit misleading, since crabbing involves heaving 800-pound cages (called pots) baited with cut fish off the side of a ship 100 or so feet long. The crabs wander in, get hauled up by huge hydraulic winches when the ships come back to collect the pots, and get dropped into huge holding tanks beneath deck. Calling this "fishing" is like calling sitting in tree platform waiting for a deer to wander by so you can ambush it with a rifle deer "hunting."
Anyway, the surf in the Bering Sea was up as usual with 20-foot swells, the deckhands were exhausted as usual, and some doofus hanging off the side of one of the ships not associated with Deadliest Catch got picked off by a wave and ended up in the drink. Fortunately, the crew of Deadliest Catch ship Time Bandit were a few hundred yards nearby and managed to pluck Doofus Spiderman Deckhand out of the icy drink before he died of hypothermia within minutes.
Oddly enough, the crew of the Time Bandit are the only one of the several Deadliest Catch ships to wear survival suits full-time. This development came after last season's near-disaster when the boat got hammered by a 60-foot wave, ended up on its side, but somehow managed to right itself before everyone froze and drowned. You'd think every ship on the program would have gotten wise after this, but, well, the deckhands would just start getting all complacent about their jobs and everything, so . . .
A captain can make $150,000 during crab season, so it was understandable why Phil Harris, captain of the Cornelia Marie, was visibly upset while his boat was hung up adock in Dutch Harbor for a few days because a huge chunk of his 500-pound propeller broke off at sea. Phil has really high blood pressure, so I was waiting for him to have an aneurysm or something when his $35,000 replacement prop flown 1,400 miles from Kodiak, Alaska, ended up being a left-handed prop instead of a right-handed one. On top of that, his two deckhand sons spent their gratis liberty call living it up in town charging a few grand on his credit card.
Meanwhile, on some of the other Deadliest Catch ships, greenhorn deckhands were busy ignoring the admonitions of "Safety First" in bright yellow paint on various flat surfaces. So they spent a bit of time screwing up the expensive hydraulic equipment and not safely securing pots that ended up nearly squashing the sleepy-eyed nearby.
And really, that's just the sort of nail-biting anticipation you end up looking forward to when tuning in every Tuesday night.
*
Check out the What I Watched Last Night collection.
Posted by Beachwood Reporter at 12:46 AM | Permalink
April 25, 2007
The [Wednesday] Papers
1. "Meanwhile, an Obama staffer, sent to watch us, nimbly Blackberried our movements to someone inside," Carol Marin writes today. "Suddenly, bodyguards pulled the SUV down into a parking garage, grabbed Obama, and with wheels squealing, sped out and away."
Maybe he was just fleeing from cynicism.
2. What's fascinating about Marin's account about her and Sun-Times reporter Tim Novak seeking answers from Obama about dilapidated low-income housing built in his state senate district by his self-described political godfather Tony Rezko is how patient they were - how many opportunities Obama had to explain - and how he still hasn't done so to any degree of adequacy.
Maybe he's campaigning on the hope that the whole thing will just go away.
3. Marin points out that Michelle Obama just got done telling the Tribune how scrupulous the man is about the details of his life. And yet, he seems to have a problem remembering the details of his stock portfolio, the purchase of his own house, the events of his childhood and young adult life, and the existence of government-financed ghetto buildings in his district that were built with help from his law firm and were the target of several city lawsuits.
Maybe he really did learn everything he needed to know about America in Springfield.

4. With a memory like that, he should be running for Attorney General.
5. Obama told reporters that the Sun-Times's story "left a series of false impressions."
If only the paper had called him ahead of time to clear up any confusion.
6. Obama said he did five hours of legal work on the Rezko housing deals in six years. Actually, he probably did five hours of legal work on the Rezko deals in two days, but saying so doesn't deflect the issue quite as cleverly.
7. Watch Obama show Tim Novak what an imperfect vessel he is for a new kind of politics.
8. Lynn Sweet reports that on Tuesday Obama was asked at an appearance about the affordable housing crisis in this country. "I have experience in this area, having worked at the community level," he said.
See, first you have the developer write the checks to your campaign committee . . .
9. He also said the "old models" of public housing don't work, and that community groups and others need to build affordable housing that is "integrated economically, by the way, not just racially."
You know, just like he keeps telling the mayor about his CHA Plan for Transformation.
10. Oops! In 2002, just to pick one example, the Obamas reported income of $259,394, placing them in the top 2 percent of U.S. households, the Tribune reports. That year they gave $1,050 in charity. $1,050!
He donated plenty of hope, though.
11. It wasn't just a one-year fluke. The Tribune report shows that the Obamas have typically given less to charity than the national average - you know, you and I.
But then, they were saving their money for the day they could buy a $1.65 million home with the help of Uncle Tony.
12. "Both Obama and his wife, Michelle, declined to respond to questions about their charitable donations."
Well, maybe they were too busy working their shifts at the soup kitchen.
13. "I've said to Rev. Sharpton and I'll say it today, if there is somebody - I don't care whether they are white or black or they are male or female - if there is somebody who has been more on the forefront on behalf of the issues you care about and has more concrete accomplishments on behalf of the things you're concerned about, I'm happy to see you endorse them. But I am absolutely confident you will not find that," Obama said.
14. Let me reintroduce you to Obama's other political godfather, to whom he once approached as a state legislator and said "You have the power to make a United States senator."
Torture Whitewash
"A four-year, $6.5 million investigation into police torture in the 1970s and '80s was a whitewash that left crooked cops unindicted and soft-pedaled mistakes by top law enforcement officials, including then Cook County State's Atty. Richard M. Daley, a coalition of civil rights groups argued in a report released Tuesday," the Tribune reports today.
And they're right and we all know it.
While the statute of limitations prevents some charges from being filed - nice way to run out the clock! - it is still possible, as I understand the coverage, to prosecute for conspiracy. After all, the torture was systematic - as has been the silence, which some might even dare call a cover-up.
Another compelling argument made by lawyer Locke Bowman, of the MacArthur Justice Center is this: The special prosecutors said in their report issued in July that they found proof beyond a reasonable doubt that Jon Burge and four other former officers tortured suspects. Burge denied under oath in 2003 that he had witnessed or taking part in torture. Why not prosecute Burge for perjury?
A host of organizations have signed on to the civil rights group's report, including Amnesty International and The Innocence Project, as well as Rev. Jesse Jackson, U.S. Rep. Danny Davis, and Barack Obama.
Oh, wait. Obama hasn't had anything to say about police torture. He endorsed Daley for mayor.
I wonder if any of the victims lived in his state senate district? Maybe even in a Rezko building.
The Beachwood Tip Line: 24/7/365.

Posted by Beachwood Reporter at 8:36 AM | Permalink
April 24, 2007
The Beachwood NFL Draft Primer
Whether you are a new fan or simply a fan who forgot to fall off the Bears bandwagon, this quickie primer for Saturday's draft is for you.
Draft Vernacular
NFL-types love their jargon. Last year you learned about the Tampa-Two in all it's Refuse To Blitz And Lose The Super Bowl glory. Now you need to learn new terms to navigate the sea of draftees:
Mock Draft: A series of draft pick predictions made by a football nerd who was mocked heavily for wearing Zubaz to school every day in the11th grade.
Upside: Player who pretty much stinks now, but could eventually play in enough NFL games to land a starting job in Canada.
Great athlete: Player whose number reflects his IQ.
High character guy: Player who is a big fan of the Jesus.
Character issues: Jargon for "low character guy."
High Motor: Player hustles on every play and/or hopped up on cocaine.
FAQ: The ESPN Stalwarts
One channel covers the draft every year: ESPN. How do I know this? ESPN constantly reminds us, as if their two self-important draft experts eradicated polio. Viewing this unexplained feeling of superiority causes questions:
1. I really hate Chris Berman during his spot appearances, but why does he also cover the whole NFL Draft? Chris Berman is like your Uncle Ken - once a funny and important part of your family who is now a punch line who only attends the most important family functions. Unfortunately, the NFL Draft is the football fan's Christmas, and he's hanging around the whole holiday weekend.
2. Who's that skinny guy they show in those old production pieces that looks strangely like Chris Berman? That's Chris Berman when he captured America's imagination with bad puns and classic rock lyrics - and before he turned to food to cope with his waning popularity.
3. Why are you so hard on Chris Berman? In part because I find it hard to believe that the same guy who came up with Andre "Bad Moon" Rison spends hours researching the needs and tendencies of every team and the unique abilities and faults of every player eligible to be drafted, even though he acts that way.
4. Who's the guy with the well-groomed hair and the slight resemblance to Eddie Munster's lost brother? That's Mel Kiper Jr.
5. What does Mel Kiper Jr. do? Kiper is the George W. Bush of the draft show. Like W., Kiper is as supremely confident in his judgements as he is consistently wrong. Yet, both still have their jobs.
*
Eric Emery writes Over/Under and The Blue & Orange Kool-Aid Report. Care to comment? Write to Eric and include a real name to be considered for publication.
Posted by Beachwood Reporter at 5:56 PM | Permalink
The [Tuesday] Papers
Barack Obama and his campaign spurned questions from the Sun-Times for more than a month about dilapidated low-income housing built in his state senate district by political patron Tony Rezko.
At a South Side campaign stop on Monday, Obama finally spoke: "Should I have known that these buildings were in a state of disrepair? My answer would be that it wasn't brought to my attention."
Of course, complaints about slumlords are usually directed at aldermen and/or the city housing department, as Obama noted in separate comments to the Tribune.
Once again, though, Obama is skirting the issue.

First, a true grass-roots progressive wouldn't have been wrapped in the warm embrace of Rezko - an insider's insider - to begin with. Second, he would've taken a greater interest in the district he was elected to represent.
"While I was a state senator, he had buildings in my district that apparently were not managed properly. I had no knowledge of that at the time," Obama told the Sun-Times.
Why not? Rezko's development company had received more than $100 million in loans from the city, the state, and the federal government. A third of the 30 properties were in his district. Obama's law firm did work netting $43 million of those loans for 15 of the buildings. The city repeatedly sued Rezko's firm over problems that included buildings with no heat. And as today's Sun-Times installment shows, an all-star cast of political notables was involved in Rezko's deals. Does Obama really want to claim/admit he was oblivious - even as he was cashing checks from Rezko, whom he has referred to as a "political godfather"?
It strains credulity, though it fits the pattern of Obama as an innocent who's always the last to know about the evil that lurks around him. Such a smart guy, too.
After all, the players in the slumlord caper include familiar names such as Tim Degnan, Robert Kjellander, Sharon Gist Gilliam (now CEO of the CHA), Allison Davis, Leon Finney Jr., Bishop Arthur Brazier, and Harris Bank.
Obama was just, um, out of the loop?
"One of the perils of public life is that you end up being responsible for, or you're held responsible for, associations that you didn't necessarily know were a problem," he told the Tribune.
Obama never realized just who Tony Rezko was?
It reminds of the old story about the scorpion and the frog.
But the more I think about it, I'm not sure which one is Obama.
Daley's Deal
"So why did the city keep lending Rezko's company more tax dollars?" the Sun-Times asks. "'During the time he did work with us - and that was many years ago - there was nothing to indicate there was a problem,' Daley spokeswoman Jacquelyn Heard said.
"In fact, there was. City Hall attorneys repeatedly went to court to force Rezmar to make repairs to its buildings and, in some cases, to get the heat turned on."
In the Trunk
"Moody's Cuts Tribune Rating Deeper Into Junk."
- Crain's Chicago Business
"Moody Tribune Cutting, Back On Junk"
- Tim Willette
Editor's Prerogative
"A number of you have asked me how we could cut jobs to save millions of dollars at a time when a group of unnamed executives will reap bonuses and stock grants worth millions when the change of ownership is complete," says a memo written by Jim O'Shea, the man sent by the corporate bosses to edit the Los Angeles Times after two publishers and two editors resigned rather than succumb to further unconsionable budget cuts. "I cannot - and will not defend any such bonuses. Frankly, I can understand why you are angry about these plans."
A) "On the other hand, my compensation package is quite nice."
B) "And I'll take it up with my bosses next chance I get."
C) "Because we're not in the business of naming names."
Daley Disses
1. The mayor picked his 11th chief of staff in 18 years, proving once again what a great manager he is. The press corps once again humiliated itself.
"Asked by a reporter why he's gone through so many chiefs of staffs, Daley insulted the questioner," Fran Spielman reports.
"This job is a very demanding job," the mayor said. "It's not like your job - very easy . . . We don't see you at night, on weekends or holidays. These people work very hard. That's why I've been fortunate to have great chiefs of staff [who] work very hard, seven days a week, almost 24 hours a day. That's what government's all about. It's not leisure jobs like you have."
Perfectly appropriate responses apparently not offered:
A) You don't think it's hard keeping track of all your scandals?
B) Let me tell you something, Mr. Mayor, it's not easy sitting here being lied to every day.
C) Fuck you.
2. "Daley was asked if he believes his refusal to grant [Inspector General David] Hoffman's request [for more investigators] could endanger the court settlement, but he walked away without answering."
A) Barack Obama commended the mayor for the smallness of his politics.
B) The mayor didn't hear the question because he was laughing so hard about calling reporters' jobs easy.
C) Now that the election is over, and the media has done his bidding for the Olympics, he will go back to not answering questions instead of lying.
3. A few journalists ask me, well, what are we supposed to do? Here are a few ideas.
- Don't glorify the mayor as a "demanding" boss when in fact he's clearly managerially dysfunctional.
- Spend a day with an eight-year-old and compare it to a day with the mayor.
- Front page box every day: "1,428 days since the mayor said he doesn't know who hired Angelo Torres."
- Front page profile: "Daley Is A Mean, Lying Prick."
I mean, I could go on and on. Show some friggin' backbone. File Freedom of Information requests on everything in sight and litigate to get them filled. Assign a truth squad to vet every claim the mayor makes. Honestly describe the mayor's behavior at press conferences, and put those accounts on front page. Stop attending his press conferences; they're designed for him anyway, not you. And frankly, you don't need them to report the news. Like I said, I could go on and on. In short, be a newspaper.
Obama 's Foreign Policy
"Answering his critics who have suggested his policies remain vague, Obama outlined five basic principles for his own global strategy, should he be elected president in 2008," Jennifer Hunter "reported."
Yes, I can certainly see how this speech answers critics. The answer is: You're right.
The Beachwood Tip Line: Use at your leisure.

Posted by Beachwood Reporter at 9:11 AM | Permalink
The Secret Money Machine
There has always been a disconnect between the rhetoric of the Obama campaign and its fundraising operation. Far from being a grass-roots effort on behalf of "the people," Obama is in fact tapping the same wealthy donor base that he decries as "insiders" and "special interests" as Establishment presidential candidates past and present.
What's worse is the campaign's willful deception in, among other areas, its e-mail solicitations to the Net crowd in which the rhetoric of a citizens' campaign is laid on thick, even as the Obama works hard to keep his top-dollar fundraisers secret and out of the press.
Now some hard data and quality reporting is in that illustrates the reality of Obama's fundraising - and not just the fat cats behind it, but how the campaign has at once declared it won't accept money from lobbyists even as it accepts money from lobbyists.
1. "Some of Obama's K Street boosters keep their support a secret to uphold Obama's image as a Washington outsider untainted by D.C.'s influence," The Hill reports.
"When Obama declared his presidential candidacy in February, he said he would re-engage Americans disenchanted with business-as-usual in Washington who had turned away from politics.
"'And as people have looked away in disillusionment and frustration, we know what's filled the void,' said Obama. 'The cynics, and the lobbyists, and the special interests who've turned our government into a game only they can afford to play. They write the checks and you get stuck with the bills, they get the access while you get to write a letter; they think they own this government, but we're here today to take it back. The time for that politics is over. It's time to turn the page.'
"In a fundraising e-mail distributed yesterday, Obama emphasized his stance against taking money from lobbyists and PACs.
"Two lobbyists who are supporting another candidate and spoke to The Hill on condition of anonymity said that Obama's campaign contacted them asking to be put in touch with their networks of business clients and acquaintances.
"One of the lobbyists, who supports Clinton, said that Shomik Dutta, a fundraiser for Obama's campaign, called to ask if the lobbyist's wife would be interested in making a political contribution.
"'I was quite taken aback,' he said. 'He was very direct in saying that you're a lobbyist and we don't want contributions from lobbyists. But your wife can contribute and we like your network.'"
2. Last week, The New York Times reported that "Obama . . . has told some donors that their support enables him to run a new kind of campaign by refusing fundraising help from federal lobbyists. But a list of his top fundraisers released over the weekend shows that his campaign has defined the term in a way that allows him to accept contributions from people who were federal lobbyists at the start of his campaign.
"One of the best-known Democratic donors on his list of 130 top fundraisers, Alan Solomont, was registered as a federal lobbyists as recently as the last filing period for such registration, at the end of 2006.
"Mr. Solomont, who helped raise more than $35 million for Senator John Kerry's presidential campaign in 2004, founded a nursing home and assisted living company. During the Clinton administration, some Republicans claimed that he had used his clout as a fundraiser to argue against tougher regulations of nursing homes.
"Last year, he reported more than $90,000 in income from lobbying the federal government about Medicare and Medicaid.
"In an interview, Mr. Solomont said he had withdrawn his lobbyist registration as soon as he signed on as a fundraiser for Mr. Obama."
3. The Los Angeles Times reports that "the same wealthy interests are funding his campaign as are funding other candidates, whether or not they are lobbyists."
The Times reports that Obama has said in his e-mail solicitations that 'It may sound strange for a presidential candidate to launch a fundraising drive that isn't about dollars. But our democracy shouldn't be about money, and it's time our campaigns weren't either.'
"In another e-mail seeking money, Obama decried the 'special interest industry in Washington' and warned it would spend more money than ever to 'try to own our political process.'
"'We're not going to play that game,' the e-mail said."
The campaign has all but admitted, though, that its position is all about symbolism, not substance.
"This ban is part of Obama's best effort to address the problem of money in politics," spokesman Bill Burton told the Times. "It isn't a perfect solution to the problem and it isn't even a perfect symbol. But it does reflect that Obama shares the urgency of the American people to change the way Washington operates."
Um, okay.
"Obama's biggest single source of corporate money - $160,000 - came from executives at Exelon Corp., the nation's largest nuclear power provider, and its subsidiary, Commonwealth Edison, an Illinois utility," the Times reports.
ComEd, of course, is also one of the biggest supporters of Emil Jones, whom Barack Obama calls his political mento and who just used a parliamentary maneuver to keep the utility's controversial rate hike on track.
(The Rockford Register Star says: ComEd has been one of Jones' top two campaign contributors. In 2005, according to Crain's Chicago Business, Jones was the guest of honor at a fundraiser at the home of ComEd President Frank Clark. Crain's reported that the event generated about $127,000 in donations for Jones' campaign, with at least $78,000 of the contributions coming from dozens of executives and board members with ComEd and parent company Exelon Corp., as well as ComEd and power industry lobbyists.")
"Exelon spent $500,000 to influence policy in Washington last year," the L.A. Times report says. "Although Obama took no money from Exelon's Washington lobbyists, he accepted $1,000 checks from lobbyists John P. Novak and James Monk of Springfield. In Springfield, Novak represents Exelon., and Monk is president of the Illinois Energy Assn., a trade group that represents Commonwealth Edison.
"In Tallahassee, Obama held a fundraiser attended by several statehouse lobbyists, taking checks from lobbyists for trial attorneys, the insurance industry, fast-food chains and sugar cane growers. State and federal issues often are related, as noted by the law firm Akerman Senterfitt, whose Florida-based members donated $7,000 to Obama. On its website, Akerman notes it combines Tallahassee connections with 'an involved federal political action committee' to provide its clients 'with an enviable level of access.'"
And that's not all.
"On May 2, Obama is scheduled to attend a $2,300-per-ticket breakfast 10 blocks from the Capitol," the Times says. "The hosts include 22 lawyers. Although they are not federal lobbyists, three in the past have been registered lobbyists; they all work at firms that have Washington lobbying operations or hire outside lobbying firms to contact lawmakers.
"Lobbyists at the law firms where the lawyers work billed lobbying clients a combined $19 million in 2006, according to PoliticalMoneyLine. Clients include defense contractors, energy producers, healthcare interests, pharmaceutical manufacturers and tobacco companies.
"One lawyer co-hosting the Obama event has represented companies fending off litigation over toxic waste cleanup, and another represents employers on affirmative action requirements, force reduction and early retirement programs, their firms' websites say.
"Attorney Robert Sussman, one of the organizers, said in an interview that he was a registered lobbyist until recently, when he decided to help Obama raise money. So that he might do so, he said, the campaign requested that he drop his registration.
"'This is a policy that they felt would be consistent with their values and their beliefs. I take no position on the wisdom,' Sussman said. 'I decided whatever small inconvenience that was created [by ceasing lobbying] was more than outweighed by helping the candidate.'"
*
For more of the Beachwood's coverage of Obama, check out the Obamathon collection.

Posted by Beachwood Reporter at 7:37 AM | Permalink
Songs That Did Or Did Not Change The World
Rolling Stone magazine. God love 'em. It's kind of like Saturday Night Live - you keep expecting them to go away, but somehow they hang in there, putting out a certain brand of something that keeps drawing us back year after year no matter how much you think it's nothing but a dirty habit. Despite all the, you know, meaninglessness of these "greatest" lists Rolling Stone seems to do about once a week, they continue to grab attention. It's force of habit. They're Rolling Stone. They do lists.
Well, so do we, dammit. Ours is called Playlist, with the big difference being our lists are rarely about the "greatest" of anything, and are usually just collections of random shit that seem to fit well together for whatever reason. But because the master of lists has spoken, we will honor the occasion with our own breakdown of Rolling Stone's "40 Songs That Changed the World," which is in honor of the venerable mag's 40 years of Baby Boomer voice-giving.
Actually, we only did the first 20 on the list. No excuses, but we're just kind of numb. We got to Joni Mitchell's "Help Me" and figured the game was up, at least for now. Check back for future Playlists where the randomness will continue.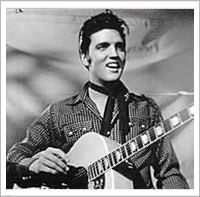 1. Elvis Presley, "That's Alright." There's an inescapable logic here. Since this is the first record that came from Elvis' first Sun Records session, I guess that automatically means it's the world-changingest song ever. But that holds true only if you're a skeptic about Bill Haley and the Comets' "Rock Around the Clock," which doesn't even make the Rolling Stone list even though both songs were recorded in 1954. I think most people would say "Clock" was the first rock 'n' roll song, but of course, they'd be wrong. That would be Haley's "Rocket 88," recorded way, way back in 1951, and which Billboard rightly calls "the first rock 'n' roll recording by a white artist." So if you wanted to pick a Sun sessions Elvis song that would represent his impact on the world, I'd go with "Hound Dog," a much bigger hit than "That's Alright," which I think gets the nod purely because of a mistaken notion that it was the first of the first.
2. Ray Charles, "I Got a Woman." Well, it's hard to argue with this one. Perhaps the greatest of Charles' Atlantic Records classics, also recorded in 1954, it was probably the first R&B song to totally crash the apartheid of the "race record" system. It was the Jackie Robinson of music. It was the first "soul" record. It truly did change the world. Nice pick.
3. Chuck Berry, "Maybelline." If white folks were showing some soul by accepting Ray Charles, why not a black rock 'n' roller, too? Um, well, sorry Chuck Berry, that honor would go to the much less threatening (and talented) Little Richard. Chuck's personal life was too dangerous for all the little Nelsons and Johnsons out there in suburbia. I think where he really changed the world was by his influence on white musicians, especially in England, especially in Liverpool.
4. Bob Dylan, "A Hard Rain's Gonna Fall." Once again, this is a rock music critic's pick based on how a song changed not so much the world at large, but the tastes of other rock 'n' rollers. Which is fine, I guess, but if that's the case, then the "40 Songs That Changed the World" moniker is hype. Dylan's "Rain" is a representative song from an album that marked his emergence in 1963 into a folk music phenomenon, but once again, if you're talking about a direct effect on Baby Boomers (and thus "the world" in Rolling Stone terms), there wasn't much here. If you're going to pick a song from The Freewheelin' Bob Dylan, why not "Blowing In the Wind," which did indeed have a big effect on the world? Maybe it was too obvious.
5. The Kingsmen, "Louie Louie." The first truly annoying rock 'n' roll record. Yeah, it changed the world. For me to poop on.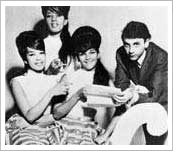 6. The Ronettes, "Be My Baby." Love him or hate him, Phil Spector was what it was all about in mainstream early-to-mid-'60s rock. Johnny Ramone once said about him, "Producers are nothing" after he failed to deliver a punk rock hit for the Ramones. But that's not true, at least it wasn't in the Ronettes era. Back then, rock 'n' roll was a producers' medium (see the next song). The artists were still too young to know what they were doing in the studio.
7. The Beatles, "I Want to Hold Your Hand." George Martin still doesn't get enough credit, strange as that may sound. He's called the fifth Beatle, but he was actually probably the third-or-so Beatle in 1964. The hand-claps he engineered so made this song. The crispness of the vocals, the miked-up drums . . . all George Martin. Go get the new Beatles mash-up Love if you don't believe me.
8. Martha & the Vandellas. "Dancing in the Streets." I'm thinking this song changed the world because, what, it invented disco? It was a signature hit for Marvin Gaye and Motown? Or was it because it later became background music for the Black Power revolution? If it's on the list because Motown needed some representation, then why not "My Guy" or "Baby Love," both of which hit No. 1 in 1964? Or even Martha's "Heat Wave," which unlike "Dancing in the Streets," reached the top R&B spot? It is a mystery. Also, where are Supremes on this list?
9. Rolling Stones, "Satisfaction." Just a monster. This did indeed change the world. I mark this song as the moment rock 'n' roll (and thus the Baby Boomers) became aggressive and pissed off about the world, especially Vietnam. This is when a massive generation, for better and worse, grew up, and we've been living with the consequences ever since.
10. Bob Dylan, "Like a Rolling Stone." Rock 'n' roll Dylan. Now it was official - everybody bows to rock.
11. The Beatles, "Strawberry Fields Forever." The record that showed that showed everyone that, no, drugs are a good thing, setting the stage for the Summer of Love. It also was a seminal record in that it showed that new recording technology was not to be feared, but embraced. The dawn of studio trickery.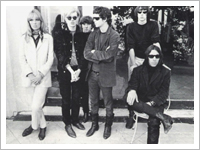 12. The Velvet Underground, "Heroin." Only to be immediately followed by Warhol world, which proved that too many drugs are not a good thing. The Velvet Underground's world-changing effect was in lifestyle more than music. They were a happening and an attitude more than a band. Kind of like Pink Floyd was in the beginning. Again, rock critics love this band because of the profound effect it had on other bands. But "Heroin" had no direct effect on the world. None. You can say the VU inspired punk rock, but then save this for Rolling Stone's next list, the 100 Most Influential Proto-Punk Songs.
13. Jimi Hendrix, "Purple Haze." The guitar makes its debut as a weapon of mass destruction, becomes an "axe" and generations of rock heroes have been choppin' ever since.
14. Aretha Franklin, "Respect." Sock it to me, mama. This song changed world because it really launched the women's movement in 1967. Aretha had a lot of credibility because she grew up in the church and paid her dues, and her mastery of the soul medium was truly astounding.
15. Led Zeppelin, "Whole Lotta Love." Heavy metal has changed the world in many ways, although I think not many of them good. Still, this song proved that rock 'n' roll could become meaner, louder and more, um, rockin' than anyone ever thought. If that's your idea of good time. Heaviness introduced a strain into rock 'n' roll that broadened its appeal to people who didn't necessarily believe in "love." A turning point.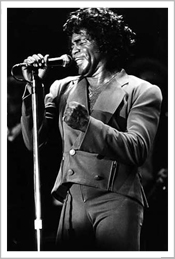 16. James Brown, "Sex Machine." This is when James Brown got militant. All the revolutions - sexual, racial and political - were in full swing now (1970). This record changed the world because it showed white America once and for all that being black and proud was going to be the end result of the civil rights and black power movements. There was no going back now. Apartheid, even in the South, was doomed.
17. Marvin Gaye, "What's Going On?" Soul meets protest in the first R&B "concept album." Truly a reflection of its time. I guess you could say it changed the world in that it provided a gentler, more reflective and quasi-religious counterpoint to the angry social revolution that JB espoused the year before. What Gaye really did here, I think, is to set up the '70s ethos of rejection of violence and embrace of individual fulfillment.
18. John Lennon, "Imagine." If only this song really had changed the world. Obviously it didn't, because its central message of rejecting religious extremism has been lost in a world that seems to be backsliding into a new Dark Ages where God is invoked as justification for all manner of horrors.
19. David Bowie, "Ziggy Stardust." Between Bowie, Queen and Elton John, the final taboo of the sex, drugs and rock 'n' roll troika, homosexuality, came a'tumblin' down. Ziggy was a clarion call from sexually decadent England to Middle America proclaiming the right of anyone to be fabulous. Another nice pick for a song that actually made a difference out on the prairie.
20. Bob Marley, "I Shot the Sheriff." Island magic gets discovered in a big way. I think reggae became so popular with '70s white kids because it was a nice, laid-back kind of black music, an alternative to soul, which had gotten pretty angry at The Man. Bob Marley had all the soul, but little of the anger.
COMMENTS
1. From Robert Pruter:
You wrote a terrific essay in your commentary on the Rolling Stone list. Such lists are bound to elicit differing opinions, and I have a few on some of your comments.
Rolling Stone is correct in naming "That's Alright." It was by Elvis Presley, who was in the forefront in launching the rock 'n' roll revolution. There is a good argument for "Rock Around the Clock," but it was not by Elvis, and that is the problem. You are on far weaker ground in naming "Hound Dog," it was not a Sun release, and it came out on RCA much later after Elvis made is debut on the world stage. Elvis already had a string of regional and national hits by then.
I don't think you can make arguments on what was the first rock 'n' roll record either. There was a book that came out a few years ago that named 50 first rock 'n' roll records. In any case, "Rock Around the Clock" became a hit in 1955. In 1954 the Crows' "Gee" and the Chords' "Sh-Boom" as the first cross-over hits from R&B are usually considered the first rock 'n' roll hits.
I think "Louie Louie" was chosen by Rolling Stone, because it was first big hit in what later was called garage, which was sort of a predecessor to punk, etc. I can see the reasoning in that. I like the pick because it was investigated by the FBI for supposedly lewd lyrics, at the request of the Indiana governor, and the FBI played it at different speeds, and concluded that the record "was unintelligible at any speed." What a great recommendation for a rock n' roll record.
Rolling Stone picked a good one in "Dancing in the Streets". It was more evocative of the era, capturing more of the impact of Motown than Mary Wells' "My Guy" or any of the Supremes songs.
James Brown as the father of punk really dates back to his 1965 hit, "Papa's Got a Brand New Bag." If you don't want to go back that far, a powerful argument could be made for his 1967 hit "Cold Sweat," which turned a lot of heads and really launched funk as a genre.
Anyway, my two cents... and thanks for an interesting essay.
Comments? Send them to Don Jacobson. You must include a real name to be considered for publication.
Posted by Don Jacobson at 3:52 AM | Permalink
Name That Abuser!
With recent abuses by members of the Chicago Police Department making news nationally, the Beachwood thought readers might like to put on their thinking caps and "Name that Abuser!" (Redacted for entertainment purposes only. Text from The 2006 Amnesty International Report: The State of the World's Human Rights.)
A. Limited legal and judicial reforms did little to improve human rights protection. Tens of thousands of people continued to be detained in violation of their human rights and were at risk of torture or ill treatment. Thousands of people were sentenced to death or executed. The authorities frequently resorted to the use of force against growing social unrest. There was a renewed crackdown on the media and Internet controls were tightened. The community continued to face severe repression as part of the authorities' "war on terror". Freedom of expression and religion continued to be severely restricted in areas. arms sales to raised concerns that its actions were contributing to human rights violations in other countries. continued a limited dialogue with selected members of the international community on human rights issues. However, human rights defenders at home continued to be arbitrarily detained and some were sentenced to prison terms. NAME THAT ABUSER!
B. Restrictions on freedom of expression, association and movement continued to cause great concern. Nearly 70 prisoners of conscience remained in prison. The embargo continued to have a negative effect on the enjoyment of the full range of human rights in . The economic situation deteriorated and the government attempted to suppress private entrepreneurship. More than 30 prisoners remained on death row; no one was executed. NAME THAT ABUSER!
C. Foreign nationals were reported to have been unlawfully expelled, arbitrarily detained and ill treated in police custody. The police allegedly used excessive force against demonstrators and journalists at a picket by striking lorry drivers. State policies failed to provide protection, support, justice or redress to victims of violence in the family. NAME THAT ABUSER!
D. Thousands of detainees continued to be held in custody without charge or trial . There were reports of secret detention centers in undisclosed locations where detainees were held in circumstances amounting to "disappearances". Dozens of detainees went on hunger strike to protest against their harsh treatment and lack of access to the courts; some were reported to be seriously ill. Reports of deaths in custody, torture and ill treatment continued to emerge. Despite evidence that the government had sanctioned interrogation techniques constituting torture or ill treatment, and "disappearances", there was a failure to hold officials at the highest levels accountable, including individuals who may have been guilty of war crimes or crimes against humanity. Several trials took place of low-ranking soldiers charged with abusing detainees; in most cases sentences were light. There were reports of police brutality and use of excessive force in the . Sixty-one people died after being struck by police tasers, a huge rise over previous years. Sixty people were executed, taking the total to over 1,000 since executions resumed in 1977. NAME THAT ABUSER!
E. Practical implementation of reforms intended to bring law into line with international standards slowed in 2005. The law provided for continuing restrictions on the exercise of fundamental rights. Those expressing peaceful dissent on certain issues faced criminal prosecution and sanctions after the introduction of the new Penal Code. Torture and ill treatment continued to be reported, with those detained for ordinary crimes particularly at risk. Law enforcement officers continued to use excessive force in the policing of demonstrations; four demonstrators were shot dead in November. Investigations of such incidents were inadequate and law enforcement officers responsible for violations were rarely brought to justice. NAME THAT ABUSER!
Answers:
A.

China - A country with U.S. Most Favored Nation Status. Host of the 2008 Summer Olympics. No longer a Red Menace. Now just Dennis the Menace.
B.

Cuba - The Tropical Red Menace.
C.

Cyprus - Greece didn't like them, so neither do we.
D.

United States - "Give me your tired, your poor, Your huddled masses yearning to breathe free, The wretched refuse of your teeming shore. Send these, the homeless, tempest-tost to me, I lift my lamp beside the golden door!" Welcome to New Orleans!
E.

Turkey - Acceptance into the European Union pending. If they're almost good enough for the developed nations of Europe, they're almost good enough for us.
Posted by Beachwood Reporter at 2:17 AM | Permalink
April 23, 2007
Outsourced Olympics
To say that I read with interest the article in yesterday's Tribune about the outsourcing of Olympic bid work to China is an understatement. I'm livid.
The City of Chicago has a residency requirement; anyone who works for the city must live in the city. If I remember correctly, the defense for this requirement was that the taxpayers are paying these people; these people should also be taxpayers. While I don't necessarily agree that the city gets the best value, as many talented people for many reasons live outside the city limits, there is some value in seeing the taxpayers get something for their money.
I guess that doesn't go both ways. The Olympic bid committee needs animations. Do they go to local graphic designers and video artists? Do they call the faculty at Columbia College, requesting student submissions? I'm sure there are any number of talented people in Chicago who would have been able to do the work and happy to have it. Some of the best computer graphics minds in the world are right here in Chicago; did anyone consider calling the Electronic Visualization folks at UIC? No, of course not - the bid committee just sent it off to China.

As for the assertion that the animations had to be produced quickly: Did this bid idea come up overnight? This bid has been publicized for months, but I guess the probability of lead time never occurred to anyone.
I'm sure one argument for going to China would be, this was privately funded, so the committee can go anywhere they see fit. Shouldn't the donors' money at least stay in this country? Are any of the donors Chinese nationals? I have no problem going elsewhere when the work truly cannot be done here; however, I cannot believe that there is no one in Chicago, to say nothing of Illinois and the United States as a whole, who could have done this work.
Even assuming that the bid is completely privately funded, should Chicago get the Olympics, the mayor and the governor have both admitted that tax dollars will be spent to fund the Games. Shouldn't we be looking for ways, no, shouldn't there be a requirement, like the city residency requirement, that any work done on the bid be locally produced? Yes, it's cheaper to go to China, but it's also cheaper for a Chicago teacher or police officer to buy a house outside the city limits. Ethical consistency, a foreign concept to this administration, demands that if the city that requires its workers to live in the city, any other work done for the city should also be produced locally.
I hope the committee realizes that, as jobs fly overseas, there are fewer people able to pay taxes, to buy products, and to get enthusiastic about the Olympic bid. The publicity surrounding the bid said that jobs would be created right here; that job creation must begin now.
My first thoughts, on seeing any announcements relating to the Olympics, should be: Wow, this is exciting. What a great thing this will be if the city gets the Games! Instead, my first thought will be: Was this work done in China?
*
Comments? Send them through our Contact form. You must provide a real name to be considered for publication.
*
1. From Eric Bowden:
If we're going to outsource to China for the Olympics, why don't we get a few of their athletes for our team while we're at it?

Posted by Beachwood Reporter at 10:04 AM | Permalink
The [Monday] Papers
The insurgency in my throat has been largely put down, but things here at Beachwood HQ are still in a state of postwar chaos. I'll get caught up as the week goes along.
Being Barack
The Sun-Times expands today on Barack Obama's relationship with indicted political wheel Tony Rezko in the first of a two-part investigation, this part called "Obama and His Slumlord Patron."
The paper reports that "new facts [have] come to light that paint Rezko as a landlord overseeing dilapidated housing in the middle of Obama's former state Senate district," and that "Obama did legal work on some Rezko deals."
As the paper acknowledges, the scope of Obama's work remains unknown. But his involvement at some level is unmistakable - as is the absence of evidence Obama ever spoke up for the low-income citizens in his district whose lives were made miserable by the crappy housing Rezko built for them, even as he was taking campaign contributions from Rezko. On that score, the campaign would only say - in a written statement - that "Senator Obama did follow up on constituency complaints about housing as a matter of routine."

For now, I'd just like to focus on the part of the story that once again belies Obama's professed desire for a new kind of politics, one that would presumably include transparency and accountability of our elected officials, and that's the way he and his staff have tried to manage this story.
"For five weeks, the Sun-Times sought to interview Obama about Rezko and the housing deals," the paper says. "His staff wanted written questions. It responded Sunday but left many questions unanswered. Other answers didn't directly address the question."
The paper says it submitted questions in writing on March 14. It received an e-mail response yesterday. And not much of a response. "They didn't say what deals he worked on - or how much work he did."
Others have closed ranks about Obama too. The paper asked Judson Miner, a partner in the law firm Obama worked at - the one that partnered with Rezko in his ill-fated housing developments - about the cases Obama worked on.
"We'll put together a list of the cases he worked on involving Rezko/Rezmar in the next day or two," Miner told the Sun-Times.
"That was March 13," the paper reports. "He never provided the information."
Gee, do you think there's something they're trying to hide?
Money Man
"Over the years, Rezko, [his partner], their wives and businesses have given more than $50,000 to Obama's campaign funds, records show," the paper reports. "And Rezko has helped raise millions more."
In fact, Obama appointed Rezko to serve on his U.S. Senate campaign finance committee. (And gave the son of a contributor an internship at Rezko's request.)
Shortly after, Obama called Rezko for "advice" on a home he wanted to buy in the Kenwood neighborhood. That's right - according to what Obama has previously told the Sun-Times, Obama called Rezko. So much for wily Tony just trying to get close to a rising political star.
Of course, we don't know much about that phone call because Obama diverted the media's attention by calling his later purchase of a fence boneheaded, as if that was the issue, and not the discount purchase of a home on the same day that the adjoining property was bought and placed in the name of Rezko's wife.
In both that story and today's, the Sun-Times reports that it put questions in writing to Obama - a practice I wouldn't allow in any newsroom I was running. (But a strategy no doubt crafted by Obama media manager David Axelrod - you know, the same guy who advises the mayor.) Doing so allows a campaign to carefully construct answers, get out in front of a story, contact other possible sources and tell them to clam up, and prevent a reporter from asking follow-up questions such as "Tell me more about that phone call, Senator," or "So you never took any particular action to help constituents in your district living in the slums your patron Tony Rezko built? Why not?"
This story says as much about Obama's relationship with Rezko (and in finally raising questions about how well he represented his state senate district) as it does his lack of devotion to honest dealings with the media. And in the end, that could prove more deadly.
Money Woman
The Tribune also had some interesting Obama reporting over the weekend in its profile of his wife, Michelle.
First, there's the specter of Michelle spinning her job at the University of Chicago Medical Center, which apparently has been to keep poor people out of its emergency room. Her explanation for representing the hospital's budget instead of its most needy patients is right out of the Ronald Reagan handbook: "It's mutual responsibility."
See, poor people have a responsibility to take better care of themselves so they don't get sick, and the University of Chicago has a responsibility to take better care of its budget so it can continue to pay annual salaries like the $273,618 it pays Michelle Obama. How else is she supposed to be able to afford real estate deals with Tony Rezko?
Of course, that's not her only source of income.
"Not long after Barack Obama entered the U.S. Senate, for instance, his wife was offered a position on the board of TreeHouse Foods, a Westchester-based maker of specialty foods." TreeHouse's biggest customer, by far, is Wal-Mart.
Michelle Obama's compensation pacakge from TreeHouse last year was $101,083, the Tribune reports.
But her main gig is at the U of C, where her boss is . . . Susan Sher. That's Susan Sher, the city's former Corporation Counsel, whom Michelle worked with while she was employed in the Daley Administration. (Yes, she worked in the Daley Administration. Go figure.)
So when Obama says "our politics feels very much like an insider's game," he knows of what he speaks.
The Beachwood Tip Line: Stick your toe in.
Posted by Beachwood Reporter at 9:35 AM | Permalink
The Senator and the Slumlord
The Sun-Times expands today on Barack Obama's relationship with indicted political wheel Tony Rezko in the first of a two-part investigation, this part called "Obama and His Slumlord Patron."
The paper reports that "new facts [have] come to light that paint Rezko as a landlord overseeing dilapidated housing in the middle of Obama's former state Senate district," and that "Obama did legal work on some Rezko deals."
As the paper acknowledges, the scope of Obama's work remains unknown. But his involvement at some level is unmistakable - as is the absence of evidence Obama ever spoke up for the low-income citizens in his district whose lives were made miserable by the crappy housing Rezko built for them, even as he was taking campaign contributions from Rezko. On that score, the campaign would only say - in a written statement - that "Senator Obama did follow up on constituency complaints about housing as a matter of routine."

For now, I'd just like to focus on the part of the story that once again belies Obama's professed desire for a new kind of politics, one that would presumably include transparency and accountability of our elected officials, and that's the way he and his staff have tried to manage this story.
"For five weeks, the Sun-Times sought to interview Obama about Rezko and the housing deals," the paper says. "His staff wanted written questions. It responded Sunday but left many questions unanswered. Other answers didn't directly address the question."
The paper says it submitted questions in writing on March 14. It received an e-mail response yesterday. And not much of a response. "They didn't say what deals he worked on - or how much work he did."
Others have closed ranks about Obama too. The paper asked Judson Miner, a partner in the law firm Obama worked at - the one that partnered with Rezko in his ill-fated housing developments - about the cases Obama worked on.
"We'll put together a list of the cases he worked on involving Rezko/Rezmar in the next day or two," Miner told the Sun-Times.
"That was March 13," the paper reports. "He never provided the information."
Gee, do you think there's something they're trying to hide?
Money Man
"Over the years, Rezko, [his partner], their wives and businesses have given more than $50,000 to Obama's campaign funds, records show," the paper reports. "And Rezko has helped raise millions more."
In fact, Obama appointed Rezko to serve on his U.S. Senate campaign finance committee. (And gave the son of a contributor an internship at Rezko's request.)
Shortly after, Obama called Rezko for "advice" on a home he wanted to buy in the Kenwood neighborhood. That's right - according to what Obama has previously told the Sun-Times, Obama called Rezko. So much for wily Tony just trying to get close to a rising political star.
Of course, we don't know much about that phone call because Obama diverted the media's attention by calling his later purchase of a fence boneheaded, as if that was the issue, and not the discount purchase of a home on the same day that the adjoining property was bought and placed in the name of Rezko's wife.
In both that story and today's, the Sun-Times reports that it put questions in writing to Obama - a practice I wouldn't allow in any newsroom I was running. (But a strategy no doubt crafted by Obama media manager David Axelrod - you know, the same guy who advises the mayor.) Doing so allows a campaign to carefully construct answers, get out in front of a story, contact other possible sources and tell them to clam up, and prevent a reporter from asking follow-up questions such as "Tell me more about that phone call, Senator," or "So you never took any particular action to help constituents in your district living in the slums your patron Tony Rezko built? Why not?"
This story says as much about Obama's relationship with Rezko (and in finally raising questions about how well he represented his state senate district) as it does his lack of devotion to honest dealings with the media. And in the end, that could prove more deadly.
*
For more of the Beachwood's coverage of Obama, check out the Obamathon collection.
Posted by Beachwood Reporter at 7:42 AM | Permalink
The Cub Factor
Going back to the middle of last season it was obvious to everyone with half a brain that Dusty Baker had to go. But at The Cub Factor we wondered last week if the Cubs' record would be any different right now if Baker were still the manager. After a computer analysis including such constants as baserunners oversliding bases given to them for free and early-season cold weather, and such variables as the number of players playing out of position and delegating managerial decision-making to the bench, we say No.
Sure, Uncle Lou is a lot more engaging in press conferences and has only used about half the excuses Baker used (so far), but with the talent on this team, one has to consider that the new "accountability" is playing havoc with the team's psyche. Let's break down some players and how the season would probably look if Baker were still the skipper:

* Ryan Theriot. Would be hitting .350 in Triple A. That would be Bad.
* Jacques Jones. Knows he's on borrowed time and either doesn't care or is pressing harder than a virgin on Prom Night. With a more relaxed attitude he helps out more. That would be Good.
* Carlos Zambrano. Would be able to cry and pray without repercussions, thus playing in a more relaxed and divine state. That would be Good.
* Rich Hill. Would be in Triple A demanding a trade. That would be Bad.
* Aramis Ramirez . Would not be hustling and would probably not be hurt (yet). That would be Good.
* Mark Prior. Would have been named the fifth starter instead of Wade Miller. That would be a Push.
So if you take the Good and the Bad you get the Ugly truth. These guys would be the same. It's not that Baker shouldn't have been fired or that Pinella isn't better. It's just that this team has more issues than Time magazine. What might of worked best would have been bringing in Uncle Lou halfway through last season to let him assess the situation and help shape this season's roster. Instead, he's figuring out what he's got - and how his home field works - on the fly, when the games count. But hey, he might throw a base and that's fun.
*
In the old days, the answer to the question, "What the hell do you think isn't working?" would have been "Cubs fans."
*
Week in Review: The Cubs went 3-4 to bring their record overall to 7-11. They split two-game series' with the Padres and Braves and lost 2 of 3 to the Cards. If they could find a way to just play two-game series' they would be better off.
Week in Preview: The first place Milwaukee Brewers (get used to hearing that) come to town for three. Zambrano tries to right the ship in the opener, yikes. Then it's off to St. Louis for three more with the Cards. Maybe we'll see another Wade Miller-Adam Wainwright matchup; get your VCRs ready.
The Second Basemen Report: Just when you thought it was safe to pencil in Mark DeRosa for the rest of the season, here comes Ryan Theriot knocking the crap out of the ball. Theriot played second in five of seven games last week with DeRosa getting the other two starts. Uncle Lou has seen enough of Theriot in the outfield, though not quite enough of DeRosa, who joins the crowded mass of the defensively challenged. Good times.
In former second basemen news, Jerry Hairston has appeared in 10 games for the Texas Rangers and is hitting .294. He is missed.
Sweet and Sour Lou: 49% sweet 51% sour. Down 4 points on the sweet-o-meter this week due to injuries, poor bullpen pitching, losing more than winning, sliding over bases, and general badness.
Mount Lou: Quite a bit to erupt over this week, but Mount Lou kept his cool. The natives will anger Mount Lou after another series loss to Milwaukee, though, so we're thinking Wednesday afternoon for the next eruption.
Beachwood Sabermetrics: A deep statistical analysis shows that Will Ohman is far more likely to pitch well when the Cubs are down by at least three runs.
Over/Under: Mark DeRosa "slumpbusters" this week: 1.5.
*
See The Cub Factor in all its season-long glory.

Posted by Beachwood Reporter at 7:12 AM | Permalink
April 21, 2007
What I Watched Last Night
When it comes to boxing, I can take it or leave it. Not because it's violent and has an underbelly with all sorts of unsavory characters, but because for me, it's not as exciting as, say, Ultimate Fighting. But last night's The Best Damn Sports Show Period turned into the best damn boxing show period with a 10-round women's bout between Holly Holm and the extremely scary-looking Ann Marie Saccurato.
Before last night, the only exposure I'd had to women's boxing was seeing Muhammad Ali's professional-boxer daughter Laila once and thinking she was pretty damn sharp. I came in halfway through the Holm-Saccurato bout, and these two were brutal - but not in that sort of aimless, drunken brawling way you normally see during boxing exhibitions featuring washed-up child stars. No, these two knew how to administer a professional Grade A ass-kicking, and the only thing missing was the slaughterhouse freezer with sides of beef hanging from huge hooks and Saccurato glaring at the camera and snarling, "I predict . . . pain."

To this casual boxing bystander, it was a lot more interesting than men's boxing - and not because it's still novelty to see women in the ring and, let's face it, that's still enough to capture a man's attention for at least a few minutes. No, it was more interesting than men's boxing because of the quality of the fight. There was none of the time-wasting stuff that makes men's boxing sorta dreary - especially toward the end-rounds when both guys have punched themselves out and are basically just holding each other up out of exhaustion. There was no clinching, no rope-a-doping, no sitting there stuck in a corner covering your face with your gloves buying time until the bell rings. Instead, every two-minute round was nonstop, balls-out, dukes-flying pummeling from bell to bell.
Holm took the bout by unanimous decision, which didn't surprise me. She was my favorite because she kicked more ass, of course, but also because she had the better trunks (a pair of melon-colored shorty-shorts compared to Saccurato's black knee-length manly-man trunks that looked more fashionable on Sonny Liston). And I figure Holm was up on points before the opening round just for getting into the same ring with Saccurato without being scared out of her skin.
Screw hockey. I've found a new fight night to like.
*
Scott Buckner can't watch TV every night, as much as we've tried to get him to. If you'd like to join the team and contribute to this feature, drop us a note. And as always, be sure to catch up on the What I Watched Last Night archive. It's better than, um, watching TV.
Posted by Beachwood Reporter at 9:13 AM | Permalink
The Weekend Desk Report
In the wake of a shocking public split, we would like to point out that the Weekend Desk has been gum-free and well bathroom-oriented since 2006.
Axing Upset
Vegas will be licking its wounds for quite some time after 25-1 long-shot Frank Kruesi sailed to victory over heavy favorite Alberto Gonzales in this year's Doing a Heckuva Job Derby. Experts note, however, that while this first jewel in politics' triple crown was a shocker, a return to form is almost certain in the Empty Threats Stakes and the Tasteless Pandering event.

Axis Implosion
State Department sources warn that the Lindsay Lohan situation may soon become unsalvageable. In response to a series of aggressive attacks and blatant infiltrations by Paris Hilton, Lohan is apparently attempting to acquire the potentially devastating weapons technology originally developed by Britney Spears. Spears herself, however, is maintaining her very public commitment to disarmament. White House officials are said to favor isolating the antagonist Lohan, ostensibly for her own good.
Not Forthright League
In other news, a recent survey suggests some 70 percent of top NFL prospects are liars. It will be interesting to see how commissioner Roger Goodell copes with this latest character issue.
The Chicago Way
Finally this week, as Mayor Daley rallied the faithful to show just what this city is all about, it appears one small South Asian country has figured it out already.
Posted by Natasha Julius at 2:01 AM | Permalink
April 20, 2007
The [Friday] Papers
On the road to recovery, but not quite ready to pump out a regular column. I'll catch up sometime today and/or over the weekend and, for sure, things will be back to normal by Monday. In the meantime, I can assure you that all the people who usually lie to you are still doing so, and all the suck-ups and posers who enable them continue unabated.
In the meantime, new material is posted throughout the site. And remember, the archives for each section are available by month in the upper left rail of each section front. We're working on design changes and other site improvements we hope will be ready soon. You can find the archives for this column and The Weekend Desk Report here.
Finally, I had these excerpts laying around from Conversations with Nelson Algren, distilled from H.E.F. Donohue's interviews with the author, published in 1964. The great (and depressing) thing about writers such as Algren is the timelessness of their message.
*
"All these scenes, one after another, piled up into something that made me not just want to write but to really say it, to find out that this thing was all upside down. Everything I'd been told was wrong. That I see with my own eyes. I'd been told, I'd been assured that it was a strive and succeed world. What you did: you got yourself an education and a degree and then you went to work for a family newspaper and then you married a nice girl and raised children and this was what America was. But this was not what America was. America was not socialized and I resented very deeply that I'd been lied to. I'd not only been lied to morally, I'd been lied to even insofar as the information that I had about journalism. I'd been told how to write headlines for newspapers. I'd been told in the School of Journalism the way you wrote headlines when you tried to write a headline, but the way you'd been taught, this got you fired immediately from a newspaper. You had to reverse everything from what you'd been taught, mechanically as well as morally."
*
"I deal in facts, man. The hard terrible facts, the iron truth."
*
"I think there's a comparison to be made between the individual who goes for a false security and a country that goes for a false security . . . we're going to have a different kind of war. We're going to have a war that isn't a war and it isn't a peace. We're just going to havea tightening, a continuous tightening of security as the fear grows."
*
"I put up with the disdain. I accept that as part of the creative person's lot in the United States. You must live with the disdain. There's something criminal about being a writer, that is, if you're not a successful writer, that is, if you're not a yes man. There are a lot of yes men who just give a nod to the corruption of business, the corruption of the newspaper world, the corruption of the magazine world, and the hollowness of American life. They give the nod to it. They give approval and they get a pay-off . . . But if you go against this, if you point out that the reason Americans are restless is because their lives are empty - that what we have here isn't a kind of 4-H Club picnic going - that this is a country where there's a great deal of psychological and spiritual anguish, that we live in a nightmare, that the people in Sherwood Anderson's short stories or the plays of Tennessee Williams are closer to actuality than are the pictures we get from Herman Wouk or James Michener, or name whomever you want - the professional approvers - if you go against this Woukian thing, if you don't deal in handouts, then you feel the disdain, then you realize that you are a kind of criminal. You are against society and you have to be against it, it being what it is."
*
"If you're a Frenchman at the time of Napoleon, you were the destined people. They thought the same thing in Athens. And the English felt they were born to rule the world, as the Portugese have felt, as we in our time have felt American 'destiny.' But there is always in all of these civilizations as they come, there is always somebody as there was Socrates in Athens, as there were men in France, maybe a lot of people whose names are lost, as there were men during the American Civil War and during the First World War, there are always people who stand at the side and say, 'You're mad.' There's always some singular character who stands in opposition to the whole thing, who is either ignored or put away as a bug, or sent to Atlanta, or he's simply the man to whom nobody pays any heed. He's the man who's ultimately right."
The Beachwood Tip Line: Be ultimately right.
Posted by Beachwood Reporter at 9:03 AM | Permalink
Confessions of an Election Official
This past Tuesday, I served as an equipment manager election judge, in charge of setting-up and trouble-shooting the touchscreen voting machines and the optical scanner (for recording paper ballots) during the election. At the end of the day, it was my responsibility to transmit the votes, dismantle the machines, pack everything up and transport the important materials, including the voting machine memory packs, to the central receiving station.
This was my first time working the vote. Hours of hands-on training had gone into preparing myself and my fellow equipment managers to handle the technology of democracy. I'd read the materials multiple times, highlighted, tabbed and flagged my notebook and attended a practice session, where I'd changed the printer paper so many times I could practically do it blind-folded. I was nervous and excited to participate in an election from the other side of the curtain.
What follows is my riveting account of working the April 17th Cook County Consolidated Election.
5:00 a.m.: I arrive at the polling place on time. One of the other judges for my precinct is there, circling the Big Blue Box that houses everything for our polling station, wondering how to get into it. I have the key. Polling stations for two other precincts share the space with us, so we've got ten elections judges in all. Everyone other than myself and another equipment manager have worked the polls before, so we've got a lot of experience in the room.
5:10 a.m.: I have the first scare of the day when the lock to the Big Blue Box is stuck and will not budge. Panic thought: Ten minutes in and I'll already have to call for assistance. Tugging, swearing (in my head) and banging on the metal, the lock finally gives.
5:40 a.m.: Everything is set up, plugged in, turned on, and secured. We're ready to go!
6:00 a.m.: One of the election judges steps outside and following protocol announces, "The polls are now open!" Unfortunately, there's not a single voter within shouting distance to hear him.
6:23 a.m.: We log our first vote of the day. (Yeahhh!) It's one of our own judges. (Ohhhh.)
7:00 a.m.: Lots of chit chat among the judges.
7:10 a.m.: I crack open my first magazine of the day.
7:25 a.m.: Two people from the State's Attorney's Office show up to ask a few routine questions and take a tally of the number of votes so far. We three judges hold up an index finger - uno.
7:30 a.m.: Another pair from the State's Attorney's office appears, asking the exact same questions. Not much change in the last five minutes!
8:10 a.m.: I realize an oldster judge from one of the other precincts hasn't stopped talking since the polls opened. "Hey, pipe down you! I'm trying to read here!"
8:27 a.m.: Judges entertain one another by pretending to want to vote. Election Day improv helps pass the time.
8:35 a.m.: I finish my first magazine.
8:55 a.m.: Is it lunchtime yet? D'oh! Only nine o'clock?!?!?
9:00 a.m.: The Old Man of the Mountain election judge continues his history lesson of how much this area has changed over the years. A rambling monologue of when each building was built, where it's located, what it used to be, what's there now. On and on it goes. And they said this was going to be a long day . . .
9:15 a.m.: Three people scouting the area for an ideal restaurant location appear. They wonder why the parking lot is so full. Is it because of the election? Look around - what do you think?
9:44 a.m.: Thankfully we're facing a row of big windows, giving us plenty of natural light and something to look at. Who knew watching traffic could be so entertaining.
9:52 a.m.: Our second voter! (Yayyyyy!) Another election judge from across the room. (Awwww, sheez.)
9:55 a.m.: Another voter! We're on a roll now.
9:57 a.m.: A fellow judge amuses himself by repeatedly stamping his hand with the precinct stamp.
10:05 a.m.: A mad rush - two people voting at once! Can the system handle it?
10:07 a.m.: The building maintenance man seems as bored as we are. He's passed by five times since nine o'clock, rolling his cart back and forth, back and forth.
10:15 a.m.: Is it lunchtime yet?
10:27 a.m.: We watch a landscaping crew plant shrubs in front of the building. An accelerated version of watching the grass grow.
11:15 a.m.: Getting a lot of reading done.
11:20 a.m.: No, really, is it lunchtime yet?
11:24 a.m.: Two cop cars go screaming down the street, followed by a fire truck. Everyone in the room perks up.
11:35 a.m.: We have a real brain trust in the room today. Seven poll workers cannot solve the Tribune crossword puzzle.
11:50 a.m.: The big debate continues: Will lunch be provided for us?
Noon: Just seven hours to go!
12:02 p.m.: I take a phone call from one of my neighbors to discuss how our townhome association might appeal the pending (and outrageous) increase in our property taxes. Even a call about taxes is a welcome diversion at this point.
12:30 p.m.: I'm suddenly starving. I guess that bowl of cereal I ate at 4 a.m. isn't going to hold me all day.
12:45 p.m.: Lunchtime! I run out to grab a bite to eat. Will I return? Yes.
1:25 p.m.: An elderly gentleman marches with purpose up to his polling place and one of the judges greets him with, "We've been waiting for you all day!" He replies, "Somebody has to vote them out of office!"
1:30 p.m.: The strains of Happy Birthday come from an office on the second floor. About an hour ago, ten pairs of eyes followed a woman as she entered with a bakery box and climbed the stairs. Ten poll workers badly in need of a sugar fix silently consider storming the birthday party.
1:40 p.m.: I contemplate jamming the paper in one of the machines just so I'll have something to do. Might as well put that training to use.
2:11 p.m.: I kill another Vanity Fair magazine.
2:15 p.m.: One of my fellow judges, a high school senior, has slumped over in his chair and lapsed into unconsciousness.
2:20 p.m.: Seeing my sleeping co-worker, the designated mother in the group drags a bench off to a secluded corner of the room and convinces the teen to catch a quick nap. Fellow judges form a queue for nap time.
2:30 p.m.: My thermos rocks! Ten hours after filling it, the coffee is still hot. Recaffeination commences.
2:46 p.m.: I accidentally trip over a power cord, disconnecting the touchscreen card activation machine. Thank God for battery back-up. I spend the next five minutes violently re-taping the power cord to the carpet.
2:50 p.m.: A moment of excitement as one of the other equipment managers is called away to cover another location. In a day that could have been one crisis after another, this is as bad (or as good) as it gets.
3:00 p.m.: No poll watchers or press have stopped by and there's no sign of any precinct captains about. Some of my fellow poll workers are feeling neglected.
3:36 p.m.: No one speaks. It's the first moment of silence all day.
3:37 p.m.: And . . . the moment of blissful quiet is over.
3:46 p.m.: A rep from the manufacturer of the voting system stops by to verify that the machines are working properly. Yes, we tell him, each of the six times the touchscreen was used it worked just fine and was the highlight of our day.
4:00 p.m.: Over four hours since our last voter.
4:01 p.m.: Three more hours to go! Three . . . very . . . long . . . hours. 180 minutes. 10,800 seconds.
4:40 p.m.: Oh, sorry, did I nod off?
5:06 p.m.: One of the election judges keeps referring to the equipment managers as EMTs. Exactly what sort of training does he think we received?
5:40 p.m.: An hour and a half before closing the polls, I've organized the materials we'll need to wrap things up. We're ready to go.
5:45 p.m.: Chit chat chit chat.
6:00 p.m.: The one-hour countdown begins.
6:12 p.m.: Pizza! Courtesy of an election judge.
6:15 p.m.: How many election judges does it take to find form 301A? Six.
6:16 p.m.: Everyone is a clockwatcher now. 44 minutes to go.
6:24 p.m.: 36 minutes.
6:27 p.m.: Three minutes until one of us can make the announcement, "The polls will close in 30 minutes."
6:28 p.m.: Two minutes until one of us can make the announcement, "The polls will close in 30 minutes."
6:39 p.m.: One minute until one of us can make the announcement, "The polls will close in 30 minutes."
6:30 p.m.: "The polls will close in 30 minutes!"
6:37 p.m.: 23 minutes until we shut this baby down.
6:50 p.m.: The final countdown.
6:57 p.m.: Can you feel the excitement?!
7:00 p.m.: Polls close! Polls close!
7-8:00 p.m.: A whirlwind of activity as we run the final reports, shut down the machines, break down the polling stations, and pack everything back into the Big Blue Box. The votes are transmitted and all the "important stuff" is placed in the appropriate bag or envelope to be taken to the receiving station.
8:01 p.m.: I wander over to one of the precincts to see if they need any help since their EM has left them to finish up on their own. The lead guy is trying to keep it together and move things along but it seems he may be getting too much help from one of his fellow judges and I hear a lot of "No, no, just leave that there." "No, don't touch it. It stays right there." "No, he said leave it alone." "No, no, no, DON'T TOUCH IT!" I smile and slowly back away.
8:11 p.m.: We're off to the receiving station, a short drive away, where we'll drop off the envelope of results tapes and memory sticks and the wheeled blue duffel bag of ballots (or in our case, single ballot) along with forms inside of envelopes inside of other envelopes. Who knew there were so many envelopes involved in balloting?
8:25 p.m.: The drop has been made. Mission accomplished. Our work here is done.
9:00 p.m.: Beer.
*
Polly Pollworker asked that her real name not be used because "I don't want to jeopardize my ability to work future elections. I can really use the money."
Posted by Beachwood Reporter at 7:35 AM | Permalink
Ab-Doer Xtreme
I'll buy one today, just in case I look like that.
What it Is: An ab workout machine and instructional DVD, guidebook, Web guide, etc.
Cost: The spot claims a full, free trial, complete with free shipping.
Quote: "Commit to becoming a 'doer!"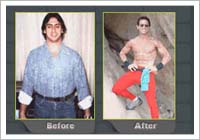 Shills: Creator John Abdo and pretty-ish foil Shannon Engemann. Former Mr. USA Aaron Baker
Set and Costumes: In a gym, 'round the Ab-Doer Xtreme, of course. Shannon wears a little black top knotted below the breasts, and John wears a ridiculous, futuristic vest type deal.
Gimmick: Footage and anatomical diagrams clearly show that the Ab-Doer's side-to-side "bob, bend, wiggle" motion is supposed to be less stressful than other workout activities, "and all in a comfortable, seated position."
Musical interlude: A soul-type singer growling, "Rrreally makes me feel good!"
Workout Math: "The Ab-Doer Xtreme targets all four sides of your waist at the same time, so you have four times the fat-burning movement!"
Appeal to Spartans: In a wide shot, hundreds and hundreds of people work out in what appears to be a desert. Later in the spot, we return to the desert, where a group of hot motorcycle chicks do a synchronized dance of seduction in front of their Ab-Doers before exercising in unison.
Appeal to Fatties: John tells us about his own weight problem, sharing an old photo (see above) from when he looked even more like Tony Danza's mutant brother. He claims working out also helped him overcome depression.
Evaluation: If there's any chance I look like that, I'll take John up on this tonight. Right after this bucket of ice cream.
Rating: 3
- Scott Gordon
Posted by Beachwood Reporter at 3:42 AM | Permalink
The Periodical Table
A weekly roundup of what's on Shipley's nightstand.
Swallowing the Spit
There's really nothing cooler than sword swallowing. Well, maybe dueling. Dueling, and those old Secret Squirrel cartoons. Be that as it may, there's a great blurb (fourth item) in the May issue of The Atlantic that discusses the medical issues sword swallowers have to contend with on the job. Some common occupational maladies include, well, sore throat, along with chest pain and perforations of the esophagus. Half of the sword swallowers surveyed for the story noted that when they removed the blade it was smudged with blood. Sometimes they vomit blood after the show.
Another Brick
"In the spring of 1929, a man named Patrick Murphy left a bar in Bisbee, Arizona, to bomb the Mexican border town of Naco, a bunny hop of about ten miles (16 kilometers)," writes Charles Bowden in an article about the expanding wall along the U.S.-Mexican border, in the May issue of National Geographic. "He stuffed dynamite, scrap iron, nails, and bolts into suitcases and dropped the weapons off the side of his crop duster as part of a deal with Mexican rebels battling for control of Naco, Sonora. When his flight ended, it turned out he'd hit the wrong Naco, managing to destroy property mainly on the U.S. side, including a garage and a local mining company. Some say he was drunk, some say he was sober, but everyone agrees he was one of the first people to bomb the United States from the air."
And so it goes.
The Commuters Code
"Last year, Midas, the muffler company, in honor of its fiftieth anniversary, gave an award for America's longest commute to an engineer at Cisco Systems, in California, who travels three hundred and seventy-two miles - seven hours - a day, from the Sierra foothills to San Jose and back," writes Nick Paumgarten, in a fun, scary, and compelling story about power commuters - which is increasingly all of us - in the April 16 issue of The New Yorker. "It's actually exhilarating," the man told Paumgarten. "When I get in, I'm pumped up, ready to go."
Closet Case
Why is the R. Kelly case taking so long to come to trial? Sun-Times reporter Abdon Pallasch gives us the update in the cover story (not available online) of Vibe this month. "A combination of reluctant witnesses, legal maneuvering. and just plain fate have allowed Kelly to continue on with his freedom and his career largely unaffected as the specifics of his alleged crimes slowly fade from public memory," Pallasch writes. "Meanwhile the alleged victim - who witnesses will testify was 14 years old when the videotape was made - celebrated her 22nd birthday in September. At this point, she won't look like a little girl on the witness stand - when and if she ever takes it."
Burst Bubbles
Even champagne (or should we be politically correct and say Champagne? We read those trademark ads in Editor & Publisher) has a troubling past, according to "The Not-So-Sweet History of Champagne, in the new issue of Mental Floss. In WWI, for example, trenches on the front ran right through the champagne vineyards. That was a bad vintage. The German army also bombed the hell out of Reims, otherwise known as Champagne Central. (By the way, Wikipedia says that "Contrary to legend and popular belief, the French monk Dom Perignon did not invent champagne." So that bet is settled.)
Design Fetish
Three experts review design school catalogs, in the current issue of I.D.. And you know what? It's pretty cool.
Language Fetish
Also in the April 16 New Yorker, John Colapinto reports on his visit to the Piraha tribe in the rain forest of northwestern Brazil, whose language challenges the prevailing Chomskian view of unversial grammar structure. "The Piraha consider all forms of human discourse other than their own to be laughably inferior," Colapinto writes. [And yet they have] no numbers, no fixed color terms, no perfect tense, no deep memory, no tradition of art or drawing, no words for 'all,' 'each', 'every' 'most' or 'few', terms of quantification believed by some linguists to be among the building blocks of human cognition."
Newsweekly Nabobs
American Journalism Review weighs in with a hardy perennial in its April/May issue, exploring whether weekly newsmagazines can find their way and stay relevant in a new media environment. My guess is that the answer is the same as it's been for the last 30 years or so that this story has been revisited: Only if they adapt.
Gang Green
Al Gore was once savaged for suggesting environmentalism as the next great societal organizing principle, but here comes the insufferable Tom Friedman in The New York Times Magazine with all kinds of half-baked nostrums (he wants to rename "green"; he resists suggesting "Tom Friedman" and instead goes with "Geo-green") designed not so much to further an argument but to lay claim to an issue he has suddenly discovered and means to make his.
Planet Manny
Did you know that Boston Red Sox slugger Manny Ramirez sometimes sneaks through a door in the left field wall to urinate during games? And that he once tried to sell a $4,000 grill on eBay? And that he doesn't keep track of the count when he's up to bat? That's why he steps back into the box so often after ball four.
"Manny, let me ask you something," former Boston general manager Dan Duquette once ventured. "I was just wondering why you get back in the batter's box after ball four."
"I don't keep track of the balls," Manny responded, according to "Waiting for Manny" - one of the most enjoyable athlete profiles you'll read - in the April 23 New Yorker.
"I don't keep track of the strikes, either, until I got two. Duke, I'm up there looking for a pitch I can hit. If I don't get it, I wait for the umpire to tell me to go to first. Isn't that what you're paying me to do?"
Okie Living
A plea for help in the current issue of Oklahoma Living Magazine: "I am looking for a cooked coleslaw dressing that my mother used to make, using eggs, vinegar, and what else? Can anyone help me? This was poured over shredded cabbage. Write now! Emma Gallyer, RR 5 Box 100, Eufaula, OK, 74432."
Anybody?
Posted by Beachwood Reporter at 12:54 AM | Permalink
Perpetual Motion Breakthrough!
Hello Mr. Steve Rhodes:
The following press release about a new breakthrough in the concept of perpetual motion is found in the Solomon Series, which may be of interest to your audience. Any editorial comment or mention that you may give this press release would be greatly appreciated.
- - -
PETROLEUM PROBLEMS ADDRESSED WITH PERPETUAL MOTION TECHNOLOGY BREAKTHROUGH
Dateline: April 11, 2007 . . . Houston, TX
Contact: Theodore L. (Ted) Whidden
Phone: (850) 685-2353
E-Mail: TedWhidden@PHDService.com
Web Address: www.SolomonSeries.com
HOUSTON, TX - April 11, 2007 - The "Energy Issue" is being addressed through a new breakthrough in concept and design of "Perpetual Motion" theory. While studying ancient construction projects in the Middle East, a researcher learns how to conduct massive projects without modern/conventional power sources. What power process was used prior to man's dependence on Petroleum products? Prior to "combustion" theory there was a technology developed and abandoned, because they did not have the ability to manufacture small rigid structures. Now that we have plastics, metal, etc., we are empowered by ancient power and wisdom to resurrect old technology developed long before it was perfectly understood.

While on assignment in the Middle East, a Houston based Oil and Gas Consultant births a type of research that defines concepts of perpetual motion devices that once started requires no external power sources. By studying ancient methods, Texts, and Ancient Wisdom, a technology long since lost has been un-earthed in the sands of Egypt and the Middle East. Is it possible the energy of the Great Pyramid can be harnessed for modern industrial use? The answer will amaze you. The patent applications and studies are being released online for critical examination by universities and technology interests. In a free downloadable "e-book" series an author/researcher releases the latest in Archaeological finds WITH news on patent research birthed 4,600 years ago in the time of the pharaohs.
How did the ancients understand perpetual motion? Long before our dependence on Petro-Chemical products, the ancients conducted massive building projects that have withstood the test of time. What are the odds that they developed technology because of their "lack", BUT abandoned it because they did not have modern plastics, metals, and structural understandings of today? What if their superior understanding of simple concepts have been over-looked because we have failed to put our mystic theories to rest? Fortunately, the ancient Egyptian structures have survived for an apparent "eternity," so that this "test" of the perpetual motion concept has been underway for over 4,000 years . . . . . . Modern science/technology viewing ancient wisdom uncovers the energy breakthrough of the millenia. The core process of the ancients is revealed in a no-cost book series at www.SolomonSeries.com. The patents and concepts which follow the initial book series is to be released on the same website for the world to see. Virtual tours, 3-D imagery, photos, sketches, drawings will be made readily available to all who download the free e-book series.
Working models are being built and tested to demonstrate a "balance of power" coupled with a "Divine Dis-Equilibrium" or "chaos" to perpetuate confusion in a balanced environment. What the world will soon see is two forces striving for equilibrium connected to an imbalanced system brings about forces never harnessed nor perceived in this manner before.
See The Solomon Series: Great Pyramid Mystery Resolved, at www.SolomonSeries.com, a no-cost E-book, patent exposure, virtual tours, etc.
About the Inventor/Author:
The discovery is being unearthed online at no charge in an electronic book (PDF file), available at www.SolomonSeries.com. The author is on short term assignment in Egypt conducting high risk mobilization and exploration projects for marine consulting issues in the offshore oil industry. His exploration and mobilization experience in the offshore oil fields gave him a unique perspective on resources not presently seen on Giza Plateau the site, but in abundance when one understands three simple things: Limestone, Sand, and Water. Equipped with a transportation degree (USMMA, Kings Point 1985), a risk management (loss investigation) background, an MBA (From the University of Houston) to cover the economic issues, and while working on a Doctorate in the study of Ancient Texts, and with support from friends at www.PHDPetro.com, the author/teacher Captain Theodore L. (Ted) Whidden reveals how the structure (Great Pyramid) was built by starting at the top and working to the bottom, as if it were being peeled like a banana. This reveals "perpetual motion" or energy sources not seen previously in the world of today.
Posted by Beachwood Reporter at 12:34 AM | Permalink
April 19, 2007
The [Thursday] Papers
So here's something interesting: apparently only kids get strep throat. I do, however, have some other kind of virus attacking my throat and it's quite painful. OWWWWWWW! Did you feel that? It's like that when I swallow.
I have a bit of a history with this stuff. A few years ago I wound up in the emergency room after I couldn't take the pain anymore, and I was diagnosed with pharyngitis, which I think is Greek for "really bad sore throat."
My friends were a bit skeptical, and even my doctor at the time said during a visit a few days later, "You went to the emergency room for a sore throat?"
Well, it turns out pharyngitis can lead to some pretty serious illnesses, like, oh, scarlet fever or something.
My current doctor, who might very well be the best doctor on the planet - and I'm not just sucking up because of that groovy narcotic cough syrup he prescribed - is more sympathetic. Maybe that's because he's a baseball fan and remembers when Manny Ramirez and Pedro Martinez came down with pharyngitis. Manny missed an entire Yankees series, though Pedro had it worse.
That wasn't long after my little incident and believe me, I pounced, calling friends and sending e-mails to let them know: "See, Manny and Pedro have it too! They can't even play ball! And they're in a pennant race!"
So I'm taking today off to drown in my meds and get well, though I'm not doing a very good job of taking the day off given that I'm writing this column. I do have some updates on the Sneed fiasco, a little commentary from a contributor on campus security, and, in the rerun of yesterday's column, some further updates including a couple answers to my question about Iggy Pop.
This is also a long way of saying I haven't done our readers and contributors justice in updating the rest of the site as often as usual this week; we've got a lot of great material on tap and I'll get it posted as soon as I can focus on something more serious than The Postman, which I'm reading now as a distraction; it's interesting, though badly-written and not nearly as good as the movie (I'm a fan, critics be damned! I mean, Will Patton as the former copier salesman turned militia general - how great was that?!!)
*
Being Michael Sneed
1. "In the first serious blunder of the coverage," Washington Post media critic Howard Kurtz writes, "Chicago Sun-Times columnist Michael Sneed reported yesterday:
"'Sneed hears authorities were investigating whether the gunman who killed 32 people in a rampage on the Virginia Tech campus was a Chinese national who arrived in the United States last year on a student visa.
"'The 25-year-old man being investigated for the deadliest college carnage in U.S. history reportedly arrived in San Francisco on a United Airlines flight on Aug. 7, 2006, on a visa issued in Shanghai, the source said.'
"I suppose it might be true that authorities were chasing that tip, but did that warrant publishing it?
"On the other hand, the Chicago Tribune scored a real scoop at 12:39 p.m. yesterday by reporting that Cho had left a note railing against 'rich kids' and 'debauchery.'
2. "Google Never Forgets."
3. If you missed the update yesterday, check out the report "One American Woman Terrifies China" from James Fallows appended below.
Campus Life
Comment from Beachwood contributor Tim Howe:
We started hearing about "security lapses" even before we got an accurate casualty count on Monday, and the clamor will continue to grow in the days and weeks to come. And perhaps Virginia Tech could have done more, faster. But we need to keep a few key points in mind during the discussion.

First and foremost, accept that fact that a determined spree-killer like Cho Seung-Hui will get past whatever security measures you dream up. Particularly in this case: he was a student living on campus, which gave him access to dorms and classrooms, and he didn't care about being caught, as he intended to die in the process of wreaking his havoc. I suppose you could put metal detectors everywhere, but he still could have just opened up in an outdoor area if he just wanted to kill people.

Second, you can't apply a one-size-fits-all approach in designing campus security. Very few campuses are self-contained, isolated outposts. Most are parts of cities, with public streets and sidewalks cutting through them. Some of those cities are large urban areas, with large and sophisticated police departments that can provide consultation, coordination and assistance. Some are located in small towns which are dwarfed by the school itself. Some consist of a few buildings clustered in a small circle, while others - like Virginia Tech - consist of scores of buildings of varying sizes, functions spread over thousands of acres and upwards of 30,000 people.

Particularly in the case of Virginia Tech, how can you - as some have proposed - "lock down" such a campus? You can't. Not without several hundred police officers and a complex, expensive communications network. And then, imagine what a college campus looks like: hundreds of young men and women in baggy jeans or sweats, on bikes, rollerblades and skateboards, many if not most with backpacks large and small.

Everyone wants to know if this could have been prevented, or if the damage could have been contained. It's human nature to wonder. It's especially easy to look back with the benefit of hindsight, being able to see the entire picture, knowing the end result. But not all problems have solutions, and sometimes bad things just happen.
The [Wednesday] Papers
So I was trying to avoid watching coverage of the Virginia Tech tragedy on Monday night but still managed to come across cable news broadcasters, including Keith Olbermann, citing a Michael Sneed report on the Sun-Times website that the shooter was a Chinese national.
I had a feeling then that I would be writing this now.
The shooter, of course, was not a Chinese national. He was a South Korean.
When will Michael Sneed be held accountable?
To be fair, it's not clear from conflicting reports whether Sneed named the shooter as such or merely described one aspect of the investigation, but either way she wouldn't have reported the story if she didn't believe it would turn out to be true. Criminal investigators follow many leads; reporting on any one of them is irresponsible unless you have confirmation that it's the right one.
Sneed's report spread through the mediasphere as an exclusive. For example, WBBM radio reported it this way: "Chicago Sun-Times columnist Michael Sneed reports the gunman was a 25-year-old Chinese national who came to the United States last year on a student visa. Sneed reports the man arrived in the U.S. in San Francisco on a visa issued in Shanghai."
None of which appears true. According to the Tribune and other reports today, the shooter was 23 and arrived in American in 1992 with his family. So Sneed pretty much got every fact wrong. And national media outlets, unfamiliar with her track record, repeated those errors.
As readers of this column and other longtime media observers know, this is nothing new. Twice in the 90s, Chicago magazine published annotations of Sneed columns showing how riddled they are with error and previously reported news rewritten as "scoops." Sneed "hears" a lot of things just by reading other papers. Or perhaps other people read other papers and then "tell" her things.
Tolerating her lazy, reckless, agenda-driven "reporting" (anxiously awaiting Sneed's next report about good ol' George Ryan doin' chores in Kankakee) is inexcusable. For all the oldstream media grumbling about blogs, almost all of it coming from folks who never read them, it is the traditional media whose accountability lapses are most significant, particularly given that they publish under brands that are supposed to signal a level of authority based on professionalism and skill. Of course, those brands have been eroded from within in ways that could fill up volumes of business school journals. You can blame columnists like Sneed and editors like those at the Sun-Times for that, not bloggers.
Yet, Sneed and the Sun-Times won't even admit they were wrong. Read Sneed's column today and see if you can make any sense of it at all. And then wonder how she still holds her job.
UPDATE 12:23 P.M.: I hadn't seen these earlier. James Fallows on Sneed: "One American Woman Terrifies China," and "Sun-Times vs. China Update."
SNEEDLING: Is it true the Sun-Times went with Sneed's "scoop" despite being waved off by sources contacted by another reporter there playing backstop? Stay tuned.
BREAKING NEWS: on the Tribune home page as I write: "BlackBerry Wireless System Fails."
Right above "A Monster Revealed" and the paper's Virginia Tech package.
At least the Tribune knows its audience.
(Uniquely Tribune: nytimes.com has the news among its wire stories; wsj.com plays it cool beneath a Motorola story; and washingtonpost.com, latimes.com, and suntimes.com don't have it at all.)
Dear New Skin Cancer Specialist
Unlike most doctors, you don't mind throwing the word "dead" around. In Cate Plys's latest Open Letter.
Council Care
Let's take a look at the aldermanic runoffs.
2nd Ward: Not even close. Bob Fioretti swamped Madeline Haithcock, 66-33 percent. I'm not sure the media picked up on how much trouble Haithcock was in, instead focusing on the manufactured stalker issue.
3rd Ward: Barack Obama's endorsement couldn't save Dorothy Tillman. Good.
15th Ward: Toni Foulkes, the Jewel baker, wins handily.
16th Ward: Shirley Coleman goes down. Flipping her big-box vote for the mayor did her in.
18th Ward: Mayoral appointee Lona Lane bests a fictional opponent.
21st Ward: Howard Brookins wins easily. It's interesting how few of these runoffs were even close to being close.
24th Ward: Incumbent Michael Chandler goes down in a race that didn't get much attention.
32nd Ward: Scott Waguespack ekes out a close one against Machine Matlak. Now let's see how quickly he rushes to the mayor's side.
35th Ward: Rey Colon knocks off nemesis and former alderman Vilma Colom. Maybe she'll go away for good now.
43rd Ward: Vi Daley survives thanks to the political establishment rallying 'round.
49th Ward: The business community wanted to beat Joe Moore more than they wanted those South Side seats for Wal-Mart. Moore gets the scare of a lifetime, but appears to have barely survived.
50th Ward: Perhaps the most disappointing result: Bernie Stone, a royal jerk, still had enough of an organization to beat the fresh newcomer Naisy Dolar, if only by about 600 votes.
It appears to me the council now has the votes to override a mayoral veto should the big-box ordinance be reintroduced and passed.
Daley Deal
"An influential black minister who has provided pivotal campaign support for Mayor Daley is a 30 percent managing partner in a pair of lucrative O'Hare Airport concessions awarded by City Hall," the Sun-Times reports.
"Since 1996, the Rev. Clay Evans has been a partner in The Grove, a nut and dried-fruit concession at O'Hare that once counted former Illinois Gaming Board Elzie Higginbottom, Daley's leading fundraiser in the black community, as a part-owner."
Evans justified his involvement by citing the nut and dried-fruit concessions mentioned in the Bible that were also brokered by a pharaoh.
Olympic Media Committee
Sun-Times headline over AP story: "20 Killed In Shoot-Outs in Olympic Hopeful Rio."
Non-Sun-Times headline on same AP story: "Shootouts between Brazil police, gangs leave at least 20 dead"
Sun-Times fourth paragraph inserted into AP story: "Rio De Janeiro is expected to compete against Chicago and other cities to host the 2016 Summer Olympics."
AP's fourth paragraph: "We're not finished wrapping up the operation, the number could rise higher still," she said.
So we're in for a two-year smear campaign against Rio? Somehow I doubt the Rio Sun-Times will report on Chicago violence with a tie-in to the Olympics. Or will the Chicago Sun-Times start publishing stories such as "Four men were killed in the Washington Park neighborhood over the weekend, near the place where city officials plan to build a temporary Olympic stadium . . . "
Memo to Sun-Times: Grow up.
Roeper Doper
According to a Sun-Times ad, Richard Roeper is "on the cutting edge." And according to Phil Rosenthal, John Cougar Mellencamp will join Roeper to review movies on Ebert & Roeper this weekend. So, you know - the cutting edge of Indiana.
Rock Stooge
Greg Kot wrote in his review of Iggy Pop and the Stooges that "In the 60s, the Detroit quartet saw flower power for what it was: a sham."
Whoa!
So, um, one question: Where was Iggy Pop during the war?
ONE ANSWER: At the Hare Krishna Music Fest.
ANOTHER ANSWER: This one rocks more.
Olympic Boys Choir
A Mike Downey column in the Trib carried the headline: "Olympics Brings Out Child In Us All."
Yes, it does, doesn't it? Particularly the mayor and members of the media.
Subhead: "Naysayers Fail to Appreciate Games' Lasting Benefits."
Unused Alternate: "Proponents Fail to Appreciate Games' Lasting Costs."
Summary: Chicago is a great place to have the Olympics in part because of its stellar police department. No kidding. Hey Mike, don't you ever read the news sections?
Downey twice quotes a young boy saying "You feel safe" in Chicago.
This is your media.
The Beachwood Tip Line: A groovy ride.
Posted by Beachwood Reporter at 6:51 AM | Permalink
April 18, 2007
The [Wednesday] Papers
So I was trying to avoid watching coverage of the Virginia Tech tragedy on Monday night but still managed to come across cable news broadcasters, including Keith Olbermann, citing a Michael Sneed report on the Sun-Times website that the shooter was a Chinese national.
I had a feeling then that I would be writing this now.
The shooter, of course, was not a Chinese national. He was a South Korean.
When will Michael Sneed be held accountable?

To be fair, it's not clear from conflicting reports whether Sneed named the shooter as such or merely described one aspect of the investigation, but either way she wouldn't have reported the story if she didn't believe it would turn out to be true. Criminal investigators follow many leads; reporting on any one of them is irresponsible unless you have confirmation that it's the right one.
Sneed's report spread through the mediasphere as an exclusive. For example, WBBM radio reported it this way: "Chicago Sun-Times columnist Michael Sneed reports the gunman was a 25-year-old Chinese national who came to the United States last year on a student visa. Sneed reports the man arrived in the U.S. in San Francisco on a visa issued in Shanghai."
None of which appears true. According to the Tribune and other reports today, the shooter was 23 and arrived in American in 1992 with his family. So Sneed pretty much got every fact wrong. And national media outlets, unfamiliar with her track record, repeated those errors.
As readers of this column and other longtime media observers know, this is nothing new. Twice in the 90s, Chicago magazine published annotations of Sneed columns showing how riddled they are with error and previously reported news rewritten as "scoops." Sneed "hears" a lot of things just by reading other papers. Or perhaps other people read other papers and then "tell" her things.
Tolerating her lazy, reckless, agenda-driven "reporting" (anxiously awaiting Sneed's next report about good ol' George Ryan doin' chores in Kankakee) is inexcusable. For all the oldstream media grumbling about blogs, almost all of it coming from folks who never read them, it is the traditional media whose accountability lapses are most significant, particularly given that they publish under brands that are supposed to signal a level of authority based on professionalism and skill. Of course, those brands have been eroded from within in ways that could fill up volumes of business school journals. You can blame columnists like Sneed and editors like those at the Sun-Times for that, not bloggers.
Yet, Sneed and the Sun-Times won't even admit they were wrong. Read Sneed's column today and see if you can make any sense of it at all. And then wonder how she still holds her job.
UPDATE 12:23 P.M.: I hadn't seen these earlier. James Fallows on Sneed: "One American Woman Terrifies China," and "Sun-Times vs. China Update."
SNEEDLING: Is it true the Sun-Times went with Sneed's "scoop" despite being waved off by sources contacted by another reporter there playing backstop? Stay tuned.
BREAKING NEWS: on the Tribune home page as I write: "BlackBerry Wireless System Fails."
Right above "A Monster Revealed" and the paper's Virginia Tech package.
At least the Tribune knows its audience.
(Uniquely Tribune: nytimes.com has the news among its wire stories; wsj.com plays it cool beneath a Motorola story; and washingtonpost.com, latimes.com, and suntimes.com don't have it at all.)
Dear New Skin Cancer Specialist
Unlike most doctors, you don't mind throwing the word "dead" around. In Cate Plys's latest Open Letter.
Council Care
Let's take a look at the aldermanic runoffs.
2nd Ward: Not even close. Bob Fioretti swamped Madeline Haithcock, 66-33 percent. I'm not sure the media picked up on how much trouble Haithcock was in, instead focusing on the manufactured stalker issue.
3rd Ward: Barack Obama's endorsement couldn't save Dorothy Tillman. Good.
15th Ward: Toni Foulkes, the Jewel baker, wins handily.
16th Ward: Shirley Coleman goes down. Flipping her big-box vote for the mayor did her in.
18th Ward: Mayoral appointee Lona Lane bests a fictional opponent.
21st Ward: Howard Brookins wins easily. It's interesting how few of these runoffs were even close to being close.
24th Ward: Incumbent Michael Chandler goes down in a race that didn't get much attention.
32nd Ward: Scott Waguespack ekes out a close one against Machine Matlak. Now let's see how quickly he rushes to the mayor's side.
35th Ward: Rey Colon knocks off nemesis and former alderman Vilma Colom. Maybe she'll go away for good now.
43rd Ward: Vi Daley survives thanks to the political establishment rallying 'round.
49th Ward: The business community wanted to beat Joe Moore more than they wanted those South Side seats for Wal-Mart. Moore gets the scare of a lifetime, but appears to have barely survived.
50th Ward: Perhaps the most disappointing result: Bernie Stone, a royal jerk, still had enough of an organization to beat the fresh newcomer Naisy Dolar, if only by about 600 votes.
It appears to me the council now has the votes to override a mayoral veto should the big-box ordinance be reintroduced and passed.
Daley Deal
"An influential black minister who has provided pivotal campaign support for Mayor Daley is a 30 percent managing partner in a pair of lucrative O'Hare Airport concessions awarded by City Hall," the Sun-Times reports.
"Since 1996, the Rev. Clay Evans has been a partner in The Grove, a nut and dried-fruit concession at O'Hare that once counted former Illinois Gaming Board Elzie Higginbottom, Daley's leading fundraiser in the black community, as a part-owner."
Evans justified his involvement by citing the nut and dried-fruit concessions mentioned in the Bible that were also brokered by a pharaoh.
Olympic Media Committee
Sun-Times headline over AP story: "20 Killed In Shoot-Outs in Olympic Hopeful Rio."
Non-Sun-Times headline on same AP story: "Shootouts between Brazil police, gangs leave at least 20 dead"
Sun-Times fourth paragraph inserted into AP story: "Rio De Janeiro is expected to compete against Chicago and other cities to host the 2016 Summer Olympics."
AP's fourth paragraph: "We're not finished wrapping up the operation, the number could rise higher still," she said.
So we're in for a two-year smear campaign against Rio? Somehow I doubt the Rio Sun-Times will report on Chicago violence with a tie-in to the Olympics. Or will the Chicago Sun-Times start publishing stories such as "Four men were killed in the Washington Park neighborhood over the weekend, near the place where city officials plan to build a temporary Olympic stadium . . . "
Memo to Sun-Times: Grow up.
Roeper Doper
According to a Sun-Times ad, Richard Roeper is "on the cutting edge." And according to Phil Rosenthal, John Cougar Mellencamp will join Roeper to review movies on Ebert & Roeper this weekend. So, you know - the cutting edge of Indiana.
Rock Stooge
Greg Kot wrote in his review of Iggy Pop and the Stooges that "In the 60s, the Detroit quartet saw flower power for what it was: a sham."
Whoa!
So, um, one question: Where was Iggy Pop during the war?
ONE ANSWER: At the Hare Krishna Music Fest.
Olympic Boys Choir
A Mike Downey column in the Trib carried the headline: "Olympics Brings Out Child In Us All."
Yes, it does, doesn't it? Particularly the mayor and members of the media.
Subhead: "Naysayers Fail to Appreciate Games' Lasting Benefits."
Unused Alternate: "Proponents Fail to Appreciate Games' Lasting Costs."
Summary: Chicago is a great place to have the Olympics in part because of its stellar police department. No kidding. Hey Mike, don't you ever read the news sections?
Downey twice quotes a young boy saying "You feel safe" in Chicago.
This is your media.
Editor's Note: I hope today's column makes sense, I still have a painful throat thingie and will be seeing my doctor later today requesting mucho painkillers or possibly just death.
The Beachwood Tip Line: Now serving Rio.
Posted by Beachwood Reporter at 8:36 AM | Permalink
April 17, 2007
The [Tuesday] Papers
I have nothing insightful to say about the Virginia Tech shootings. Except that you'll be hearing from a lot of other people who also have nothing insightful to say in the coming days, but will insist on saying it anyway.
Suburban Spy
"A Des Plaines man accused of spying in the United States for the regime of Saddam Hussein was convicted in U.S. District Court Monday and faces up to 40 years in prison," the Tribune reports.
"He spied on this community, judge," federal prosecutor James Conway said in court. "It's very, very serious. We're talking about a spy."
That's what I say. We're talking about a spy! The real deal, it seems, unlike, say, the yahoos in Miami with delusions of blowing up the Sears Tower who sparked a media frenzy. I guess the absence of alarmist gibberish and the words "Sears Tower" dampens the enthusiasm of editors for a story like this, but here's the kind of guy who actually might have been activated to do real damage. After all, this case actually held up.
And guess what? He worked as a gate agent at O'Hare.
"Prosecutors had called the case remarkable, a 'sleeper spy' sent by Iraq to settle in the U.S. and await orders," the Tribune account says.
Remarkable indeed. Perhaps even front-page news - in an alternate Chicago universe.

Fast Eddie Rides Again
"Checks indicate link between Zaryczny, Vrydolyak in 32nd Ward Race."
Three Links
* Business is fucking with your mind. (via Consumer World)
* The Internet is the greatest thing ever invented. The revelation of just how much creative talent and brains are out there puts the oldstream media to shame, and exposes them as the dullards they are.
Olympic Obama
Barack Obama calls for a new kind of politics in which the mayor doesn't lie about Olympic financing. Oh wait, that didn't happen. Instead he joked that the Washington Park stadium would be within walking distance of his $1.65 million home. His biggest opponent is cynicism.
Daley Dose
Bill Daley, the mayor's brother, writes an Op-Ed in the Trib today (using the name William to sound more intellectual) titled "Line Blurs on Fact, Fiction."
Daley, a senior adviser to Obama, isn't writing about Olympic financing, nor his brother's penchant for not telling it straight. Instead, he's upset abou the mix of politics and entertainment. An interesting topic, but when he concludes that "If we want more people of all ages to participate in politics, then let's clean it up, take it seriously and give it the level of respect it deserves," I have to conclude that he's actually playing his piece for laughs. Indeed, the line has now fully blurred.
Prosecutorial Discretion
"If we replace non-partisan public service with blind political loyalty, we will have sacrificed one of the core values of our judicial system," writes outgoing (sadly) federal prosecutor Patrick Collins in a Trib Op-Ed today.
Reader Comments
Reaction to yesterday's items about Debra Pickett and Neil Steinberg were particularly strong - and I suspect I have strep throat. Good enough reason to turn the rest of today's column over to the best of the lot and go back to bed. While I am generally opposed to anonymous comments, in the cases that follow labeled "Identity Protected" I know who the writers are and they have good reason for wishing to remain anonymous. I frankly lost track of who sent me the final comment, but I think it's worth using anyway.
1. From [Identity Protected]:
Another of the (many) problems in Debra Pickett s piece is this line:
"Recently, an informal poll - OK, I asked the people in line with me at Starbucks - revealed that more than half the people who live here had missed entirely the February municipal election . . . "
She's not the only one doing this so-called research. One Tribune columnist recently wrote about her scientific doggedness in asking people at her local coffeeshop whether they watched The Sopranos. I've seen Julia Keller do this, too, only instead of making a joke about polls/scientific methods, she used the phrase impromptu jury and other, similarly stupid labels to cheerfully acknowledge her reporting consisted of talking to people sitting near her in the movie theater.
What's up with this? How lazy can they get? They all write something that they think sounds cute as a way of excusing their lack of actual reporting, then go ahead and talk to whatever local bozos are nearby. I don't care what Jack, an investment broker who's buying a latte, thinks. I don't know Jack. Jack probably doesn't know jack. Since when did it become acceptable for writers to do half-assed reporting along with half-assed writing? Do they think two half-asses will make a worthy whole ass?
2. From [Identity Protected]
As if Debra Pickett, of all people, has any business pretending she knows if Matlak has the worst aldermanic hair in the past twenty years. She probably didn't even know what he looked like until recently, and I know she doesn't know what anyone else looks like. Sheesh.
3. From Lee Sandlin:
Re: Neil Steinberg, you say: "So we shouldn't expect him to write about about politics, sports, or popular culture any more?"
You forgot to add high culture. In his Vonnegut tribute, he writes: "Vonnegut may not have been a great writer, if being a great writer means penning the 50 pages of unreadable religious gibberish that Tolstoy slaps onto the end of War and Peace."
There is quite a lot of dull stuff about the nature of history towards the end of War and Peace, but Steinberg is making up the "fifty pages of unreadable religious gibberish." Of course, since he says they're unreadable, he must not have read them, and so it's unfair to expect him to know what's in them.
4. From Anonymous:
You forgot to mention the news that the Daleys gave just $13,690 out of $363,647 to charity for tax year 2006. That's a miserly 3.8%.
The Beachwood Tip Line: Don't be a miser.

Posted by Beachwood Reporter at 8:09 AM | Permalink
Chicago In Song: Good and Violent
Stop the presses! We find song lyrics that actually put Chicago in a good light. I guess if you stick with something long enough, you'll see everything. Also, a violent song about a violent town that eerily predicted a violent act by its writer, all in this episode of Chicago In Song.
Roger McGuinn/Gate of Horn
This represents a new thread in the Chicago In Song tapestry - and a much-needed break from the usual bashing the city takes in rock song lyrics. Instead, here we have a heartfelt lyrical thank-you to the Windy City from one of its most illustrious musical native sons - Byrds co-founder Roger McGuinn.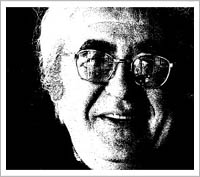 In "Gate of Horn," from McGuinn's second post-Byrds-bust-up album Peace on You (1974), he waxes nostalgic about the legendary but short-lived folk music club, The Gate of Horn, which was founded by folk music uber-manager Albert Grossman and was located in the basement of the Rice Hotel at Chicago and Dearborn. It was there in that small club, as well as at the nearby Old Town School of Folk Music, that McGuinn as a teenager first honed the guitar skills that he would later use to profoundly change not only folk but rock and country music as well.
In what amounts to a stunning departure from the mega-doses of the fear and loathing that is Chicago's portrayal in most song lyrics, I'm somewhat aghast that I've finally found a no-holds-barred love letter. Not disappointed, by any means, but just kind of dazed from the force of the revelation. I was getting to think Chicago In Song would end up being nothing but a catalog of disses, insults and borderline-psychotic anti-Chicago rants, and if that was going to be the case, why bother? You don't need me to tell you that people hate us. Music should be an escape from all that.
So thank you, Roger McGuinn, for thanking us. For sheer positive Chicago vibes, "Gate of Horn" is hard to beat. He even says he was glad to be born here. Wow. I never thought I'd see the day.
Gate Of Horn, Gate Of Horn, glad I was Chicago born
Gate Of Horn meant everything to me
I was barely seventeen little salty and a little green
Gate Of Horn meant everything to me
It's probably best to lay down a little history at this point. According to an excellent article on the North Side folk scene of the late '50s and early '60s by Elgin-based folkie Rick Neeley, the Gate of Horn was established by Grossman in 1956 as a venue to showcase this new musical phenomenon known as folk music, and specifically for one of his favorite clients, Bob Gibson. Gibson was a 12-string guitar and banjo virtuoso, who, along with Pete Seeger, can rightly be said be folk music's first superstars. In fact, Gibson's album with collaborator Hamilton Camp, Gibson and Camp at the Gate of Horn (1961), is still considered the greatest live folk music album ever made. In the audience that night was McGuinn, who had probably wandered over from The Latin School, where he was taking college prep classes, or possibly from the Old Town music school, where he enrolled after being inspired by an appearance by Gibson in front of his class.
For about two years, young Jim (as he was known then) haunted the Gate of Horn. There he saw just about every folk performer that Grossman could find (and sign) as they took the stage with Gibson:
There was Judy and Peter and Josh and Odetta
The Clancys and Mary and Paul made it better
Grossman and Tommy and Dickie and Lou
And when no one was looking, McGuinn was there too
Then they came and tore it down
Songbirds scattered and we all left town
Gate Of Horn meant everything to me
Gate Of Horn, Gate Of Horn, glad I was Chicago born
Gate Of Horn meant everything to me
McGuinn left when, at age 17, he was offered a job with The Limeliters, headed off to California, and never again lived in Chicago. So the rosy city he remembers in this song is one frozen in time from the homespun and innocent Camelot years, and even Chicago can look good under those conditions. But here at Chicago In Song, we'll take it. We need the love.
Mest/Tonight Will Last Forever
Well, back to reality. An all-too-real reality in this case as we return to the familiar lyrical world of Chicago-as-backdrop-to-hell, only this time coupled with a very unfortunate off-stage tragedy.
Mest was a band from Blue Island that scored a significant amount of success earlier in the decade (for instance, being signed to Madonna's Maverick Records label and producing the minor hit "What's the Dillio?" in 2000), then mysteriously packed it in early last year with lead singer/songwriter Tony Lovato saying on his blog that he "wished" he could say why, but couldn't, and wouldn't. Perhaps it could have been the fact that their last three albums tanked as they flailed around for an original identity.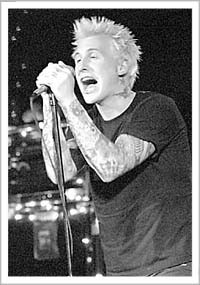 Then just last month, Lovato was involved in a fatal stabbing incident in Los Angeles - an apparent love triangle had spiraled out of control and Lovato ended up stabbing a rival to death in a parking ramp. Prosecutors freed him after determining he had acted in self-defense. The break-up of the band and the killing came after the October 2005 release of their final Maverick LP, Photographs, which when you look at it now, had a lot on ominous overtones. The cover art is of a woman kissing a death skull. Song titles include "As His Black Heart Dies (My Mistake)," "Kiss Me Kill Me," "Graveyard," "Dying For You" and "Cursed." I think it's pretty obvious Tony was in a bad place.
In fact, even the Madonna PR machine couldn't help but notice. In the promo copy for Photographs, the label writes, "(the album) covers heavier topics than usual. Suicide, innocence lost and even nightmares are just some of the lyrical inspirations among the chord-driven rock and hooky melodies." A bit later, when the PR crew points out to Lovato that, hey, your new songs are bouncy and upbeat like "What's the Dillio?" but are all talking about blood and death, he responds, "Wow, I didn't realize how serious this record was." Uh, Tony, take a look at your lyrics for "Tonight Will Last Forever":
Remembering the night again
So cold outside, the snow began
That winter storm cut like a knife
Your eyes were wide enough to fill
The moon so full it should've spilled
Chicago skyline lit the night
Right about now, I'd normally start going on about how this tune fits into two distinct Chicago lyrical sub-genres: Using the wintry city as a metaphor for the cold emptiness that one feels with a love gone wrong, and that of its deservedly famous skyline representing the hubris of human striving against the ultimate reality of the blackness of eternal night. Yeah, normally I'd do that, but not this time, because did you notice how he said "cut like a knife?" Spooky. And much more interesting. Plus, that's not all the cutting (and killing) in this song, either:
Cut my nose, spite my face
Tonight will last forever
Take my life with your hands
Jeez, can anyone say, "cry for help?"
I laid with you until the end
Watching the breath crawl from your lungs
My alibi was lost that night
So take your last breath in tonight
With the frozen sky, surround your eyes
Chicago skyline lit the night
Okay, now he's talking about having an alibi. I'm getting the feeling that this entire thing was just chock full of warning signs and no one was paying attention or taking them seriously. Not that this has to do with anything, but Lovato started out by playing drums in a white power band called Confederate Storm - something for which he later apologized, calling it a youthful, ignorant indiscretion and trying to make up for it by promoting anti-racist causes. But still, a childhood spent associating with skinheads in a known neo-Nazi hotbed like Blue Island may explain the fondness for weapons.
Just sayin'.
Contact Don Jacobson at don@beachwoodreporter.com. And catch up here with the Chicago In Song catalog.
Posted by Don Jacobson at 5:55 AM | Permalink
Open Letter
You had me at "You will get skin cancer. You were born to get skin cancer."
I can't say "You had me at hello" because you never actually said that. When you walked into the exam room, I said "Hi" and you declared, "I'm going to cut you today!" - in a very friendly, cheerful way. I enjoyed your slight accent. I couldn't quite place it, but from your pale complexion I'm guessing somewhere Nordic. I'm also assuming that "I'm going to cut you today" isn't slang for "hello" in your native tongue. If it is, then you did have me at hello, after all.

The cutting went very well. You do a lot of these, so I'll jog your memory: You were excavating the last vestiges of a formerly gigantic mole behind my left ear, because the original biopsy came back pointing just slightly toward abnormal. True, it was slightly disturbing when the nurse placed a steel plate under my arm to ground me in case excessive bleeding required cauterizing the wound, but I'm sure that was a good precaution. Most importantly, the ex-mole was hardly even sore that evening. Thank you.
You are the first skin specialist who has really motivated me. I already get my moles checked (somewhat regularly) by a dermatologist and I wear sunscreen. I was smug about my skin care, especially the sunscreen part. You convinced me this doesn't mean jack, especially the sunscreen part.
Here's how you did that: Like every other skin specialist I've ever seen, you asked me if I use sunscreen. "Yes!" I barked instantly. Then, as always, came the second question: "Do you check your moles?"
This is a question that has always flummoxed me. It's so clearly impossible. As you know - not because you're a specialist, but because anyone would know by glancing at me from the top of Sears Tower - my skin looks like a microscope slide of the pollen count on a very bad ragweed day. And any other simile you care to devise that involves an infinite number of tiny brown dots.
So no, I don't check my own skin. Where would I begin? I would as soon attempt to memorize the varying shades of color on every grain in a ten-pound sack of wild rice or the contours of each cotton ball in a jumbo bag from Costco. Not a single nurse or dermatologist has ever challenged me on this before.
You, however, retorted, "If you can't notice any changes, who will? Your parents? Your sister? You think we will be able to notice, if you can't?"
I think this is when you told me I will definitely get skin cancer, someday. As you pointed out, indicating both our fair skins (well, mine is fair underneath the freckles and moles), "We don't belong here. Chicago is at about the same latitude as the south of France. You come from northern Europe. You aren't supposed to be here. You should be in Canada."
This may have been when you lightly gripped my upper arm and twisted it a bit so we could both see underneath, an area that looks positively albino. "This is what your skin should look like," you said.
I defended myself at this point. When I was a kid, sunburns and suntans were considered a good thing - by everybody, not just idiots, like today. An untanned child was one who didn't get out enough, didn't play enough, wasn't healthy. Staying inside to read books was as bad as staying in to watch TV, because either way, you were staying in when you should have been out.
Sunscreen did not exist, to my knowledge. When we put anything on our skin, it was something designed to purposely increase the effect of the sun's deadly rays. The contrast between the Coppertone girl's light behind with her tanned back and legs was not taken to mean that the girl was in danger of getting fatal melanoma. It meant Coppertone was doing its job - she was getting a good tan.
"Yes well, luckily my brother is a lawyer who specializes in suing parents," you grinned. "I am just kidding."
Then you talked about the various stages of malignant skin cancer. "If we catch it at stage one, you come in, we take it off, no problem," you said. "If it takes longer, if it's stage two, then you flip the coin. Either you go to Las Vegas, or you live happily ever after."
"Some people would live happily ever after in Las Vegas," I noted. "But I wouldn't be one of them."
Stage three - the worst - you see most often in single men. "They go someplace hot, Florida, with their buddies," you said. "Somebody says, 'Hey, you have some dirt on your back.' But it's not dirt. They don't do anything about it. Finally they come in, and three months later they're dead."
A lot of doctors don't like to say "dead" around patients. You do, I can tell. It had the desired effect on me.
But here's the point that made me think most. You got out a pamphlet showing normal moles and various kinds of abnormal moles - the ones where the color varies, or part of the mole is raised and part isn't, or the edges aren't even. Like all of mine. "I don't want you to go by this," you said. "You don't decide which moles are bad, we decide."
You started pointing out various moles on my arm. "I don't like that one. This one is slightly elevated on one side, I don't like that one. That one is uneven, I don't like that. But I can't cut out all of them. I can't make you like Swiss cheese."
Your point was that my role is to look for changes in these infuriating moles, and look for new ones. If they're changing, you said, they'll do it quickly - "before your eyes."
Sunscreen is fine, you said. "But you get 80 percent of your sun exposure by the time you are 18." In other words, I am already toast. "I would rather you didn't wear sunscreen, but you check yourself. I don't care if you use sunscreen."
Now that got my attention. Sunscreen, sunscreen, sunscreen is all you hear anymore, especially this time of year as the papers start running gearing-up-for-summer articles. As if anyone can remember to put on sunscreen precisely 20 minutes before going out, much less re-apply it every two hours, every single day. I generally put it on once right before I go out and forget about it the rest of the day. And even so, I realize, I was imagining it as a sort of force field between me and not just the sun, but skin cancer itself. Maybe, if I had used sunscreen during that 1978 Rolling Stones concert at Soldier Field where I roasted outside all day to save a spot next to the stage, it would have done some good. But I'm well north of 18 now.
So I'm beginning to memorize my blotches. I'm thinking of taking digital photos of the worst areas - certainly my arms - and keeping them on my computer for easy updates and comparison.
"I'll be seeing you again," you smiled as I left.
Yes, and if I can help it, it won't be in Las Vegas.
Thanks again,
Cate Plys
*
It's no skin off my nose - and that's lucky, considering the multitude of stitches. Has your dermatologist gotten under your skin, or failed to do so? Open Letter is open to letters, at cateplys@sbcglobal.net. And catch up here with such Open Letter classics as "Dear People Who Normally Park in the 5300 to 5500 Blocks of S. Shore Drive" and "Dear Person Who Let Their Dog Defecate Near The Southeast Corner Of 58th And Kimbark."
Posted by Beachwood Reporter at 4:54 AM | Permalink
April 16, 2007
The [Monday] Papers
1. "I want to thank the Chicago press," said Patrick Ryan, Chicago's [Olympic] bid committee chairman. "We have many best-new friends in the press."
2. "Its gushing local media might as well have been part of the Chicago Olympic committee. It sang the city's praises like a boys choir."
3. "People ask me, as one of the reporters covering Chicago's efforts to land the Games, if I want the hometown to win," writes Andrew Herrmann - author of the Sun-Times's "Bringing the Olympics to Chicago" series.
4. See if you can spot the problem from the get-go in Herrmann's piece today: "Pretty much all Chicagoans - whether city dweller or suburbanite - know the drill."
5. "Washington Park: Stadium Site's Neighbors Have High Hopes."
Not if you were listening to WVON. Is it even remotely possible that the reporter could have turned in a story that said "Washington Park Residents Pissed"?
6. "A city would have to be a blithering idiot to not be able to put on an Olympic Games and have a surplus," says United States Olympic Committee Chairman Peter Uebberoth.
"In a true accounting of all the recent Games - you can't charge an Olympic Games in Athens for ships and airports and freeways, because you can keep using them - I would not ever be worried that Chicago would be financially unsuccessful."
Ueberroth is looking at the Olympics in a vacuum. Taxpayers have to live with the bills for the ships and airports and freeways that go along with any Olympic bid. A true accounting shows that Olympics rarely are profitable.
7. The Sun-Times editorial page credits Chicago's winning American bid in part to "plucky promises." Plucky promises like the ones the page was criticizing just a month ago?
8. The Sun-Times editorial board also praises Chicago's "can-do spirit," which is apparently lacking in Los Angeles.
9. If you have to prove you're world-class, you're not. L.A. just shrugged. They don't need anyone's validation that they're not just an overgrown backwater.
10. "Chicago will have to inform much of the world that there's more to this city than Al Capone and Michael Jordan," the Tribune editorial page says. I thought that's what Millennium Park was for.
11. The Spire will become the new global symbol of Chicago. I thought that's what Millennium Park was for.
12. "The city had formed a committee to investigate a bid for the 2008 Olympics but quickly rejected that idea," the Trib's Phil Hersh reports. "Mayor Daley later criticized the USOC for 'conning' cities to ante up $50,000 just to get into the competition.
"There was no such entry fee this time, although Chicago 2016 spent about $5 million in private funding on the domestic bid process. The bid committee already has raised $27 million for the international phase.Daley con job 50,000."
Anyone else see the problem here?
13. "Papers Leery Of Online Deals: Old-Style Media Can't See How Google, Yahoo Are Profiting."
See, there's this series of tubes . . .
14. "Gov. Blagojevich's administration hired Senate President Emil Jones' son for a $57,360-a-year state commerce job at the same time Jones emerged as the chief legislative advocate for a contentious new business tax pushed by the governor," the Sun-Times reports.
"A company owned by Senate President Emil Jones' stepson was awarded a no-bid contract to do computer consulting for the state in 2005," the Sun-Times adds.
"The Blagojevich administration rescinded its rule that the state's mental health chief be a medical doctor just before the wife of Senate President Emil Jones got the job," the Sun-Times reports.
Barack Obama describes Jones as his "political godfather;" Jones calls Obama "our son."
15. Madeline Haithcock bought and paid for.
Dorothy Tillman bought and paid for.
David Herro buying and paying.
The Chicagoland Chamber of Commerce buying and paying.
Pundit Patrol
* Debra Pickett rises from the ashes to the appear on the Tribune Op-Ed page to write this memorable line about discovering the existence of politics in her ward, the 32nd: "First, we'll figure out where our polling places are - wow, who knew there were public schools around here? - and how to complete our ballots."
You know who knew there were public schools around there? Parents who send their kids to public schools. Might want to meet some.
* "It scares me, as a professional pontificator myself, to see how little concern others pay to the realm of fact when coughing up their opinion," Neil Steinberg writes (fourth item) without irony or self-awareness. "People should stick to what they know."
So we shouldn't expect him to write about about politics, sports, or popular culture any more?
* Mary Laney is upset about a lot of things, but mainly she's one of a number of white conservatives who grudgingly say Don Imus's firing was justified but still feel a nagging sense of unfairness about the whole episode. It might be useful to explore those feelings in therapy.
* Eric Zorn was against the firing of Imus because he thought it would be a victory for mob rule.
Question: What if a Tribune columnist wrote what Imus said but management at first hesitated to act? Would public outrage that illuminated the gravity of the situation - and forced ethics onto a higher plane than corporate profits - represent mob rule?
* Back to Laney. At least those Duke kids had wealthy parents and lawyers to press their case. What about all the poor black men in jail who are also innocent? Talk about a contradictory culture.
* "In his world, decency is likelier to be rooted in skepticism than it is in the ardor of faith."
- The New York Times's Verlyn Klinkenborg on Kurt Vonnegut
In Today's Reporter
* Best Movie Posters Ever. See if your favorites are represented.
* The Cub Factor. Sweet Lou learns some hard truths.
* The Beachwood's 24/7 Alt-Country Internet Radio Guide. When you need to twang, we can help.
42. The Jackie Robinson Foundation.
The Beachwood Tip Line: The men's choir.
Posted by Beachwood Reporter at 8:20 AM | Permalink
April 15, 2007
The Cub Factor
While Mount Lou's first explosion of the season got everyone's attention, he also muttered something under his breath far more telling. We could swear we heard something about Lou confessing that he was "deceived" by some players in spring training.
He didn't name names, but we will.
* Alfonso Soriano. Lou was deceived into thnking Soriano could bat leadoff, play centerfield, and avoid getting picked off more than once per game.
* Carlos Zambrano. Lou was deceived into thinking Zambrano had grown beyond the emotional range of a teenager.
* Michael Barrett. Lou was deceived into thinking Barrett knew how to play catcher.

* Aramis Ramirez. Lou was deceived into thinking Ramirez could hustle without getting hurt.
Lou was deceived into thinking there wouldn't be a snow-out in April.
* Jim Hendry. Lou was deceived into thinking Hendry knew how to put together a team.
* The Bench. Lou was deceived into thinking he had one.
Lou is also already grousing about the weather. How long until he starts blaming Cubs losses on day games?
The Cubs, Lou says, aren't built to win games below 40 degrees. That's okay - they won't be playing in October anyway.
Week in Review
After a week in which they went 1-4, the Cubs are 4-7 overall and stuck in last place, 2 1/2 games behind the Reds. This team simply isn't built to finish higher than fourth.
Week in Preview
The Cubs finish their lousy homestand with two games against the Padres, who curiously won't be troubled by the weather. Jason Marquis goes to the hill in the series opener. Then it's off to Atlanta to get spanked by the Braves for two games before the big weekend series at Wrigley against the Cardinals. Saturday's game will be broadcast on Fox
Second Basemen Report: Mark DeRosa started three games this week at second but has a tight back. Ronnie Cedeno started two games at second, while Ryan Theriot played third for the ailing Aramis Ramirez. That means that at one point, with Soriano in center, the Cubs had three second basemen on the field at one time. And there's still room for more.
In former Cub second basemen news, Mark Grudzielanek is hitting .231 with no homers and 7 RBI for the Royals. He is missed.
Sweet and Sour Lou: 53% sweet, 47% sour. Down 10 percent on the sweet scale. Why? You saw the game. Stop asking stupid questions.
Mount Lou: With his first eruption out of the way, the Lava Lamp has been reset for 40 innings - early in the first Cardinals game.
Beachwood Sabermetrics: Through a deep statistical analysis, we have have determined that the Cubs are not likely to win when temperatures fall below 40 degrees. Nor above 40.
Over/Under: Player-only meetings this week: .5
Posted by Beachwood Reporter at 6:42 PM | Permalink
April 14, 2007
The Weekend Desk Report
If only more politicians could predict the future, we could have our weekends back. Until that happens, we'll be here to serve you.
Quest Kick-off
While the Beachwood's Ex-Hawk Affairs Desk seems to have found the winning formula for predicting the Stanley Cup Playoffs, the Weekend Desk has a few sure things to throw into the mix.
New Jersey vs. Tampa Bay: Legend has it that the lightning bolt is God's favorite means of smiting the unholy. But if you've already fallen from grace, what the hell, right? Expect the unrepentant Devils to romp.
Ottawa vs. Pittsburgh: Current thinking suggests that even though the Penguins will go down hard, no one will be more utterly shocked than the Senators.
Nashville vs. San Jose: It's the battle of general vs. specific as the Predators take on the Sharks. Despite early signs of life, one thing is certain: it's a shitty time to be a fish.
Hunting High and Low
Corporate lawyers in Chicago take note: you're likely to wind up with a hell of a lot more than buckshot in your face if you accept an invitation to go hunting with Uncle Dickey this weekend. [Courtesy of Weekend Desk stringer Larry Peterson.]
Dirty Indeed
The White House may not yet have found its new War Czar, but it has nailed down his or her first television appearance. The War Czar episode will make a fitting follow-up to last season's wildly popular E-Mail Flusher edition.
He is Family
Finally, as the notoriously fickle veterans' committee convenes this weekend it seems Tricky Dick may have some company in the Misplaced Exuberance Hall of Fame at last. Best of luck, Mr. Birkhead. You're an all-time great in our eyes.
*
Catch up with the week's Papers columns and the Weekend Desk archive.
Posted by Natasha Julius at 12:51 AM | Permalink
April 13, 2007
The [Friday] Papers
1. "I think one thing that is true about what's been lost is that our politics has become or feels very much like an insider's game. I think people feel that you've got the two parties splitting the pot, and ordinary voters are left out of the process."
- Barack Obama, February 10, 2007, Cedar Rapids, Iowa.
2. "Obama, who has campaigned as a political outsider, deftly cultivated insiders in nearly every corner of the political establishment," the Tribune reports today, in the latest installment in their "Making of a Candidate" series - this one about how Obama grew his fundraising operation.
Tony Rezko was Obama's first donor, the Trib reports. "From there Obama built a network of politically active African-American money managers, and advocated for them in Springfield. He then began to tap Mayor Richard Daley's lucrative grid of donors."
3. "During his first state Senate campaign, Obama told the Chicago Reader that he had built strong relationships with people inside Daley's administration but had not asked for their campaign support nor sought the mayor's endorsement."
4. "Between the years of 1972 and 1991, approximately 135 African-American men and women were arrested and tortured at the hands of former Chicago Police Commander Jon Burge and officers under his command at Area 2 police headquarters. Some of these victims were as young as thirteen years old. Various court cases have established that the methods of torture used in the interrogation of suspects included electric shock to the ears and genitalia, mock executions, suffocation, and burning. While Jon Burge was ultimately fired by the Chicago Police Department, not a single perpetrator of the tortures has ever been criminally prosecuted.
"These incidents were not isolated and allegations of abuse by Burge continue to surface. In fact, the Area 2 cases are seen by many observers as part of a pattern and practice of racially-motivated police brutality in Chicago that has been revealed over the course of many years," say the curators of the University of Chicago's Chicago Police Torture Archive.
"Today, over two decades have passed since the first allegations of torture by Chicago police officers surfaced. Many of the allegations have been acknowledged to be credible. For example, Judge Milton Shadur of the U.S. District Court (N.D. Ill.) found that:
"'It is now common knowledge that in the early to mid-1980s Chicago Police Commander Jon Burge and many officers working under him in the physical abuse and torture of prisoners to extract confessions.' U.S. ex rel. Maxwell v. Gilmore 37 F. Supp.2d 1078 (N.D. Ill. 1999)
"In 1990, investigators Goldston and Sanders documented over 50 victims of electroshock and other forms of torture at Area 2, and found all of Andrew Wilson's complaints to be sustained. In 1991, OPS recommended that Burge, Yucaitis, and O'Hara be fired, and they were suspended without pay until the Police Board Hearings began in 1992. Three days before the hearings, Judge Shader, in another civil rights case, ordered that OPS make the Goldston report public. As a result of the Police Board Hearings, Burge was fired in 1993. However, because he was never criminally convicted, he continues to receive a pension from the Chicago Police Department. Yucaitis was suspended for 15 months without pay, and O'Hara was reinstated with no penalty."
5. "Mayor Richard Daley won the backing Monday of the most prominent African-American politician in the state when U.S. Sen. Barack Obama (D-Ill.) endorsed him for a sixth term," the Tribune reported on January 22.
"Obama heaped praised on Daley for being innovative, tackling difficult issues and making tough decisions.
"On Monday, he said he remains concerned about the ongoing federal investigation that has uncovered contract fraud and illegal hiring practices that resulted in the conviction of Daley's patronage chief.
"But 'one of the things I have been pleased to see is the steps the mayor has been taking to try to clean up some of the genuine problems that existed,' Obama said. 'We have seen changes in hiring rules, procurement rules. You've got a significantly beefed up inspector general that has the power to enforce some of these laws on the books.'"
6. "City Hall is scheduled to assume responsibility for investigating allegations of improper hiring and firing under a pending court settlement, but the city's chief investigator said Thursday he doesn't have the staff to handle the job," the Tribune reports today.
"Asked during an interview if he had the necessary resources, Inspector General David Hoffman did not hedge.
"'The answer is no,' he said."
7. "And some of that has to do with the fact that special interests exert an extraordinary influence on the votes that are taken in Washington."
- Obama, Cedar Rapids.
8. "Just one month into his term, the former civil rights lawyer defied the Democrats and voted for the class-action 'reform' bill," David Sirota wrote last year. "Opposed by most major civil rights and consumer watchdog groups, this Big Business-backed legislation was sold to the public as a way to stop 'frivolous' lawsuits. But everyone in Washington knew the bill's real objective was to protect corporate abusers. A few weeks later, though he voted against the credit-card-industry-written bankruptcy bill, Obama also voted against an amendment that would have capped credit-card interest rates at a whopping 30 percent (he defends his vote by claiming the amendment was poorly written)."
9."It was here, in Springfield, where I saw all that is America converge - farmers and teachers, businessmen and laborers, all of them with a story to tell, all of them seeking a seat at the table, all of them clamoring to be heard. I made lasting friendships here - friends that I see in the audience today," Obama said in his speech announcing his presidential candidacy.
"It was here we learned to disagree without being disagreeable - that it's possible to compromise so long as you know those principles that can never be compromised; and that so long as we're willing to listen to each other, we can assume the best in people instead of the worst.
"It was here, in Springfield, where North, South, East and West come together that I was reminded of the essential decency of the American people - where I came to believe that through this decency, we can build a more hopeful America."
10. "Larry J. Sabato, a professor at the University of Virginia, is a kind of all-purpose political commentator," James Merriner wrote recently. "He told me, 'The unholy trinity of politically corrupt states are New Jersey, Illinois and Louisiana.'"
The Beachwood Tip Line: Be an insider.
Posted by Beachwood Reporter at 8:12 AM | Permalink
Collect Them All: The Greatest Movie Posters Ever
Editor's Note: Not to be trendy, but Quentin Tarantino and Robert Rodriguez just picked their favorite movie posters of all time for Entertainment Weekly, and Premiere recently came up with their own list, so we asked Ferdy on Films proprietor and Beachwood contributor Marilyn Ferdinand to come up with her own take on the best movie posters ever. She filed this report.
Picking the best posters of all time is a hard job. More than 100 years of movies, marketed with alternate versions and foreign-language posters in most of the countries on this planet - well, you see the challenge. I'm sure there are some objective criteria based on good design practices that could be applied to this exercise, but eventually it comes down to taste and the test of time. When I considered how I would go about this task, I took a look at some other "best" lists for inspiration, and then decided to take a decade approach to encompass the entire history of cinema. I wanted to stick to one poster per decade, but you know how that goes . . . Anyway, here are my unscientific picks for the best posters from 1900 to the present.
1900s

A Trip to the Moon (1902)

The inspiration for this poster of this delightful short by film pioneer Georges Méliès is the film's climax - a fantastic animation of the moon being hit in the eye by a rocket ship. The poster captures the style of the times, particularly reminding me of the gorgeous whimsy of artist Winsor McCay.








1910s

An Unselfish Love (1910)

This one-reeler made by the Edison Company basically was propaganda to get people to settle Western Canada. A Soviet flak touting the advantages of collective farming and the idyllic life of the proletariat couldn't have done better.




1920s
Metropolis (1927)

This groundbreaking film by Fritz Lang may have inspired more superb posters than any other film. This excellent example of the Art Deco/Bauhaus styles of the 1920s best grasps the story of a modern metropolis built on the sweat of oppressed workers living underground.







1930s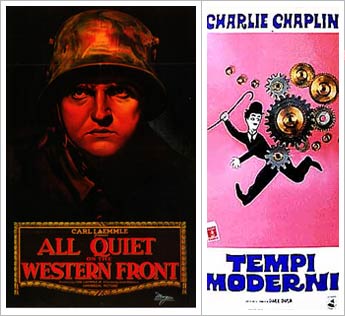 All Quiet on the Western Front (1930)
This poster for Carl Laemmle's classic antiwar film makes a lie of the movie's title, with its grim, blood-red soldier boldly communicating the power of this work.
Modern Times (1936)
This Italian poster for Charlie Chaplin's comedy about Man vs. Machine blends collage with a fluid illustration style that is still quite popular in Italy. This poster captures the mood of the film perfectly and capitalizes on the already cartoonlike quality of the Little Tramp character.


1940s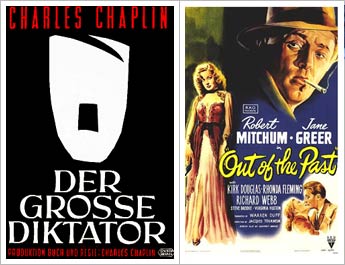 The Great Dictator (1940)
This poster telegraphs its subject simply and powerfully with the two most famous patches of hair of the 20th century. Placing Chaplin's name above the illustration and the name of the film below joins two of the world's most famous men at the moustache, and prepares audiences for both a light and a very dark film.
Out of the Past (1947)
A classic noir deserves a classic poster, and this is one in spades. Perfect placement of the main characters signals the love triangle that will pit good girl Fleming against femme fatale Greer, with the king of cool, Robert Mitchum, making icons out of a fedora and a lit cigarette. Extra points for the assured blending of type styles and primary colors.

1950s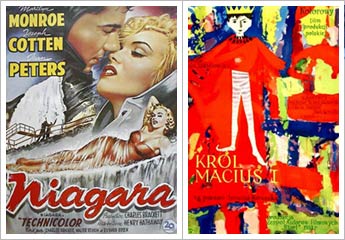 Niagara (1953)
Passion is the theme of this film, and this poster is (ahem) dripping with it. You can practically kiss Marilyn's luscious lips. For the coup de grace, put her in an elegant version of a wet t-shirt and pour Niagara Falls over her body. Breathtaking.
Krol Macius I (King Matthew I, 1958)
This film is based on a very famous character from Polish children's literature - Matthew I, the boy king. A sophisticated painting with a childlike quality and the red cloak that would be familiar to any fans of the book make this poster simply amazing.
1960s

Lolita (1962)

This famous image sums up not only the object of a middle-aged pervert's obsession, but also the zeitgeist of the youth-oriented, love generation of the 60s. Director Stanley Kubrick took as much care with the marketing of all his films as he did with their creation, and it shows in this iconic poster.





1970s

Chinatown (1974)

There's that fedora and lit cigarette again, telling us we're in noirland. Beyond that - inscrutable mystery in an opium-like haze. This is a poster that compels you to see what it's all about.






1980s

My Neighbor Totoro (1988)

Hayao Miyazaki is the foremost anime director in Japan, and this poster for his superb and whimsical feature illustrates why. If you don't want to ride the bus with this little girl and her furry, giant friend Totoro, there's something broken in you.




Showgirls (1995)

I'm decidedly in the minority for being a fan of this film, but there's no controversy about how great this poster is. Was there ever a better representation of Erica Jong's zipless fuck?

See also:
* The American Film Institute's Top 100 Posters.
* The Independent Critics' 100 Greatest Movie Posters of All Time.
Posted by Beachwood Reporter at 12:47 AM | Permalink
April 12, 2007
What I Watched Last Night
I've long believed that cats were the most vile creatures on the planet. Not any more, thanks to an early Wednesday-morning viewing of Rogue Nature: Chimp on The Discovery Channel. Sure, chimpanzees are outrageously smart and can be trained to do just about anything - act, smoke cigarettes, maybe even win a national election (or two) - and, unlike cats, they'll come when you call. But there's one pretty significant drawback to our closest relative in the evolutionary chain: They'll chew off your face and hands, and rip off your balls too.

And then they'll eat you.
While it's by no means considered acceptable, most of that sort of thing is becoming increasingly common in Africa, where chimps run as amok as deer in the Cook County forest preserves. It's becoming serious business because small children are fast becoming lunch and dinner. And not in some accidental "oh, a dingo ate the baby" manner, either. The chimps, it appears, have figured out how to work the locks on their cages and boy, are they pissed.
As intelligent as chimps are, it seems that they haven't yet gotten a handle on the whole gratitude thing because those responsible for these attacks came from sanctuaries specifically set up to rescue them from abandonment and the illegal chimp pet trade. So Rogue host Dave Salmoni served as our on-location guide to the various African chimp sanctuaries once housing these chimps gone wild:
* In April 2003, outside the Tacaguma Chimpanzee Sanctuary in western Sierra Leone, a chimp known as Bruno and 30 of his cohorts escaped, smashed their way into a taxi, and ripped a taxi driver limb from limb. Said an eyewitness: "He had no face, nothing. Everything had been dislocated. Nobody could identify the corpse." Today, four of the bloodthirsty little mongrels are still roaming around.
* Outside Kibali National Park in Uganda, 18 attacks on humans have been documented since 1992. In the most chilling, a chimp known as Kiki snatched an infant behind the back of a mother working in a field. The child was later found dead and partially eaten. Wildlife authorities, strangely enough, believe Kiki "was lonely and wanted to play." Meanwhile, Dave wonders, "Are these chimps out for food, or revenge? Are they at war with humans?"
* The last stop on Dave's body-count tour was Gombe National Park in Tanzania - "the first place," says Dave, "where chimps were described scientifically as demonic." In May 2002, one of the demonic chimps known as Frodo snatched a 14-month-old infant off the back of a woman walking through the Gombe forest and ate it. Dave says the locals describe Frodo as a "bully" and a "highly skilled hunter" responsible for eating 10 percent of the neighborhood's monkey population. Like all good Rambo-like hunters, Frodo remains at large.
At this point, it occurs to me that, when its through with its run on FOX-TV, America's Most Wanted might want to take a stab at Africa's renegade chimps since these on-the-lam primates have names, are known among the locals, and probably even have mug shots and fingerprints on file with the appropriate authorities.
So what do you do should you find yourself facing down a crowd of chimps out for blood? For that answer, Dave introduced us to Rick Kelly, a chimp trainer with an outfit known as Amazing Animals, a company the provides amazing animals of all sorts to the movie industry. I'm sure Kelly has seen enough endearing chimp qualities in his day, but it's obviously not a quality that has his cup running over. That's because Kelly considers chimps to be "the most dangerous of the animals I work with" and "violent by nature." That sort of expertise, of course, is not easily dismissed, even by someone like me. "The first thing they go for is the fingers," Kelly said. "They know your hands are weapons. And they will completely take your testicles out and take them far away."
Kelly shared some highly important survival tips to those who might end up facing a mad chimp:
First, if it's barking, "it's time to change your shorts," said Kelly. But if you're not a quick dresser, Kelly instructs:
1. Do not run.
2. Lay on your stomach, with your hands protecting the back of your neck.
3. Spread your legs as far apart as you can so you'll be harder to flip over. (It doesn't seem to dawn on anyone that doing this increases chimp access to your testicles, but still.)
4. After that, "Pray. There's nothing else you can do."
*
My TV was still tuned to The Discovery Channel after work, so my Wednesday journey into the Horrid World Of Danger sailed onward with Hazard Pay, a program a lot like Discovery Channel's Dirty Jobs, except without the dirt - but full of even more opportunities for the host to be maimed or killed. Compared to the dirty jobs Hazard Pay host Curt Dousett volunteers for, Mike Rowe of Dirty Jobs is a puss.
Tonight, Dousett spent a shift as a correctional officer at California's Calipatria State Prison, a maximum-security pen in the middle of the desert with a high level of violence even on days when the inmates aren't spending a good deal of their time rioting or stabbing each other with all sorts of homemade weaponry. The COs are outnumbered by the inmates 60 to 1, and the COs' only defensive weapons are a can of pepper spray and a billy club. As a matter of fact, says Dousett, the prison had to invest in a new type of pepper spray because "some inmates had grown accustomed to being hit with pepper spray. These are tough crazy guys."
Forty-six percent of the inmates at Calipatria are lifers who have nothing to live for. The state department of corrections has a standing no-negotiation policy for your life if the prisoners decide to take you hostage. And you think your life as an office temp sucks.
Anyhow, Dousett's father was a prison guard who "never once spoke about it . . . or brought his work home with him," so Curt felt a natural connection to the assignment. If Curt's shift came anywhere close to mirroring his father's workday existence, it's probably better that some dads never tell their kids they spend 40 hours a week scared shitless in the midst of a large collection of people that even Hell is afraid to take in.
One of the more notable antisocial behaviors exhibited by the Calipatria inmates is a recreational activity known as "gassing," where inmates throw a mixture of shit and piss (and sometimes blood mixed in for an added kick) at the guards trying to serve their meals. A really accomplished inmate was known to shoot a blowgun at a guard.
My favorite prison WMD was, by far, the "tomahawk" - a weapon featuring razor blades melted into a toothbrush. Luckily, said Dousett, they "only carry them when they intend to use them." This gave Dousett the opportunity to participate in the search of the cell of Calipatria's most accomplished shankmaker and find several examples of that inmate's handiwork hidden in various nooks and crannies within his clothing and cell.
All in all, the experience left Dousett with an "idea of what my dad put himself through; what he put up with." Prison gurds, he noted appreciatively, are often the last line of defense "keeping the criminals away from us" so we can spend our time having barbecues and boating unbothered by such Demons of Hell.
Later in the program, Dousett's other Hazardous Duty shift involved being a hockey goalie facing "hardcore ex-minor leaguers." After the prison gig, this was rather anti-climactic; being a prison guard can get you killed, but being a goalie just makes you say "ow" a lot.
*
Check out the What I Watched Last Night collection.
Posted by Beachwood Reporter at 10:48 PM | Permalink
The [Thursday] Papers
"Four of the 12 Chicago aldermen running in the April 17 runoff employ relatives or other loved ones on their publicly funded ward staffs, costing taxpayers more than $400,000 a year," Allison Riggio and Hunter Clauss report today in a piece jointly published by creatingcommunityconnections.org and the Beachwood.
The aldermen quotes are priceless.
* "That's just something that people always have done," Ald. Madeline Haithcock (2nd) told Riggio and Clauss. "Almost everybody has a relative on their staff. I have a daughter and have my husband that is watching my back on the West Side."
Haithcock has both her husband and daughter on her (public) payroll.
"Combined with the alderman's $98,125 annual salary, the Haithcock family is on track to gross $212,521 in taxpayer money this year," Riggio and Clauss report.

*"So I'm guilty of nepotism, how about that?" said Bernie Stone (50th). Rumor has it Stone intends to retire soon and, if re-elected, hand over his seat to his daughter, whom he has employed for 12 years.
* "Over on the West Side in the 35th Ward, Ald. Colón pays his fiancé, Martha Ramos, $73,968 to be his chief of staff," Riggio and Clauss report. "Before being elected four years ago, Colón believed hiring relatives created a 'layer of unprofessionalism,' but now that he's an alderman Colón said he needs a staff he can trust.
"'First, I was outside throwing stones; now I'm inside the house,' he said."
Read the whole thing.
Imus Ignorami
Memo to pundits: If gangsta culture never existed, Imus would still be making nigger jokes. The jokes predate the culture by, oh, at least a few hundred years. And Imus has been at it an awfully long time.
In fact, public figures (mostly from the media) who now say they won't appear on the show are displaying supreme cowardice, not bravery. The punditry had no problem appearing on the show for fun and games when it was a boon to their careers, and now they have no problem bailing when it could hurt their careers. Standing on principle means nothing unless you're willing to do it when it comes with sacrifice.
Politically Correct
It's also not a case, as many have stated, of changing standards of what kind of speech is "allowed." It was never okay to make racist jokes. It's just harder to get away with it now. That's progress. The next step is teaching some of these people why their thinking is backwards, not just that they shouldn't say offensive things. The real problem is the mindset behind the words, not being impolite.
Class Prejudice
It's nice to see folks like the Tribune editorial page commend the Rutgers women's basketball team for their scholastic and athletic achievements, but it only makes me wonder if there would be as much outrage if Imus had used the same language to describe poor inner-city blacks without any of the skills and advantages of the Rutgers women. It would have been just as wrong, but I have a feeling the suddenly enlightened punditry would still be chuckling at their pal's wit and scheduling their next appearances.
Relative Imusism
As long as we're on the subject, writes Tim Willette . . .
"The Bush administration is quietly remaking the Justice Department's Civil Rights Division, filling the permanent ranks with lawyers who have strong conservative credentials but little experience in civil rights, according to job application materials obtained by the [Boston] Globe . . .
"Hires with traditional civil rights backgrounds - either civil rights litigators or members of civil rights groups - have plunged. Only 19 of the 45 lawyers hired since 2003 in those three sections were experienced in civil rights law, and of those, nine gained their experience either by defending employers against discrimination lawsuits or by fighting against race-conscious policies."
So It Goes
* "There is a tragic flaw in our precious Constitution, and I don't know what can be done to fix it. This is it: Only nut cases want to be president."
- Kurt Vonnegut, "Cold Turkey," In These Times, 5/10/04
* "To Vonnegut, the only possible redemption for the apprent meaninglessness of existence was human kindness."
- Dinitia Smith, "Kurt Vonnegut, Novelist Who Caught the Imagination of His Age, Is Dead at 84," New York Times, 4/12/07
* "And another thing, Vonnegut! I'm gonna stop payment on the check! Fuck me? Hey, Kurt, can you read lips? Fuck you! Next time I'll call Robert Ludlum!"
- Thornton Mellon, Back to School, 1986
Olympic Tax
The state is putting skin in the game too. Though the governor's word isn't exactly bankable currency.
Olympic Speech
"BEIJING (AP) - Along with spitting, run-down housing and bad manners, add unintelligible English to the list of things organizers of the 2008 Beijing Olympics want to ban."
Do you think Daley will follow suit?
- Tim Willette
Cubs Scrubbed
The Cubs game was snowed out. Beer sales were still strong at a sold-out Wrigley, though.
City Survey
Daley owns the incumbents and the challengers.
Jottings
* ESPN chooses the nuclear option.
* "Evolution Not Proved, Pope Says." Also dismisses Christianity as "just a theory."
* Sun-Times editorial cartoonist Jack Higgins is the billionth person in his profession to depict Al Gore on a cold day - in this case, in a Hawaiian shirt at Wrigley Field surrounded by snowmen fans - and cast doubt on global warming because snow hasn't become extinct. You might as well draw a picture of yourself jumping out a window and capture the millisecond in which gravity doesn't seem to exist.
* Robert Novak tries to discern a difference between "covert" and "undercover" in a continuing effort to avoid admitting he was wrong about the Valerie Plame case. "The criminal statute refers only to 'covert' employees," he writes. "Undercover" is a different matter, he says, without explanation. You know, the statute isn't a thesaurus; it doesn't use the word "secret" either, nor does it say "agents who might very well be killed if their true identity is revealed," but that doesn't' make it any less true.
Iacocca!
"Stay the course? You've got to be kidding. This is America, not the damned Titanic. I'll give you a sound bite: Throw the bums out!
"You might think I'm getting senile, that I've gone off my rocker, and maybe I have. But someone has to speak up. I hardly recognize this country anymore. The President of the United States is given a free pass to ignore the Constitution, tap our phones, and lead us to war on a pack of lies. Congress responds to record deficits by passing a huge tax cut for the wealthy (thanks, but I don't need it). The most famous business leaders are not the innovators but the guys in handcuffs. While we're fiddling in Iraq, the Middle East is burning and nobody seems to know what to do. And the press is waving pom-poms instead of asking hard questions. That's not the promise of America my parents and yours traveled across the ocean for. I've had enough. How about you?"
- Where Have All the Leaders Gone?, by Lee Iacocca with Catherine Whitney
Power Ratings
"The invitation extended to Vice President Dick Cheney to be the commencement speaker at Brigham Young University has set off a rare, continuing protest at the Mormon university, one of the nation's most conservative," The New York Times reports.
"[But] David Lassen, 23, the chairman of the B.Y.U. College Republicans, said he hoped to present the vice president with petitions of support for his appearance on campus, signed by about 2,000 students and alumni.
"'We're excited for the world to see what B.Y.U. really is,' Mr. Lassen said. 'No matter what you think of Cheney, he's easily the most powerful man in the world.'"
- Last two items submitted by Tim Willette
The Beachwood Tip Line: Tipline of Champions.
Posted by Beachwood Reporter at 8:01 AM | Permalink
Public Payroll, Family Affairs: Aldermen Keep It Relative
Four of the 12 Chicago aldermen running in the April 17 runoff employ relatives or other loved ones on their publicly funded ward staffs, costing taxpayers more than $400,000 a year. While laws in other major cities prohibit this practice, Chicago politicians say there's nothing wrong with hiring people they trust and think their relatives deserve the same chance as other applicants.
"That's just something that people always have done," said Ald. Madeline L. Haithcock, who's fighting challenger Bob Fioretti to hang on to her 2nd Ward seat. "Almost everybody has a relative on their staff. I have a daughter and have my husband that is watching my back on the West Side."
Haithcock is not alone, according to a six-month investigation by creatingcommunityconnections.org, and published jointly with The Beachwood Reporter.

Ald. Dorothy J. Tillman, locked in a fierce battle with two-time opponent Pat Dowell, employs her daughter Ebony T. Tillman. Ald. Rey Colón, facing a tough challenge from former Ald. Vilma Colom, hired his fiancé Martha Ramos last year. And Ald. Bernard L. Stone, who faces opponent Naisy Dolar in the 50th Ward, has employed his daughter Ilana Feketitsch for 12 years.
Two other aldermen - Arenda Troutman in the 20th Ward and Emma M. Mitts in the 37th Ward - also employ relatives. Mitts easily won another four-year term in the Feb. 27 election. Troutman lost to Willie B. Cochran, seven weeks after federal officials charged her with bribery in connection with a land deal near her South Side ward. The outgoing alderman, appointed to office by Mayor Richard M. Daley in 1991, pays her sister, Faye E. Troutman, $67,008 a year. Both the alderman and her sister declined to discuss the issue.
Haithcock, who was appointed alderman by Mayor Daley in 1993, said she hired her husband, Gordon E. Haithcock, after he worked 41 years as a manager for the U.S. Postal Service. He's classified as an "assistant to the alderman" in city payroll records and earns $67,008 a year.
Haithcock's daughter, Tanya D. Haithcock, earns $47,388 as a staff assistant. She works with the schools and helps with anything else that needs to be done, the alderman said. Haithcock added, "She doesn't work completely all the time because she has MS."
Combined with the alderman's $98,125 annual salary, the Haithcock family is on track to gross $212,521 in taxpayer money this year. Gordon Haithcock declined to talk about his employment; repeated attempts to reach Tanya Haithcock were unsuccessful.
Fioretti, Haithcock's opponent, says others are capable of working on an alderman's staff. Elected officials putting their relatives on the public creates a "lazy" staff that is "only in it for their own pockets."
"I know when I'm the alderman I'm not going to have family members on my staff," said Fioretti, who won the most number of votes in the Feb. 27 election - 28 percent compared to the alderman's 21 percent.
Other aldermen offer no apologies for hiring their loved ones.
"So I'm guilty of nepotism, how about that?" said Stone, one of the longest-serving aldermen on the 50-member Chicago City Council.
His opponent, however, doesn't view this hiring practice in the same way. Dolar says an alderman's personal staff should be regulated like any other city office, where government workers and elected officials are banned from hiring their family members. Since the mid-1980s, the city's ethics ordinance has prohibited aldermen from employing relatives on their committee staffs, but no such ban exists for their ward offices.
"It is the alderman's responsibility that we hire the most qualified people and reflect the diversity of the neighborhood," Dolar said.
Stone employs his daughter, Ilana Feketitsch, as his chief of staff. Feketitsch said her 12 years of working for her father, who's been in office since 1973, makes her qualified for the position, which earns her $63,804 annually.
Tillman, who was appointed 3rd Ward alderman by then-Mayor Harold Washington in 1983, employs her daughter Ebony at a yearly rate of $52,320. Ebony Tillman, listed as an "assistant to the alderman" in city payroll records, did not respond to repeated requests for interviews, and her mother, Ald. Tillman, declined to discuss the matter.
This is not the first time the alderman has been in the news for hiring family members. The Lakefront Outlook, a weekly newspaper on the South Side, reported last year that Tillman was involved with patronage dealings involving the non-profit Harold Washington Cultural Center. The paper reported that another daughter, Jimalita Tillman, works as executive director of the organization that manages the cultural center, while son Bemaji serves on the group's board of directors.
Dowell, Tillman's runoff opponent, pledges not to hire any of her relatives if elected. She calls the practice "inappropriate" and, along with Ald.-elect Sandi Jackson in the 7th Ward, has signed an ethics statement Dowell said could reduce the hiring of relatives.
Over on the West Side in the 35th Ward, Ald. Colón pays his fiancé, Martha Ramos, $73,968 to be his chief of staff. Before being elected four years ago, Colón believed hiring relatives created a "layer of unprofessionalism," but now that he's an alderman Colón said he needs a staff he can trust.
"First, I was outside throwing stones; now I'm inside the house," he said.
Challenger Colom, who held the seat from 1995 to 2003, thinks anyone living with an alderman - including domestic partners and children - should not be hired. Colom said she once employed her former sister-in-law on her ward staff.
"I feel that there are many people in the community and outside of the community that have the skills and talents necessary to accomplish the goals of an alderman's office," Colom said. "If they work for the city, I don't have a problem with that, but to work in the alderman's office . . . (that) just doesn't sit well with people."
She's not the only one uncomfortable about aldermen hiring their relatives.
"I've never employed anybody in my family in my staff nor do I intend on doing that," said Ald. Toni Preckwinkle of the 4th Ward.
Ald. Ariel E. Reboyras of the 30th Ward says he doesn't hire his relatives because he believes it would raise questions with his constituents.
"It's very much frowned upon," Reboyras said. "If you want to be a one-termer, sure, go ahead. But you shouldn't do it because it is the taxpayers' money."
It's up to voters whether the practice continues, said Ald. Joe Moore of the 49th Ward. He thinks if voters are satisfied with the services they receive from their alderman, then they may look the other way.
"It should be left to the voters to decide whether that's the best use of their tax dollars," he said.
That doesn't sit well with public watchdog groups and some political scientists. They warn such hiring practices cause voters to become disillusioned, leading them to stop trusting officials and participating in their government.
"Nepotism causes people to be alienated from the political process," said Dick Simpson, a political science professor at the University of Illinois at Chicago and an alderman from 1971 to 1979.
Jay Stewart, executive director of the Better Government Association, agrees but notes, "It may be stinky, lousy, but not illegal. If it's not illegal, [the aldermen] will do it."
"These positions should be posted," Stewart said. "They should be held for 'x' amount of time and available before (they're) just given out to a family member."
But ideally, alderman should ban themselves from hiring relatives, Stewart says.
That's not how Ald. Richard F. Mell sees it. Mell, who chairs the Chicago City Council's Committee on Committees, Rules and Ethics, which monitors the behavior of the aldermen, says he doesn't employ any relatives on his ward staff. But he believes each of the 50 council members should be able to decide whether to hire family members.
"If they do it, they obviously raise the question of 'Are there other people who are in fact more deserving?'" said the 33rd Ward alderman. "Some people believe that because an alderman's staff is so integral to their lives that sometimes a relative would work harder than some other people."
Cindi Canary, director of the Illinois Campaign for Political Reform, believes the hiring process should be more transparent, with qualifications being emphasized over personal connections.
"It's ultimately a question of appearances," she said. "Even though I'm sure there are circumstances or exceptions to rules . . . it always needs to be made public."
In the private sector, hiring family members can be viewed as a conflict of interest, said Dow Scott, a professor at Loyola University Chicago's Graduate School of Business.
"The whole family connection can be real problematic and an issue that firms, even family-owned firms, put a lot of thought into," Scott said. "How can you keep talented people [on staff if they] know that son or daughter is going to be the president or vice president and people don't really have the same opportunities they might at a firm that didn't have a family leadership?"
Many companies have rules that prohibit family members from working in positions where one would report directly to the other, he added. "It's just not seen as good business."
Defenders of this practice, however, say it can work out well for taxpayers because family members feel pressure to do their jobs better.
"I think I worked harder than the other people just because that was my father and he wanted to make sure that I knew everything that was going on with this job," said Ald. Darcel A. Beavers of the 7th Ward. "And that [way], people couldn't say anything - because I was qualified for this job."
Beavers, the daughter of Cook County Commissioner William Beavers, started her political career 22 years ago working in her father's 7th Ward office. When William Beavers left his aldermanic post late last year, Mayor Daley selected Darcel Beavers to succeed him. She lost that post in the Feb. 27 municipal elections to Sandi Jackson, who will take over in May.
"I think people who talk about nepotism should look in the mirror and see if they've benefited from nepotism before they start talking," Darcel Beavers said.
There's no question, the outgoing alderman says, that she's qualified given her more than two decades of experience.
Bettye R. Pulphus feels the same way. Since 2003, Pulphus, who earns $63,804, has worked as an "assistant to the alderman" in her sister's West Side ward office. Why is she qualified? She points to her master's degree in social services from the University of Chicago and her 20 years of work as a block club president and precinct captain.
"People would rather look at the negatives rather than the positives," said Pulphus, who's planning to leave Ald. Mitts' office and has applied for civil service jobs with the city of Chicago and state of Illinois. "Rather than looking at it being challenging to work for a relative, they look at it as 'You've got it good.'"
In fact, Pulphus believes she's being penalized for having worked for her sister, saying it's taking her longer than expected to land another government job.
Ramos, Ald. Colón's chief of staff and fiancé, said her years of working for the Chicago Park District, where she met Colón, helped prepare her for her current job. Ramos said she was hired during a time when Colón needed a top deputy he didn't have to spend a lot of time training.
"You have a good day if you get home by 10 o'clock at night," Ramos said. "I came into the picture because I could just come in and start without skipping a heartbeat."
Paul Green, a professor of political science at Roosevelt University, has no problem with aldermen hiring their relatives as long as a person's qualifications are considered in the decision. Like Ald. Darcel Beavers, Green believes that relatives may be held to an even higher standard.
"They should not be discounted simply because they have the same last name," Green said. "It's the quality of the person being appointed, not anything else that should be the key factor."
Adam Bellow, author of In Praise of Nepotism: A Natural History, said the practice of public officials hiring their relatives is nothing new to politics and is deeply rooted in American history.
"Just like with any other profession in which people are born into, politics has the same character," said Bellow, the son of Saul Bellow, in an interview. "What goes on in Chicago is nothing new or special. It's just that elsewhere it's been driven underground."
The fact that something has been going on for so long doesn't make it right, said Judy Nadler, former mayor of Santa Clara, Calif., and senior fellow in government ethics at Santa Clara University.
"Just because something has been done for a long time, or there's a history of it, it doesn't mean that it's a good practice," Nadler said. "When people bring that up to me as an excuse, I like to say 'Well, we try not to repeat our mistakes.'"
Jonathan Binder, James Jaworski, Rosalie Marquez, Jessica Pearce and Lisa Pietrzak contributed to this investigation. To contact the primary reporters, send an e-mail to allison.riggio@gmail.com or hbclauss@gmail.com, or call (312) 344-8907.
Posted by Beachwood Reporter at 1:00 AM | Permalink
April 11, 2007
Barista! The Return of Stupid
If my memory serves, my last posting found me quite delirious and tolerant of my customers. Yes, for that brief, fleeting moment, I acknowledged the possibility that not everyone was completely fucking stupid. But like I said . . . delirious and fleeting.
It wasn't two days after I wrote that kind post that I wanted to shit in no less than twenty people's coffees. It was almost as if the customers had read my nice words and subsequently united on a mission to return my life to a moderate-climate hell. They obviously didn't like the friendly Maude. Which I understand, because it was creeping me out too.
It was a Friday afternoon that snapped me out of my sun-inspired jolliness. Nothing makes the hairs on your neck stand alert like the ringing of the school bell that signifies the commencement of Spring Break. The pre-teens swarmed like locusts that day, buzzing so loud that I nearly lost my voice shouting over them to confirm drink orders.
Likewise, there was an abundance of semi-retarded moms who contributed to my disgust. For example, the woman who ordered two large lemonades (not on the menu) and then, after receiving her two large lemonades, thought it was the best time to ask for them to be sweetened and shaken. Of course, I should have just known that. Lucky for me, limousines came and swept most of the idiots away for the week. Just about every last one of them went to Florida.

Maybe I shouldn't put all the blame on my customers. I can also attribute a little of my increased blood pressure to the geniuses who supply the satellite station with music to be played in our stores. The holiday music selections are bad enough, but even worse is the Damien "I Want To Kill Myself" Rice playlist that someone actually imagined was a good idea for a coffee shop. Every so often, I catch myself self-loathing into the lattes, only to realize that Damien Rice has been playing in my subliminal background. For those of you who are not familiar with his music, here is a quote from a song that plays frequently in our store. It's called "Accidental Babies."
Well I know I make you cry
And I know sometimes you wanna die
But do you really feel alive without me?
If so, be free
If not, leave him for me
Before one of us has accidental babies
For we are in love
What is even more offensive than Damien Rice's own music is the fact that he took it upon himself to cover Radiohead's "Creep," which also plays at the store. What a pretentious prick to think he has a quarter of the talent required to even think about covering Radiohead. Just because you are angst-ridden and your mind is in a dark place does not mean you are somehow related to Thom Yorke. No matter what the circumstance, no matter how many empty marked cups adorn the top of my bar, no matter how many bubble-gum chewing youngsters are frothing for their fraps, I will leave the floor to change the music the very second I hear Damien Rice ruining Radiohead.
Which reminds me that we also get to hear some mediocre chick singer covering the Leonard Cohen song "Hallelujah" for the thousandth tired time. Covers of that should have been banned after Jeff Buckley made it truly heavenly.
But anyway, I digress. Simply because I get a real kick out of that crazy French press guy, I have another update in the story of his patronage. The company just had our annual brewing sale, which marked down all sorts and sizes of brewing equipment. From espresso machines, to coffee makers, to - you guessed it - French presses! French press guy's flighty wife was in one day and ordered her husband's ridiculous coffee (which now gets three pumps of white mocha added to it, further diluting the flavor of his specifically-ordered roast). I told her about the annual brewing sale and this prime opportunity to pick up their very own French press!
She laughed and said that they already had one - he just liked having us do it for him! I chuckled briefly while reaching behind her stupid bouffant and slamming her face straight into the countertop, rendering her unconscious and limp on the floor, Americano spilled and scalding across her body.
Well, that isn't exactly how the transaction ended, per se. I definitely didn't chuckle. After she walked away, Lillian asked me if I had tried to sell her a French press. She informed me that I wasn't the first to attempt that sale, which did make me laugh. Some people shall remain blissfully oblivious. Good for them.
*
Maude Perkins is The Beachwood Reporter's pseudononymous service industry affairs editor currently serving time as a store supervisor for a large, publicly-held corporate coffee chain. Catch up with the rest of her heartwarming tales from the front here.
Posted by Beachwood Reporter at 5:36 PM | Permalink
NHL Playoff Preview: The Ex-Hawk Factor
The slog of the regular season is over and playoff hockey is finally here. Rejoice! Few things in sports can match the fast-paced, bordering-on-insane intensity of the annual tournament for the Holy Grail of sports trophies, Lord Stanley's Cup. Here at Beachwood HQ, contributor Eric Pytel has been crunching numbers and spanking code to suss out the X Factor that determines who gets to take the Cup home with them for the summer.
Is goaltending the difference? A bone-crushing defense? A balanced offense? Or better coaching? Nope. None of those. It's a little-examined but now-proven ingredient that will be familiar to Chicago sports fans in a different form, but has so far existed under the radar. It's the Ex-Hawk Factor. Since the 2002-2003 NHL season, no Stanley Cup Champion has had more ex-Hawk players on its NHL roster than the team it defeated. You're gonna want to call your bookie after reading this.
*
In 2005-06, the championship winning Carolina Hurricanes had .5 ex-Hawks (Anton Babchuk played in 52 games, but did not play in the playoffs), while Edmonton had 2.5 ex-Hawks (Ethan Moreau/Jaroslav Spacek; Igor Ulanov played 37 games for the Oilers, but did not play in the playoffs). In 2003-04 the Tampa Bay Lightning won the Cup in 7 games narrowly defeating the Calgary Flames. The Tampa Bay Lightning had 0 ex-Hawk players; while the Calgary Flames also had 0 ex-Hawks, but were coached by a former Hawk player/coach, Darryl Sutter. In 2002-03 the New Jersey Devils won the Cup and had 0 ex-Hawks, while the runner-up Anaheim Mighty Ducks had 2 ex-Hawks (Keith Carney/Steve Thomas).
Yes, there were then two successive seasons with conflicting results: 2001-02 saw the Detroit Red Wings win the Cup with 2 ex-Hawks (Chris Chelios/Dominik Hasek) when they defeated the Carolina Hurricanes with 0 ex-Hawks. But that was an Olympic year where the Ex-Hawk Factor held true; Canada, carrying Ex-Hawk Ed Belfour and Future-Hawk Theo Fluery, defeated the United States, which was filled with once and future ex-Hawks Tony Amonte, Chris Chelios, Jeremy Roenick, Gary Suter, and Phil Housley. So the Factor was clearly stretched thin that year.
And in the 2000-01 season, the Colorado Avalanche beat the New Jersey Devils to win it all while carrying 1 ex-Hawk (Bryan Muir) to none for the Devils. The Devils, howver, had traded away ex-Hawk Chris Terreri before the playoffs, so it's really a push.

With that incontrovertible evidence in mind, let's take a look at the first-round matchups.
Wednesday -
EAST
#4 Ottawa Senators vs. #5 Pittsburgh Penguins
The Senators are hoping that their explosive trio of Daniel Alfredsson, Jason Spezza, and 50-goal sniper Dany Heatley can carry the load. The Senators have versatile defensemen like Wade Redden, Tom Preissing, Christoph Shubert, Joe Corvo, and Anton Volchenkov. In net, Ray Emery will have to succeed where prior Ottawa goalies have failed. Bryan Murray coaches the Senators and in 14 seasons he has yet to get a team past the second round. Is this the season Ottawa gets over the hump?
Ex-Hawk Factor: 1.5. Dean McAmmond and Tom Preissing, who briefly was a Hawk as part of a 3-way trade last off season.

The Penguins have the most exciting young nucleus of perhaps any team in the playoffs in Sidney "The Kid" Crosby, Evgeni Malkin, and underrated Jordan Staal. All three are dynamic, skilled, and explosive. Staal can be very dangerous on the penalty kill, and Crosby and Malkin can take over games with their vision, speed, and creativity. On the blueline, Ryan Whitney and Sergei Gonchar will be expected to provide offense from the point, while Marc Andre Fleury (40 wins) will have to show he is playoff-ready. The Penguins will rely on veterans Mark Recchi and Gary Roberts to steady this young team that has a chance to surprise.
Ex-Hawk Factor: 1. Jocelyn Thibault.

Pick: Penguins in 7.

WEST
#2 Anaheim Ducks vs. #7 Minnesota Wild
Anaheim is a team with high expectations and plenty of talent to live up to those expectations. The Ducks have built a good young core around veterans Teemu Selanne, Chris Pronger, and Scott Niedermayer. In Andy McDonald, Chris Kunitz, Ryan Getlaf, Corey Perry, and Dustin Penner, the Ducks have talent to burn. Similar to Buffalo in the East, the Ducks in the West are a solid team looking to go deep in the playoffs. No other team has two No. 1 defensemen like the Ducks have in Pronger and Neidermayer. Samuel Pahlsson is an underrated defensive center who can shut down opposing forwards. In net, the Ducks have a capable tandem of goalies, but look for J-S Giguere to get the first crack; he's playoff-tested and capable of getting hot at just the right moment. Randy Carlyle coaches this team and they play with a bit of the grit he displayed as a player. If there's one team that could threaten the Ex-Hawk Factor, it's this team.
Ex-Hawk Factor: 3. Kent Huskins, Travis Moen, Shawn Thornton.

The Wild win with defense and occasional scoring. Once known more for their style of play (neutral zone trap) and winning ugly, the Wild are a dangerous opponent for the Ducks. The Wild has both the goaltending and the offensive players to get the job done in a low-scoring contest. After their first two goalies succumbed to injuries, the Wild were forced to play third-stringer Niklas Backstrom. The 29-year-old surprised by leading the league in goals against average and save percentage. On offense, look for Marian Gaborik, Pavol Demitra, and Brian Rolston to provide the productivity needed to take this team deep. Jacques Lemaire, an excellent tactician and a steady presence behind the bench, is the Wild head coach.
Ex-Hawk Factor: 2. Keith Carney, Todd White.

Pick: Anaheim in 7.

#3 Vancouver Canucks vs. #6 Dallas Stars
The Canucks have a workhorse in net in Roberto Luongo. In his first postseason appearance, Luongo will look to silence the critics and add to his legion of supporters. He's as good as it gets in the West and can easily carry a team if he gets hot. On offense the Canucks have two Swedish twins, Daniel and Henrik Sedin. They have excellent chemistry and are difficult for opposing teams to knock off the puck. The Canucks penalty kill is the best in the league and will be asked to shut down the Stars 7th-ranked power play. If Vancouver is disciplined and gets a better contribution from Markus Naslund than he provided in the regular season, look out.
Ex-Hawk Factor: 1. Bryan Smolinski

Dallas is a defense-oriented team that relies on Marty Turco to keep pucks away from the net. Special teams standouts Sergei Zubov and Philippe Boucher are dangerous point men who can score on the power play. The top scorer for the Stars was Mike Ribeiro with 59 points, but look for Mike Modano to stir the drink if the Stars have any chance at upsetting the Canucks. Turco has to prove he can perform in the playoffs as solidly as he does during the regular season. The teams split the season series 2-2, with the home team winning every game.
Ex-Hawk Factor: 3. Stephane Robidas, Jon Klemm, and the injured Matthew Barnaby.

Pick: Vancouver in 5.

#4 Nashville Predators vs. #5 San Jose Sharks
The Preds are a team with big expectations. They made the decision to trade youth for the often injured, world-class talent, Peter Forsberg. Faced with an injury to Steve Sullivan that should keep him out of the first couple games, the Predators will need Forsberg to lead them to the promised land. Paul Kariya's team-leading 52 assists and 76 points, along with David Legwand's team leading 27 goals, will provide the offense. Also expect solid contributions from Jason Arnott and J.P. Dumont. The Predator blueline is a talented bunch anchored by Kimmo Timonen (55 points) and a group of young defenders in Shea Weber (17 goals) and Ryan Suter. In net, the Predators have a nice problem - two capable starters in Tomas Vokun and Chris Mason. Vokun will get the first shot, but if he falters expect to see Mason get in on the action. The Predators won three of four head-to-head during the regular season.
Ex-Hawk factor: 3. J.P. Dumont, Scott Nichol, Steven Sullivan.

The Sharks, like the Ducks and Sabres, have a very deep team. There's depth and scoring on both offense and defense. The Sharks have a tandem of goalies that is the envy of most teams in Evgeni Nabokov and Vesa Toskala. Nabokov should get the first look and will be expected to shut the door against the Predators big guns: Forsberg/Kariya. On offense, the Sharks have perennial MVP candidate Joe Thornton (92 assists, 114 points) and winger Jonathan Cheechoo (37 goals). Patrick Marleau is a capable frontline center, along with young Milan Michalek (40 assists), and both should take some of the pressure off Thornton and Cheechoo.
Ex-Hawk factor: 3. Mark Bell, Curtis Brown, Ville Niemenen.

Pick: San Jose in 7.

Thursday -
EAST
#1 Buffalo Sabres vs. #8 New York Islanders
The Sabres are coming off a franchise-setting 113-point season, including 53 wins, and are as dangerous a team as any in the playoffs. They have depth and skill at forward, good contributors on their blueline, and a 40-win goalie in Ryan Miller. The cast includes Daniel Briere, Chris Drury, Maxim Afinogenov, and Thomas Vanek. They are coached by Lindy Ruff and they are the favorites in the East.
Ex-Hawk factor: 1. Jaroslav Spacek.

The Islanders are riding a wave of momentum, after narrowly escaping disaster on Sunday and potentially missing the playoffs. They won a shootout just to get into the playoffs and were rewarded with a first-round matchup against the powerhouse Sabres. The Islanders have some spark up front with 40-goal scorer Jason Blake, as well as Ryan Smyth, Alexei Yashin, and Miroslav Satan. The real question for the Islanders is between the posts, where injured 32-win goalie Rick Dipietro means plenty of work for backup goalies Wade Dubielewicz and Mike Dunham. An interesting side story is the return of former Sabre head coach Ted Nolan, who is now behind the bench of the Islanders and will be looking to put a Sabre through the hearts of Buffalo fans everywhere.
Ex-Hawk factor: 2. Andy Hilbert, Chris Simon.

Pick: Buffalo in 4 games.

#2 New Jersey Devils vs. #7 Tampa Bay Lightning
The Devils are coming off another stellar season from the best goalie in the league, Martin Brodeur. He racked up 48 wins and 12 shutouts; both numbers led the league. The Devils recently fired their head coach in a familiar move to Devils fans, and are now being guided by their GM Lou Lamiorello ("Lou Lam").
The Devils have talent in Zach Parise (31 goals), Patrick Elias (69 pts), and speedy winger Brian Gionta. If it's a low-scoring series, the Devils should prevail.
Ex-Hawk Factor: 1. Jim Dowd.

The Lightning is an explosive bunch with players like Vincent Lecavlier (52 goals, 108 points), Martin St. Louis (59 assists, 102 points), and 2004 Conn Smythe winner Brad Richards (70 points). Dan Boyle patrols the blueline and is dangerous on the power play. The real question for this team is in net, where Johan Holmqvist and Marc Denis will have to rise to the occasion and perform better than they have in the regular season. If the series is a high-scoring affair, then the Lightning have a shot at pulling off the upset.
Ex-Hawk Factor: 1. Karl Stewart.

Pick: New Jersey in 6.

#3 Atlanta Thrashers vs. #6 New York Rangers
The Thrashers are making their playoff debut this year. They will get offense from Marian Hossa (43 goals, 100 points), Ilya Kovalchuk (42 goals, 76 points), and Slava Kozlov (52 assists, 80 points). Veterans Scott Mellanby and Keith Tkachuk will be relied upon for leadership. Former #1 pick overall Kari Lehtonen is getting his first chance to shine on the NHL's biggest stage and his play will likely determine whether or not Atlanta advances deep in the playoffs.
Ex-Hawk Factor: 1. Steve McCarthy.

The Rangers are a difficult team to gauge. They have offensive talent in Jaromir Jagr (96 points) and Michael Nylander (83 points), as well as playoff veterans like Brendan Shanahan and Martin Straka. Henrik Lundqist won 37 games for the Rangers during the regular season and will have to be sharp against the Thrasher snipers or it could be a quick series. If the Rangers play disciplined and capitalize on mistakes, than this series could shift in favor of New York.
Ex-Hawk Factor: 2. Michael Nylander, Jason Strudwick.

Pick: Atlanta in 6.

WEST
#1 Detroit Red Wings vs. #8 Calgary Flames
Detroit had another fine regular season with plenty of wins, offense, and solid goaltending from a rejuvenated Dominik Hasek. For the Red Wings, the real season doesn't start until the playoffs, and after several years of first-round exits they're hoping their fortunes turn around this time. Pavel Datsyuk and Henrik Zetterberg are the creative collaborators who will look to get newly acquired Todd Bertuzzi and Kyle Calder involved offensively. Thomas Holmstrom is a playoff performer who likes to create havoc in the crease for opposing teams. On defense, the Red Wings have perennial Norris Trophy candidate Nicklas Lidstrom, along with Mathieu Schneider, Chris Chelios, and Brett Ledba providing support. In net, Dominik Hasek will look silence critics who say he's too old. In prior seasons, the Red Wings were physically outmatched and beaten by lower-seeded teams.
Ex-Hawk Factor: 4. Dominik Hasek, Chris Chelios, Daniel Cleary, Kyle Calder.

Calgary comes into the regular season hoping to recapture the magic of their 2004 playoff run, which carried them past Detroit and into the Finals, only to fall short in a dramatic game 7 loss to Tampa Bay. The Flames are still coached by an Ex-Hawk, but it's a different one, Jim Playfair (Darryl Sutter is now GM of the Flames). Jerome Iginla (39 goals, 94 points) leads Calgary, but two, 30-goal scorers in Kristian Huselius and Daymond Langkow support him this time around. On the blueline, Dion Phaneuf is as good as any young defenseman in the entire NHL. He's a hard-hitting, offensively skilled stalwart who will have the duty of shutting down Zetterberg and Datsyuk. In net, it's the Mikka Kiprusoff Show. Kiprusoff is capable of completely stealing a series on his own, as he did on several occasions during the 2004 playoffs. The Flames are an underrated bunch that should be confident playing a Detroit team they match up well against. The home team won every game in the regular season, so the Flames will have to prove they can win one on the road.
Ex-Hawk Factor: 1. Tony Amonte.

Pick: Calgary in 6.
-
Links for the hungry hockey fan.
* Official NHL Stanley Cup Coverage.

* Ten Burning Playoff Questions.

Posted by Beachwood Reporter at 4:12 PM | Permalink
The [Wednesday] Papers
So it's Al Sharpton's fault.
If only he - and Rev. Jesse Jackson - had done a better job policing black folk, Don Imus wouldn't have been tricked into calling a bunch of college basketball players nappy-headed ho's.
"Where is Sharpton every other day we're being called bitches and hos in music and on video? " asks Sun-Times deputy features editor Deborah Douglas. "Why hasn't he made a campaign out of that?"
Kathleen Parker, a syndicated columnist carried on the Tribune's Op-Ed page, wants to know too.
"Sharpton and Jackson would do well to direct some of their outrage to [black hip-hop]," she writes.
Outrage like, say, calling for black entertainers to stop using the N-word?

See, it turns out that Sharpton and Jackson have been at the forefront - for years - doing just what the likes of Douglas and Parker complain they are not doing. It turns out the headline above Douglas's story could not be truer: "He's An Idiot. What's Our Excuse?"
Anyone paying attention to Jackson's Saturday morning services at Rainbow/PUSH (available for viewing on the Internet or CAN-TV) or even just his commentary in print and broadcast would know better. Anyone paying attention to Sharpton as well, including his radio show (available locally on WVON-AM) would know better tenfold.
Let's just take as quick a trip through The New York Times archives as time allows this morning for a further look.
* In March 2005, Sharpton "called for a 90-day television and radio ban for performers who resort to violence to settle scores or promote albums.
"He said he planned to continue his anti-violence campaign. 'I'm going to target record company presidents that I think have benefited from marketing this type of violence.' He confirmed reports that he is paying particularly close attention to Jimmy Iovine, president of Interscope."
* In February 2004, Jackson and Sharpton called for a boycott of Barbershop because of the language, depiction of African-American and jokes about Rosa Parks and Martin Luther King Jr.
* In January 2006, Sharpton called for an apology from "the cartoonist Aaron McGruder and Cartoon Network for an episode about the Rev. Dr. Martin Luther King Jr. broadcast last week on The Boondocks, depicting the civil rights leader using the word 'niggers.' The episode, ''The Return of the King,'' had its premiere on Jan. 15, the day before the holiday honoring King. The episode's premise was that after being shot in 1968, King awakens from a coma around 2000 and is frustrated by some black behavior, including sexually explicit hip-hop videos.
"'Cartoon Network must apologize and also commit to pulling episodes that desecrate black historic figures,' Mr. Sharpton said in an e-mail news release. 'We are totally offended by the continuous use of the 'N' word in McGruder's show. While I can appreciate Mr. McGruder and his achievements, this particular episode is over the line. If we don't receive an apology, we will picket the corporate headquarters.'''
* In April 1992, "prominent blacks, including the Rev. Jesse Jackson, the Rev. Al Sharpton and Dr. Alvin Poussaint, the Harvard psychiatrist, have publicly chastised other members of their race for failing to live up to the moral standards of earlier generations of black Americans."
Jackson and Sharpton have been on the case for years. Obviously Imus and his admiring apologist pundits aren't paying as much attention to them as they are to the very entertainers they decry - and mimic with glee.
Meanwhile, the Trib's John Kass can't figure out why so few journalists have the guts to bring up Jackson's Hymietown remark every time the reverend is called upon to discuss intemperate racial remarks. I mean, shouldn't that be brought up every single time? No one's called him on it yet!
And why, Kass wonders, does Sharpton continue to get a free pass in the Tawana Brawley case? I mean, no one's ever made him pay for that! He didn't lose an ounce of credibility! Reporters need to mention Tawana Brawley every time Sharpton weighs in on race. (Kass posits white liberal guilt as the culprit, but white conservative latent hostility seems to be more on display.)
Funny thing, though. It's not as if Jackson and Sharpton have nationally syndicated radio shows simulcast on MSNBC every morning. Must be coincidence.
Then again, maybe Jackson and Sharpton wouldn't be out front on issues like this if someone like, oh, let's say Barack Obama, who is only running for president, decided to be outraged. Is anyone calling on Barack Obama for not "doing enough"?
Then again, it's Sharpton's New York-based radio show we have to turn to for frequent discussions of the torture of more than 100 black men by the Chicago Police Department and the possible culpability of our mayor. Obama is the one endorsing the mayor. So, you know, there's different ways of "doing enough."
Maybe the guilty white liberal media should ask the mayor about torture every chance they get. Maybe that would shut Sharpton up. But in the meantime, he's out there "calling" for this and that, whether our local geniuses are paying attention or not. Where has everyone else been?
The truth is that Imus has been a racial slimebucket for years, as the Trib's Clarence Page points out today.
"Back in 2001," Page writes, "I led Imus in an on-air pledge in which he promised to avoid humor that relied on inflammatory racial or gender stereotypes, including 'simian references to black athletes' and other abuses of which he had been accused.'"
Of course, Imus hasn't come close to living up to that pledge and, curiously, Page says he has never been invited back on the show.
"Perhaps some have come a little late to this party," NBC News anchor (and former Channel 2 anchor) Lester Holt said in an e-mail to the Trib's Phil Rosenthal. "I have found a lot of what Imus says over the years to be offensive and way over the line, and therefore I don't watch or listen to him."
Rosenthal notes that MSNBC host Keith Olbermann has also avoided the show for years, but it's really white people - who after all are most of Imus's guests, listeners and viewers - who have failed to call out their own.
Blaming Sharpton and Jackson for Imus is exactly backwards. If you want Sharpton and Jackson to go away, solve the Don Imus's of the world and the good reverends will be out of business. Meanwhile, the idea that their past indiscretions somehow invalidate their credibility as commentators might be a little more justifiable if that kind of standard was applied to the punditry at-large - particularly the lot of them, including Kass, who were so gung-ho about the Iraq war.
Until then, I'm satisfied that Jackson and Sharpton have been more than properly penalized for their sins. Now it's time for Imus to finally get what he deserves.
The Imus Record
As recounted in a recent Jackson column:
"Just humor, Imus said, initially refusing to apologize; just some idiot comment meant to be amusing. After two days of furor, Imus apologized for "an insensitive and ill-conceived remark." But it's not an isolated instance. Only a month earlier, when Sen. Hillary Clinton gave a speech in Selma, Ala., on the anniversary of the 1965 march that produced "Bloody Sunday," McGuirk said she was 'trying to sound black in front of a black audience,' suggesting she'll 'have cornrows and gold teeth before this fight with Obama is over.'
"Imus once scorned PBS anchor Gwen Ifill, one of the few African-American anchors on television, as 'a cleaning lady.' McGuirk dismissed Sen. Barack Obama as that 'young colored fella.'
"Former New York media critic Philip Nobile has documented Imus' repeat racist offenses. He reports that Imus admitted to 60 Minutes that McGuirk was brought on 'to do nigger jokes.' Imus or his cohorts have called Patrick Ewing 'the missing link,' Shaquille O'Neal 'a carjacker in shorts,' the New York Knicks 'chest-bumping pimps,' the Williams sisters 'two booma-chucka, big-butted women,' and the Indian men's doubles team 'Gunga Din and Sambo.'
"The list can go on. Imus is protected by his cache of insiders in Washington.
"On MSNBC, of course, African-American anchors can respond to Imus, and reply to his racist jibes, giving as well as they get. Not. In fact, there are no - zero - African-American hosts on MSNBC. The network practices the discrimination that Imus peddles."
The Beachwood Tip Line: Not amused.
Posted by Beachwood Reporter at 8:43 AM | Permalink
What I Watched Last Night
I've always wondered what transpires in the moments before certain people end up winning a Darwin Award, the official "salute to the improvement of the human genome by honoring those who accidentally remove themselves from it."
After watching an early Tuesday morning episode of Stunt Junkies: Go Big Or Go Home, I now know.

This particular program featured Finnish nutcup Visa Parviainen trying to establish the record for sustaining horizontal flight at 120 miles per hour for more than five minutes. Parviainen participates in a skydiving activity called wingsuit flying, where people turn themselves into flying squirrels because sooner or later, the possibility of making a lasting impression on the ground below when parachutes don't open isn't good enough. For these folks, nothing spells excitement more than a surprise mid-air game of chicken with a corporate jet.
So how does Parviainen manage wingsuit flying at 120 miles per hour? By strapping jet engines the size of fire extinguishers to a pair of hockey boots, that's how. (I'm not sure where you'd get personal-sized jet engines; I thought maybe American Science and Surplus might carry them because they boast "Incredible Stuff, Unbelievable Prices!" but they don't.) The propulsion system is controlled by handle-mounted buttons built into the wingsuit's arms, which makes the whole getup look like something Q might have cooked up for James Bond in the MI6 workshop. Except I think it would have occurred to Q that trying to walk around with heavy jet engines strapped to your ankles makes you look like Frankenstein as well as increasing your susceptibility to Achilles heel issues.
Q probably also would have done something about having to sit there while the engines idle with the control button under each thumb continually depressed until you actually want the turbines to light up. This whole arrangement strikes me as being a real bitch if you had to scratch your ass really bad or something.
Anyway, since he's bad enough at rocket scientist calculations to be unable to figure out that it doesn't take long for personal jet engines to run out of fuel, Parviainen came nowhere close to attaining his record. In the 1:51 he was lit up, Parviainen didn't retain many of his navigational skills either, since he wound up in restricted airspace and had to get picked up by the film crew.
Back to the lab, Visa. Keep following that dream.
*
Take some time out of your busy day to enjoy the What I Watched Last Night collection.
Posted by Beachwood Reporter at 7:30 AM | Permalink
April 10, 2007
The [Tuesday] Papers
Is Barack Obama a fabricator?
The Tribune's Washington, D.C., blog considers the question raised by Republican National Committee talking points - some based on the paper's own reporting - and wishy-washily concludes: "This isn't to say Obama isn't a liar. That would take an exercise in trying to prove his intent, to read his mind which reporters aren't probably that good at. But do we have enough evidence at this time to accuse him of fabrications which would make him a fabricator?"
Can someone please explain to me the difference between a liar and a fabricator?
Olympic Dream
Speaking of lying and fabricating, lost in the news of the Tribune Company sale, the CTA's experiment in hell, Phil Cline's resignation as police chief, and the opening of baseball season was a Tribune article thoroughly debunking assertions by the mayor and his Olympic point man, Pat Ryan, that virtually every Olympics has turned a profit.
Quite to the contrary.
My question to the Trib and the rest of the media, though is this: What took so damn long?

Olympic Math
From the Trib:
Atlanta 1996
Estimate: $400 million
Spent: $503 million
Sydney 2000
Estimate: $895 million
Spent: $1.1 billion
Athens 2004
Estimate $5.5 billion
Spent: $16 billion
Beijing 2008
Estimate: $14.2 billion
Estimated actual: $40 billion
London 2012
Estimate: $5.9 billion
Estimated actual: $18 billion
Chicago 2016
Estimate: Oh, it won't cost you a thing.
Estimated actual: You're screwed.
I added that last one. But it's based on a thorough economic analysis.
Olympic Spin
"A spokeswoman for the mayor said many city projects are completed on time, and on or under budget, including reconstructions of Wacker Drive, South Lake Shore Drive and the Chicago Skyway. As for Millennium Park, the rising costs were due to the changing scope fo the project, she said, rather than overruns on the original plans.'It went from open landscape to a world-class attraction, responsible for 3 million visitors annually,' said Jodi Kawada, the spokeswoman."
A) All City Hall can point to is road improvements - not building projects - coming in on time and under budget. If they did.
B) The changing scope line about Millennium Park is the same one I saw on the talking points issued to Ald. Billy Ocasio - presumably by the mayor's office - that he so intensely studied before we went on the air together on a Chicago Tonight panel recently. First, it's bullshit. Second, even if it was true, what makes anyone think the scope of the Olympic plan won't change? Third, how do they get that 3 million figure? It's not like there are turnstiles to tally visitors or tickets sold.
Daley Dose
"Daley To Participate In Final Olympics Pitch."
"Chicago is a world-class city, to be very frank. Everybody knows that. Let's be realistic."
I-Man
Howard Fineman is an idiot.
Racist Relativism
See, it's not that jokes about nappy-headed ho's were never a good idea, it's just that times have changed. Times have changed, I-Man. We're no longer allowed to express our true racial feelings in public. It's not that our views are wrong, it's that this new enlightened culture is suffocating us. Now, back to the presidential race . . . that Hillary is a bitch!
Stroger Straddle
One day after publishing a press release written by staff with the mayor's byline attached to it, the Sun-Times publishes this morning a press release written by staff with Cook County president Todd Stroger's name attached to it.
Ironically, Stroger is complaining about media coverage of moves like hiring Andre Garner at $100,000 a year to "shape" Stroger's message. I don't know why he needs Garner when he has unfettered access to the Sun-Times's editorial pages. Then again, he needs someone to write those Op-Eds for him. Unfortunately, we're paying Garner's salary so he can figure out how to best lie to us - sometimes through the pages of the Sun-Times!
The Tribune editorial page took a different approach today: they shaped Stroger's message for free - and got it right.
Public Servant
One ad accompanying the Sun-Times's redesign proclaims "More Watchdog. Less Lapdog."
Does that mean that instead of writing lapdog editorials, the paper will now watch public officials do it themselves?
Doggie Doo
And isn't that slogan an acknowledgement that it has been too much a lapdog in the past?
Obama's Mentor
He sure knows how to pick 'em.
Three Links
Via Consumer World.
* Fly Hawaiian.
* 23 Surprising Things You Can Get For Free.
* The Best Time [of day] To Buy A Plane Ticket.
Ridiculous Hester
Devin Hester was the seventh-inning stretch singer at the Cubs game yesterday and turned in a positively awful, and not even comically so, performance. But what was really interesting was his revelation that this was the first baseball game he had ever attended.
Faith Healers
"A majority of American doctors believe God or another supernatural being intervenes in patients' health, a [University of Chicago] study has found," the Sun-Times reports.
A) Which other supernatural being?
B) But God has so far refused to solve the health insurance crisis.
C) Doctors, however, refuse to split fees.
Q: Why wouldn't God just intervene in the first place and keep people free from illness?
Today's Chuckle
A Beachwood reader responds to our Easter humor yesterday.
"Reminds me of a joke . . . Pope is meeting with the Cardinals, talking big church business when there's a knock at the door. Phone call for the pope. Pope's busy, they say. This is important, guy says, you really ought to take this one. So the Pope leaves the room for a few minutes. When he comes back, he says, well, guys, there's good news and bad news. Good news is that the phone call was from our eternal Lord and Savior calling to say that he's back. The resurrection is a go. Cardinals reply that's great! What's the bad news? Pope says, well, he was calling from Salt Lake City . . . "
Wrigley Ruckus
Buying the Cubs and ditching Wrigley Field would be like buying a car and ditching the wheels. Without Wrigley Field, the Cubs are the Tampa Bay Devil Rays. Haven't we read ad nauseam over the years that Cubs continue to draw fans despite losing because of the Wrigley experience? You'd be better off buying Wrigley and ditching the Cubs. You could move the Kane County Cougars there and still draw a crowd.
Dunkin' Dream
Mmmm, pizza donuts . . .
Beachwood Award Alert
The Beachwood Reporter is a finalist in two categories for a Lisagor, the local Society of Professional Journalists awards. Our Home for the Holidays series is up against the Trib's Washington, D.C., bureau in the Commentary category, and our Barista! column is up against two AP features, including one about Hurricane Katrina, in the Features or Sports Reporting category. I kid you not.
I also kid you not when I noted that Debra Pickett and Mancow Muller are the two finalists in the Television Commentary category. Presumably because they were the only ones nominated.
The Beachwood Tip Line: Best Local Tipline Finalist.
Posted by Beachwood Reporter at 8:16 AM | Permalink
What I Watched Last Night
When you have satellite TV, you get all sorts of programming surprises popping up regularly. These are mostly in the form of channels you've never noticed before, and new blocks of free preview channels. Seriously, I have something like 700 channels (with probably half devoted to things I never bother with, like sports, Jesus, and home shopping), so it's impossible to keep track of all the comings and goings.
Tonight, I noticed a block of 17 new channels. Most are HBO derivatives, but one is Cartoon Network's "Boomerang" channel. For someone like me, this is the TV equivalent of Christmas morning because I remember when Cartoon Network became not-your-dad's-Cartoon-Network by dumping its cable TV lineup of 1950s/1960s-era toons to shift to the whole Transformers and Ren & Stimpy-sorta school. This was great if you smoked a lot of dope, but overall it was a shame because a lot genius disappeared - particularly that of legendary voice Daws Butler in the toons generated by Walter Lantz Studio before the mid-1960s. Since they were originally movie-theater shorts, the Lantz stuff had plenty of adult humor.

A scan of the Boomerang listings through Tuesday night included Top Cat, Johnny Quest, The Banana Splits, The Flintstones, Wacky Races, The Jetsons, Huckleberry Hound, Magilla Gorilla, Secret Squirrel, and Yogi Bear. It's also showing The Amazing Chan Clan and Smurfs, but still. All I know is I'm almost certainly in store for some major Dad points when my kids get a load of this channel because they've seen every possible cartoon on regular cable more times than even God thought would ever be possible.
I caught Boomerang just long enough to see an episode of Micro Ventures, one of the most obscure cartoons of 1968. Basically, Dad and kids Mike and Jill shrink themselves and their hotwired yellow Wisconsin Dells Duck to ant size with their Micro-Reducer to get an up-close look bugs and other small creatures. Naturally, they spend a lot of their time not getting eaten by nature, which really wants nothing more than to take a spin in a Wisconsin Dells Duck.
Only four five-minute Micro Ventures episodes were made because it was educational and, well, those five TV minutes could be better spent selling boatloads of cereal and toys and shit. In this one, Dad and kids get small to barely escape being eaten - Dells Duck and all - by a largemouth bass with a Tommy Bartlett Water Show bumper sticker stuck to it while en route to learning all sorts of swell things about pond frogs.
*
I come across a new Kirstie Alley/Jenny Craig commercial on The Learning Channel. This is when I realized I spend far too much time not paying attention to the tabloid rack while standing idly in line at the checkout counter. If I was a more-astute observer, I wouldn't be sitting here thinking, "Holy shit! When did Valerie Bertinelli turn into such a whale?"
*
Unlike ABC, which makes cheap shows that suck, NBC came out with a cheap show that pretty much didn't suck with the premiere of Thank God You're Here, an improv sketch show that owes its title to the fact that every sketch begins with the phrase, "Thank God you're here." Participating famous and semi-famous comedic actors get stuck into a costume and walk through a stage door in front of an audience to who-knows-what next. The idea is to stay in character and stay funny.
This was the same sort of improv idea behind the ABC/Drew Carey version of the British Whose Line Is It Anyway? except I never completely believed it was unscripted. Thank God seems to make the unscripted claim believable - especially when guys like Joel McHale (Talk Soup) are out of their element enough to stall for time and end up not being all that funny.
(Additional programming note: The disembodied voice of the show's Annoying Break Announcer Guy seems to be gunning for the Annoying Break Announcer gig on America's Funniest Home Videos.)
Besides McHale, last night's participants were Wayne Knight (Seinfeld), Jennifer Coolidge (Legally Blonde), and Bryan Cranston (Malcolm In The Middle). Of this bunch, Knight was the smoothest, and consistently pretty damn funny. This surprised me because, well, just about every character in his TV and movie career has annoyed the piss out of me. He was even annoying as a cartoon character in Toy Story 2. That's talent.
The show also includes the always-inconsequential David Alan Grier as host and Dave Foley (NewsRadio) as the judge guy behind the desk with his finger on the button of the really loud cartoon AH-OOO-GAH noise that stands in for the old shepherd's crook. Dave's cultivating a facial-hair fashion akin to one of the guys off a Dutch Masters cigar box, but I suppose you don't have to look like you're all that when the show's grand prize is "bragging rights, Hollywood street cred, and a trophy handcrafted in shatterproof plastic by the Franklin Mint."
Notable was Knight's opening-sketch performance as a vitamin huckster ("It's an alternative to medicine . . . There aren't any vitamins in it - it's a supplement to vitamins") being interviewed on a local morning TV program:
Interviewer: "Is there any Omega-3 fish oil?" (or something like that)
Knight: "The truth is, I don't really give a damn. You take a hammer to a fish and you're going to get a lot of oil."
Interviewer: "I hear there's a mystery ingredient" (or something like that)
Knight: "Yes, it's . . . I have no idea. There are people in Singapore who put in whatever the hell they please and we just ship it out."
Of course, Foley gave the plastic award to Cranston, who earned 10 million points and a book of S&H Green Stamps because, well, it's all made up and points don't matter. But the Green Stamps will come in handy when his career tanks.
*
Check out the What I Watched Last Night collection.
Posted by Beachwood Reporter at 6:20 AM | Permalink
April 9, 2007
The Periodical Table
A weekly roundup of what's on Shipley's nightstand.
Scout's Honor
James Calderwood has earned every Boy Scout merit badge possible - 121 in all, according to The Week. He's also earned a badge not officially offered by the Boy Scouts but tough to achieve anyway: Virgin for Life.
Beam Them Up
After 300 years of unification with England, the Atlantic says, Scotland may finally achieve independence. Its president-in-exile is already making plans.
Make 'Em Dance in the Aisles
NBC News anchor Brian Williams tells Men's Vogue his secret: "To be taken seriously, make them laugh." Because the news is so funny.
Breakfast Reading
If you're interested in theories of technological innovation, The New York Times Sunday Magazine reports on a debate about whether everything is, in the long run, just a toaster.
War Criminal, World Banker
John Cassidy profiles Paul Wolfowitz in The New Yorker. "The most suprising thing about Wolfowitz is that he's a bleeding heart," says one pal. Well, it's Christopher Hitchens, so whatever. But Cassidy shows how neocons truly are liberals gone awry.
Plus, I can't believe my Geico.com caption wasn't a finalist for contest #91! - Ed.
Green Envy
Vanity Fair's 2nd annual Green Issue, featuring Leonardo DiCaprio on the cover, is the most boring green issue ever produced and most boring issue of Vanity Fair ever produced, ironically making it a big waste of trees. Don't even bother paging through it.
Bag Ladies
Teen Vogue's latest "Gotta Have It" feature says you gotta have a fancy clutch from Nine West. But the cool kids know that it was cooler to be into Eight West, and they've moved on.
Sore Losers
Nevada has the highest murder rate - 8.56 per 100,000 people - among states in the country, according to the April 9th issue of Time . Apparently some folks get four-tenths of their bodies into California before finally dropping dead.
Screen Door
The Shins make the cover of No Depression; Dolly Varden takes their place alongside the, Ry Cooder, and Carlene Carter in the feature well. Nifty nugget: Varden's Diane Christiansen not only sings but continues to work as a marriage and couples counselor. The band photo was taken in Downers Grove.

Posted by Beachwood Reporter at 6:40 PM | Permalink
Cab #324
Date Taken: 4/2/07
From: State and Grand
To:: Wicker Park
The Cab: Spotless. Not brand new spotless, but as spotless as a cab with a bit of wear could be. A light odor of cab scent. I have to say I was also thrilled, for some reason, at the cab's low number. It was like riding in a clout cab.
The Driver: Exceedingly polite. Exceedingly. His "Thank you, sir" routine was a bit off-putting. I don't like being called "sir." I kept wondering who he was talking to, but there was no one else but me.
The Driving: Exceedingly correct - until coming upon the tricky westbound Milwaukee-Division / MIlwaukee-Ashland intersection. Up until then, Driver #324 kept his cab as well-centered in its lanes as any vehicle I've ever been in. His stops were also well-measured, keeping a perfect distance from the cars ahead of him and perfect slowdown rate approaching each stoplight. It was uncanny. And then Drive #324 made a rookie mistake - he got caught in the Milwaukee-Division intersection as the light changed and traffic backs up, as it is wont to do, from Ashland. Working himself out of the mess, he ended up uncharacteristically - as far as I could tell and imagine - screwing another driver then pathetically putting his hand up and looking in the rear view mirror seeking penance. The other driver just honked angrily. The rest of the journey wasn't far, but hit was clear he was rattled, like a pitcher who loses his perfect game and then gets lit up. I wanted to call for a relief driver, but the game was over. Driver #324 lost.
Overall rating: 1.5 extended arms.
- Steve Rhodes
*
There are more than 6,000 cabs in the city of Chicago. We intend to review every one of them.
Posted by Beachwood Reporter at 4:43 PM | Permalink
The [Monday] Papers
Briefly, this morning, I'm tending to business. I'll be back at full speed tomorrow.
1. The funny thing about Zach Johnson winning the Masters on Sunday was how every time he thanked his Lord and Savior ("Jesus was with me every step of the way. I felt him"), the television crew pretended they didn't hear him and went right on with their questions.
2. So Jesus was on loan from Carlos Zambrano?
3. Does that mean Jesus wasn't with Tiger Woods every step of the way? Tiger didn't pray hard enough? That Jesus cares more about who wins the Master's than, say, the slaughter in Darfur?
4. The Missing Gospels: The resurrection will occur in Miami - and the savior will be a black man.
5. Crucifest!

6. Cubs catcher Michael Barrett - not the smartest bat in the rack - wants to keep Wrigley Field just as it is. With a dome. But otherwise, just as it is.
7.The Sun-Times publishes a press release from the mayor today that isn't under Fran Spielman's byline.
8. What a bunch of chumps. He won't answer questions from the paper's reporters, but the editors give him unfettered access to their pages. No wonder he is so disdainful of the press; they don't demand respect. And maybe they don't deserve it.
10. The state is going to save you money if they have to kill you to do it.
11. Couldn't Patti Blagojevich have just gone to work for Century 21?
12. Couldn't Patti Blagojevich . . .
13. The Sun-Times redesign seems to have taken on the old mission of the now-defunct Red Streak: to confuse potential customers into thinking its RedEye.
14. Is the redesign hiding a cutback in news?
15. Or does it just look that way because of the emphasis on advertising over the fade-into-the-distance and off-the-page news stories? "It all looks like 'Special Advertising Section,' like 'This is not a real news story,'" says local small business owner and Beachwood associate Andrew Kingsford.
16. "I'm an urban builder," Ald. Dorothy Tillman (3rd) proclaimed on Munir Muhammad's public access TV show over the weekend. I doubt even Barack Obama, who has endorsed her over union-backed challenger Pat Dowell, believes that.
17. In an example of Obama's commitment to transcending the smallness of our politics, Tillman said 2nd Ward challenger Bob Fioretti is "a stalker. It's been proven that he don't like women." Despite NOW's on-again, off-again endorsement, I think the evidence still tilts pretty strongly in Fioretti's favor at this point.
18. It was altogether fitting that Ald. Madeline Haitchock (2nd) didn't show up for Muhammad's show, given her pattern of skipping candidate forums even amidst allegations that she is inaccessible.
19. At Operation PUSH on Saturday, the Rev. Jesse Jackson called the governor's tax plan "ham-and-egg justice." The ham and egg go together, he explained, but only one has chosen to be there. The chicken can drop the egg and move along. The ham is taken from the pig and, well, that's that. I haven't done the metaphor justice, I know. Ham-and-egg justice. It just sounds so good.
20. "Let the Tribune and Sun-Times pay their share of taxes," Jackson also said. Under the structure of Sam Zell's deal for Tribune Company, it won't have to pay corporate income taxes for several years. But you will.
21. Dennis FitzSimons made $6.2 million last year. These folks didn't.
22. "Preservation Becoming an Illusion."
In Today's Reporter
* The Cub Factor, our new weekly column introducing such instantly lovable features as Sweet and Sour Lou and Beachwood Sabermetrics.
* Our secret history of rock and roll stops in Arizona.
* Cash flow secrets and taxicab tales.
The Weekend Desk Report
By Natasha Julius.
Market Update
The volatility of our own marketplace has launched myriad rumors, so it pains us to confirm that the Weekend Desk has been sold to Don Imus. Despite a late counter-offer from another well-known player, we concluded Imus was the only bidder in a position to fully leverage the colossal debt of all our bad jokes.
Selling Low
Actually, in retrospect, maybe we should've held out for an offer from this guy.
Three-Track Attack
Despite dire forecasts of a sudden drop in our quality of life, it turns out we were in Hell to begin with. So, you know, buck up!
Update from the Axis, Part 1
After several tense weeks of outlandish threats and empty posturing by all sides involved, Paris Hilton agreed to release 15 British naval officers she contends had strayed into her territorial waters some time ago. The officers in question, meanwhile, have confirmed what we have long suspected about the hotel hussie: bitch is cold!
Update from the Axis, Part 2
Meanwhile, apparently unwilling to intervene in the Hilton situation, Vice President Cheney continues to insist on a sinister link between two well-known purveyors of terrorism. For her part, alleged party to destruction Hilary Duff has downplayed the connection.
Update from the Axis, Part 3
Finally this week, it appears the United States has found a way to motivate its frequently reluctant partner in global stability. We caution against too much optimism, however. Britney's bound to totally hate us by the end of next week.
The Beachwood Tip Line: A one-track attack.
Posted by Beachwood Reporter at 9:28 AM | Permalink
Russ Dalbey's Winning in the Cash Flow Business
Real-estate secrets around the pool. Yeah, just one pool.
What It Is: A book-and-CD set about making money in real estate "without a lot of hard work or financial risk."
Cost: $39.95.
Quote: "Now is the time to discover an easier and more financially secure way of life . . . an opportunity for true financial freedom for the rest of your life, working only a few hours a month. And friends, that's incredible!"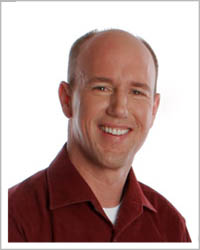 Shills: Creator Russ Dalbey, "award-winning" reporter Kirsten Gum, and actor Gary Collins.
Set and Costumes: Swimming pool deck in the back of a large house, surrounded with palm trees and nice potted plants; blue button-up shirt and pleated khakis
Gimmick: Testimonial after testimonial from successful individuals and couples. They seem to have been shot against the nice pool backdrop mentioned above, yet each shot is framed such that you might think you're visiting them in different homes, presumably their own.
Secondary Gimmick: Smiling actors pacing through their theoretical future beachfront properties and dream kitchens.
Soundtrack: Inspirational-sounding grocery-store music.
Reassurance: Russ happily tells us you don't need talent, that even he had no job skills whatsoever before getting started.
Field Trip!: The spot follows Russ and some of his top students on a "weekend getaway in beautiful Southern California." Around the pool, of course.
"For Dumbasses" Moment: In explaining what a cash-flow note is, the spot cuts away to an animated diagram in which money passes, by way of a magical arrow, between a handily labeled Kirsten and Ross.
Bonus Blog Points: Russ's "What ever happened to ethics?" post on dalbeyblog.com.
Evaluation: Wait, would I have to share the pool with the rest of these people? Though that goes unanswered, Dalbey wisely presents himself as a classy alternative to John Beck.
Rating: 5
- Scott Gordon
Posted by Beachwood Reporter at 2:06 AM | Permalink
The Cub Factor
In a city of knee jerk reactions where moods shift with single plays and the prospects for entire seasons are judged on single games, the first week of the Cubs' 2007 campaign can be summed up like this: Here we go, same old Cubs; Wow, these guys are good; Christ, these guys stink; Damn, we got something here; Hell yes, what's the magic number; they'll never put it all together, they suck.
After a week's worth of games the Cubs are 3-3, can't steal a base, can't get consistent relief pitching, are shakier in the field than Michael J. Fox, and can't decide who to bat second in the lineup. Still, they are just one game back of division leaders Cincinnati and Pittsburgh. In other words, they're still in it.
It's interesting to note (if only for potential drinking game possibilities) that Lou Piniella has already bat four players second in just six games: Matt Murton (twice), Jacque Jones (twice), Cesar Izturis, and Ryan Theriot. Collectively, they are hitting .167. Maybe Piniella can skip the second spot in the lineup from here on out and just go from Soriano to Derrek Lee and bat two guys eighth. I think this will work.
A lot has been said about Lou's mound "visit" to closer Ryan Dempster in the ninth inning against the Reds. It had to be the shortest visit I have ever seen. It really wasn't even much of a visit, it was more of a mound drive-by. I'm not sure that Lou ever stopped moving. It's kind of like when old people powerwalk in the mall get to a door - they just kind of make an abrupt U-turn without breaking stride. Maybe Lou told Dempster to throw some damn strikes because they run out of fried shrimp pretty quick at the Old Country Buffet and he wanted to get there soon. Whatever he said, it worked. This time.
Some other notes from Week 1:
* In Rich Hill's start this week there were two throwing errors by the Cubs and two infield fly rule outs in the same inning. With any other team that would be a record, but with the Cubs, who knows.
* Ryan Theriot is Augie Ojeda but just a little taller.
* Aramis Ramirez has already had more hustle plays this year than he has in his entire pre-Lou career.
-
Second Basemen Report: Looks like Mark DeRosa might be bringing stability to a position that hasn't had it since Ryne Sandberg retired, then came back, and then retired again. DeRosa leads the team in homers, RBI, and games played at second base - six of six.
Theriot has seen time in left field too, giving the Cubs at times three second basemen in the game at the same time, including Soriano and DeRosa. If you count Ronnie Cedeno coming off the bench, the Cubs once again have more players on the roster than anyone else who can play perhaps the least important position on the field.
In former Cub second basemen news, Todd Walker was released by the Padres and picked up by the A's. He isn't the starter and has only played one game thus far. He is missed.
On a side note, my wife's new favorite player is DeRosa because he is apparently good-looking enough to replace the heartthrob Walker.
Sweet and Sour Lou: 63% sweet, 37% sour. Starting pitching makes Lou a little happier but as walks mount, look out.
Mount Lou: Five games until eruption. He's just one more passed ball and two more baserunning blunders away.
Beachwood Sabermetrics: Through a complicated statistical analysis including runs allowed, walks given up, and times pointing toward the heavens, we at The Cub Factor have deduced that betting against Carlos Zambrano on Opening Day is a sure thing.
Over/Under: Michael Barrett's passed balls next week/1.5.
Posted by Beachwood Reporter at 12:31 AM | Permalink
April 8, 2007
Mark Lindsay: Arizona
When you look at the carefully trimmed beard of Mark Lindsay on the cover of his 1970 solo album Arizona, you can just feel where it's going: The photogenic facial hair, along with the turtleneck sweater, means it'll be a trip to easy listening land, an effort to reinvent one of the choicest teen garage rock heartthrobs of the '60s into a kind of tad-more-happenin' Glen Campbell. And for a couple of songs, it works.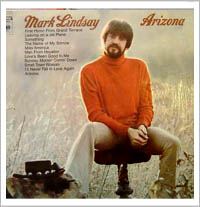 Lindsay was still holding down his day job with Paul Revere & the Raiders when this, his first solo effort on Columbia Records, came out. By then, he had pretty much muscled aside Paul Revere Dick (surely one of the greatest names ever in rock history) as the main creative force in the band - Lindsay was no longer merely its voice and prettiest face. Arizona marked the beginning of three-year-or-so period where Lindsay's solo records and the ever-diminishing Raiders output became virtually indistinguishable, as both were now pretty much all about Mark. The proof of that is the nearly identical sound of his two big hits of that period - the title cut from this album (a Mark Lindsay solo song), and the next year's smash, "Indian Reservation," which was the last (and biggest) score for Paul Revere & the Raiders.
On Arizona, Columbia pulled out all the stops to try to give Lindsay some crossover appeal to the grown-up crowd in an effort to extend the career of a truly talented singer and songwriter. The Raiders' fruitful associations in the mid-'60s with producer Terry Melcher on record and Dick Clark on television had helped smooth the edges of raw garage rock into an industry- and family-friendly format, so it probably made sense that they believed they could once again mold Lindsay into something new for the '70s. The new something turned out to be the Carpenters, but doggone if they didn't bring in the big guns to give Mark the ol' over-produced try.
Most of the songs on Arizona were produced by Jerry Fuller, whose '60s chops were impressive. He wrote and recorded two of the most popular lavishly produced rock songs of that decade, Gary Puckett & the Union Gap's "Young Girl" and "Lady Willpower." Several years earlier he had done the same with Ricky Nelson's "Traveling Man." Brought in to arrange the tunes was another legend, Artie Butler. He was the man behind such classics as the Shangri-La's "Leader of the Pack," Louis Armstrong's "What a Wonderful World," and Neil Diamond's first two hits, "Solitary Man" and "Cherry Cherry." The musical firepower assembled for the album was indeed impressive.
But where it went mostly wrong was that Columbia decided to have Lindsay do all covers (except for one unremarkable tune that he wrote himself). It neutered what was best about him with the Raiders - his unique edgy/sexy lyrical phrasing. "Kicks just keep getting harder to find," for instance. That worked because it addressed a contradiction in the hippie lifestyle. Or being "hungry for the good life," which sounded real and from the streets. Instead, here he's drowning in Butler's lush strings while singing "Leaving On a Jet Plane" and overwhelmed by a Vegas-y horn section on a schmaltzy version of George Harrison's "Something." I think this is where Muzak's rock 'n' roll era really started.
The charting singles off the album were also written by others, but weren't really known before Lindsay's turn at them. That unfamiliarity helped. Of course, there's "Arizona," which reached No. 10. It was written by Brill Building veteran Kenny Young (who also wrote "Under the Boardwalk"), and has the memorable lines,
Arizona, take off your rainbow shades
Arizona, have another look at the world, my, my
Arizona, cut off your Indian braids
Arizona, hey won't you go my way?
Could there possibly be a more emphatic rejection of hippie-dom heading into the soft country, easy listening '70s? It's the only song on the album where Lindsay's soaring vocal range is really on display. On the liner notes for the album, Lindsay, after informing readers that he grew up listening to country music, says, "This album does not represent a change in my musical tastes, but rather an extension of them." Yeah, right, Mark. It made perfect sense that you went from "Kicks" to Bobby Goldsboro in one easy move, as the second single from the album, Jimmy Webb's "First Hymn From Grand Terrace," shows so perfectly. If you can tell the difference between this song and "Watching Scotty Grow," I'll eat my three-cornered hat.
Faring a bit better is the third single on the disc, "Miss America," a minor hit that peaked at No. 44 in 1970. This, to me, is the best song on the album. It's got a great chorus wrapped around a typically syrupy strings-and-piano verse structure, in which Mark wails plaintively,
Do you, Miss America?
Miss America, Miss America,
I know I do
What I don't know is what happened to Paul Revere's revolution on this album. I think it got lost in somewhere on the reservation with Bread and John Denver.
Contact Don Jacobson at don@beachwoodreporter.com.
*
From Tommy Cash to Blue Öyster Cult, Bin Dive reveals rock's secret history.
Posted by Don Jacobson at 4:35 AM | Permalink
April 7, 2007
Crucifest!
Essential to the tale of The Passion are the extras - the onlooking good pagans (and, the devout might point out, bad Jews?) who jeered and roared as the LORD got His flesh ripped off and took an unwanted peek at the devil baby. Who would those folks be today? Maybe you. Maybe me. Yet instead of attaching ourselves to that savage, sadistic horde, many of us prefer to liken ourselves, even if secularly, to those who stood by Christ til the end. Come the hell on - the guy had a respectable following in his day, yet the Roman Empire and its horrific entertainments clearly hogged the market share.
During Holy Week and on Easter, Christians effectively lock away the part of themselves that shares the mob's festive bloodlust. What about those of us who wish to air it? Crucifixion used to be a party, dudes! Some wish to join the few; the rest of us would rather be dunking our heads in earthen wine jugs and playing Biblical-times stickball with leftover skulls. So let's take back Easter. We'll call it Crucifest.
Crucifest and Easter observers should be able to find a middle ground in the harmlessly debauched nature of their respective holidays. Should there be a surplus of creme eggs, marshmallow animals, or honey hams, Crucifesters will supply extra demand, reducing the need for less-profitable post-Easter clearance sales. Beyond that, truces be damned. In true mob spirit, Crucifest should be lawless and without standards or strict rituals, but here's a proposed starter plan for your first Crucifest bash:
* Clearly, like any other group of celebrants, Crucifesters will eventually split into factions. So here's a little ritualistic centerpiece for us to schism over: Begin your party late Crucifest Eve and, at the stroke of midnight, lead a Passion procession up your front hallway/carport/estate driveway. Christians in some places mark Easter with ritual self-crucifixions - often including actual fricking nails - so you've got to make yours snazzier and sexier. Personally, I urge you to use ropes (for insurance purposes, though any sturdy fastener will do), but make sure the LORD's one remaining undie shroud (male-stripper agencies, take note) is conspicuous and revealing. And if you've got access to an actual hill (your local Parks Department will be thrilled), that's even better.
* Hell, dapple on some neon face-paint tears and give Him a crown of glued-together Easter-basket grass.
* Once your victim's hanging in front of everyone, the party can pretty much flow around Him. Feed Him beer, dare your friends to eat Peeps off His nipples, or just ignore Him like you do the rest of the year.
* Have your "Pilate" wash his hands in baby oil and playfully smear it upon the LORD's torso for a glistening finish; a nice gaudy red light bulb would look great on this.
* Don't forget to gamble for His clothes, dipshit!
* To get your guests riled for the Passion proceedings, mix up a special Passion Punch. We'll leave the details to you.
* What to eat? Middle Eastern catering.
* "Chase the Bunny": One of you's got a bunny suit. The rest have cricket bats. Go.
* Monty Python's Life Of Brian is, of course, the ideal sobering-up film for the occasion.
* Did we mention Biblical-times stickball with leftover skulls?
-
READER RESPONSE:
1. From Kiah Pierson:
This is in response to the appalling article published April the 7th, in the year of our Lord 2007.
CRUCIFEST?? What the Hell kind of paper are you running here? By thunder, I've seen some ridiculous things in my day, but CRUCIFEST has got to be right up there with crotchless panties and Chinese finger traps as the most pointless and stupid. I hope whoever agreed to publish this thing owed a senator a favor, because the continued employ of Scott Gordon can only otherwise be construed as a complete lack of taste and judgment.
Who in their right mind would agree to be tied to a cross and smeared in baby oil? Only a heathen, good sir, and aside from that, a communist. The continued printing of material such as Gordon's would suggest you and your paper support the subversive efforts of both groups. Why? Without God and the America he founded, there would be no internet tubes for you to clog up with this insane ranting, most likely the fever dreams of a squat lady-boy with a baby face and serious dependence on hallucinogens. Continuing to give him or his type an outlet to spew their blasphemy only shows the kind of liberal rag you're running.
Well, the word is out now, sir! I've spent all morning linking this article to Christian online media outlets, letting them know how slanted your paper is and to BOYCOTT it and their ADVERTISERS at every available opportunity. No one with half a brain and an eye for actual FACTS and REPORTING will pay you or your corporate masters half a notion now, and we won't until you post a public apology and offer an opposing viewpoint to keep your business fair!
I hope your holidays were more civilized than Scott Gordon's, and God bless you.
(publish this if you have the nerve!)
Editor's Note: Kiah wrote us from ohgoditshotinmyeyeitsallsticky@yahoo.com
Posted by Beachwood Reporter at 9:49 AM | Permalink
The Weekend Desk Report
Market Update
The volatility of our own marketplace has launched myriad rumors, so it pains us to confirm that the Weekend Desk has been sold to Don Imus. Despite a late counter-offer from another well-known player, we concluded Imus was the only bidder in a position to fully leverage the colossal debt of all our bad jokes.

Selling Low
Actually, in retrospect, maybe we should've held out for an offer from this guy.
Three-Track Attack
Despite dire forecasts of a sudden drop in our quality of life, it turns out we were in Hell to begin with. So, you know, buck up!
Update from the Axis, Part 1
After several tense weeks of outlandish threats and empty posturing by all sides involved, Paris Hilton agreed to release 15 British naval officers she contends had strayed into her territorial waters some time ago. The officers in question, meanwhile, have confirmed what we have long suspected about the hotel hussie: bitch is cold!
Update from the Axis, Part 2
Meanwhile, apparently unwilling to intervene in the Hilton situation, Vice President Cheney continues to insist on a sinister link between two well-known purveyors of terrorism. For her part, alleged party to destruction Hilary Duff has downplayed the connection.
Update from the Axis, Part 3
Finally this week, it appears the United States has found a way to motivate its frequently reluctant partner in global stability. We caution against too much optimism, however. Britney's bound to totally hate us by the end of next week.

Posted by Natasha Julius at 2:47 AM | Permalink
April 6, 2007
The [Friday] Papers
While most of us are still trying to figure out just how Sam Zell's deal for the Tribune Company will really work, and what exactly it will mean for the company's employees and the public who depend on the company's newspapers for information about their communities, it isn't mere reflexive cynicism to observe one thing that is clear: This will be good for Zell and current Tribune executives and bad for employees and the public. To believe otherwise is to be insanely naive.
Why?
Because Zell and the Trib executives who struck the deal are in it to make as much money as they can. They aren't in it to deliver the best journalism they can produce as a civic duty, public interest, and bulwark of democracy. Those two objectives are at cross-purposes.

Zell and the boys in the corporate suite do not not have in mind the best interests of the folks in Los Angeles, Baltimore, Hartford, Orlando, Fort Lauderdale, Long Island and so on in mind - nor those in Chicago. If they did, they would sell off those papers to the locals - and in many cases non-profits and civic leaders - who desire them, and desire to run them as a public trust. But that's not how they think; they are businessmen. They could just as easily own, say, a real estate investment trust.
While selling off assets is still a possibility, Zell and the Trib management team that will stay in place - at least for the time being - do not have the best interests of citizens and workers in mind; they have their own financial interests in mind. That is who they are, and that is their interest in Tribune Company. Neither Zell nor chief executive officer Dennis FitzSimons cares about newspapers; they care about making money. I'm not making a judgement, although I'm not a big fan of obscene greed, I'm just stating the obvious and the starting point from which we should build our perspective.
Zell, in fact, claims he's never read news online, which makes him either a liar or wholly unqualified to own a major media organization. Zell may be a colorful character (at least to newsroom dullards wowed by a guy who doesn't wear a tie and rides a motorcycle) who will provide occasional entertaintment as a media mogul, but at his core he is a self-proclaimed "gravedancer" who preys on "distressed properties" - just like those guys in the infomercials who show you how to scan the obits for "motivated sellers."
No one should expect Sam Zell to deliver anything more than dollars into his own pocket. The funny thing is that Zell has been the first one to say this himself. He's said time and again that he's in this deal for the money, but somehow reporters, editors, and some analysts want to believe that Zell is the man who will lead Tribune to the Digital Promised Land, as if the company had just been bought by the Google guys or Apple. Now that would have been exciting.
Instead, the contours of the deal are just depressing. Veteran New York Times business columnist Floyd Norris calls the Zell deal "absurd because those who will lend the money to the company are taking on equity risks if things go wrong, but will not get equity benefits if they go right."
Those lending the money are the employees.
"The employees could prosper - eventually - from the employee stock ownership plan," Norris writes, "but it will be a decade before employees will be allowed to cash in even part of their ESOP shares. In the meantime, the company will be cutting the cash it sets aside for their retirement."
Floyd adds a few dire details in his news report today: "[I]n most cases [employees] will not be able to cash in any of their stake for at least a decade, and then only if they are retired or over 55 and worked for Tribune for at least a decade."
Thank you for playing!
Of course, many of today's Tribune employees won't be around in 10 years anyway. Or maybe even a year from now. With the staggering amount of debt the company is taking on, significant cost-cutting is inevitable, no matter what anyone is saying right now, unless Zell rescinds his statement that the company will not be broken up, which is usually the way leveraged buyouts are paid for. There's certainly no room for investment; ironically only the Cubs may get out alive.
The public will also not be well-served by a deal whose economics will further degrades the quality of journalism the company produces. Norris reports that the public will be hurt in another way as well: "Tribune is relying on a combination of tax benefits that assure the company will not pay a dime of tax for years to come."
Like some other observers, Norris finds some encouragement that someone apparently sees a strong future for newspapers, but let's get real: all Zell sees is numbers. Frankly, seeing 20-plus percent profit margins must look good to anyone from outside the industry. In addition, Zell just might see that large media companies like Tribune are best positioned to the dominate the Internet, and that Tribune in particular is transitioning relatively well even if it it hasn't quite ratcheted up an online-worthy imagination quite yet.
Frankly, I doubt very much that Zell gives two shits about the future of the newspaper industry - and he has said as much. He sees value to extract and he will extract it. It's not much more complex than that.
Phantoms of the Opera
Speaking of extracting value, how inspiring is it to read that the top Tribune Company execs will receive "phantom stock" resulting in a "windfall equal to 8 percent of the media giant's value after it goes private"?
I find it very inspiring. Tribune Company executives do legally what Conrad Black is on trial for doing illegally. Bravo.
The Hitch
When Tribune Company bought Times-Mirror in 2000, company executives gambled that the FCC would alter its cross-ownership rules to allow ownership of newspapers and TV stations in the same market, which was crucial to its business strategy in acquiring its new properties. Tribune's current set-up in Chicago owning the Tribune newspaper as well as WGN-TV (and radio) is illegal, allowed to exist only because the company was grandfathered in after the rule was enacted.
Now the golden goose of cross-ownership in Chicago, as well as the company's plans elsewhere, may be in jeopardy - and could quash the Zell deal.
John Morton, the industry's leading analyst, tells the Tribune that "When there is a change in control, the grandfathering goes away."
The company apparently will seek waivers, but the Tribune reports that the second phase of the stock buyback necessary for Zell to gain control of the company "will go forward only if the transcation receives the required regulatory approvals."
The Trib also reports that FCC Commissioner Jonathan Adelstein wrote in an e-mail last week that "any new owner must comply with the rule on the books that prohibits cross-ownership on newspapers and broadcast outlets."
Adelstein, a Democrat, is an opponent of media consolidation, so that's no surprise. But Crain's reports that a Republican commissioner is also leery about granting the company a waiver. A Democratic president elected in 2008 could also shift the balance of power on the FCC against media consolidation and Tribune-friendly waivers. There goes the Obama endorsement!
Still, Zell must have a plan. He's playing it awfully coy, but it's hard to believe he's as strategically clueless as he portrays himself to be in this transcript. Or perhaps it's enough for him to see what is still an immensely profitable company - don't be fooled by the doom-and-gloom - at its lowest value with an array of revenue-generating assets that still aren't fully deployed. In other words, maybe you don't need an immediate strategy if you can buy, as many others have also pointed out, an $8 billion for $300 million.
Bank Shots
*Phil Ponce: "X-rays were negative."
Aren't they always?
- Tim Willette
* I received a couple notes like this one over the tip line yesterday: "Notice the Michael Sneed picture in the S-T from the first day of the 'redesign' and then today's . . . After one day of her being portrayed realistically she switched back to her old photo from about 15 years ago. Kind of funny . . "
Hey, they're all about the truth over there. Even if they have to touch it up.
* So-Called Austin Mayor catches the S-T not exactly supporting the troops.
* Neil Steinberg has finished his book. Maybe he should start writing a column.
* I was a proponent of bringing Joe Girardi in to manage the Cubs and going in a different direction with this team, but I think Greg Couch gets it right today in his piece about Lou Piniella. Couch, in fact, seems to get it right more than any other Chicago daily sports columnist, in my view.
* Steve Stone on The Score yesterday explaining the difference between Dusty Baker and Lou Piniella: "[Piniella] only cares about one thing, and it's not the players' feelings."
* Craps is still the best game in town.
* This strikes me as a story warranting more attention than it's gotten: "A second former officer of the Iraqi Intelligence Service has identified a Des Plaines man as a 'sleeper spy' embedded in the U.S. to recruit collaborators and gather information for his home country," the Tribune reports.
I mean, a sleeper spy in Des Plaines!
It's also a story that seems to have a stronger foundation than the nonsense about those Miami guys who were going to blow up the Sears Tower with some stinkbombs or something.
* "Comcast Near Finish of Digital Upgrade."
A) Now you'll be missing even sharper images when your cable goes out.
B) Fancy technology, though, will require you be home Mondays through Thursdays from 7 a.m. to 10 p.m. when you need repairs.
C) Digital billing to follow; all numbers upgraded.
* The O'Hare expansion project is $400 million over budget - and running out of money. City officials blame new expenses associated with control towers that spit water.
The Beachwood Tip Line: Gravedancing in the streets.

Posted by Beachwood Reporter at 8:32 AM | Permalink
Cab #6681
Date Taken: 4/2/07
From: Wicker Park
To: State and Illinois
The Cab: Well-tended, but drowning in a heavy, stale vanilla scent made worse by how it was disconcertingly slightly too warm in there. A nice leather hand strap thingie hung from the cab ceiling near the door, though, which was kind of nice. I guess if you have to grab something and hang on, Driver #6681 wants you to grab something with class, as opposed to the drunk skanks his typical riders probably bring with them.
[That "leather hand strap thingie" is often referred to as a Jesus Stap - so named so you'd have something to hold onto and scream "JEEEEEEE-SUS!!!!" when drivers go wild. I once had a 1988 Honda Civic that had a Jesus Handle for the front passenger. Came in handy at times. - Scott Buckner]

The Driver: Didn't say a word. Failed to chuckle listening to an NPR report about comedy when one comic interviewed said, "Cancer and rape. I don't find those very funny," which, of course, was a funny bit, but chuckled when the same comic said, "Holocaust Schmolocaust." So, you know . . . kind of uncomfortable.
The Driving: Driver #6681 was pretty impressive out of the gate, but visibly deflated when he made what appeared to be a poor choice taking the freeway downtown instead of Milwaukee Avenue. As he barreled down the entrance ramp off Milwaukee and saw a jammed-up Kennedy, I could feel him feeling my disappointment. But the lane to the Ohio exit parted like the Red Sea and morale in the cab rebounded nicely. "He's back!" I wrote in my notes. The end of the trip, however, also included the slight but recoverable error on his part of not knowing exactly where Star of Siam was, nor, it seemed briefly, the location of the State and Illinois intersection. He also nearly committed a low-impact fender-bender by coming close to hitting a van in front of us while apparently distracted by jingling change in his pocket. So, kind of a fun ride, but not really.
Overall rating: 1.5 extended arms.
- Steve Rhodes
*
There are more than 6,000 cabs in the city of Chicago. We intend to review every one of them.
Posted by Beachwood Reporter at 2:02 AM | Permalink
April 5, 2007
What I Watched Last Night
While it's not busy covering Gene Simmons' facelift (which apparently has had some dire consequences, judging from the previews for this Sunday's installment of Family Jewels), A&E joins the new cable season with Sons of Hollywood. This program covers the daily lives of housemates Sean Stewart (son of singer Rod), Randy Spelling (son of TV producer Aaron), and David Weintraub (son of, uh, nobody famous).
Summarizing Wednesday's episode, which featured Sean Stewart, was easy - hence why this column will be the shortest I'll probably ever do. "Hi. I'm Sean Stewart. I have no job to speak of and I don't even look like my dad or anything. But I have plenty of tattoos and long hair and friends who look worse than me in the morning after a night of drinking. Oh yeah, I have a boatload of money; wanna fuck me?"

For some odd reason, I think that'll pretty much sum up all of 'em.
Posted by Beachwood Reporter at 9:06 PM | Permalink
The [Thursday] Papers
Dorothy Tillman is nuts. Her unhinged performance on Chicago Tonight last night, where she appeared with challenger Pat Dowell, wasn't quite the tour de force that Arenda Troutman turned in (second item) a couple months ago, but it was close. And the subject of the Harold Washington Cultural Center didn't even come up.
I think my favorite part was when the rarely exasperated Carol Marin seemed on the edge of losing her patience with Tillman as the embattled 3rd Ward alderman defended the condition of the ward, which Dowell described as filthy and filled with garbage-strewn lots.
MARIN: I drove through the ward . . . and saw a combination of development and a lot of empty space.
TILLMAN: You didn't tell me what part you drove through!
MARIN: I drove through the whole ward, alderman, I promise.
Snap!

The truth is that all Dowell had to do to show herself the superior candidate was to sit there all stateslike - as she certainly appeared to be - while Tillman wildly thrusted paperwork of some sort that viewers couldn't see across the table to Marin, perhaps unaware that this was a television appearance, not an interview for one of Carol's columns.
For all the viewers know, the documents Tillman waved around were lists of relatives connected to the cultural center boondoggle.
Dowell's campaign message is a simple one: that Tillman simply isn't up to the job of managing the ward's challenges (crime and poverty) and opportunities (smart growth leveraging, in part, the ward's historic nature).
Tillman's campaign message is also a simple one: Am too!
Tillman, who is endorsed by Barack Obama, is also accusing Dowell of inflating her credentials as an urban planner and covering up her separation from the city planning department where she was a deputy commissioner - without any evidence that I saw presented.

"Yes, I'm an urban planner," Dowell said last night. "I don't think the alderman really understands what that means . . . I was involved in [developing the city's] planned manufacturing districts . . . bringing lights to Wrigley Field . . . the community benefits program for the United Center project . . . I was one of the major architects of the historic Bronzeville plan that this alderman did not participate in . . . [I've helped] save historic buildings that the alderman wanted to tear down . . . [to] save ramps along the Dan Ryan when this alderman didn't do anything . . ."
Tillman had no response to any of it, except to say Dowell was fired from her city job at the behest of the mayor. Tillman said she had the documentation to prove it, but never produced it.
"I was never dismmised from the city," Dowell said. "I resigned. I wanted to leave to do things within the community. I was asked to stay, but did not want to."
Dowell, of course, is largely backed by the Service Employees International Union - she supports the big-box living wage ordinance that the mayor vetoed last year. Tillman, who has taken an odd $400,000 or so in campaign contributions from developers, according to Dowell, voted against the big-box ordinance.
So the mayor has a keen interest in this race, like other runoff elections that could give big-box ordinance proponents the votes they need to reintroduce the measure and override the mayor's veto.
Wal-Mart, by the way, just deposited $100,000 into "a fund created by Mayor Richard Daley's supporters for aldermanic allies in tightly fought campaigns," the Tribune reports this morning.
Election Day for the run-offs is April 17.
Queen Dorothy
* Promotional material for a Tillman rally describes her as "Dr. King's Gift to Chicago." Yes, and I'm sure Dr. King would have opposed the big-box ordinance, too.
* "You can boo all you want!" Tillman surrogate Jacky Grimshaw admonished citizens at a forum recently that the candidate failed to show up for, according to the Reader. "But the bottom line is that Dorothy Tillman is the alderman of the Third Ward and she gets to decide where she wants to spend her time!"
Monologue
*"The first week of operations with changes to the Red, Brown and Purple Lines has so far gone without major hitches," the Tribune says in a news brief.
Yes, the CTA runs great once you scare away all its customers. In fact, United is thinking of flying all of its planes out of the same airport to achieve the same results.
*"Six Flags Gets OK For More Alcohol."
Will be renamed Twelve Flags.
* "Bank Branches Thinner In Cities."
Newspapers, too.
Refreshment Stand
Sun-Times Editor-in-Chief Michael Cooke insists that the remake of the paper's nameplate, front page, columns, graphical display, and presentation is "not a redesign."
Well, Cooke's always had a funny way with the truth. My favorite was when he insisted to me that coverage in the paper of a supposed run on Sun-Times-sponsored cardboard mini-Bears medallions was "a legitimate news story."
So the paper's new look is not a redesign. "It's a refreshment," he says.
Okay, then. Let's get into it.
"We did a little research," Cooke told his former employee Robb Montgomery in a podcast. "The way we interpreted [it] was to go exclusively local [on the front page, I think he means] and make the word 'Chicago' a little bit bigger, a little more obvious. 'Chicago' is a great noun, it's a fabulous, fabulous noun . . . Friday the word 'Chicago' is gonna be blasted right across the page . . . column one to column six."
Money well spent!
"When the Tribune leads its paper with trade treaties in places far away from here, we think that's a good thing," Cooke tells Trib business writer (and former Sun-Times columnist) Phil Rosenthal. "We're concentrating very much on Chicago, and that's what the research told us."
So, what did the research say about trade treaties in places far away that will cost Chicagoans their jobs?
That's Stella!
I wonder what the Sun-Times's market research says about a grown woman writing a column for a major metropolitan newspaper that includes a gem such as this: "I have often heard people say that they hesitate to donate because they fear that the organs will be taken before they are good and dead. So, maybe there should be emphasis on assuring people that everything medically possible will be done to save your life before they take your stuff!
"I decided to check with the secretary [of state] about this, and [Jesse} White told me, 'The doctor who is trying to save your life will do everything possible to make that happen - and is not the same doctor who will remove your organs."
Bucktown Blues
Aldermanic challenger Scott Waguespack "estimates that 45 percent of the [32nd] ward's residents moved in during the last five years," the Tribune reports.
According to the paper, incumbent Ted Matlak said at a debate last month, "What's happening here is a microcosm of what's happening in the entire city. The capitalist forces have come here whether we like it or not."
Says Waguespack: "I'm not against development. I'm against people like [Matlack] jamming it down people's throats with no warning of what's coming."
The Great Daley Debate
"At the debate, the moderator asked Matlak and Waguespack if they consider Daley 'a great mayor' or 'the greatest mayor,'" the Tribune account says.
"Both replied that they consider him 'the greatest mayor' - although Waguespack's answer seemingly came a moment later than Matlak's immediate response."
At this point, I'll take it. Vote Waguespack.
Video Game
"Unlike the bartender story, there is no tape of [Christina] Eilman," John Kass writes in the day's must-read. "Without tape, official Chicago will stay quiet, TV news will continue to ignore her and unwitting taxpayers will pay her family off in a settlement, with City Hall praying this all goes away."
Cline Time
A Washington, D.C., police officer who says he got in a brawl here with the off-duty cop who happens to be the brother of bartender-beater Anthony Abbate also says he reported the incident immediately, the Sun-Times reports.
"But the Chicago Police sergeant and lieutenant who responded to the call 'blew it off' because the punch was thrown by one of their own," according to Terry Gainer, a former Chicago cop and head of the Illinois State Police who moved on to become assistant chief of the Washington, D.C. police. (I'm not sure if he's still there; the Sun-Times identifies him as sergeant-at-arms for the U.S. Senate.)
"Asked why the Washington cops waited 10 days to file a report, Gainer said, 'He didn't know what to do. He tried to report it out there and was rebuffed that evening by the responding sergeant."
Now, if a cop doesn't know what to do in this kind of situation, how do you think regular ol' citizens feel? Especially people of color? Cops have a customer service problem just like the U.S. Post Office and the Sun-Times circulation department. The difference is the gravity of the service. It's way past time for local journalists to lose their naivete about the way dealing with cops works for a whole lot of folks - a naivete mostly borne of never having to go through it themselves.
Cline Clari
I understand an item earlier this week about the Sun-Times describing Phil Cline as the quintessential Chicago cop may have been interpreted as a joke about Cline's weight. It was not intended that way - I do not as a rule joke about large people. I intended to convey my view that the paper perceived Cline as the quintessential Chicago cop because of his appearance, not that I did. I was also mostly, but not wholly, referring to his white skin.
Also, I believe the police department has a long-standing cultural problem. In fact, I think it's pretty obvious. I believe the same thing about the city's newsrooms. I'm bothered by journalists who feel the need to always write the caveat that the vast majority of cops are dedicated and even heroic people - just like I'm bothered by the need pols and pundits feel to constantly assure us they support the troops even if they don't support the war. It just strikes me as a defensive manuever borne of intimidation that creates a false debate.
Very few people think the vast majority of cops are bad - or don't support the troops. It should go without saying. But I'll say it this one time: My comments about the police department are generalizations about a culture that undeniably exists. The department is nonetheless populated by thousands of dedicated - even heroic - officers who truly protect and serve. I believe that in my heart; I don't like feeling pushed into having to declare it. But I will.
Editor's Note
This column got pretty long today and I didn't even get to Sam Zell or Obama's fundraising. Hey, I'm just one guy and it's early in the morning. But I'm also looking for more help as we continue to expand operations here. Drop me a line if you're interested in joining the team in any aspect of our operation.
The Beachwood Tip Line: A local call.
Posted by Beachwood Reporter at 9:04 AM | Permalink
April 4, 2007
The Periodical Table
A weekly roundup of what's on Shipley's nightstand.
Historic Poop
Fascinating tidbit (second item) about the Dead Sea Scrolls and a Jewish sect called the Essenes in the March issue of Natural History. It says that Josephus, Jewish historiographer of the 1st century A.D., wrote that the Essenes, who probably penned the scrolls, were "adamant" about defecating in "retired spots" and burying their feces. Sadly, my puppy is an Essene and his "retired spot" is on my pillow.
Dino-mite
Spanish paleontologists have found a nearly complete skeleton of a new 150-million-year-old sauropod, the largest European dinosaur ever found, according to the March issue of Discover.
Italy on a Budget
A Travel & Leisure reader asks in a letter to the magazine: "Can you recommend some affordable B&Bs along the Amalfi Coast?" Why yes, we can. In Positano, check into the Villa Rosa Positano. Also popular is Villa Lara. Finally, there's Al Borgo Torello.
No joke, just being helpful.

Salty Shakers
In last Sunday's New York Times Magazine:
* William Safire finds the sweet spot.
* Deborah Solomon reads minds.
* Ben Wallace-Wells explains how Barack Obama's message manager is trying to read your mind and find the sweet spot.
Hippocratic Oafs
The estimated number of Americans who die each year as a result of a doctor's sloppy handwriting: 7,000.
Thanks, Harper's, I'm double-checking all my prescriptions right now.
Assassin Theory
While on his deathbed in January, Watergate mastermind E. Howard Hunt laid out the details about who was behind JFK's assassination, according to Rolling Stone. Was it really Dick Cheney?
Posted by Beachwood Reporter at 4:52 PM | Permalink
The [Wednesday] Papers
I'm only sorry I didn't think of it yesterday (and Major League Baseball would probably never allow it), but the perfect new Cubs owner just might be . . . Mike Veeck.
Bring back the magic, Mike.
Obamafile
"A close examination of Obama's first campaign clouds the image he has cultivated throughout his political career: The man now running for president on a message of giving a voice to the voiceless first entered public office not by leveling the playing field, but by clearing it," the Tribune reports in the latest of its fine (and finally arrived) series on Obama.
The story the Tribune tells today is one well-known within political circles: How he knocked his one-time sponsor, former state Sen. Alice Palmer, out of the Democratic primary that put him in the statehouse.
While a case could be made that Palmer dug her own grave, the Tribune shows that Obama also knocked two other candidates off the ballot in that race - clearing the field - in part on the kind of technicalities (and in part wholly legitimately) that have made ballot access a significant issue here and nationwide. After Obama's challenges, one candidate came up 86 names short on his nominating petitions, while another came up 69 names short. Obama's challenges were successful in part because of a purge at the time of nearly 16,000 "unqualified names" from the voter rolls.

Beyond that, the story fits neatly into two recurring themes of Obama's political career. First, that the stories he tells about his past and the rhetoric he employs about his ideals both stray from reality; second, that given a choice between principle and independence or Machine allies and tactics, he chooses the Machine every time. (The litany gets tiresome, but consider those he has aligned himself with at every crossroad: Richard M. Daley, Emil Jones, Todd Stroger, Joe Lieberman, Tony Rezko, Dorothy Tillman . . . )
Irony abounds. "In impromptu street-corner conversations and media interviews [during his first state senate campaign], he disparaged local pols for putting self-preservation ahead of public service," the Tribune account says.
But he defended his ballot challenges in that race by telling the Trib, "If you can win, you should win."
And finally, this:
"Asked whether the district's primary voters were well-served by having only one candidate, Obama smiled and said: 'I think they ended up with a very good state senator.'"
Very glib, very Daley, and very unsatisfying.
Apple Orchard
Thomas Bender of Chicago suggests in a letter to the Tribune that the police pension fund be billed for abuse settlements entered into by the city, instead of taxpayers footing the bill.
Streets, San and Videotape
The allegations against Al Sanchez are worse than those against Anthony Abbate.
Bizzaro Daley
"Mayor Daley has had it up to here with videotapes of barroom brawls involving off-duty Chicago police officers," Fran Spielman "reports."
What?
The truth is that Daley went out of his way to single out off-duty cops, instead lumping them in with the general population and an admonition that "people shouldn't fight."
I saw the mayor's press conference on video and certainly got the full context; you can see what I mean, though, at the end of the Channel 2 report found on the right rail here titled "Brother Of Cop In Bartender Beating Also Caught On Tape," which shows Daley "finding humor" in the situation, avoiding the question, and cackling as he exits stage left.
Take a look and tell me if "Daley laid down the law to off-duty cops," as Spielman writes.
Daley's Law
Of course, Daley didn't lay down the law to his indicted former Streets and San Commissioner Al Sanchez, whom he finds to be a fine man and - somehow significantly - a Vietnam vet. I'm sure that will be a mitigating factor when it comes time for sentencing.
The Toddler
"Cook County Board President Todd Stroger has hired a $100,000 assistant whose job is to help craft Stroger's 'message' and devise his public relations 'strategy,'" the Sun-Times reports.
That makes sense. I mean, I can see how it would take a lot of money to convince the public Stroger isn't an idiot.
Heart of Stone
This nugget from the Tribune is all you need to know about the aldermanic runoff in the 50th Ward between incumbent Bernie Stone and challenger Naisy Dolar.
"Daley's political organization arranged for Mike Noonan, who managed Cook County Board President Tood Stroger's 2006 campaign, to run Stone's re-election effort."
All that's missing for Stone is an Obama endorsement.
Asian Alderman
If elected, Dolar would become the sole Asian-American on the council. Find out why.
The "F" Word
And what it has to do with chicks and cows. In our latest Open Letter.
Obama's White Flag
The Internet's liberal blog king says Obama "just surrendered to Bush."
Labor Pains
"Meanwhile, three other aldermen whose political opponents have received heavy support from organized labor were preparing to introduce an amendment to the city's ethics ordinance that would restrict union contributions in city elections," the Tribune reports.
"Huge labor donations have become 'one of the most outrageous things in terms of campaign finance,' said Ald. George Cardenas (12th), one of the sponsors."
Cardenas is less outraged about the $228,465 he received from business in the last go-around.
New Look, Old Story
The Sun-Times unveiled its latest redesign today. Ho-hum. While there are some decent elements, it still looks like a dowdy newspaper. And those full-length photos of columnists are nothing but a distraction. But the real problem is one that every redesign faces - that old lipstick on a pig thing. Unfortunately, nobody wants to improve the pig. It's not that hard to understand. Campbell's can change the label all they want, but if their soup still sucks, their soup still sucks. If the Sun-Times - or any paper - wants more readers, you have to make a better newspaper (website not only included, but emphasized). And making a better, must-read newspaper means quality journalism, not "Chicagopedia" entries that purport to explain what words such as "buddy" mean in to people who live here. Redesigns always work around the edges, and in areas like packaging health and shopping news, but never seem to spark better ways to actually report on the city - and that's the guts of any newspaper. Just once I'd like to see a redesign that also gamed out an investment and redeployment of reporters throughout the city, instructed reporters to always wonder during an interview why they're being lied to, and, say, mandated that each reporter file at least one Freedom of Information request a month. That would be a newspaper that would show readership gains.
The Beachwood Tip Line: Gaining on them.
Posted by Beachwood Reporter at 8:24 AM | Permalink
Hockey Nights in America
I've been to six different hockey arenas this year.
1. Allstate Arena
Milwaukee Admirals vs. Chicago Wolves
Attendance: 9,755
Comments: The Wolves offer simple entertainment at a good price. Are you a fan of fireworks and two huge flamethrowers used pregame? How about a skating wolf called Skates? That's not enough? How about a Deal or No Deal rip-off called Skates or No Skates during the first intermission? Still not enough? How about we have Skates catapult shirts in the crowd while not one, but two Zambonis smooth the ice?
Then, a few weeks after the game, I received a phone call from the Wolves informing me that it was cheaper to buy my tickets through their 1-800-WOLVES line than through Ticketmaster. They even thanked me for attending. Are you kidding me? The flamethrowers were enough.
2. Joe Louis Arena
Columbus Blue Jackets vs. Detroit Red Wings
Attendance: 20,066
Comments The JLA has many nice touches - Gates named after famous Red Wings players; $2.50 slices of pizza; $8 28-oz Molsons; playing Kiss' "Detroit Rock City" right before they drop the puck. Also, quite a few well-crafted mullets.
Plus, Red Wings fans remained engaged throughout the game. They booed the loudest whenever ex-Red Wing Sergei Fedorov handled the puck, and cheered the loudest when the Kiss Cam showed two guys in Blue Jackets jerseys. It just goes to show that mullets will go out of style at the same time as homophobia.
Unlike Chicago hockey fans, Detroit fans exit the arena in a friendly fashion, presumably because the Red Wings represent their storied franchise with affordable tickets, local viewing opportunities, affordable beer and parking, and a competitive team.
3. Mellon Arena
New York Islanders vs. Pittsburgh Penguins
Attendance: Sold out on a Saturday night
Comments: Rowdy, enthused crowd. We arrive a half-hour before the gates open, and roughly 2,000 other fans waiting to get in. Fans rode anybody not wearing black and gold. A friend wearing brown and white shirt misidentified as a "F'n Browns" fan. Three Islanders fans verbally abused all night. One of the Islander fans had a broken leg. During the third period, in a drunken stupor, I exclaimed "I hope you break the other leg!" Others agreed.
4. Xcel Energy Center
Florida Panthers vs. Minnesota Wild
Attendance: 18,000-plus on a Thursday night, 0 degrees outside
Comments: Great opening, with a Minnesota-hockey themed song and a youngster skating to mid-ice with a Wild flag draped on hockey stick. Youth slams stick on ice and pumps gloved fist in air as if saying "It's our house." This happens while opposing team skates nearby. Hockey game featuring seven-year-olds during 1st Intermission great entertainment. The PA announcer interviews one of the players after the game, asking "How does it feel playing in front of 18,000 fans?" Kid replies "It's no big deal."
5. The MARK
Chicago Hounds vs. Quad City Mallards
Attendance: 4,200 on a Thursday night
Comments: The clearest division in talent between UHL and NHL is in the National Anthem. I believe the singer made seven key changes. Mallards skated out of large inflatable duck's head at the opening. The Mallards even had two Zambonis. That's pretty damn good for the UHL. Though the crowd was thin for NHL standards, crowd cheered all the Mallards goals, hits, and saves.
6. United Center
Columbus Blue Jackets vs. Chicago Blackhawks
Attendance: Unannounced, but estimated at 5,000, not the 10,000 reported in the paper, a Thursday night
Comments: The UC holds 22,000, and there's no way it was anywhere near half- full; where we were sitting, there was NOBODY sitting in the 200-level within six sections in either direction. No crowd energy. Blackhawks give up first goal. Crowd makes sound of total indifference. Players and crowd sleep-walk through game, except when "Ice Girls" skated out for the first time. Scoreboard shows 12 different Ice Girls, yet two showed up for work. Crowd booed guy trying to hit puck through slot from center ice during 2nd Intermission. Crowd switched allegences when attractive woman tried next. Clearly crowd almost 100 percent male. Another sign crowd very thin - took only 5 minutes to get from parking lot to I-290.

Posted by Beachwood Reporter at 3:14 AM | Permalink
April 3, 2007
The [Tuesday] Papers
The sale of the 150-odd year Tribune Company to Sam Zell is seismic, given the company's historic significance and influence in the city, as well as its national footprint with media properties within reach of something like 80 percent of all Americans. The ramifications are, as they say, vast for democracy and civic life here and elsewhere. Sam Zell just became a very important man in the nation's mediascape.
But first a few words about the Cubs.
* Much of the early speculation on a buyer is focused on Mark Cuban, Jerry Colangelo, Don Levin, or even Michael Jordan. But what about the prospective ownership group led by Ha-Lo Companies founder Lou Weisbach and Steve Stone that tried to move the Montreal Expos to Las Vegas?
The group even sought a patent on a how they would finance building a stadium.
* And what of the Wrigley Company? Maybe the gumsters - or members of the family who sold the Cubs to Tribune in 1981 - would like to take another shot, especially now that the branding of Wrigley Field has been so successful.
* Or how about minority ownership, still sorely lacking in professional sports? No, I don't mean Oprah. I mean Yusef Jackson, who was also once involved in the bidding for the Washington Nationals with . . . Ron Burkle, one of the L.A. billionaires who just lost TribCo to Zell.
* And what of Wrigley Field? The Tribune's David Greising reports this morning that the company is being awfully cagey about the fate of the ballpark. It turns out Wrigley may not be for sale along with the team. "Company officials Monday declined to comment on whether the ballpark . . . is on the market." Greising reports.
* Weep not (as I know few will) for the end of Tribune Company's stewardship of the Cubs. "Tribune Co. is the longest tenured, least successful ownership group among Major League Baseball's current group of 30," the Tribune's sports editor, Dan McGrath, writes.
* Few folks are happier today than the Tribune's sports staff. I've said it many times over the years, but I've never believed the paper showed a bias toward the Cubs - even though Tribune Company management put the staff in an untenable situation that could never overcome that appearance among a chunk of the population.
Local media critic Richard M. Daley among them.
"In 2005, as the White Sox bore down on their World Series title, Daley scoffed at a Tribune story about the Black Sox scandal of 1919," Greising writes. 'Why do they have to bring that up? Here they are coming into a tough game tonight. They won't do it against the Cubs, I'll tell you that.'"
As usual, the brutish and bullying mayor was ridiculously wrong.
Now, aside from on-field performance, would the Tribune have more aggressively covered the team's ownership and financial picture if that didn't involve poking around in the business of their bosses? Perhaps. But then what's the Sun-Times's excuse?
* The Sun-Times, by the way, has been absolutely smoked on the TribCo story, relying today on Bloomberg News and in general being totally out of their depth.
Police Beat
* "I'm one of those people who believes the vast majority of police officers are honest, dedicated people trying to do a good job, and who is always a little surprised to encounter the noteworthy percentage of the citizenry that doesn't believe that," Sun-Times columnist Mark Brown writes.
Just get to town?
"Minority residents, in particular, will tell you they've seen a lot worse than the beating thug cop Anthony Abbate put on the woman bartender, but without the videotape to prove it."
You don't need "minority residents" to tell "you" (an assumption that your readers are also white?) that. I mean, police beatdowns have kind of been in the papers for years. Chicago cops are kind of known for it.
* "[Resigning police chief Phil Cline] said the only 'blue line' or 'blue wall' with which he is familiar is 'the line the police officers walk every day to protect the citizens' from the criminals," Brown writes.
Really? In 2004, retired police officer Doris Byrd was asked about the reticence of officers to step forward and say what they knew about Burge and his pals. "Well, first of all, we would have been frozen out of the police system," she said. "We would have been ostracized. We definitely wouldn't have made rank. We probably would have been stuck in some do-nothing assignment."
* My interpretation is that when Cline said on Friday that he might stay for the duration of Daley's new four-year term, he was avoiding lame duck status, and he really did intend to leave this year. My interpretation is also that while the timeline for Cline's retirement hasn't changed, the mayor decided the announcement would be made now for political reasons.
So the answer to the question of whether he resigned or retired is that he was forced to recast his retirement as a resignation.
But isn't it interesting too that the mayor admits he asked Cline last year to stay on until after the mayoral election? Of course the mayor didn't want to address questions about the police department in an election year that a change in command would have raised.
* When the mayor says "I did not ask for his resignation," he's telling the truth. What he's leaving out is "because he submitted it before I had to."
* When the mayor says "you can't wait that long [to take action] because if there's a videotape it's gonna get out," does he mean that you can wait longer if there isn't a videotape?
* At the end of his press conference, the mayor told media, who had been asking about the search process for a new chief, "I encourage everyone here to apply, thank you." And he flashed a mean grin. Boy, he's real torn up about this. What a prick.
* I sensed the mayor hinted that a woman might be the next police chief. Sure enough, the early pool of candidates reportedly includes Dept. Supt. Deb Kirby, Asst. Deputy Supt. Anne Egan, and Chief of Detectives Maria Maher.
* Regarding the continuing investigation of special operations officers, which reportedly will end with explosive, wide-ranging indictments, Cline has repeatedly said (including on Chicago Tonight last week) that internal affairs rooted out the wrongdoing. But the Tribune reports (at the very bottom of this story) that "critics have pointed out that the internal affairs division had investigated the officers for years without taking any action. Eventually prosecutors became involved when the officers repeatedly missed court on drug cases that turned out to be bogus arrests."
* When the Sun-Times says that "Cline Was Quintessential Chicago Cop," they mean he's a fat white man with a mustache. (about half-way down on the linked page)
Sam's Town
* "Some have called the real estate magnate a predatory investor, but Zell uses a different term," the AP reports. "'I'm a professional opportunist.'"
* The Los Angeles Times not as thrilled with a vulture investor.
* Eli Broad is a philanthropist, and he and Ron Burkle - runners-up to Zell in Trib bidding - expressed a civic interest in the company. People in Chicago may be happy a Chicago guy won out, but the folks in Los Angeles, Baltimore, Hartford, and other cities with Tribune properties aren't any better off - and in fact, even Chicaogans would likely have been better off with Broad and Burkle in charge. After all, with lower profit expectations and sense of the public interest, they would have been more likely to invest in journalism and less likely to slash-and-burn. To Zell, the Tribune is just another mobile home park.
* Newsroom folks who think an ESOP means they'll have a role running the company are idiots. It's your retirement money Zell is gambling with.
* "Tribune Staff Would Bear Risk in Financing Buyout."
* Meanwhile, Crain's reports that "For top Tribune executives, taking the company private would bring an immediate payout.
"At $33 a share, the cash value of CEO Dennis FitzSimons' holdings would be $22.2 million, according to his most recent disclosure on insider holdings. Last fall, Tribune's board amended certain retirement, pension and bonus deferral plans to make them immediately payable to top executives when company ownership changes."
* The naivete is stunning. "Michael Tackett, Washington bureau chief for the Chicago Tribune, said anyone who buys the chain likely appreciates its positive work. 'You can assume that the owners see real value here and you only maximize the value with quality,' he added."
Well yes, you could certainly assume that, even though you'd be hard-pressed to find an example in that part of the world known as Reality.
* Tribune columnist Mary Schmich says in this account that "If this restructuring restores any sense of our newspaper being really at the heart of what we do, great."
Did you and Tackett and Brown all just arrive on Earth on the same flight?
Ebert Update
He'll attend his ninth annual Overlooked Film Festival at the U of I later this month despite continuing health problems.
The Beachwood Tip Line: Songs sung blue.
Posted by Beachwood Reporter at 6:42 AM | Permalink
What I Watched Last Night
Scott Buckner, our regular writer of this feature, hasn't watched TV (at least not any worth mentioning) in about a week. But he'll watch again soon.
In the meantime, I'd like to comment on something I saw last night - an episode of M*A*S*H that perfectly illustrates my distaste of what happened to this most beloved series after it lost a good chunk of its original cast.
In this episode, B.J. Hunnicutt, surely one of the blandest characters in dramedy television history, gets tired hearing about all the good times that were had when that great practical joker Trapper John - his predecessor in The Swamp - was around. So Hunnicutt sets out to prove himself Trapper John's equal.
It's the perfect self-satire of a show that began to recycle old ideas with inferior writing and lesser characters - truly a shadow of its formerly great self.
By the time of this episode, Charles Emerson Winchester had replaced Frank Burns, Sherman Potter had replaced Henry Blake, Corporal Klinger had lost the dresses and replaced Radar O'Reilly as company clerk, and Hawkeye and Margaret Houlihan had outgrown the edges in their characters that made them interesting and highly watchable.
It was truly M*A*S*H Lite.
The poor casting decisions made once Henry Blake's plane spiralled into the Sea of Japan snuffed out the magic that produced such classics as the Adam's Ribs and incubator episodes. The personal growth of the characters who stayed was a killer. No one wants to watch a grown-up, well-balanced, sensitive, thoughtful, sober Hawkeye and similar Houlihan stroll the grounds dispensing homilies. The old way delivered the messages much more effectively - through comedy.
Even last night's villain, a commander who kept sending his boys up a hill, only to lose 20 to 30 percent of his troops each time, was a dullard. The old-time villains were believable nutcases such as Colonel Flagg or the succession of simple-minded and badly flawed generals and savvy quartermasters sending pieces of Korea home one kinky deal at a time. This guy just wanted to take that hill.
I guess the lesson is that sometimes you've gotta quit when you're ahead, lest you mangle a franchise by simultaneously taking it in new directions while leaning on the past glories to get you by in the clutch. That's a recipe for disaster, and that, I'm afraid, is what became of one of the all-time greatest television shows in the end.
*
See the What I Watched Last Night collection.
Posted by Beachwood Reporter at 2:28 AM | Permalink
Open Letter
I am going to burn in hell for this, I know. I know that. You guys are my number one favorite charity. You should hear what I say about charities I don't like. In fact, I'm going to donate a flock of chicks right now, before I write any further.
There. Chicks accomplished. Now, here's my beef (though ironically I've never been flush enough to donate an entire cow): It's that e-mail you sent me just before International Women's Day.
The e-mail invited me to read Heifer's statement on Gender Equity. But then you added this: "You'll truly know more about gender equity in Heifer's work and why it's not a feminist perspective or a Western imposed approach."
Whoa there. Why not just tell me to take my chicks and shove 'em? Or perhaps your e-mail director accidentally clicked "send" before sorting out Western women who don't belong to Focus on the Family. I e-mailed you right back, but you never answered. So I'll try again here.

Let's take that gratuitous swat at feminism first. It's especially strange because nothing could be more feminist than the following excerpts from your gender equity statement, by Martha Hirpa, Heifer International's Director of Gender Equity:
"Gender inequity is social injustice."
"Culture and tradition often encourage the unequal distribution of resources between women and men, starting from childhood. In many developing countries, boys have better access than girls to school and health services and more opportunities to build assets and own property."
"This discrimination based on gender creates persistent inequality between women and men in all aspects of life . . . "
Hmmmm. According to Merriam-Webster, feminism is "the theory of the political, economic and social equality of the sexes." Obviously, Heifer's policies are feminist, but for some reason you feel the need to deny it. Unfortunately, your denial denigrates the very philosophy you're trying to promote.
Naturally, feminism is opposed in countries where the religious, cultural and legal systems still subordinate and discriminate against women - which happens to include many of the countries where you operate. It's also not news that throughout history women in patriarchal societies, even those that have been relatively educated and/or wealthy, have helped perpetuate those systems. As Gerda Lerner wrote in The Creation of Feminist Consciousness, "They have done so because their consciousness of their own situation could not develop in a manner commensurate with their advancement in other aspects of their lives." In other words, even the women might not be keen at first on equality.
So I'm sure you don't tout the "F" word directly in developing countries where women remain oppressed. I don't blame you. But your e-mail was directed to English-speaking donors - by definition, people in developed Western countries, if not the United States exclusively.
I suppose you deny being feminist even to an American audience because "feminist" has become a dirty word among large segments of our population, too. As a child, I heard reactionaries like Phyllis Schlafly putting down "feminists." You can still hear it from Schlafly's modern day soul sisters. I just never thought I'd hear it from Heifer.
Schlafly and her progeny have been so successful that it was news last week when Hillary Clinton admitted being a feminist after she was endorsed by the National Organization for Women. The Chicago Tribune headlined its story "Clinton: Yes, I'm a Feminist," as if it were a shocking development. Clinton also quoted the actual definition of "feminist," no doubt attempting to decrease the fall-out from her dangerous revelation.
How has the belief that women are equal to men, and should be treated as such, become such a political and charity fundraising liability? I can almost hear Phyllis now (I can certainly see her insane beehive with the two little curls on either side of her face): Because of those radicals!
Yet no social group or movement exists that doesn't include extremists. Extremists are often useful, helping to push agendas and make moderates look more reasonable. It's like bargaining at a flea market. If the seller starts out offering the ancient idea that women are inferior and suited for nothing more than reproduction, but the buyer insists men are the enemy and all sex is rape, perhaps they can eventually agree that women are entitled to full social and legal equality. Someday, anyway - maybe next century. The haggling has been going on an awfully long time.
Anyway, it seems to me feminism is unique only because its opponents have been able to make the entire movement synonymous with its most radical extremists.
The civil rights movement, for example, has been every bit as divided as feminism in its goals and tactics. Yet I don't recall ever hearing an African-American say, "Oh sure, I support equal rights for blacks - but I'm not one of those civil rights activists!"
Or take pro-life and Islamic terrorists. Both belong to larger groups made up mainly of reasonable and respectable people. Both types of terrorists commit crimes, including murder, in the name of their respective causes. Yet pro-lifers continue to call themselves pro-life; Muslims call themselves Muslims.
And just what have the most radical feminists done that's awful enough to condemn their very name, anyway? Written some annoying books? Burned some bras about thirty years ago? Nobody got killed for opposing the Equal Rights Amendment, that's for sure.
Feminism has been successfully vilified, I think, because women's rights are still not considered completely legitimate at the most basic level of societal consciousness. The only other liberal movement faring as badly in its public relations is animal rights. PETA has made "animal rights activist" sound nearly as bad as "feminist" to many people's ears. It doesn't say much for how far women have managed to rise above animals.
And this is the society you, Heifer, have to ask for money. I don't envy you the task.
I assume that's why your gender equity statement also explains so meticulously why you have to work against sex discrimination to eliminate poverty. Experience, your statement says, "has taught us that development efforts that do not address the inequality between women and men are partial ones and so are neither effective nor sustainable."
Very logical . . . but why do we need an excuse to help oppressed women? What if you could pull a nation out of poverty without giving girls access to education, allowing women to work outside the home, and giving them legal rights? Would that be alright with Heifer? Oh, of course not. I know that. I'm just saying.
And that bit about Heifer's gender equity not being "Western-imposed" - I guess that comes from the debate among development professionals and other multiculturalists about whether promoting women's equality unfairly changes local cultures. Somehow I don't think that debate would be possible if it were about any other oppressed group. Except animals, of course.
Either oppression is wrong, or it isn't. If, instead, it is alright to oppress certain groups of people as long as it's been going on for a really, really long time, why oppose slavery, child labor or sex trafficking? Or even child sex slaves? What could be more venerable?
The whole "Western-imposed" argument is kind of ironic, too, considering how the West tolerates brutal oppression of women in Islamic countries. We only overthrew the Taliban because they were foolish enough to harbor Osama bin Laden, remember. And we're the country that liberated Kuwait - but only the male half of it. Would we have liberated only the white half of South Africa during apartheid?
The idea that women's rights are a Western value is itself, to my mind, an insult to non-Westerners. But if respecting women's rights is "Western," I confess I fail to see why the West should be ashamed to promote its position. As Sam Harris puts it in The End of Faith, "It is time for us to admit that not all cultures are at the same stage of moral development."
In her recent autobiography Infidel, Ayaan Hirsi Ali also addresses the question of Western values: "[W]e in the West would be wrong to prolong the pain" in societies which oppress women "by elevating cultures full of bigotry and hatred toward women to the stature of respectable alternative ways of life."
Look, you're specifically devoted to promoting women's inclusion and empowerment wherever Heifer works to alleviate poverty. I think we all understand that process has to be done carefully and diplomatically in places where women have been subjugated for centuries. So keep the "F" word and the "W" word to yourself, if you must. But please don't put them down.
The saying "If you can't say something nice, don't say anything" comes to mind. I hope I have been sufficiently nice in my complaint. At least don't send back my chicks.

Sincerely,
Cate Plys
*
Got a beef? Open Letter accepts letters. Send to cateplys@sbcglobal.net. And catch up here with previous Open Letter classics, such as "Dear People Who Normally Park in the 5300 to 5500 Blocks of S. Shore Drive" and "Dear Person Who Let Their Dog Defecate Near The Southeast Corner Of 58th And Kimbark."
Posted by Beachwood Reporter at 1:43 AM | Permalink
Why I've Decided to Throw Caution to the Wind and Everything I Have Into Electing Hillary Rodham Clinton the Next President of the United States
I've swooned over the soaring rhetorical splendor of Barack Obama and John Edwards. I've geeked out on the earnestness of Tom Vilsack and Bill Richardson. But most of all, I've cringed at the political calculations and machinations of Hillary Clinton. Not only because they seem so redolent of what's wrong with what politics has become in America, but because they're likely to be successful and place her squarely on the path to a November '08 showdown with whoever happens to survive the GOP primary.

And the prospect of a Hillary candidacy more than anything has made me fear for civilization. What passes for political discourse in this country has been on an ever-downward spiral for some time now. And the Red State/Blue State invective long ago reached a level that makes me literally sick to my stomach. And I'm well aware that the right wing's Public Enemy #1 is Hillary.

While I'm a card-carrying member of the ACLU, a big city, pro-choice, pro-labor liberal trial lawyer, I'm also an avid hunter and outdoorsman, so I spend a lot of time with Republicans. Generally, they're okay people. Really. But going way back to 1992, even the most kind-hearted, decent and open-minded among them have shared one thing: an utter loathing for all things Hillary. I've even endured the sweetest little PTA soccer moms telling the most vile jokes about Hillary Clinton's sex life. It is singularly amazing the level of hatred that's been directed to this one woman.

In January 2000, the one thing that bouyed my spirits as George W. Bush took the presidential oath of office was the thought that I'd finally rid myself of the Bill & Hill bashing. They were gone, after all. The Republicans had won not just the Oval Office, but controlled both houses of Congress. Surely, they would move on. Surely, I was wrong. Rarely did a month pass without an e-shot at either Bill or Hillary or both polluting my inbox. When Hillary joined the Senate, the volume only increased, and since she's set her sights on Pennsylvania Avenue, the floodgates have opened wide.

I wanted it to end. I wanted a presidential campaign that was at least nominally about the issues, not personal attacks. I thought that if the Democrats put up somebody other than Hillary, we could avoid the poison. But I realize now that I was kidding myself. The right will always hate Hillary. And no matter who the Democrats nominate, the number one tactic from the right will be attack attack attack. (Can you say Barack "Madrassa-attending Hussein" Obama, Fox News?)

The watershed moment came when I opened two e-mails from my best friend, a fellow who is conservative but relatively apolitical, save of course for his hatred of Hillary Clinton.

The first e-mail was a story about Hillary Clinton meeting with a Native American group who bestowed upon her the title "Walking Eagle." The punch line was the old fellow's line that a walking eagle is one too full of shit to fly. Now I'll allow that there's a smidge of humor in poking that kind of fun at a politician, but there was also a smidge of the familiar about this gag. Sure enough, a quick check of Snopes.com revealed that the same story, substituting John Kerry and his tribal name, "Running Eagle," circulated in 2004.

The second e-mail, though, is what really brought me up short. It had been forwarded quite a bit before it reached my friend, and he had in turn forwarded it to many others, including me. It told the story of Hillary Clinton insulting some representatives of the Gold Star Mothers by failing to meet with them when they came to Washington to press their case for veterans' aid. I couldn't believe it, so I again made a quick trip to the Snopesters - who sure enough thoroughly debunk this tall tale. What's more, the Gold Star Mothers have made public statements and issued letters and e-mails apologizing for the slurs being made against the Senator in their name, with the fervent hope that it would stop. It hasn't.

And so I have realized that the truth no longer matters. That honesty and good faith are no longer valid currency in the American political debate. That even the best can and will sink to the worst. I don't know whether to cry or scream.

I have also realized that the only thing that will make me feel better is if Hillary actually wins. Because when it comes to the vile beasts that keep putting these filthy, hateful lies out there, the only thing that will sufficiently punish them is to give them what they loathe the most, to give them President Hillary Rodham Clinton.

And so, with apologies to Barack and John and the rest of the members of my party, who I'm quite sure would make just fine presidents, I pledge to do all that I can to shove it right down these hateful bastards' throats and elect Hillary Clinton president in November 2008.
*
Care to disagree? Send your thoughts to the Beachwood political desk. You must use a real name to be published.
*
READER COMMENTS
1. From Harriett Green:
I'm sorry, but that's a pretty weak reason for supporting Hillary Clinton. In fact, I think your stance merely propagates the small-minded pettiness that you deplore in modern politics - "I'm going to make them mad because they made me mad." I'm currently lukewarm about Hillary Clinton precisely because of her political calculations, specifically her vote to authorize military action for the Iraq war. We're in a time where political machinations have made this nation a shell of what it once was. I want a candidate who unequivocally acknowledges the horrific mess that the Iraq War has become, and stands up for the human rights and Constitutional principles that have fallen by the wayside during the Bush Administration. In my eyes, Hillary doesn't do that and so far, John Edwards is looking like the best candidate for the job.
2. From Nick Jarmusz:
Despite the chronology implied by Tim in the fourth paragraph, Bill and Hill were never really gone. Her Senate term started before (albiet, by only a few days) his exit from the White House. It's hard to forget someone if they never leave.
3. From Vince Michael:
Nice opinion piece - it does grab onto the annoying thing about the last dozen years of Republican ascendancy, which is the fact that they only run "against" people, places and things. The triumph of 2004 was so short-lived not only based on Dubya's incompetence but also on a fundamental problem with an ideology defined entirely in the negative. The GOP needs Hillary desperately because without her they resolve into vapors.
Posted by Beachwood Reporter at 1:23 AM | Permalink
April 2, 2007
The Lou & Ozzie Show
The man behind "Dusty Must Get Fired" is back with new songs about skippers Lou Piniella and Ozzie Guillen.
Oklouhoma
Lou Pinella, he's the brand new skipper for the Cubs
Replacing Dusty Baker, Cubs look good on paper
Gotta keep Kerry Wood from the hot tub
Lou Piniella, your boy Hendry spent a lot of cash
He bought Soriano, Better pay Zambrano
Our the Cubs will fall right on their ass
We know that these Cubbies will try
I'll bet they're out of it before July
Santo will say . . .
Oh, brother, Won't make the Hall today
Big bucks we're paying
You're under fire Lou Piniella
Lou Piniella, OK
Lou Piniella, 116 games Seattle won Lou Piniella
Couldn't beat the Yanks, because you stank
How'd you become Hendry's chosen one?
Lou Piniella, don't you know the Cubbies have been cursed? Lou Piniella
100 years of losing, better start your boozing
All the veins on your forehead gonna burst
World Series, you'll try for again
With the Cubs, man? Have you gone insane?
You'll need a shave
We're worse than Tampa Bay
A losing season
You're gonna find

Lou Piniella! Lou Piniella
Lou Piniella, Lou Piniella, Lou Piniella, etc...
It's You, Sweet Lou . . .
Ozzie will say
He owns this town today
You better win, Lou Piniella, Lou Piniella
Lou Piniella, Lou Piniella, Lou
Ozziecabana
His name is Ozzie, He's Ozzie Guillen
A crazy Venezualeen
He's taught the White Sox how to win
He talks like Scarface, he'll drop the F-bomb
He played shortstop for the Sox, Now Detroit must hold his jock
Ozzie thinks bunting's fun, he likes the Hit and Run
He got the White Sox a World Series - and they were # 1
Because of Ozzie, Oh, Ozzie Guillen
Another championships what we'll be seein
Yes, he's Ozzie, oh, Ozzie Guillen
Smart baseball's his passion
In Black and White Fashion
If they play like Ozzie - the Sox will be stars you know what I'm talking about -
and they'll go far
Yeah, He's got Contreras, Jazier Vazquez,
They're Latin American, are they related back to him?
Paulie Konerko, and Big Jim Thome
Pierzynski's jaw is thick, Posednick sure is quick
Buerhle and Garland throwing gas, Ozzie needs a sensitivity class,
Iguichi, Dye and Crede
These Sox are kicking Ass
Because of Ozzie, yes Ozzie Guillen
Fall Classic is what we'll be seein
Because of Ozzie, oh Ozzie Guillen
World Series he'll bring
Let the Fat Lady sing
You play like Ozzie, the Sox will be Stars - and they'll go far - as long as Bartman's not in the audience
Ozzie,Oh Ozzie Guillen that suchee you're chewin',
Ozzie, Ozzie Guillen, you call your friends homos . . .
Posted by Beachwood Reporter at 10:01 AM | Permalink
The [Monday] Papers
BREAKING 11 A.M.: CLINE RESIGNS.
1. BREAKING: The Tribune Company has announced it will sell the Cubs after this season. Curse included.
2. The news follows the announcement that Sam Zell has bought the Tribune Company and will return it to private ownership.
3. "Even some industry rivals are dumbfounded by what Zell has planned," the Tribune reported in its print editions this morning.
"The amount of debt Tribune is going to have blows my mind," one of them told the paper. "It seems very dangerous to me."
4. Dennis FitzSimons will remain as chief executive officer for now, but public library records obtained through a provision in the Patriot Act show he recently checked out this book.
5. "The recent newsroom rebellion in Los Angeles over cost-cutting demonstrated that operating a company full of journalists is among the more daunting challenges in business," the Tribune reported this morning. "Journalists are creative, often non-conformist and dedicated to the social mission of their craft. They routinely challenge authority, and that can include their own managers."
A) "Yeah," the Beachwood's Natasha Julius notes, "when I read the Tribune, what really strikes me is the creativity, non-conformist attitude, and spirit of lively rebellion."
B) If you count challenging their managers' authority behind their backs, that is.
C) For example, think of all those Tribune journalists who stood up in solidarity with their beleagured L.A. colleagues. That was awesome. Or did I dream that?
6. Somehow I don't think Zell will have much of a problem living up to his nickname in contending with those creative newsroom sorts.
7. Judging by a quick glance at campaign contribution data, Zell plays both sides of the fence both nationally and locally like most wheeler-dealers. He donated $30,000 to Judy Baar Topinka's gubernatorial campaign in 2006 - though his wife's trust gave $75,000 to Rod Blagojevich.
Zell also donated $75,000 to Forrest Claypool for the Cook County primary in 2006, and then $30,000 to Tony Peraica for the general election.
Zell's past contributions also include $15,000 to George Ryan's gubernatorial campaign in 1998.
8. If only Zell would buy the CTA. Talk about gravedancing.
9. Frank Kruesi's explanation for plunging CTA riders into a further circle of Hell: "Some of these stations were built 100 years ago . . . when there were a lot more horses and not many cars. "
A) And as Chicagoans know, anyone can have a bad century.
B) So it's taken the CTA 100 years to get around to upgrading them?
C) Can we get the horses back?
10. After having about a hundred years to consider station reconstruction, the CTA board approved Kruesi's plan to run three lines on one track on faith.
"[CTA board chairwoman Carole] Brown and board member Nicholas Zagotta said they based their yes votes solely on Kruesi's assurances that the CTA has done all it can to prepare and to minimize disruptions for the 185,00 people who use the three rail lines, as well as for thousands of transit users on other rail lines and bus routes who will feel the crunch due to increased ridership," the Tribune reports.
11. "The CTA's alternate transportation plan, consisting of a vague plan for extra buses and a recommendation to find other means of transportation, is no plan at all and simply reflects arrogance and incompetence," Tom Lisy, a board member of the Rogers Park Community Council, told the CTA board before their vote.
12. "Whenever bad news hits the Daley administration, the mayor has a habit of putting his department heads out there to twist in the wind before he emerges to take questions," Carol Marin writes. "Hello, Phil Cline."
13. "Don't think for a minute that City Hall is not handling all the information flow on the Abbate case, including when and how the Police Department was allowed to answer questions about this mess," Marin writes. "There is no such thing as an independent superintendent of police. City Hall has always been the controlling force, calibrating the political consequences, then shaping the message."
14. Marin points out that the mayor took time from his busy travel schedule to express his disappointment about the Al Sanchez indictment, but has yet to speak about the Abbate incident.
15. The Cook County State's Attorney's Office continues to dispute Cline's timeline of events.
16.. "It seems like an old story," Joel Weisman said on Week in Review.
"It sounds like lip service," Channel 7's Charles Thomas said. "It's the same story we heard from Terry Hillard, the same story we heard from Matt Rodriguez . . . when is the city council, the mayor, the public at-large going to begin connecting the dots so to speak to really have police reform in Chicago?"
"This goes back, way back, under the original Mayor Daley," Lester Munson said. "A whole pattern here, a whole culture that has to be changed."
17. "Cmdr. Burge and his boys tortured more than 100 black men over two decades," Monroe Anderson writes. "Like all Chicago Police officers on the scene, then-State's Attorney Richard M. Daley and his deputy, Dick Devine, failed to hear and chose not to see the savagery at play."
18. Perhaps when Neil Steinberg jokes that the next time an officer gets in trouble he'd like to see Cline say "I'd like to take him in the back room and hook him up to a car battery!," he's unaware that black men tortured by Chicago police officers had electrodes attached to their testicles.
Or that Cline replaced Burge as Area 2 commander - making it virtually impossible that he was unaware of what went on there.
20. "Places matter," writes Joel Boehm at Agony & Ivy. "Let me make it more clear: Places matter because they have their own rules. Thinking back to Chicago, it can be certain bar rules, like the Artful Dodger in Bucktown (RIP) where one would be chastised for ordering a light beer. It can be like the Weiner Circle, where you're expected to sling vulgarity at the counter while you order a hot dog at 2am; it's all part of the theatrics. Or it can be like the Park West, where - if the show is good - you just don't talk. In Austin, to take an easy example, the good little music venues still have someone walk around with a tip jar in the second half of the set to help the band buy beers after they're done, and people tip.
"Baseball parks have rules in general, like refraining from mentioning a no-hitter. Wrigley in particular has them, like the Bleacher Rules, knowing how to play the cup game or knowing to throw back an opponent's homerun ball. At some point, rules become traditions. Arbitrary in their beginnings or not, these traditions matter. They become the corners of a culture, the boundaries that help us understand it. At this point, the places to which the traditions are tethered matter. When the places change, the traditions change, or sometimes disappear. We all lose something, then. Our culture loses its shape.
"I think being a good Cubs fan is worth it, and to me that means paying attention even during the bad seasons. I also think that being good at living in a city is worth it, and that means putting in the time and effort to participate in the unique expereinces the modern American city makes possible. Our cities are some of the greatest achievements in the history of the world - and I don't think I'm exaggerating - and I think we're idiots when we fail to appreciate this."
The Beachwood Tip Line: Safe at home.
Posted by Beachwood Reporter at 8:27 AM | Permalink
Beachwood Brackets '07
Once again, the Beachwood is applying its tried-and-true theories to the NCAA Men's Basketball Tournament (let's face it, there's not enough money in the women's pool) for both entertainment and wagering purposes. We will update our crystal ball with fresh insights before each and every round.
Championship
Just as we predicted.
# 1 Florida vs. #1 Ohio State
In a battle of electoral battlegrounds, Florida faces a stiff challenge by upstart Ohio State but defends its title once again with late returns off the bench.
Final Four
It's time to play Bracket Boggle, wherein the last names of the starting five players of each team are used as the template for a two-minute word-building spree based on the popular board game. Teams are evaluated based on total word count and longest word constructed in the allotted time. No provisions are made for disparity in total number of letters - hey, it's not our fault they recruited guys with short last names. Here are the results:
#1 Florida vs. #2 UCLA
Florida total letters: 30
Florida words formed: 17
Longest word: GREENER, 7 letters
UCLA total letters: 34
UCLA words formed: 20
UCLA longest word: UNFLAPPABLE, 11 letters
Florida has a big handicap in this match-up. Their roster is completely devoid of S's. Without this vital add-on, it's impossible to milk shorter words for their plural forms. Still, the defending champs faired well and produced such spirited terms as REFORM, BUMPER, WEED and GROPE.
UCLA, on the other hand, lacks the equally important auxiliary letters R and D. Without them, simple verb forms lack their participles and adjectives languish without hope of intensification. This makes their narrow total word haul victory all the more remarkable. Add to that evocative phrasing like HUMBLE, COLLISION, OUST and FASTEST and you have all the makings of an upset. UNFLAPPABLE, indeed.
Pick: UCLA
#1 Ohio State vs. #2 Georgetown
Ohio State total letters: 27
Ohio State words formed: 18
Ohio State longest word: COLORISTS, 9 letters
Georgetown total letters: 30
Georgetown words formed: 25
Longest word: Tie between GREASIEST and ENGINEERS, both with 9 letters
Ohio State may have the most sought-after big man in the college game, but there's not a whole heck of a lot you can do with ODEN. Basically, you get DONE and then you're, well, done. And so are the Buckeyes.
Pick: Georgetown
*
Elite Eight
Let's face it, this year's tourney has sorely lacked for upsets. The lone break in bracket form is #3 Oregon sneaking through the Midwest regional. At this point, the clock has struck midnight and Cinderella is officially back scrubbing floors. So instead of picking the true shocker, we're evaluating the Elite Eight match-ups based on the average height of the usual starting five. Shorter team gets the nod. Hey, it's not much, but in a game of inches it's the best we could come up with.
MIDWEST
#1 Florida vs. #3 Oregon
With an average height of 78.4 inches, Florida is tied for the second-tallest team left in the tourney. Meanwhile, at an average height of 74.8 inches, Oregon is the shortest team by a good 6 centimeters. The Ducks also boast the tiniest individual player remaining in the draw with dinky little 5' 6" Tajuan Porter. The smart money might back the Gators, but the tape leans strongly the other way.
Pick: Oregon
WEST
#1 Kansas vs. #2 UCLA
This one is going to be close. Less than an inch separates the two teams. However, despite boasting the tallest player on the floor with 6' 11" Sasha Kaun, Kansas still slides just under UCLA's 77.6" average with a tidy 77 inches.
Pick: Kansas
EAST
#1 North Carolina vs. #2 Georgetown
The Hoyas are a bunch of behemoths. With the tallest average height (79") left in the draw and the tallest remaining player in massive 7' 2" Roy Hibbert, Georgetown looks set to be steamrolled by UNC's elfin 77.8" average stature.
Pick: North Carolina
SOUTH
#1 Ohio State vs. #2 Memphis
Despite seven-foot manchild Greg Odom, the Buckeyes are remarkably undersized. Their average altitude of 77.2 inches should match up well with Memphis's across-the-board stretchiness of 78.4 inches.
Pick: Ohio State
*
Sweet 16
It's time to compare the coaches head-to-head based on the only stat that really matters: date of birth.
MIDWEST
#1 Florida vs. #5 Butler
Billy Donovan, DOB 5/30/1965 vs. Todd Lickliter, DOB 4/17/1955
As far as the Chinese zodiac is concerned, Donovan is a snake and Lickliter is the goat. Yeah, that seems about right.
Pick: Florida
#3 Oregon vs. #7 UNLV
Ernie Kent, DOB 1/22/1955 vs. Lon Kruger, DOB 8/19/1952
Ernie Kent is a double-cusper, wavering right on the edge between Capricorn and Aquarius and Horse and Goat. Lon Kruger is all kinds of shifty, going so far as to recruit his own degree-bearing son in hopes of winning a national title. Against that type of single-minded ambition, Kent's indecisiveness will do him in.
Pick: UNLV
WEST
#1 Kansas vs. #4 SIU
Bill Self, DOB 12/27/1962 vs. Chris Lowery, DOB 7/7/1972
Both the Western zodiac and the Chinese zodiac have elements linked to them. Both of Chris Lowery's charts put him under the influence of the water element. As inherently lucky as a 7/7 birthday is, eventually all that water has to be flushed.
Pick: Kansas
#2 UCLA vs. #3 Pittsburgh
Ben Howland, DOB 5/28/1957 vs. Jamie Dixon, DOB 11/10/1965
The numerology is tight, but follow the arithmetic: 1+1+1+0+1+9+6+5=29. 2+9=11. 1+1=2. Meanwhile, 5+2+8+1+9+5+7=37. 3+7=10. 1+0=1. And that's exactly how they'll finish.
Pick: UCLA
EAST
#1 North Carolina vs. #5 Southern California
Roy Williams, DOB 8/1/1950 vs. Tim Floyd, DOB 2/25/1954
We could go into all sorts of astrological details here, but come on. It's Tim Floyd.
Pick: North Carolina
#2 Georgetown vs. #6 Vanderbilt
John Thompson III, DOB 3/11/1966 vs. Kevin Stallings, DOB 10/1/1960
Three is a pretty lucky number, and you have to sort of figure multiples of three are even more so. For sheer volume of threes and digits divisible by three, John Thompson blows Kevin Stalling out of the water. He doesn't even need the extra III at the end of his name.
Pick: Georgetown
SOUTH
#1 Ohio State vs. #5 Tennessee
Thad Matta, DOB 7/11/1967 vs. Bruce Pearl, DOB 3/18/1960
They call it March Madness, not July Jubilee. Sorry, Thad.
Pick: Tennessee
#2 Memphis vs. #3 Texas A&M
John Calipari, DOB 2/10/1959 vs. Billy Gillispie, DOB 11/7/1959
Expect this one to be close; the coaches were born a mere 290 days apart and there's not much to choose between them. However, our research shows that Calipari's birthday has, on average, 16 minutes more daylight than Gillispie's. And hey, who doesn't like a little extra sunshine?
Pick: Memphis
*
Round 2
We move on to the traditional Battle of the Awesome Names.
MIDWEST
#1 Florida vs. #9 Purdue
Florida has emerged as a true powerhouse in the wake of last year's championship. They've beefed up their Awesome Name roster considerably with the addition of freshman Marreese Speights. We're not quite sure how either name is pronounced, but every scenario we've come up with is pretty freakin' cool. Plus, the last name has that hidden "eight" thing we love so much. Sorry, Tarrance Crump. You and the rest of the Boilermakers will have to watch the Sweet 16 from the bench this year.
Pick: Florida
#2 Wisconsin vs. #7 UNLV
This could get ugly. We've got nothing against Wisconsin's Joe Krabbenhoft, but he just doesn't have the chops to take on the Rebels' Jo'Van "Wink" Adams. He's right up there with Pops Mensah-Bonsu on the Awesome Names first ballot Hall of Fame list.
Pick: UNLV
#3 Oregon vs. #11 Winthrop
We're a little disappointed with Winthrop. If you're going to compete at this level, you've got to do better than Rainer Blickle. That's just not going to cut it against a smooth, pro-caliber name like Oregon's LeKendric Longmire. It's punchy. It's alliterative. It's not that hard to pronounce. The Eagles are simply outmatched here.
Pick: Oregon
#4 Maryland vs. #5 Butler
Butler will be hard-pressed to counter the attack of a particularly strong Maryland roster, boasting notable awesome handles such as Bambale Osby and D.J. Strawberry. Frankly, we don't think Elliot Engelmann is up to the task.
Pick: Maryland
WEST
#1 Kansas vs. #8 Kentucky
Kentucky's Lukasz Obrzut would like to beat you into submission with extraneous consonants, but he'll be no match for Kansas's Brady Morningstar. Combining the power and accuracy of a three-time Super Bowl champion with the stability of a trusted financial firm, Morningstar could take the Jayhawks all the way.
Pick: Kansas
#2 UCLA vs. #7 Indiana
UCLA has returned a number of its stars, including last year's Awesome Name runner-up Luc Richard Mbah a Moute. We're not sure LRMaM has enough in the tank to go one better this year, but he can certainly handle the Hoosiers' Roderick Wilmont.
Pick: UCLA
#3 Pittsburgh vs. #11 Virginia Commonwealth
We're fully on the VCU bandwagon now, having seen them dispatch Duke in the first round. We have no doubt the exuberantly-named Franck Ndongo will prevail over Pittsburgh's Geoff Rizk.
Pick: Virginia Commonwealth
#4 Southern Illinois vs. #5 Virginia Tech
This is shaping up to be a tight contest between Southern Illinois's Christian Cornelius and Virginia Tech's Zabian Dowdell. In fact, it's so close that we've had to go to the official Awesome Name tie breaker, Awesome Hometown Name. Sorry, Salukis, but Dowdell's Pahokee, Fla., is way cooler than Oak Park.
Pick: Virginia Tech
EAST
#1 North Carolina vs. #9 Michigan State
There's some beautiful music being made on the UNC roster. Surry Wood. Dewey Burke. They have their own peppy, upbeat rhythm. But come on now. The Spartans have Idong Ibok. The name sounds like something you might see in a nature documentary on PBS. And when the slower, weaker Ibok inevitably gets hunted down by a tiger, you're going to cry, because Iboks are beautiful, majestic creatures and you can genuinely identify with their plight. It's a name that makes you want to whip out your checkbook and drop a dime on the Sierra Club or something. It's one hell of a name, folks.
Pick: Michigan State
#2 Georgetown vs. #7 Boston College
Boston College sent a message to the rest of the field when they loaded their roster with Akida McLain. This team came to play. Unfortunately, they face the polished assault of Georgetown's Octavius (Tay) Spann in the second round. It's a really hard match-up for the Eagles; Even if you cover his full name, his nickname is just as awesome. Expect the Hoyas to prevail in this one.
Pick: Georgetown
#3 Washington State vs. #6 Vanderbilt
This is college basketball, and unless you've got a guy with the last name Fitch it's going to be pretty hard to counter Washington State's Thomas Abercrombie. Vanderbilt is further weakened by JeJuan Brown's spelling proximity to "jejune"; certainly not the sort of association a team wants in these circumstances.
Pick: Washington State
#4 Texas vs. #5 Southern California
Wow, it's a good thing these teams face each other in the Awesome Names round. Otherwise, both would be steamrolled. Both names are fairly pedestrian, but we'll give the narrowest advantage to Texas' Dexter Pittman over Southern Cal's RouSean Cromwell.
Pick: Texas
SOUTH
#1 Ohio State vs. #9 Xavier
OSU's roster isn't overwhelming, but there's a certain delight in saying the name Matt Terwilliger. Sure, it's not the most original moniker out there, but what it lacks in flash it more than makes up for in sheer joy. You have to smile as you say it. Tougher opponents lurk just down the bracket, but for now the Buckeyes should be safe against Xavier's anemic Johnny Wolf.
Pick: Ohio State
#2 Memphis vs. #7 Nevada
Memphis' Chance McGrady was born in the wrong era. If this were the Wild West and he were a shadowy gunslinger, the outcome of this battle would never be in question. If this were World War 1 and someone needed a hard-drinking daredevil to lead a platoon into No-Man's Land, you wouldn't have to look further than Chance. But this is the Big Dance, and we just don't know if Chance has enough to handle the likes of Nevada's Nick Fezekas and Curry Lynch.
Pick: Nevada
#3 Texas A&M vs. #6 Louisville
When it comes to brute name force, no one can compete with the Lithuanians. A&M boasts syllablicious senior Antanas Kavaliauskas, determined to graduate in style. Even the smoothly-dubbed Juan Palacios of Louisville can't compete with the barrage of vowels Kavaliauskas can deliver.
Pick: Texas A&M
#4 Virginia vs. #5 Tennessee
This head-to-head has all the markings of a lost weekend in Vegas as Virginia's Solomon Tat takes on Tennessee's Tanner Wild. And while we've certainly seen our fair share of wild self-tanners, they do wash off eventually. A tat lasts forever.
Pick: Virginia
*
Round 1
MIDWEST
#1 Florida vs. #16 Jackson State
We have only one hard and fast rule here at the Beachwood: If the name of your institution contains the word "State," the rest of the title must include the name of an actual state. There is no state called Jackson.
Pick: Florida
#2 Wisconsin vs. #15 Texas A&M Corpus Christi
The Badgers win over Christ's dead body.
Pick: Wisconsin
#3 Oregon vs. #14 Miami (Ohio) University
Miami is wandering awfully close to non-state State territory. After all, there isn't actually a place called "Miami" in Ohio.
Pick: Oregon
#4 Maryland vs. #13 Davidson
It's the man who slew Goliath against Jesus' mom. While it's temping to take the legendary giant slayer, we've got to back the good virgin on this one. Come on, people. She gave birth to the son of God.
Pick: Maryland
#5 Butler vs. #12 Old Dominion
In the Antebellum social hierarchy match-up, the help will yield to the status quo.
Pick: Old Dominion
#6 Notre Dame vs. #11 Winthrop
Notre Dame is a dream note. Winthrop is a torn whip. Notre Dame is not remade. Winthrop knows how print. In the Great Anagram battle of 2007, expect Notre Dame to deter moan, while Winthrop tries to throw pin in frustration.
Pick: Notre Dame
#7 UNLV vs. #10 Georgia Tech
Dudes, Las Vegas defeated the entire NBA during All-Star Weekend. Do you really think Georgia Tech has a chance?
Pick: UNLV
#8 Arizona vs. #9 Purdue
There's about five million people in the state of Arizona. Meanwhile, there's some 70 million native speakers of Urdu. The numbers don't lie.
Pick: Purdue
WEST
#1 Kansas vs. #16 Niagara
In paper-scissors-rock, tornadoes beat falls. If Niagra were Viagra, it'd be a tougher call.
Pick: Kansas
#2 UCLA vs. #15 Weber State
Here we go again. Somebody point to Weber on the map. No? Thought so.
Pick: UCLA
#3 Pittsburgh vs. #3 Wright State
Oh, that's where Weber is. Right next to Wright.
Pick: Pittsburgh
#4 Southern Illinois vs. #13 Holy Cross
There's an awful lot of carbon in the world, and not just in Carbondale. The element's status as the primary building block of all known life should ensure a speedy pass to the second round.
Pick: SIU
#5 Virginia Tech vs. #12 Illinois
Everybody wants to see the Illini make it to the next round to see the dream match-up between Southern Illinois and, you know, real Illinois. Unfortunately, Virginia Tech has faster servers.
Pick: Virginia Tech
#6 Duke vs. #11 VCU
Royalty still beats nouveau riche venture capitalistists in a world not ready for meritocracy.
Pick: Duke
#7 Indiana vs. #10 Gonzaga
History says Gonzaga will be able to pull off the opening round upset. Besides, they have better drugs.
Pick: Gonzaga
#8 Kentucky vs. #9 Villanova
By the Superior Scrabble Score Rule, Kentucky with its two 5-point "K"s will prevail over Villanova's weaker pair of 4-point "V"s.
Pick: Kentucky
EAST
#1 North Carolina vs. #16 Eastern Kentucky
Another one of our golden rules: If you have the choice between a part of a state and a whole state, you should probably take the whole state. And North Carolina is actually an entire state.
Pick: North Carolina
#2 Georgetown vs. #15 Belmont
You know, the Belmont has got to be the least compelling of the Triple Crown events. It's either totally anticlimactic because the Derby and the Preakness have been won by different horses, or it sets up to be the biggest let-down on the sporting calendar. Even if you luck out and get one of those unbelievably rare years where the Belmont fulfills its promise, the thing only last a couple of minutes. Like bad sex.
Pick: Georgetown
#3 Washington State vs. #14 Oral Roberts
The evolutionary clockwork of the Cougars' offense versus the intelligently-designed Golden Eagles. Teach the controversy!
Pick: Washington State
#4 Texas vs. #13 New Mexico State
Old Mexico State has a strong track record of successfully eluding Texas' defenses, but New Mexico State's good neighbor policy is no way to win a basketball game.
Pick: Texas
#5 Southern California vs. #12 Arkansas
We know that you know that we're thinking of ways to wiggle out of the partial state rule on this one. But you know what? Just to prove we're serious about this, we're not budging. Live by the partial state rule, die by the partial state rule.
Pick: Arkansas
#6 Vanderbilt vs. #11 George Washington
Never bet against the father of our country. That's like betting against Jesus' mom.
Pick: George Washington
#7 Boston College vs. #10 Texas Tech
Texas Tech has superior site tools but the Luddite Bobby Knight doesn't know how to use them.
Pick: Boston College
#8 Marquette vs. #9 Michigan State
The team from the Marquette Inn restaurant on Madison is the sentimental Cinderella pick, but their run ends here.
Pick: Michigan State
SOUTH
#1 Ohio State vs. #16 Central Connecticut State
Wow, Central Connecticut gets the double whammy - a partial and made-up state. Look for a thrashing.
Pick: Ohio State
#2 Memphis vs. #15 North Texas
Did someone redraw America when we weren't looking? North Texas is no North Dakota.
Pick: Memphis
#3 Texas A&M vs. #14 Pennsylvania
Pennsylvania is in the Ivy League. A&M is a record label.
Pick: Texas A&M
#4 Virginia vs. #13 Albany
We're bullish on Albania these days. Sure, Morocco might beat it into the European Union, but so what? Norway and Switzerland aren't in either and they do alright for themselves. Albania has a nice stretch of coastline on the Adriatic, it's close to Greece and Italy and it has a totally bitchin' flag. Sure, most of its other neighbors are bat-shit crazy, but are you really going to judge a country by the company it keeps?
Pick: Albania
#5 Tennessee vs. #12 Long Beach
Excessive letters are a well known cause of greenhouse gases, which tend to destroy beaches.
Pick: Tennessee
#6 Louisville vs. #11 Stanford
Ask any Detroit Lions fan, they'll tell you; you can never trust a Ford involved in high-profile athletic events. We don't know Stan personally, but his family pedigree is shady.
Pick: Louisville
#7 Nevada vs. #10 Creighton
It would be easy to go with form on this one, but we like Creighton. We just like the name. It's fun to say. It has the word "eight" stuck in the middle of it. Besides, if it can break that whole silly i-before-e rule (our least-favorite), it can bust a bracket or two.
Pick: Creighton
#8 Brigham Young vs. #9 Xavier
Xavier could stand to learn a thing or two about manners. At least Brigham Young has the decency to present both his first and last name. Who are you, Xavier? Prince? Cher? Madonna? We don't think so.
Pick: Brigham Young
*
PLAY-IN GAME
Florida A&M vs. Niagara
This boils down to the battle of the Marilyn Monroe movies; the sultry, Miami-set rom-com Some Like It Hot against the tense, nourish thriller Niagara. SPOILER WARNING IN EFFECT: If you haven't seen either film (and you really ought to see them; they're both great), skip down to the winner. Some Like It Hot features gangland murders, bootlegging and cross-dressing. Niagara is in color. Some Like It Hot features Jack Lemmon and Tony Curtis at the height of their comedic strengths. Niagara features Joseph Cotton a long freaking way from The Third Man. Monroe sings in SLIH. She stays pretty quiet in Niagara. SLIH has just about the best closing line in big-screen history. But come on. Niagara kills off Cotton's jealous husband/PTSD vet by shipping him over the falls in a leaky boat. It's so over-the-top it leaves you breathless. Sorry, Florida A&M. Nobody's perfect.
Pick: Niagara
Posted by Beachwood Reporter at 1:08 AM | Permalink