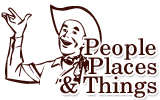 At The Ukrainian National Museum | Celebrating Women Of Courage
By DH Marketing
In celebration of National Women's History Month in March, the Ukrainian National Museum of Chicago welcomes Celebrating Women of Courage, a traveling exhibition curated by local Vietnam Veteran/Artist Jerry Kykisz (U.S. Army).

The exhibition features photography, paintings, mixed media, poetry and short films of and by more than 15 courageous artists from across the country who have overcome extreme difficulties in their lives.


Continue reading "At The Ukrainian National Museum | Celebrating Women Of Courage" »
Posted on February 20, 2017


By Helene Smith
Now departing.

Posted on February 17, 2017


By J.J. Tindall
Only the dead have no regrets.

Posted on February 13, 2017


By Helene Smith
History and eggs.

Posted on February 10, 2017


By Scott Gordon/WisContext
No state challenges Wisconsin's dominance in United States cranberry production - its nearest competitor, Massachusetts, produces less than half as much.

Posted on February 8, 2017


By Maria Kiselyova and Olga Sichkar/Reuters
"I don't think there's a single company that can call itself more Russian than us."

Posted on February 7, 2017


By Helene Smith
Everybody in, nobody out.

Posted on February 3, 2017


By Jill Nadeau/Wisconsin Public Radio
Conditions must be just right for blueberry plants to survive and produce fruit.

Posted on February 6, 2017


By DH Marketing
The exhibition features photography, paintings, mixed media, poetry and short films of and by more than 15 courageous artists from across the country who have overcome extreme difficulties in their lives.

Posted on February 20, 2017


By Tim Willette and J.J. Tindall
oh Beachwood we love you get up.

Posted on February 1, 2017


By Hope Kirwan/Wisconsin Public Radio
But many cheesemakers are having a tough go.

Posted on January 31, 2017


By Helene Smith
Amber waves of grey.

Posted on January 27, 2017


By Helene Smith
The truth is out there.

Posted on January 20, 2017


And The House Of Paradise He Outfitted
Enduring art and an enduring Midwestern tropical oasis.

Posted on January 18, 2017


By J.J. Tindall
Like some Beaux Arts Brigadoon.

Posted on January 16, 2017


By Helene Smith
Moon shot.

Posted on January 13, 2017


By CharlieBo313
Noontime.

Posted on January 11, 2017




MUSIC - The Week In Chicago Rock.

TV - Vizio Settles Spying Complaints.

POLITICS - Where Is Accountability For The SAT?

SPORTS - Beachwood Sports Radio: Butler Trade Idea Grinds Coach's Gears.

BOOKS - Chicago's Forgotten Black Scholar.

PEOPLE PLACES & THINGS - Beachwood Photo Booth: Old Glory.

---




Search The Beachwood Reporter




---

Subscribe To Our Newsletter

---

---

---

Beachwood Radio!

---

Ask me anything!