Discovering The Del-Lords
By Don Jacobson
The Del-Lords are a band that I probably should have known something about, given my geekish obsession/compulsion with anything smacking of '80s cowpunk. And yet . . . the coming re-issue of their first three albums (released between 1984 and 1988) caught me by surprise. I >thought I had heard the name, but it turns out I was confusing them with another influential '80s band, the Del Fuegos. So I looked up the Del-Lords and I'm glad I did, because I discovered they occupy a key place in the holy roots rock/punk rock union from which much of our beloved modern alt-country/Americana comes from.
In fact, there couldn't have been a truer cowpunk synthesis: the key match-up in the New York City band was Scott Kempner from the '70s punk rock pioneers the Dictators and Eric "Roscoe" Ambel from Joan Jett's Blackhearts, who of course went on to become to the alt-country movement what Butch Vig was to grunge. Also thrown into the mix was the awesome drumming of Frank Funaro, who helped turn Cracker into one of the most important roots rock bands of the '90s, and powerhouse bassist Manny Caiati. I am ashamed to admit the Del-Lords' catalog of pristine, achingly pure country-punk was completely unknown to be me. The re-issue of their seminal albums Frontier Days (1984), Johnny Comes Marching Home (1986) and Based on a True Story (1988) on American Beat Records (through Collector's Choice Music) is a significant event for those who love the genre and are freaky-geeky about its evolution.
To really get a taste of what they're about, I picked up their still-in-print greatest hits album from Restless Records, Get Tough: The Best of the Del-Lords (1999) and was in hog heaven. It kicks off with the first song on the Del-Lords' first album, "How Can a Poor Man Stand Such Times and Live?" This tune kind of sums up everything the Del-Lords were all about right off the bat - a classic rockabilly beat, a twangy honky-tonk vocal from a punk-rocker, populist lyrics about the working man getting screwed, it's all there. You know what it really reminds me of? The Waco Brothers. This tune sounds eerily like many of the Waco numbers sung by Dean Schlabowske. Again, I have a feeling that the Del-Lords were responsible for a lot of the current bands I love without me even knowing about it. I am mortified.
| | | |
| --- | --- | --- |
| | Del Lords - How Can a Poor Man Stand Such Times | |
| | | |
| | Found at skreemr.com | |
Frontier Days also contains two other timeless Del-Lords numbers: "Get Tough" and "Livin' In Love." "Get Tough" lives up to its name, an alternately snarling and celebratory rocker that compares Beirut (it was 1984, after all) to the United States and "people living in Grand Central Station," with Kempner letting loose some truly cowpunky yelps that come down somewhere between Springsteen's howls and a rebel yell. And with "Livin' In Love," Roscoe Ambel sings a heartbreaking ode to being poor, young and in love that draws a line straight back to the best of Buddy Holly and the Everly Brothers. Wow. His guitar licks are so rootsy-authentic they just drip grease.
But the record's highlight is probably "Burning in the Flames of Love," which features what I'm betting is probably the most influential (and maybe first) use of a snotty punk vocal style in a classic-sounding rockabilly setting. Ironic? Spitting on country or loving it? Those questions all started here, I think.
With their second album, Johnny Comes Marching Home, the Del-Lords tabbed Pat Benatar's producer/husband Neil Geraldo and followed a path that was being simultaneously trod by their '80s cowpunk contemporaries, Jason & the Scorchers: Trading up to that huge, overproduced sound that was the rock industry norm of the day. As with Jason, this, in my mind, had mixed results. I love dumbass loud as much as the next idiot, but the thing about cowpunk is that there's a "cow" with the "punk." The cow is quiet: He chews his cud and thinks about things, contemplating life and such. So this isn't the classic that Frontier Days was, but it'll sure as hell do.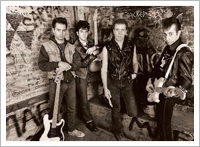 Its lead-off track, "Heaven," is a real '80s roots-rock anthem. You can hear how Funaro's drums were miked up with the second deck of the Rosemont Horizon in mind. But it's still thrilling. Its uplifting, rollicking beat, Kempner's chorus of

I believe, I believe, I believe, that there's better days ahead
I believe, I believe, I believe that there's a heaven before I'm dead.

The sentiment is so pure and the emotions such a throwback to early rockabilly that it's hard not to believe Kempner was breathing life into a dying art form. But more typical on this album is "Love Lies Dying," in which Geraldo uses that ubiquitous '80 formula that made everything sound like "Footloose." It's got a haunting chorus that could have made it memorable, but it gets lost in the predictable Kenny Loggins-beat.

Things picked up in 1988 with what many critics consider the Del-Lords' best album, Based on a True Story. By this time, the band had ditched EMI America and signed to Enigma, the label of the Smithereens, who gave the record absolutely no support even though it features Benatar, Syd Straw and Mojo Nixon on backing vocals and its top track, "Judas Kiss," was getting spins on FM radio. Geraldo for the most part ditched the '80s permasheen on this effort and the result was great: "Judas Kiss" was a ringing roots anthem, "Cheyenne" is a lovingly drawn rock ballad and "Crawl in Bed" delivers a punchy, raw and nasty cowpunk blast of sneer. Oh, bliss.

Even though it was on the cusp of success, the band, according to the PR release that accompanies the American Beat reissues, "turned down a lucrative beer company sponsorship, preferring to remain a no-nonsense working man's rock 'n' roll band at its peak. This album was released on CD, but due to a label shakeup not many copies found their way into stores." (The first two albums are getting their very first CD releases here.)

Ambel's post-Del-Lords career is well-known: producing for the Bottle Rockets, Nils Lofgren, Blue Mountain, The Cowslingers, Go to Blazes, Whiskeytown, the list goes on and on and on. Kempner, meanwhile, suffered through penury, health problems, stints as a record store clerk, and now, according to his MySpace page, has teamed up with Syd Straw on new musical endeavors a year after releasing his second solo album, Saving Grace.

-

From the Beachwood Country All-Stars to Dylan's Grammy Museum, the finest bones of rock 'n' roll are rattlin' 'round Don's Root Cellar.




Posted on April 25, 2009





MUSIC - Millions Of New Guitar Players.

TV - "One America News" is AT&T.

POLITICS - When Wall Street Came To My Mobile Home Park.

SPORTS - Skytober.

BOOKS - China Holding Swedish Publisher.

PEOPLE PLACES & THINGS - All The Styles.

---




Search The Beachwood Reporter




---

Subscribe To Our Newsletter

---