Shooter Jennings Walks This Way
Adriana from The Sopranos loves him, but radio programmers don't. Personally, I'd take that trade-off anytime, but then again, I'm not carrying a name like Waylon Albright Jennings, and all the baggage that comes with it. As it is, "Shooter" Jennings, like his famous late father, is paying the price for daring to tread the still-unforgiving no-man's land between rock and country. It's really unbelievable, a generation after the genre first appeared in all its greasy-haired glory, that the transcendent, big-ass Southern rock of artists like Shooter Jennings still can't catch a break from the music industry gatekeepers.
Well, outside of those five minutes that pretty much ended on Oct. 27, 1977.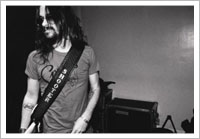 And it's infuriating that he's being forced to head down the same path as the first Waylon, one that leads to cultdom at best precisely because of the sublime qualities that can only come from expertly mixing the hoary, soul-satisfying squalls of guitar rock with the emotional plaintiveness of a lap-steel and a fiddle. Shooter's third full-length LP, The Wolf, comes out this week, and from all accounts it's his best yet because it's also the one where he tones down the hell-raising and ups the musical ante with a just a bit more vulnerability.

The "gateway drug" into Shooter addiction for both the country hicks and the rock 'n' rollers is his cover of Dire Straits' "Walk of Life." The song and its video can be streamed here on his official website. And what a cover it is. It's a revelation. I'll admit I've never been an over-the-top Mark Knopfler fan, so when I say this, it may not have too much credibility, but I think it's better than the original. Jennings' vocals, of course, aren't going to match Knopfler's for jittery, anguished ennui. But, by God, he's somehow infused those clever lyrics with an authentic, countrified combo of angst, anger and humor. Plus, he can enunciate. It's quite an experience hearing "Walk of Life" so's you can understand it.

Then there's his arrangement of the song. It's a tribute to the original, not a send-up. Instead of a poppy keyboard playing the signature riff, Jennings uses a jangly guitar and from there he slaps it around until it becomes a mesmerizing commingling of alt-country and hard Southern rock. He does a wonderful job with it. Who would have thought that a song so identified with Dire Straits could be covered in a way that does it one better? A very cool achievement.

Jennings has shown a willingness to wander off the country reservation before, but outside of the minor airplay he got for "4th of July" on his first album, Put the "O" Back in Country, he's been rewarded with puzzled stares from the programmers. Maybe it's because he looks like Bob Seger circa Night Moves. The irony that nothing has changed since the elder Waylon invented "outlaw country" is so thick that it's almost funny. Yeah. But it's not. He says the title of his new album, The Wolf, is a reference to his situation.

He also says he's just about broke, and has his first child on the way with Drea De Matteo. I have to say that I probably wouldn't blame someone in his position if they were to bite the bullet and record, say, an easy-listening version of his dad's best songs as a way to earn some coin for a young family. But no. For now, he's sticking to his six-shooters and making real, interesting and exciting cross-genre musical statements. And he knows it probably won't get him anywhere in the radio world. According to Springfield (Mo.) News-Leader music columnist Michael Brothers:

"Shooter isn't so sure radio will play it. He thinks the Music Row establishment is afraid of people like him. He admits that it sounds paranoid, but it makes sense when you consider how paranoid people who run record companies themselves can be. They're like Nixon with better tapes.

"'I think that they think people like me - not just me, but this whole movement of country music - threatens them, and they think we're going to try and tear down the regime,' he said.

"'And I'm like, no, just throw me in the pile, let me work, let me do my thing.'"

Music industry paranoia. Who would have guessed? Something about those Jenningses and their genre-mixing just seems to bring it out.

*

See what else is knocking around the Root Cellar.




Posted on October 24, 2007