Chatham County vs. David Allen Coe
1. The last time we checked in with Chatham County Line, they were just coming down from a high they got from smoking high-grade bluegrass. The telltale smell of trad purism was all over them. And their skinny neckties were drawn so tight, it kind of hurt just to see it, although you got a vicarious thrill listening to them work through their obsessions. It was beautiful but scary, as well.
Now, however, the band seems to be loosening those cravats a bit, and switching their substance of choice from pure grass to boozy jam. The thing that really stands out in Chatham County Line's new album, IV (to be released in March), is that Dave Wilson and company appear willing to relax their grip a bit on the tight strictures of the bluegrass song rulebook, kick back with a little Jameson's and drift where the muse takes them. The result is a bit less Doc Watson and a little bit more "Country Honk."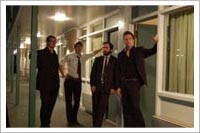 With Chris Stamey at the the controls, Wilson lets his rock 'n' roll side slip out just a bit on IV, although it's still mainly about the purity of the mandolin, banjo, acoustic guitar and bass thing. It's mostly evident on the "Let It Rock." The title is a bit of a giveaway. In it, the band does indeed seem to be harkening back to the Gram Parsons-y, Let It Bleed-era Stones (my favorite era of theirs, of course). Wilson sings about bass drums and hitchhikers' thumbs, and then Chandler Holt busts into a banjo solo where Keef might have spit out a feral lick on a six-string. It's like what the Stones would have done if it were 1949 instead of 1969.
Elsewhere on the new disc, on "I Got Worry" Wilson gets all bluesy as the band channels the booze-filled late nights at the Raleigh crash pad where they honed their craft. And "Whipping Boy" is a bile-filled complaint about a mistreatin' woman that would seem appropriate on a Sun Records session from about 1954, a real hillbilly blues number that, again, would fit right in on Let It Bleed somewhere between "Love In Vain" and "You Got the Silver".
In the PR notes for the release, Wilson talks about how he went about writing the songs for IV a bit differently, actually composing most of them while recreating in his basement not with other members of Chatham County Line, but with a couple of guys from Tift Merritt's band. And he also talks about how CCL began as a chance for friends to hang out and "drink beer," which makes me think that those basement sessions probably involved consumption of mass quantities like in the old days.
Funny, but only in the traditional bluegrass world would signing a record contract and getting noticed mean sobering up and putting on a tie, while "getting back to your roots" would involve picking up the bottle.
2. Super Bowl Report:
Tom Petty. Exactly when did he become Chuck Norris?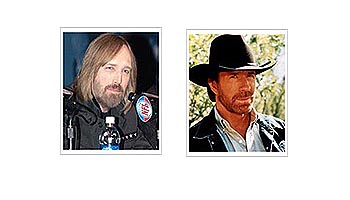 3. David Allen Coe update!
According to Broward County New Times music blogger Micheal J. Mooney, even though he's 68 years old and has his beard braided into red, white and blue strands, David Allen Coe can still kick Kid Rock's ass. Mooney says his Jan. 26 appearance at the Culture Room in Fort Lauderdale included a cover of Rock's treacle-fest "Only God Knows Why" that was "exponentially better than anything Kid Rock ever did or anything he ever will do." Of course, that's not exactly saying much.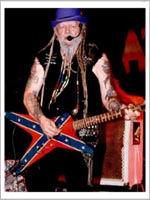 But still.

He adds that the Coe show brought out "lots of Harley riders, lots of rebel flags, lots of camouflage baseball hats, plenty of yuppies in polos, plenty of frat boys in flip-flops." In other words, a typical Saturday night in Florida. Coe, of course, is famous Down South for getting banned from Billy Bob's Texas for 20 years for performing his "satire" song "Nigger Fucker." Oh yeah, and for boasting he taught Charles Manson how play guitar in prison. Yep, DAC is the whole package. Whatever you think of bikers and racists, no one knows his way around a country tune, real or in jest, like he does.

Mooney says "it was good to see him walking around cognizant, sober and ready to play the goose-bump-giving, tear-jerking outlaw country only a handful of cowboys can still crank out (the others being maybe Willie Nelson, Merle Haggard, Billy Joe Shaver and Jerry Jeff Walker). He went from song to song like a chain smoker lighting each cigarette from the previous butt. His entire set was essentially one long medley. He threw in heavy-metal-ish covers of all the country gods: Johnny, Willie, Waylon and Merle."

David Allen Coe. God bless the drunk, fun lovin' criminal in all of us.

*

What else is rattlin' 'round Don's Root Cellar? A lot of great stuff!




Posted on February 4, 2008