Toffee Sunday Smash
You'd think that after all this time I'd despair of finding yet more podcasts that feature the kind of late '60s/early '70s psychedelic rock that I love beyond all reason for Playlist. You'd think that, but you'd be wrong because, my friend, apparently anyone who's ever felt the urge to light up and kick back with the likes of Kaleidoscope, The Creation and The Playground has become a podcast DJ and has taken to the Internet like a hippie to a microdot. There's so much out there, man. This time, it's a British dude named Andy who hosts Toffe Sunday Smash, and it is indeed smashing.
Andy Morten, 38, of Frome, Somerset, specializes in what he calls the "weird, wide-eyed and wonderful world of (British) bands like Kaleidoscope, Timebox, Blossom Toes, Tomorrow, The Mirage, Turquoise and their glorious ilk." It's the kind of music that was the background to the Summer of Love, when it was okay to bleat plaintively and smash your drumkit all at the same time. When you could sing about peace and love with a straight face while simultaneously playing a proto-metal riff.
I think what I loved most about this era and type of rock was that, in its (and our) innocence, it believed that light and heavy could co-exist on the same trip . . . something that I have never stopped believing can be true, but which has never really been the case since Black Sabbath and Deep Purple turned the "big noise" part of it into the formulaic, hard-hearted drone of "heavy metal."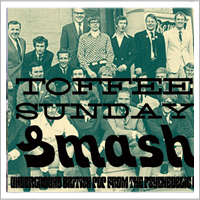 No, the psychedelic rock of the late '60s was a bit twee, brainy and fey, much like the frisky hippies themselves, but nonetheless capable of rumble and hum. And of course, unashamedly self-indulgent, with its sloppin' side dishes of what later come to be called "progressive rock" and jazz. It takes patience to go where these bands take you because you're not going to get there straightaway. There are crazy curves and detours, but it's ultimately worth the effort because this era of psych was determined to feed you your mind candy at the end of the road.
So take Andy's promo of Toffe Sunday Smash as the truth: "Whether you're at home, on a train or flying through a lemonade sky on the back of a giant butterfly, close your eyes and dig the pretty colours."
Here's the playlist for April 22, 2008 edition of Toffee Sunday Smash, a show in which Andy searched far and wide for songs with the word "mister" somewhere in the title, known as the "Mister Psych Episode."
1. Locomotive, "Mr Armageddon" (We Are Everything You See, 1969, EMI). From BrumBeat Reviews: "...The thundering Hammond organ-driven 'Mr. Armageddon' is probably one of the most amazing examples of late 1960s psychedelia ever recorded by a British band. The heavy Hammond workout combined with the booming brass chorus of saxophone and trumpet is far removed from any of the band's previously released material (and no Hammond organs were harmed during the recording of this track - we hope!)"
2. The Fox, "Mr. Blank" (For Fox Sake, 1970, Bam Caruso). From the Acid Dazed blog: "Excellent album from Brighton's finest, The Fox, the only album they made, and was recorded in the studios of Radio Luxembourg. All the songs you hear except two are the first takes and the whole album was made very quickly and released soon after to much (praise). The band was due for a second album recording session, but the management suddenly lost interest - there was a new band on the scene named Black Sabbath and, just like that, The Fox were dropped."
3. Mike Proctor, "Mr. Commuter" (Insane Times: 25 British Psychedelic Artyfacts From The EMI Vaults, 2007, EMI). From the Garden of Delights blog: "Featured for the first time on CD is the cracking and biting 'Mr. Commuter' by Mike Proctor. In what can only be described as a Ray Davies-esque attack on the middle classes, 'Mr. Commuter' sees Proctor sneering, 'Mister Commuter you're like a computer . . . you never step out of line . . . ' It's a little twee, but Jesus, there's a fuzz guitar to die for in this."
4. Elli, "Mister Man" (We All Live On Candy Green: Electric Sound Show Volume One, 2004, Electric Sound Show). All Music Guide's John "Mojo" Mills on the criminally overlooked British band Elli: "It is apparent that this multicultural, inventive unit that was centered around Indian singer Elli was managed badly and left to fall apart instead of being promoted as something special. In an era when India was incredibly fashionable, it would have been wonderful to see Elli become a star, but it was not to be."
5. The Koobas, "Mr. Claire" (The Koobas,, 1969, Beat Goes On). From Planet Mellotron: "The Koobas were an original Merseybeat outfit, actually managed by Brian Epstein, who struggled on until the end of the '60s, mutating into a psych band en route. Strings on 'Mr. Claire' and brass on 'Circus' finish things off nicely, making for quite a mellotron album, at the end of the day."
6. Mike Batt, "Mr. Poem" (A Trip Into Toytown 3, 2007, CDR). From the Marmalde Skies website: "Future arranger, producer, writer and Womble Mike Batt started his career (in 1968) with this single about a dude everyone calls Mr. Poem. Somehow we're not sure if they mean it as a compliment but it's a dandy little song."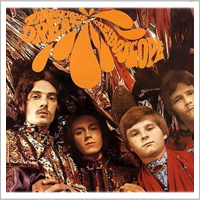 7. Kaleidoscope, "Mr. Small The Watch Repairer Man" (Tangerine Dream, 1967, Repertoire). From Prog Archives.Com: "'Mr. Small The Watch Repairer Man' has even more production details verging on psychedelic (reefer?) madness - and quite insane drumming - it's like the stops are being slowly pulled out further and further as the album progresses. The vocals are practically Syd Barrett to a T."
8. Apple, "Mr. Jones" (An Apple a Day, 1969, Repertoire). From the Magic in the Air website: "Released in February 1969 and recorded in late 1968, Apple's sole LP, An Apple a Day, is a fine mixture of psych pop and psychedelic, heavy R&B under the direction of staff producer Caleb Quaye. Quaye toughened the group's pop sound which resulted in two fine singles which preceded the LP's release: the mainstream 'Let's Take A Trip Down the Rhine' (October 1968) and 'Doctor Rock' (December 1968). The B side to the latter was 'The Otherside.' which has the honor of being hailed as a psychedelic classic."
9. Bodast, "Mr. Jones" (Spectral Nether Street, RPM). From the Cherry Red Records website: "In 1968 from the ashes of psycho favourites Tomorrow and the first incarnation of Deep Purple (Roundabout) grew Bodast, formed by Steve Howe. Bobby Clarke Woodman and Dave Curtis. RPM presents the complete recordings of the group who bridged that difficult period between the psycho pop of 1967 and the prog/heavy rock of 1970, displaying elements from both ends of the musical scale."
10. Argosy, "Mr Boyd" (1969 single, Congress). From Wikipedia: "Prior to joining Supertramp, Roger Hodgson recorded a single in 1969 under the name Argosy. The sole single, 'Mr. Boyd' b/w 'Imagine,' was issued on the DJM (U.K.) and Congress (U.S.) record labels, and remains quite rare and sought after. Musically, it's a bit more pop and slightly psychedelic compared to his work with Supertramp, but it's instantly recognizable as being Hodgson. Other musicians on the record were Caleb Quaye, guitar; Nigel Olsson, drums; and Reginald Dwight (better known as Elton John), piano."
11. The Sweet, "Mr. McGallagher" (First Recordings 1968-1971, 2002, Repertoire). From All-Music Guide: "Repertoire raided the vaults not only of Fontana and Parlophone, Sweet's first two labels, but also visited some less-familiar directions as well. (It includes) all four original singles, a mixed bag that ran from the unadulterated pop of 'Lollipop Man' and 'Slow Motion' to the convincing harder rock of 'The Juicer.'"
12. Episode Six, "Mr. Universe" (The Roots of Deep Purple: Episode Six, 1994, Collectables). From All Music Guide: "Most famous for including bassist Roger Glover and singer Ian Gillan before they joined Deep Purple, Episode Six managed to release no less than nine British singles between 1966 and 1969 without coming close to a hit record or establishing a solid identity. In 1967, they began to fuse pop and psychedelia with reasonably impressive results, especially the single 'I Can See Through You' (written by Glover), one of the finest British psychedelic obscurities."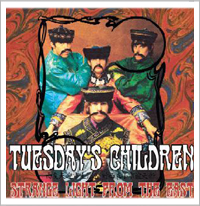 13. Tuesday's Children, "Mr. Kipling" (Strange Light From The East, 2007, Rev-Ola) From Shindig Magazine: "Tuesday's Children (who would morph into one of the early prog rock era's better acts, Czar, in 1969) were a group from North London, their most famous member being Phil Cordell. They cut six singles for four labels, all deserving of chart action, all of which unceremoniously flopped. This is their legacy, an 18-track anthology of varying styles (including an aborted advertising song for Mr. Kipling cakes!)."

14. The Kult, "Mister Number One" (1969 single). From the Twisted Perceptions blog: "Here is another outstanding group that only released one 45 RPM single. This is truly a psychedelic rock masterpiece."

15. Blossom Toes, "Mister Watchmaker" (We Are Ever So Clean, Sunbeam). From Wikipedia: "The band's debut album, We Are Ever So Clean, is a classic example of quintessentially English psychedelia. On release, it was presented in the UK music magazine Melody Maker as 'Giorgio Gomelsky's Lonely Hearts Club Band.' Although not a major commercial success, tracks such as 'What On Earth' or 'Look At Me, I'm You' have helped give the album something of a cult period status as it is unearthed by successive generations of '60s retro fans. It was recently voted Number 40 in Record Collector's list of the '100 Greatest Psychedelic Records.'"

16. The Pretty Things, "Mr. Evasion" (S.F. Sorrow, 2003, Snapper). "Mr. Evasion" was a bonus track included in a 2003 reissue of the Pretty Things' 1968 album, S.F. Sorrow. From Wikipedia: "One of the first rock concept albums, S.F. Sorrow was based on a short story by singer-guitarist Phil May. The album is structured as a song cycle, telling the story of the main character, Sebastian F. Sorrow, from birth through love, war, tragedy, madness, and the disillusionment of old age. The album is now generally acknowledged as having been an influence on The Who's Pete Townshend in his writing of Tommy (1969)."

-

From the Beachwood jukebox to Marfa Public Radio, we have the playlists you need to be a better citizen of the Rock and Roll Nation.




Posted on May 12, 2008





MUSIC - Chief Keef Changed The Industry.

TV - Vizio's Best Product Is You.

POLITICS - UIC: Soda Taxes Work.

SPORTS - More McCaskey Malpractice.

BOOKS - All About Poop.

PEOPLE PLACES & THINGS - Don't Let Your Pet OD.

---




Search The Beachwood Reporter




---

Subscribe To Our Newsletter

---