Warren Zanes Rises From the Del Fuegos Fire
When I think of the very first wave of early 1980s alternative rock groups - the first inkling that there was something beyond the Bon Jovi/Pat Benatar/Van Halen axis of radio evil - I think, of course, of the Replacements. To me, they were the eye-openers, blasting out of the Twin Cities with something akin to a righteous fury, totally rejecting the stranglehold corporations had put on the music industry.
But now that I think of it, right behind them out of Boston came the Del Fuegos. I bought and loved their Boston, Mass. album on Slash Records, which I think made me realize that alt-rock was bigger than just one group: It was a movement. Brothers Dan and Warren Zanes of the Fuegos (as well as their big admirer Tom Petty) quickly did for alt-rock's interpretation of garage roots music what the Replacements for its take on punk - redefined it for decades to come.
Still, until I picked up a copy of Warren Zanes' new solo album, People That I'm Wrong For, on Dualtone Records, I hadn't thought about them for many years. They and the Replacements both set the pattern for that first splash of great alt-rock bands by blazing to glory around 1984 or so, then signing with major labels, earning snide catcalls of "sellout," becoming commercial flops and shortly thereafter petering out as spent forces.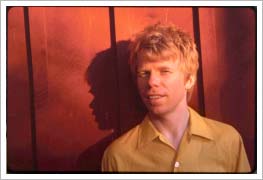 At least the Replacements got to play on Saturday Night Live before they self-destructed. The Del Fuegos, despite a prescient mix of raw and emotional garage sounds and Dan Zanes channeling the Everlys voices, folded so quickly that by 1987 it was virtually all over. But their impact was great - a lot of current garage revival bands owe much to them (just as a lot of alt-country bands owe a lot to another early-80s alt-rock band that mostly got overlooked, Jason & the Scorchers).

I knew that Dan Zanes, who was the main vocalist with the Del Fuegos, had carved out a successful niche as a children's music composer and performer. And I knew Warren, the guitar slinger, got a Ph.D and became a music professor. And with his new album, Warren Zanes is continuing a part-time comeback into the music business between his teaching duties at Case Western Reserve University, raising a family and, oh yeah, being the vice president of the Rock & Roll Hall of Fame in Cleveland.

And then there's the fact that he's a fine writer and author.

His first solo album, 2002's Memory Girls, drew a lot of praise for its lush melodies, hooky choruses and dash of Americana sounds - showing that Zanes had listened to a lot of alt-country in the intervening recent years, as well as not totally giving up his collection of 60s pop records. I've got a feeling People That I'm Wrong For will earn the same kind of praise because it's a continuation of that direction.

Zanes' music draws comparisons in my mind to The Honeydogs, a Minneapolis-based alt-country-turned-lush-pop band, and the Pernice Brothers, who have developed a distinctive style of leisurely, spare, twangy ballads with quiet, nearly whispered lyrics. Indeed, Zanes and Joe Pernice are friends and he gets a shout-out on the liner notes.

Several songs have low-key, haunting, hooky choruses that give a definite thrill, like "Fool the Moon" and "Carrying Me/Carrying You." Zanes' lyrics are literate in an un-showoffy way and mostly about longing for, as the album's title suggests, people and things you can't have. With the occasional pedal steel guitar and horn fills from Jim Hoke, the sound at times veers into both country and 60s pop.

The thing is, I'm not much of a fan of Zanes' quiet vocals. It would be nice if he had a bit more range to supply a missing element to the soaring tunes. Then again there are times when his harmonizing with producer Daniel Tashian is downright pretty.

But mostly, the new album showed to me, an old, old Del Fuegos fan, how when we all came together in a rebellion so many moons ago to spit on the flag of corporate rock, what it was indeed really all about was longing for roots - ones that we're probably still trying to find.




Posted on May 1, 2006