Beer and The BoDeans: A Wisconsin Story
The BoDeans are justly celebrated in Wisconsin. God love 'em. They are a great roots rock band. Their pairing with producer T. Bone Burnett on their landmark first album Love & Hope & Sex & Dreams remains a seminal moment in the development of alternative rock and, 22 years after its release, is still one of the best-ever debut albums.
The thing about the BoDeans, though, is they're just so . . . Wisconsin. In fact, they are so Wisconsin, not everyone may know they are inextricably intertwined with the recent history of the state, as our handy timeline shows below.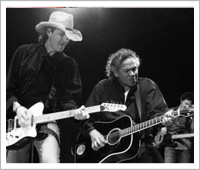 This week Madison is all atwitter about the big BoDeans show set for Friday night - the night after Christmas - at the Barrymore Theatre, and to be sure, I know it won't fail to be a hot Wisconsin cultural experience, between the music, the mistletoe and the Miller. The Wisconsin State Journal has used the occasion to publish a comprehensive and thoughtful timeline of the band's career, which I have reproduced here.
But I've added to it slightly. Because the BoDeans are such a Wisconsin institution, I have appended other important contemporary Badger State historical events to serve as counterpoints to the BoDeans factor. In this way, I believe Kurt Neumann & Sammy Llanas can be more properly placed in the sweep of Wisconsin's history.
Here goes:
1977
BoDeans: Kurt Neumann and Sam Llanas become friends during study hall as sophomores at Waukesha South High School.
Wisconsin: Constitutional amendments authorized raffle games. Kurt & Sammy bond over their first pull-tab bingo game at the Waukesha VFW.
1980
BoDeans: Llanas leaves UW-Madison, where he planned to eventually study law, and joins Neumann to pursue music full-time. Early shows include Tuesday night bar gigs, earning free drinks and battling noise from pool tables.
Wisconsin: Eric Heiden of Madison won five Olympic gold medals for ice speed skating. Kurt & Sammy dream of playing hockey rinks.
1983
BoDeans: Llanas names the group the BoDeans in 1983 after gaining popularity in Milwaukee.
Wisconsin: Law raising minimum drinking age to 19 is passed. Twenty-five years later, the Wisconsin rock 'n' roll industry is still recovering from the shock.
1984
BoDeans: Bassist Bob Griffin and drummer Guy Hoffman, the first of many different drummers, join the group.
Wisconsin: Indian treaty rights to fish and hunt caused controversy. Rampant redneckism illustrates need for great new multicultural rock band to save state's soul.
1985
BoDeans: Record their debut album, Love & Hope & Sex & Dreams, with producer T-Bone Burnett.
Wisconsin: Major consolidation of state banks by large holding companies raises the alarm that Joe Miller-pack is being buried by Milwaukee corporate sharpies and needs left-leaning, new kind of "alternative" country music to relate to.
1986
BoDeans: Love & Hope & Sex & Dreams receives critical acclaim. Time magazine features the little-known band in a full-page profile. The BoDeans' regional hit "Still the Night" is used prominently in the Paul Newman-Tom Cruise film The Color of Money.
Wisconsin: Farm land values drop across the state, causing a crisis. Yearning for country-pop-rock saviors explodes in rural landscapes across Wisconsin.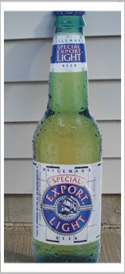 1987
BoDeans: Rolling Stone readers name BoDeans "Best New American Band." Release second album, Outside Looking In, produced by former Talking Head Jerry Harrison.
Wisconsin: G. Heileman Brewing Co. taken over by Aussie brewer Alan Bond, signaling the beginning of the end of Special Export Beer, whose green bottles and harsh, cheap buzz earned it the nickname the Green Death. Another defining moment in Wisconsin history.
1988
BoDeans: Neumann and Llanas appear on Robbie Robertson's debut solo album, including the single "Somewhere Down the Crazy River." BoDeans open a few stadium shows for U2.
Wisconsin: Chrysler Corp.'s auto assembly plant in Kenosha, the nation's oldest car plant, closes. The BoDeans' mournful yet uplifting brand of roots rock verging into pop sensibilities provides just the right escape for a new generation of laid-off Wisconsin worker.
1989
BoDeans: Release third album, Home. The band's touring popularity continues to soar.
Wisconsin: A statewide land stewardship program is created. Social historians note the BoDeans' environmentalism as a possible influence.
1990
BoDeans: Dana Carvey film Opportunity Knocks features the BoDeans' rollicking "Good Work."
Wisconsin: The number of Milwaukee murders set a new record, raising demands for crime and drug controls. The BoDeans' plaintive anthem "You Don't Get Much," which peaked at No. 20 in the Billboard charts, cited by police as a calming influence.
1991
BoDeans: Release fourth album, Black and White, including concert staple "Paradise."
Wisconsin: First Indian gambling compacts signed, setting up future concert venues for BoDeans in 2020.
1993
BoDeans: Performing solo, Llanas opens for Los Lobos at the Barrymore Theatre and plays BoDeans' new single "Closer to Free" from fifth album, Go Slow Down. Song doesn't make a dent on the national radio charts.
Wisconsin: California passes Wisconsin in milk production, Republicans win control of state senate for the first time since 1974. Double disasters even the BoDeans are powerless to stop.
1994
BoDeans: Party of Five debuts on Fox and slowly earns a devoted TV audience. "Closer to Free" is used for a 30-second snippet during the opening credits.
Wisconsin: A new telecommunications regulatory framework for the state Public Service Commission is launched in which cable companies found not playing BoDeans videos on public access are fined.
1995
BoDeans: Release the two-disc live album, Joe Dirt Car.
Wisconsin: Elk reintroduced in northern Wisconsin, like the BoDeans, a proud reminder of the state's heritage.
1996
BoDeans: Thanks to its use as TV's Party of Five theme song, "Closer to Free" becomes a surprise Top 10 pop hit. New album, Blend, fails to capitalize on the band's commercial success.
Wisconsin: Pabst Brewing closes 152-year-old brewery in Milwaukee. Strapped Wisconsinites, forced to turn to expensive imported beers, have less to spend on BoDeans' new record.
1997
BoDeans: Chicago-based BoDeans tribute band, Naked, becomes a popular club act.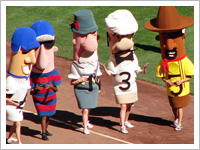 Wisconsin: Groundbreaking held for controversial new Miller Stadium, future home of the Milwaukee Brewers baseball team. BoDeans, meanwhile, break no new ground.

1998

BoDeans: Llanas forms a new band called Absinthe and releases the album Good Day to Die.

Wisconsin: U.S. Supreme Court upholds constitutionality of extension of Milwaukee public school vouchers to religious schools. GOP-authored state law requires that Catholic nuns teach poor children that BoDeans are devil-spawn.

1999

BoDeans: Cover the Beatles' "I've Just Seen a Face" as the theme for Party of Five spin-off called Time of Your Life.

Wisconsin: Gov. Tommy Thompson begins record fourth term, citing desire to counter BoDeans' pernicious mental health influence on state culture as a prime motivator.

2000

BoDeans: Sell out Milwaukee's 23,500-seat Marcus Amphitheater during Summerfest, beginning a string of huge annual Summerfest appearances for several years.

Wisconsin: Legislature approves a local sales tax and revenue bonds for renovation of Lambeau Field, and approves a resolution urging the BoDeans to end their solo careers and reunite "to rock us once again."

2005

BoDeans: A Milwaukee jury awards the BoDeans more than $200,000 from their former manager for breach of contract.

Wisconsin: 27 tornadoes tear through state, killing one man and causing more than $40 million in property damage. BoDeans' homes are spared the worst and state rejoices when they again sell out Marcus Amphitheater during Summerfest.

2007

BoDeans: Reuniting with producer T-Bone Burnett, BoDeans go into studio.

Wisconsin: After an absence, Wisconsin once again ranked first on list of worst states for drinking and driving, according to Mothers Against Drunk Driving. Coupled with Burnett-BoDeans reunion, waves of warm nostalgia sweep through Beer Town.

2008

BoDeans: Release seventh album of original material titled Still. Some progressive rock stations around the country support the album.

Wisconsin: Brett Favre signs with the New York Jets. Wisconsin culture as we know it comes to an end. BoDeans prepare for gig at Madison's Barrymore Theater in the wake of a losing, Favre-free Packers Christmas.

Let's hope Kurt and Sammy can tap that good Badger karma now that the hurting and history-battered people of Wisconsin once again so badly need it.

-

From the Beachwood Country All-Stars to Dylan's Grammy Museum, the finest bones of rock 'n' roll are rattlin' 'round Don's Root Cellar.




Posted on December 22, 2008