The Steve Marriott Saga: How the Mob, Peter Frampton and Daddy Osbourne Snuffed Out The Small Faces and Humble Pie
The other day I was listening to a great old album on WREK-FM, one of our better non-commercial, student-run stations, from Georgia Tech in Atlanta. The program was Stonehenge, WREK's weekly "deep tracks" classic rock show, and the album was Humble Pie's first effort, 1969's "As Safe As Yesterday Is." It was so good, it got me wondering, why didn't Steve Marriott ever become the ultra-special hyperstar he should have been? What happened to him in the years between Humble Pie's break-up in 1975 and his premature, accidental death in a 1991 house fire?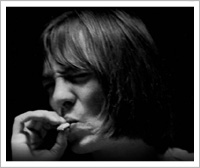 In my resulting research, there was a non-surprise: Marriott was totally besotted by cocaine and booze, which eventually led to an induced mental illness. But there was also something else that I wasn't aware of. In the long, ignoble history of musicians being ripped off by unscrupulous, power-mad managers, Marriott had to take the cake. He never realized any kind of financial gain from his fabulous output of talent. Sandwiched around one visionary but unsuccessful handler (the Rolling Stones' Andrew Loog Oldham) were two other, uh, less-than-saintly guys, including Sharon Osbourne's daddy.

The career of Don Arden, Sharon's father, is a fascinating, cautionary tale of how the music business and what amounts to organized crime are really just two sides of the same coin, and he's maybe one of the all-time poster boys for "reasons this industry should be destroyed." He died earlier this year at age 81. Arden was known as "Mr. Big" and the "Al Capone of Pop," using all kinds of extra-legal means to get his acts airplay, including the threat - and actual use of - violence, both against clients who dared to question his accounting methods as well as outsiders. His first big success was Marriott's band The Small Faces. Teenager Steve never had any idea where the money went all those years while he was following his heart, writing some of the best songs of the British Invasion era. Truly, it was a classic case of the victimized artist.

(Arden is probably best known for his mid-70s success in managing Electric Light Orchestra, as well as an incident in 1979 when he set his dogs on daughter Sharon, who had incurred his displeasure by muscling in on his management contract with her future husband, Ozzy Osbourne. The dog attack resulted in a miscarriage for Sharon.)

Arden sold The Small Faces' contract to Oldham in 1967, who in turn used them as a key cog in his attempt to launch one of Britian's first indie labels, Immediate Records, after he had basically invented the Stones as their first manager. It turned out Oldham was a much better Carnaby Street gadabout than he was a competent businessman, however, so despite The Small Faces scoring their biggest-ever successes on Immediate - such as Itchycoo Park, one of the best British invasion singles ever - again, Marriott never saw a dime.

Then, after he formed Humble Pie with Peter Frampton, Marriott hooked up with Dee Anthony, one of the most important and powerful American rock managers. Anthony was indeed successful in getting the band a contract with A&M Records, and was the one who encouraged them to go the hard boogie, arena-rock route, a sound that turned them into one of the best live bands around and eventually yielded the hit "Thirty Days In The Hole." (Anthony later used the same formula for Frampton and his Comes Alive! album.) But, like a broken record, millions of dollars of royalties disappeared. Marriott, who was so poor he had been reduced to stealing food, thought Anthony had diverted the considerable Humble Pie royalties to push a now-solo Frampton, and demanded that Anthony tell him where the money was. At that point, Marriott was taken into a meeting that included John Gotti, Paul Castellano and other members of the Gambino crime family, at least according to Marriott's official biography, All Too Beautiful. That ended his impertinent money questions.

In addition to his borderline mental illness and his never-really-conquered substance abuse (he died from smoke inhalation in a fire caused when he passed out and dropped a lit cigarette), Marriott's nightmarish experiences with the record industry were a big reason he never tried to make a comeback in the 1980's, when, after all, he was still only in his 30's. While other British Invasion-era stars were reveling in a second wave of adulation from a new generation of admirers - and perhaps making up for how completely they were ripped off the first time around and in many cases curing their "overlooked" status - Marriott never did. He was so wary of record companies that he preferred to play the rest of his career in small English pubs and acoustic venues, where the pariahs of the industry would leave him alone. He chose penury and obscurity rather than than sell out to a corrupt music biz machine. That makes him a hero in my book.

And, unfortunately, that's also why he's more or less a footnote nowadays despite being one of the key talents of the rock era. It makes you wonder if his drug and personal problems were fueled by his shabby treatment as an artist. Whether or not that's true, I think anyone who ever wants to make a case for why major labels and the gigantic corporations that now control them are poor stewards of our civilization's precious musical heritage need only look at the horrible fate of Steve Marriott to see why the demise of the record industry can't come fast enough.

*

See the Root Cellar collection.




Posted on November 26, 2007





MUSIC - Lyric Opera Strike Settled.

TV - WFLU-TV.

POLITICS - USA Today's Op-Ed Disaster.

SPORTS - SportsMonday: Come On, Vic!

BOOKS - Chicago Book Haul: The Dial.

PEOPLE PLACES & THINGS - Chicagoetry: West Town Blues.

---




Search The Beachwood Reporter




---

Subscribe To Our Newsletter

---

---

---

Beachwood Radio!

---

Ask Me Anything!