RockNotes: Inside Funkytown, USA
Two new rock 'n' roll books are on my radar, one that chronicles how a terrific music scene can spring up and prosper in an unlikely place and another that takes a clear-eyed look at the perils and rewards in the everyday lives of rock world working stiffs.
1. I know the Beachwood is a Chicago thing, like Jake, the so-called "Neighborhood Guy" says on those never-ending Old Style radio commercials they play during the Cubs games. "The Spindle. It's a Chicago thing." "The Outfit. It's a Chicago thing." "Horrible watery beer made in Wisconsin. It's a Chicago thing."
But I also like to think that broad musical tastes are a Chicago thing as well, which is the justification I'm using to take this opportunity to relate a few highlights of a new book about Minnesota's rock music history. Full disclosure impels me to say that I'm a St. Paulite by birth and current residence, but also a former Chicagoan who paid his dues with all the "neighborhood guys" hanging around outside the group homes at the Bryn Mawr Red Line station, so, yah know, there yah go, okay? I know you like Minnesota bands, you really can't fool me, so let me tell you a bit about Music Legends: A Rewind on the Minnesota Music Scene by Martin Keller.
For anyone who wants a quick but skilled primer on the strangely prodigious rock, soul, folk and pop music output of this isolated, wintry outpost of a state, Keller's 128-page softcover is good place to go. It's the first of a planned two-part effort: Part Two will be devoted to Prince, the Jayhawks, Soul Asylum and others. Keller, who as a Twin Cities alternative weekly music writer in the '80s was about as involved as you could get in the what was essentially the state's second golden rock era, gives us what's clearly the Cliff's Notes version of his prodigious knowledge base. It's kind of a beginner's guide to the subject, but still just comprehensive enough to whet any music fan's appetite for more details about what's undeniably a musical heritage way out of proportion for a state with such a modest population.
Of course, there's Dylan, and Keller gives him his due as one of only two artists to get his own chapter in Music Legends ("Funkytown" writer/producer Steven Greenberg is the other). There really isn't too much you can add to the man's legacy in a couple of pages, but Keller does relate an amusing anecdote once told by fellow Minnesotan Bobby Vee on National Public Radio. Vee gave young Zimmy his first shot in a professional recording studio doing keyboards and hand claps, but he was under the impression the kid's name was Elston Gunnn (sic). A couple years later when Vee was in New York, he saw a poster hawking a performance in Greenwich Village by someone named Bob Dylan, and he remarked, "Gee, that looks a lot like Elston Gunnn!"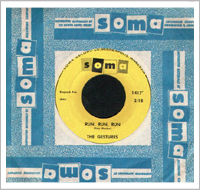 Bobby Vee and the Replacements pretty much bookend Keller's survey, and they share something in common - they both were signed to independent record labels that defined the two golden ages of Minnesota rock 'n' roll. In Vee's case, the label was Soma Records. Founded by a pair of middle-aged brothers who got their start in the 1940s by distributing jukeboxes and "rack jobbing" at retail stores, they decided in the late '50s to create the "content" for their music distribution channels as well, and so founded one of the earliest and most successful indie record labels in the country. The Heilicher Brothers established a recording studio on Nicollet Avenue and used it to create the state's first real hit: Bobby Vee's 1959 recording of "Suzy Baby."
But the record that really put Minnesota on the rock 'n' roll map was Soma's garage rock classic "Surfin' Bird," by the Trashmen. The 1963 smash reached No. 4 on the national charts and stayed there until it was bumped out by a new combo called the Beatles. Keller writes that the first day in the stores, "Surfin' Bird" sold out its initial pressing of 1,000 copies, then 10,000 copies were sold and Mercury Records picked up the distribution. One million records later it was still a phenomenon. The Soma era was summed up in the issuance of a pair of compilation albums in the mid-60s: Big Hits of Mid-America Volumes I and II.
At the other end of Keller's book, that same Nicollet Avenue recording studio also became the focal point of the state's second golden rock age: the late '70s and early- to mid-'80s, a time dominated by another seminal indie label, Twin/Tone Records, home to the Replacements and a slew of other great bands that turned the Twin Cities into one of the hottest local scenes in the country. This time, the scene was also centered on a record store, called Oar Folkjokeopus, and the bar across the street, the C.C. Club on Lyndale Avenue. The record store was where one of Twin/Tone's founders, Peter Jesperson, worked when he wasn't "sort of" managing the Replacements.
"How else could you explain it, that time between 1976 and 1984, other than to throw some kind of quasi-cosmological South Minneapolis spin on it?" Keller writes. "Something like: The bars were aligned with the record store and label, the rock rags, studios and impresarios, the film crew and hangers on, all reeling under the shakin' firmament in the House of Rock.
"It was the best of times. It was the best of times."
Those bestest of times sort of came full circle in 1980 when Twin/Tone issued Big Hits of Mid-America Volume III, in honor of its Soma forbears. It included songs from The Suburbs, The Suicide Commandos and The Jets, among many others. And It marked the starting point of a brilliant half-decade run that gave the world a model for how a local indie music scene could succeed in ways as-yet unimagined, a model that Seattle took and ran with in the '90s.
Music Legends, though modest in ambition, nonetheless has, in spots, some of the same cool style that Keller displayed during his essential stint as the best music writer in town while at the alt weekly Sweet Potato (now City Pages) starting in 1979, so that's very fun to see. But even more important is that he packs a lot of names and crucial basics about so many great-but-now-forgotten bands into the book's slender frame, it might be the best-ever place to get a start-up knowledge of the subject.
Jiggs Lee? Chameleon? The Wallets? Augie Garcia? Doug Maynard? Yep, it's a Minneapolis thing.
Okay, Chicagoans. It's safe to come back out now.
2. Meanwhile in New York, one of the foremost rock compilation disc assemblers, Bruce Pollock, has taken a break from his duties putting together the "all original songs" for those ultra-comprehensive Time-Life Records CDs to do essentially the same thing on the printed page with his own extensive trove of interviews with both the superstars and wanna-be's of rock 'n' roll. The idea he's going for in Working Musicians: Defining Moments from the Road, the Studio and the Stage is a gut-level, all-glamor-barred look at how the workaday realties of the rocking-as-a-job lifestyle can be unsurprisingly hard, especially for those who are less than supremely talented, but also extremely weird and funny.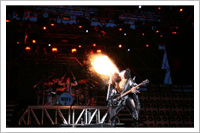 Pollock has patterned his book as a series of long interview quotes built around several quintessential rock 'n' roll themes, such as the first gig, the first album, life on the road, show presentation, picking set lists, habits that breed success, etc. The overall effect varies quite a bit depending on who's doing the telling, whether it be Gene Simmons talking about how he almost burned himself to death during KISS' first big show or Andy Partridge explaining the joys and agonies of writing a song. Taken as a whole, it's a pretty sobering look at the price that needs to be paid to earn a music paycheck.

Among the book's more interesting quotes:

* Dawn Silva, a back-up singer with Sly and the Family Stone, tells of her first encounter with the enigmatic Sly. She was recruited by Cynthia Robinson to come out to his recording studio in Sausalito. Very nervous, she trembled at hearing his disembodied voice barking orders over the darkened studio's PA as she struggled to sing. Later, she says, someone invited her to a back room, where she saw "an enormous bed that took up the entire room. It was shaped like a mouth . . . the mattress looked like a swollen tongue. There lying in the center of the tongue, was Sly, surrounded by four women. He was wearing a large Afro wig . . . He introduced me to the four women. All of them looked me over suspiciously, except for Cynthia, who said, 'Welcome.'" Silva had officially become part of the Family Stone.

* Peter Tork of the Monkees recalls having Jimi Hendrix as an opening act during a tour of England and how when the rock biz heard him, they all thought turning up their amps would make them just as good, a mindset he calls "mistaking the finger for the moon. You point at the moon and somebody looks at your finger. It's inevitable." He also maintains that Capitol Records would have signed the Monkees on their musical chops alone, even without the TV show, and that Mickey Dolenz was so unnecessarily dubious of his own drumming skills that he always wanted to quit.

* Kenny Withrow of Edie Brickell & the New Bohemians: "'What I Am' got milked for everything it was worth. It was out too long, so people became, in my opinion, sick of us. We made four videos for our first album. Somebody could have been there to tell us not to make that video. We were ill-advised, and we wound up not making any money."

*




Posted on July 30, 2007





MUSIC - At Home Chicago Blues.

TV - Chicago Smash Sets Ratings Record.

POLITICS - The Remote Learning Divide.

SPORTS - A Fall Without College Sports.

BOOKS - How The South Won The Civil War.

PEOPLE PLACES & THINGS - Speak At Your Own Funeral.

---




Search The Beachwood Reporter




---

Subscribe To Our Newsletter

---