Smoke, Mirrors and Backyard Tire Fires
They call themselves "Illinois' premier rock trio." Untoward hype from Backyard Tire Fire? Or a bit of tongue-in-cheek self-deprecation from the Bloomington-based alt country group? I'm leaning towards the latter because, although I have no idea how many rock trios there are in Illinois, I'd have to guess there are at least as many of them as there are three-car garages in Normal.
At least.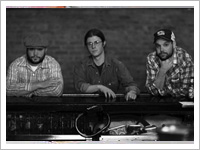 And the annals of Illinois rock trios may be quite large for all I know. Just off the top of my head (painstaking research, actually) I could cite Loud Lucy, Big Black, Chevelle, 1/2 Mad Poet, Taking Pictures, Volcano!, Catfish Haven, The Farmers, Arnold Jackson, Fast Product, Oh My God, Miles of Empty, Escape From Earth and Milk at Midnight. Are none of them "premier?"
Oh, I know Ed Anderson and the Tire Fires don't mean anything by it. They're probably just having a little fun with the fact that after a decade of obsessive touring throughout the Midwest, they're finally getting some recognition from the music media, specifically those who pay attention to the kind of Wilco- and Drive-By Truckers-inspired country rock that Backyard Tire Fire so skillfully puts out. For instance, a track from the band's upcoming fourth LP, Vagabonds and Hooligans, got a spin on Americana Roots Review, which in my opinion is the best Americana music podcast on the planet.
The song is "Don't Know What to Do," which can also be found on a "tide-me-over" EP the group issued in October called Skin and Bones. Lyrically it's pretty representative of what Anderson says will be the theme of Vagabonds, which is that ol' roots music standby, Life on the Road. It goes:
All this raining and complaining
I'm just killing time
I'm not sleeping, I'm just keeping
Track of my demise
And I don't know what to do with myself
I don't know what to do with myself
Always waiting, contemplating
The punch line to the joke
All this touring and ignoring
The mirrors and the smoke
So true. Show biz is like life - all smoke and mirrors. Musically, however, this song a bit different from the Tire Fire's usual blend of dirty country blues and loud-fast Southern rock 'n' roll. This number is really more of a jaunty, major chord ballad that's put over by Anderson's plaintive yet powerful voice. Kinda nice.
The other track from the new album that I've heard is "Downtime," which also had its debut on the recent EP. I don't want to get too carried away here, but the guitar, drums and bass backing Anderson (from brother Matt Anderson and Tim Krump) sound a lot like early Zeppelin from the days when they'd roll into Atlantic Records and cover Willie Dixon. According to the Tire Fire's indie distributor, Red Eye, the album was cut using analog equipment at Oxide Lounge Studio in Bloomington, giving the sound an "old-school" immediacy. I'd say it worked.
Back to the touring thing, though. Ed Anderson has said he's played 150 shows a year over the past decade in the various bands he's been in, and that kind of devotion just has to have a payoff, and this may be it. No one can spend that much time on the road playing music in bars, juke joints, truck stops and outdoor festivals, sharing bills with the likes of Son Volt and Alejandro Escovedo, and not have it result in some kind of superior craftsmanship. We'll see if the new album, which will be released on Feb. 7, will be the breakthrough this band's hardcore cadre of loyal fans are hoping for.
One of those fans is former Wilco-ite Jay Bennett. He's set to share the stage with the Tire Fires at their Chicago CD release party on Feb. 17 at the Double Door. The connection with Wilco seems to be pretty strong, and reveals another side to these guys. The top-downloaded Backyard Tire Fire song on iTunes is the signature number from their 2005 album Bar Room Semantics, "The Daze." I have to say this song sounds so much like 1997-vintage Wilco that it really could have been an outtake from Being There. Anderson seems to be able to move from balls-out, Slobberbone-style Southern boogie-blasting to nuanced, poppy Tweedy-ism in a heartbeat. His lyrics also tend to capture the everyman angst that runs through the best white man's blues songs.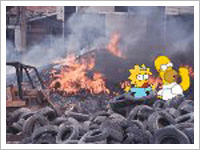 Oh, and the band's name came from The Simpsons, specifically referencing the Springfield Tire Fire, which as the town proudly proclaims, has been burning since 1966. Smoke and mirrors, indeed.

i don't know if all this adds up to being "Illinois' premier rock trio." But I like that they think so.




Posted on January 21, 2007