In Little Steven's Garage
Playlist from the Aug. 6, 2006, episode of the syndicated Little Steven's Underground Garage show, which airs in Chicago Mondays at 10 p.m. on WXRT Radio.
Read on for a sampling the world's best taste in new and old garage rock, that of Little Steven. He may run Bada Bing, but he's king of the garage.
Title: Dance With Me
Artist: The Lords of the New Church
From: Is Nothing Sacred? (IRS, 1984)
Comment: Nothing is sacred in the B-movie world of Little Steven.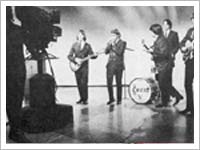 Title: Psychotic Reaction
Artist: Count Five
From: Psychotic Reaction (Double Shot, 1966)
Comment: One of the greatest fuzz guitar riffs ever.
Title: Pull Shapes
Artist: The Pipettes
From: We Are The Pipettes (Memphis Industries, 2006)
Comment: Not from Memphis, but Britain, a girl group worshipping at Phil Spector's altar.
Title: What's The Frequency, Kenneth?
Artist: REM
From: Monster (Warner Bros., 1994)
Comment: Garage rock? Really? Jangly ain't garage-y in my book.
Title: Bend Me, Shape Me
Artist: American Breed
From: Bend Me, Shape Me (SINGLE) (Acta, 1967)
Comment: Any way you want me.
Title: Dream The Night Away
Artist: Cheap Trick
From: Rockford (Cheap Trick Unlimited, 2006)
Comment: It's about time they acknowledge the greater Northeastern Illinois area that spawned them.
Title: Brown Sugar
Artist: Little Richard
From: King Of Rock'N'Roll (Reprise, 1971)
Comment: The Stones hit played with a lush all-girl chorus and James Brown-style horns.
Title: Ramblin' Gamblin' Man
Artist: Bob Seger System
From: Ramblin' Gamblin' Man (SINGLE) (Capitol, 1969)
Comment: Gotta hand it to Bob. He rocked when he was a three-man system.
Title: Bang Bang, You're Dead
Artist: Dirty Pretty Things
From: Waterloo To Anywhere (Vertigo, 2006)
Comment: It's that one guy from the Libertines, no, the sober one. He's definitely better off with this band.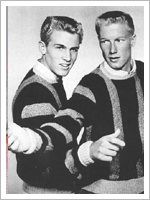 Title: Drag City
Artist: Jan and Dean
From: Drag City (Liberty, 1963)
Comment: Who was surfier? Jan or Dean?
Title: A.C.D.C.
Artist: Joan Jett & The Blackhearts
From: Sinner (Blackheart, 2006)
Comment: She still does '80s pop hair metal better than anyone actually did in the '80s.
Title: Walking the Dog
Artist: The Rolling Stones
From: England's Newest Hitmakers - The Rolling Stones (London, 1964)
Comment: Now England's biggest tax dodgers.
Title: Run For Your Life
Artist: Nancy Sinatra
From: Boots (Reprise, 1966)
Comment: Ups to Nancy for picking a great, underappreciated Beatles tune to cover, but that swingin' horn section shows she was always more Vegas than rock.
Title: In My Own Time
Artist: The Bee Gees
From: Bee Gees 1st (Polydor, 1967)
Comment: In the beginning there was Brian Wilson and his Aussie clone, Barry Gibb. Ever since Jimmy Fallon did him on SNL, all I can think of is him brow-beating his talk show guests.
Title: Soldier Of Love (Lay Down Your Arms)
Artist: Arthur Alexander
From: You Better Move On (Dot, 1962)
Comment: Who but Little Steven would play the originals of this obscure guy who so influenced John Lennon?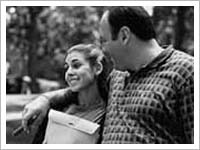 Title: Pinkerton's Assorted Colours
Artist: The Anderson Council
From: Fall Parade (Groove Disques, 2006)
Comment: Driving power pop from New Jersey (Little Steven hometown shout-out?) Maybe Meadow Soprano listens to them.
Title: And Your Bird Can Sing
Artist: The Beatles
From: Revolver (Parlophone, 1966)
Comment: My prize possessions are indeed weighing me down. How did John know?
Title: Your Love, Now
Artist: Th' Losin Streaks
From: Sounds Of Violence (Slovenly, 2004)
Comment: California band plays like they mean it.
Title: La La Land
Artist: The Go-Go's
From: God Bless The Go-Go's (Beyond Music, 2001)
Comment: The Go-Go's made the '80s a bit more bearable. Thanks, girls.
Title: Little Games
Artist: The Yardbirds
From: Little Games (Columbia, 1967)
Comment: Wow. Pure pop Yardbirds. Who knew they had a little Barry Gibb in 'em? Acrimony over this record is what led to the Yardbirds' break-up and, eventually, to Led Zeppelin.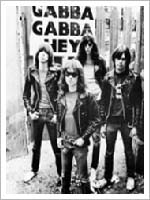 Title: Loudmouth
Artist: The Ramones
From: Ramones (Sire, 1976)
Comment: Well you're a loudmouth, baby. You better shut it up. Hey, it was the 70s.

Title: Country Girl
Artist: Primal Scream
From: Riot City Blues (Columbia, 2006)
Comment: Primal Scream rocks once again - no more synthesizers. This is "Let It Bleed"-era Stones.

Title: Rock & Roll Time
Artist: Roger McGuinn
From: Cardiff Rose (Columbia, 1976)
Comments: 12-string anyone? How many of those do they have in the garage?

Title: Why Do Lovers Break Each Other's Heart?
Artist: Bob B. Soxx & The Blue Jeans
From: Why Do Lovers Break Each Other's Heart? (Philles, 1963)
Comments: If we knew, we wouldn't need rock 'n' roll.

Title: King Of The Freaks
Artist: The Maggots
From: Monkey Time (Screaming Apple, 2006)
Comments: These guys should be in mono. They rock like the '65 Kinks.

Title: It's My Life
Artist: The Animals
From: Best of the Animals (Abkco, 1987)
Comments: I'm gonna ride this serpent.

Title: New Year
Artist: The Living Things
From: Ahead Of The Lions (Jive/Zomba, 2005)
Comment: St. Louis' Berlin family. T. Rex sighting under the arch!




Posted on August 8, 2006