Pat Boone: Moody River
Pat Boone's pop career didn't really end because it was killed by the Beatles, as the conventional wisdom has it. It was already heading down the tubes as early as 1960 after his TV variety show, The Pat Boone Chevy Showroom, was canceled by ABC. Apparently, even the McGuire Sisters and the Kingston Trio weren't enough to keep those white shoes shining into America's living rooms every week. After five number-one hits in the late '50s (mostly boring, sanitized versions of black-written rock 'n' roll classics), it looked like Boone's inexplicable, inexcusable run as an American Idol was finally coming to an end.
Then came 1961's "Moody River" on Dot Records, quickly followed by an LP of the same name. Boone's cover of a rockabilly-inflected country song by Dot labelmate Chase Webster (real name Gary D. Bruce) was his last number-one hit and, in my opinion, the only one that really deserves it.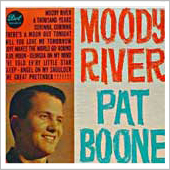 "Moody River" prolonged his role in the pop spotlight for a couple more years until he was mercifully rolled over by the British Invasion. Unlike his blatant ripping off of such great black artists as Fats Domino and Little Richard, this song wasn't so much stolen from a victim of Jim Crow prejudice as it was a legitimate effort to give a great, overlooked song the exposure it deserved.

It works because, for one of the few times in his career, Boone's trademark, suburban white guy delivery is nowhere to be found. Instead, he dares to reveal a little . . . gasp . . . soul. While not exactly dripping with forbidden emotion, Boone pulls back the covers just a tad to reveal a tiny glint of edge as he tells the sordid tale of a lover's suicide.

In the song, the singer heads on down to the moody, muddy river to meet up with his "baby" for a secret tryst. Instead, he finds a note saying she had cheated on him and wasn't worthy of him anymore. She had thrown herself in.

Moody river, more deadly than the vainest knife
Moody river, your muddy water took my baby's life

I looked into the muddy water and what could I see?
I saw a lonely, lonely face just lookin' back at me
Tears in his eyes and a prayer on his lips
And the glove of his lost love at his fingertips

Well, all pretty strong stuff for Pat Boone fans. But he pulls it off in a just-slightly-rockin' New Orleans-style shuffle beat arranged by Billy Vaughn, the house bandleader at Dot Records who made a very successful career out of turning any and all popular music into syrupy instrumental cover material. And rest assured, his version of "Moody River" took the original, in which Chase Webster sings it like Elvis, and tones it down. But he leaves in just enough grit to pull it up well short of the usual Boone schmaltz. It was later covered by Frank Sinatra, who turned in a puzzling, kind of wacky version of the song in the late '60s.

Alas, the rest of Boone's Moody River LP can't keep it up and makes me want to jump into that muddy stream right after that chick. While his copy of Ray Peterson's "Corinna, Corinna" actually is the best song on the album (it swings!), everything else on it is really downright embarrassing. There's just no way I can work up any kind of retro-respect for such atrocities as his drippy versions of great songs like "Will You Love Me Tomorrow" and "The Great Pretender" (a title which actually says it all about Pat Boone). Hearing him turn these greats into elevator music so soon after their initial success makes you realize how the rock 'n' roll wolves were at the door right from the get-go.

And "Georgia On My Mind?" Ol' Pat makes it sound like an outtake from a Walt Disney movie. So sad. He got a lot better in the '70s when he switched over to his true calling, which is gospel music, a genre that really suited his style much more than pop.

And then there was that heavy metal thing. Thank Jesus he wasn't able to do to Black Sabbath what he did to Little Richard.

*

See what else is in the Beachwood Bins. Bin Dive explores rock's secret history through the bargain bins and your old stack of records. Comments - and submissions - welcome. You must include a real name to be considered for publication.




Posted on December 12, 2007