Obit: Kirk Rundstrom, Hardcore Hillbilly
It's always a shock to lose part of your foundation because it makes your whole house tremble, and that's what happened to the structure of contemporary roots music on Feb. 22 when Kirk Rundstrom died of cancer at a tragically young 38 years of age.
The man who in recent years achieved his greatest success as part of the Kansas-based "hillbilly hardcore" punk/metal/bluegrass band Split Lip Rayfield was a cornerstone upon which the alt country edifice was built. In the mid-1990s when alt country was just emerging - with Chicago as one of its crucial hotbeds - Rundstrom was a regular on the city's bar stages, then playing mostly with his former band Scroat Belly and as a solo act. I can fairly say that he, along with Wilco, Son Volt, the Old 97s and a very few others, were the folks who most firmly convinced me then that "country" music wasn't necessarily an evil thing, and that, done in the kind of truly alternative way they personified, actually represented the purest modern-day representation of the spirit of 1960s rock 'n' roll.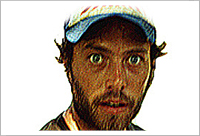 The thing that most attracted me, and everyone else, to Rundstrom was the way in which he brought a dangerous, out-of-control intensity to the bluegrass musical form, making an acoustic guitar, a banjo and a one-string, gas-tank bass more truly "rock 'n' roll" than anything getting airtime on WXRT or the college rock stations. His wild, staring eyes, which drifted off into the heavens in a kind of dark religious ecstasy as he attacked his guitar, really kind of gave me the willies. You seriously wondered if his next move would be to fall to the stage spasming and speaking in tongues. But he always held it together as he and Split Lip bandmates Eric Mardis, Jeff Eaton and Wayne Gottstine time and again executed their athletic, intricately timed riffs with astounding efficiency.

Rundstrom called Split Lip Rayfield a cross between Del McCoury and Motorhead. And so it was. His brand of bluegrass was the first I had heard that so decisively made the leap allowing rock fans such as myself the license to even think of delving into old-timey country music. He found the sweet spot that both honored pure, countrified pickin' and grinnin' while simultaneously messing with its image and message so completely that you could hardly tell what it had always stood for. It was an accomplishment so important that it helped launch a whole musical movement.

Now he's gone, dying an uninsured death and leaving behind a wife, two kids and a too-short life full of hard drinking and furious creativity. His memorial service was held Monday in Wichita. Like so many true pioneers and musical visionaries, his albums never sold much because mainstream radio wouldn't touch them. They were too country for rock stations and had too much rock attitude for country stations. He was one of Bloodshot Records' first and most important artists, and will always have a strong identification with them - and Chicago.

Contact Don Jacobson at don@beachwoodreporter.com.




Posted on February 27, 2007





MUSIC - Millions Of New Guitar Players.

TV - "One America News" is AT&T.

POLITICS - When Wall Street Came To My Mobile Home Park.

SPORTS - Skytober.

BOOKS - China Holding Swedish Publisher.

PEOPLE PLACES & THINGS - All The Styles.

---




Search The Beachwood Reporter




---

Subscribe To Our Newsletter

---