Reunion Blues
1. Rock reunions suck, generally, let's be honest - especially the huge, overblown ones like the Police. Outrageous ticket prices, quarreling band members, dubious musicianship (after all, doing old songs live again after so many years and getting it right is like asking the 1997 Bulls to "just get back together" tomorrow and win the NBA title again) . . . there are just so many ways it can go horribly wrong. I'm not saying these reunions can't be done, but I think you've got to pick and choose your spots with them. My reunion tour money is on one of the best alternative country acts of the 1990s, Blue Mountain, who are coming to Chicago for a June 24 show at Schubas.
Blue Mountain, to me, was one of the seminal bands that defined what roots rock could mean to a new generation. Their first two albums (1995's Dog Days and Homegrown two years later) especially established them in my mind as giants and progenitors of the alt country movement. Cary Hudson is a Southern singer-songwriter of the first order. His songs are haunting, intelligent, poetic, and when they need to be, all-out rocking. His voice captures that kind of spooky, mystical strain of dirgy, Delta/Appalachian folk-blues. and he mixes it up with '70s-style Southern rock, creating a totally unique experience .
The other essential element of the Blue Mountain was Hudson's then-wife, Laurie Stirratt (twin sister of Wilco's John Stirratt), who played bass and added crucial harmonies on their key albums. Her contributions reflected a musical iteration of the off-stage relationship and it was indeed a thrilling partnership. By 2000, however, their marriage was off and by the next year Blue Mountain was also history. Hudson has continued doing great solo work, and Stirratt, who like her brother now lives in Chicago, was with the Preachers Kids for awhile and has participated in several other band projects.
Blue Mountain made some really, really special stuff that never got its full due despite the cult following the band built up. Though underrated, to my mind they still ended up being one most influential roots rock acts of the '90s. The reunion tour, unlike that of the Police, is far from extensive - just a few dates in the Upper Midwest and a few more in and around the band's birthplace in Oxford, Miss., so the stop at Schubas is not to be missed (the venue was also the scene of the recording of Blue Mountain's final record, the live Tonight It's Now or Never).
Also unlike other rock reunions, it won't be overpriced or overhyped, so the karma is already excellent. And I could be wrong, but even though they're now divorced, I really don't think Hudson and Stirratt will be throwing any punches backstage. I predict they'll be focused on the music.
2. As faithful readers of the Beachwood Reporter music page know, we never let anything regarding Jerry "Iceman" Butler, Cook County Commissioner and Chicago Soul Brother No. 1, go without duly noting it in this space. So consider this an official Iceman alert: Some of his best early work is being reissued on an impressive retrospective of Chicago's Vee-Jay Records label.
Of course this effort, from Shout! Factory Records, is about much more than the Iceman. For instance, to any Baby Boomer who was in on the very first wave of Beatlemania, the Vee-Jay label was very familiar: It, and not Capitol Records, was the first American imprint the group's music was released under. As related by Shout! Factory:
"The label's success came to a soaring crescendo in 1964, when some records Vee-Jay had released to little fanfare two years previous by a group called the Beatles suddenly became hugely successful as Beatlemania landed on U.S. shores. Sadly for Vee-Jay, EMI's American label, Capitol, promptly decided that they were entitled to sign the Beatles, though they had passed on them initially."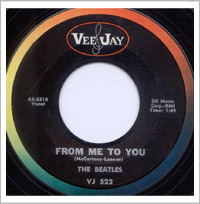 Of course, the Vee-Jay Beatles records quickly became collectors' items. But Vee-Jay was much more than a Fab Four footnote. Again, according to Shout! Factory:

"Vee-Jay represented the ultimate American success story. It began in 1953 when husband-and-wife entrepreneurs Vivian Carter (a DJ at a Gary, Ind., R&B station) and Jimmy Bracken (a record store owner) borrowed $500 from a pawnbroker to record the Spaniels' "Baby, It's You," which rose to the No. 10 position on Billboard's R&B chart. Later that year they chanced upon bluesman Jimmy Reed, a worker at a Chicago slaughterhouse, who became the best-selling blues artist of the '50s and '60s. Relocating from Gary to Chicago, Carter and Bracken found the talent pool, networks and marketplace just right for a label like theirs. Over the next decade, Vee-Jay built itself into a black music powerhouse that also made strong inroads into the pop market, with acts like Jerry Butler and the Four Seasons."

Thanks to "mismanagement," Vee-Jay also lost the Four Seasons and after that went into a financial tailspin. By 1966 it had folded, 13 years after it had established itself first and foremost as a seminal "doo-wop," soul and black music outlet that clearly rivaled its much better-known Chicago competitor, Chess Records. And that's where the new deluxe four-CD box set, to be released in August, concentrates its efforts.

One of Vee-Jays biggest hitmakers was Jerry Butler. His songs included in the box set are "For Your Precious Love" (with the Impressions), "He Will Break Your Heart," "Make It Easy On Yourself" and "Let It Be Me" (with Betty Everett). But that only scratches the surface of what looks to be a fascinating journey through one of the great eras of Chicago soul, blues and R&B music. Among the plethora of artists Vee-Jay recorded in the '50s and '60s were Jimmy Reed, John Lee Hooker, the Staple Singers, Little Richard, Billy Preston, Gene Chandler, Rosco Gordon, J.B. Lenoir, Joe Simon, the El Dorados, the Dells, Jimmy Hughes, the Spaniels and many more.

Titled Vee-Jay: The Definitive Collection, the upcoming release will have 86 tracks in all, and will boast detailed liner notes by music writers Gerald Early and Michael Ribas. The box set will list for $59.98.

3. And finally, this from regular Beachwood Reporter contributor Tim Willette:

iTunes sends an email to notify me it's Black Music Month. Is this necessary?

I think Black History Month makes sense, but for the last 100 years African-Americans have been the subjects of musical history more than any other ethnic group. Shoehorning Robert Johnson, W.C. Handy, John Coltrane, Muddy Waters, Etta James, James Brown, Dinah Washington, Ray Charles, Chuck Berry, Aretha Franklin, Otis Redding, Sam & Dave, Jimi Hendrix, Michael Jackson, Rick James, Grandmaster Flash, Marshall Jefferson, Run-D.M.C., Tupac Shakur, Missy Elliott, DJ Spooky, et al into a single month strikes me as ludicrous.

But I didn't read the e-mail - maybe they're dedicating a month to bands/performers with Black in their names (Black Flag, Black Sabbath, Clint Black, Bill Black, Blackie Lawless, Black Francis, Jack Black, Black Oak Arkansas, Black Stone Cherry, Joan Jett & the Blackhearts, Black Keys, Black Eyed Peas, Big Black, Black Uhuru, Ritchie Blackmore, Black Crowes, Black Kali Ma, Black Randy & the Metrosquad . . . ).

Comments? Send them to Don Jacobson at don@beachwoodreporter.com.





Posted on June 9, 2007





MUSIC - Holiday Hullabaloo.

TV - WFLU-TV.

POLITICS - Bank Profits Soaring.

SPORTS - Chicago vs. Michigan, 1903.

BOOKS - Dia De Los Muertos Stories.

PEOPLE PLACES & THINGS - Chicagoetry: West Town Blues.

---




Search The Beachwood Reporter




---

Subscribe To Our Newsletter

---

---

---

Beachwood Radio!

---

Ask Me Anything!