Prison Bars and Guitars
Every Monday at noon, Matt Cook and John Dorr host Trucker Caps and Cowboy Hats on WIIT from the Illinois Institute of Technology on Chicago's South Side. You can listen in at 88.9 on the FM dial or stream it here. Each week they concoct some sort of theme to hang the show on, and this is what they've been listening to this week in support of their hand-picked motif.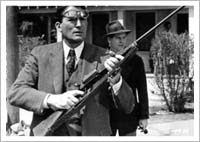 Do you remember the scene in To Kill a Mockingbird where the angry mob is trying to lynch Jim at the jail only to be thwarted by the pie-eyed happiness and good cheer of Scout? Me too. That is the way I like my justice served - in a timely, dispassionate fashion with as little mob activity as possible. Emotionally remote jailers simply carrying out their appointed tasks without comment or prejudice. For, after all, aren't we all criminals in one sense or another? Have we not committed crimes in our hearts if not our actions? And don't we deserve to be treated like it's not a big deal?

Perhaps that is why we are drawn to songs about jails and crimes and lawmen and criminals, as we all possess some larceny inside a dark part of ourselves (maybe it's your big toe, like me). But, probably not. I reckon in the end we simply like good tunes, strong melodies, and memorable choruses and, well, if the song is about jail, it don't matter as long as we can dance to it. Likewise, the record label folks care little about a song's content and more about moving units, so country music (indeed, popular balladry) has a ton of songs about black-hearted souls on both sides of the law.
I hear one now - let's listen in.
1. Lefty Frizzell, "Long Black Veil."
2. The Band, "Long Black Veil."
3. Stonewall Jackson, "Long Black Veil." When I was first learning to play guitar and trying to figure out how to write songs, a writer friend of mine met up with me one night and told me that he had the best lyrics for a country music song ever. He'd been working that summer as a groundskeeper at the University of Virginia and one of his derelict co-workers showed him his poetry over a few beers. My friend pulled out that man's lyric sheet and we sat down and wrote the greatest country music song ever, which, it turns out, was "Long Black Veil." To this day I still don't know if my friend knowingly set me up or if we'd both been duped, but I still get a chuckle over it. To my credit, I did use the same chord pattern heard here, but in a different key. But I don't feel too bad, because the song is co-written by masters. Marijohn Wilkin was one of the first batch of Music Row songwriters and wrote or co-wrote, in addition to "Long Black Veil," "Cut Across Shorty" and "Waterloo." She also headed up the company that gave Kris Kristofferson his first writing contract in Nashville. Her first publishing house deal was with Cedarwood, whose roster included John D. Loudermilk, Wayne Walker, Mel Tillis and Danny Dill, her co-writer on "Long Black Veil." Danny himself was no slouch, having helped pen "Detroit City," and he and his wife, Annie Lou Stockard, joined the Grand Ole Opry in 1946.
4. The Kinks, "Holloway Jail." From the classic Muswell Hillbillies, the first album released on the RCA label after years of neglect and poor support from Pye Records. Unfortunately for the label and the band, "Lola" was the single and record just prior to this one and, so, although brilliant, it didn't sell as much (how would you like to have to follow up "Lola") and probably has been neglected unfairly. Until, I think, a reissue on Velvel records - now I've got friends coming up to me telling me what a great record it is. Well, frankly, they are right, and you should get it. Recorded in 1971 and the first single was "20th Century Man."
5. Everly Brothers, "I'm Here to Get My Baby Out of Jail." Nice, but a little long. From Songs Our Daddy Taught Us. The Everly's released Roots in 1968, which represents an amazing and underappreciated contribution to country rock (their version of "T for Texas" features a wah'ed out guitar solo and soaring harmonies and should be heard) and when I first got the disc, I became pretty obsessed with them. But the 1954 Songs Our Daddy Taught Us is not at all adventurous and, in fact, it is unimaginative - in arrangements, vocal and instrumental, and in choice of song (they just aren't good). So, now I'm able to say at parties, "Well, yeah, I like the Everly Brothers, but post-1965 and pre-1994," making me very cool.
6. Rockpile, "Take a Message to Mary." Well, not really Rockpile, rather, a demo made by Nick Lowe and Dave Edmonds. Wow. it isn't the Everlys, but sounds almost exactly like them.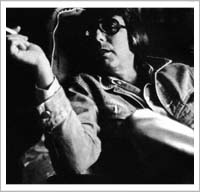 7. Lee Hazlewood, "Six Feet of Chain"
8. Lee Hazlewood, "Pray Them Bars Away." You either dislike or are obsessed with Lee Hazlewood. Put me in the latter. "Six Feet of Chain" is from a record I believe was the third that I had bought by Lee and I just couldn't believe that he had made it. All the songs have long talking intros that set up the song before breaking into it. Talk about a recipe for not having a hit. All of the material is set in Lonesome Town and populated with criminals, beautiful pre-adolescent women, and our hero, Lee Hazlewood. The instrumentation is quite light for a Lee record, usually just acoustic, bass, and drums. But as with all of his recordings, Lee comes out. "Pray Them Bars Away" is from Cowboy in Sweden which is a serious contender for being one of the best records that I've ever heard.
9. Vernon Dalhart, "The Prisoner's Song."
10. Vernon Dalhart, "The Governor's Pardon." I'm not certain who you blame for the state of contemporary commercial country radio, but I blame Vernon Dalhart. After all, he was country music's first and, for a long time, its biggest star. But he wasn't country AT ALL! And I'm not referring to the geographical location of his hometown or his disposition (in fact, he worked as a cattle puncher in his teens, so that is pretty country/western). No, I refer to the fact that he was singer who was just as likely to sing a sonata as he was a shuffle, depending on the money. The Encyclopedia of Country Music described him as "a journeyman studio artist handling every kind of repertoire required by the popular disc market, from "coon song" to "Hawaiian." His first-ever recorded track was "Can't You Heah Me Callin', Caroline?" in 1917 (I've never heard it and I can't decide if it is a "coon song" or an Irish-brogued lament). But in 1924 his recording of "The Wreck of the Old '97," became country music's first million-seller. And why wouldn't it? It sounds like country music to me (says I, sarcastically). Ralph Peer wrote in Variety in 1955, "Dalhart had that peculiar ability to adapt hillbilly music to suit the taste of the non-hillbilly population . . . He was a professional substitute for a real hillbilly." Well hell, if that doesn't aptly describe the artists in the current country music Top 10, I don't know what does.
11. Waylon Jennings, "Theme from the Dukes of Hazzard." Waylon wrote it, which means he made a ton of money. Good for Waylon. And, hell, it is fun.
12. Merle Haggard, "Shackles and Chains."
13. Merle Haggard, "The Legend of Bonnie and Clyde."
14. Merle Haggard, "Mama Tried."
15. Merle Haggard, "I Can't Hold Myself in Line."
16. Merle Haggard, "I'm Still Your Daddy." A quintet from Merle Haggard, San Quentin's most famous graduate.
17. Ray Price, "Sitting and Thinking." This is from the classic Ray Price record Night Life. Written by Charlie Rich.
18. Spade Cooley, "Fort Worth Jail." The man stomped his wife to death. Dennis Quaid is shooting a bio-pic about Spade. He jumped up and down on her, until she died. Spade Cooley beat Bob Wills in a battle of the bands at the Santa Monica Pier. He did so in front of his 14-year-old daughter. I think that sums up the career and life of Spade Cooley pretty darn well.
19. Commander Cody & the Lost Planet Airmen, "Riot in Cell Block #9."
20. Wanda Jackson, "Riot in Cell Block #9."
21. Woody Guthrie, "Jesse James."
22. Woody Guthrie, "Vigilante Man."
23. Woody Guthrie, "Pretty Boy Floyd."
24. The Byrds, "Pretty Boy Floyd."
25. The Byrds, "Life in Prison."
26. Leadbelly, "Midnight Special."
27. Johnny Rivers, "Midnight Special."
28.Creedence Clearwater Revival, " Midnight Special." People like to speak of the link between popular music and the blues and the story of Hank Williams leaning guitar from Tee-Top, a black blues street musician, is as oft-told as Robert Johnson's midnight rendezvous with the devil is. Nevertheless, the lineage is real but it is rare that we are able to see it so clearly and in the form of one song.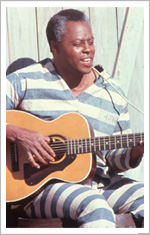 Now, you might know this song by CCR and maybe by Leadbelly, but did you know that Leadbelly was actually imprisoned in Sugarland? And that he knew the men mentioned by name in the song?

Midnight Special, second stanza:

Bason and Brock will arrest you.
Payton and Boone will take you down.
The Judge will sentence you,
And you Sugarland bound.

This is from Charles K. Wolfe's essential The Life and Legend of Leadbelly. "The title alludes to a Southern Pacific train that left Houston every night . . . often its lights flashed through the cell windows . . . it became a cruel, tantalizing and regular reminder of life beyond the Sugarland (where the prison was located) fences."

Wolfe goes on to tell us that Bud Russell was the "transfer man" who took Leadbelly to Sugarland, that A.W. Brock was the Chief of Police in Houston, and that George Payton and Johnnie Boone were police detectives working in the black part of town.

What a weird journey for a song - from a cell in an East Texas prison to Johnny Rivers on some Vegas stage?

29. Webb Pierce, "Tupelo County Jail."

30. Webb Pierce, "In the Jailhouse Now."

31. The Memphis Sheiks, "In the Jailhouse Now."

32. Leon Russell, "In the Jailhouse Now."

33. Johnny Paycheck, "11 Months and 29 Days."

34. Johnny Paycheck, "Colorado Kool Aid."

35. Johnny Paycheck, "Outlaw's Prayer." A Johnny Paycheck jail song? Like you, I am perplexed as to why such a good, clean, red-blooded American would stoop to record material about low-lifes who are so un-like him. God bless Johnny Paycheck.

36. Johnny Cash, "Folsom Prison Blues."

37. Johnny Cash, "Cocaine Blues."

38. Johnny Cash, "Long Black Veil." All from Johnny Cash at Folsom Prison - only fitting, right? You've probably heard it a million times, but isn't it kind of chilling when the crowd cheers at "But I shot a man in Reno." I agree, it isn't chilling, its just good clean fun. No better way to end the show.

-

Previously on Trucker Caps and Cowboy Hats:

-

Contact Matt and John and share your country tales.

-

And check out the Beachwood Playlist collection.







Posted on June 7, 2007