Chicago In Song: Algren Holds Steady
In this special edition of Chicago In Song, we take an in-depth look at one song from The Hold Steady and see how it illustrates the connection to what could be the ultimate source of the ubiquitous Chicago-bashing in modern song lyrics and pop culture - our very own Nelson Algren.
*
The Hold Steady/Chicago Seemed Tired Last Night
The Hold Steady is "officially" from Brooklyn, but it still seems, even after a decade or so of living there, that the vast majority of frontman Craig Finn's dense and symbolic lyrics are still rather specifically about the Twin Cities, where he's from. In "Chicago Seemed Tired Last Night," though, he takes that propensity and shows that he also knows a thing or two about the Windy City, specifically about its literary patron saint, and mixing up the geographical references. He succeeds at both. And, really, this is a very special song and Finn is a very special songwriter because, if for no other reason, he's one of the very few lyricists I've come across that references Chicago as something other than a horrific hellhole.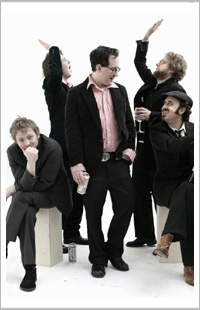 In fact, the song starts off with an image of Algren, the man who probably did the most of anyone to elevate Chicago's superficially hellish cliches and reveal the hidden human and emotional depths beneath them, and transplants the long-dead writer to Minneapolis, where he and other literary muses hang out with Finn as he makes the rockboy party circuit in the late 1980s local music scene there. (Special thanks to National Public Radio, whose crack music staff have annotated and deciphered some key Hold Steady songs, and whose analysis I am cribbing here):

Nelson Algren came to Paddy at some party at the Dead End Alley.
He told him what to celebrate.
And I met William Butler Yeats. Sunday Nite Dance Party summer 1988. At first I thought it might be William Blake.

Okay. Here's what NPR says. "Paddy" is actually a reference to Patrick Costello, the frontman of Minnesota's long-preeminent punk rock group, the Dillinger Four. "Dead End Alley" is what they called the South Minneapolis house that Costello lived in, the scene of many a party and also early band performances. And, according to NPR, Finn has said that the Nelson Algren reference in his song was actually an homage to a Dillinger Four lyric from their own song "Doublewhiskeycokenoice." That lyric goes,

Nelson Algren came to me
And said celebrate the ugly things
The beat-up side of what they call pride
Could be the measure of these days

Lastly, the reference to "Sunday Nite Dance Party" is a shout-out to the legendary downtown Minneapolis venue, First Avenue, which in the early '90s used the big club as an eclectic disco hosted by DJs PD Spinlove and Roy Freedom. Finn's inclusion of Algren into this seemingly ultra-local lyrical lexicon, I believe, is a commentary on the power of literature (and by extension, its modern-day counterpart, rock music) to create and sustain myths that pertain to place. Finn has done that with Minneapolis just as Algren, he seems to be saying, did it for Chicago. He amplifies on that thought in the next passage:

We mix our own mythologies. We push them out through PA systems.
We dictate our doxologies and try to get sleeping kids to sit up and listen.
I'm not saying we could save you. But we could put you in a place where you could save yourself.
If you don't get born again, at least you'll get high as hell.

Algren's odes to Chicago's hardscrabble Polish and Ukrainian neighborhoods took an almost universally despised culture tied strongly to a specific place and revealed its hidden depths, nuances and passions, humanizing it while at the same time turning its hardships (poverty, alcoholism, corruption) into perverse strengths. Maybe Finn feel punk rock embodies that same kind of spirit and that it's a way to tell the world about the humanness of Midwestern punkers, who have been absolutely marginalized in a part of the country where suburban culture holds tremendous sway.

Finn finishes the song with:

Hey Nelson Algren. Chicago seemed tired last nite. They had cigarettes where there were supposed to be eyes.
Hey William Butler Yeats. The Irish seemed wired last nite. They tried to separate our girls from our guys. They had cigarettes where there were supposed to be eyes.

Having "cigarettes where there were supposed to be eyes" could mean... what? Coupled with seeming "tired," it could be he's saying that a run-down city, perhaps hung over from the ordeals of the 20th Century, doesn't have the life it once did, if we can equate "eyes" with "life." And now, instead of being the determined "city on the make" of Algren's era, its life force has been replaced by comforting addictions like cigarettes, which, of course, are also associated with alcoholism and depression. When you're tired, you fall back on those addictions that help you through your depression and low spirits.

So, ultimately, maybe what we understand here is that Algren is the one who's responsible for the hundreds of rock song lyrics that have portrayed Chicago in such a negative light (in addition, of course, to all the all the references in The Blues about Chicago's hardships). It could be that Finn is hitting on the point that it was Algren who was one of the first to mix up the drugs, despair and poverty of the city with an accepted media form and come up with an enduring legacy - Chicago-bashing in modern pop culture.

*

Comments? Write Don.

*

From "Cubs 'N Roses" to "The O'Hare Blues," Chicago In Song explores the myriad and fascinating ways our fair city is portrayed in popular music. Check out the whole collection.




Posted on November 19, 2007