Chicago In Song: Good and Violent
Stop the presses! We find song lyrics that actually put Chicago in a good light. I guess if you stick with something long enough, you'll see everything. Also, a violent song about a violent town that eerily predicted a violent act by its writer, all in this episode of Chicago In Song.
Roger McGuinn/Gate of Horn
This represents a new thread in the Chicago In Song tapestry - and a much-needed break from the usual bashing the city takes in rock song lyrics. Instead, here we have a heartfelt lyrical thank-you to the Windy City from one of its most illustrious musical native sons - Byrds co-founder Roger McGuinn.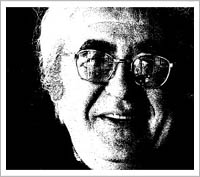 In "Gate of Horn," from McGuinn's second post-Byrds-bust-up album Peace on You (1974), he waxes nostalgic about the legendary but short-lived folk music club, The Gate of Horn, which was founded by folk music uber-manager Albert Grossman and was located in the basement of the Rice Hotel at Chicago and Dearborn. It was there in that small club, as well as at the nearby Old Town School of Folk Music, that McGuinn as a teenager first honed the guitar skills that he would later use to profoundly change not only folk but rock and country music as well.
In what amounts to a stunning departure from the mega-doses of the fear and loathing that is Chicago's portrayal in most song lyrics, I'm somewhat aghast that I've finally found a no-holds-barred love letter. Not disappointed, by any means, but just kind of dazed from the force of the revelation. I was getting to think Chicago In Song would end up being nothing but a catalog of disses, insults and borderline-psychotic anti-Chicago rants, and if that was going to be the case, why bother? You don't need me to tell you that people hate us. Music should be an escape from all that.
So thank you, Roger McGuinn, for thanking us. For sheer positive Chicago vibes, "Gate of Horn" is hard to beat. He even says he was glad to be born here. Wow. I never thought I'd see the day.
Gate Of Horn, Gate Of Horn, glad I was Chicago born
Gate Of Horn meant everything to me
I was barely seventeen little salty and a little green
Gate Of Horn meant everything to me
It's probably best to lay down a little history at this point. According to an excellent article on the North Side folk scene of the late '50s and early '60s by Elgin-based folkie Rick Neeley, the Gate of Horn was established by Grossman in 1956 as a venue to showcase this new musical phenomenon known as folk music, and specifically for one of his favorite clients, Bob Gibson. Gibson was a 12-string guitar and banjo virtuoso, who, along with Pete Seeger, can rightly be said be folk music's first superstars. In fact, Gibson's album with collaborator Hamilton Camp, Gibson and Camp at the Gate of Horn (1961), is still considered the greatest live folk music album ever made. In the audience that night was McGuinn, who had probably wandered over from The Latin School, where he was taking college prep classes, or possibly from the Old Town music school, where he enrolled after being inspired by an appearance by Gibson in front of his class.
For about two years, young Jim (as he was known then) haunted the Gate of Horn. There he saw just about every folk performer that Grossman could find (and sign) as they took the stage with Gibson:
There was Judy and Peter and Josh and Odetta
The Clancys and Mary and Paul made it better
Grossman and Tommy and Dickie and Lou
And when no one was looking, McGuinn was there too
Then they came and tore it down
Songbirds scattered and we all left town
Gate Of Horn meant everything to me
Gate Of Horn, Gate Of Horn, glad I was Chicago born
Gate Of Horn meant everything to me
McGuinn left when, at age 17, he was offered a job with The Limeliters, headed off to California, and never again lived in Chicago. So the rosy city he remembers in this song is one frozen in time from the homespun and innocent Camelot years, and even Chicago can look good under those conditions. But here at Chicago In Song, we'll take it. We need the love.
Mest/Tonight Will Last Forever
Well, back to reality. An all-too-real reality in this case as we return to the familiar lyrical world of Chicago-as-backdrop-to-hell, only this time coupled with a very unfortunate off-stage tragedy.
Mest was a band from Blue Island that scored a significant amount of success earlier in the decade (for instance, being signed to Madonna's Maverick Records label and producing the minor hit "What's the Dillio?" in 2000), then mysteriously packed it in early last year with lead singer/songwriter Tony Lovato saying on his blog that he "wished" he could say why, but couldn't, and wouldn't. Perhaps it could have been the fact that their last three albums tanked as they flailed around for an original identity.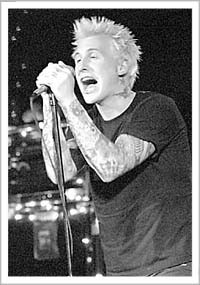 Then just last month, Lovato was involved in a fatal stabbing incident in Los Angeles - an apparent love triangle had spiraled out of control and Lovato ended up stabbing a rival to death in a parking ramp. Prosecutors freed him after determining he had acted in self-defense. The break-up of the band and the killing came after the October 2005 release of their final Maverick LP, Photographs, which when you look at it now, had a lot on ominous overtones. The cover art is of a woman kissing a death skull. Song titles include "As His Black Heart Dies (My Mistake)," "Kiss Me Kill Me," "Graveyard," "Dying For You" and "Cursed." I think it's pretty obvious Tony was in a bad place.

In fact, even the Madonna PR machine couldn't help but notice. In the promo copy for Photographs, the label writes, "(the album) covers heavier topics than usual. Suicide, innocence lost and even nightmares are just some of the lyrical inspirations among the chord-driven rock and hooky melodies." A bit later, when the PR crew points out to Lovato that, hey, your new songs are bouncy and upbeat like "What's the Dillio?" but are all talking about blood and death, he responds, "Wow, I didn't realize how serious this record was." Uh, Tony, take a look at your lyrics for "Tonight Will Last Forever":

Remembering the night again
So cold outside, the snow began
That winter storm cut like a knife
Your eyes were wide enough to fill
The moon so full it should've spilled
Chicago skyline lit the night

Right about now, I'd normally start going on about how this tune fits into two distinct Chicago lyrical sub-genres: Using the wintry city as a metaphor for the cold emptiness that one feels with a love gone wrong, and that of its deservedly famous skyline representing the hubris of human striving against the ultimate reality of the blackness of eternal night. Yeah, normally I'd do that, but not this time, because did you notice how he said "cut like a knife?" Spooky. And much more interesting. Plus, that's not all the cutting (and killing) in this song, either:

Cut my nose, spite my face
Tonight will last forever
Take my life with your hands

Jeez, can anyone say, "cry for help?"

I laid with you until the end
Watching the breath crawl from your lungs
My alibi was lost that night
So take your last breath in tonight
With the frozen sky, surround your eyes
Chicago skyline lit the night

Okay, now he's talking about having an alibi. I'm getting the feeling that this entire thing was just chock full of warning signs and no one was paying attention or taking them seriously. Not that this has to do with anything, but Lovato started out by playing drums in a white power band called Confederate Storm - something for which he later apologized, calling it a youthful, ignorant indiscretion and trying to make up for it by promoting anti-racist causes. But still, a childhood spent associating with skinheads in a known neo-Nazi hotbed like Blue Island may explain the fondness for weapons.

Just sayin'.

Contact Don Jacobson at don@beachwoodreporter.com. And catch up here with the Chicago In Song catalog.




Posted on April 17, 2007