Social Distortion Channels Marty Stuart & Joe Ely
1. No truer cowpunk is there this side of the Waco Brothers than Mike Ness of sublime bashers Social Distortion. Ness's revelatory excursions into the dark, dark recesses of honky-tonkabilly angst on 1999's Cheating at Solitaire was an eye-opener. Unlike some folks who succeed at rock 'n' roll and take a right turn into Hanksville, Ness wasn't kidding around.
Now he tells the Chico, Calif., entertainment weekly Synthesis that there are several new projects in the work for both Ness the hillbilly hellraiser and Social D, probably the only pure punk band that really mattered after 1984. Get ready: after a year of resting up, studio albums for both groups are in the works for early 2009 - and there is talk of another Social Distortion documentary film (watch the first one, Another State of Mind, here).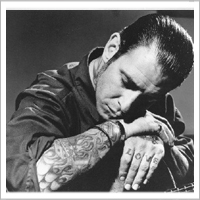 "We've got studio albums for both projects," Ness told Synthesis. "It's wide open. (I'm taking) the most part of this year off, and then next year it's time to gear up and get focused, and create. I think it's gonna be great. The time off always helps me prepare for creating subconsciously."

It's an interesting interview because Ness really kind of lets some personal stuff out of the bag. He says watching himself in the now-seminal documentary about the Orange County punk rebellion is painful: "Part of me looks at that film and wonders who that kid is. Another part of me looks at it like, 'Wow, that was the beginning of this journey!' It's mixed emotions. In a way it's like looking at your yearbook and going, 'God, I was a dork!'"

He also says his family as a kid was wracked by alcoholism and abuse, and that at age 19 he was working at a mob-owned porno store.

"I was lucky to make it out of there alive, because I robbed them blind. It was just filthy."

2. The indomitable Marty Stuart, God bless him. His philosophy is, if commercial radio won't play you, you just go out and totally show them how it's supposed to be done. Even though you made one of the great country-rock albums ever, 1999's The Pilgrim, and you still can't get any play from the programming suits, you push ahead anyway and produce one of the best darn roots-rock shows in the universe, Marty Stuart's American Odyssey.

Marty is indeed a born showman, as are the members of his band, The Superlatives, each of whom takes a hilarious turn introducing a segment every week. I wish there were some sort of clip I could find to link to . . . XM, a subscription service, is pretty stingy about that kind of thing. But trust me, it's one of many great reasons to sign up for XM Radio. On second thought, it might be better to wait for XM to merge with Sirius Radio and see what kind of product comes out of it.

Last week Marty gave an interesting interview to the Post-Bulletin of Rochester, Minn. He talked about The Pilgrim and how he knew it was destined for commercial failure because its vision of a semi-autobiographical song-cycle, a countrified, hillbilly concept record, was something too far out there for Nashville. But it was father-in-law Johnny Cash that persuaded him to persevere and stay on the path of artistic integrity:

"I'm proud of that one; I'll stand by that," he said. "I pretty much knew the outcome of the album commercially before I pulled the trigger on it. When I was making that record, it was one of the times I would lean on (Cash). At the end of the day, what I took away from J.R. is that he was fearless in terms of creativity. If he believed in something, he was going to do it, come hell or high water, whether or not anybody bought it."

3. Joe Ely logged a fine appearance on NPR's Mountain Stage show (one the best roots music shows in the land, and well beyond) last August, which was repeated earlier this month and can now be streamed here. It's an appearance NPR is calling "Joe Ely: Veteran Country Caretaker." I don't think I'm real crazy about that headline. It kind of makes it sound like Joe's got on some overalls and is taking his time bringing up his wrench to fix your sink.

Actually, he does a very nice rendition of "Silver City," the title track from last year's album on Rack 'Em Records. His "All That You Need," a song about a Depression-era family breaking up because of hard times, is again oh so timely.

And the Carter Family's "Hello Stranger," which he performed back in the '70s with The Flatlanders, gets a sprightly Tex-Mex treatment with Grammy-winning Joel Guzman on the accordion. Joe also talks about his visit to Bristol, Tenn., to do that Mountain Stage show, which included a trip to the site of the Carter Family's landmark 1927 RCA recording sessions. Jimmie Rodgers recorded there, too, yielding the "Big Bang" of recorded country music.

-

From the Beachwood Country All-Stars to Dylan's Grammy Museum, the finest bones of rock 'n' roll are rattlin' 'round Don's Root Cellar.





Posted on July 14, 2008