Tommy Keene's Pop Power
Ever since I told people I was going to see a Tommy Keene show, I've found it suprisingly hard to explain to these folks (mostly 20-somethings) just what "power pop" is. I always knew it was a niche, but I also always thought it was quite a substantial one. Now realize I was so far into it during its heyday in the 1980s - which in turn made me ultra-aware of how it was influencing vast swaths of the rock kingdom - that I just assumed most music fans, even the younger ones, knew what it was.
Apparently not.
You could say the Beatles in their skinny tie period were the inspiration and that The Who (some would say the Kinks) were the first real power pop band with everything since being either an imitation or a tribute to them. Tommy Keene certainly would, and did, when I talked to him after a show in late September at 400 Bar in Minneapolis.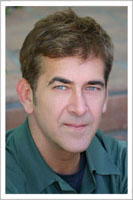 Keene, at 47, is a king of the music underground, thanks to his years of soldiering on as an artist who managed to maintain his integrity after one or two famously dodgy set-to's with major labeldom early in his career put him permanently off the fast track. But more importantly, he's probably the purest practitioner left standing in the power pop field . . . a field that seems to getting mighty small judging by the blank stares I get just by mentioning it.

The long line of power pop arguably started in 1965 with "I Can't Explain," and wound through Badfinger, the Raspberries, Cheap Trick, Elvis Costello, XTC, Matthew Sweet and all the way up to Fountains of Wayne. But I wonder, is Keene the last of his kind? Because, though he still goes about his art with unabashed unenthusiam, and expertly wields the essence of power pop itself through his still-awesome guitar skills, going to his show made me uncomfortably aware of the genre's fallen status. The quite substantial niche I had imagined seems to have shrunk to a roomful of about 30 middle-aged guys, all of whom (and no one else) were at the 400 Bar that night.

The irony is that the music still holds up, and if it is dying as an art form, it's a sadly unjust demise. Keene and his bandmates, drummer John Richardson, bassist Brad Quinn, and guitarist Dave Phillips, play a stately and majestic form of power pop, specializing more in big, jangly riffs than in nimble melody-making. Keene likes to build into thundering finishes with huge chords reverberating into the, well, ether. It's a signature sound that has been incorporated so thoroughly into the mainstream that it came as a shock to hear straight from the source - I admit I didn't know it came from Keene. But there you have the paradox of his position.

Crashing the Ether is the 10th solo album in a long and winding career for Keene, who at one time was considered one of the up-and-coming major label prospects for Geffen Records. After the Minneapolis show, he talked a bit about that golden time in the '80s when power pop was riding high as the legitimate successor to '60s rock and '70s punk, and how he, Paul Westerberg, and Peter Buck were the three amigos and les enfants terrible of guitar pop. While Buck attained major stardom and Westerberg became the greatest indie/hipster hero of the age, Keene fell through the music business cracks after a rocky stay at Geffen that begat a still-simmering tiff between him and Geoff Emerick, the former Beatles engineer who was assigned to produce his album Songs From the Film (1986).

That effort, now seen as a pop-rock classic, was a critical success but a disappointment at the cash register, and Keene was never again given the star treatment from the majors. He spent much of the '90s slinging his inimitable, shimmering guitar stylings as a top-notch sideman to Westerberg and others, and lately has developed a strategic relationship with the post-Guided By Voices Robert Pollard. In fact, the two of them this year released an album as The Keene Brothers, with "talk," Keene says, of another such collaboration sometime soon.

So, for the aging fans of power pop (such as myself), it's possible to listen to Tommy Keene and imagine the genre is still a force because Keene has never stopped approaching it as something vital, as tracks on Crashing the Ether such as "Black & White New York" and "Lives Become Lies" amply demonstrate.

"What I'm doing is mining a niche here, really," he says in the basement of the 400, tending to a finger he has ripped open on stage, literally shedding blood to keep the power pop dream alive. "It's a consistent style, and when you hear my songs, you can be fairly certain of what you're going to get. I'm always trying to keep it fresh, though. I'm always trying to keep it interesting and keep it heading in different directions."

I just wish I felt more confident that the milieu, which has always lived in that special spot between the smart, the sweet and the rockin,' had much of a future. But you never know - maybe the kids of one of those old guys at the bar will pick up their dad's collectors' copy of Songs From the Film and feel inspired enough to rip off a series of power chords, jump up and down like a maniac, and sing about love like an angel. Only then, I fear, will power pop be safe.




Posted on September 29, 2006





MUSIC - Pandemophenia.

TV - NBC's Bicentennial Special.

POLITICS - Defund Private Schools.

SPORTS - Beachwood Sports Radio & A Blackhawks Proposal.

BOOKS - The Slave Who Escaped George And Martha Washington.

PEOPLE PLACES & THINGS - Flex You.

---




Search The Beachwood Reporter




---

Subscribe To Our Newsletter

---