Derailed by Arthur
Sometimes I just can't believe all the musical synergies and mysteries flowing all around me. No sooner do I mention Arthur Alexander, the semi-obscure early 1960s singer/songwriter who greatly influenced John Lennon with his soulful singing style - foolishly thinking it would be the last time such a reference would be made - than he surfaces in another context, this time in a (gulp) alt-country milieu.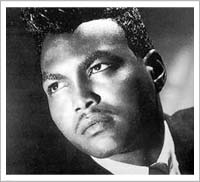 Alexander's version of "Soldier of Love (Lay Down Your Arms)," which got played earlier this month on Little Steven's Underground Garage syndicated radio show, was much beloved by the Beatles, who played it regularly during their Hamburg days and also performed it live on BBC Radio in 1963.
Now it has been covered by Austin honky-tonkers the Derailers. No not just covered, mind you, but made the title tune on their new album called, you guessed it, "Soldiers of Love" (Palo Duro Records). According to the band's Web site, Derailers lead singer Brian Hofeldt got hooked on the song when he ran into its original co-author, 67-year-old Rockabilly Hall of Famer Buzz Cason, last year at a gig.
Although he'd heard a Derailers record or two in the past, it was the band's live show that piqued Cason's interest. Back in the mid-'50s, before he wrote the evergreen hit "Everlasting Love," Cason was a charter member of the Casuals, generally regarded as Nashville's first rock 'n' roll band. "We weren't the greatest musicians, but we really put on a show," says Cason. "And seeing the energy of the Derailers that day just took me back - I liked the freedom and the reckless abandon they played with." The band's actual chops and sharp suits won him over, too. "That was the way we dressed, too!"

Meanwhile, Hofeldt was just thrilled to work with the guy who wrote "Soldier of Love"- a minor hit for Arthur Alexander in the early '60s that was also performed by the Beatles for the BBC (and featured on the Fab Four's 1994 Live at the BBC).

"I'm a huge Beatles fan, which is no secret, so that song of his was our common bond at first," says Hofeldt. "And then we got together and started writing, and really hit it off right off the bat. At the time we met, I had been kind of down, thinking, 'What are we gonna do?' But Buzz has the enthusiasm and energy of a teenager, and he really boosted me up and got me fired up again. I thought, 'Man, I better amp up a little bit to keep up with this guy!'"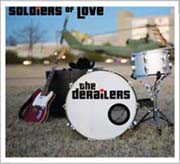 Cason ended up producing the Derailers' album, their sixth overall and first without founding member and former lead singer Tony Villanueva, who left the band three years ago to become a full-time man of the cloth. Hofeldt, who would spell Villanueva for a few songs in the past, has taken over as the new lead singer. The band decided that would be a better course than going out and finding a someone completely new.

To my way of thinking, the strategy has worked and it hasn't. On songs like "Soldier of Love" and "You're Looking at the Man," they're still able to reach that oh-so-satisfying spot somewhere between the Beatles and Buck Owens with Hofeldt making the connection. At other times, however, Villanueva's absence makes you realize there were always weak spots in the Derailers' act that the power of his smooth, smooth voice got you over.

By the way, another Arthur Alexander song done by the Beatles was "Anna (Go to Him)," a beautiful, weepy teen ballad on the group's very first album, Please Please Me. Again, Alexander's country-soul vocal stylings were mimicked expertly by John Lennon, who, according to some accounts, was so enamored of Alexander that he packed his home jukebox in New York with nothing but his records (it must have been a small jukebox because Alexander's output was modest: barely an album's worth of songs on Dot Records before his disappearance from the industry until years later).

Actually, he's perhaps best known as one of the co-founders of the Muscle Shoals, Ala., recording scene.

COMMENT: I couldn't let your piece about the Derailers covering ArthurAlexander pass without mentioning their cover of "Raspberry Beret" on the Reverb Deluxe album. In my humble opinion, it's a keeper.

- So-Called Austin Mayor




Posted on August 21, 2006





MUSIC - Chief Keef Changed The Industry.

TV - Vizio's Best Product Is You.

POLITICS - UIC: Soda Taxes Work.

SPORTS - More McCaskey Malpractice.

BOOKS - All About Poop.

PEOPLE PLACES & THINGS - Don't Let Your Pet OD.

---




Search The Beachwood Reporter




---

Subscribe To Our Newsletter

---