Def Leppard: Pyromania
Def Leppard has always been cool . . . at least for some of us.
"Cool" is clearly relative, evolving, cyclical and even, at times, simultaneously uncool. Simply put, cool means different things to different people: You may find, say, Kierkegaard cool while others find him uncool, or you may have no opinion about Kierkegaard, or you may have the opinion that, while Kierkegaard can be cool, it's definitely uncool for someone writing about a 1983 pop-metal album to start talking pretentious bullshit about existentialism, especially when he doesn't really know jack about it.
All would be valid positions. Similarly, you may not find The White Shadow, Ecclesiastes, wild raccoons, environmental law or commuters who are able to fall asleep on the El to be cool in the least, but someone out there certainly does.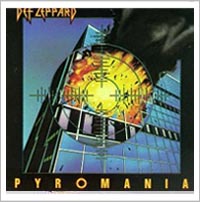 Yet, while we like or even love all of the things we find cool, that doesn't mean that everything we like or love rises to the level of cool. You might enjoy eating cottage cheese, but saying it's cool is another thing entirely. While it's fun to smash glass bottles on the sidewalk, I don't know how you would argue it's cool. Every guy I know enjoys lighting things on fire, though in most instances we have to admit it's not so cool - like the time my neighborhood friends torched the Smiths' garage door. Actually, I never dug the Smiths (I mean my neighbors, though I never dug the band either), so that was kind of cool. Which leads me to conclude that cool is all that stuff we find good and admirable, and suspect we're not capable of pulling off, replicating or becoming a part of ourselves. Like having the balls or brainlessness to torch your neighbor's garage, or like rocking out the way Def Leppard does.

Because cool is a matter of taste and judgment, like having an inclination toward pyromania or Pyromania, let me get personal for a second: Pyromania is the first album I got my hands on that my parents didn't really care for (it was a cheap cassette copied from a friend's cassette by putting a tape recorder next to his boombox; in the background, you could hear his mother barking at him to help with the laundry). That was pretty frigging cool for a 12-year-old wuss. Not that Mom and Dad found "Photograph" or "Foolin'" offensive or anything - they just thought Leppard sucked.

But that was fine: With even that somewhat lame level of parental disapproval, I could listen secure in the fact that, as the songs went, I was going to rock, rock til I dropped and rock, rock, never stop; I was going to experience the rock of the ages; I was going to know what it was like to come under fire; I was going to find it was too late, too late, too late for love; and I was going to demand action, action, action, not words. Some might dare to think of these soaring rebel anthems as mere hard rock clichés. I would never find such people cool. They are the most enticingly dreadful hard rock clichés conceivable.

Kierkegaard didn't ever write about coolness, to my incredibly limited knowledge. But I know he once observed that dread is "an alien power which lays hold of an individual, and yet one cannot tear oneself away, nor has a will to do so; for one fears what one desires." I know this only because it was quoted in something else I was reading this morning. Still, it jumped out at me, because dread is a part of being cool - there is something terrifying and alluring about going as far as the cool - and it's definitely a part of Def Leppard's sound.

Plenty of metalish bands have written catchy melodies buried underneath loud guitars and anguished, screaming vocals. All have bragged about their ability to rock out. All have presented themselves as bad boys and threats to social stability. Many did these things before Def Leppard. Few, though, have tried so hard to make themselves look cool and communicated such genuine fear and desire.

"Photograph" and "Foolin'" were huge pop singles because they have loud guitars and great hooks. But so did Whitesnake's "Here I Go Again" and Twisted Sister's "We're Not Gonna Take It." Now, however, those songs sound like '80s novelties because there's nothing truly intriguing about them, nothing distant or dreadful. They're not cool. Def Leppard's songs, meanwhile, inspire headbanging and singing in the shower while also giving you the creeps.

If the lyrics are riddled with hackneyed phrasing, their delivery, backed with gothic metal chords, leave you with a sense of impending disaster in tracks like "Die Hard the Hunter" and "Comin' Under Fire." The last song on Pyromania is the most eerie of all: "Billy's Got a Gun" is, on one level, little more than a tired take on the old "I shot my baby" blues tale. Yet as it builds from possibility to probability to horrifying reality, you have to agree that yes, you can "feel danger in the air"- and then, suddenly, a voice stripped of emotion interrupts by calmly saying, "Bang." What follows is a strange drum roll and tape loop that couldn't bring the album to a more anticlimactic and weird end.

A couple years after Pyromania, Def Leppard's drummer, Rick Allen, lost his arm in an accident, and the band's techno-pop-rock that followed was, if pleasant in a sugary way, lacking in dark energy. Nirvana and the Wu-Tang Clan came around and acts like Def Leppard were recalled as cornball, big-haired '80s pop: Nothing we'd want to be, even if we did admit to liking it. Yet I'd argue this is just another reason Pyromania is still so unexpected, so surprising, and so thoroughly cool.

The time when this could pose as rebel music is so far gone that it's bizarre and difficult to imagine, and pretty damn thrilling, too.




Posted on October 16, 2006





MUSIC - Holiday Hullabaloo.

TV - WFLU-TV.

POLITICS - Bank Profits Soaring.

SPORTS - Chicago vs. Michigan, 1903.

BOOKS - Dia De Los Muertos Stories.

PEOPLE PLACES & THINGS - Chicagoetry: West Town Blues.

---




Search The Beachwood Reporter




---

Subscribe To Our Newsletter

---

---

---

Beachwood Radio!

---

Ask Me Anything!