Dave Dudley: Lonelyville
I never really thought of '60s country music icon Dave Dudley as a sensitive kind of guy. Most of his songs were rollicking odes to gear jammin' truckers and, as the decade progressed, turned awfully heavy on the pro-war flag-waving. I just assumed it was pretty hard to get in touch with your feelings when you're popping "little white pills" and constantly rhapsodizing about Ol' Glory.
So imagine my surprise when I found Lonelyville in the bargain bin. Dave Dudley's 1966 LP veers right off the turnpike from his usual formula of truck stops and hippie-bashing and gives us 12 songs of mostly crying-in-your-beer laments about, as the title suggests, loneliness. It's the achy-breaky Dave that I never knew even existed, so it's really cool to find this - but how well does it work?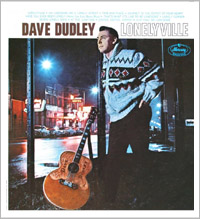 First off, it must be noted that there were two kinds of lonely country songs in the mid-'60s. One kind offered the sappy, syrupy sentimentality of "Nashville Sound" guys like Jim Reeves and Eddy Arnold. And yeah, Dudley was pretty well connected to that world, so about half the songs on Lonelyville are all-out, strings-and-smooth-background-vocals excursions into yawnsville. But the other, better kind of lonely country songs have dashes of sarcastic humor and bits and world-weary fatalism, and Lonelyville has those, too, four of them supplied by a then-unknown Tom T. Hall.

Dudley no doubt had earned a shot by Mercury Records to try something that would stretch his range a bit. His all-time truckin' hit "Six Days On the Road," which spent two weeks at No. 2 on the country charts in 1963, had landed him a big contract with the major label. He then produced two more charting songs right away, including another diesel fumes classic, "Truck Drivin' Son Of a Gun" in 1964.

Another, also from that same year, was Tom T. Hall's first songwriting hit, a number called "Mad," a clever tune about how the trucker guy is fretting about getting laid low by his angry little woman. It showed a sense of humor that, when coupled with Dudley's rock-ish arrangement, made for an irresistible combination. It immediately spotlighted Hall's gifts for comic storytelling and cemented a fruitful collaboration that the pair repeated throughout the '60s to excellent effect, and their team-up songs on Lonelyville provide its highlights.

Even on the slow, sappy non-Hall arrangements of the admittedly classic songs on the album, though, it's a rare opportunity to hear Dudley - who's so well known for his foghorn, deep-baritone, angry-guy vocals - croon like a mofo about heartstrings, wedding rings and emotional vulnerability. More like six days on the Oprah show.

Tom T. and Dudley first team on "At the Junction," which is the last song on side one (literally at a junction in the record itself). It's about a place where "losers and weepers meet," a spot where, if you stay there long enough nursing a beer at the bar, you'll eventually see everyone walk through the doors. There are roads out of the junction, but they all "lead to tears."

On "Time and Place," kicking off side two, the title refers to how a cheatin' woman will choose the time and place when she brings down the hammer to break your heart, and the singer tells his ex's new boyfriend that this will happen to him, too:

Remember she was once my love, but she grew tired of me
She's so wild and reckless, her mind changes with the breeze
Remember you were told about the way she operates
You suddenly find you're out of your mind
And she'll pick the time and place

It's hard to know the fatal blow could come at anytime
When someone that you love so has another love in mind
The sweet success you took from me will leave a bitter taste
For out of the blue you're suddenly through
And she'll pick the time and place

But the best song on the album is Hall's "Coffee Coffee Coffee," which Dudley delivers with a soulful elegance that I haven't ever heard from him before. It's a mid-tempo love song not about a woman, but about the bean. Really, Starbucks should be playing this constantly instead of some easy-listening McCartney crap:

Some men drink alcohol, some men drink juices from the vine
But as for me, I'm very simple, give me coffee every time
Make it warm and make it sweet, just the way my life has been
Give me coffee coffee coffee coffee coffee
And let me tell you, you have found yourself a friend

Cincinnati early in the morning a-waitin' on an old Greyhound
Oh, Macon, Georgia, right around noon time, aw bring that coffee pot around
Make it hot, make it now, put a little cream and sugar in
Give me coffee coffee coffee coffee coffee
And you have absolutely found yourself a friend

Ultimately, as to whether the album works, it's probably most indicative to note that Lonelyville failed to deliver a big hit - at the time, Dudley's first major-label release not to do so. It was a concept record, in which all of the cover songs ("Just Call Me Lonesome," "Oh Lonesome Me", "Have You Ever Been Lonely?") had the word "lonely" in them . . . except the Hall numbers, which indicates they had been written for some of Dudley's other efforts and were slapped onto this disc. So, the concept was thin and the add-ons turned out to be the best thing about it.

When all is said and done, Dudley's crooning is better than okay, and it's a kick to hear him at it. But, on the other hand, there's nothing terribly special about it. He does a slick and professional job, but so what? It's a good thing he got the big rig back on the road after running into that ditch just outside of Lonelyville.

-

From Tommy Cash to Blue Oyster Cult, Bin Dive reveals rock's secret history through the bargain bins and your old stack of records. Comments - and submissions - welcome. You must include a real name to be considered for publication.




Posted on January 20, 2010