Chicago In Song: Hobo Hub
In this installment of Chicago In Song, two great country singer/songwriters highlight one of the city's most characteristic portrayals in song lyrics - its status as a magnet for poor, often homeless, migrants. Call them tramps, hobos, bums or economic refugees, Chicago's continuing attraction to the country's (and the world's) down-and-out gets an artistic workout from Merle Haggard and Dwight Yoakam.
*
Merle Haggard/I Take a Lot of Pride In What I Am
Usually when we're talking about Chicago's place of infamy in song lyrics in this space, it's something along the lines of poverty, despair or some other offshoot of misery. One rich vein in that category that we look for the first time here is the city's longtime identification with homelessness, courtesy of Merle Haggard and his 1969 classic, "I Take a Lot of Pride in What I Am."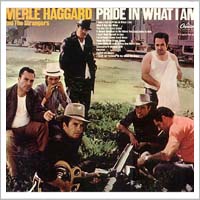 Haggard was really hitting his stride when his album Pride In What I Am came out that year. It was a follow-up to possibly his best album ever, 1968's Mama Tried. Pride, Haggard's 10th LP, yielded only one hit - our subject song. But it was nevertheless very important for the development of his gentler, more folky side, with tunes like "The Day the Rains Came" and the other hobo-themed cut on this disc, "Somewhere on Skid Row," slowing down the Bakersfield Express to a thoughtful, twangy crawl.
"I Take a Lot of Pride In What I Am" itself bears a strong resemblance to John Hartford's "Gentle On My Mind," which made a star of Glen Campbell two years earlier. It's got pretty much the same tempo and kind of joyous banjo finger-picking as Hartford's original. But that's not to say it's a rip-off. Haggard's vocal style ensures that even in his uptempo songs, he's still got an enigmatic hard edge that makes you feel like he's only smiling through his tears. The lyrics tell the tale of a man who, though homeless (a "hobo"), still has worth and value, at least to himself. It starts off in Chicago:
Things I learned in a hobo jungle
Were things they never taught me in a classroom
Like where to find a handout
While thumbin' through Chicago in the afternoon
Hey, I'm not braggin' or complainin'
I'm just talkin' to myself man to man
This ole' mental fat I'm chewin'
Didn't take a lot of doin'
But I take a lot of pride in what I am
Why does Haggard talk about "thumbin' through Chicago" when he could have just as easily referenced New York, the Deep South, the dusty rural Midwest or a million other places? Probably because of the city's long-held reputation as a center of hobo culture and homelessness in general, which gained currency in the Great Depression because of its status as a rail hub.
According to a comprehensive book on the subject from the University of Chicago Press, Citizen Hobo: How a Century of Homelessness Shaped America, author Todd DePastino says that West Madison Street for many years was considered the Hobo Capital of the World and was the "main stem" for several generations of first "tramps" (1870s), then "hoboes" (1910s through '30s) and finally "bums" (1940s and '50s). In an interview with the publisher, DePastino said that homeless men hitchhiking through Chicago were mainly on the "job circuit."
"The hobo job circuit began and ended in cities like Chicago," he said. "Hoboes found jobs in harvest fields, construction sites and mining and lumber camps through the employment agencies (what hoboes called the 'slave market') that lined West Madison Street and other urban neighborhoods in the Midwest and West. The concentration of railroads in Chicago made West Madison the busiest labor exchange in the nation. After a job finished, hoboes either hopped a freight to another worksite - often on a tip - or headed back to the main stem, where they took the 'stake' they had earned and 'laid up' for as long as their stake held out."
On the West Madison "main stem," DePastino says, hoboes could be themselves, making it one of the first and biggest countercultural gatherings in the country, a precursor in many ways of the hippie culture that would later come to Chicago with such legendary and traumatic results.
"The main stem was where hobo culture really came to life," he says. "On the job and on the road, hoboes were subject to their employers, the police or the 'railroad bulls' who patrolled the rails. But on the main stem, which was segregated from residential neighborhoods and mainstream business districts, hoboes were relatively free to flaunt their countercultural way of life. In addition to employment agencies and cheap hotels, the main stem hosted saloons, brothels, theaters, gambling houses and the like."
Sounds great. I wonder if Nelson Algren ever wandered down to the main stem from Ukrainian Village? My considered opinion is "yes."
Dwight Yoakam/South of Cincinnati
In the Dwight Yoakam song "South of Cincinnati," Chicago takes up its role as a place that Southerners would rather not be, a theme that has been used by such countrified artists as George Jones and the Marshall Tucker Band, among others. In fact, Dwight hates it here so much he's this far from ending it all.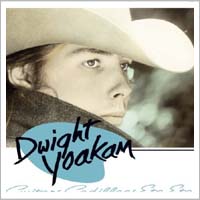 From one of his earliest albums, 1986's Guitars, Cadillacs, Etc. Etc., it's a bitter but beautiful lament about the mass migration from Yoakam's home state of Kentucky to more northerly places such as Chicago to find jobs in the early 1980s, when a recession hit Kentucky that sharply reversed a trend toward double-wide-trailer-home prosperity that marked the previous decades. From 1980 to 1983, according to the Kentucky Housing Corp., the state was hit much harder than the rest of the country by the recession, and in many ways, "the state has never been the same." The result was a tremendous amount of out-migration to places like Chicago, and a pretty much permanent end to good times experienced there in earlier years, much enabled by easy financing for mobile homes.

In Yoakam's song, the singer is one of those poor Kentucky souls who had to leave home looking for work. In it, he looks back with wistful, rose-colored memories of his former home, and the woman he loves that he had to leave behind.

If you ever get south of Cincinnati
Down where the dogwood trees grow
If you ever get south of the Mason Dixon
To the home you left so long ago

If you ever get south of the Ohio River
Down where Dixieland begins
If you ever get south of Cincinnati
I'll be yours again

After setting up the "Kentucky = Good" paradigm, Yoakam then establishes its "Chicago = Bad" counterpoint, mixing it with a more personal conflict in which the woman of the song won't write to her Chicago man for 14 long years because of misplaced pride.

She pulled the letter from the pages of her Bible
And a rose pressed inside the Book of Luke
For fourteen years she'd write each day but keep it hidden
Refused to even speak his name but still she wrote

At a cold gray apartment in Chicago
A cigarette drowns inside a glass of gin
He lies there drunk, but it don't matter drunk or sober
He'll never read the words that pride won't let her send

You can't help but notice how in Chicago song lyrics, no one ever lives in nice homes. It's always cold, grey apartments. And the singers are almost always nearly suicidal about being here. Well, I suppose it's more interesting to sing about the South Side than Schaumburg. But still, if you go by popular song lyrics, there is no one in Chicago who is not a drunken, miserable wreck.

Anyway, one of the great things about Dwight Yoakam is his authenticity. Indeed, as one of the inventors of the "new traditionalist" school of modern country music, he has - more than nearly anyone else - established a still-kicking countertrend in Nashville away from its distressing and mind-numbing conformity. "South of Cincinnati" is a good example of that. In the early 1980s, Kentucky lost nearly 14 percent of its manufacturing economy in just over three years. While all of that pain and massive displacement was happening, corporate-controlled country music was largely in denial, abetted by President Reagan's assertion that the recession "(did) not look very deep."

But real folk artists like Yoakam noticed, and gave voice to hard times that penniless Southern migrants were bringing to Chicago, a tradition that has stretched back to the city's founding.

*

Comments? Write Don.

*

From "Cubs 'N Roses" to "The O'Hare Blues," Chicago In Song explores the myriad and fascinating ways our fair city is portrayed in popular music. Check out the whole collection.





Posted on February 1, 2010