Chad Everett: All Strung Out
This album has been lumped into the Movie Stars Making Godawful Vanity Projects bin, along with the likes of William Shatner rapping Dylan and Jayne Mansfield reading Shakespearian sonnets. And for the most part, that's probably where it belongs. But even though it's most assuredly crap, Chad Everett's All Strung Out has a couple of worthy moments when the hunky TV doctor starts singing about his love for God in a few original gospel tunes that roll out in a kind of whitebread, early '70s version of Ike Turner on a Jesus bender.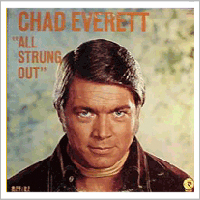 Everett made this record in 1971 for MGM's Marina label. He was at the height of his hunkiness, in the second season of a six-year run playing Dr. Joe Gannon on the incredibly popular CBS show Medical Center. He was kind of eternally in a battle with James Brolin of ABC's rival Marcus Welby, M.D. over who was the sexiest primetime soap opera doctor. They even had a political rivalry. Brolin, of course, was and is one of Hollywood's most outspoken liberals. Everett on the other hand, is a religious Republican who in 1972 said on the Dick Cavett Show that he viewed his wife as his property and so infuriated Lily Tomlin that she stalked off the set.
Politics aside, though, for my money the sexiest '70s TV doctor nod goes to Chad. Purely because he had the hands of a sturgeon.
And the singing voice of your Uncle Bill, as it turns out. I'm not going to kid you, his earnest attempts to carry a tune on All Strung Out are, for the most part, mildly to acutely cringe-inducing. It's not that he has no singing voice at all, a la Shatner who merely does spoken-word versions of songs, karaoke-style, against an instrumental background. No, it's much worse than that. He can sing just well enough to make you feel very, very sorry for him. If only they would have had Simon Cowell back then . . . none of this would have happened.
I'm sure it seemed like a good idea that MGM recruited Nino Tempo to produce this album and write a bunch of the songs. Tempo, of course, was the '60s pop sensation who teamed with his sister, April Stevens, to write and record one of the biggest hits of the Kennedy years, "Deep Purple." Tempo was a talented musician who had a knack for writing sweet, laid back pop-rock - along the lines of Gerry Goffin and Carole King - that captured the innocent zeitgeist of the pre-heaviness days of rock 'n' roll. Another of Tempo's hits along the same lines was 1966's "All Strung Out," which he has Chad cover on this album.
But given all his talent and studio smarts, Tempo couldn't hide the fact that Everett has a rather monotonous and laconic singing voice that lacks range and emotion. And it didn't help that the first song on the album really, really makes that clear - it's a note-for-note remake of the Righteous Brothers' "You're My Soul and Inspiration." At least, the notes in Tempo's lush arrangement are the same. Not so with Everett attempting to imitate Bill Medley. Ouch. "What good am I?" indeed. And the funny thing about this song is that you'd think, because was an actor, Chad would nail Bobby Hatfield's spoken-word part in the tune, where he goes " . . . I'm telling you, honey, you're my reason for living . . . " But no. That sucks, too.
Then there's "Ain't No Sunshine," which was a then-current hit for Bill Withers. Probably the best thing on this album was the group of (uncredited) black female backing vocalists Tempo assembled for this effort. If it has any saving graces, they are it. They take the signature part of this song, the endlessly-repeated "I know, I know, I know . . . " while Chad cools his tonsils. Thanks, Nino.
Then he launches into "All Strung Out." It's interesting to hear how Tempo updated his song to turn it from a Phil Spector-ish kind of '60s pop song into a big-sounding '70s soul number, again with the back-up gals pretty much taking center stage along with a funky-ass bass line.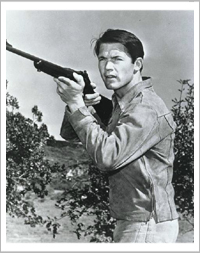 We next segue into what is the meat of the album, more Tempo-written songs that all are lushly produced with horns and swelling strings and most of which have that kind of early '70s lite rock sound. Chad's best moments are when he's channeling John Sebastian from "Daydream," a kind of low-key, loping and easy-going vocal delivery that may have worked if only he could have . . . ummm . . . acted better. It's pretty obvious he doesn't mean it when he sings, "I didn't see the hang-ups when I met you, I thought I'd taste your love and then forget you."

Oh, and if you're truly a child of the '70s and thrilled to Donny Osmond's pre-pubescent "Hey Girl," I urge you to stay far, far away from Chad Everett's version here. It's beyond bad. It's truly creepy.

But then, surprise, things pick up dramatically when, on side two, we get to a pair of rollicking gospel numbers! This is where Chad lets go and means what he sings. "Jesus Hammer" and "Man From Nazareth" are by far the best songs on the album, as the back-up singers combine with a smokin' horn arrangement that comes kind of close to Ike & Tina's "Proud Mary." On the choruses of these songs, Chad's vocals are nicely buried into the mix and he becomes part of the chorus - right where he belongs. I'd say these songs also compare very favorably to, say, "Put Your Hand In the Hand" by Ocean, which was also a big inspirational-rock hit in 1971.

It turns out Chad Everett, much like fellow Republican Pat Boone, was pretty much a soulless white guy when it came to music . . . until he started singing about the Lord. Maybe if Dr. Joe Gannon had prayed more on Medical Center, Chad would have been inspired enough to once and for all kick that commie Brolin's ass.

*

See what else is in the Beachwood Bins. Bin Dive explores rock's secret history through the bargain bins and your old stack of records. Comments - and submissions - welcome. You must include a real name to be considered for publication.




Posted on March 30, 2008