Buddy Greco: Buddy's Back In Town
Old Rat Packers never die . . . they just move on to new generations of admirers who are perhaps better able to separate the obnoxious cultural norms of the era from the music itself. God knows I wasn't able to do that for most of my life. "Swinging" meant drunken, sexist escapades to me, gotten away with only because they happened at a time when women were not yet in a position to say "no." But damn, thanks to the bargain bins, it's clear to me now the Rat Pack crowd made some awe-inspiring sounds, none more so than Buddy Greco, who's swinging furiously on 1960's Buddy's Back In Town, part of which was recorded live at Chicago's Le Bistro.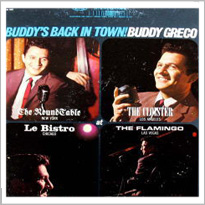 Greco, of course, wasn't an "official" Rat Packer, or even a "semi-official" one like Joey Bishop. He was actually more of a Rat Pack colleague, someone who ran in the same club circuit and Las Vegas circles, shared an attitude, but, in all honesty, was more talented than any of them. He sang like Sinatra did when the Chairman wasn't phoning it in, but unlike Frank and all the other Rats, he was also a tremendous musician. As a piano player with Benny Goodman in the post-war '40s and for years afterward, his jazz-pop style was considered groundbreaking and has been credited with being among the more important precursors of acid jazz.

Above all, Greco was hard-driver whose vocal style was very, very aggressive for the era. He didn't fool around on his songs. Rather than "belting" them over, however, he did what Sinatra and Sammy Davis Jr. did, only more consistently - focusing his violence in certain spots where it worked the best to produce a satisfying emotional ebb-and-flow within the stories that made up the songs. He fused the Rat Pack's swaggering schtick with a jazz combo sensibility, and was also smooth at throwing in witty asides and topical humor puns. And right there to remind us, on the back of the album, is a long testimonial from Swingin' Sammy himself, babe.

Dig the man:

"Buddy Greco's world is a swinging world. Whether he sings a great standard, whether it's an instrumental with the trio or a big band, whether he is singing the music or writing the music or writing the arrangement (for he is prolific in all three departments), the world of Buddy Greco is a very, very swinging world.

"Now, you folks take this record out, put it on your hi-fi stereophonic big tweeter-woofer type set and lean back. You'll tumble headlong into Buddy Greco's swinging, wonderful world."

I actually did just that and, my God, it did swing. Buddy's Back In Town was the third in Greco's Epic Records period, following My Buddy in 1959 and Songs For Swinging Losers earlier in 1960. It was recorded in four club venues: Le Bistro, The Roundtable in New York, The Flamingo in Vegas and The Cloister in L.A. These Epic albums cemented Greco's longest-lasting reputation as an expert interpreter and updater of the Great American Standards catalog. In fact, probably his most famous recording was his version of "The Lady Is a Tramp," first done on vinyl on My Buddy - also a live album.

Buddy's Back was recorded with just he and his trio, but according to some sources, Epic later added in horns and big band instrumentation. Greco unleashes his talents on such standards as Cole Porter's "You're the Top"; "One For My Baby" by Johnny Mercer and Harold Arlen; the Gershwins' "They All Laughed"; and "You Make Me Feel So Young" by Mack Gordon and Josef Myrow. No matter how familiar the tune, Greco delivers a classy, jazzy punch-up to it.

For instance, on "You Make Me Feel So Young," his piano phrasing is playful and powerful, and his climactic vocal sequence soars into the outer limits. On "This Could Be the Start of Something Big," he puts an oh-so-hip emphasis on the word "dig" in the lyric:

You're walkin' along the street, or you're at a party,
Or else you're alone and then you suddenly dig,
You're lookin' in someone's eyes, you suddenly realize
That this could be the start of something big.

On slow numbers like "You Better Go Now," Greco croons like nobody's business, a smooth warble that Dino would be proud of, as a tinkling xylophone gives a subtle counterpoint. He brings it all back home at the wrap with "One For My Baby," a generally somber tune that he turns into a blast-your-socks-off tour de force.

Greco, at age 81, is still at it. He and his wife, Lezlie Anders, a few years ago opened the apparently successful Buddy Greco's Dinner Club in Palm Springs, moving there after all those years in Las Vegas. His time in SIn City came to an unfortunate end in 2002, when the couple filed for bankruptcy (second item), claiming up to $1 million in debts, including unpaid taxes of $96,000, and a total of $55 of cash on hand.

The other interesting thing about Buddy's Back In Town, is, of course, its Chicago connection. Where Rat Packers went, the Mob and the FBI were never too far behind. One of the venues Greco performs at on this disc, Le Bistro, was a Rush Street entertainment hot spot in the early '60s. Its manager was Irving "Buzzy" Rifkin, who according to documents released with the Warren Commission report, told the FBI in 1963 he was a close friend of Jack "Sparky" Rubenstein, a.k.a. Jack Ruby. Rifkin told the FBI that he met Ruby when they were students at Marshall High School and that, as far as he knew, Ruby was not connected to the Mob, but was a "legitimate" dealer of "low cost merchandise."

Oh, yeah, there was that time Ruby brought in a "seven- or eight-year-old Negro boy" for whom he was acting as "a manager." The kid even got onto local TV for whatever it was that he did. And, oh yeah, Rifkin did "refer female friends" to Ruby's Dallas night club, and "vice" versa. There was that. But I think Buzzy and Sparky (dudes!) were just talking about the tourist trade, maybe even Buddy Greco fans.

*

From Tommy Cash to Blue Oyster Cult, Bin Dive reveals rock's secret history through the bargain bins and your old stack of records. Comments - and submissions - welcome. You must include a real name to be considered for publication.




Posted on August 27, 2007





MUSIC - Spring Awakening Wake-Up Call!

TV - Exclusive! Rahm's New TV Gig.

POLITICS - The Political Odds UPDATED.

SPORTS - NHL: CTE Not Our Fault.

BOOKS - Stan Lee, Flawed Hero.

PEOPLE PLACES & THINGS - Chicagoetry: I Am Iron Man.

---




Search The Beachwood Reporter




---

Subscribe To Our Newsletter

---

---

---

Beachwood Radio!

---

Ask Me Anything!