Wings: Back to the Egg
Back to the Egg was Wings' swan song and, to me, always a criminally underrated record. But because it followed a true stinker, 1978's soft-boiled London Town, the then-all-powerful handful of music critics of the day were predisposed to hate it, and to use it as an example of how the icons of '60s rock were going corporate in an era when punk was redefining tastes.
And to be sure, there are a few fine examples of Paul McCartney's soon-to-come descent into Michael Jackson-esque wankery here (such as "Baby's Request" and the syrupy "Arrow Through Me"). But for my money, Back to the Egg is Macca's final burst of unbridled rock energy, a fascinating coda to the part of his songwriting oeuvre that produced some of the late-period Beatles' hardest-edged songs, like "Helter Skelter," "Birthday" and "Back In the USSR."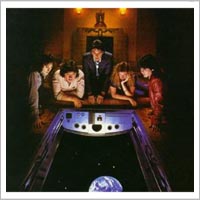 Perhaps if the critics had known what was to come for McCartney and Wings, they would have been a bit more forgiving. But as it was, they savaged Egg. Rolling Stone, for example, called it "a veritable slide slow of dead-end flights of fancy and yesterday's dross," "a slipshod demo by an aimless band," and blasted McCartney for "gross indulgence" and "shameless indolence."

Yes, but did you like it? Holy crap. I get the feeling that the Wings of 1979 were the recipients of all the emotional disillusionment of the Baby Boom generation's dawning realization that their lives were never going to be as cool as they once were. And yes, Wings deserved some of that criticism. After all, McCartney's tenure leading the band reflected both the good and annoying sides of the '70s: the happy-face vacuousness as well as the still-echoing traumas of the turbulent days of rage. But all that baggage, I think, prevented folks at the time from appreciating just how well Paul, Linda and Denny Laine really did in their stated goal of making an album that, well, rocked old school. They were about three-quarters successful with Back to the Egg, which, given the context, is like batting 1.000 to me.

There were a lot of high expectations for Back to the Egg - it was McCartney's first album after ending his legendary association with Capitol Records in the wake of London Town's flop, and Columbia Records had signed him to a big, well-publicized contract, highlighting how rock 'n' roll had become a huge corporate industry and alienating purists. But I didn't know any of that in 1979. I loved Back to the Egg, because it mostly rocked. To me, it was a ray of hope that the ex-Beatles' connections to their roots weren't totally severed.

Of course, the biggest and best song on Egg is "Rockestra Theme," an all-star studio assemblage of '70s rock greats such as Pete Townshend of the Who, David Gilmour of Pink Floyd, John Paul Jones and John Bonham of Led Zeppelin, and about a dozen guys on horns and timpanies, along with the then-current Wings line-up of the McCartneys, Laine, Laurence Juber on guitar and Steve Holly on drums. It's an unfettered instrumental explosion of seminal beats and primal urges, with the only vocals being Macca's wrenched "noww, noww, nowws" at the end. Awesome.

(The Rockestra was recreated later in 1979 live onstage at the four-night benefit Concerts for the People of Kampuchea, swelling to 25 performers, including the soon-to-be-dead James Honeyman Scott of the Pretenders, Elvis Costello, Robert Plant and Dave Edmunds. Also, those Rockestra performances were the last times a grossly overweight John Bonham was seen before his death - and just to be doubly-drummer strange, Keith Moon was to have joined Bonham for the gig but himself died just a month earlier; his place was taken in Rockestra, as in The Who, by Kenny Jones.)

The rocking continues on "Old Siam, Sir." God, I love this song. McCartney has been criticized by everyone from John Lennon to Joe the Mailman for writing puerile lyrics, and to a certain extent that's true. But what gets overlooked so often is his flair for humor and subtle social commentary. His perspective is not angry, which has always frustrated those who wish he'd wield his power for a specific cause. Instead, it's human and emotional - sometimes emotions are sappy, sometimes not. His writing reflects that entire range. The lyrics of "Old Siam, Sir" were fascinating to me because they gave voice to something I was only dimly aware of - the experience of Asian immigrants in England.

In a village in Old Siam, sir,
There's a lady who's lost her way
In an effort to find a man, sir,
She found herself in the old UK.

She waited 'round in Walthamstowe
She skated 'round in Scarborough
She waited 'round in Walthamstowe
She skated 'round in Scarborough

In a village in old East End, sir,
She met fellow who made her real.
Took her rushes to show, this man, sir,
He met her dad at the wedding meal.

You know, you can call him silly, but there weren't many mainstream rock stars in 1979 who were singing about multiculturalism. This was ahead of its time. Another thing highlighted in this song is McCartney's scream-singing style, a unique power that infused so many of the hardest-rocking Beatles tunes and which virtually disappeared after Back to the Egg. Now that I look back on it, I think it was that more than anything else which marked the end of McCartney as someone who had any real musical relevance to me going forward.

Another gem on this album comes from Laine, a fabulous singer, guitarist and songwriter who's never, in my estimation, gotten his proper due. His "Again and Again and Again" is one of his best-ever compositions for Wings, featuring soaring folk-rock vocals and snappy drumming from Holly all built around a catchy, uplifting song structure. These three songs alone make Back to the Egg one of the best Wings albums, to my mind. But we're not done.

"Getting Closer" was probably the closest thing to a hit song the album had, and it's also a memorable tune. McCartney was given crap for the lyric, "Say you don't love him, my salamander." But why? So what? The lyrics in this song are, I think, enjoyably obtuse and absurdist. Their lack of a literal (read: political) meaning is not a big deal to me, because the song rocks out. Especially the last third where it breaks into a hypnotic, minor-key instrumental repeating pattern, turning the song from a well-crafted pop tune into a darkish rocker.

And then there's "Spin It On." This is nothing short of a breakneck, balls-out punk rock song, like Maaca's answer to the changing times. It amazed me that someone who was supposedly so "out of it" could not only do a punk song, but do it better than anyone else if he so chose. But of course, for the most part, he didn't so choose, which I agree is a shame. "Spin It On" is a barely-under-control slab of rock 'n' roll energy, again with some very amusing Dada-esque lyrics:

Went off to the field with a missionary's zeal
For the life of a wife of a farmer.
Her cousin couldn't get on down to the village hall,
Her cousin had to spend the night on a pinball table, memories.

Spin it on, don't stop,
Take it back to the top,
'Cause I've got another lot of love for you.
That's why I wanna spin it on.

Again, what's not to love?

And finally, one more truly rocking song off Back to the Egg is "So Glad To See You Here." This number is also performed by the all-star Rockestra, and features possibly the last "screaming" vocal by McCartney anywhere. Never again would he couple that beautiful, bluesy screech with a hard rock song. It was indeed the end.

I think Back to the Egg was meant to be a significant career shift for Wings, a move to the roots-rock side of the road in response to the Doc Marten-ed kick of punk rock. But all that changed when, just as he was launching a tour to back the album, McCartney got busted for pot in Japan. That incident pretty much ended Wings, as Denny Laine decided he'd had enough and finally bailed. This only cemented Back to the Egg's place as an overlooked album.

*

See what else is in the Beachwood Bins. Bin Dive explores rock's secret history through the bargain bins and your old stack of records. Comments - and submissions - welcome. You must include a real name to be considered for publication.

-

1. From Karen:

I've been messing around trying to learn to play "Ram On" on the ukulele and, weird coincidence, put on Back to the Egg today, and then found your article. I agree. Always loved this album, but was embarrassed by peer pressure from declaring it. Thanks! I think your analysis is right on.





Posted on January 29, 2008