« January 2009 | Main | March 2009 »
February 28, 2009
The Weekend Desk Report
We sleep all week just to make sure we've got fresh eyes come Saturday.
Market Update
Hey, not all the news is bad these days; Losing Shirts posted soaring profits this week and analysts predict a possible boom in the Pot to Piss In sector.
Go Blue Line
Mayor Richard Daley this week made a controversial move, naming Richard Rodriguez head of the CTA. The hiring already has its critics, many claiming he's not entirely on the level. For his part, R-Rod says he plans to completely overhaul the transportation system, even if it means recruiting a whole new set of riders.
Senior Class
R-Rod was unlikely to get much help from Illinois Governor Pat Quinn in retaining his senior class. The governor this week backed down from a plan to restrict the free-rides program majestically championed by his predecessor, Ramrod Blagojevich. Quinn stated he knows of at least one Illinois senior who still needs to get home.
March Badness
It's not quite Selection Sunday, but we at the Beachwood Reporter Weekend Desk feel we can confidently predict two of the top seeds in the 2009 NCAA Bastardball Tournament. Perennial favorite Robert Mugabe looks set to head this year's Despot section. He'll face stiff competition from a Financiers bracket overloaded with talent. While it's a tough call to pick a front-runner, we're pretty sure no one at AIG has bankrupted a freaking Nobel Peace Laureate recently, so we're going with Bernie Madoff.
En-Suing Crisis
Finally this week, it seems no one is unaffected by the worsening economy. Even the once-ferocious dinosaurs are taking a bath.

Posted by Natasha Julius at 8:51 AM | Permalink
February 27, 2009
Getting Roland To Go
Things the cool kids can do to get Roland Burris to resign from the Senate.
1. Nancy Pelosi can have a party and not invite him.
2. Pat Leahy can trip him in the lunchroom.
3. Dianne Feldstein can sit in the back row and make belching noises whenever he talks.
4. Chris Dodd can hang a sign on his back saying "Ima Dork".
5. Chuck Schumer can snap towels at him in the Senate locker room.
6. Frank Lautenberg can send him 30 pizzas.
7. Maria Cantwell can stand him up for the prom.
8. Bob Casey can give him a wedgie.
9. Russell Feingold can put a frog in his locker.
10. Mary Landrieu can blackball him from the really cool prom committees.
Failing that, they can hold meetings somewhere else and not tell him.
Additional suggests from the Beachwood Nation:
11. Someone could lock him in a locker before a big vote.
12. Or knock his "senate" books out of his hands.
13. Dick Durbin could not let him sit at his table at lunch by saying it was a "senior" table only.
14. Smoosh his Twinkies at lunchtime.
15. Steal his clothes out of his locker while he's in the shower.
16. Swirlies!!!
17. Someone pass a fake note to Nancy Pelosi from Roland that says, "Do you love me? Check yes or no."
18. Whoever's sitting next to him can keep raising their hand and whine, "Mrs. Pelosi! Roland's copying off meeeeeee!"
19. Light a pack of firecrackers while he's in the stall taking a dump.
20. Take apart a Bic pen and use it to shoot spitball gumwads into his hair.
21. Push him into the woman's rest room every chance they get.
22. Someone pass a fake note to Nancy Pelosi from Roland that says, "Do you love the stimulus bill? Check yes or no."
23. Tell him there's a better job awaiting for him as the President of Freedonia.
Contributing: Marty Gangler, Scott Buckner, Marilyn Ferdinand

Posted by Beachwood Reporter at 9:12 AM | Permalink
TrackNotes: Off Track, Online
The old adage that before OTBs you had to go to the track to get a bet down on a horse has a huge qualifier attached: legally, that is. Of course, at least for most of the history of horse racing as we know it, it's always been possible to place bets through a bookie, outside the purview of the track.
Betting off-track has taken two huge leaps in the last 40 years. The first was in the late 1960s when satellite television of racing pictures could be and was beamed to simulcast centers both on- and off-track. In fact, way back in 1968, entrepreneur Merv Griffin had the genius to purchase Teleview Patrol, the nascent satellite service then developing its business of providing racing transmissions to Las Vegas and to the new Off-Track Betting industry. The Griffin Group still owned the service at the time of his death in August 2007.
The second was, you guessed it, the Internet. And especially mass access to broadband Internet speeds. While porn on the internet irritated the people it always irritates, tenets of free speech and expression were basically in place. In the case of gambling, everyone from the state and federal governments to the racing industry itself were befuddled by the capabilities of this new technology.
Of course, European and other foreign visionaries - many of them offshore in the Caribbean - jumped on the World Wide Web wagon and built sites to take any and all bets. Some of them were quite shady, as in not paying off your wins. And as with all gambling in the United States, horse wagering is often at the mercy of politicians or corporations with an agenda. George W. Bush's minions tried to ban online wagering of any kind midway through his second term - by a quiet attachment on a huge transportation bill - but the horse industry (there's a lot of great racing in the old red states) and rational members of Congress got it killed. It did become illegal, however, to bet offshore.
We now have what is called Advance Deposit Wagering, which allows many Americans to wager on their computers or via phone. There is a quiltwork of states that allow it or don't. It's illegal in Illinois, but nobody here does anything about it. It's easier to sign up than it used to be, so who has time to worry about the corporate machinations?
The major corporate maneuvering in the past few years was the purchase of Winticket.com by Churchill Downs Inc., which rolled its TwinSpires.com into that system. They then reached an agreement in 2007 with Magna Entertainment's XpressBet.com to, basically, try to corner the ADW market by bundling the biggest and best tracks in the nation. YouBet.com is another large service. Television Gaming Network, one of the earliest and most successful ADWs, has been struggling lately, though it still has the most customers and takes the most betting handle. It was formed originally through exclusivity agreements with many of the California tracks. But as outfits like Magna and Churchill got their acts together, TVG was strangled out of some of those agreements. Let's put it this way, instead of showing Magna's Santa Anita in the winter, TVG was beaming Hawthorne - and with little enthusiasm. In fact, in 2008, as the squabbling heated up, you couldn't tell the players or tracks and ADWs without a program. Trouble was, the program was also out of date.
TVG has its own cable and satellite channel, TVG, and TrackNet Media, the joint Magna-Churchill venture, owns and operates Horse Racing Television (HRTV). Natch, their availability is not consistent across cable or satellite systems. Also, TVG looks ripe for a buyout by TrackNet.
TwinSpires, XpressBet and YouBet, all licensed out of Oregon, are available in Illinois. TVG is not available here.
The New York Racing Association runs its own service, but only within the state, and there are some other services in the east taking bets from very highly defined territories.
The fan comes in last in these matters, including having Florida signals withheld for a while last year by Florida horsemen is a dispute over rates. Signals for several tracks were even withheld from Las Vegas in late January and much of February as the tracks tried to squeeze more money out of Sin City. They did wait, the nice guys they are, until the World Handicapping Championships were over first.
Obviously, for a player living in the middle of nowhere, online wagering is a godsend. Here in Chicago, it's a decision to be made. Remember, playing on the computer is one thing, but these services also offer phone wagering. As the Illinois OTBs take 2.5 percent right off the top of every dollar you win, phone wagering becomes a very attractive alternative.
The services I am aware of or play are slightly different. I once had an XpressBet account and tried to rekindle it for this column. But it's third-party identity verification service - one of the big three credit bureaus - couldn't verify me so I aborted. I don't need that noise. I have accounts at YouBet and TwinSpires. TVG is not available here.
Here's a rundown:
TwinSpires:
* No monthly fees.
* Free video streaming
* One TwinSpires point earned for every dollar bet, except two dollars for wagers at CDI tracks Churchill Downs, Arlington Park or Fairgrounds
YouBet:
* $10.95 per month / $19.95 for unlimited service.
* Extra-ticket items include more than one video feed at a time, more horse statistics, and various levels of race replays.
* One bonus point per dollar wagered
XpressBet:
* No monthly fees.
* Wager $8k per month for three months and you're a VIP and able to earn bonus points good for conversion into wagering vouchers.
TVG:
* $19.95 per month or 25 cents per wager, no matter the amount, up to $19.95 in a month.
* One point per dollar wagered.
* Points redeemable for vouchers or merchandise.
My preference between TwinSpires and YouBet is TwinSpires. YouBet has a very serviceable platform. They both open video in a new window, so you click back and forth. All video is as you see it at the OTB. But YouBet's interface is cluttered with a lot of small type, making it difficult to find pertinent information like minutes to post. To wager, yet another small window opens and you progress methodically through your wager. On TwinSpires, you click out of the video to the wager window and everything is laid out in front of you, such as track, race, type of wager and wager amount. They're using the old WinTicket software, which I always did like. One thing you have to be careful about it betting too much on a race. You don't "see" your money as readily, so that is a temptation.
One tremendous feature of these services across the board is that they keep a detailed record of your wagering, whether it's online or by phone. It takes great discipline to keep track of your bets on paper and then do the math to find out how you are doing. With an ADW, you can break out or sort your bet records in a number of ways. They do the computing for you!
I recently took a Saturday and played exclusively at home on the computer. I get TVG via satellite, but because of agreements or restrictions, however you want to term it, TVG was not showing the tracks I was interested in that day. So I was led to discover the really cool video of TwinSpires. Get into video mode, and thumbnails of all tracks it covers run across the bottom, so you just click there to switch tracks. A black theme in the browser window enhances the quality of the picture, and picture size and resolution is adjustable. The system is fast and clean, provided you have a good broadband connection. Between the two services, I should have my tracks covered.
But there is one huge drawback to computer playing at home: The fun of betting along with the gang at the OTB or the track. No "who-do-ya like?" No one to complain to after a tough beat. No talkin' politics or sports. Like I said, we're lucky to have all of these opportunities to play, but getting together with the crew is most of the fun to me. So I'm glad I know where to drop a dime to get in a wager. And legally,
On the Triple Crown Trail
There wasn't much going last week, vis-a-vis the Derby or the Triple Crown. I did mention Dunkirk last week and in the meantime, much of the racing press has gone gaga over him. The racing media is pretty funny, I think. It's always about the latest sensation - what have you done for me lately? And their Top Whatever lists all start looking the same about now. I wish I could be so sure.
This week, it's the 63rd running of the Fountain of Youth Stakes (GII) at Gulfstream Park. You've got luminaries such as Tim Tam, Kauai King, Spectacular Bid and Thunder Gulch as winners in this race, but this edition looks to be the best since I've been playing.
The race is wide-open with a full field of 12 and should be quite bettable. This One's for Phil is your morning line favorite at 3-1 (nice), with Notonthesamepage right behind at 4-1. Phil had a 30-point improvement in his Beyer Speed Figure in his last race, prompting Andrew Beyer, their inventor, to question in a column if or what substances the delightful Richard Dutrow may have given him. This race will answer a lot of questions. Bee Cee Cee is the morning line longshot at 30-1. The wiseguy horses will be Theregoesjojo (15-1ML) and Quality Road (8-1). Capt. Candyman Can will also take money, he being on the steady improve. Can Beethoven bounce back and improve after a bad post and trip in the Holy Bull?
Who do I like? One thing to remember about these three-year-olds, is that they are very young and still improving and physically maturing. It's not uncommon to see a big leap forward. There are a lot of big speed figure jumps in the past performances. My measly few bucks will gravitate toward Quality Road, James A. Jerkens's trainee with John Velazquez riding. I will also wager Taqarub, Kieran McLaughlin's horse. Why Taqarub? Pick one: Rider Alan Garcia is so hot and so good that I've been betting on just about anything he's riding; the horse began the new year with a nice improvement and a win in the Jimmy Winkfield at Aqueduct; the jockey-trainer combination is 27 percent successful with a return of $2.01 on every dollar bet; his workouts are quite nice.
Heading west, we have another field of 12 for the Grade 3 The Sham. Sham was a great horse with just one teeny problem; his main adversary was Secretariat. Nevertheless, Sham was impressive in finishing second to Big Red in the Kentucky Derby and the Preakness.
The main contenders here are The Pampelmousse (it's a restaurant hard by Del Mar) and Ventana. They look tough to beat. The main contender should be Take the Points. Todd Pletcher had him entered in the Fountain of Youth, and one big reason he's running here was the opportunity to get Garrett Gomez to ride. Pletch's go-to guy, John Velazquez, is committed to Quality Road in Florida. Mr. Hot Stuff will challenge, as will Tiz True. Also keep an eye on Lifeline.
Stormin' Normin'
It was nice to see that the reminiscing in tribute to Norm Van Lier last night on Comcast was so right-on accurate. I had the pleasure of calling Stormin' a friend. Not as tight as some others, but a friend. He was exactly as you have ever seen him. Honest, nice, caring and not afraid to be those things. He'd ask about your family and mean it. His wiring included a "competitive" chip, and most of his stories had that theme, whether is was competing in sports or just to make it in this world. He expected excellence and effort every bit as much as Mr. Jordan. That comes with every great defensive player. He may have scored 8,770 points, but he probably prevented at least 20,000.
Watching the trampoline event in the last Olympics, Norm didn't dig it because the guy bouncing wasn't competing against another person, just the tramp. What was the point? He could also fill out a mean NFL confidence pool, once doing it as a favor for a young lady who then won it. He could tell you why a team in any sport was winning or losing a game, deep beneath just the points on the scoreboard. And he was never, ever rude or short with a fan or a tourist looking for an autograph or a picture. Because he was so genuine, he'll end up a guy we miss a lot more than some others.
And we cannot forget Johnny "Red" Kerr. I understand he was a pretty genuine guy too.
-
Thomas Chambers is the Beachwood's man on the rail. He brings you Track Notes every Friday. You can reach him here.
Posted by Beachwood Reporter at 8:48 AM | Permalink
The Five Dumbest Ideas of the Week
1. As Bobby Jindal said (and said and said), "Americans can do anything."
Meanwhile, NASA held a scrap metal sale this week.
2. Poor maligned Bobby Jindal, the newest face of the Republican party. Actually, that face isn't new at all. (It's a baby boomer thing, you wouldn't understand.)
3. Stop the press. Michelle Obama has arms.
4. Okay, everyone who wants to see Nadya Suleman with her clothes off raise your hand. Alright, now please stand in the line with the people who want to see Joan Rivers run a lemonade stand and Andrew Dice Clay bedazzle a leather jacket. (Hickory dickory dock, your career has sunk like a rock.)
5. Speaking of Octomom and the star of The Apprentice, financial wizard Donald Trump took a shot at her this week. And gave Rihanna some helpful advice that would have been visible to Stevie Wonder from outer space.
-
Look for Stephanie Goldberg's Five Dumbest Ideas of the Week in this space on Fridays.
Posted by Beachwood Reporter at 6:21 AM | Permalink
February 26, 2009
The [Eric Zorn] Papers
A response to Eric Zorn's recent criticisms of yours truly:
ZORN: Perpetually seething self-styled visionary Steve Rhodes has weighed in again at his nearly ad-free site to crow about how mainstream folks just don't get it like he does:
Limiting access to your product is madness. Thanks to the Internet, the Tribune now has more readers than it's ever had in its history. And the ability to know something about those readers to tell advertisers, to tailor editorial content, to create community, to interact, and to sell services and products to is virtually unlimited . . . reporting should never have a price tag put on it - not in a democracy. There are many other revenue streams to tap; just look around. [People should not be] eager to declare Internet advertising dead without having a clue about Internet advertising, which is only in its infancy and slowed only by the recession and stupidity, not because of ineffectiveness or lack of revenue-generation.
REPLY: 1. My business model has nothing to do with monetizing Beachwood Reporter. I rarely try to sell ads. I don't see a general interest news site that would depend on local ad markets to be sustainable; I never have and from the start that hasn't been my model. So Zorn's childish swipe is entirely misplaced.
2. Zorn might have noticed that I'm hardly the only one who doesn't think mainstream folks get it. Zorn might stroll over to the Tribune's own digital operation and he'll find far more people who agree with me than him.
3. I'm not a self-styled visionary, I'm a real one. In college I told my favorite journalism professor that those of us at the college paper enjoyed reading the AP wires so much that AP should offer them to the public. I suggested a bar where you could go read the AP wires on, you know, computer screens. That was 1985. Now, truth be told, it has nothing to do with being a visionary and everything to do with paying attention. I read then, and read now, journalism trade magazines, journalism research, journalism reviews - you know, keeping up with my industry - as well as business publications. Most of my fellow journalists do not. (In fact, the Tribune's new managing editor, Jane Hirt, recently advised her newsroom to "stop reading Romenesko." Yes. Please stop reading the nation's central repository for news, criticism and thought about our business. You might get some ideas!) Even back in the 80s, and probably before that, the mantra was that the industry had to change. It never occurred to me that the industry would be so recalictrant - or that we'd still be having these kinds of arguments in 2009.
ZORN: Rhodes would have more credibility on this if he were showing us how it's done. He tells us to "create community" yet doesn't allow readers to comment directly on his predictable screeds; he tells us we don't have a "clue about internet advertising" when, to look at his site all these years, he appears to be incapable of attracting it or tapping into enough of the "many other revenue streams" to pay people who write for him.
REPLY: I have created a community - one that I think is far more loyal to me and the Beachwood Reporter than to Eric Zorn and Change of Subject. Allowing comments has nothing to do with it. I don't allow anonymous comments unless I judge someone having sufficient reason to remain anonymous. Zorn argued with me about this when I founded Beachwood. I wondered why the standard for a newspaper should be any different online than in print; he argued that allowing anonymous comments was like talk radio allowing "Bob from Bolingbrook" on the air. Ironically, I was the one arguing in favor of upholding traditional standards. Also ironically, Zorn has instituted a new commenting policy, declaring that his old one was "an experiment that didn't work." In fact, the trend in newspapers is toward limiting commenting. Further, the Beachwood Reporter is not a blog. It is a website. I'd love to have blogs on it someday, but right now we don't; I don't have time to moderate comments all day. (Zorn also complained at the time about my use of "blind links," arguing that readers shouldn't be sent to links unless they knew what they would get there, which doesn't work so well when links are punch lines or you want to drive readers somewhere after arousing their curiosity; links can be excellent footnotes, but they can be more than that too.)
As far as advertising and revenue streams, again, the Beachwood Reporter proper is not a model and I've never claimed it to be, though it is part of a larger model I'm confident in. But this idea that a start-up ought to be able to accomplish what some of us suggest for a behemoth like the Tribune is folly, though I suppose it's flattering. I haven't even done search engine optimization on Beachwood, and I just got around to slapping some Amazon ads onto the site. I'm working on something much larger, and I've at least gotten far enough to be able to make face-to-face pitches on my grand plan to deep-pocketed investors that few others can reach. I'm not promising success, but even if my plan fails, that doesn't invalidate the principles that the rest of the Web world find working.
And in terms of paying writers, my writers are partners in this venture, not hired hands. We've all gone into this together with the hopes of creating something and having a lot of fun. And unlike anyone who writes for Huffington Post, whose business model is to never pay writers, my contributors know that we'll all share in the rewards equally when they come. What's so wrong with that? On the other hand, I don't remember Zorn complaining about TribCo executive salaries - or those of top editors - over the years while the company was kicking people to the curb.
ZORN: Look, I'm not touting the bundled subscription model as a panacea and I see pitfalls all around. But the smug, spitball shooters like Rhodes are so far offering only trite generalities, airy proclamations and dismissive adjectives (he seems to favor "crappy").
REPLY: Far from trite generalities, I've offered facts and examples for years now. This complaint reminds me of Neil Steinberg a couple years ago complaining to Chicagoist that my criticism didn't go beyond "he sucks." In fact, my criticism is specific, and almost always to make a larger point. Judge for yourself. (And Neil, we all know that you don't "love" to have "valid" criticism and you're never "bored when it's about me.") Airy proclamations? Hardly. I'll leave those to the Obama propagandist unwilling to face facts. And forgive me for using a word like "crappy." I didn't spend my college years playing adjective practice.
This is the second time Zorn has called me a spitball shooter recently. I think I'm shooting something far larger than spitballs. The first time was his challenge that I "show us how it's done" instead of complaining about the sorry state of reporting in Chicago and in the news industry in general. This is sort of like the baseball player telling the sportswriter, "You try hitting a curve ball!" It's nonsense. But the fact is, I'm not preaching anything to anyone I haven't done myself. Zorn pretends that I don't have 20 years of experience behind me. Let me fill him and everyone else in. In college, we at The Minnesota Daily took down an administration. You can look it up. I was the managing editor. Our investigation into a really expensive fence erected outside the president's mansion led to a series of stories tracing back to a slush fund operated by the university president and expenditures made from that fund without approval of the Board of Regents. We used FOIA laws extensively; we took the university to court to force the release of an NCAA investigation into our athletic department; we also conducted our own investigation which we were able to publish side-by-side that went further than the NCAA. On the business side, I created a simple system for accepting late ads in places where we would have been running wire copy (as was pointed out to me by a business-minded techie recently, websites should have sales people calling advertisers - within ethical guidelines - saying, "This story is exploding, do you want to place an ad next to it?" Yahoo notifies websites if they are going to make it to Yahoo News so their servers don't crash; do websites notify their sales staffs?), and persuaded the business department to dedicate an ad salesperson exclusively to our Arts & Entertainment section, doubling revenues there in two quarters. SPJ named us the nation's best college paper that year, and the Extra (it was spring break) we published when the president resigned was named best the nation's best spot news coverage.
If you must know more, I'll go on. (Feel free to jump down to the next point, this gets long because I want to make it perfectly clear.) In my first job in Lakeland, Florida, at a paper that loved to hire Minnesota Daily folks because of our experience and penchant for using public records laws, as well as our aggressive reporting, I changed the way the police beat operated. Random crime and even murders became briefs while I began writing stories about policy issues and investigating our law enforcement agencies. After the first month on the beat I had already broken stories about wrongdoing in the sheriff's office, the police department, and the local office of the state highway patrol.
It was there that I told our managing editor about a "bulletin board" that the St. Paul Pioneer Press was publishing containing reader comments. I was also struck by that paper's use of photos in classified ads - you could see a picture of the car on sale, for example. As happened throughout my newspaper life, I was roundly ignored.
In my short (nine months) time at a newspaper in Waterloo, Iowa, I opened police records for the first time in the history of the newspaper and the police department. It was actually a much bigger battle persuading my editors that the police reporter should be looking at, you know, police reports, as I had done in Minneapolis and Lakeland, and as should be routine anywhere. Before that, the police reporter would go to the station every day and a public information officer would "read" him or her "the news." Later, at the Tribune, they were similarly disinterested in seeing police reports. (My best story there was one I broke a story about the fire department lying to the state about its members going through the annual required training; I feared I was going to get fired because the city editor there, who later became the managing editor, was pals with the firefighters. She shook her head at me one day about how we just had totally different mindsets about being a reporter.)
At Northwestern University, I created my own graduate degree in newspaper management, combining classes from Medill, Kellogg, and the speech communications department, which granted me permission to pursue such a program (Medill didn't, but I had never liked Medill much anyway) and which had a course in media economics that I wanted to take. I also earned a "master's certificate" in telecommunications policy through the speech communications department; telecommunication is what they called "online" or "digital" back then.
While at Northwestern, I worked at the Newspaper Management Center (now the Media Management Center). I worked mostly with Michael P. Smith, now the director, then a senior editor from Knight-Ridder, on several consulting projects, such as the Local News Ideabook, which was sent out to editors of all Knight-Ridder papers; the Newsroom Brain, a guide to newsroom ethics and decision-making; and a report on managing Generation X that we presented to the top 75 managers at Tribune Co. Truth be told, me and Mike used to get jazzed reading the Newspaper Research Journal. So, you know, I don't just make this stuff up out of my head. (Mike sent me a note a few months ago about an interview I had given to an industry publication from around that time that he had come across, in which I suggested college students "go digital" as part of their job-seeking process, remarking on my prescience. The truth is, that's where new jobs were being created.)
During that time I also sat through every pricey executive and middle-management seminar the management center put on, right next to editors and publishers from around the country - including, at one, former Tribune editor Ann Marie Lipinski (whom Zorn recently suggested be named to temporarily hold the U.S. Senate seat currently occupied by Roland Burris.)
Next I spent 18 months at the Tribune as a reporting "resident" (also known as "an intern whom we keep around for an extended period of time to save money on reporting costs") and encountered the most dysfunctional newsroom I have ever seen to this day. My experience wasn't unusual; those of us who had experience in other newsrooms were aghast. Our editors were not at all interested in looking at police reports or pressing for public documents, or covering neighborhoods or suburbs filled with poor black people (the Tribune made a business decision not to do that, according to former editor Jim Squires), or even cover congressional or aldermanic campaigns. Don't get me started.
After that I freelanced for five years for a variety of publications, many of them national (believe it or not, doing education stories for USA Weekend was quite fun and interesting, and I got to travel); most of what I did during that time was reporting for the bureau that Newsweek used to have here. I traveled widely around the Midwest for Newsweek, including for my role on the reporting teams covering Andrew Cunanan and the Unabomber. From my vantage point, Newsweek was a breath of fresh air. I'm sure folks there had their complaints, but from where I sat it functioned as smoothly as one could expect. If Zorn wants to, he can check in with John McCormick, the Tribune's deputy editorial page editor who was my boss at Newsweek; McCormick will confirm, I'm sure, that I talked a lot back then about how the newspapers did their jobs and how I thought they ought to do their jobs instead. As the magazine's Midwest bureau, we had about a dozen newspaper subscriptions from out of state, and I read them all.
From there I went to Chicago magazine, where for six years I wrote long magazine stories mostly about politics. I can assure everyone I was never afraid to ask a tough question. The story I did there that got the greatest response - all positive - to perhaps anything I've done in my career was called "The Case Against Daley." Longtime veterans of the Tribune assured me that my profile of Lipinski perfectly captured the newsroom and its culture. I think I could have done that story better, but whatever. For two years I wrote the weekly online media column "Press Box," which garnered quite a bit of attention not just in Chicago but throughout the industry. (While doing that column I was amused that some Tribune staffers accused me of holding a grudge against their paper at the same time some Sun-Times staffers accused me of criticizing them in order to get hired at the Tribune. This is our small and self-absorbed media.)
For the last three years, I have presided over The Beachwood Reporter. Nobody has to read me here; I don't have the safety of a newspaper or magazine around me. But people do. I'm often invited to speak on panels about new media and journalism, including national SPJ panels, traveling to Los Angeles to help give a citizen journalism seminar, speaking to the annual convention of the International Newspaper Marketing Association, just to name a few, because frankly, there's been too many to remember. In just my first year with Beachwood, the magazine for the American Society of Newspaper Editors included me and my site next to a bunch of newspaper sites as examples of those "doing it right." Among other accolades.
So, unlike the claim also of Robert Feder that I was a "self-appointed media critic," (see Feder Frenzy) as opposed to, say, Richard Roeper being a self-appointed movie critic (okay, Ebert-appointed, but you get my point), I'm well-versed and well-studied in my subject matter. What credentials am I missing?
ZORN: I've asked the skeptics, the Trib-bashers and the web triumphalists to point us to examples of robust local online news operations that are self-sustaining through advertising - that pay salaries that will attract people to journalism as a career and have the resources to do more than plod from meeting to meeting to crank out copy.
So far they have not pointed me to an example of what I, too, hope someday to find. I'm just not sure that, with all the competition and all the fragmentation in the online audience, we're going to see that any time soon.
REPLY: Robust local online news operations aren't going to spring up fully formed. But the examples I've listed are indeed going concerns. Online sites have been included in the Pulitzer Prize competition for the first time this year. It takes time. But newspapers should already be there; they have squandered their tremendous advantage, and I don't think anyone in the industry seriously argues otherwise. And why does a concern have to be self-sustaining through advertising? There are other models. Maybe MinnPost and other new sites are the newspapers of the future. Would that be so wrong?
ZORN: And in the interim between now and the day when smart people like Steve Rhodes finally grab the reins from all the clueless, stupid people he believes are in charge, we're going to continue to lose major media outlets unless someone figures out a way to translate these admittedly large audiences into slide-reversing revenue.
RHODES: I think your own digital operation is starting to figure it out. But yes, clueless stupid people have been in charge for a long time. Do you really want to argue that point?
ZORN: Rhodes tells us that we should be -
focusing on unique content, which means local reporting first and foremost, though not merely conducted in the same crappy traditional way . . . The ability to reach readers through e-mail newsletters presents a new content form with new advertising models that follow. And that's just the start of it . . . if you want to know more you have to sign a Non-Disclosure Agreement, hire me as a consultant, or better yet, invest in my company.
Consultant, consult thyself.
REPLY: A nice attempt at being clever, but still wrong. [THIS JUST IN RE: E-MAIL NEWSLETTERS: "Still Unsexy, Still Selling."] I started my site with barely a penny in my pocket three years ago. Should I be staffed up already? I'll tell you this: if all the folks at the Trib and Sun-Times waiting for me to make money on my own before joining me would join me now, we'd get there a lot quicker. But there are success stories all around, even right here in Chicago. Real Clear Politics, FiveThirtyEight, MLBTradeRumors.com, Pitchfork Media, Ars Technica, to name a few - these were all born right here. I always use CTA Tattler as a prime example of how beats should now be covered as blogs. Adrian Holovaty won $1 million from the Knight Foundation to build EveryBlock. I'm not a fan of citizen journalism, but let's see where Geoff Dougherty takes the Chi-Town Daily News with the grant money he's won. Is it the Tribune? No. But the trend lines are going in opposite directions. (You know, if you crunch all those together, along with the Beachwood, Gaper's Block, the Windy Citizen and a few other top sites, you've got a helluva newspaper. Real metro and investigative reporting could follow.) In business, you have to innovate or die. Clearly, the innovation in news is coming from outside the sphere of traditional media organizations - which, after all, are merely companies that will live and die just like other companies. I've always found Zorn's reflexive defense of traditional media and its practitioners - Amy Jacobson, for God's sake - curious. I don't understand it, except insofar as the clubby world of Chicago journalists who like to think they're upholding some grand tradition just by association with something that was hardly grand to begin with doesn't like to see their authority challenged or diminished. Still, as one of the first mainstream journalist to embrace the online world, Zorn should know better. Like I said, Eric, I think if you stroll over to the Tribune's digital side you'll find more folks there in agreement with me than you. And those folks are not only the Tribune's future, but really the Tribune's present.
-
What Zorn was responding to:
* My first piece on the Chicago Journalism Town Hall.
* The comments I received from my readers in response to that piece.
-
The Beachwood Tip Line: Be it dead or alive.
Posted by Beachwood Reporter at 8:32 PM | Permalink
The [Thursday] Papers
UPDATE: 10:40 A.M.: See below for new town hall comments and NBCChicago.com links.
7:17 A.M.: Just to get started, here are some comments I received via e-mail in response to my first piece about the Chicago Journalism Town Hall. I didn't receive any negative comments; I'm not editing selectively. I am deleting names and other identifiers to protect commenters, many of whom are frustrated inside their own news shops. In some cases I have edited the comments ever so slightly for punctuation and clarity. I'm still planning on a second installment and some other related content, as well as some semblance of a regular Papers column this morning, but first I have to do some work for NBCChicago.com. Back soon.
COMMENT 1: Digging your analysis of the Town Hall meeting, especially juxtaposed to Saturday's deal in the downtown Medill newsroom. I have fond memories of that place, so I would have loved to have been at both sessions to experience exactly what you endured.
Here's a funny aside from [DELETED TO PROTECT IDENTITY] years in TV at the Tribune station in [CITY DELETED TO PROTECT IDENTITY]: Absolutely none of my work is accessible on the web. None. If I want to prove to you I was a broadcast journalist via Google, all you would see is my [YEAR DELETED TO PROTECT IDENTITY] reporting as a Medill student in Chicago and Washington, D.C.
Why you might ask? Because my station, [DELETED], didn't know how to code the online site to show up in Google searches. I asked them if maybe we could get that changed so our TV stories would be accessible online and we were denied permission by Tribune overlords. Then last summer they upgraded the site and everything from before the upgrade was lost, and as a result, [DELETED] years of TV stories done by yours truly vanished without a trace. Nothing online, nothing on YouTube.
Not a newspaper story per se, but emblematic of the problems with old media. That said, working for an online company [NAME OF EMPLOYER DELETED] is a refreshing change of pace. And I can assure you there is a ton of money still to be made in digital, especially on the advertising side, because of the high level of audience engagement provided by rich media advertising.
COMMENT 2: Never saw so many asses chewed out so artfully . . . wonderful job . . . looking forward to part 2.
COMMENT 3: I've been in newspapers for only 10 years and I'll admit I joined the curmudgeon camp early in this conversation about the ails of the industry. But I'm not stupid, at least I'd like to think that. As much as I want to hang on to the papers, I don't see them sticking around. For me, though, the reason is they've reduced and marginalized their product, perhaps making advertisers second-guess spending money for something not even the owners fully stand behind.
Sure, they're losing money (cost of print and press is high), but so are a lot of businesses.
Tribune/Sun-Times could have managed a hybrid version much better. Keep a print edition, but for special features/investigative pieces. Use the Web to steer readers to print, too.
COMMENT 4: Server problems or no, your discussion of the journalists that time forgot at the Town Hall was masterful. It should be required reading at every J-school.
COMMENT 5: You were reading my thoughts. Or I was reading yours. You are right up and down the line.
Bless Ken Davis, but I was struck immediately when he described the facts of the Internet as 'sobering.' Sobering? The internet is intoxicating! It's the best thing to come along for journalism since, well, the printing press!
Amen.
COMMENT 6: What's stunning is that as late as 2005 (when I was still working at a major metropolitan newspaper), all I ever heard was how newspapers had to "compete with the Internet." The Internet, upper management continued to essentially proclaim, is the enemy. That's absurd, of course. When newspapers kept saying they had to figure out how to compete with the Internet (some still are, I suppose), they should have been saying "We are the Internet, too! And we're going to figure out how to own it!" Instead, newspapers lost a prime chance to transfer their credibility and their "brand" to the Web. As a result, when you think of Web news, nobody thinks of the Tribune or NY Times. They think of Huffpo or Politico or (pretty soon) Global Post. Newspaper owners could have created these ventures if they had only accepted the fact that 25 percent profit margins were no longer a reality!
In late 2005 (!!!) when I was interviewing for a newspaper job in Chicago, a top editor (!!!!) told me that the print edition of the newspaper would always be king and would never go away because nobody would ever figure out a way to make advertising profits via the Web. My response: "Well, other industries are making money on the Web. Newspapers will figure out how to do it, too. They have to. Maybe not as much as they made 10 years ago, but newspapers will find their profit niche on the Web." The top editor just shook his head in complete disagreement.
I don't consider myself a visionary or even a progressive sort when it comes to the future of newspapers or journalism. However, newspapers as we knew them died because of a combination of ignorance and denial.
COMMENT 7: Meantime, Eric Zorn seems all to happy to supply more evidence why he might be the most irrelevant and absent-minded columnist in town (save for Carol Slezak, perhaps). The next cogent and legitimate thought he has will be his first.
REPLY: I'm totally against the cable-TV model Zorn proposes, in part because we've already been there: it was called AOL. Back in the day, you had to subscribe to AOL to get access to the online Tribune, New York Times and other publications. We're not going back.
Besides that, limiting access to your product is madness. Thanks to the Internet, the Tribune now has more readers than it's ever had in its history. And the ability to know something about those readers to tell advertisers, to tailor editorial content, to create community, to interact, and to sell services and products to is virtually unlimited.
Finally, as I've said and written before, if you want to try to put your crappy feature stories behind a firewall, go right ahead. I recommend not writing them instead and focusing on unique content, which means local reporting first and foremost, though not merely conducted in the same crappy traditional way. And this reporting should never have a price tag put on it - not in a democracy. There are many other revenue streams to tap; just look around.
(See my comment below for another irritable trap Zorn falls into . . . people eager to declare Internet advertising dead without having a clue about Internet advertising, which is only in its infancy and slowed only by the recession and stupidity, not because of ineffectiveness or lack of revenue-generation.)
COMMENT 8: Hey Steve - was waiting with bated breath for your take on the Sunday shindig, wanted to go but couldn't make it - you killed it.
COMMENT 9: God DAMN, man. Marry me, do it right now.
COMMENT 10: Thanks for your take on it. I regretted not going until I read it. Sounds like too much whining took place at the meeting. And how many folks from the gay press and minority newspapers were invited to the panel?
COMMENT 11: Good to read your take. I was disappointed as well.
I couldn't believe the discussion went on for 2+ hours before anybody mentioned the real problem - really the only problem: old-media advertising doesn't work on the web. As you point out, there's nothing wrong with the content. We just need a better business model. That will almost certainly mean a much, much leaner cost structure (boo-hoo). But it will also likely mean a new revenue structure. What we've tried so far is putting content on the web and parking brand ads around it - which worked fine in print for a few centuries but clearly doesn't cut it in the interactive world (for a bunch of well-known reasons). Once somebody finds a better way - and somebody will find it - it's game on.
Sunday only confirmed for me that the answer is not likely to come from the ranks of journalists - who flock to print-centric solutions like nonprofits and paywalls - although that's not to say we shouldn't be thinking about it.
REPLY: I actually disagree with this commenter. Here's what I wrote back:
"I would say that you can't just put up your existing print content and park ads around them and expect that to be the model. The new business model is a new CONTENT model . . . the nature of content can and should change on the web in all sorts of ways, and that creates new ad models too . . . I don't know why everyone is so quick to declare online advertising dead except as wish fulfillment; to the contrary, it's just in its infancy! We don't even know what metrics to use yet, advertisers are still unknowledgeable about the web, sales forces largely aren't selling it, and the new media products still haven't been developed . . . the Web model is every bit a new content model as anything; the advertising model will follow, but the only thing different about the business model itself will be a wider array of revenue streams available."
To expand and reiterate, you can't just put your old content on the Web and think you can slap ads around it and that's that. Your old content, by and large, sucks. And it's not reported, written or edited for the Web. You might as well slap radio transcripts on the Web and think you're now doing Internet journalism; you're not.
I said something similar when I was on a panel a few months ago before the annual convention of the International Newspaper Marketing Association. One leading light in the industry said after a series of presentations - which also included Geoff Dougherty of the Chi-Town Daily News, Philip Meyer, John Lavine (whom I worked for part-time at the Newspaper (now Media) Management Center while I was a graduate student, and some Wall Street dude - that the new business models that me and Dougherty were supposed to talk about didn't materialize; we were talking about new content models. Dougherty said that if you do great work, a business model will follow. I disagree - strongly. My argument, expanded upon in a follow-up e-mail to which I never received a reply, was that new content models are new business models. Here's why.
When you present your news on, say, a blog focused on a beat, let's say something like the CTA Tattler, you create advertising opportunities that don't exist just by slapping up a series of articles. As the content form changes, so do the advertising forms; and digital advertising is obviously far different than static print advertising. Even the ability to reach readers through e-mail newsletters presents a new content form with new advertising models that follow. And that's just the start of it. (I mean, if you want to know more you have to sign a Non-Disclosure Agreement, hire me as a consultant, or better yet, invest in my company.)
The content is as much of the problem as anything else. You still have to serve your customers - readers. And you can't serve your customers over the Internet if you aren't putting frickin' links in your story, just for starters. I mean, that's the most basic level before talking about more sophisticated ways to further hard-core journalism that performs its public mission and, as a bonus, is profitable.
The very way information is presented on a website is different than it is in a newspaper - or on TV or on the radio, etc. And that changes the way that information ought to be reported, written and edited. In the case of journalism, it changes it for the better. And for advertisers, those changes are for the better too.
COMMENT 12: I'm a big believer in the Internets. As much as I love physically holding a newspaper or magazine - both are old school.
This whole newspapers vs. the Web reminds me of back in the day when film editors were resisting the move to non-linear editing systems. the guild had meetings about the importance of updating your skills and it was met with such resistance. But, what everyone finally discovered is that the Avid and Lightworks were just TOOLS. For about a year, computer geeks got editing jobs, but producers/directors learned quickly that button pushers are not editors and while they can do cool effects, they didn't know squat about story, character development, etc. In the meantime, film editors got their heads out of their asses and learned the new tools. The job market is tougher, but those systems are getting cheaper and cheaper so studios have more money to make more films. It's working itself out, if that makes any sense. I think it mirrors what's going on today in journalism.
-
That's all for now, I will return.
-
COMMENT 13: Steve, your take on the journalism town hall (which, by the way, was such a pathetic, navel-gazing name to give that event) is totally on target. Journalists who say the Internet is stealing their fun are not paying attention to how much MORE fun reporting can be when you can get your stories in front of people faster, use more links and more media forms, and actually converse with readers over a story. Year ago I took a pad of paper and a pen to cover a story; now I take two cameras, a laptop and a mobile phone, and those aren't burdens, they're better, sharper tools that make me far better at showing the story instead of telling it. I'm glad you were there as the voice of iconoclasty. I opted to skip the whole thing. It sounded more like a wake-without-alcohol than a town hall meeting to me.
COMMENT 14: [The Return of Commenter 4] I'd like to add one more thing that seems forehead-slapping obvious (but I don't quite recall where I heard it first, so I can't attribute it do any one person): the Internet will not supplant print newspapers. It's an add-on. Nothing ever dies anymore, new technology just pushes the last one into a niche. Vinyl records are still around. Some video producers are still sticking with Betamax tapes. There's still an AM band on your car radio and you'd be mad if there wasn't.
I thought it was an interesting point and made me feel a little less gloomy about the state of affairs in print journalism. Now, if I could get the car stereo to download the paper in the morning and read it to me during my commute . . .
REPLY: I think your car stereo already does that - it's called WBBM!
COMMENT 15: Steve, I thought of you when I read ["Schaumburg turns off red-light camera near Woodfield," chicagotribune.com] because the article quotes an "Alex Rodriguez who lives near the intersection." The automatic link generator that you so love provides a link to a bio of the baseball player!"
-
On NBCChicago.com
* Burris II: Son Stars in Scandal Sequel
* Smile, Your Car Is On Candid Camera
* The 5th District's E-Mail Wars
-
CATE PLYS NOTE:
Cate's Open Letter to the Illinois African-American Community is republished today on the Tribune's Op-Ed page (with credit to us, of course). I'm told Carol Marin also mentioned it last night on Chicago Tonight. We love Cate Plys. Please love her as well!
-
The Beachwood Tip Line: Don't be a tool.
Posted by Beachwood Reporter at 7:14 AM | Permalink
February 25, 2009
Fantasy Fix: Traders and Closers
NBA teams kept trading right up until the last minute before the trading deadline last week - or at least three of them did: our hometown Bulls, the Sacramento Kings and the New York Knicks. What those trades yielded for the Bulls is a debate only just getting started, but a few fantasy effects have since become clear.

To recap, the Bulls traded Andres Nocioni, Drew Gooden and some baggage to Sacramento for Brad Miller and John Salmons. They also traded the inactive Larry Hughes to the Knicks for Tim Thomas. So, who are the fantasy winners and losers?
Big Winner: Spencer Hawes. The power forward/center for Sacramento was a chic sleeper pick in many drafts, and started out strong, but he's been limited by injuries and the older Miller's continued toughness in earning playing time. Now, in the last week with Miller gone, Hawes has averaged nearly 40 minutes per game and hasn't wasted it, scoring in double figures four games in a row and averaging about 10 rebounds per game in that same stretch.

Moderate Winners: Miller, Thomas, Hughes, Nocioni, Gooden. You could argue Miller was brought in more to mentor Joakim Noah than take playing time from Noah, Tyrus Thomas and Aaron Gray, but Miller is still very tough and versatile, and will get his shots. Thomas may have been a disaster during his first tour with the Bulls, but he'sbbeen proving them wrong ever since, and should get his playing time this time around. Hughes gains just by coming off the inactive list. I don't know if he figures enough in the Knicks attack to come off waivers, where he remains in most leagues, but he should be watched closely in the week ahead.

As for Nocioni and Gooden, they probably will benefit because with Salmons and Miller gone, Sacramento needs two more scorers to figure in the mix with Jason Thompson and Francisco Garcia.

Big Loser: Luol Deng. This is not for certain, but Salmons has been outstanding at small forward this year. He also plays shooting guard and could challenge Ben Gordon for minutes, but Deng with his nagging injuries and inconsistencies is the more likely victim as Salmons presses to stay on the floor.

What do some of the other fantasy experts have to say this week?

* Bleacher Report has some analysis of last-minute trades, too. They think Salmons owners will lose out because their man will not be starting in Chicago, but I'm betting he'll have more minutes than Deng within a week.

* ESPN's Eric Karabell has a humorous ode to Golden State coach Don Nelson and how his team's lack of defense (allowing 111 points per game) helps so many opposing players beef up their offensive stats.

* And, finally, I'm linking to FantasyBasketball.com primarily because there is a pretty interesting poll there asking who you think the biggest loser - among players - is following the trade deadline. Three of the four choices named are the results of the Bulls' trades: Miller, Salmons and Thomas. That's interesting because Miller and Salmons came from a last-place team and Thomas came from a squad that has been fighting to stay out of the cellar most of the season.

Fantasy Baseball Round-Up
Draft time is drawing closer. I've got a draft for my head-to-head league coming up March 17, with my rotisserie league draft set for its traditional final Saturday before Opening Day. No doubt many of you have drafts coming up even sooner, so let's get down to business.

One of the toughest and least fun parts of any draft is choosing relief pitchers. That's because - outside of the top few - there's often not a lot of consistency among closers from year to year (a lot of Joe Borowskis, in other words). When I talk about relief pitchers, I'm primarily talking about closers, though I know a lot of leagues now count "holds" as a stat. Also, in H2H leagues, it might make sense to have an oft-used set-up man or two in addition to closers. With that in mind, here's my top 10:

1. Jonathan Papelbon. Busy, busy boy. Addition of Takashi Saito beefs up an already good core of set-up men to get him more opportunities.

2. Mariano Rivera. Had a few down games last year, but ended stronger than ever with a 1.40 ERA in 2008 and only six walks. Much better team this year.

3. Joe Nathan.1.33 ERA last year was best ever. Amazingly consistent from start to finish. Only question is supporting cast.

4. Brad Lidge. Really has found his way back. Walks are his weakness, but tends to be an escape artist. No blown saves in 2008.

5. Francisco Rodriguez. Mets have rebuilt pen around him, and his stuff may shock NL players. Yet, he can only come down from 2008's heights.

6. Jonathan Broxton.(A star in the making. Has to bring a few things under control, but Saito's gone and the job is his for sure.

7. Carlos Marmol. If he's anywhere near as good a closer as set-up man . . . but of course, that's the big question. Only 40 hits in 87.1 IP last year.

8. Joakim Soria. Banished in Kansas City, but still got 42 saves out of a 75-win team. Young, reliable, and .169 opponent batting average last year.

9. Kerry Wood. Yes, I am insane. But, even if he misses time with Woody-like injuries, he really settled in as a closer late in 2008 and will get many chances with Cleveland.
10. Joba Chamberlain. Going for the holds here, as well as the Ks. possibly could lead relievers in appearances and may qualify as a starter, too.
Around the fantasosphere:

* The Yahoo! fantasy panel likes Bobby Jenks more than I do. Jenks was something of a disappointment last year with 30 saves and 38 Ks and an opponent batting average of .230, which doesn't sound bad until you compare it to the .198 he posted in 2007.

* CBS Sports.com has current average draft position by position, and for relief pitchers, Rodriguez is the surprising lead pick, going on average at No. 38, with Papelbon at 44. True, K-Rod saved 62 games last year, and that's a lot of points, but most of his other categories - hits allowed, walks, Ks - were the worst of his career. Those shortcomings didn't mean much last year, but the Mets may need to be careful about over-using him.
-
Dan O'Shea's Fantasy Fix appears every Wednesday, except when it appears on Thursday. Tips, comments, and suggestions are welcome.
Posted by Beachwood Reporter at 10:09 PM | Permalink
The [Wednesday] Papers
I'm hopelessly behind. Please send food and beer. Also, I haven't had a pair of socks to wear since Friday. Not even dirty ones. Don't ask.
*
I'm gathering reaction, which I will post soon, to my initial piece about the Chicago Journalism Town Hall. I'm going to clean that one up a bit and write up a second part as well, I'm just not there yet. Be patient.
*
First, let's take a look at the news.
The Daley Show
"Mayor Richard Daley alleged today that federal authorities ignore blatant drug and gun trafficking but are overzealous in prosecuting star athletes such as Barry Bonds and Michael Vick," the Tribune reports.
"They can find Barry Bonds and Michael Vick, but they can't find a drug dealer?" Daley said.
Um, I don't know. Should I? I mean, it's a such a big, easy lob . . . I'm just standing at the plate thinking about how many different ways . . . to knock it out of the park . . . but it's coming at me so slow, so big . . . it just seems too easy.
*
Oh, what the hell. Barry Bonds and Michael Vick had scheduled appearances every day/week! Not hard to find! They are listed! You can get a press pass to go see them naked!
*
Nice diversion from the Sorich appeal being denied by the U.S. Supreme Court, though. That's what was really going on.
*
Of course, the federal government has put the leaders of just about every major Chicago gang in jail in recent years. It's not enough to just put people in jail. Our jails are bursting at the seams; our incarceration rates lead the Western world.
*
"Daley said the public realizes that criminals are getting a pass: 'They think it's corrupt'."
The public thinks the Chicago Police Department is corrupt, not federal investigators. And it is - from the top down.
*
"Of course, federal agents in Chicago also not infrequently target wrongdoing in local government," the Trib's Dan Mihalopoulos writes. "Federal prosecutors are investigating whether Chicago police in the past routinely tortured murder suspects and are expected to soon bring a major indictment against a disbanded special police unit whose members were accused of kidnapping and robbing people with impunity.
"But the mayor did not say where exactly such crimes should rank in the federal list of priorities. Daley dodged when asked if he thought the federal case against his longtime patronage chief Robert Sorich and two other former aides represents a good use of law enforcement power and resources."
*
In the print version of the story, Mihalopolulous reports that "The mayor quickly cut off a question about the patronage case, saying, 'They can prosecute any case they want. It doesn't matter."
But you just told us it did.
*
The public thinks you are corrupt, Mr. Mayor. They're just (wrongly) satisfied with the trade-off.
*
"'How can [drug kingpins] accumulate money every week, every month, have three or four homes, drive the best cars, have the best nail shops, and a lot of other things, the best girls, all the jewelry and nobody says anything?' said Daley, his voice at times rising to a high-pitched squeal."
As John Kass writes this morning, the best girls? And let me add: The best nail shops?
And yes, nobody says anything. I never hear anyone decry gangs and drug dealers.
"But if someone takes $100, it could be a Chicago policeman or anybody else, the feds are right there knocking on your door," Daley added.
Or, as Mihalopoulos notes, if you rig "the city hiring and promotions process in favor of campaign workers who showed loyalty to the mayor and his favorite political candidates."
The Burris Show
"Roland is not really the junior senator if you look in terms of knowledge," new Burris strategist Delmarie Cobb just said on Fox Chicago's Good Day Chicago.
Delmarie Cobb, you are today's Worst Person in Chicago.
Cobb also noted that nobody wanted Roland Burris to have this seat, without explaining how he is nonetheless entitled to it. She also repeated her provably wrong statement that Burris was needed to help pass the stimulus bill, and criticized Dick Durbin for taking a "vacation" to Greece while Burris was left behind as the state's only working senator.
Oh my God, how did the state run with only one senator on its soil?!
Finally, Cobb got away with saying that there weren't any negative media reports about Burris until the amended affidavits gave the press an opening. While there wasn't enough negative press, we've tiresomely described here the scope of Burris's crappy and controversial career. Cobb also never explained what is motivating everyone to align against Burris, except to imply that we're all racist. Again, just implausible to the highest order and on multiple levels.
The Durbin Show
Still, Dick Durbin is a pussy.
"Durbin, in keeping with the chummy ways of the Senate and the political sensitivities of home-state constituencies, used carefully parsed words to put himself on record suggesting Burris leave the Senate. But by summoning reporters to a press conference he made the public break clear," Mike Dorning reports in the Tribune.
"'Get the quote carefully,' Durbin said at one point, before repeating a formulation that he used again and again in the press conference: 'What I said was, you know, if I were in your shoes, I would consider resigning'."
So Durbin didn't actually tell - or even ask - Burris to resign, though he got the headlines he wanted implying that he did. Nice job, Dick.
*
"We had a great conversation," Burris said.
Does this man ever stop lying?
In Today's Beachwood
Let me catch everybody up one more time; we had some late posts yesterday.
* Burris Clergy Speaks With Forked Tongues. A group of ministers that calls itself Clergy Speaks reacts to Dick Durbin's (apparent) call for Roland Burris to resign - and we're there!
* Open Letter: Dear Illinois African-American Community. How on the ball are we? Very!
* Intimations. The tyranny of assaulting air.
* What I Watched Last Night: Jockeys. Jimmy the Hat, sex in the saddle.
And on NBCChicago.com
Including a couple of new posts this morning, with more to come.
* Northern Trust Bust. How else they're spending our money.
* High-Speed Stimulus. CTA funding at risk?
* Bumping Burris. Why is he still here?
* Pat Quinn: The Adult Governor
* Coming Soon On YourMayorTube
-
More to come all the way around, be patient, dear readers! Send money!
-
The Beachwood Tip Line: A winding road.
Posted by Beachwood Reporter at 9:17 AM | Permalink
What I Watched Last Night: Jockeys
Editor's Note: Thomas Chambers, our main on the rail, continues his review of the debut season of Jockeys. You can find his first two installments here and here (midway down).
In a workmanlike and informative week, the theme of Jockeys is "Competitive," with a capital "C." We also get a good look at the many chapeaus of Jimmy the Hat.
Chantal is back, and Ms. Sutherland establishes the idea that when out on the track, every rider, including her love Mike Smith, is just another jockey. They're out there to win. To drive home the point, we see Mike and Chantal each arriving at the track, in an Escalade and a Corvette, respectively. "She's so competitive, we don't even ride in the same car anymore," Smith says. Chantal replies with a roll of her eyes: "I know I make better coffee than him. But he folds laundry better than me."
In their first race of the show against each other, Smith wins and we see the winners circle photo of him with Laffit Pincay, Jr., whom they should have identified. Pincay once held the record of most races won, until Russell Baze passed him in 2006. Baze is a good rider, make no mistake, but he did it while getting all the best horses on the smaller Northern California circuit. Big fish in a little pond. And it ruins the wagering. Baze at 3-5 on a horse that will most probably win? No thanks.
She talks about working out the horses in the morning and greets Bob Baffert, The silver-maned one asks if Chantal is just visiting/riding or there to ride the full campaign. Baffert's charm is on full display, but who can blame him?
We visit Clockers Corner, where timers record the times of the horse workouts, a vital part of a runner's past performances that we players analyze in The Racing Form.
In a curious turn that is never explained, we find out that trainer Roger Stein has named one of his fillies Grace Gryder, after the cute young daughter of our own Aaron. There's a very nice scene of Grace calling out the horse's name and her coming over to greet the child. "She knows her name!" Grace pronounces. But the curious clinker is that Stein chooses young Joe Talamo to ride the horse! Aaron is not happy, and we agree. What gives?
Talamo acts the punk and chides Gryder: "Don't you want her namesake to win with your second favorite jockey?" Aaron gives him a really dirty look. I'd have decked him. It gets worse. Talamo wins. He places an 8-by-10 of the winner's circle photo in Aaron's locker. Meanwhile, he mocks a bookmark featuring Gryder doing a public service ad to urge children to read. "Aaron on a 'read' bookmark. Aaron's smart, reading to a horse." Aaron returns the photo, signed with Talamo's face crossed out. Gryder keeps his composure. I'd have decked him again. No question, Arcaro would have. Shoemaker would have.
* * *
Chantal gets the ride on Rumble Along, another Barry Abrams horse, and hits the gym to get in even better shape. She's riding against Mike, too. The night before, over dinner out, Smith takes 10-1 odds on $100 from Chantal that he can stand the wine cork on its end. He loses and drags out a Benjamin. They go again and he loses, only half kidding that Chantal might not pay up. The innuendo oozes out of the surround sound.
Sutherland gives a very interesting narrative about what's it like to go into the gate and wait for the bell. "I relax my body (because the horse can feel it) and keep the horse calm. We both have to be focused to get a good start when the gate opens. He has to know we're together."
Chantal wins the race while Mike finishes third. "It's cool when you win. Everybody likes you! It's quieter when you lose," Chantal beams. But she's reserved back in the jocks' room. Don't want to rub it in or anything.
We shift to Aaron Gryder singing the praises of Well Armed, deservedly so. He's been well involved with the horse, working him out almost exclusively. Son of the only two-time Breeders Cup Classic winner Tiznow, Well Armed finished a nice third in the Dubai World Cup - Curlin was the winner - last year. He won a big share of his races, and you could never toss Well Armed. We watch him win the Grade I Goodwood over Heatseeker, another fine horse. The Breeders Cup "Win and You're In" marketing gimmick is in play, and the victory puts him in the Breeders Cup, as if he wouldn't have made it anyway. Well Armed ended up finishing ninth in the Breeders Cup Dirt Mile, which was not run on dirt and was 50 or 70 yards more than a mile.
I'll talk about synthetic surfaces in the future, but leave the topic with this question: Why give up on doing your very best to create a quality dirt surface and knee-jerk to the fake stuff? it's a very American reaction.
* * *
Joe Talamo is making cupcakes with a cupcake, Elizabeth, daughter of trainer Ron Ellis. What a new-age sensitive guy! " And he's milking it for all it's worth. "Joe is focused and calm as a rider, except when he rides for me," Ellis laments. Next race, young Joe finishes last for Ellis.
To drive home the immaturity point, we see Joe send his next (non-Ellis) horse, 17-1, on a blistering pace, messing up everything for the stalkers and closers. Barry Abram's horse, Rushen Heat, gets thrown off his style and loses. Abrams seems a kind and thoughtful man, so it's not in his nature to deck Joe Talamo. But he gives him an earful, criticizing Talamo to the core of his competence to his face. "I'm not asking you to give me the race, but don't ruin it."
We get a much-needed injection of Jimmy the Hat. The man does have nice hats. Think the classic Sinatra swingin' model, colorful and with shorter brims. California here I come! Trivia to commercial asks how much Jimmy won in his biggest score. "On January 16, 1989, I put three thousand six hundred and forty dollars on the Pick Nine and won one million, sixty one thousand and 800 some odd dollars. It put me on the map as a handicapper in Southern California," Jimmy says matter-of-factly. The operable colors here are green and yellow, in that order.
It says "Gryder" on the stewards' chalkboard, which means he has to show up for a hearing tomorrow morning for his ride on Well Armed. The replay shows Well Armed veered right and then left as Gryder tried to keep him in the pack - therefore in heated competition - and moved other horses along with him. (Horses are pack animals and love to run together. The best - the winners - are the ones who want to lead the pack. Some don't.) Because he didn't really bump anyone, the stewards let him go with a warning. If it was Hong Kong, he would have been suspended. But these lords have the upcoming Breeders Cup and the money Well Armed is going to take to think about.
-
See what else we've been watching. Submissions welcome.

Posted by Beachwood Reporter at 5:26 AM | Permalink
February 24, 2009
Open Letter
Please let me make a point on the unfolding debacle formerly known as Roland Burris, despite the fact that I have no recent ancestors from Africa. (I considered not writing this at all, but then I picked up the paper and found Eric Holder was already calling me a coward.)
The single most reliable strategy to ensure that President Obama's former Senate seat will ultimately go to a white politician is to keep Roland Burris in it right now.
I hear a portion of your community still supports Burris, and some believe the current cry for Burris's removal is a plot to send the Senate seat into white hands. Generally I don't discourage people from considering nefarious motives for anything Illinois politicians do. It's a healthy thing, overall. Illinoisans learn this at a young age by cutting our teeth on big corruption headlines. Chicagoans learn it in the womb by hearing radio and TV news reports in utero - kind of like playing Mozart tapes to a pregnant woman's tummy, except this raises our political IQs.
But in this case, I don't think nefarious motives are likely. Illinois Democrats just want to keep the Senate seat Democratic. (True, this in itself is nefarious.) They also care about keeping Illinois state offices like governor Democratic, which will be much easier with a strong U.S. Senate candidate heading the ticket next time around. Remember, Illinois voters statewide have a definite tendency to elect Republican governors - a tendency likely strengthened after getting a load of Rod Blagojevich.
No doubt white Democratic power brokers consider some individual black politicians unable to win state office. They won't want to back literally any black politician for this Senate seat; they'll want one they can rely on to appeal to voters statewide. That's not Roland Burris. It probably never was, and sure isn't any more. That doesn't mean white Democrats want to decrease black political representation.
But let's say I'm totally wrong. Doesn't matter. The only thing that matters is that Roland Burris doesn't have a chance of winning his Senate seat honestly in the next election, coming swiftly in 2010. A recent Tribune poll showed Burris has a favorable impression among only 34 percent of Illinois voters.
Rev. Willie Barrow recently said of Burris, "We put him in, and we're going to keep him in." Like Barrow, many black voters will support Burris merely because he is black. White voters will not. White voters will want other reasons to vote for Burris. And voters statewide have already turned down Burris for various offices, including the U.S. Senate, four times in the past 14 years. It's been almost 20 years since Burris won an election - any election.
Many of those same voters were already angry that Burris didn't have the personal integrity, like U.S. Rep. Danny Davis, who happens to be African American, to turn down an appointment from a governor about to be indicted for attempting to sell that very appointment. Now they find Burris practically created a Facebook community of Blagojevich insiders while trying to get the governor to name him to the Senate, and Burris wasn't deterred when the governor's brother asked him for money. Also, Burris failed to tell anyone about it. Even while under oath, in front of the Illinois House impeachment panel. These are facts that won't change no matter how many investigations Burris welcomes, and whether he committed perjury.
This is simply not going to fly when it takes actual ballots to keep Burris in the Senate. If Burris manages to hang on to his seat for now, he's shown us that his unbridled ego will goad him into running for re-election. That campaign really begins this year, what with fund-raising and circulating petitions - not nearly enough time for a majority of voters to repress bad memories and punch a hole next to Burris's name.
Democrats would secretly try to lure Burris away from the Senate campaign with offers of cushy jobs elsewhere, but it would be foolish to count on Burris giving up the public power he so clearly relishes. This is a guy who has shown time and again that he just doesn't know when to quit. Also, it may be tough to find someone willing to hire Burris at this point.
So chances are good that Burris - if he survives the brouhaha - will try to keep the seat. Perhaps another black candidate will run against him in the Democratic primary. This could easily split the black vote enough to allow a white politician to win the primary. We can safely assume the Republicans won't resurrect Alan Keyes, so the Republican candidate will be white. Inevitable result: a white senator replaces Burris.
Or, let's say that despite Burris's obvious weakness, no viable Democrat will challenge a sitting Senator in the primary. That's quite possible as well. Again, the Republicans will not resurrect Alan Keyes. Inevitable result: a white senator replaces Burris.
Burris is a lose-lose proposition. If you want an African-American senator, surely you want an African-American senator for more than the remainder of President Obama's old Senate term, a scant two years.
Personally, I don't believe the seat 'belongs" to an African American any more than Hillary Clinton's old seat "belonged" to a woman. I think the voters in both states voted for individuals, not categories. That said, given the disgraceful underrepresentation of all minorities and women in the U.S. Senate, I don't think there was anything wrong with appointing a qualified woman to Clinton's seat, and I'd love to see a qualified African American with policy views similar to Obama in his old seat.
And there are many talented such candidates to choose from. Don't settle for Roland Burris. If he thinks he can count on the African-American community to support him no matter what, he'll never leave until he's voted out of office. And that's only a matter of time. Burris may as well get out a chisel and change his epitaph from "TRAIL BLAZER" to "You can run (for the Senate), but you can't hide."
Sincerely,

Cate Plys
-
Open Letter is open to letters.
-
See who else Cate has written to - from Lin Brehmer and The Person Who Let Their Dog Defecate Near The Southeast Corner Of 58th And Kimbark to Fellow Parents Planning Birthday Parties and Macy's - in the Open Letter archive.

Posted by Beachwood Reporter at 3:56 PM | Permalink
Burris Clergy Speaks With Forked Tongues
No sooner had Sen. Dick Durbin called on Roland Burris to resign did this press release land in my e-mail inbox - and I'm sure the inboxes of reporters across the city, and maybe beyond. Let's take a look.
ILLINOIS CLERGY SUPPORT U.S. SENATOR ROLAND BURRIS, DISAGREE WITH DURBIN, DECRY "DOUBLE STANDARD"

Strategic use of "U.S. Senator" to reinforce a level of status and privilege.


CHICAGO - Today, leaders within Illinois clergy under the auspices of Clergy Speaks Interdenominational, a wide-reaching association of predominantly African-American churches in Chicago; the Illinois Faith-Based Association; the Concerned Clergy of Illinois, a statewide, faith-based association representing thousands of churches; and, the Broadcast Ministers Alliance, released the following statement on behalf of its membership regarding U.S. Senator Roland Burris:


"Clergy representing a broad-cross section of Illinois voters have met with Sen. Roland Burris regarding his amended testimony to the Illinois Impeachment Committee and the political avalanche caused by its disclosure. We are confident Sen. Burris did nothing wrong and therefore we do not join the screeching voices calling for his resignation.

Strategic use of "screeching" voices to cast Burris critics as out-of-control reactionaries, rather than thoughtful persons who have presented rational analyses for why Burris must step down.
"We have asked the senator to remain seated and to continue his efforts to bring relief to the millions of people across this country that have been adversely impacted by the world's economic crisis.
Implication that somehow Roland Burris is single-handedly bringing "relief" to those in crisis, and that somehow only has the skills to do so that someone else would not.
We have known Roland for more than 30 years and his record is without blemish and his character without question.
This site has demolished the notion that "Roland" (use of first name to connote a personal, long-standing relationship with a good guy) has a record "without blemish." To the contrary. Way to the contrary.
He is one of the most forthright public servants we have seen in quite some time and we look forward to his work in the U.S. Senate on behalf of the people of Illinois.
Memo to ministers: Please read this. I dare you to. In the name of God.


"We are equally outraged at the vicious and unprecedented attacks against Sen. Burris by the media and its careless reporting of the facts.
Unprecedented since . . . Rod Blagojevich was the governor. Further, I suspect that not a single misreported fact will be cited.
Roland Burris is the only African-American serving in the U.S. Senate and only the fourth to have done so since the Reconstruction Era.
Therefore, he is allowed to lie under oath.
However, there have been several instances where sitting U.S. senators were accused of criminal and lewd conduct yet never has there been such a rush to judgment and by their colleagues or the nation's media.
These folks must not have cable.
In recent times we have seen senators accused of being involved in a fatal traffic accident that resulted in a death of a staffer; to corruption in the savings and loan industry; to engaging in a lascivious act in a bathroom stall to conducting seven different counts of felony corruption - and there was no groundswell of support for any of those senators to resign office that would match the call for Sen. Burris' removal.
The multiple investigations into Burris are about how he actually got the job; he hasn't been in it long enough to commit ethical violations while doing the job. Besides, the evidence is obvious.
In nearly all of those cases the senators were allowed to serve their full term. As members of the clergy, bound by both moral and ethical principal, we abhor the double standard that is being applied to Sen. Burris.
The same lax standard for the cheats and louts of the past who have occupied Senate seats should apply to our good friend Roland Burris.


"It is of particular note that some media has erroneously reported that an 'anonymous minister' speaking on behalf of all of the state's 'Black clergy' had decided to suspend its support of Burris.
Not true. The article never said the anonymous minister or the group he or she was speaking of represented "all of the state's Black clergy." So, um, that's a misreported fact on the part of Clergy Speaks. Correction, please. Be fair.
This report, which was broadcast globally, did not offer a single quote from the alleged minister nor did it indicate which "Black clergy" denomination this person spoke for given there are six distinct branches.
Just because a direct quote wasn't used doesn't make it untrue. And the minister wasn't necessarily speaking on behalf of a denomination, but of a group of ministers who had previously supported Burris. They could be from many denominations.
Later, another self-identified minister who seemingly misrepresented his affiliation was quoted in subsequent follow-up stories, without regard to any fact checking, as having been in attendance at a meeting with Sen. Burris that never happened. A handful of us did meet with the senator, but not on the day quoted and not with the minister quoted.
I don't know anything about this, but even if true, neither the "self-identified minister" nor the reporters were under oath.
Such reporting is not only an embarrassment to the fine professionals who understand the importance of accuracy but also know who the credible spokespersons are representing our profession, but also illustrative of how the some media has been two quick on the draw of casting Sen. Burris in a negative light.
I don't pick on mistakes like "two" quick because we all make them. But Burris has cast himself in a negative light, not us.
"United in our support we intend to oppose any effort to remove him from office, destroy his unblemished record of public service, and remove the only sitting African-American in the United States Senate. We do not agree with Sen. Dick Durbin's request for Burris to resign. We intend to meet with Sen. Burris again in a matter of days and after that time we will announce our next course of public action."
I can hardly wait.
Submitted by, Rev. Dr. Albert Tyson - president, Clergy Speaks Interdenominational
Bishop Cody Marshall - president, Concerned Clergy of Illinois
Rev. Walter P. Turner - president, Illinois Faith-Based Association
Rev. Dr. Clay Evans - president emeritus, Broadcast Ministers Alliance of Chicago
Jesus was not available for comment.
*
See also "Open Letter: Dear Illinois African-American Community."
Posted by Beachwood Reporter at 3:37 PM | Permalink
Chicagoetry: Intimations
INTIMATIONS
Rescue cannot be summoned,
Captivity must be endured.
The bastard wind our gaoler
Retains jurisdiction, random
Beatings loom, black ice
Lurks.
But the Wind Warden's power is waning
And the block walls
Are slowly, slowly melting. The light is waxing
And the pastels of renewal (lavender,
Rose, budding emerald) have returned
At least to my shivering, grey-scale dreams.
The body knows if the heart still longs.
Rotten drifts, salt-encrusted fenders,
Street trash revealed
Seed the grey clouds with warm rain.
The tyranny of assaulting air
Will lash out as it dies away, but
The broad lake, which rebuffs
The extremes of Canadian gales,
Will prevail.
-
J. J. Tindall is the Beachwood's poet-in-residence. He can reached at jjtindall@yahoo.com. Chicagoetry is an exclusive Beachwood collection-in-progress.
Posted by Beachwood Reporter at 12:07 PM | Permalink
The [Tuesday] Papers
UPDATE: 4:31 P.M.: Okay folks, I think I'm back in business. Media Temple and Movable Type are still blaming each other, but I think I've made enough tweaks in enough places to be up and running. I'll resolve the blame game later.
So . . . here's what we've got.
* Burris Clergy Speaks With Forked Tongues. This is breaking news, folks! A group of ministers that calls itself Clergy Speaks reacts to Dick Durbin's call for Roland Burris to resign - and we're there!
* Open Letter: Dear Illinois African-American Community. How on the ball are we? Very!
* Intimations. The tyranny of assaulting air.
* What I Watched Last Night: Jockeys. Jimmy the Hat, sex in the saddle.
And more about the Chicago Journalism Town Hall, sometime between now and tomorrow morning. You can read the first part here.

Plus, on NBCChicago.com:
* Bumping Burris. Why is he still here?
* Pat Quinn: The Adult Governor
* Coming Soon On YourMayorTube
Earlier
I am still having maddening tech issues. My host (Media Temple) is fighting with my publishing system (Movable Type). My frustration level is so high that I am considering either massive acts of violence or a massive injection of a poor man's speedball. But I am intending both a regular Papers column today and the next installment of observations about the Chicago Journalism Town Hall on Sunday. I also intend to clean up the first installment.
Stay tuned, come back, and if you don't hear from me for a few hours, don't call 911. Just let me be.
The Beachwood Tip Line: Boot-ready.
Posted by Beachwood Reporter at 10:01 AM | Permalink
February 23, 2009
Meeting Up This Week!
We plan your Meet-Up schedule.
MONDAY: The Matteson Mastermind Business Network February Meetup.
"Has your business won any awards with your advertising dollars lately? Try a fresh new approach. Come out and join other small business owners by developing relationships allowing you to refer prospects to other businesses and capitalize on having prospects be referred to your business. Dollar for dollar, everyone is a winner!! $10 fee at the door (includes a complimentary luncheon)"
*
TUESDAY: Knot Just Knitting Meetup.
"This one is in Homewood at Panera Bread!"
*
WEDNESDAY: Radio Calls.
"Calling Radio Stations to promote new releases."
*
THURSDAY: Zumba Specialty Class
"Please join Julia for a heart pounding Zumba specialty class. Guaranteed to be a blast, Zumba is the dance inspired fitness craze sweeping the nation. This is one class you don't want to miss!"
*
FRIDAY: Patty's Pictionary Pajama Party . . . and Our Second Slumber Party!
"Hi kids! When you think about it, we Single Friends see MUCH more of each other than with our 'regular' friends, which has made our bond so much stronger. So isn't it time we took our relationship to the next level and all . . . SLEPT TOGETHER?"
*
SATURDAY: The Snows of Kilimanjaro Meetup.
"[L]ocation is show only to members."
*
SUNDAY: The Chicago Cyclone Wrestling Club Meetup
"Come out and hit the mats with us. We'll have some drills to work with and some live wrestling time. Freestyle is our style. From beginner to experienced, we offer something for everyone."
Posted by Beachwood Reporter at 10:38 AM | Permalink
SportsMonday: Milton Bradley Madness
Hey people, can we get something straight about Milt Bradley right now? Just because he's edgy doesn't mean he's effective. I'm officially fed up with reading misguided missives about how the free agent right fielder who actually played much more designated hitter than anything else last year will make a difference for this Cub team because he'll light a fire under more laconic teammates. What exactly has he won that leads people to this conclusion?
It isn't just that Bradley hasn't won. He's barely played even half the time during his plain, old, undistinguished career. As for his temperament, well, when he has lost it, Bradley hasn't lost it because he was pissed off about losing. He's lost it because he is still too immature to control himself in situations most pro athletes figure out how to shrug off in their first couple of years in the Bigs. An announcer isn't properly deferential or a heckler gives him a hard time or an umpire disrespects him (that tantrum, which started with a man in blue cussing out Bradley a couple years ago, was actually more justified than any of his other antics) and he can't handle it.
As for the baseball, sure, Bradley had a fine year last year, in particular putting together an impressive on-base-plus-slugging percentage and staying healthy enough to play 126 games. In the three seasons before that, though, he trotted out onto the field for 61, 96 and 75 games. Over the course of his career he has averaged 91 games played per season. 91 games out of 162! This guy will not be the difference for the Cubs . . . plain and simple. And before I leave this topic, hey Jim Hendry, couldn't you leak the explanation for signing Bradley instead of fellow left-handed corner outfielder Bobby Abreu "off the record" to one of the beat reporters so I could at least start to understand why you went with the volatile brittle guy as opposed to one of the top on-base machines in the majors over the last decade-plus.
Sure, Bradley is a little younger than Abreu, who finally signed with the Angels recently after going a ridiculously long time without a contract. But Abreu would have been a lot cheaper (a one-year deal with the Angles rather than Bradley's ridiculous three-year, $30-million contract). And in the last 11 years, Abreu has never played less than 151 games (never! for more than a decade!). During his last four full seasons with Philadelphia before he was traded to the Yankees in 2006, Abreu posted on-base percentages of .413, .409, .428 and .405. During the last two years in the New York pressure cooker, Abreu's on-base percentage has "fallen" to .369 and .371. But that is indicative more of the difference between the leagues (the AL is superior) than any sort of significant decline in Abreu's performance overall. It isn't like Bradley has so much more power than Abreu either. Abreu launched 20 home runs last season to go with 39 doubles and 4 triples.
Supposedly Bradley is a better fielder, but that notion doesn't stand up to fundamental scrutiny. We mentioned before that Bradley played DH for Texas last year. Abreu, although far from a great defensive outfielder, has always played in the field.
Overall, there's a real good chance the Cubs got worse this off-season (saying goodbye to Mark DaRosa, Kerry Wood and Jason Marquis and not replacing them with comparable talent). Fortunately they play in the NL Central. The defending division runners-up Brewers got much worse during the off-season. And the Cardinals, who moved into a brand new, taxpayer-funded ballpark in 2206 that their fans have filled to the brim just like they did the old Busch Stadium, continue to refuse to upgrade their ballclub in any significant way.
If the Cubs repeat as division champions, it will be despite Milton Bradley, not because of him.
Bull Session
* A decent coach wins Sunday's Bulls game at Indianapolis. Do you think My Coach Vinnie realizes that, what with all those potential excuses (primarily having to do with the difficulty of working all the new players into the rotation)?
Certain elements of the national sports blogosphere have hyperventilated all season about the Bulls coach's shortcomings. Del Negro's demeanor on the sideline, particularly his tense, almost tortured standard expression, leaves plenty to be desired. But in the end that doesn't matter much. What matters, at least during games, is tactics. I have hesitated to bash Del Negro, believing he needed more time and that it was Bulls players' shortcoming that have held this team back.
But the Bulls had some real potential to pump up a win streak going into Sunday's game on the heels of two wins in a row. And they failed to do it despite the absence of Pacer star Danny Granger.
The fact is that in the Bulls' last two losses (the other a two-pointer to Miami right before the break) he has failed to make simple adjustments that almost surely would have turned the final scores around. Against the Heat, Del Negro drew up a last-four seconds play (with the score tied) that featured an ice cold Thabo Sefolosha making the inbounds pass (despite his having sat out the fourth quarter) and Derrick Rose on the bench. Sefolosha tried to force a pass to Ben Gordon only to watch Dwyane Wade steal it. And then a brutal Tyrus Thomas defensive breakdown on the ensuing Heat inbounds play led to a Shawn Marion dunk and a Miami win.
As for Sunday's game, I had a chance to watch most of it on Channel 9 and then took in the last several minutes on WMVP. The most remarkable part of the experience was that both TV play-by-play man Neil Funk and radio man Chuck Swirsky (and right now allow me to be the last one to say - welcome back Chuck! It is great to hear your voice on Chicago radio again!) took the Bulls to task for a specific element of the their defensive scheme. Del Negro had apparently decided before the game that it would be smart to have his team switch all screens against the undermanned Pacers. The problem was that this created mismatches that Indiana exploited, time after time after time. What teams usually do is have their man-to-man defenders fight through screens as best they can while the player guarding the screener steps out a bit to slow the ball-handler before moving back to their original man as the screened defender recovers. Indiana stayed in the game thanks to Troy Murphy (who scored a career-high 27) in particular scoring big baskets consistently against much smaller defenders who had switched onto him after pick-and-rolls.
* Off the court, Action Paxson actually lived up to the nickname at the trade deadline, improving his team more than any other in the NBA (John Salmons is the big guard the Bulls have needed for a while - Sefolosha failed to fill the bill - and Brad Miller and Tim Thomas will be real nice compliments to Derrick Rose's game). And he reinvigorated himself enough in the process that he was convincing when he said he won't be quitting anytime soon. Welcome back, Pax, especially considering that next in the general manager succession line is Gar Forman, a completely undistinguished assistant administrator who would simply be a terrible hire for the top job.
Hawk Talk
I was ready to gush again until Sunday's irritating 2-1 loss to the Minnesota Wild's back-up goalie (Josh Harding stole a win for his team with 44 saves). Still, this team is special (three great road wins leading up to Sunday's setback proved it anew). And their games are the best thing Chicago sports fans have going for them right now by a ton.
-
Jim Coffman brings you the city's best weekend sports roundup every Monday because he loves you. He would love to hear from you! Please include a real name if you would like your comments to be considered for publication.
Posted by Beachwood Reporter at 9:32 AM | Permalink
The [Monday] Papers
* PROGRAMMING NOTE: I'm having problems with my server today, coping the best I can.
*
This is the first of what I suspect will be two parts about the Chicago Journalism Town Hall held on Sunday. Because of said server issues, it gets rougher as my frustration mounted while trying to deal. I may polish and re-post later.
I was reluctant to attend the Chicago Journalism Town Hall when I first read about it. And yes, one of my first thoughts was: Why am I not on this panel? That's not an arrogant thing to say, it's just that this is my wheelhouse. I've been dealing with these issues for the whole of my 20-year career and let me tell you, it's been nothing but heartbreak learning of and observing the near-ignorance that most journalists have of their own business, and their recalcitrance not just to things that are new, but things that are better. It never seems to occur to most journalists that - like the American auto industry - the quality of what they do could be upgraded drastically.
But then, newsrooms are a culture that one study found is more resistant to culture found everywhere else in business but 1950s hospitals and the military. Progressive-thinking these people are not; change-averse to ridiculous levels and scared of their shadows they are.
Let me give you a recent example. Bear in mind that the year is 2009; the Internet has been around so long that the dot-com bust was eight years ago.
I was reading a trade industry publication last week informing those of our profession that you don't have to use the old AP inverted pyramid style when writing your stories. You can use feature leads! You can write in narrative style! You can use all sorts of gimmicks to "write" if you just learn the craft of newspaperese! You'll win awards!
Um, what is this, the wayback machine to 1975? Not only is that an amazingly stale discussion, it's amazingly outdated. The revolution of the simple link has irrevocably altered the way we should be writing and structuring our stories. But guess what? Newspaper reporters don't put links in their stories! It's true! And when newspapers put stories online, an editor doesn't put links in those, either!
Oh sure, there are auto-generated links that helpfully point readers to encyclopedia entries of every proper name mentioned . . . woo-hoo!
If you haven't ever made a link, you have no business being within 500 miles of any "town hall" on how to save journalism.
And it's not just because journalists need to master some simple forms of technology; that's the least of it. It's because the technological tools of the Internet age make journalism incredibly superior that what you can do on paper. You can tell stories better, you can do better reporting, you can fulfill your public service mission a thousand times better, because you don't have to operate within the artificial constraints of time and space; because you can use multimedia; because you can marshal more evidence to support your reporting; because you can increase your transparency a thousand-fold; because your work can reach gazillions more people than a print paper can; because your work has a longer life; and those are just a few of the reasons. Most of all, you can do what reporters are always taught to do but rarely pull off: Show, don't tell.
Ah, but reporters love to tell!
They fancy themselves literary geniuses, some of them do, when they are merely expert at the craft of certain formula which bear little relation to communicating with readers at the highest level. Or they fancy themselves tough-nosed reporters simply because they work in Chicago, and wail about the (falsely alleged) error rates of valuable tools like Wikipedia, without having even gone through the fact-checking process of a typical monthly magazine that will humble any newspaper reporter within minutes (trust me, I know).
The industry is still discussing inverted pyramids instead of the art of the link and how it changes the narrative structure of what we do.
Please die already.
*
So when I looked at the folks scheduled to appear on the town hall panel, I shuddered. Now, bear in mind, I know almost all of them and like almost all of them. Some I admire greatly, in fact. But someone please tell me, how is Rob Feder going to help us save Chicago journalism? Mancow.com?
*
At the same time, who wasn't on the panel? I'm told Adrian Holovaty was out of the country, so I'll give the organizers a pass on that one. (And by the way, I'm enormously glad and give great credit to impresario Ken Davis. It's just that he might have done his homework first.) No Brad Flora of The Windy Citizen. No Kevin O'Neil of the CTA Tattler. No Tom Bevan of Real Clear Politics. No Nate Silver of Five Thirty Eight. No one from the Tribune or Sun-Times digital operations (paging Bill Adee!) No Whet Moser of Chicagoland. No one from the Obama campaign. No one from the worlds of business, advertising, marketing. No Rich Gordon.
So when I got an e-mail from Ken Davis asking if I would attend, I expressed to him my skepticism. If it was just going to be a lot of kvetching about how Google and Craigslist stole our business, I didn't want any part of it. If it would be biased towards what was actionable, that folks were going to do something and not just talk for the umpteenth time, then maybe.
I was persuaded to attend, not just by Ken, but by a few others. And while there was a brief moment where I thought something good might actually come of those three hours, besides rattling the cages of a few folks there with their heads stuck in a past that wasn't nearly as good (though it could have been) than they seem to think it was, by and large the city's mainstream journalists revealed depths of ignorance beyond even my imagination.
Camp Fires
It was a different story on Saturday, a day before the town hall. I attended Bar Camp News Innovation Chicago. The only other person there, to my knowledge, who was also at the town hall was Brad Flora. In fact, we remarked on Saturday that everyone who would be attending the town hall would have been better off attending the Bar Camp.
Bar Camps are "un-conferences" where participants gather to discuss a broad topic, but the "panels" and "sessions" aren't decided upon until everyone arrives and sets the schedule together. This one was hosted by Rich Gordon of Northwestern and held at Medill's downtown newsroom.
The participants were 30 to 40 technologists, journalists, and students. Everyone attended the first session before splitting up into breakout sessions. That first session was about business models for news and media.
It was easily a more knowledgeable dicussion than the one that took place about business models on Sunday - a toxic brew of obstinance, ignorance, and inflated sense of self-worth. And it was really just a quick overview. But news flash to all town hall attendees: There are business models that not only work but are quite lucrative on the Web - and some of them are for news!
At the town hall, we were informed by many expert journalists that nobody - and I mean nobody - is making money on the Web. It's destroying us! I mean, the Internet was painted as a face of evil, like Martians landing with death rays picking off industries one at a time.
And if you're an Internet sympathizer, I think they put your name on a list!
On Saturday, though, I had the chance to meet with some interesting folks talking about moving things forward; at the end of the day, one group actually built something (last I heard it was a site called Hash Mash.)
At the end of the day Sunday, the only thing anyone wanted to build was death chambers for the other side of a print-online divide that only exists because the print people have their heads up their butts.
On Saturday, though, I sat through sessions on collaborations, both inside your own organization and with others, including some of the ins-and-outs, pros-and-cons of content-sharing; a session where some of us journalist folk could complain to a couple techies about the communication gap we often have, and how to overcome it and work together for a common goal; and a discussion of the differences between "news" and "data" and where sites like EveryBlock fit in and what they could do for readers. And there were other sessions which I did not attend.
On Sunday, I had to sit through arguments as tired as Family Circus cartoons and stories about holiday travel. "Theft!" John Callaway thundered in response to a question about the secret of Huffington Post's success. Google, I learned for the zillionth time, is also stealing our work! We should charge readers for our articles! We should find a rich guy to endow us! We should own the phone lines that carry our content!
Yes. We should use a time-machine to strangle Craig Newmark in his crib and do everything different than we did the first time around. And we'd still screw it up.
I shouldn't say "we," but I come from the ink-stained wretch world. No one has had as romantic a view of newspapers as I; I'm right there with you, print people. But a lot of folks today have the same warm feeling about cool stuff you can do on the Web. And like I said, Internet journalism is superior to print journalism. And I worked in your newsrooms and saw a long time ago what a bunch of dolts - with a few exceptions, of course - that most of you are.
"A column is based on the length of a column of type!" Ann Marie Lipinski once explained to me in frustration, when explaining why one of her former columnists was at odds with the paper because he wanted his columns to jump. (And many newspaper columnists today still act as if that artificial length was handed down by God as optimal, or that there is something valuable about news stories filed at 6 p.m. that sit around until 6 a.m. before anyone sees them.)
Yes, but not only is that an artificial constraint, but columns are of different lengths in different-sized publications. And besides that, aren't journalists the ones who should know better than any that rules are made to be broken?
Intoxicating Internet
Bless Ken Davis, but I was struck immediately when he described the facts of the Internet as "sobering." Sobering? The internet is intoxicating! It's the best thing to come along for journalism since, well, the printing press!
That was just the first time that I repeated something to myself that Rich Gordon had said the day before: The old will not lead the new.
I was already angry, I admit. I looked over the crowd before we got started and just wanted to scream, "Where the fuck have all you been?"
Ever since I was in college in the 80s, there's been talk about how badly the industry needed to change. A lot of talk, and not much action. And if you were one of the folks, like me, keeping track of the industry you loved and studying best practices and thinking about innovation and quality and trying to be forward-thinking in your newsroom, well, you were crushed. Not the way to get ahead. The only way I could get anyone in the business to pay attention to me was to leave the business.
*
Among the ridiculous claims made by the city's elite journalists:
- Slate just lists the day's top stories. WTF? Slate is packed with original content, of course. If the complaint is about its "Today's Papers" feature, well, oh my God . . . that doesn't even warrant a response.
- "We saw it coming." No you didn't. You were in denial. You rationalized. You didn't understand it. You still don't put links in your stories. Hell, you still have black and white photos in your papers!
- We can charge for articles just like iTunes! Right. Call it iNews and charge readers 99 cents for every story about the county government budget and how tattoos have gone mainstream. Go to business school, please, then return to the conversation.
- Aggregators are stealing from us! Are you kidding me? The Tribune loves getting linked by Huffington Post, The Drudge Report and on and on. If it doesn't, it's idiotic. It's free advertising, expands the audience exponentially, and drives traffic back to the Tribune. The Trib can try to monetize those readers in any number of ways, from the ability to charge higher ad rates based on increased readership to trying to sell them subscription products or enroll them in loyalty programs. In fact, it's a basic job (or should be) of a content marketer these days (or the newsroom) to send those links out promoting your organization's work. And that's just the first level of how viral works. As someone said to me after the program, if you don't understand the link economy, you don't belong in the discussion. Aggregators are your friends.
- Online advertising doesn't work! No one looks at it, several apparent experts told us. Experts who surely haven't read a single piece of research or have any experience in the advertising field. First, this argument seems to presume that readers look at newspaper ads. When newspapers had a monopoly, they didn't have to do much to prove the effectiveness of their ads. Internet ads, though, are far more effective for an advertiser in the sense that you at least know how many eyeballs are on the screen, instead of paying for ads that hundreds of thousands of folks never saw because this section or that went straight into the trash.
But online ad revenue is down. Yes. The whole economy is down. So what?
But print advertising still pulls in 90 percent of the revenue. True. And it probably gets 90 percent of the attention. How much of any given sales force is focused on online ads? As I understand it, most are sold as an add-on to print ads. And print sales folk don't understand the Internet any better than their reporting brethren. I was on a panel a few months ago at the annual convention of the International Newspaper Marketing Association, and one issue that most in the audience agreed on was that there weren't enough sales people selling Internet ads, and those that were doing so didn't want to and didn't understand them.
- There's no business model! No one is making money on the Internet! One of the first things people always ask folks like me or, say, Andrew Huff of Gaper's Block or Geoff Dougherty of Chi-Town Daily News is, are you making money? And if the answer is, not much, well, that just goes to show you, online doesn't work! I don't understand this notion that a profitable newsroom the size of the Tribune's should be able to spring fully formed from our efforts. I do know that if more of the naysayers would jump off their sinking ships and lend us a hand, we'd get to profitability a lot sooner. I'm pretty tired of some folks in this town waiting for me - or others like me - to put in all the groundwork and start making money so they can make a comfortable leap. No thanks.
Besides that, when venture capitalists put money into projects, they often don't expet a return for five- to seven-years. Some projects will fail. Others will succeed in ways that could never have been predicted. But it's funny, I never knew our newsrooms were so fully of such stellar business minds - especially as they sat by while their own companies were looted and disemboweled and did nothing.
Success Stories
* Pitchfork Media.
* MLB Trade Rumors.
* Real Clear Politics.
* Five Thirty Eight.
* Capitol Fax Blog, for that matter.
Each of which could have sprung from the newsrooms that had the clear advantage.
And there are many more, from Ars Technica to other kinds of Chicago tech companies, like 37 Signals, Threadless, Coudal Partners.
Nobody's making money on the Internet. Except . . . just about everybody.
*
The Internet may have hurt travel agents, but it's been great for Orbitz. Get it?
News Wants To Be Free
Nobody in a democracy should have to pay for news about their government. Newspapers were always underpriced anyway because they were subsidized by advertising. Lower prices meant larger audiences. A free model is along the same continuum. Newspapers wouldn't go free in the past, though, because they had no way of telling advertisers who was seeing their ads. On the Internet, you can absolutely tell your advertisers that.
If you want to try to charge for Tempo (or Live or whatever it is now) or the Sports section - neither of which compare to what else is out there now that there is competition - go for it. But democracy isn't for those who can afford it. Everyone should have access to journalism that reveals to us that our governor is a crook and our senator a liar.
Newspaperless
One scenario discussed on Sunday was a city without a newspaper. Inherent in the discussion was the false notion that that meant a city without news. Somehow I think chicagotribune.com - or its remnants - will stay alive if the rest of the company sinks. And if not, that's a whole lot of reporters and business folk who could re-band together immediately on the Web. It's just not a useful discussion.
Professionals
Somehow we have to figure out how journalism can be a paid profession and not a hobby!
Um, problem solved. It is a paid profession, and doing quite nicely in many quarters. New models are springing up everywhere. Politico, HuffPo. Gawker, MinnPost, Pro Publica . . . you either have to be patient or you could help us out and move things along faster.
*
On Saturday, Rich Gordon said that ESPN.com, NYTimes.com, and CBS Marketwatch are examples of sites with enough scale that they are making enough money to support the journalists who produce their content. ESPNChicago.com is coming, and it maybe NYTimes.com/Chicago will arrive one day. Just because the private clubs that are the Tribune and Sun-Times may not make it - though I think the Trib will in some form despite Sam Zell because of what it has in its digital pipeline - it doesn't meant the death of journalism. It just means the death of really horribly run organizations that failed their publics.
Web Wonks
Every time someone said something that enraged me, I looked at Andrew Huff and Barbara Iverson, who were sitting side-by-side on the panel; they were always shaking their heads at the same times I was. At one point, Barbara started to name what she had identified as eight business models that work on the Web (some the same, some not, as the business models Rich Gordon identified for us on Saturday). Ken Davis cut her off, saying "You're overwhelming us."
Problem identified.
Model T
The old model sucked. The amount of news in our papers should never have been dependent on how much advertising a department store wanted to do that week. And the corporate model in particular is largely to blame for the mess we're in. Back when some of us were shouting that papers weren't reinvesting enough of their massive profits unheard-of in any other American industry into the newsroom and technology and research and development, senior editors stood by and enabled the looting of their own companies by ownership and Wall Street in return for huge bonuses and stock option-laden compensation plans. Reporters stood by mostly in silence. "I'm a shareholder too," a Trib investigative reporter told me once at the Billy Goat. And if that meant layoffs to keep those stock prices high, so be it.
*
When he was at the Miami Herald, Geoff Dougherty said, margins were at 20 percent - and they were laying people off to get them to 25 percent. The model was broken a long time ago.
Ode-d Out
"Let me take you back," John Callaway said at one point.
"Please don't," I muttered under my breath.
We don't need any more odes to how great newspapers are/were. We know. We get it. Websites are even greater.
*
But you could pick up a newspaper for the bridge column, Callaway protested, and stumble upon that story about Afghanistan. The beauty of a newspaper's serendipity!
Let me ask y'all something: Who is this mythical person who picks up a paper for its bridge column and can be enticed into reading a story about Afghanistan just by, I suppose, a clever headline?
I have a hard time believing someone like that exists.
But more unbelievable is the notion that somehow serendipity is lost in the Internet. The Internet is a case study in serendipity! Ever hear of the term surfing? That's serendipity! But then, I seem to remember reading that the youth of America were wasting their lives surfing the Internet. Better to surf the newspaper?
And of course, a newspaper's website is far more serendipitous than its print edition. You see all sorts of things, from Most E-Mailed to Breaking News to blogrolls to video . . . YouTube is a master of serendipity; you can't stop at just one video. You don't go to Boing Boing knowing what you will find ahead of time; nor NYTimes.com. Just a waste of time to discuss.
No one should be allowed into future town halls without proving they've actually used the Internet.
Endow Us
This is how maddening the conversation was, but at a certain point it took what I thought might be a productive turn. The conversation was about how much it would take to set up a city newsroom. Action!
I figured that with 300 people in attendance, if each ponied up $10,000, that'd be $3 milliion right there. Sure, not all of us can afford 10K, but some of us (them) can afford much more. We'd all be in business.
That discussion got sidetracked with arguments about, oh, how you would pay for legal help to press FOIA requests. Please. As Dougherty pointed out, and many of us have experience, there is plenty of pro bono help out there, and there are new online ventures like the Chicago Justice Project already doing a better job of it than our newsrooms. (Credit EveryBlock too for digging out data from the city and opening up public records.) When I was at the Tribune and Chicago magazine (unlike my college paper, The Minnesota Daily), my editors were never interested in FOIAs. I have a feeling we could do better on a shoestring than our current news shops are doing now with white-shoe law firms.
*
"How do you keep a reporter for $30,000 a year?" Eric Zorn asked.
Give me six reporters at 30K a year and I'll kick your ass day-in and day-out.
Christ. Is it really about reporters' salaries?
Naysayers
I love Carol Marin, but when she said that you could create something, but how would you drive traffic to it I almost had to revoke my membership in her fan club. Meanwhile, Nate Silver reports that folks are "throwing money" at him. A year ago, Silver's site didn't exist and he had no traffic.
*
Robert Feder: "I don't know anyone who goes to Medill to be a platform manager."
I do! I met a couple of them on Saturday. One grad student returned to Medill to take advantage of its new curriculum because under its old curriculum she didn't learn the skills she needed. A couple others discussed their course in interactive storytelling. Why is that somehow inferior to an old-fashioend course in, say, narrative storytelling?
The real problem is that tech-savvy students will be entering a world where print newsrooms are still separate from digital newsrooms. It's one thing, people. (Rich Gordon said on Saturday that some digital operations are regressing because now print people are taking over from the interactive people and they're having to learn and re-learn what the interactive people already know.)
*
At this point it became clear to me that some folks were simply naysayers, the folks who, as the saying goes, are always telling us why we can't do something as others are doing it.
END OF PART ONE
-
Elsewhere
* The Weekend Desk Report. "False Optimism took a major pounding this week," writes our very own Natasha Julius. "Not that Stark Realism has seen much of a rally either."
* Beachwood Goes To The Oscars! "How random was it that the winner of the Best Animated Short quoted a Styx song? He should be brought back to do that every year," writes our very own Julia Gray. "Plus, if you play his acceptance speech backwards, he's also calling for Roland Burris to resign."
* Milton Bradley Madness. "Hey people, can we get something straight about Milt Bradley right now? Just because he's edgy doesn't mean he's effective," writes our very own Jim Coffman. "I'm officially fed up with reading misguided missives about how the free agent right fielder who actually played much more designated hitter than anything else last year will make a difference for this Cub team because he'll light a fire under more laconic teammates. What exactly has he won that leads people to this conclusion?"
* Meeting Up This Week! We plan your week's meet-up schedule, including Mattteson Masterminds, Chicago Cylones, and Knot Just Knitting.
* The Burris Economy. Has he been a net gain or loss?
The Beachwood Tip Line: Soft serve.
Posted by Beachwood Reporter at 9:16 AM | Permalink
Beachwood Goes To The Oscars!
Talking back to most overrated event of the year.
*
Question: Whoa, what is Miley Cyrus doing at the Oscars? Is her dad her date? She's a sure thing, Billy Ray!
*
Miley is one of the first to arrive, which is so uncool. Miley, if you're going to attend an awards show where no one gives a fiddler's fart about you, at least be cool and arrive when the cool kids do. Her dress reminds me of Disney cake that's been sitting in the sun for a little too long and is teeming with barf-inducing goodness.
*
Good lord, Giuliana Rancic's head is hopelessly large. I know I've written about her sizable noggin before but it requires constant comment.
*
Ryan Seacrest is hopelessly tiny. He looks like the scruffy human version of the Oscar statue with bed-head. How 2002.
*
Wow. Phoebe Cates looks incredible. Long gone are the days when she graced the cover of Seventeen magazine. Or Brad Hamilton's imagination.
*
Madonna is hosting an after-party? No. Thank. You. I'd rather eat ground glass.
*
Phony baloney lovebirds Zac Effron and Vanessa Hudgens are . . . oh, nevermind.
*
I didn't know Best Actress nominee Melissa Leo moonlights as a schoolmarm when she isn't acting. Interesting.
*
Heidi Klum and Seal? They would show up at the opening of an envelope. They're taking over for the late Red Buttons.
*
When did Robert Pattinson's ship to his home planet leave? More importantly, why wasn't he on it?
*
Will someone tell me the difference between Jessicas Biel and Alba?
*
How tall is the apple crate that Seacrest is standing on? C'mon, Ryan, We all know you're about an inch taller than a hobbit.
*
What is the fascination with Sarah Jessica Parker? Why the long face? (*rimshot!)
*
Oh yeah, there's an awards ceremony!
*
Or . . . I went to a fashion show and an awards ceremony broke out!
*
7:30 P.M.: Wow, Hugh Jackman looks like he was carved out of cream cheese. And the set looks like it was pulled out of one of Sam "Ace" Rothstein's casinos. Where are the Sam Rothstein Dancers?
*
Craigslist Dancers. Now, that's funny.
*
Whoopi's dress - hmm . . . um . . . well, umm . . . Somewhere a drag queen is missing her bathroom curtains.
*
Tilda Swinton does a great David Bowie impression, post-Ziggy Stardust.
*
Best Supporting Actress Winner Penelope Cruz! She's great, but you can only understand what she's saying when she's acting as someone you can understand what they're saying.
*
7:56 P.M.: Nice jab at Scientology, Tina Fey. How can one not take jabs at a religion that is endorsed by a dude who named his kid Pilot Inspektor?
*
7:58 P.M.: Milk wins Best Original Screenplay. Acceptance speech brings a tear to my eye.
*
8:02 P.M. I just fell in love with Steve Martin. I'm picking out our home in the Palisades right now and deciding how to decorate it. Eclectic Country French? Charles Eames-esque? Wagon wheel furniture with a big jukebox that features banjo and zydeco music?
*
Hi, I'm Jennifer Aniston's dress. I'm very elegant and flattering. You see, Ms. Aniston is built like a whippet and has an ass that doesn't quit. Plus, she's tan all year round.
*
8:10 P.M.: Jack Black just makes me tired. Of Jack Black.
*
8:11 P.M.: How random was it that the winner of the Best Animated Short quoted a Styx song? He should be brought back to do that every year. Plus, if you play his acceptance speech backwards, he's also calling for Roland Burris to resign.
*
8:17 P.M.: Perhaps whoever wins Best Art Director can devise a prop to push Sarah Jessica Parker's boobs even higher up into her neck. Even Daniel "007" Craig is unnerved.
*
8:28 P.M: This "Romantic Films of 2008" montage is giving me indigestion.
*
8:32 P.M.: Best Cinematographer Anthony Dod Mantle (Slumdog Millionaire) to presenter Ben Stiller-as-Joaquin Phoenix: "You look like you work in an Hasidic meth lab."
*
8:40 P.M.: SciTech Awards recap. Time to get some popcorn and perhaps a beverage. Maybe I'll take a quick catnap.
*
8:44 P.M.: Who's a better actor? Ronald Reagan or Barack Obama? Answer: Roland Burris.

*
8:53 P.M.: Beyoncé looks like she just finished ice skating to a Miami Sound Machine montage with Scott Hamilton at the Ice Capades in Valencia.
*
9:14 P.M.: Bill Maher's suit is so shiny I can hardly see the keyboard.
*
9:24 P.M.: Why are they playing music over the sequence that's supposed to showcase sound design and sound editing? Do the producers not understand the concept of, I'll say it again SOUND DESIGN AND SOUND EDITING? Also, not all action films have the best sound design and sound editing, folks. Just because it's big and loud doesn't mean it's the best, mmmkay?
*
Help me out here - I'm missing the "Gosh Will Smith is so awesome and cool! I wanna be his BFF" gene. I've tried, really. I've tried to look deep within myself to find something, somewhere, that buys into the whole Will Smith hype. But I just can't. Perhaps there's a special tea I can drink or a Facebook group I can join to help to awaken whatever it is inside me that is dead to the Will Smith aura.
*
Apparently, film editors aren't special enough anymore to have their own, separate presentation like the Art Directors and Cinematographers do. And why should they? Editors only make everyone else in a film look good.
*
9:42 P.M.: Eddie Murphy presenting the Jean Hersholt Award to Jerry HELLO LAAAAAADY Lewis. A good time to attack while France is distracted.
*
9:50-something P.M.: I must have drifted off. Were those the nominated scores the Kodak Theater Orchestra was just playing? They all sounded the same, so they must have been.
*
I've been waiting all night for the Bollywood Dance number because I'm planning on dancing along with the dancers. Yep. I am.
*
10:12 P.M.: Queen Latifah singing 'bout all the folks who died in 2008. Yep. They're dead.
*
10:15 P.M.: Reese Witherspoon. What the heck is she wearing? I really hope Cecil B. DeMille wins this time!
*
10:26 P.M.: Best Actress. I hope Kate Winslet thanks her manicurist and her dog groomer since she so selfishly omitted them from both of her Golden Globe speeches.
*
Is Sophia Loren going to a Vegas after-party in 1975 or something?
*
10:48 P.M.:Steven Spielberg presenting Best Picture. I wish that his Mexican Non-Union Equivalent were up there instead.
*
Big surprise: Slumdog wins. It will play the Steelers in the Super Oscars next week.

Posted by Beachwood Reporter at 5:06 AM | Permalink
February 21, 2009
The Weekend Desk Report
Don't worry if this Report doesn't tickle your fancy; they're working on a pill for that.
Market Update
False Optimism took a major pounding this week. Not that Stark Realism has seen much of a rally either.
Rolling Stock
Chicagoland's Regional Transit Authority this week warned that another Doomsday is looming just around the corner. CTA officials later clarified exactly whose doom could be expected.
Roland Stock
With the congressional trading deadline looming right around the corner, Governor Pat Quinn is urging rookie sensation Roland Burris to waive his no-trade clause. Sources close to the governor say he hopes to ship the troubled back-bencher out for a senator to be named later and absolutely no cash whatsoever.
Rolling Shock
Meanwhile, State Department GM Hillary Clinton noted she has been told to jettison all non-essential resources ahead of the international chatter trading deadline. "Ordinarily, I'd be a bit more selective," Clinton noted. "But in these tough economic times, I'm listening to offers from just about anyone."
Winning Line
The awards season reaches its climax this weekend and the Weekend Desk has the predictions covered. No big surprises here; we project Scumbag Millionaire will continue its dominance over The Leader.
Feeling Lucky
Finally this week, officials have discounted theories that the lost city of Atlantis could be found just by Googling it. They noted the reclusive metropolis also has ditched its Facebook account over privacy concerns.

Posted by Natasha Julius at 9:07 AM | Permalink
February 20, 2009
The [Friday] Papers
BREAKING 11:19 A.M.: Gov. Pat Quinn just called on Roland Burris to resign. Quinn also asked the General Assembly to pass a bill sponsored by Rep. Jack Franks that would create special elections to fill U.S. Senate vacancies. Temporary appointments would be made in any interim between the vacancy and the election.
-
Burris should run in the special election!
-
The [Friday] Papers
It just never ends.
"A former top official for then-Gov. Rod Blagojevich said Thursday he got a 'courtesy call' from Roland Burris last fall noting Burris' interest in a vacant U.S. Senate seat - a contact Burris failed to mention to lawmakers in his evolving testimony about how he got the job," the Tribune reports.
This isn't the biggest revelation in the world - the contacts (there was a second one too) sound innocuous. But how do we know? The point of Burris filing affidavits and testifying in Springfield was to find out - under oath - how Burris got his appointment. And like one state legislator said the other day, you can't cross-examine an affidavit.
A bigger problem for Burris is this, from Dave McKinney and Natasha Korecki of the Sun-Times:
"Durbin said Burris first told him of the new affidavit Feb. 13, while they were both on the Senate floor taking part in the historic vote on an economic stimulus package. Burris made the approach after a Chicago Sun-Times reporter called him earlier that day with questions about his testimony before the House committee."
That is not the behavior of a man with nothing to hide or nothing to fear from a new affidavit. That is the behavior of a man covering his ass.
"'He said some of the information he had given was incomplete,' Durbin said. 'I think he said: They asked me five names. I responded to one. They didn't follow up on the others'."
Of course, they did follow-up on the others, as has been persuasively shown by now.
Fool Dick Durbin once, shame on you. Fool Dick Durbin twice, shame on Dick Durbin.
And that's not all. McKinney and Korecki - two of the paper's top-notch reporters - also have this:
"If Sen. Roland Burris misled an Illinois House impeachment panel with a false account of his appointment, he did the same thing with the Illinois Supreme Court last month."
Uh-oh.
It turns out Burris filed the same no-longer-operative January 5 affidavit with the court in his lawsuit against Secretary of State Jesse White, who had refused to certify Burris's appointment. He never filed his amended affidavit with the court, not that that necessarily matters. The damage was done.
"Burris's law license could be in jeopardy regardless of whether there is a perjury finding," McKinney and Korecki report.
An investigation by the state Attorney Registration and Disciplinary Commission is almost certainly underway - the third body now investigating Burris.
Another Problem
This story by the Springfield State Journal-Register a couple days ago is starting to get picked up:
"A list of lobbying clients that U.S. Sen. Roland Burris has given state legislators doesn't match records kept by the Illinois Secretary of State's office or the Chicago Board of Ethics, both of which register lobbyists and keep track of their clients."
The Daley Show
Our mayor, who has provably lied a number of times but gets a free pass not extended to Burris, played a childish game again with the media. Asked if Burris had a cloud over his head, the mayor said (roughly), "He voted on the stimulus bill. Did he have a cloud over his head when he did that?"
Um, yes. Just like you have a cloud over your head, Mr. Mayor. It's a foreboding cloud that darkens everything you do.
Taint Feint
Mary Schmich repeats the utterly false narrative in her column today that "[Burris] reached an advanced age without political taint."
Maybe Schmich doesn't read her own paper's Op-Ed pages.
Cobb Job
Delmarie Cobb lays out Burris's coming media strategy - if he makes it through the weekend. Ugh.
Burris Bunk
Hey, they can't all be winners . . . but here they are anyway:
Chicago Power!
-
That's all I have time for right now . . .
The Beachwood Tip Line: Takeout and delivery.

Posted by Beachwood Reporter at 10:57 AM | Permalink
TrackNotes: Off Track Betting
Back in my rookie days, horse wagering meant going to the track. Living downtown, it's easy to get to Arlington, location-wise, but other factors make it a real excursion. (I assure you I will get to those factors in a future column.) Why is it that sports management never really makes it easy on the fans?
One day, a solution literally dawned on me: Go to the OTB, the off-track betting "parlor." Duh! I tried the Mud Bug: See below. I walked in to State Street and immediately walked out: Yecch. Then I ambled down to Jackson Street: The rest is history.
Today, more wagering is done off-track than on-track. Used to be if you wanted the action, you had to go to the track, which is why racetrack attendance rivaled any other sport in the '30s, '40s and '50s. Satellite transmission of racing pictures developed in the late 1960s - thanks in large part to Merv Griffin. Off-track betting came to New York in 1971, Illinois in 1987, and California in 1988. Here in the Prairie State, as always, the OTB pie was split among a handful of companies. Inter-Track Partners LLC, basically associated with Maywood Park, and Trackside Illinois OTBs, firmly associated with Churchill Downs Inc. and Arlington Park, are the two main operators in this area.
I've spent some time at the three OTBs that are conveniently placed in my world, one in the Loop, one in River North, and one on the Near North Side. They all offer wagering and food, but I was taken at how different the three really are. At the same time, a constant is the horseplayers. Good people with a common goal, happy if the other guy wins, and coming from all different backgrounds.
Some things are the same: the County Tax to get in is $2, up from $1 at the same time the sales tax skyrocketed. A Daily Racing Form is a full-retail $5.50. The wagering menus are the same. 21 or older only.
Here's my take.
* Trackside Chicago, the Mud Bug, 901 W. Weed St., operated by Trackside.
If you were to ask any civilian on the street to name an OTB, chances are they would name the Mud Bug.
I have to admit at the outset that I'm not enamored with the place. It's big and can get very crowded. My first experience there was on a Derby Friday years ago, and it was not good. Jammed. Since then, the traffic hell that is the North and Clybourn wanna-be-just-like-a-suburban-shopping-strip burns red-hot. You used to be able to see the place from North Avenue. Now a huge retail building blocks the way and the place was damn hard to find.
Maybe it was and maybe it wasn't, but the place sure looks like it used to be an old roadhouse. Mechanical bull back in the day? As a result, the sightlines are not that good, especially when its crowded. Sure, they have plenty of TVs, but you have to be in just the right place to get a good view of all the tracks you want to see, and the regulars know where those places are. The TVs behind the bar are high, so you look like a tourist eyeballing the tall buildings.
But where I was sitting off the bar, there was an 8-by-10 of Monkee Davy Jones in full '80s big hair in the winner's circle with Pat Day at Arlington. So I do have that to remember.
The machines are good, new like they have out at Arlington Park, and they include the $3 bet. They didn't have my brand of beer, so I had to settle for the one from St. Louis. I wasn't happy.
It was a Sunday filled with very unbettable cheap races. I did run into a couple of characters from my OTB, and it was good to see them. I can't really tell you why I think they moved on to the Mud Bug. I didn't eat and I didn't see anybody else eating. I lost $40 and left, knowing that Saturdays there must be a zoo. Fine. I'll let the Mud Bug be.
* Jackson OTB, 223 W. Jackson Blvd., operated by Inter-Track Partners.
The entrance is between two doors of a Giordano's, and you are immediately taken by a long escalator - which has been known to be out of order for two months at a time (that pesky part from Germany they can never seem to get) - to the second floor, where you pay the $2 Stroger tax and pick up the Daily Racing Form, programs, tip sheets and such. If you also get a Green Sheet, you're already down $9.50.
The second floor has a medium-sized bar and the snack bar (no table service on this level) and is primarily made up of tables and chairs, not unlike the food commons at a student union. It's funny to see tourist families come up the escalator thinking they're in Giordano's. The look on their faces . . . priceless. A great many of the players in this crowd of characters stand in various open areas.
Or you can climb a long flight of stairs to the "Club Level" on the third floor, with a fair amount of dark wood, minimal carpeting and couch-and-table areas. The windows in this vintage building are big and you can actually look out and wonder why you're in here on a gorgeous day.
There is a $5 minimum on food and drink, but they don't really enforce it. This floor includes a larger bar area with about a dozen hi-tops. The remainder of the floor to the east and west of the stairwell is made up of nooks and crannies of tables with paper "tablecloths" and chairs with individual TVs. In fact, all of the TVs on this floor, except for those behind the bar, are controlled by the players. So there's a sense of cooperation we could use in Springfield or Washington, with the common goal of displaying any track any individual might be playing. It works out. However, every week you have to ask them to pipe in the calls of the races through the PA system. Every week.
The betting machines are as old as any I have ever seen. Tickets are spit out quite regularly with an error message that it can't be read or data not found, but you won't lose your money. The screens are the most basic touch screens that take some real finesse to use, and you learn which ones are working better that day. They use the same tote company as my mum's OTB, Shalimar in Indio, California (just down the road from The Griffin Ranch). But lo and behold, on an outing there this Christmas, I discovered gorgeous, brand-new machines that are fast, well organized and accurate. It's like Version 1.0 at Jackson and Version 9.x out there. Back in Chicago, it hurts my feelings. It really does.
But Inter-Track also made one subtle change that I am not at all happy with, which I discovered upon my return from California: They took away the $3 bet option. Now it's either $2 or $4 (or a lot more, of course), and guess which one they want you to use. I like the $3 option because if the odds on an individual horse are right and the chalk comes in either first or second, I might still make a tidy profit on a $3 Win-Place bet while the Exacta gets killed. You cannot make a $1 Win, Place or Show bet, so for this heavy hitter, it's $2 or $4.
Service at Jackson can be spotty when what always seems like a skeleton crew gets a decent crowd. And from the third floor, they have to walk down the stairs to get your food. They also play the float when it comes to having enough parimutuel clerks, such as early in the day. But I do have to say I don't have much of a problem getting a beer when I need one. The food is OK, but I usually limit myself to the tried-and-fried chicken tenders, although other menu items I've had, including plain wings with sauce on the side, are good. The food is better than it used to be.
* The Stretch Run, operated by Inter-Track Partners, 544 N. LaSalle.
Stretch Run is new, opening in 2007 and basically replacing the shuttered State Street OTB next to the Chicago Theater. It's a cross between ESPNZone and a Midwest attempt at a Vegas race book, dropped on a prime corner of the competitive River North tourist mecca.
The first level is a nice sports bar with a combination of the typical human sports and simulcast wagering. On your way upstairs, you pass a nearly life-sized fiberglass horse, just standing there. Luckily, mine were moving faster that day. The modestly-sized room is four rows of carrels with individual TVs and an impressive array of Hi-Def screens on the wall. True Hi-Def simulcast is coming very soon. A good-sized bar is to the right and one teller to the left. Behind the carrels along the back wall are the equivalent of skyboxes, named Secretariat, Barbaro, Affirmed and Citation. What about Kelso? Or Arlington hero John Henry? They're available for private parties, with wagering machines. The artwork on the wall is quite nice.
The food was . . . interesting. I had the fish 'n' chips. Can't figure out how they cut a fish into such small filets, but I felt I was eating sardines or something. Is it smelt season? The fries were peppery and salty, a lot like McDonalds, if memory serves me.
The regulars seemed to be having fun, but I did not find the place conducive to banter or interaction. It was very quiet and it felt like I was taking a test in a library. And the pints of beer could have been colder. Nice, new and clean, and the service was good and pleasant enough.
But I had a serious problem that proved to be a total dealbreaker and is something all of you should be very wary of. Being a brand-new joint, I figured I'd see the latest wagering machines. Instead, they were these clunky machines that I have seen at Jackson (also no $3 bet button) and are not new at all. Very disappointing. They weren't solidly mounted and I actually had to hold the machine to press the touchscreen. But the kicker in all this is that the machines WERE NOT ACCURATE!
I'd press one and get the five horse. I'd press exacta box and get win-place-show. Press three horses for a trifecta and get three wrong horses. I alerted the manager to this and he turned off that machine. I went to the next machine and wham, same thing happened. Friends of mine had told me about this and human teller mistakes - and programs for the wrong day(!) - but now I was experiencing it for myself. This is inexcusable; one machine OK, two machines NO. My newfangled radio-telephone thingy saved my life, that's all I'll say. If you go to Stretch Run, write your bet down first, place it only with a human teller and study your tickets very closely before leaving the window. It's the only control you have.
Jockeys Update
[Picking up from where we left off . . . ]
The byword this week is dejection. Trevor Denman's race calls are more professional, but there is still a measure of overdubbing and too many "attaboys." I'll just go down the cast of characters.
* This week we meet Brandon Meier. He's 20, looks 14, and has come to Santa Anita to give it a shot. He's the son of legendary jockey Randy Meier, who has won more than 4,000 races, mostly on the Chicago circuit. He holds the record at Hawthorne, and is still going strong at 54. Brandon won his riding debut last year at Arlington Park on a Frank Calabrese horse, Houseboat.
I wonder why he chose to come out here right off the bat. Why not go the Fairgrounds/Churchill/Turfway/Keeneland route to get experience and wins? Silver-haired trainer Bob Baffert is worried that Brandon is too tall, because that means he will probably fill out and be too heavy to ride. Brandon patrols the backside before dawn hoping to get trainers to notice him.
It's here they talk about the ordeal of making weight. Anorexia or bulimia for some, sweating and little to eat for others. Brandon's girlfriend Dana is not happy with his career choice and tells of the time he suffered a severe potassium deficiency. This is real stuff and some jockeys handle it better than others.
Later, Brandon wins a race by a long neck on a fast-closing horse. It was sweet, and he gets an initiation of buckets of water and raw eggs thrown on him by the veterans. When he calls Pop, Randy is clueless and admits he didn't see the race. Brandon is very dejected. "He was on a date with his girlfriend. I've ridden out here at Santa Anita and now I'm also winning. I've accomplished something he hasn't," Brandon spits as he closes the cell phone. A Chicago blogger yesterday swore he talked to elder Meier and the TV show "told him to do that. Of course he watched the race." You decide.
* Upon seeing Brandon's win - they compared rookie notes the first day they met - Kayla Stra is really dejected, but she refuses to cry. She's already run some stinker races on slow horses.
In a race that included Meier, she came in a very nice second aboard a very live Soda Pop Kid, but both hers and the winning horse were disqualified for changing lanes and cutting off a third horse. Kayla is crestfallen. I wish the stewards would have the same guts on some of the heinous races I've bet on. The show gives a good description of a stewards' inquiry for the newbies.
In her next race, Kayla's horse clips heels with the one in front of him and stumbles and Kayla flys off. In the second half hour, we learn she was extremely lucky as two horses behind her passed on either side. I knew that, but was hoping she didn't break a leg. She comes back to ride again the same day.
The most upsetting part of this was the show overdubbing women's screams during the replay and after she's down. I have never heard a scream at the track or at an OTB. It's always a big GASP, and then silence. Always, by men and women alike. It's not a James Cameron movie.
Kayla comes back later in the meet on the same Soda Pop Kid (although the Jockeys graphic shows she's on another horse) and wins by a length-and-a-half, beating the great Rafael Bejarano on the favorite. I reported last week that her first American win came later at Hollywood Park, so don't believe everything you read on the Internet, except everything at The Beachwood Reporter.
* Wanna see dejected? Jon Court is a veteran - just over 3,000 wins, one Breeders Cup mount and no Triple Crown races - who has been plying the California waters for five years. Wife Krystal reminds him that he promised to just try La-La Land and then go back to Kentucky, where he was make-a-nice-living successful at Churchill, Keeneland and other tracks. I always wondered about that too. Krystal doesn't yell - she's on national TV after all - but you can see the pain in her eyes as Jon just can't seem to get going on a big horse. They both lament the fact that there are "a lot of new jockeys in town, huh?" Court even admits that his career is not what he wanted it to be.
Late in the show, he gets the mount on Orthodox, a live horse with Breeders Cup aspirations. It's a nice win and Court is excited. This could be the horse he's waited for. Alas, his record shows one win in two maiden special weight races and a seventh in the Breeders Cup Juvenile Turf.
* The trivia question going into commercial is "What was the most amount of money ever paid for a horse?" It was, as everyone knows, The Green Monkey, bought with $16 million of Arab money. Jimmy the Hat nails it: "He couldn't ride out of sight on a dark night." Think of The Monkey as the horse Hummers bought.
* As Brandon Meier parades to his first Santa Anita start, one of them, I don't know if it was the guy with the cigar stub, says "Who in the hell is Brandon Meier?" After the win, one of them says "Maybe the kid's good." First of all, you never say that. When the kid wins one of 14 with some other money finishes, then you take notice. Not before. It sounded scripted and microphoned. I rewound to find the lapel mikes, but they must have been at their feet. The lighting was also too-too good.
Chernobyl Princes
There's always a reason or a story behind a horse's name. I found out about Chernobyl Princess - one of last week's Horse Names I Laughed At - in a nice note from Kathy Ryan, a member of the board of directors of Chernobyl Children's Project International.
Purse money that Chernobyl Princess and her stablemate Chernobyl's Hero earn 'goes to the charity. Thank the generosity of Bill Discala, one of the principals of Karakorum Racing, a New York-based racing partnership group with highly visible Thoroughbreds on the New York circuit. New York couldn't run as many races as it does without operations like Karakorum. In fact, Karakorum Tornado was in a very tough beat in the fifth at Aqueduct Sunday, but he still paid $27.60 to place.
I wasn't able to get in touch with Mr. Discala, but I found that four-year-old Princess has a fine record of 7-2-1-1 with earnings of nearly $28,000. She's by Say Florida Sandy, winner of 33 races and almost $2.1 million. Chernobyl's Hero is by the great Cryptoclearance, with Belong to Me on his dam's side, and has won over $114,000.
The Children's Project web site explains: "We figured that the horse - who we named Chernobyl's Hero - would at least raise awareness to a whole new audience. Bill has a special heart for orphans, and noted that Chernobyl's Hero's mother (who had been well-loved by his whole family) had been killed suddenly by a lightning bolt. He noted that in this case, an 'orphan' will run to help orphans across the ocean to find loving homes of their own. "
Head to the home page of the Children's Project and you'll find a terrifically informative site and touching stories. My thanks to Ms. Ryan for the explanation.
On The Triple Crown Trail
It was a relatively light week on the Road to the Roses, but there were some interesting developments.
* Old Fashioned with Ramon Dominguez up won the one-mile Southwest Stakes at Oaklawn Monday by 3+ lengths over Silver City. He shot out of the gate, let Silver City take the lead, and then began a big move on the far turn, showing nice versatility. But the horse that impressed me was Flat Out. Near the back of the field for much of the race, he downshifted and took off in the middle of the track and was flying as he took third. If he had had another two furlongs . . . What's that you say? The Kentucky Derby is two more furlongs than the Southwest? Hmmm. But this will catapult Old Fashioned to the top of nearly all Derby lists.
* Local Florida boy General Quarters checked hard on the backstretch and then bought a ticket on the Springfield Monorail, hugging it inside to a convincing upset win in the Sam F. Davis Stakes at Tampa Bay Saturday. He finished 13-1 ($29.00) and place horse Sumo went at 32-1 and paid $24 for place. This messed everything up for the Derby prognosticators. Musket Man finished a long third and Free Country and A.P. Cardinal followed in that order. The latter two were supposed to be the guys in the race, Derby-wise. But my opinion is that running at Tampa is like running on the beach, and a horse that does well here is really running hard and even if a horse doesn't win, he gets a good workout. These are always worth watching in their next.
* Axel Foley and Chocolate Candy looked each other in the eye in the El Camino Real at Golden Gate Saturday. Chocolate Candy won by a neck over Massone. Axel Foley finished a long fourth. That's about all you need to know. Chocolate Candy will graduate to tougher competition somewhere. San Felipe? Then the Santa Anita Derby?
* In a $37k allowance race at Gulfstream Thursday, Dunkirk lived up to his modest Derby buzz with a win by nearly five lengths over Warrior's Reward. Most were looking for more in this race from Alma d'Oro and Stately Character, who finished fifth and last respectively.
* Shug McGaughey's Imperial Council, son of Empire Maker, the spoiler of Funny Cide's Triple Crown bid in the Belmont, won a small allowance Saturday. Lots of touts like him.
Looking Good
* Old Fashioned
* Silver City
* Flat Out
* General Quarters
* Sumo
* Chocolate Candy
* Imperial Council
* Captain Cherokee
* Fierce Thunder
Looking Not So Good
* Poltergeist
* A.P. Cardinal
* Musket Man
* Stately Character
* Alma d'Oro
* Axel Foley
This Saturday
It's a light schedule, both for three-year-olds - especially the prominent ones - and graded stakes. Many are looking forward to the Fountain of Youth next weekend at Gulfstream.
I'll be keeping an eye on veteran Georgie Boy in the seven furlong San Carlos Handicap at Santa Anita Saturday. I've always liked him. Sometimes he pays. And top-level turfer Champs Elysees goes 1.5 miles on the Santa Anita grass Sunday.
-
Thomas Chambers is the Beachwood's man on the rail. He brings you Track Notes every Friday. You can reach him here.

Posted by Beachwood Reporter at 7:34 AM | Permalink
What I Watched Last Night: Burris Blather
Once again I returned to Chicago Tonight to watch a panel discuss Roland Burris, and once again I was stunned by some of what I heard. What a bunch of tools we have in this town. The panelists: political consultant Delmarie Cobb, NPR reporter Cheryl Corley, and Laura Washington. Moderating: Eddie Arruza. This is a rough transcript edited for clarity. I was not on the panel, I was just commenting from Beachwood HQ.
*
COBB: I spoke to [Burris] today . . . This whole amended affidavit was done for all the right reasons. The sad thing about it was that it wasn't done within the context of a media strategy . . .
[Cobb then rues that the media "controlled the message" instead of Burris]
RHODES: In Russia, propaganda controls you.
ARRUZA: But even with a media strategy, could he control the fact that he didn't detail what we are learning now, information he once said wasn't there?
COBB: A media strategy would have explained that he had submitted information and why . . . he said [before the impeachment panel] if he remembered anything, he would be adding to it . . . now it's being framed as a "discovery" of an affidavit, and everyone is going through it line by line trying to nitpick.
RHODES: Yes. He said that if he remembered later that he tried to raise money for the governor at the behest of the brother's governor while he was seeking an appointment to the United States senate and buttonholing every Blagojevich aide now under indictment - the only question he was in Springfield to answer - he would let the committee know. And stop nitpicking, people.
*
ARRUZA: The Sun-Times and the Tribune have called for his resignation, the Washington Post and others . . . is this the death knell?
WASHINGTON: I think far from it . . . I can't imagine him stepping down . . . I think he's really going to fight this out . . . as he said at the City Club yesterday, he has a lot of plans . . .
RHODES: Like what? Being a friend to the Great Lakes?
WASHINGTON: I think the calls for his resignation are a little premature because we haven't seen everything yet.
RHODES: You mean four versions of sworn testimony isn't enough?
*
COBB: [Older African Americans] know him. They do know 30 years of a record . . . he was a public official without scandal that whole time.
RHODES: That's a lie. Would it be premature to demand that Cobb resign? And is she getting paid by Burris?
ARRUZA: Are you going to be advising him again?
RHODES: Thank you.
COBB: That's a possibility.
*
ARRUZA: The fact is, he wasn't totally forthcoming about his contact with the [Blagojevich] administration.
COBB: But this is politics as usual, and not just on his part . . .
RHODES: So you admit it! You should cash that check right away.
COBB: We all see an opening here and we're all going to jump on his grave . . .
RHODES: Impossible. Have you seen that thing?
COBB: It would be a sin to try him in the media, and then when these tapes become public we find out he did do all the right things . . . why don't we wait to see what's in the tapes?
RHODES: Nice try! So the media strategy will be to switch the focus from the affidavits to the FBI tapes, which we won't be hearing for, oh, maybe two years.
CORLEY: When you look at his testimony . . . this man is an attorney. He knows how to give answers. He's a politician. You would think that someone who has these sorts of credentials would have been a little more savvy from the beginning . . . and the story keeps changing.
COBB: But even prosecutors say they wouldn't go after him for perjury.
RHODES: He's being investigated for perjury as we speak!
*
WASHINGTON: There's a difference between if he broke the law and if he was misleading and not transparent.
ARRUZA: [asks about transparency and Burris no longer speaking to the media]
COBB: He needed to set a brake.
CORLEY: [But] his characterization of himself is that he's an honest and forthright guy . . .
*
ARRUZA: What will come of these investigations, the Senate Ethics Committee . . .
WASHINGTON: I doubt it will lead to much of anything . . .
RHODES: I disagree; I think Roland's toast.
COBB: You're asking for this man's resignation, but I just find it outrageous . . . the same officials who have never said anything about corruption . . . on the Fifth Floor, and all of the sudden we cannot stand this, Illinois cannot stand this, he must resign . . .
RHODES: Wow, let's unpack that! First, the Blago-like intimation about corruption by others . . . both cheap and delicious! Second, the acknowledgement (again) that what Burris has done is corrupt, but everyone else gets to do it and they get away with it, why not Roland!
*
ARRUZA: [Asks about the racial element.]
WASHINGTON: There is a perceived double-standard about pay-to play and shaving the truth.
RHODES: That whites are allowed to it and blacks aren't? We're sending our second white governor in a row to jail!
WASHINGTON: He's the only African American in the Senate . . .
RHODES: And his successor will be too . . .
COBB: We are the only ones who have to fight to protect our gains . . . [nobody complained when people demaned that] a white woman had to replace [Hillary Clinton} . . .
RHODES: People demanded Hillary's replacement be a white woman? Who in the world demanded that?
*
COBB: I'm glad he stopped today and took a break. Because he was all the news, and the media is sitting outside his door at this minute . . he doesn't need to do the soundbites on the run . . . he should continue his listening tour . . . and conduct himself in a way that is a reflection of who he is . . .
ARRUZA: How can he without speaking to the media?
COBB: You don't have to do soundbites on the run.
RHODES: I'm trying to recall a single soundbite on the run. He has submitted affidavits, testified before a House committee, held two press conferences, and spoken to the City Club. I don't believe he was running during any of that, though he literally ran away from the press after his second press conference.
*
WASHINGTON: Barack Obama, through his spokesman, said we need to go on with business . . .
RHODES: Not exactly. Robert Gibbs said the people of Illinois deserve answers.
WASHINGTON: People will have to sit down with him and hear his [version of events] . . .
RHODES: Which one?
*
CORLEY: Anybody appointed by Blagojevich, that taint was going to carry over.
RHODES: That's what a lot of us said, but Burris insisted otherwise. And then he multiplied the taint. And now he's putting his own interests above those of the constituents he is supposed to be serving - who are paying his salary. If Burris was truly a statesman, he'd do the right thing and give us a fresh start.
-
See what else we've been watching. Submissions welcome.
Posted by Beachwood Reporter at 12:22 AM | Permalink
February 19, 2009
The [Thursday] Papers
It gets worse.
"U.S. Sen. Roland Burris had more contacts with then-Gov. Rod Blagojevich's chief of staff before being appointed to his Senate seat than he disclosed in his most recent affidavit, phone records and interviews show," the Sun-Times reports in its print editions today but apparently not online.
"One of the calls placed to John Harris came Nov. 13, the same day Burris discussed the possibility of raising money for the governor with Blagojevich's brother, Robert Blagojevich, according to phone records obtained by the Sun-Times and sources. That call was likely caught on an FBI wiretap."
How does this differ from what Burris has said under oath so far?
"In the Feb. 4 affidavit, which set off a political wildfire because it dramatically altered earlier sworn statements, Burris acknowledged only reaching out to Harris once last October and getting a return phone call three weeks later.
"Burris depicted his discussion with Harris as having included a passing reference to the Senate seat. But sources say Burris made a hard pitch to Harris - as well as other Blagojevich aides about being named to Barack Obama's seat."
See ya, Roland. Been nice knowing you.
The Real Roland
"I've known Roland a long time," U.S. Rep. Danny Davis said on Monday. "People have often laughed and joked about how honest Roland was."
Well, people have often laughed and joked about Roland, that much is true. As for his honesty? The latest in our examination of Burris's crappy record is a look at Cate Plys's fabulous story in the Reader during Burris's 1995 run for mayor. You're going to want to read this, trust me. (Memo to Reader: Put the whole thing online, please. Link now added.)
*
COMMENT 1:30 P.M.: From Scott Smith:
Who's to say Davis is wrong here? Maybe the exchange went something like this:
Pol #1: Hey, there goes Roland Burris!
Pol #2: Yeah, good ol' Roland. The most honest man in Illinois politics.
[Pols exchange a look]
Pols #1 and #2: BA HA HA HA HA!
Pol #1: [Wiping tears from his eyes] Hoo! Good one.
Pol #2: I tell ya . . .

The Bright One
On the one hand, the Sun-Times continues its childish penchant for overblown self-congratulation by using the quote "Thank God for the Sun-Times" from House Minority Leader Tom Cross as a headline over a story about Majority Leader Barbara Flynn Currie's apparent mishandling of the latest Burris affidavit.
On the other hand, in equally typical Sun-Times fashion, the paper doesn't even put its latest scoop on the front page because, you know, they've got that big story about an alderman's proposal to install countdown timers at intersections with red-light cameras.
Thank God!
The Sun-Times conveniently forgets that it not only never told the truth about the way former publisher and ex-con David Radler overturned the editorial board's endorsement of Paul Vallas for governor in favor of Rod Blagojevich, but that it wrote this while endorsing Blagojevich - the protagonist of the Burris affair - again in 2006:
"There's no denying the cloud of scandal over his administration. One of his chief fund-raisers, Antoin 'Tony' Rezko, was indicted last week for alleged shakedowns for campaign contributions. More revelations likely will come right before the election when power broker Stuart Levine is expected to plead guilty. The governor said the charges against Rezko, if true, represent a personal betrayal by Rezko, and that he himself has never been involved in any unethical or illegal fund-raising. Our experience with Blagojevich prompts us to take him at his word. We've chosen to give him the benefit of the doubt and endorse him for a number of reasons."
The paper is proud of its scoops about Todd Stroger too, I'm sure. But it endorsed him as well.
*
Yes, at most papers the editorial pages are separate from the newsroom. At the Sun-Times, that largely hasn't been the case. Either way, editors there make themselves look like hypocritical asses when they slap their own backs for an imagined indispensability. That's not to take anything away from the few fine reporters still there; to the contrary, they are to be not only praised but admired. Too bad they aren't better served by their editors.
Oh Yeah, Resign!
One day after running an editorial asking Roland Burris for all the facts while everyone else had moved on to asking Roland Burris to resign, the Sun-Times editorial page plays catch-up today and, um, asks for Burris to resign. My guess is that they didn't want to go down in history as having never done it. The paper, though, takes the guise that Burris's appearance at the City Club yesterday was his last chance - and one he "deserved" at that - to set the record straight. Right. Like anyone expected Burris to deliver a speech that would somehow, miraculously, answer all the unanswered questions and, somehow, miraculously, rehabilitate himself. You guys blew it. Just admit it.
Say What?
John Kass this morning latches on to the strangest moment during Burris's City Club remarks.
"At the City Club lunch, the Roland standing before us said he wouldn't take media questions, but Jeff Berkowitz, host of Public Affairs, got one in about whether it was wrong of Burris to solicit funds for Blagojevich at the time Blago was considering Burris for the Senate.
"'I was never considered for the Senate,' chattered Roland.
"The crowd hissed, murmuring, 'What?' 'What?' to one another, clucking that whichever Roland it was up there was either bonkers or a liar.
"'I was never considered by the Senate,' Roland said.
"They hissed some more.
"'As I said in my statement, we would not make responses to those type of questions,' said the Roland at the lectern before stalking off the stage."
That's Stella!
"[A]nd [Burris] better study his script so he won't come off as a guy caught with his pants down sitting on a tainted seat."
This Reporter
Stella also informs us today that "Seldom do I pay attention to the stories circulating on the Internet."
You mean, like, the news?
Truthiness
Eric Zorn joins a slice of the punditry today saying that if Burris had only told the truth, he would have been seated as senator just fine.
Huh?
So if Burris went to Springfield and said, "Yes, I tried to raise money for the governor at the same time I was lobbying to get the appointment" everyone would have said, "Okay! As long as you're telling the truth!"
I think not.
The whole point of sending Burris to Springfield, besides providing political cover for Harry Reid and Dick Durbin, was to make sure the appointment was on the up-and-up.
And the notion that it was a legal appointment no matter what doesn't wash. The idea that the Senate could have denied Burris his seat was never tested, but early on, before changing their minds, the punditry seemed to think the Senate had that authority.
Finally, the outcry would have been so great - even more than it is now - that the pressure brought to bear would have surely sent Burris packing. President Obama, for one, would have been under tremendous pressure to put his arm around Roland and gently push him off the cliff.
Burris's problem isn't just being dishonest; it's what he was dishonest about - the very thing we were looking for, and what only the most cynical among us could have imagined we'd find.
Programming Note
And there's so much more! But I must tend to business, or Roland Burris, like Rod Blagojevich and Barack Obama before him, is going to send me into bankruptcy. And I haven't even gotten to the 5th in any kind of serious way. Memo to Pat Quinn: Can you declare a week-long moratorium on news so we can all catch up? Or send me a winning lottery ticket. Scratch2Win isn't doing it for me.
The Beachwood Tip Line: Itchy and scratchy.
Posted by Beachwood Reporter at 10:43 AM | Permalink
Burris Media Attacks An Old Story
Beleaguered Roland Burris now says he will no longer take questions from the media, whom he accuses of misreporting the facts of his pursuit of a United States senate seat. He has not, to my knowledge, asked for a correction from anyone, nor specified what exactly has been misreported. But then, this is an old game that Roland is playing.
In April 1995, Cate Plys wrote a terrific 4,300-word story for the Reader about Roland's relationship with media during his mayoral campaign that year. The piece is behind the Reader's firewall can be found here; I will excerpt from it here generously. It was called "Biting The Hand," and asked: "Did candidate Roland Burris deliberately dodge coverage just so he could complain he wasn't getting any?"
Here we go.
*
"By now it's traditional for politicians to knock around the press like Mike Tyson's sparring partners. Yet even Nixon waited to be kicked around before he complained about it. As a mayoral candidate, Roland Burris may have begun a new trend when he started attacking his media coverage before it was possible for him to have any media coverage - namely, at his very first press conference."
*
"He spent his entire campaign bashing the press. 'It got more good-natured as the campaign went on,' allows the Sun-Times's Scott Fornek. But it never stopped, and at one point Burris supporters picketed Channel Two and Channel Seven over coverage of a Burris march and rally in Roseland."
*
"An analysis of the major print coverage - the Sun-Times and Tribune - shows a total of 41 articles for Burris and 46 articles for Daley during the short Burris campaign. That's counting every single story that included the name 'Daley' in a headline for whatever reason. And 14 of Daley's 46 articles depicted a squirming mayor dealing with the police lieutenant's exam, hardly the kind of story Daley's press team would have planted. Clearly, Burris wasn't stiffed on the amount of coverage he received.
"He didn't suffer from antagonistic reporting, either. In classifying the articles as positive, negative, or neutral, we've given Burris every benefit of the doubt. Anything slightly questionable for Burris became neutral or negative; anything slightly questionable for Daley became neutral or positive. Under this Burris-friendly system, Burris finished with 27 positive stories to Daley's 15. Burris received only 7 negative stories to Daley's 23, and of the remaining neutral stories, Burris had 7 and Daley had 8.
"If anyone should have been squawking, it was Republican Ray Wardingley and Harold Washington Party candidate Lawrence Redmond. Wardingley garnered a paltry ten stories, many of them noting his former life as a clown. The last few articles only appeared due to the brief controversy over whether the Republicans had tried to dump him for Ed Vrdolyak. Redmond saw his name in the Tribune and Sun-Times a total of four times."
*
"Something worth remembering too is that the Burris campaign was perennially, chronically, 'catching fire'," Channel 2's Mike Flannery told Plys. "We were constantly being told the wildfire of political support was about to explode. Every day. It was only just around the corner, it was a few hours away. Like the weekend before the election in Daley Plaza, a car caravan which they hoped was going to be the largest rally of the campaign. They wanted thousands of people at Daley Plaza. Guess what? There were not 200. There may not have been 120. There were a number of times I could cite you that we were given a big buildup, and nothing was there."
COMMENT: Shame on you, Mike Flannery, for relying on a candidate to tell you if support was "about to explode." I mean, really.
*
"Burris's coverage was, in fact, downright kind. Only one negative story cropped up on Burris's past, and it didn't originate with reporters. On March 16 the Chicago Council of Lawyers released a report blasting the Illinois attorney general's office for, among other sins, a payroll so bloated with political hires that there isn't enough money left to attract and retain top-notch attorneys. Far from exploiting the report, the Tribune and Sun-Times each ran only one article on it. The Sun-Times account was on the bottom of page 18, and didn't use Burris's name in the headline. The Tribune story was in the middle of page 8 of the Chicagoland section. Both articles noted the possible political intentions in the timing of the report's release, and both concentrated heavily on the fact that the report's findings applied to every attorney general going back to Republican Tyrone Fahner in 1983."
COMMENT: And the coverage has continued to be kind when it comes to looking at Burris's record, whether it's USA Today writing a story under the headline "Burris Has Been Free Of Controversy" to the local media's forgetfulness - as a general narrative, with a few exceptions - of Burris's clownish and controversial ways.
*
"Is Burris's past so unblemished that a malicious press, try as it might, just couldn't root out any dirt on him? Hardly.
"'There were any number of controversies that you could've brought up from his period in state government, like you can with any politician,' says Rob Karwath, the Tribune's assistant metropolitan editor in charge of local political coverage. 'The thing with Carol Moseley-Braun and the medicaid reimbursements for her mother that she made to the state, the decision not to open a criminal investigation into that, that was an issue'."
"Burris also got a pass on his involvement with the Rolando Cruz case. Cruz has been on death row for the last decade but is widely believed to be innocent of the 1983 sexual assault and murder of ten-year-old Jeanine Nicarico. He is currently awaiting a third trial after his second conviction was overturned by the Illinois Supreme Court. Tribune columnist Eric Zorn wrote a string of 15 columns examining the questionable evidence used to convict Cruz and the suppression of the fact that child rapist and murderer Brian Dugan had confessed to the Nicarico murder after Cruz's first conviction. In 1992 Assistant Attorney General Mary Brigid Kenney resigned from Burris's office rather than write a brief supporting Cruz's conviction for his second hearing before the Illinois Supreme Court. 'I was being asked to help execute an innocent man,' Zorn quoted her letter to Burris. 'Unfortunately, you have seen fit to ignore evidence in this case.' Burris refused to reconsider, telling reporters, 'It's not for me to place my judgment over a jury, regardless of what I think'."
*
"Rehashing the Cruz case would not have made Burris happy. 'You know what that would've done for him with the Hispanics?' says Sun-Times reporter Jorge Oclander. 'We knew about it all along. And in the interest of being fair to the man and not making a political point about something that hadn't [been brought up by another candidate or interest group], it stayed out there'."
COMMENT: This refers to the curious notion many journalists have that they themselves can't bring up an issue; that it's up to the candidates or opposition party to raise an issue. This is nonsense, of course. You don't let your subjects edit your papers and determine your agenda. But this is the same excuse many national reporters gave for their sorry coverage of the run-up to the Iraq war - that if the Democrats didn't question the intelligence and rationale, it wasn't their place to do so. Of course, it is exactly the place of a journalist to do so.
*
"Don't forget that all-new black militant image Burris adopted for the mayoral campaign. 'We let him get away with that,' says Andy Shaw."
COMMENT: Why?
*
"Reporters also agree they were extremely lenient with Burris when pressing him for details on his policy positions, which is apparent from reviewing his clippings. 'Remember he never put out a platform,' says Shaw. 'He laid out a few specifics on plans without financial components of how to pay for them. We didn't press him on that because we didn't think he was viable enough to do the kind of vetting we do of serious candidates'."
COMMENT: Your job is to vet, not determine how viable a candidate is. A lot of folks didn't think Obama was viable; in fact, like the sports world, the political world is littered with non-viable candidates who have won office - or at least made an impact. And as we're seeing now, it's important to vet who parties put forward and why (especially in Chicago, where many candidates are stooges) and to keep an eye on folks who may turn up later in, ahem, appointed positions or future races. In other words, just do your job.
*
"According to Flannery, 'He got more coverage and was taken more seriously by the news media than any other politician I can recall - and I've been in this for 22 years - who raised as little money as he did, whatever the final number is, and who in the end made as poor a showing as he did'."
COMMENT: I'm not sure how this squares with what Shaw said, but the media should spend less time deciding who to take seriously and more time taking their job seriously.
*
"At that first first press conference, Burris claimed reporters were 'covering up' for Mayor Daley. 'We demand fair reporting. You all have been praising [Daley]. You all anointed him the King Richard,' said Burris, quoted by Scott Fornek in the Sun-Times.
"'He launched into a big thing, We're going to hold your feet to the fire,' singled out Andy Shaw, said Andy Shaw had been painting Mayor Daley as invincible, and so on,' says Fornek. Burris supporters actually booed Shaw, says Kirby.
"Burris held a second first press conference for the missing reporters sometime later, now seated at a table in a different room. He wouldn't repeat his opening speech, and Fornek wrote that Burris was 'visibly irritated' when reporters dared to ask questions. In one exchange, Burris said he wanted to get out his message, not the message the press wanted to put out. Bernie Tafoya of WBBM Newsradio asked what message Burris thought the press wanted to put out.
"'Don't be smart,' Burris shot back, as quoted by Fornek. 'I am trying to be serious. And I hope you all will respect me'."
*
"Later Burris went after Jim Allen, Chicago bureau chief of the Daily Herald. 'I had leaned my head on my arm at one point in the news conference,' says Allen, 'and [Burris] turned to me and said, Are you tired or are you just disgusted with the way I answered your question? And I said, No, neither, I'm resting my head on my hand'."
*
"Reporters generally take issues raised by candidates and 'get to the bottom of it,' says Fornek. The Sun-Times tried to do that with education after Burris's criticism of the public schools, he says. 'But [Burris] never really spelled out enough what he was gonna do . . . He talked about this five-point plan for how he was gonna improve funding for schools, and never really laid it out. And when you would ask him for platform papers, he said at one point, Well if you mean am I gonna write this stuff down for you, no!'
"You just kind of had to follow him around and get what he said. When he finally issued a press release on education, it talked about the five-point plan but there was no detail on what the five-point plan was. 'You don't expect a candidate to spoon-feed you everything, but they're the one running the campaign,' says Fornek. 'If they're not gonna give you a platform or position papers or tell you ahead of time where they're gonna be, it limits what you can do'."
*
"Besides attacking the press, the Burris campaign displayed one other consistent strategy: bringing up charges against Daley, offering no evidence, and challenging reporters to investigate. 'I'm sure you've heard his slogan could've been, You check it out,' says Fornek wryly. 'With this kind of anti-media pose, he'd challenge us all to check it out. He'd say, I don't know if it's true, I'm just wondering here, it's up to you all to check it out, I want you to please, please check it out. Obviously, who has time to make a full court press on every charge that he let loose?'
"At the first first press conference, Burris charged that Daley had only 10,000 police officers on city streets rather than the budgeted 13,000 officers. Next, Burris charged that a Daley associate had offered him two jobs with a salary totaling $250,000 a year to drop out of the race. He charged that another Daley associate had told him, 'It will be very difficult for you to make a living in this city after you lose this election.' He charged that past campaign contributors had been told they would never get another city contract if they contributed to Burris again. He accused Daley of harassing a restaurant where a Burris fund-raiser was held by having a city inspector demand that the restaurant obtain a banquet license.
Burris also accused Daley of having a police academy graduation date changed to provide Daley with an election photo opportunity. 'Now please check it out,' Burris asked reporters at a press conference. 'So don't attribute it to me if it doesn't check out.' It didn't.
"Of all these charges, Burris offered a source for only one - the restaurant that needed a banquet license.
Finally, the day before the election, Burris picked up on an earlier Channel Five investigation by Dave Savini that reported O'Hare Airport director of vehicle services Dominic Longo, a Daley campaign worker, was forcing employees to do political work for Daley. 'Burris held a news conference and said, I've got more workers, and they say Longo is hiring inexperienced workers, and they're causing safety hazards at O'Hare,' recalls Channel Five's Dick Kay. 'Well, it's the day before the election at three in the afternoon. I mean, nobody's gonna go do that story that night. You're not gonna do it that way because it's a major investigative piece and you've gotta make sure you can substantiate these charges.'
"The Sun-Times's Fornek did put a full court press on Burris's first charge that only 10,000 police officers are on Chicago streets. Fornek obtained statistics from city budget director Paul Vallas showing 13,187 employed police officers. The only Burris charge regarding the officers that couldn't be entirely disproved was his contention that the city deploys fewer police in high-crime areas. Revealing such deployment information, police officials told Fornek, would also reveal the best time and place to commit crimes.
"'We found a lot of his facts to be of questionable use or purpose, so what do you do?' asks Don Hayner, Sun-Times assistant metropolitan editor and political coordinator."
COMMENT: You write a story saying Burris has a habit of making charges that don't check out.
*
"The Sun-Times's Jorge Oclander is less charitable. While covering Burris's endorsement by the IVI-IPO, Oclander asked Burris how he kept going while the polls showed him trailing Daley three to one. 'And he says, Well, I don't believe the polls, and starts complaining again about not getting coverage in the press,' Oclander recalls. 'And I said to him, Well, perhaps if you say you don't believe these polls, you must have some other polls that show you differently, and he says, I do, and I said, Great, why don't you share those numbers with us, and he said, Well, I'm not going to share the numbers, and breaks into this politician's smile that says, hehehe, I've got a secret you don't know.
"'What are we supposed to report?' asks Oclander. 'Their fantasies? I'm not interested in his fantasies. I am interested in some hard data that will make a good news story . . . We do not have an obligation to lie to our readers.'
"Burris's allegation about the $250,000 job offer rankles Oclander. 'I don't have an obligation to be your research staff,' he says. 'I have an obligation to be the researcher for my readers, but there's gotta be a basis for something. I mean, so he's gonna say he has definite proof that Mayor Daley has fixed it so that the sun rotates around the earth? I'm not going to investigate that. I mean there's gotta be something there other than Roland Burris saying it.'
"The Daily Herald's Allen also found the job accusation frustrating. '[Burris's] suggestion was, you should be able to find these people,' he says. 'And who these people were we had no idea. We were supposed to ask around and find them among 2.8 million people'."
*
"Fornek says, 'I was questioning him on the [alleged $250,000 job offer] again a couple of weeks ago on John Madigan's show, and I was saying, Why don't you name this person who you say offered you this job, because if you really want to root out this kind of corruption shouldn't you name names? Are you shielding this guy? He kind of cut me off on my question and said, Are you saying I'm lying? Are you calling me a liar? . . . But this'll give you some insight. The first words he says after it's over, he looks at me and he laughs and he points and he says, Scott, I really got you there, huh? And we walked out, and he's slapping me on the back, we're kidding as we walk out. So this is why I say it was a strategy.
"'And he routinely would even tell me that he liked the stories I did,' says Fornek. 'You know, he liked the profile I did of him.'
"Soon Burris switched his strategy from simply haranguing reporters to telling them that their lousy coverage was due to a conspiracy among their bosses to keep him out of the papers.
"'Boy, I think he gives us way too much credit,' says Karwath. 'It's just so far beyond the realm of what's reasonable, and what actually happens in a newsroom, to think we sit around plotting conspiracies. Sometimes we don't have time to think through things as much as we'd like to, and to think we have time to get into that elaborate plot-making is just really farfetched.'
*
"Does he blame the media for Burris's loss?
"'I'll just say it didn't help,' says [Burris's media man Don] Rashid. 'I think the media bears a great responsibility, particularly in voter turnout across the board, in that the priority of the media could be better served if they really got into the race, and it seemed like they do the minimum'."
*
We should note that a frequent refrain from these reporters was that they actually like Burris. Most still sound bewildered.
"'Just to give you some perspective, Roland is one of the first statewide officials I covered in college,' says Allen. 'I have a lot of respect for this guy. What happened this time out, I don't know. I don't know if he was in over his head or just lacked money or organization. Whatever it was, it wasn't a pretty sight.'
"'I think the press was very kind to Mr. Burris,' says Jorge Oclander. 'Mr. Burris wasn't very kind to Mr. Burris'."

Posted by Beachwood Reporter at 2:22 AM | Permalink
Ironside: Girl In The Night
Our look back on the debut season of Ironside continues.
*
Episode: Girl in the Night
Airdate: 21 December 1967
Plot: It's Vegas baby! Detective Ed Brown is on a routine extradition job in Sin City when he meets Elaine, a mysterious chanteuse with a haunted past. Following their five-hour date, a nightcap, and a hot-and-heavy clinch, Ed wakes up in the hospital with a concussion and Elaine is nowhere to be found. Local cops peg Ed for a John but he refuses to believe Elaine is that kind of girl. His conviction is enough to get a visiting Ironside and company on the job investigating the mysterious disappearance of Ed's one-night stand.
Guest stars: Four years before she'd marry "Mac" McMillan, Susan Saint James portrays doomed lounge singer Elaine Moreau.
I guess Twiggy wasn't available: Susan Saint James is sporting a Liza Minnelli-wannabe look complete with pixie haircut and big black false eyelashes. She's dressed all in white - a sheer poncho with a rhinestone collar over her mini-dress. She looks like she's draped in a wispy tablecloth.
A quaint little town in the desert: Under the opening credits, a bird's-eye view of the Vegas Strip shows it to be surrounded by huge tracts of undeveloped land.
"I want some answers and fast!" Ironside rolls into the hospital with Mark and Eve in tow, immediately annoyed that his Vegas counterpart is more worried about solving the murder of a prominent businessman than the bump on Ed's head. The nerve! So much for professional courtesy.
What happens in Vegas, stays in Vegas: With Ed's wallet and gun stolen, the Vegas cop is fairly certain he's got this case figured out. "Brown was seen with a girl last night . . . a pretty girl. Two confederates. A couple of drinks. A promise. And then a hit on the head." Wait, a promise? I'm shocked. Is he suggesting what I think he's suggesting? Ed? Ed Brown?
There's always a girl: Ironside surprises Ed by asking straight off about "the girl." The Chief says with a smirk, "Why don't we start at the beginning."
Cue Ed's romantic flashback: A guy walks into a bar . . .
Classic meet cute #201: Elaine is sitting at a white baby grand piano (it's Vegas, after all.) She's lost in a reverie, and from the look on Ed's face, he's never seen anything so enchanting. Seriously, she looks about 12.
Mystery woman vs. Debbie Downer: Ed's intuition is severely impaired by the pretty young thing in front of his eyes. Warning bells go off but he hears nothing but sweet music -
* Warning Bell #1: Elaine tells Ed - a complete stranger whom she's just met thirty seconds earlier - that she's been waiting for him all her life. After a gloomy pause, she adds, "or maybe it just seems that way." Run, Ed.
* Warning Bell #2: At dinner, a sullen Elaine stares at her wine glass while a violinist serenades their table and Ed slumps over his plate. Fun date.
* Warning Bell #3: When the owner of the restaurant (an old friend of Elaine's) asks her if she's happy, she wistfully replies in French, "One should live each hour as if it was his last." Seriously, Ed, run.
* Warning Bell #4: She shares her personal theory with Ed; "No more doors to run through, no more locks to lock. Put on your prettiest dress and wait." Ed?
* Warning Bell #5: When Ed asks Elaine who she was waiting for when they met in the bar, she speaks like a sleepwalker, "For you." Playing as if she's about to drink poison, she raises her wine glass and says, "To us and to this night and to no more questions please." She could not look or sound more morose. Earth to Ed . . .
Gee Ed, ya think? "I don't know how I could have been such a fool not to have realized then that there was something very wrong. Something troubling her."
Eve's ever-expanding resume: "Eve, get on the phone. Make four reservations for the first plane back to San Francisco." And get me some coffee while you're at it.
Not so fast: Ed refuses to leave town until he finds out what happened to Elaine.
Elaine? Elaine who? A quick trip back to Elaine's house is enough to get everyone suspicious, as the woman at home claims no knowledge of anyone named Elaine.
Here pink, there pink, everywhere pink pink: This woman sure loves the color pink. Her mini-dress is pink paisley. Her tights are pink. Her patent leather flats are pink. The chair in the hallway is upholstered in pink. The flower arrangement in the entry hall is pink. The couch is pale pink velvet. The glass bottles on the liquor cart are rosy pink. The wallpaper is dusty rose damask. The curtains are a deep rose. Even her phone is pink. I think I'm going to be sick. Maybe my vomit will be pink.
Reduce, re-use, recycle #1: Next stop is a visit to the nightclub where Elaine worked. The boss's office is the same set as we've seen umpteen times before. I'm going to christen it the Big Cheese Set, because invariably it serves as the office of some rich, powerful, big cheese - lawyer, record producer, CEO, crime syndicate honcho - who has something to hide.
Cue maraca music: You can always tell when Quincy Jones has scored the music for an episode by the atmospheric, jazzy maraca theme they use during key transitions.
Reduce, re-use, recycle #2: The swimming pool at Ed's hotel is also a retread set we've seen twice before - in episodes four and eight.
Incoming! As Ed walks the length of the hotel swimming pool, three people jump in the water; each corresponding splash is overdubbed and overdone. It sounds like cannonballs are literally dropping into the pool.
Elegant poolside dining: Ironside and Ed's lunch consists of whole tomatoes stuffed with cottage cheese on a bed of iceberg lettuce.
Hey, Kool-Aid! A large, round glass pitcher of what looks to be bright red Kool-Aid sits prominently on the lunch table. When Ironside offers to pour a "cool drink," I half expect the Kool-Aid guy to come busting through a fence. Oh, yeah!
I'm guessing you're going to wish you hadn't said that: "Oh thank you mister. I'll love you to the day I die."
My, how time flies when the mob is putting the screws to you: With each interview, a new piece of Elaine's sad life falls into place. Near the end, she passes from one man to another and to another, and I'm figuring weeks, maybe months, have passed during this flashback. Nope, three days. Count them, three. Just two days ago, Elaine rolled off the turnip truck from Indiana (or wherever she naively sprang from) and now she's a moll to the underworld king of Las Vegas.
Famous last words: Speaking of Elaine, Ed wraps up the episode by saying, "She knew. She knew he had to come for her. She just waited . . . You should have known her."
Woulda, coulda, shoulda: And apparently you should have told her you were a cop, Ed. Perhaps then things might have turned out a little differently.
-
Previously:
* A Cop and His Chair
* Message From Beyond
* The Leaf in the Forest
* Dead Man's Tale
* Eat, Drink and Be Buried
* The Taker
* An Inside Job
* Tagged For Murder
* Let My Brother Go
* Light at the End of the Journey
* The Monster of Comus Towers.
* The Man Who Believed
* A Very Cool Hot Car
* The Past Is Prologue
Posted by Beachwood Reporter at 12:39 AM | Permalink
February 18, 2009
The [Wednesday] Papers
Roland Burris is scheduled to speak to the City Club at 12:30 p.m. today. I'll try to live-blog it here.
UPDATE 12:43 P.M.: Burris blogging is below.
UPDATE: 12:36 P.M.: Lynn Sweet just said on Fox News that Burris will give a speech at the City Club but is not planning to take questions - even though that's usually the routine at these things.
BREAKING 12:37 P.M. (NOW UPDATED AND CLARIFIED): This is heartbreaking, if true (you have to scroll down):
"Little birds were whispering rumors of the demise over the last 24 hours, but it seems like the gossip is now true. Touch and Go Records, Chicago's venerable indie institution, is done. The label will go the way of its Bay Area cousin, Lookout! Records, ceasing new releases and managing back catalog only. Issuer of influential post-punk albums - Slint's Spiderland, the Jesus Lizard's Goat and Big Black's Atomizer, to name a few - Touch and Go began at the dawn of the '80s in East Lansing, Michigan, before founders Tesco Vee and Dave Stimson handed the biz over to Necros bassist Corey Rusk in 1983. Soon after the baton passing, the label moved to Chicago and began documenting our city's burgeoning punk scene."
In the meantime . . .
* What's the deal with Kwame Raoul? In What I Watched Last Night.
* What Robert Plant Hath Wrought. In Don's Root Cellar.
* The New Political Dictionary. Contributions welcome.
* NBA trades and MLB second-basemen. In Fantasy Fix.
The Resignation Papers
* The Tribune is calling on Roland Burris to resign.
* Just sayin'.
Ears Burning
"One of the greatest metaphors in American law is the one about the poisonous tree. It's about evidence. You cannot admit evidence that was not legally obtained. It is like fruit that falls from a poisonous tree, so tainted that it is dangerous to consume. It has to be rejected," Charles Madigan writes in a Tribune Op-Ed today.
"I think we have reached that stage now in the troubling story of Illinois' attempt to appoint a replacement for President Barack Obama in the U.S. Senate. Everyone connected to the process has been tainted, poisoned beyond any use."
Now, I'm not saying that's not a potentially common thought, I'm just saying that I've used it at least twice in the last six weeks.
* Steve Rhodes, January 8, 2009:
"[Burris] is the fruit from a poisonous tree. Even if the simple act of the governor making the appointment is legal in a vacuum, it is the end result of a corrupted process. Therefore Burris is himself tainted."
* Steve Rhodes, February 16, 2009:
"His protestations notwithstanding, Roland Burris's appointment to the United States Senate was always the fruit of a poisonous tree."
Just sayin'.
Panel Politics
Madigan goes on to call for a "Panel of 50," comprised of civic elites, who would pick candidates for office - and even raise money for them - outside of the Democratic and Republican parties. Huh? You mean like outsourcing our politics to the Abner Mikvas and Penny Pritzkers of the world? They're sort of already doing that, aren't they? I mean, look, can someone explain to me how the Obama power structure is not identical to the Daley power structure? They're the same people!
If Madigan is talking about forming a third party, that's one thing. He's not. If he's saying we should judge all candidates for an indefinite time on the sole issue of corruption, I agree. Unfortunately, that's not what he is saying. If so, we would have rallied behind Peter Fitzgerald and Ray LaHood would not be in the Cabinet, right?
The sliver of hope we have right now lies with Pat Quinn's reform commission and any momentum that can effect the structural changes in campaign finance laws, ballot rules, elimination of appointments instead of special elections at all levels (paging Daley!), improvement and aggressive enforcement of the Freedom of Information Act and its ancillaries, like the Open Meetings Act, and a host of other reforms that, truthfully, should also include removing Richard M. Daley from office. The culture of corruption emanates from City Hall. Rod Blagojevich told those around him that he wanted to govern the way Daley governed; even crack journalists who ought to know better are advising Obama to do the same.
Madigan wants new faces? Let's start with the race in the 5th congressional district. The Sun-Times decided to give dippy profiles to each of the four candidates who currently hold elected office. Today they give a few paragraphs each to the rest of the field. Thanks for perpetuating the advantages of incumbency and treating independent and Green Party candidates like nuisances whose names you were duty-bound to mention but whom you'd rather not think about.
Horse and Barn
Sun-Times editorial today:
"Burris Owes Us Facts On How He Got Seat."
Um, it's a little late for that. That's what he went down to Springfield to testify about in the first place, remember?
Cullerton Man
The anchors on Good Day Chicago pressed state senate president John Cullerton this morning on whether he thought Burris ought to resign. Cullerton punted.
Same with the coming tax hikes.
BLOGGING BURRIS
* Ed Burke just introduced the "great" Roland Burris and assured him he had a "legion" of friends in Illinois, while intimating that Burris is getting a raw deal and the truth - as opposed to the rumors being reported by the media - will set him free. Here's an idea Charlie Madigan might want to follow-up on: Push the City Club into the river.
* Burris complains that the latest controversy has pushed good news off the front page. Silly media.
* Burris begins his speech with a high school level primer on being a United States Senator. Much to his surprise, citizens are interested in their federal government!
* Now he's telling us what we already know about the state of the economy.
* Burris named off the Chicago power structure now running the White House. Woo-hoo!
* After reading from his speech that "time is a funny thing in politics," or something like that, he improvised by looking up and saying something like "Time in politics is funny." He looked lost so he returned to his script. Geez, Roland, if you're going to just read from a piece of paper and then leave without taking questions, why even appear? Why not just distribute a press release of your remarks?
* Recalling passage of the Lily Ledbetter Act and CHIP. Yawn.
* "Friends, I'm new in Washington. They don't know me out there yet." Slight chuckling in audience. They know you, Roland.
* "I am the real Roland. If I had done the things I'm accused of, I would be too embarrassed to stand up in front of you, because you are my friends."
* "Never a hint of a scandal" in his career. I don't have to go through this again, do I?
* "I ask you today to stop the rush to judgement."
* "Let's talk about the information in the media, and about the misinformation they are reporting . . . the issue is a simple one, two three. Number one: Yes. Yes, I told people around the governor that I wanted to serve in the Senate. Yes I told my friends. Yes I told the media . . . Number two: No. I did not have conversations about my appointment - now I'm talking about actually being appointed - with anyone other than the governor's attorney . . . Number three: Yes. The governor's brother reached out to me as he's done over the years, to do fundraising . . . but I did not give one single dollar to the governor."
But he tried to get others to give money to the governor. And kept that a secret.
* "I have nothing to hide, and I will continue to be transparent." I just won't take any questions today.
* "What I will no longer do after today, now that there is an ongoing investigation, is engage the media and have facts drip out in selective soundbites." Wow, using the perjury and ethics investigations as cover to no longer answer questions from the media! I will continue to be transparent to everyone but the people!
* "You know the real Roland Burris." Yes.
QUESTIONS!
He IS taking questions.
1. Are all the facts about your appointment now out?
A: They're out from me.
2. From Mayor Dwight Welch, Country Club Hills: When will we start seeing stimulus dollars?
A. [blah blah blah]
3. Dorothy Brown, Clerk of Circuit Court: Explain how stimulus package will help those with mortgage problems.
A: I've never seen such a war on the floor of the Senate. Of course, I haven't been there long. [blah blah blah]
4. Lorenzo Bracey (?): Have you been advised that you are the subject or target of an investigation?
A: No, I haven't been advised.
5. Did the members of the Senate read the stimulus bill before they voted for it?
A: Let me tell you something, I got handed an 800-page document on the third week I had been there . . . you read pieces of it . . . you get a briefing on it . . . the conference call agreement was bigger than the bill itself . . .
6. Bob ? from WGN: Are you sharing a house or apartment with other members?
A: That's another thing . . . I just learned that you can't get per diem as a senator while you are in Washington, and they do not pay your rent while you are in Washington . . . my wife found me a very nice, furnished apartment . . .
7. Amy Zummer ?: If there is excess funding . . . what are your priorities?
A: The money is going to come into Springfield . . . [blah blah blah]
CLTV SCROLL: Durbin: Burris statements unsatisfactory.
8. Former Ald. Bernie Hansen: How much time will you devote to the Great Lakes?
A. I have to get up-to date on the Great Lakes water issue . . . water is crucial to our survival . . .
9. Jeff Berkowitz: Was it wrong of you to solicit funds for Rod Blagojevich while you were being considered for the Senate?
A. I was never considered for the Senate. I was never considered by the Senate.
[Berkowitz re-asks from audience.]
A. We will not make any responses to those types of questions. Like I said in my statement, we will not make any responses to that question.
[Overheard: Green: You want a mug? Burris: Oh yeah, I'll take a mug.]
The Beachwood Tip Line: Trailblazing.
Posted by Beachwood Reporter at 11:11 AM | Permalink
Fantasy Fix: Trading Day
Trades, trades and more trades. The NBA trading deadline was only hours away as of this writing, and a handful of deals already had taken plus within the last few days, though probably only one with much fantasy significance. That would be the exchange of Shawn Marion and Marcus Banks for Jermaine O'Neal and Jamario Moon.
By moving from Miami to Toronto, Marion gets back with a team that more willing to play the fast-paced game he was used to in Phoenix during his best years. Does he still have what it takes? He has been managing around 12 points per game and 8.7 rebounds per game this year, off his career averages. With Chris Bosh out in Toronto, Marion takes over at power forward, but center Andrea Bargnani has been doing most of the front-court scoring for Toronto of late.
As for O'Neal and Moon, the former has been surprisingly good this year after several injury-shortened seasons. Moon may prove the real steal for Miami, and it's a great time to have him on your fantasy team, since he will likely get to start consistently in Miami. He has averaged 7.3 PPG this season, but that has primarily been in a sixth or seventh man role.
Meanwhile, this just in: Tyson Chandler to Oklahoma City for Joe Smith and Chris Wilcox. The winner in this one might be Wilcox, who will get far more playing time in New Orleans and now ends up on the finishing end of assists from Chris Paul. Chandler goes into a situation that had been center-by-committee, and may have to compete with Nick Collison and Nenad Krstic for playing time.
What's going on with our fantasy basketball experts this week?
* The Big Board finally has Kevin Durant breaking into the top 10. I will repeat last week's statement that I think he's a first-round pick next year, probably in the eighth or ninth spot. The other big notable on the Big Board is Manu Ginobili, at No. 19 and steadily improving.
* Slam Online takes a different look at the Toronto-Miami trade, noting that Miami PF Udonis Haslem could take a hit to his numbers. Slam also notes a few players returning from injury, including Yi Jianlian, who finally seemed to be settling into the NBA before breaking his finger earlier this season. He could be a good pick-up if a previous owner dropped him and the rest of the league forgot he existed.
* Bleacher Report has possible replacements for Al Jefferson, whose season ended with a knee injury last week before the All-Star break. I like Marreese Speights, who is at least a three-category player (points, rebounds, blocks).
Fantasy Baseball Round-Up
Everyone's still talking about A-Rod, so let's talk about something else. How about second basemen, which used to be kind of a weak category (remember when Chone Figgins was the obvious first choice?). Now, a stud like Chase Utley isn't even the obvious first pick. Here's my top 10 at 2B:
1. Ian Kinsler (Batting average, hits, steals, doubles, runs and more, assuming no injury this year.)
2. Chase Utley (A down year after the championship season? He may actually be healthier.)
3. Brandon Phillips (Cincy is better than anyone thinks. He's ready for a four-category career year.)
4. Dustin Pedroia (MVP-good, but No. 4 at his position? That's how good 2B has become.)
5. Brian Roberts (Incredibly consistent collector of extra bases and steals)
6. Alexei Ramirez (He'll still have 2B eligibility. Don't laugh, but he could be the Pedroia of '09.)
7. Robinson Cano (Improved team, may finally have found a consistent stroke.)
8. Mike Aviles (Pretty darn impressive hitter will start all year. Mini-Kinsler stat-wise.)
9. Dan Uggla (HRs and doubles, if not much else. Florida batting order will play important role.)
10. Mark DeRosa (Surprised? The Cubs will be when Derosa gets 100 RBIs in Cleveland.)
The fantasy experts also are taking an in-depth look at various positions:
* Roto Arcade wonders: Tim Lincecum or Johan Santana? I previously would have said - and probably did say - Lincecum, but the New York Mets really have done as much as possible to ensure the bullpen won't be blowing victories for Santana, picking up both Francisco Rodriguez and J.J. Putz. I like Lincecum for 300 strikeouts this year, but I've pushed my prediction for Santana to 23 wins.
* Bleacher Report has its own 2B rankings, with fairly different results. How about Pedroia at No. 1? Kelly Johnson at No. 10?
* Most Valuable Network Fantasy Outsider takes a closer look at 1B Joey Votto, who very likely to be a 30 HR, 100 RBI, 20 SB player this year, with more playing time and the potential that he'll be hitting either third or fourth ahead of or sandwiched between Phillips and Jay Bruce.
-
Dan O'Shea's Fantasy Fix appears every Wednesday, except when it appears on Thursday. Tips, comments, and suggestions are welcome.
Posted by Beachwood Reporter at 9:48 AM | Permalink
What I Watched Last Night: Mystery Raoul Theater
Another revealing Chicago Tonight panel about Roland Burris, but not as revealing about Burris as about the legislators who appeared. Namely, what's the deal with state Sen. Kwame Raoul, the man who replaced Barack Obama in the Senate?
When the political grapevine first started chattering about who would replace Obama in the U.S. Senate should he win the presidency, I offered up Raoul's name. Why? I didn't know a lot about him, but he appeared to be Obama's designated successor in the State Senate, so why not in the U.S. Senate? In reports I had read, he was always described as a smart, articulate up-and-comer. And he was African American. Perfect!
I didn't know then that Obama reportedly preferred Will Burns to succeed him in the statehouse. Burns also had the support of Emil Jones, but the Dems went another way.
But I've tried to pay at least a little bit of attention to Raoul ever since. And during the Blago affair - and again last night - I've been nothing but baffled. Which is another way of saying not impressed.
Raoul appeared on Chicago Tonight with fellow Democrat Susana Mendoza (who once again was the star) and Republicans Dan Cronin and Mike Fortner. This is a rough transcript edited for clarity and space. My commentary is from the couch in Beachwood HQ. Let's take a look.
RAOUL: Durkin should have gone through the names specifically; [Burris] did answer Yes . . . Lawyers advise clients to only the answer questions that are asked.
FORTNER: Whether or not it's perjury, I think the public here in Illinois has lost a lot of faith in Senator Burris . . . the moment called for transparency . . . that lack of trust, I don't think that can be repaired.
MENDOZA: I think it's [senate ethics and state perjury investigations are] a good start . . . [she and Rep. Jack Franks asked for Senate inquiry, ethics investigation] . . . I heard every word that came out of the senator's mouth . . . he was asked a very specific question . . . it shouldn't have taken some special legalese to answer the question . . . and there was follow-up by Rep. Jill Tracy . . . besides Lon Monk out of those names, and he said, I cannot recall. It couldn't be any clearer: he lied.
RHODES: Take that, Kwame.
*
CRONIN: The referral to the state's attorney is a distraction . . . to raise the standard to perjury . . . this isn't even debatable . . . he had a moral obligation to fully disclose . ..
RAOUL: I removed my name from consideration and I thought he should have also removed his name from consideration . . . [but] there's not anything clear here that there was some sort of quid pro quo agreement . . .
MENDOZA: He has not been forthright and honest from the get-go. He's on version number four. What's tomorrow's story going to be, that he suddenly remembered he did write a check?
RHODES: Mendoza 2, Raoul 0.
*
ELIZABETH BRACKETT: Why not bring him back to panel?
CRONIN: It would undermine the whole allegation of perjury . . . he could rehabilitate himself . . . [he would be allowed to correct earlier statements] . . . what concerns me is the process itself . . . that [amended affidavit] sat around for 10 days . . . I don't believe in coincidences . . . it sat there while Roland Burris is casting the 60th vote on that monumental stimulus plan . . .
BRACKETT: National Dems wanted to see him seated to cast vote?
CRONIN: There was a lot of money on the table.
RHODES: Republicans - including state Senate Minority Leader Christine Radogno - are overplaying their hand with this one. If Burris hadn't been seated, another Democrat would have. If Cronin meant to refer to the nine days that Burris's amended affidavit sat in a folder, well, Burris wouldn't have lost voting privileges. And if he had been forced to resign, there was enough time for Pat Quinn to name a replacement and for that person to be sworn-in. (Plus, I doubt Barbara Flynn Currie called Dick Durbin and Harry Reid and said, Hey, we've got a problem here! But I suppose we never know . . . )
*
FORTNER: We had a transparent process during the impeachment hearings . . . evidence went up on the website the same day . . . it seems that the ball was dropped after Governor Blagojevich was removed from office. Why didn't we see the same type of posting immediately?
*
RAOUL: I think there are questions to be asked [of Burris], but the bottom line is there was overwhelming evidence for the impeachment and removal of the governor.
RHODES: Did you just get back into town or something?
RAOUL: For me, [more candor from Burris] wouldn't have added anything to my deliberations to remove Rod Blagojevich as governor.
RHODES: Um, can we have Monique Davis back? At least she was on point.
*
MENDOZA: [The U.S. Senate] can censure . . . they also have the ability to expel, with a two-thirds' majority vote . . . this could all be completely avoided if Senator Burris does the right thing and resigns . . . he's a former attorney general of the state of Illinois, I can't emphasize that enough . . . we tell our children they have to be honest, and that doesn't mean half-truths or quarter-truths.
RAOUL: I don't know that he should resign unless there's evidence of pay-to-play or quid pro quo. [Raoul then claims he could impeach any member of that night's panel on perjury by finding inconsistencies in sworn statements.]
RAOUL: I think the specific questions should have been asked.
RHODES: As the transcripts have shown, the specific questions were asked. Despite John Fritchey.
*
BRACKETT: Is there a racial factor here?
RAOUL: The black community is a whole lot more diverse than you think it is. That's not the determinative factor for me. I disagreed with him accepting the appointment. I don't know if I'm defending him.
CRONIN: You're defending him.
-
See what else we've been watching. Submissions welcome.

Posted by Beachwood Reporter at 6:01 AM | Permalink
February 17, 2009
The Political Dictionary
To our readers:

You understand the Roland Burris fiasco, don't you? Of course you do. You're an average person. Me, too. Those of us not professionally embroiled in political office-holding or office-seeking understand what's happening with relative clarity. It's only those involved in the business of politics that seem befuddled. And isn't Sen. Burris really Mister Magoo writ large?
It's the oldest problem of all in human interaction. What do words mean? And why do their meanings vary from person to person so drastically? Even reporters lapse into this alternate universe - sort of Roland Burris meets Heroes meets Orwell. Here's how to understand the world of political vocabulary adjustment without the concept of "just tell the truth" intruding on the process.
The Evolving Explanation. OK, so you don't buy the first explanation, how about this one? No? Then, let's try . . . You notice how no one evolves an explanation from a thoughtful, logical original to one that makes absolutely no sense. Explanations "evolve" only when the early attempts are ludicrous, and we are too polite to call them lies.
The Fluid Nature of Events. Or, in the words of Burris attorney Tim Wright, "the fluid nature of questions." Fluidity prevents truth on the front end, and allows for explaining away lies on the back end.
Cleaning Up. As in, "We'll clean up the affidavit/claimt/perjurious statement later, preferably in a document that nobody will see.
Not Recalling. Also known as Misremembering. Remembering is hard if you are a public official. Except when it comes to decades-old slights and marketable, detailed moments of one's biography.
Having Nothing To Hide. Only people with something to hide have "nothing to hide."
Feeling Betrayed. Only people who knew all along "feel betrayed."
Not Resigning. Once a public official publicly states that he or she will not resign, that public official's days are numbered.
Not Wanting To Be A Distraction. Public officials unwilling to admit their negligence will instead play martyrs by resigning so they don't "become a distraction" from the public's business. Ironically, this often occurs once the public is so sick of a scandal it doesn't care anymore.
-
Consider this the first set of entries in The Beachwood Reporter's Political Dictionary. Send your entries in and we'll compile as many as we can. Don't forget to let us know if we can use your name or if you have a good reason to remain anonymous.
Posted by Beachwood Reporter at 11:26 AM | Permalink
The [Tuesday] Papers
BREAKING 12:43 P.M.: I'm late to this, but I'm only one person. I just saw it now.
"U.S. Sen. Roland Burris has acknowledged he sought to raise campaign funds for then-Gov. Rod Blagojevich at the request of the governor's brother at the same time he was making a pitch to be appointed to the Senate seat previously held by President Barack Obama."
Unbelievable.
BREAKING 12:53 P.M.: Via Capitol Fax:
"Illinois House Speaker Michael J. Madigan today referred several documents associated with U.S. Senator Roland Burris and his testimony last month before the Illinois House Special Investigative Committee to Sangamon County States Attorney John Schmidt."
PLUS: Arenda Troutman sentenced to four years.
-
The Roland Burris Show rolls on.
Perjury Trap
I get a kick out of all these experts opining about whether Burris committed perjury. Just to cite one of numerous examples, the Sun-Times digs up former Cook County prosecutor Irv Miller today.
"Miller said he wouldn't approve perjury charges if the case were brought to him," the paper reports.
How do you know? There hasn't been an investigation yet.
No perjury case would be brought solely on the "evidence" at hand. Depositions would be taken, witnesses interviewed, documents subpoeaned and reviewed . . . there's no way to know what an investigation would turn up. So the question isn't whether Burris committed perjury, it's whether a perjury investigation ought to be opened. And I can't imagine a rationale for answering that with a No. Unless Irv Miller knows something we don't.
*
Chicago lawyer Karen Conti just made another point on Fox Chicago's Good Day Chicago; Conti isn't so sure that Burris perjured himself while testifying before the House impeachment panel, but says that the first affidavit Burris filed contains a "bald-faced lie" about not having contacts with members of the Blagojevich administration about his appointment.
Conti also says, though, that Burris's testimony could amount to obstruction of justice. Additionally, the impeachment panel could hold him in contempt. Finally, the U.S. Senate could expel Burris, which apparently takes a two-thirds' vote. In the least, as has been mentioned, Burris's case could be referred to the U.S. Senate Ethics Committee.
Dunkin' Durbin
"Burris, I'm told by several sources, strolled up to Durbin, the No. 2 Senate leader, and Reid on the Senate floor while they were in the midst of overseeing the vote on President Obama's stimulus bill, one of the most important pieces of legislation in the history of this nation," Lynn Sweet reports. "Burris vastly minimized the nature of the document he filed."
Durbin is out of the country, though that is no excuse for telling reporters via a spokesperson that he's "unavailable for comment."
Sweet's Sour
"Burris is now tying himself in knots parsing what he said to the impeachment panel," Sweet writes. "Don't be fooled. Burris clearly had no intention of telling the whole back story leading up to Blagojevich tapping him for the spot."
*
Burris not only lied to the impeachment committee, he lied to the media. Sweet's transcription of a Burris press conference that she posted on her blog on January 7:
LYNN SWEET: And I think they do want to know what kind of contacts, if any, you had with Blagojevich. I've read the affidavit that you sent, but I have a question a little deeper.


I was under the impression that when - before Blagojevich's arrest, that you did want to put yourself in play for an appointment. And if so - your affidavit said you had no contact with the governor - how were you putting yourself in play? Who were you talking to specifically?


MR. BURRIS: Oh, I was putting myself in play, Lynn, by friends from Illinois and across the nation saying, "Roland, what would you" - well, you know, "You want to be senator, or you ought to be senator," you know, "What can we do?" My statement was, "Call the governor's office, send an e-mail to the governor's office, send in letters." And they were doing that from all over the country.


And so I thought, you know, that that would raise some level of interest on behalf of my - (chuckles) - of my interest in the Senate seat.


And evidently it didn't, because - (laughter) - because they didn't even mention my name. I mean, I - I didn't even show up anywhere. And I don't know what they were doing with the names of the people calling in because one of my high school classmates - by the way, I was in the class of '55, Lynn - and one of them called into the governor's office, and she called back to my classmate in Centralia, my hometown, who had started this, and said, this lady said you're the thousandth person to call in for Roland Burris. We know about Roland Burris. Somebody said that. (Laughs.)


QUESTION: Do you think that anyone, on your behalf, might have talked to - that - this wasn't covered in the affidavit. Do you - I don't think. Do you think anyone ever actually talked to the governor? Are you concerned that it might be with the wiretap? You know, the phone conversations that might surface -


MR. BURRIS: I have no knowledge of that, Lynn. And if they did, it's - there was certainly no pay-to-play involved because I don't have no money. (Laughter.)
Dunkin' Durkin
Did state Rep. Jim Durkin blow it by not asking the right questions? Yes and no.
Here's what I wrote at the time:
"Suburban Republican Jim Durkin got things started and made such a hash of his questioning that I was surprised to learn from his Wikipedia profile that he's actually a lawyer. Hey Jim, John Marshall Law School is calling, they want their diploma back!"
Nonetheless, between his queries and those from other members, the right questions were asked.
Funky Fritchey
State Rep. John Fritchey, one of the leading candidates in the race to replace Rahm Emanuel in Congress, is now asking that Burris return to Springfield to answer "any and all questions" put to him.
That's rich. Here's what I wrote about Fritchey on the day of Burris's testimony:
"Chicago Democrat John Fritchey, who has been perhaps the sharpest critic of the governor, oddly kept objecting to Durkin's questions - and later that of other members - as if he was Burris' attorney. All I could figure was that Fritchey is now running for Congress in the Fifth District and is lining up his ducks by showing he can be a go-along guy."
During Durkin's questioning of Burris, Fritchey objected, saying, "Our mission today is to investigate Rod Blagojevich, not Roland Burris."
And then there was this exchange:
DURKIN: If you were aware of a quid pro quo, what would you have done?


[Both Burris' lawyer and Fritchey object to the question. Burris answers anyway.]


BURRIS: I would not participate in anybody's quid pro quo. I've been in government for 20 years and not participated in quid pro quo.


DURKIN: Would you have gone to federal authorities?


BURRIS: I have no response to that.
Of course, we know now that Rob Blagojevich solicited a campaign contribution from Roland Burris at the time Burris was seeking the Senate seat, and that the Blagojevichs' MO was (allegedly) seeking a quid pro quo trading campaign money for the appointment. And that Burris did not go to federal authorities.
Here's another one:
REP. BILL BLACK: Have you made any promise to the Illinos Democrat party or the national Democrat party that you will or won't be candidate in 2010?


BURRIS: That has not come up in any conversation.


FRITCHEY: That's clearly outside the scope . . .


BLACK: I'm beginning to think anything we ask is outside the scope . . . !
It wasn't outside the scope to ask if some sort of deal had been made.
Wrong Wright
The exchange being talked about the most is this one:
DURKIN: Did you talk to any members of the governor's staff or anyone closely related to the governor, including family members or any lobbyists connected with him, including, let me throw out some names - John Harris, Rob Blagojevich, Doug Scofield, Bob Greenleaf, Lon Monk, John Wyma? Did you talk to anybody . . . associated with the governor about your desire to seek the appointment prior to the governor's arrest?


BURRIS LAWYER TIM WRIGHT: Give us a moment.


(Wright and Burris confer.)


BURRIS: I talked to some friends about my desire to be appointed, yes.
The question is, what did Burris and Wright talk about before answering the question?
A) Dodge it, we'll clean it up later
B) Pretend we're talking to divert their attention
C) Dodge it, we'll clean it up later
Quid Pro Roland
Burris has said that he refused Rob Blagojevich's entreaties. "I made it unequivocally clear . . . that it would be inappropriate and pose a major conflict because I was interested in the Senate vacancy."
But sources have told the Sun-Times that "Burris said he'd get back to him after the election."
Mystery Burris Theater
State Rep. Monique Davis (D-Chicago) vs. reality.
Fresh Fritchey
Jesse Greenberg has another Fritchey excerpt that his opponents in the 5th are sure to pounce on.
Burris Didn't Act Alone
Naming names.
A Lifetime Of Lies
Even as a child, Burris parsed the truth.
Damage Control
Fritchey just put out a press release calling for special elections to fill all U.S. Senate vacancies.
"[T]hose of us in Illinois have seen firsthand the concerns that can arise when the will of the voters is replaced by the actions of one person in filling a Senate seat," Fritchey said in the statement.
He didn't mention his part in shepherding Burris through.
Roland's World
This passage from the Tribune today is a particularly strong contextual passage:
"But Burris' own words in recent days show the former attorney general steadily reached out to nearly every major insider who was part of Blagojevich's ever-shrinking inner circle of advisers.
"In the months before Obama's election, Burris spoke to the governor's current and former chief of staff, his chief of staff when Blagojevich was in Congress, his ex-deputy governor and political consultant, a labor leader who was Blagojevich's main conduit Downstate and the governor's brother, who tried to hit up Burris for fundraising help. Throughout it all, Burris made no secret of his interest in the Senate seat.
"Many of those Burris spoke to are part of the criminal case that federal authorities are shaping up against the former governor."
Lying Little Sneak
That's how Mark Brown describes Burris today. Look at his excerpt from Rep. Jill Tracy's questioning of Burris at the impeachment hearing.
Pundit Patrol
One of the oddest pieces of punditry during this whole affair was Laura Washington's U-Turn.
On November 10, Washington wrote that Burris was throwing his hat in the ring for the vacant Senate seat. "I can think of one reason it shouldn't be Burris," she wrote. "We already have an oversupply of egomaniacal blowhards in the Senate."
On January 5, she wrote that "Burris passes the credentials test with flying colors," and that "The Congressional Black Caucus must coalesce around Burris. Their response so far has been tepid."
As I've written before, I support the idea of naming an African American to the seat. But Washington seemed to have swallowed the idea that Burris was the only African American available.
She approvingly quoted Bobby Rush's claim that Burris had "impeccable credentials." Really?
"Then there's the Senate, the secretary of state and the president-elect. America's most exclusive club wants to maintain its pedigree. No members appointed by crooks, please."
Um . . . WTF?
"Secretary of State Jesse White has refused to certify the Burris appointment. It's mere paperwork, but White's stand gives Senate Majority Leader Harry Reid priceless cover. Does White want to be seen as a water-carrier?"
Jesse White was one of the few heroes of this saga. Sadly, Washington wasn't.
*
At least noted political analyst Stella Foster had the graciousness to not only (sort of) admit she was wrong, but to call on Burris to resign.
Geez, when you've lost Stella . . .
Mary Contrary
Forgiving just briefly that she actually wrote the line "And pundits are branding him as 'liar, liar, pants on fire," Mary Mitchell today made a salient point:
"Because the people who worked the hardest to put Burris in the Senate are pulpit pastors, it will be interesting to see what they do now. I mean, how do pastors justify a lie?"
The Beachwood Tip Line: One small step for mankind.

Posted by Beachwood Reporter at 9:33 AM | Permalink
What I Watched Last Night: More Mystery Burris Theater
A rough transcript of Carol Marin's panel on Roland Burris on Monday night, edited for clarity, with my own commentary added as I watched from Beachwood HQ. Tom Cross is the Republican House Leader; Monique Davis and Susana Mendoza are House Democrats.
CROSS: Nobody knew about [the amended affidavit] except Barbara Flynn Currie.
DAVIS: If there had been any earth-shaking information in it, Rep. Currie would have shared it with us.
RHODES: I can see already that it will be impossible for me to come up with clever lines every time Monique "the rustling of the leaves" Davis says something mind-bogglingly stupid. But bear with me here, it only gets better.
CROSS: Everything up to that point in the impeachment process had been shared . . . evidence was put up on the website, we were all on conference calls . . . It troubles me even more that we didn't see this until the Sun-Times broke it . . . Burris's attorney actually had a conversation with Barbara Flynn Currie sometime in January about "cleaning up" the affidavit . . . we didn't hear that or know about a pretty significant piece of evidence.
DAVIS: I believe during our hearing Roland Burris told us several times he would get back to us with additional information . . . now I don't believe it changes anything he said. I think perhaps it added to what he said.
RHODES: Yes, Burris said he would get back to the committee about whether he had any contacts with the Blagojevich administration prior to being appointed to the U.S. Senate and, additionally, if he was solicited for campaign funds in return for that appointment. In other words, he would get back to the committee later about the very reason he was called to appear before the committee in the first place.
*
MARIN: Shouldn't you have seen that affidavit by now?
DAVIS: The issue becomes, is there something criminal in reference to the affidavit.
RHODES: The issue becomes, is there something criminal about you holding public office.
*
CROSS: The affidavit says he talked to the governor's brother . . . contrary to what was said in response to a direct question.
DAVIS: That conversation was in October!
RHODES: What, October is Get Out Of Jail Free Month?
*
MENDOZA: Clearly he did not say the whole truth.
DAVIS: I'm surprised at you. When you are before a body with an attorney, he will tell you, answer the question. He answered the questions put before him. Over time, over things came to mind.
RHODES: Like the answers to the questions?
DAVIS: I don't believe he purposely left out information. Questions were coming quickly from different members.
MARIN: You two clearly disagree.
DAVIS: I wonder why.
RHODES: [Gasp] Did she just say what I think she said? [Davis is African American.]
MARIN: Why?
DAVIS: I don't know, heh-heh!
*
MENDOZA: If he says that he didn't give money because it would have been inappropriate, why hide something that makes him look like a good guy in the eyes of the Illinois people?
DAVIS: He is a good guy. He has not had a blemish on his record.
RHODES: I wonder why.
DAVIS: He has been accused of absolutely nothing.
RHODES: I wonder why.
*
CROSS: Harry Reid says, go to the impeachment committee and clear the air . . . I would have more sympathy if the next day, or the day after, he called up and said, we need to clarify . . . we had to go almost a month before we find out about this.
*
DAVIS: You have an attorney here, they know Rod Blagojevich has been arrested. Are you telling me they don't know that their phone calls are not being recorded?
RHODES: And when did you arrive in Illinois, Ms. Davis?
*
CROSS: If too much gets said, he might not get seated by Harry Reid. He's got to get seated, and after that he cleans up the affidavit.
DAVIS: He was asked to have a fundraiser for Rod in October. It had nothing to do with the Senate seat at the time.
RHODES: Are you aware, Ms. Davis, that Rod Blagojevich is no longer the governor?
MENDOZA: We just found out now, though.
*
DAVIS: Is that tragic, to call a United States Senator a lying little snake? I think it's terribly tragic.
>MENDOZA: I think it's true. What one person thinks is tragic, another thinks is the truth. He had every opportunity to come before the committee to be forthcoming and honest.
DAVIS: So who goes before a body and swears to tell the whole truth and nothing but the truth and rattles on?
RHODES: Someone telling the truth!
*
MARIN: Is there a racial element to this?
DAVIS: Maybe we wouldn't have the passion. Maybe we wouldn't care. There are 100 senators in the United States Senate, and we have one African American senator.
RHODES: And black people are so stupid that there's not a single African American other than Roland Burris who could hold that seat.
*
DAVIS: I think this is unduly sad that another Democrat will try to unseat him when she hasn't even read the transcript.
MENDOZA: I did see it, it's on the Web! Anyone can download it at this point.
DAVIS: [Just sits there grinning and chuckling]
*
MENDOZA: I was there, and I feel that I was lied to. He's a former attorney general. If anyone should know the rules of telling the truth, he should.
*
DAVIS: [responding to Cross] Oh come on, Tom! Whether he was asked or not! Just come in and tell everything!
RHODES: Isn't that what God would want?
DAVIS: He tells them he met with them to talk about business, what part of that don't you understand? I don't know his partner's name, but it had nothing to do with the senate seat.
RHODES: I think that it is unduly sad when another Democrat will defend him when she hasn't even read the transcript.
*
DAVIS: Roland Burris will be the sitting senator for Illinois until 2010 no matter how made it makes some people. This is Black History Month, and we should talk about black history across the state, rather than these diversions.
RHODES: Yes, we should talk about how black history is rife with opportunists and political cretins who are sometimes black themselves, and don't seem to realize how insulting and bigoted their own views are. There are so, so many African Americans in Illinois who would hold that senate seat with honor - and the seat should be held by an African American as long as the United States Senate is so ridiculously lacking in diversity. But that has nothing to do with Roland Burris, and any continued defense of him on racial grounds is offensive to the vast numbers of honest African Americans unwilling to lower themselves as Burris has done to hold a seat they so richly deserve - a seat they have been told only Roland Burris is qualified to have. My God.
-
See what else we've been watching. Submissions welcome.

Posted by Beachwood Reporter at 6:55 AM | Permalink
February 16, 2009
The [Presidents' Day] Papers
BREAKING 9:31 A.M.: Roland Burris will hold another press conference at 10 a.m. I'll bring it to you live. Ish.
In the meantime, you can catch up with Mystery Burris Theater - the best coverage in all the land of yesterday's developments - while I put together the rest of today's column and prepare offerings throughout the rest of the site.
Oh, and here's some material already posted at NBCChicago.com:
* Resign, Roland.
* Presidents' Day, Chicago-Style.
See you soon.
BREAKING BURRIS 10:16 A.M.:
Well, that wasn't much of a press conference, and the news channels seem to have missed it (live, anyway). Burris made a statement countering a Sun-Times report (see below) that he filed his amended affidavit only after federal agents made inquiries about contacts he had had with members of Rod Blagojevich's inner circle. Then he turned and literally scurried away instead of answering questions from the press.
Rollin' Roland
"After being contacted by federal agents, U.S. Sen. Roland Burris changed his sworn testimony to the Illinois House committee that moved to impeach Gov. Blagojevich, the Sun-Times learned.
"Burris, (D-Illinois), acknowledged Sunday that federal investigators contacted his legal team about the possibility he was recorded on wiretaps discussing pay-to-play politics."
If Dick Durbin and Harry Reid don't feel like chumps now, they're even more cynical and spineless than they've already shown themselves to be.
Let's see if the Democrats show some bipartisanship outrage here - and move on Burris to eliminate the cancer in the U.S. Senate.
Foolish Fritchey
"At least Republicans [on the impeachment panel] were asking tough questions," Mark Brown writes today. "Democrats on the committee made it their business that day to protect Burris. A certain Chicago Democrat who would like to be a congressman and was a leader in the effort to impeach Blagojevich made it plain that day he didn't want the impeachment panel investigating Burris, raising numerous objections to the Republican line of questioning."
For some inexplicable reason, brown doesn't name the "certain Chicago Democrat," so I will: John Fritchey.
Though Fritchey appears to me to be the favorite to win Rahm Emanuel's old congressional seat, his behavior on the day Burris testified, accurately characterized by Brown, should eliminate him from consideration.
Dumb Dems
"State Rep. Barbara Flynn Currie, chairwoman of the impeachment panel, should have made Burris' Feb. 5 [amended] affidavit public the moment she received it," the Tribune editorial page says this morning.
No kidding.
Instead, this is what Currie had to say on Saturday, as reported by the Sun-Times: I think what we have here is an effort on the part of the senator to be more forthcoming, and I think that is a good thing."
Please. Currie and Fritchey ought to resign too.
Oh Susanna
On the other hand, at least one Chicago Democrat is on point.
"Democratic state Rep. Susana Mendoza, an alternate member of the impeachment panel, said she did not believe Burris had been 'forthright and honest' in his answers to the committee in light of his newly filed affidavit and said she would support an investigation of the new senator," the Los Angeles Times reports.
"'They can try to worm their way out of this as lawyers, but to the regular people this is the equivalent of lying,' Mendoza said."
*
I don't know a lot about Mendoza, but I've been impressed with her during this whole imbroglio, and apparently she's a rising star.
Funky Fundraising
February 5 affidavit: "I did not raise or donate any funds to Governor Blagojevich after the fundraiser on June 27, 2008."
January 8 testimony: "I recall having a meeting with Lon Monk about my partner and I trying to get continued business, and I did bring [the Senate seat] up, it must have been in September or maybe it was in July of '08 that, you know, you're close to the governor, let him know that I am certainly interested in the seat."
So he held attended a fundraiser for the governor in late June and then in July made inquiries about the Senate seat. Or in September. Which would be just as bad; Rob Blagojevich made his solicitations to Burris beginning in early October.
Being Burris
* In his statement this morning, Burris said that his amended affidavit included "additional information we had to get for the committee."
Why would the contacts he had qualify has additional information he had to get? It wasn't like something they had to go look up or research; it was about the contacts he had that were the very purpose of having him testify.
* "Did Roland Burris lie?" House Republican Leader Tom Cross was asked on Fox News this morning.
"Of course he did," Cross replied.
* "Harry Reid told him to go to Springfield to 'clear the air'," Cross pointed out.
In fact, Burris should have disclosed his contacts in his opening statement.
* "Burris explained Sunday that he never got a chance to answer a direct question about Blagojevich's brother, and submitted the Feb. 4 affidavit to clarify," AP reports. "However, transcripts of Burris' impeachment committee testimony show he had opportunities to provide a full response to Illinois legislators. In one instance, when asked directly about speaking to Robert Blagojevich and other associates of the former governor, Burris consulted with his attorney before responding."
Where's Bobby?
How long until Bobby Rush calls this a lynching?
Susanna!
Susanna Mendoza on Fox, which is all over this story:
"Without a doubt in my mind, Mr. Burris lied by omission, and it was a severe lie. I have a feeling he learned he was on one of those [FBI] tapes . . . and I think it should be investigated.
"I think I'll turn blue in the face asking for him to resign . . . I didn't expect him to do the right thing today . . . he had an obligation to tell the truth - the whole truth . . . "
Lying Liars
Mark Brown, Neil Steinberg and the Tribune editorial page are very upset today that Roland Burris has, in their estimation, lied. But does anyone still believe that Richard M. Daley hasn't lied repeatedly?
Steinberg's belief that lying gets you fired is quaint. Michael Cooke survived as editor of the Sun-Times despite a reputation for having only a passing acquaintance with the truth. Of course, Steinberg might not have his column if it wasn't for Cooke.
Brown writes that "The senator now wants us to believe he never knew we might find it relevant that the governor's brother Rob was putting the arm on him for campaign donations during the same period in which the governor is accused of trying to sell the Senate seat - and while Burris was practically begging everyone he knew for the appointment."
Well, his predecessor told us that he didn't think these details were "relevant."
Let's establish a new standard for what constitutes lying that applies to everyone. Lying is when someone doesn't tell the truth. Presto!
Blogging Burris
A brief round-up of additional insight.
The Beachwood Tip Line: Extend and amend your remarks.
Posted by Beachwood Reporter at 9:31 AM | Permalink
SportsMonday
The Blackhawks played well in the first period of an actual home game against the Dallas Stars on Saturday night (their first contest back in the United Center after a marathon road trip). They played even better in the second. And it wasn't just me who was sayin' it, it was still splendid play-by-play man Pat Foley, who referred to the initial 20 minutes as "good" and the time between intermissions as "great." But it was the first 2:19 of the third period that provided yet more conclusive evidence that this team is something special.

No matter how many times even the best hockey teams repeat the old saw that "the best defense is a good offense," squads retreat into defensive shells when they have leads heading into third periods. But even with a 3-0 lead at the start of the final 20 minutes, the Hawks kept the pressure on, pushed the puck into the Stars' zone, crashed the net and soon were celebrating a typical Jonathan Toews' goal (he parked himself in a good spot in front of the net and was ready to fire when a loose puck skittered into his stick's space).
At this point I do have a confession to make: I missed Toews' goal on television because I was checking in on the NBA All-Star Game's slam-dunk contest. I believe it was at that point that I saw the 5-foot-8 Nate Robinson jump over the 6-foot-10 tall and almost as wide through the shoulders Dwight Howard (seriously, he has the biggest, squarest shoulders in the history of the NBA) before throwing down the best jam of the competition. And if he pushed himself up on Howard's shoulder before slipping over the man-mountain-from-Orlando's head, so be it. In switching channels from a perfectly good Hawks game to the dunkfest, I know I violated an important code. And all I can say is, forgive me sports deity for I have sinned. Fortunately, a few hours later I was able to review the goal on chicagoblackhawks.com.
I was back in time on Channel 9 to see, a little more than a minute later, Colin Fraser knock in a really, really lucky goal. James Wisniewski, returning to the lineup after spending a couple games in coach Joel Quenneville's doghouse, attempted a shot but it barely got started before it ran into a defenseman and deflected away. Sure enough the puck found Fraser, who knocked it in a moment before Stars back-up goalie Brent Krahn finished spreading his legs into a scary sideways splits. But Krahn's extreme flexibility was too little, too late. The Stars eventually scored a couple goals to avoid the shutout but the Hawks had already taken care of business. And after several flat performances at the end of the aforementioned eight-game road trip, the longest for any team in the NHL this season, the Hawks notched a highly satisfying triumph.
The commentary was solid throughout, with plenty of positive feedback for the team that still sits comfortably in the fourth spot (out of the eight that will make the playoffs) in the Western Conference. But the voices of the Hawks didn't hesitate to criticize when warranted. Early in the game, Foley and analyst Steve Konroyd were all over Patrick Kane when he not only failed to cash in on a glorious scoring chance but also appeared to sulk a bit, giving the Stars a bit more time to operate when they moved the puck down to the other end of the ice. But they didn't cash in and overall Kane did yeoman's work for much of the first two periods after Patrick Sharp was injured only 39 seconds into the game. Sharp suffered a lower-body injury that appeared to be an at-least sprained knee but that information is top-secret. You didn't hear it here. Kane ended up piling up ice time by double-shifting for long stretches (playing with two of the Hawks' four lines) and he finished with a pair of assists.
Ridiculously enough, the Hawks head back out onto the road for three more contests in a row this week. But then they play the rest of their regular season at home, almost.
As for the Bulls . . .
So general manager John Paxson will abandon ship either after the trade deadline or after the season. Don't let the plank hit you in the butt after you jump off, John. In a perhaps related note, we received the shocking news late Sunday that the Suns almost certainly won't trade All-Star Amare Stoudemire to the Bulls for All-Underachiever Tyrus Thomas, Drew Gooden's expiring contract, and the Bulls' next five first-round picks, or whatever it was they were supposedly offering.
Exciting young general manger candidates, including ones who are helping pioneer new, more objective methods of evaluating basketball talent, are out there. But Jerry Reinsdorf will need to venture outside the organization to find them. Considering Reinsdorf's track record, I'm reasonably confident he won't venture outside of Paxson's office, i.e. he ask Paxson which of his minions should serve as the next GM. And that next guy will take on the new coach.
-
Jim Coffman brings you the city's best weekend sports roundup every Monday because he loves you. He would love to hear from you! Please include a real name if you would like your comments to be considered for publication.
Posted by Beachwood Reporter at 7:21 AM | Permalink
February 15, 2009
What Robert Plant Hath Wrought
Robert Plant, Alison Krauss and a whole heap o' mainstream love for Americana and/or rootsy-rocky music: That was what the Grammys meant to me this year - the first time they've ever meant anything to me, I think. I generally hate awards and awards shows because, well, so many reasons, the main one being that they rarely reflect what's really good in the industries they're covering and are all either popularity contests, political bullshit, or, usually, a combination of the two. But the Plant-Krauss five-Grammy sweep for Raising Sand was different in that a usually meaningless awards show this time actually accomplished something worthwhile - moving Americana pretty solidly out of the tiny niche it's been in and into a bit bigger niche that may help thousands of worthy artists get a listen.
The Raising Sand juggernaut was, in my mind, the culmination of the mini-Americana-tsunami that producer T Bone Burnett began eight years ago with the soundtrack for O Brother Where Art Thou?, which, of course, was dismissed by the country music industry as a fluke, even though it also won six Grammys and spent close to 100 weeks on the Billboard charts. Cripes, the cluelessness of the record industry knows no bounds, I swear. I think that's why the Grammys usually suck so hard - they usually reflect the bankruptcy of ideas and fearful thrashing about for phony-baloney sales fixes that characterize the typical Giganto Corp. "creative" leaders. Burnett gave ample warning of where tastes were heading nearly a decade ago. Did anyone at Giganto listen? Of course not. Americana artists spent the 2000s scratching for coin as usual, playing their dingy bars and county fairs and garnering audiences one fan at a time by having their music traded over the Internet among secret clans of worshippers like it was some kind of foolproof alchemy formula.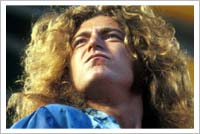 So, what have the Zep-man and the Bluegrass Babe really wrought by dominating the 2009 Grammys? Well, first of all, it has raised Robert Plant in my estimation even more, if such a thing is possible. He kicks ass for two reasons - number one, he's got excellent taste in music. Anyone smart enough to realize the heir to hard, blues-based rock is modern Americana is damn cool in my book. And of course, Robert Plant is the ultimate exponent of everything that rocked hard in the '70s, so he has become the ultimate Exhibit A for my theory. The other reason is that he's the one who refused to join Jimmy Page, John Paul Jones and Jason Bonham in a Zeppelin reunion tour after a one-off tribute to Atlantic Records' Ahmet Ertegun. My God, yes, Robert, yes. Thank you for putting an end to all that. You're an artist and don't need to dig up a stinking corpse to make a bucketful of filthy lucre on behalf of the greedmeisters of Giganto Corp. and the Live Nation/Ticketmaster Axis of Evil, cynically catering to the pathetic necrophilia of a bunch of 50-year-old "music fans" who haven't actually bought any music since Shout At the Devil came out.
Robert Plant doesn't need to go there. I mean, when's the last time Jimmy Page did anything worthwhile? Although I will never deny his key place in the development of rock, I'm betting he had no idea who Alison Krauss was until she showed up on Percy's arm one day.
Here's what Plant said about it backstage at the Grammys in an interview with the New York Daily News: "I came from a British approach to the great songs from America - to spectacular Black Americana. And Alison has patiently shown me much of the America I was never exposed to before. There are so many thousands of beautiful songs in the air. And America needs to know what this music is about. It's great to be considered part of a movement that is healthy and has some discrimination. I'm so pleased to be associated with that."
"Some discrimination." "America needs to know . . . " Ah, Percy. Still growing musically. That's why I love you, man.
Discrimination is exactly what's going to work from now on in an era when the mass, dumbed-down market is splintering under the weight of it own excesses. Robert Plant's rejection of Zeppelin money-grabs and his evolution into an Americana artist is nothing if not indicative of the yearning for truth and the discovery through American music of who we really are and where we came from, and how it all went wrong when Giganto Corp. stole it all (it was somewhere around 1974, I think).
The Making of Raising Sand
-
From the Beachwood Country All-Stars to Dylan's Grammy Museum, the finest bones of rock 'n' roll are rattlin' 'round Don's Root Cellar.

Posted by Don Jacobson at 8:36 AM | Permalink
The Weekend Desk Report: SPECIAL BURRIS EDITION
MYSTERY BURRIS THEATER/Burris Press Conference 3:30 P.M. - 4 P.M. Sunday:
A rough transcript with commentary. I had a Lieutenant Kaffee moment at the end. Those who have seen the movie will get the reference. Just to be clear, I watched this on CLTV - I was not actually at the press conference. But it was one of the most remarkable I've ever seen. The press corps must feel personally offended. Or they knew they'd be on national TV. Or maybe they just got the memo about how to do their jobs.
-
BURRIS: I've always conducted myself with honor and integrity.
RHODES: Not.
*
BURRIS: Answered best I could in the time allotted . . .
RHODES: There just wasn't enough time to tell the truth!
BURRIS: I was never inconsistent.
RHODES: And that's why we filed an amended affidavit - to clear up our non-consistencies!
*
BURRIS: None of my contacts were inappropriate.
RHODES: Including when I told Rob Blagojevich that raising money for his brother while I was pursuing the Senate seat would have been, um, inappropriate.
*
BURRIS: I was asked by [Rep. Jim] Durkin [about contacts with the governor, relatives and figures in the administration]. I answered Yes. I did have contact. I mentioned Lon Monk. The line of questioning took a different direction.
RHODES: Much to my relief.
*
BURRIS: I was telling nearly everyone I knew I was interested in the Senate seat.
RHODES: I just didn't want the impeachment panel to get that impression.
*
BURRIS: I received three phone calls from Rob Blagojevich asking for assistance raising money for the governor, his brother. I made it clear I would not contribute.
RHODES: After all, I had just held attended a fundraiser for him in July June!
*
BURRIS: This is about people playing partisan politics.
RHODES: Let's get back to the race card instead!
*
REPORTER: Why mentioned Lon Monk but not Rob and others?
BURRIS: Durkin raised Lon Monk . . .
REPORTER: He also mentioned Rob Blagojevich and John Wyma.
BURRIS: That's when I said Yes.
ATTORNEY TIM WRIGHT: We didn't get an opportunity to respond.
RHODES: But Roland just said he did respond.
REPORTER: Why not mentioned Rob Blagojevich and John Harris?
WRIGHT: It was his intention to do so. The questions went in a different direction.
RHODES & REPORTERS: But that was the entire reason for appearing before the panel!
BURRIS: That's what you all are looking at as professionals.
RHODES: As opposed to what you are looking at as an amateur?
*
REPORTER: Have you been questioned by federal agents?
BURRIS: No.
REPORTER: Have any of your aides or attorneys?
BURRIS: Some agents have reached out to my lawyers.
*
WRIGHT: On January 22, we go the transcript. We reviewed the official transcripts, looked at the questions, saw some additional information that we could have offered.
RHODES: So you could tell from reading the transcript that your client's answer was incomplete.
*
REPORTER: Why didn't the seantor's office make the amended statement public?
WRIGHT: We made it public by filing it in the record of the impeachment committee.
RHODES: How deep into that record did you file it, and why did you use such tiny type?
*
REPORTER: Why not hold a news conference?
WRIGHT: We've been totally transparent in the matter.
BURRIS: Transparent!
*
WRIGHT: The FBI has not come to us.
RHODES: Um, reviewing the transcript, sir, I see that Roland said just a few minutes ago that agents have reached out.
WRIGHT: We cannot tell you about contact.
RHODES: Until you amend this press conference later.
*
BURRIS: Everything in the affidavit is true.
REPORTER: Which affidavit? We now have three different versions.
*
BURRIS: I had no contact with anybody in reference to the appointment. The second affidavit was about the Senate seat. Look at the difference.
RHODES: I know! It's like the time the police asked me about the smoking gun I was carrying. They never asked me about the dead body, though!
*
BURRIS: You are all writing inconsistent information!
RHODES: So we've accurately captured your statements!
*
BURRIS: At the fundraiser I said, Keep me in mind for the Senate seat.
RHODES: At the fundraiser!
*
BURRIS: I was talking to John Harris about my nephew, who was interviewing for a job.
RHODES: Now, keep in mind the difference between interviewing for a job and getting a job.
*
WRIGHT: (To Burris) He took you in a different direction.
BURRIS: (To press) He took me in a different direction.
*
REPORTER: Then why amend, if you gave a Yes?
WRIGHT: Because when we looked at the transcript, it was not in the testimony.
RHODES: But you've just spent the last 30 minutes telling us it is in the testimony.
BURRIS: At the hearing, Durkin goes into all these names. The answer to all of those names was Yes.
RHODES: Just one more question before we hear from airmen Rodriguez and O'Malley. If you answered the question fully with that Yes, then why did you feel the need to file an amendment?
-
UPDATE 6:28 P.M.: Here's a question. If he gets the chance to, who will Pat Quinn appoint to replace Burris? Maybe someone like his chief of staff, a children's advocate. The time for politicians is over.
-
The Weekend Desk Report
By Natasha Julius
BREAKING BURRIS/SUNDAY A.M.: "State lawmakers are calling for a criminal investigation into whether U.S. Sen. Roland Burris committed perjury before a state impeachment panel, in the wake of a Sun-Times exclusive story published online today," the Sun-Times reports.
"The development comes after the Chicago Democrat failed to initially disclose under oath to a House panel that he was hit up for campaign cash by former Gov. Rod Blagojevich's brother."
See also our Breaking Burris updates at the bottom of this column, and stay tuned for more.
The Weekend Desk Report
Now you know what gets us through those long, cold weekends at the Desk: Snuggies and booze.
Market Update
Water may be in the black again soon, although analysts warn Cosmetic Changes don't generally reflect the overall tone of the market.
Manning the DoC
After a pair of high-profile missteps in the search for commerce secretary, President Barack Obama has decided to take no more chances. Obama will name Indianapolis Colts quarterback Peyton Manning to the post, saying "clearly, there's no one more commercial than Peyton. And hey, the guy's a real team player."
Hail Mary
In a major victory for his administration, President Obama's $787 billion financial stimulus package has at last been passed by Congress. Eager to assure voters that the accountability problems that plagued earlier federal bailouts will not return, Obama stressed his new commerce secretary nominee's key role in distributing the funds. "Make no mistake. Peyton Manning will use his laser-rocket arm to direct these funds exactly where they need to go. And that guy doesn't miss much."
Government Warner
Responding to President Obama's new Commerce Department designee, House Minority Leader John Boehner expressed skepticism. "If the president were really serious about accuracy in this bailout process," Boehner declared, "he would've chosen Kurt Warner. And if this is about experience, come on. Guy's been in three freakin' Super Bowls."
Vindicated
Finally this week, Jose Canseco smugly insisted he is uniquely positioned to dish on state politicians given his well-documented history of depravity. Meanwhile, Rod Blagojevich smugly insisted he saw all sorts of horrible things during his time in Springfield despite remaining completely innocent and corruption-free.
BREAKING BURRIS 1: Our very own David Rutter writes:
If the Sun-Times is right, and on matters of Blagojevich-related cupidity how can they be wrong, our giant Fib-O-Meter has just set off a high-pitched whine. Spin that wheel, Vanna, we have another contestant.
Up until now, we just thought of Roland Burris, your senator and ours, as the quintessential dopey mediocrity with delusions o' grandeur, but we may just have entered the lightning round.
During the deposition/affidavit/let's be friends phase of his nomination to the U.S. Senate, Burris forgot to mention - despite being asked numerous times - that he was solicited by Blagojevich's brother to kick in $10,000 just between friends. More than once.
On second thought, Burris "remembered" one of the solicitations but the others were trapped in the mind shaft of his memory. Then, after thinking it over and figuring that wiretaps probably will reveal it anyway, doggone if there weren't a few more talks about ponying up contributions. This is passing odd. There was only one question on the entire globe's mind that month. Did somebody pay off Blago for the job? Did Burris? "Civil War? What Civil War?" Mr. Lincoln replied.
And when Burris stood before cameras and scoffed at such an idea, he was either disingenuous (what?) or his mind had fled the premises.
At any rate, the affidavit (we call that a sworn statement) sent to the state House in which he "forget" to mention the solicitations feels like, smells like, itches like, hmm, what's the word. Oh yes. Perjury. Not that we think there's a chance Burris is going to be snagged by this event. When you're swimming in a sewer treatment plant, one floating object is pretty like any other.
But it does get the state Democrats off the hook for 2010 because now they have a perfect chance to ditch him, and seem noble doing it.

BREAKING BURRIS 2: Our very own David Rutter would like to amend his comments.
Now based on all the major news organizations reporting essentially the same thing, it's quite clear that Burris lied to the House impeachment committee under oath. And he did it for the classic of reasons: If he'd told the truth, the U.S. Senate would not have allowed him entrance. His theory that he had to submit a subsequent affidavit because "he wasn't allowed to" reveal the truth before is preposterous even by Illinois standards.

Someone, somewhere this week is going to be the first say it: Burris must resign. It probably should be The Beachwood Reporter.
Editor's Note 1: Done!
Editor's Note 2: Then again, the Beachwood was already out front on the Recall Roland tip. (See Item 9)

Posted by Natasha Julius at 8:15 AM | Permalink
February 13, 2009
The [Friday] Papers
I've been too tired and too busy this week to post as much new material as I've meant to, so I hope to clear off my desk, so to speak, over the weekend and freshen up each section. Please check back often over the next few days.
A couple new pieces today, though, that I'd like to call your attention to. First, Thomas Chambers, our man on the rail, has a great piece on the new reality show Jockeys. Tom is now writing Track Notes for us every Friday. His work is first-rate. We don't have all the tech tools yet that I'm dying to have on this site, and we remain sadly underdeveloped pending a few more dollars, but really, nobody can beat the quality of our content. And that's really the point, isn't it?
Also, I think my Mystery Maher Theater is pretty good; it's the latest in our long-running and popular What I Watched Last Night feature.
Plus, we're still getting new tales in for our Peoples Gas Journal. And, finally, if you haven't gotten to Jeff Huebner's "The Broom of Wicker Park" yet, please do so now. Then come back for today's Papers.
Olympic Insanity
The 2000 Summer Olympics in Sydney cost $5.9 billion. The 2004 Summer Olympics in Athens cost $15 billion. The 2008 Summer Olympics in Beijing cost $43 billion. The 2012 Summer Olympics in London are up to $13.5 billion. Chicago 2016 officials say the Olympics here will cost $4.7 billion.
We all know that isn't true.
*
Via Chicago Tonight last night:
The Chicago 2016 website says the Chicago Olympic bid is 100 percent privately funded.
So no city workers or officials have spent any time at all on, say, venues and logistics? Including the mayor?
*
"There are no tax dollars associated with the actual operating costs of the Games themselves," Chicago 2016 President Lori Healey said on the show.
Do "actual operating costs" include security, transportation and housing? Or does that just mean the starter's pistols will be funded by Aon?
*
Healey also said the bid does not rely on funding from the stimulus bill; it is "based upon the transit system as it is" and further improvements already approved by the federal government.
So no need to notify the IOC when the CTA uses stimulus funds to fix slow zones and repair tracks.
*
"'Host cities always claim they will spend much less than they end up spending,' said [Stefan] Szymanski, an expert on the economics of the Olympics," the Tribune reports.
"That's in part because tough bidding competition spurs candidate cities to promise more and more extravagant games and because the politicians who bid for the Games are rarely the ones who actually put them on.
"'That's the problem for Chicago, the winner's curse,' he said. 'You only get the Olympics by paying more than they're worth'."
The online version of this story ends there, but here are three more paragraphs in the print edition:
"He compared promises made by Olympic promoters - that the Games will boost development, spur economic activity and create jobs - to those made by American professional sports teams who want taxpayers to build them new stadiums.
"In both cases, the promised benefits rarely materialize, he said, and taxpayers get stuck with the bill. But 'I think the public knows exactly what's going on,' he said.
"'They know the figures are stupid,' Symanski said. 'But they want to keep their team' - or their chance at playing host to the Olympics."
*
Remember the selling point about how compact the Chicago Games would be? Not so much anymore.
*
Here's the official bid book, released this morning. I haven't had time to read through it, but feel free to alert me to any goodies.
Meter Madness
"The city is getting $1.15 billion to outsource management of its 36,000 meters over the next 75 years to Chicago Parking Meters LLC," the Sun-Times reports.
Um, the city isn't just "getting" $1.15 billion. We're giving that money to the city - plus whatever profit margin our new parking meter overlords soak us for.
It's like money-laundering or loan-sharking. We give the money to the new parking meter company to make up for the money they're paying to the city - with interest.
Today meters in the Loop go to $3.50 an hour. And that's just the start of it. Loop meters will cost $6.50 an hour by 2013.
And:
"Most meters around the city will now need to be fed every day, including Sundays. Most Loop meters will need to be fed 24 hours."
That, my friends, really sucks.
Size Matters
"The Chicago Tribune laid off about a dozen staffers in its newsroom Thursday, said people familiar with the cutbacks," the Sun-Times reports.
"The layoffs, a response to reductions in advertising and circulation revenue, come a week after the paper's publisher Tony Hunter, warned of 'rightsizing activitie at Chicago Tribune Media Group, which includes the paper and its RedEye edition, plus Chicago magazine."
Wouldn't "right-sizing" mean hiring a reporter for every neighborhood?
Cat Scanned
"'Yesterday, Jim, the head of Caterpillar, said that if Congress passes our plan, this company will be able to rehire some of the folks who were just laid off. And that's a story I'm confident will be repeated at companies across the country,' Obama said," the Sun-Times reports.
"After Obama's speech, [Jim] Owens said, 'That's one of the things I wanted to clarify because I don't want false expectations: If we sign this stimulus bill, that doesn't mean we can start hiring right away.' The 22,000 layoffs would still happen - and probably more. Only 20 percent of the stimulus bill covers ]hard construction' projects of the type that would benefit Caterpillar, and those would not really help the country until the end of the year, at which point Caterpillar might be able to begin re-hiring, he said."
And even then, those jobs aren't coming back. Caterpillar will just right-size.
*
Does the stimulus bill contain any provisions for retraining Caterpillar workers as computer programmers or nurses? Those are just two of the fields with continual labor shortages.
Friday Funnies
"Our Gang Tot Grew Up To Be Stripper."
On the other hand, no. Too easy.
Random Data Points
From the Trib:
* Number of homeless students in Chicago public schools: 9,696.
* Number of reported rapes in Chicago in 2008: 1,567.
* Number of Canadians have died from taser guns: at least 20.
Fashion Icon
"The U. of C. Medical Center ranks near the bottom among Cook County non-profit hospitals in the rate of free care it provides to indigent patients even as it reaps tens of millions in tax benefits based in part on its promise to treat the uninsured, the Tribune found.
"Records obtained by the Tribune also show that regulators have cited the hospital for transferring patients to other hospitals without records to show that doing so was in the patients' best interests.
"And, in 2006, the U.S. Department of Health and Human Services fined the medical center for a 2002 case in which the hospital is alleged to have refused to accept a 61-year-old man suffering from stomach pains after it learned he had no insurance. He later died at another facility. At least since 2000, no other Chicago hospital has been fined under federal patient dumping laws, records show."
This is the program spearheaded by a very well-rewarded Michelle Obama, with assistance from David Axelrod and Obama pal Eric Whitaker.
Taking the Fifth
More uncoverage from the race to replace Rahm Emanuel.
There may have been a time when penning cutesy profiles of each candidate in a campaign had some value, but there's nothing in these that I can't learn from going to the candidates' websites.
The Tribune's piece today, as well, is a rehash of what's already been discussed and dispatched of by those following the campaign on the Web (though it's nice to see Feigenholtz once again acting like a weasal by not admitting she commissioned a sleazy poll; Fritchey also isn't off the hook for connecting her to a notoriously unreliable clout list without proof that something untoward happened.)
How should the campaign be covered? In the old days, at least in other cities, there'd be a story a day. These days, if I ran one of the papers, I would have set up a website for the campaign and fed all the coverage into it, created a place for candidate press releases, assigned a reporter to fact-checking all claims, track the money, and make daily blog posts. After all, we're talking about the congressional seat that has spawned Dan Rostenkowski, Rod Blagojevich and Rahm Emanuel. Plus, it's the right thing to do, it would engage readers, and the cost is very low.
Programming Note
On NBCChicago.com:
* Mr. Obama Comes To Chicago. Our to-do list.
* Blago [Hearts] U. Hey, that can't all be winners.
Bruce [Hearts] U
* From the underrated side two of Tunnel of Love, maybe because side one sucked so bad. Valentine's Day.
Acoustic, solo version:
-
The Beachwood Tip Line: Burning up.

Posted by Beachwood Reporter at 9:47 AM | Permalink
What I Watched Last Night: Mystery Maher Theater
I don't agree with everything Bill Maher says, but then, why should anyone agree with everything anyone says? I'm still a fan, and I think he's got - like Jon Stewart - far more insight into our politics than at least 99 percent of the pundits who terrorize our discourse. What Maher and Stewart do is what journalists should do: they stand outside the system and see the absurdities for what they are. Most pundits and even reporters stand inside the system and become absurd themselves.
Anyway, while I watched Maher's appearance in full on Larry King Live last night, I don't have to rely on my scraggly notes to recreate the best moments. Thanks to the good folks at CNN, I can point you to a transcript of the show, from which I'm going to cull the highlights and present to you here. With my own commentary added, of course.
*
MAHER: I think [Obama] probably shouldn't have offered so much [to Republicans], for example, in the stimulus package right away. He offered what they wanted - the tax cuts, which really are not stimulus. And he should have said from the beginning, look, I won the election, OK? We're going do it my way now. We tried that idea - that tax cuts solve every problem. We had that. And that's what got us into this mess.
Because now he's in a situation where he offered the tax cuts before any negotiating took place and they threw him the back of his hand. So now that when they got the compromise on whatever it was, there's still like 35 percent tax cuts in there.
RHODES: He's stealing my material! (See the item Poker Putz)
*
MAHER: Well, I mean, considering the alternative, [Obama's] doing fantastic. And he's a pleasure to watch. I just watched him there talking about Lincoln. I mean he can put a sentence together. He's eloquent and he's - he's unflappable. I mean, he's so cool and calm.
Is he on Xanax?
*
KING: Do you think he's going to solve this economic problem?
MAHER: Well, he can't personally solve anything. I mean, he needs a partner in the American people. That's the big question, I think, that's before America is, you know, does he have a partner? Can we call it upon ourselves to do what we need to do to dig ourselves out of this mess, because there really isn't a shovel big enough.
RHODES: But where's the sacrifice? Other than the folks who are losing their jobs . . . shouldn't the sacrifice come from those who made out like bandits before the system collapsed? Shouldn't our corporate and civic leaders band together to . . . you know . . . do stuff?
MAHER: I mean this is a mess like - and I don't think they're telling us really how - how bad it is. I think that's why Geithner was so vague the other day when he presented his plan, because I think he just didn't want to say it's even worse, because I think there would be more of a panic than there is.
KING: You think it's worse than . . .
MAHER: I think there's every possibility that that's possible.
RHODES: I recall reports after congressmen were briefed on the need for the first bank bailout describing those coming out of the meeting as "ashen-faced." I mean, America is bankrupt. What if China calls in its loans? Do they get to repossess us? And you know what? Osama bin Laden did this. Bin Laden destroyed America. Everything flows from that.
*
MAHER: I read the other day, I think only four in 10 Americans believe in evolution. It's still not a very bright country, Larry.
*
KING: The public - we asked the public before to send in what they want to - let us - blog us what they want to hear you talk about. Number one is the eight kids.
MAHER: Well, I can never see that movie Octopussy again.
RHODES: That's cheap! Er, wait, actually that's pretty good . . .
*
MAHER: Who deserves to just sit back and have a bong more than Michael Phelps? I mean, for the last eight years, he's done nothing but marinate in chlorine.
You know how dangerous a drug chlorine is?
KING: So his swimming was worse than his bong?
MAHER: Absolutely. And certainly anything made by Kellogg's - you know, I was on Jay's show the other night and I was kind of ragging on Kellogg's. And people said, oh, you're kind of hard on Kellogg's.
KING: They banned him.
MAHER: Let me broaden it out. It's not just Kellogg's. It's everything on the, probably, on the plate for the All-American breakfast is probably not good for you. But certainly Fruit Loops. You know, a lot of kids in America have diabetes now and it's not because they're smoking marijuana.
RHODES: Actually, it is, because nothing makes you want to eat a box of Froot Loops more than smoking pot.
*
MAHER: I just think [American men] take [sports] too seriously. I mean, you know, football, I see them coming into the stadium and they're all wearing the jersey of their favorite player. They think they're so macho. Hey, you're wearing another man's shirt.
RHODES: And he didn't even bother to call you the next day.
*
MAHER: I had a writer who worked for me once. He had the greatest line. He said, if baseball were any slower, it would be farming.
KING: That's because he didn't understand it.
RHODES: I don't believe I've ever written these words, but . . . Touche, Larry King. Well-played.
*
MAHER: A point I try to make as often as I can, you know, if you're so upset about steroids [in baseball], you should realize that almost everyone in America is on steroids. Because they shoot up the farm animals with steroids. They're so upset about all the players on growth hormone. You are on growth hormone if you eat chickens or pigs or cows - any of the factory farm animals in America. You know, a chicken goes from like an egg to your plate in six weeks.
*
MAHER: I think it's a watered-down [stimulus] bill. I mean it's half of an old crappy Bush economic tax cut bill and not enough of what we really need - the kind of stimulus they were looking for.
RHODES: Paging me again!
*
MAHER: I just think Nancy Pelosi should stop saying if this doesn't work completely, throw us out of office in two years.
You know, you and Biden, shut up. You don't always have to be voicing your interior monologue.
RHODES: And then the Democrats will have lost the American people's faith, just like the Republicans did. But we'll turn back to the Republicans. And then turn back to the Democrats. Hello, America? See the problem?
*
(BEGIN VIDEO CLIP)
MAHER: New rule, if you still think Obama is a Muslim, you just might be a redneck. A Christian church in South Carolina has a sign out front that says "Obama Osama, hmm, are they brothers." No, in fact, they're not even related, which is more than I can say for the married couples in your church.
*
KING: From our blog at CNN.com/LarryKing, Michael writes, as a supporter of the arts, how do you feel about the recent cuts in funding to education in the stimulus packages affecting music and arts programs in public schools?
MAHER: You're assuming things about me that I don't know. I'm not a supporter of government funding of the arts. I have been for abolishing the National Endowment for the Arts. Government has absolutely no business or need to be funding of the arts.
It's way out of the purview of government. It's mission creep. It's the very definition of that in government. There's no reason for it. I don't know why government has to do that. First of all, you cannot stop artists. If people want to create, they are going to create. Let the marketplace decide what people want to patronize of that creation. Why should government do it? Why should we spend our money on it?
RHODES: That's Maher's libertarian streak. But I'm not sure I disagree. We've lost sight of what government should fund, what charitable organizations should fund, and what the corporate sector should fund. For example, corporations should have no role in health care. That should be up to government, with some role for the private sector. Corporations should not give shareholder and employee money to charity. Those causes are also the purview of government - and the non-profit sector. And government should not give money - like subsidies and tax incentives - to corporations. They should regulate corporations, but not aid them otherwise.
*
KING: Citicorp has named new stadium in New York, where the Mets are housed, like an old Ebbett's Field. It's a beautiful place. They give the Mets 20 million a year. For many, many years.
MAHER: That's another thing. Why are we subsidizing sports teams, as we do, to build stadiums? Cities always do that. It's a private enterprise. If you want to build a ballpark and put a ball team in there and have people pay to see them, they'll do it. Why should the government be involved in that? We have had this idea for so long in this country that the Republican idea of trust in the goodness of rich people. Just give them all the money. They always do the right thing with it.
How the Republicans at this point can have the nerve to sit up there and talk about how we should run this country financially; who drove the car into the ditch?
RHODES: It wasn't just the Republicans, Bill.
MAHER: Talking about fiscal conservatism, they're the ones who in the last eight years gave Bush the Medicare entitlement program. That's a trillion dollars in money that was urgently not needed. The Iraq war, there's another trillion dollars. That's why we don't have money. Bush blew a giant hole in the budget. Who was the last guy to do that before him? It was Reagan. Who is this fantasy fiscally conservative Republican who left the country more fiscally sound than he found it? I think it was Bill Clinton.
RHODES: Hey, let's not re-fight the wars of the 90s!
*
DAVID THEALL, LARRY KING LIVE PRODUCER: Bill, Larry, listen, we're all over the place in the blogs tonight. We're talking politics. We're talking Michael Phelps. We're talking octuplets. But most people are talking about the stimulus bill. They're still talking about it.
Jane is one of them. She says this, Larry, "please, please, please stop this madness. I didn't sign on for this pork filled bill. I thought we were getting an infrastructure, green economy and education bill." She asks what's going on.
RHODES: Jane, will you marry me?
THEALL: We heard from Doug. We had to include his question. He says, "Larry, Bill, can someone, anyone tell me who will be accountable for the billions paid in this stimulus bill? Politicians, CEOs, contractors, local bureaucrats. Am I really the only one who doesn't trust any of them to do what is right?"
RHODES: You mean you don't trust Ray LaHood, Richard Daley and Todd Stroger with your money?
*
MAHER: And Jane, who thinks the bill is full of pork, this is a lie. This is just an out and out lie. This is what they get from listening to Rush Limbaugh all day. It's not a pork bill. I loved the other day when Obama was taking McCain to task for calling it a spending bill. He said, yes, duh, that's the point. What do you think a stimulus bill is? It's a spending bill. We're spending money to get the economy going. We knew that going in.
RHODES: Even Rush Limbaugh is right twice a year. Have you looked at the bill, Bill? It's so filled with pork that I printed out a couple pages and fried them up with my breakfast the other day. The point isn't just to spend for spending's sake. If that was the case, why not just subsidize trips to the mall for every American? This is where liberals with blinders on don't want to look too closely at the very behavior on their side that they just got done wailing about for years by the other side. Don't be loyal to parties and ideologies, people, be loyal to truth, principle and values.
*
CALLER FROM MINNEAPOLIS: Hi, Larry and Bill. My question is, Senator Leahy has said he want to form a commission to investigate crimes that may have happened under the Bush administration. What do you think of that? And did you Vincent Bugliosi's book The Prosecution of George W. Bush for Murder"
MAHER: Of course, he should be prosecuted. If everything was equal, the crimes he committed, yes, certainly deserve that. But I don't think anything is going to go forward, because Obama has made a calculated political decision, which is his job to do, by the way - I'm not criticizing him for that. I think it's probably the right decision. It's a tough decision, because it sends a terrible message that you can get away with these things.
RHODES: You can, if every president is going to make a calculated political decision. One of them has to make it stop, Bill. This was supposed to be the one.
MAHER: If they went after Bush, the atmosphere in that town would be absolutely poison, and we are just in too much of a crisis now for that to happen. I think that's his position.
RHODES: As if his position would be different if we weren't in a crisis? C'mon.
*
KING: How did this all start, this economy downturn? Was there an incident? What happened?
MAHER: No, I think - well, first of all, wages have been basically stagnant for 30 years. But this is America. And just because wages are stagnant, people don't think their lives should be. They wanted to continue to have a lifestyle that got better, and so they had to do it on credit. I mean, that's really what happened. You know, the idea that we could continue to have this disparity in wealth, where the rich got richer and everybody else did not advance at all, that was always going to be a ship sailing toward an iceberg.
If you look at the Bush recovery, you know, from 2002 to 2006, it's something like 800 billion something dollars increase in wealth, like three quarters of it went to the top one percent. You know, FDR's Fed chief talked about this during the Depression. He said, when there's an inequality of wealth, it eventually is going to lead to a Depression. He said, it's like a poker game, where more and more wealth goes into the hands of one player, and everybody else has to borrow just to stay in the game. And when their credit runs out, the game's over.
RHODES: I don't disagree, but I also don't think this crisis was caused by consumer and homeowner debt as much as by the lendees who overextended credit because it's such a lucrative way to screw people out of their money because it's so loosely regulated (remember, as a U.S. senator Obama voted against capping credit card interest at 30 percent). What happened in large part in the home-loan market was that investors packaged that debt together - what they call mortgage-backed securities - in a way that they thought eliminated any financial risk to themselves. If you package together a bunch of people's (and institution's) debt, some of it might not get repaid, the theory went, but enough of it would at such a nice margin that you would make out quite nicely. But you can't beat the house. You can't eliminate risk in an economy that is built on risk. It was a high-stakes gamble mistaken for a sure thing - the cause of most of our financial crises, historically. And now we have to bail out the rich folk, as usual, because our meager and depleted fortunes are tied to their wealth.
*
KING: Some people are calling Afghanistan Obama's Vietnam. Do you buy that?
MAHER: It could be. Yes, I've been very critical about him for that. I don't understand why we always have to have a war going. I know wars are great, but we're winding one down. And I guess on the campaign trail, he had to talk up Afghanistan, because otherwise the Democrats would look like wimps not being for any war. But we've been there seven years.
RHODES: Afghanistan should have been Iraq - the war we should have fought and the nation we should have attempted to put on a path to democracy. It's too late now, though. We blew it. Maher is right, but I doubt Obama will have the courage to cut bait. It's a politically calculated decision, because Democrats always feel they have to prove they can be tough - just like the Republicans whose bluster keeps blowing up in our faces. Irony, anyone?
*
KING: Before we get to the Madonna question, which I know you're breathlessly awaiting, Blagojevich, what did you make of that whole story?
MAHER: Well, I think it shows that it's going to take some adjustment to get used to Democratic scandals, right? I mean, when a Republican tried to sell his seat, it was in an airport men's room. That was a lot easier to deal with.
You know, I thought it was blown out of proportion, if you're asking me seriously. Because, wow, they found a corrupt politician in Chicago, gee whiz.
RHODES: Um, our president is a politician from Chicago. And it was his seat for sale. It was blown out of proportion in the sense that the cable-news nuts went, um, nuts, but the tale of Blagojevich tells a story about where Obama comes from - he shared Tony Rezko and Emil Jones with Blago, for example - very much at odds with what we heard during the presidential campaign. That's the part the media is still missing.
-
See what else we've been watching. Submissions welcome.
Posted by Beachwood Reporter at 5:47 AM | Permalink
TrackNotes: Jockeys
In Playing the Ponies, the Three Stooges traded a depressed 1937 diner (even with the popular menu item of hot water poured through a chicken) to a couple of swindlers for Thunderbolt, a swayback has-been Thoroughbred. Their only angle was that the crooks told them he could really run. On their way out the door, Curly grabs a big handful of chili pepperinos, thinking they were salted peanuts. They get to the track and realize this horse doesn't want to do much of anything. Curly eats some pepperinos and makes a beeline for the water trough, so they figure, what if we gave these to the horse? So in the end, they give the pepperinos to the horse. With Larry riding, Moe and Curly run a motorcycle and sidecar with a bucket of water like a carrot on a stick to make the horse chase it. They mop up big.
I was reminded of this while watching the first two installments of Jockeys," a "reality" show now running on the Animal Planet channel. While I never saw Curly carry a horse six furlongs (a huge steamer trunk or a ton of ice, yes, but not a horse), you would have thought these jockeys in the show were doing just that. The old adage, though, is that a good jockey never wins you a race, but a bad one will lose it for you. It's always about the horse.
But top-notch race announcer Trevor Denman - he of the British accent we Americans dig so much, though he's actually South African - has obviously been hired to overdub race "calls," and he emphatically makes it sound as if the jocks are carrying the horses, or on foot and leading the horses by the reins behind them. "It's Talamo on Booyah! Here comes Gryder on Tice! Talamo! Gryder! Talamo! Gryder! It's Talamo!" I was waiting to see one of them cross the finish line running, like John Belushi on little chocolate donuts. Denman is going to catch grief at the next race caller convention. (For a real Denman call, go to a Santa Anita replay here.)
The show's first installment is all about how a jockey "could get killed!" Archival footage is unleashed and Corey Nakatani hands the producers the ultimate showbiz gift by going down in a spill and losing to injury the remainder of last fall's Oak Tree Meet at Santa Anita, which culminated with the 2008 Breeders Cup.
Jockeys cooks up conflict by manufacturing a feud between the kid Joe Talamo and veteran Aaron Gryder. It's as if they are the only jockeys riding on the final day of Pomona's Fairplex county fair meet, even though Martin Pedroza and Tyler Baze dominated there.
Of course, no reality show exists without exploiting sex. So here we have hot Canadian blonde Chantal Sutherland moving all the way from success at the Canadian and New York tracks to Southern California to be with her main squeeze, Hall of Famer Mike Smith (winner aboard Giacomo in the '06 Derby and twelve Breeders Cup wins). She arrives and they argue about closet space in Mike's condo, as she commandeers 94 percent of it. Her selling point is "you can't reach the top shelf anyway!" You can see the seeds of cohabitation regret sown right then and there.
With headbanging, booming bass accompanying her screen time, we get more sex with Kayla Stra. She's a transplant from Australia whose dream is to ride at Santa Anita, the "best racing there is." I think folks at Saratoga or Keeneland would disagree. Her difficulty is in getting rides. Commiserating at a backside bar, she tells another horsewoman to whom we are not introduced that a winning ride "is better than sex." She needs to start riding, and winning, bad, so we do believe her. (She won her first race in America last Nov. 11 at Hollywood Park.)
Our other jockeys are Jon Court and Alex Solis, my Uncle Hank's solid bet-against. Top gun Garrett Gomez, America's leading rider, chose not to participate. He's above all this, getting the slo-mo bad-guy-strolls-into-town treatment in the parking lot wearing an expensive black suit and shiny gold tie. He rides Hystericalady in the Lady's Secret Stakes (Lady's Secret was a daughter of Secretariat), a showdown against Smith's Zenyatta, who went on to become the 2008 Champion Older Female. She's a monster who blows the doors off Hystericalady and the proud Gomez on her way to Breeders Cup glory.
Lending that wiseguy race track atmosphere is the famous James E. "Jimmy The Hat" Allard, a onetime bit player and extra actor who came back to his first love and talent and now handicaps for a living. I know that from a profile in The Horseplayer magazine by Chicago's own Joe "Joey DAK" Kristufek, handicapper for the Daily Herald and the Arlington Park daily program, not from anything this TV show told me. Jimmy's favorite word is "action." As in "It's about the adrenaline of ACTION. People come out here to GAMBLE. It's a drug, and it's called ACTION." Man, I wanna be just like Jimmy!
I also got to cherish again Joe Talamo guiding California Flag in a turf sprint to a $26+ win and entry into the Breeders Cup. I cleaned up in that race. Those kinds of memories never die.
Triple Crown Trail
We continue down the Triple Crown Trail with some interesting developments this past weekend.
* Bob Baffert's Pioneer of the Nile looked solid winning the Robert Lewis at Santa Anita. Stardom Bound lived up to her monster reputation by easily winning the Las Virgenes two races earlier.
* Friesan Fire was a bit rank but did what he had to do in winning the Risen Star at Fairgrounds. Giant Oak, the Illinois-bred, had a horrible trip and should rebound. And he might be a price next time.
* You might question the quality of the field, but Haynesfield looked very good in winning the Whirlaway at Aqueduct.
* Godolphin Stable's Vineyard Haven faded to fourth in the UAE 2000 Guineas at Nad Al Sheba, Dubai, Thursday night. Sheikh Mohammed's dream is to train a horse at home in Dubai and then ship here and win the Kentucky Derby. He's trying this year with Vineyard Haven and Breeders Cup Juvenile winner Midshipman.
Looking Good
* Pioneer of the Nile
* Friesan Fire
* Stardom Bound
* Haynesfield
* Desert Party
* Papa Clem
* I Want Revenge
* Flying Pegasus
* Nowhere to Hide
* Parade Clown
Looking Not So Good
* Vineyard Haven
* Giant Oak (but he gets a mulligan from me)
* Shafted
* Indygo Mountain
* Code of Honour
* Zooger
* Bittel Road
Races To Watch This Weekend
* Southwest Stakes, Oaklawn Park, Presidents Day Monday: Old Fashioned, on top of many a Derby list, goes for the first time this year. Also running in this race is Poltergeist, Flat Out and Silver City.
* Sam F. Davis, Tampa Bay Downs, Saturday: Keep an eye on Atomic Rain, Musket Man and Free Country.
* Getting the buzz in the El Camino Real Derby at Golden Gate Saturday is Chocolate Candy, son of the memorable Argentinian Candy Ride, and owned by Sid and Jenny, of the weight-loss Craigs. He'll take on Axel Foley, Merus Miami and four others.
Horse Names I Laughed At
* Chernobyl Princess. What? OK, I looked it up and as far as I can tell, chernobyl means "cherished oasis."
* Corrupt. He's an Illinois-bred whose sire is Belong to Me and dam is Taxable Deduction, out of Prized. Read into that what you will.
T-Bred TV Alert
Hearing some word that there will be a cutback in nationally televised horse racing this year. The Breeders Cup is a big sponsor and it is slashing its marketing budget. Seems they overextended themselves on Breeders Cup purses, and they've also increased the number of BC races the last two years. They also supplement a lot of race purses nationwide and the horsemen squawked big time when they tried to reduce those supplements. Horsemen pay fees for every horse they register for potential Breeders Cup participation. The next TV I see is the Lane's End, March 21.
One Last Rant
The folks at IEAH Stables, of Big Brown fame, are at it again. The owners of Stardom Bound have said all along that she's a Derby horse. After winning Saturday, trainer Bobby Frankel says he'd rather run her in the Santa Anita Oaks (for females) instead of the Santa Anita Derby. (I mistakenly reported last week that Richard Dutrow was given Stardom Bound. Speculation is that he eventually will train the horse, but Frankel has the job now.) She was originally a $50K purchase and IEAH bought her for $5.7 million. New York Yankees-esque, I would say. So 2009 has another IEAH soap opera. For now, I side with Frankel.
I still have not calmed down about IEAH's management of Big Brown. He had foot problems severe enough to scratch him in the Belmont and I believe they knew it. In my opinion, when Kent Desormeaux pulled up the horse like the Lone Ranger, he either saved the horse's life or they perpetrated a scam on the bettors (and that includes track veterinarians, who were clouded by the chance for a Triple Crown). I believe they told him Brown had bad feet and if ANYTHING happens, pull him up (to save him for breeding). He should not have been in the race at all. It was another Barbaro waiting to happen. Look for Dutrow to arrive at some point and do just what they tell him to.
-
Thomas Chambers is the Beachwood's man on the rail. He brings you Track Notes every Friday. You can reach him here.

Posted by Beachwood Reporter at 12:59 AM | Permalink
February 12, 2009
The [Thursday] Papers
1. "Federal authorities are investigating five construction companies that collectively have gotten hundreds of millions of dollars in construction work at O'Hare Airport under Mayor Daley," the Sun-Times reports.
2. "Shortly after the Don Wade & Roma show, Blagojevich's former top fundraiser, Christopher Kelly, an O'Hare contractor, plead not guilty to federal charges that he paid kickbacks for contract work at the airport," John Kass writes. "When Blago was charged in early December, his top aide, John Harris, who once worked for Daley handling airport deals, was also charged. Harris must be talking. Kelly will crack.
"'Now [Kelly] probably has a lot of things he can say about operations at the airport,' Blago told Don and Roma. 'And I'm sure that federal prosecutors are interested to see how contracts are issued at O'Hare. And so some of those insights may have more to do with Mayor Daley than they have to do with me'."
*
Do I smell a deal a-cookin'? Blago cooperates with the feds by portraying himself as the reformist truth-teller driven out of office by a cabal of corrupt pols. He acknowledges his own "mistakes" in the process. I'm just not sure how far the G will go to placate him.
3. But Blago ought to be careful going around talking about legislators' affairs.
"Blagojevich's first job in politics was a member of the Illinois House of Representatives - Blago served under Madigan. In 2002, at the Illinois State Fair, Madigan spoke of then-gubernatorial candidate Blagojevich's unnamed 'indiscretions.' Just so there would be no room for misinterpretation, Madigan repeated the statement."
4. BlagoGotScrewed.com. Not endorsing, just informing.
5. Working on a longer post about the departing Michael Cooke.
7. We heartily welcome Jeff Huebner to these pages today. Please read his outstanding piece, The Broom of Wicker Park.
8. So does this mean the president's legislative agenda is complete for this year? I mean, it's not like they can spend any more money, can they? Maybe Congress ought to adjourn.
9. "More than one-third of this bill is dedicated to providing tax relief to middle-class families, cutting taxes for 95 percent of American workers," said Senate Majority Leader Harry Reid.
"[The bill] includes Obama's signature 'Making Work Pay' tax credit for 95 percent of workers, though negotiators agreed to trim the credit to $400 a year - or $800 for married couples. It would begin showing up in most workers' paychecks in June as an extra $13 a week in take-home pay, falling to about $8 a week next January."
And what should Americans do with that windfall? Go shopping!
*
At least it's a dollar a day more than the gas tax relief Obama opposed last summer. Of course, that would have been stimulative - more driving! - as opposed to . . . more saving? more utility-bill paying?
*
I thought borrow-and-spend was in the Republican playbook. Make that borrow, tax cut and spend.
I'm not against a stimulus bill, mind you, but I think John Dickerson has it right. And if this was a jobs bill and/or an infrastructure bill that would be great. Various other agenda items could be handled down the road, like the Green Deal. Instead, we have a mess.
10. The bill will create "up to 5 million jobs."
Really? Why didn't we just put all Americans to work in the first place? Why don't we create 10 million jobs?
*
I've always been of the belief that FDR's New Deal was crucial in providing a social safety net that saved lives and provided a framework for a modern nation, but that it was really Hitler who got us out of the Great Depression. Wartime spending combined with rations that created pent-up demand resulted in a postwar boom that, like the Big Bang, spread far and wide until dissipating in the 70s in the face of changing global economic conditions - including the energy crisis - and the result of Vietnam war spending that wasn't backed by a tax increase, throwing the federal budget out of whack.
I wish it weren't so, but does that mean FDR's spending wasn't massive enough? My hunch is that it wasn't targeted enough toward investment in technology, medical research, education and other non-consumer areas of the economy that pay the biggest long-term dividends. (Including job retraining for both skilled and unskilled workers, as well.) I'm glad the federal government offered grants to writers back then; I wish they'd give me one now. But make-work jobs aren't nearly as beneficial to the economy as jobs with long-term spinoff benefits.
The sad irony is that we've actually been spending gazillions on a war for the last six years and our economy had nothing to show for it but huge deficits even before the financial meltdown.
We could have stood to get a smart stimulus bill through quickly for immediate relief and then spent just a little bit of time thinking about what the hell we were doing before spending an ungodly amount of money on projects Ray LaHood can't wait to get his hands on.
*
During the campaign, Obama promised to go through the federal budget "line by line" to weed out waste. Apparently that doesn't apply to the stimulus bill.
11. "Almost every Chicago alderman supported a resolution introduced Wednesday calling Mayor Richard Daley to publicly release the list of projects he would complete with money from a federal economic stimulus package," the Tribune reports.
"All but four of 50 aldermen signed [the] resolution."
The Trib, of course, doesn't name which four.
12. "Two frustrated aldermen are now calling for some major reforms of the TIF program, and they're starting by taking on the oversight issue," Ben Joravsky Mick Dumke reports.
13. Readers add their tales to our Peoples Gas Journal.
14. "The Chicago Yachting Association, an umbrella group for 15 yacht clubs in the Chicago area, has asked members to keep a lid on it, noting in a memo obtained by the Tribune that yacht clubs 'are vulnerable to retribution'," the Trib reports.
"Mayor Richard Daley's office and the Chicago Park District have made it clear 'that they do not wish to talk about issues that may be confrontational until after October 2009,' according to the memo by an association committee charged with formulating an approach to the city's Olympic plans."
Will the revelation of this memo hurt the city's Olympic bid? Are you kidding? The IOC loves the quelling of dissent.
15. "Forbes used nine factors - commute times, corruption, pro sports teams, Superfund sites, income and sales taxes, unemployment, violent crime and weather - to rank cities."
Given those criteria, the shock isn't that Chicago was determined to be the third most miserable city in the nation; it's that two other cities are even worse than we are.
The Beachwood Tip Line: Miserable.
Posted by Beachwood Reporter at 9:18 AM | Permalink
The Broom of Wicker Park
Dedicated on September 21, 2006, the life-size bronze sculpture of Charles Gustavus Wicker (1820-89) in his namesake Chicago park depicts the businessman, politician, and developer as an almost forbidding figure. As imagined by sole living descendant, great-granddaughter and sculptor Nancy Deborah Wicker of Harvard, IL, the man who gave the neighborhood its name is shown wearing a grim visage, a Lincoln-like stovepipe hat, and a bulky overcoat that makes him look like a Wild West lawman. All that's missing is a horse (as if the Park District needs another equestrian statue, anyway).
But our new hero isn't without props: he's wielding one of those old round brooms, a reference, as Wicker has said, to how her great-grandfather, despite his social standing, was often seen sweeping the neighborhood and, at least in one instance, an Election Day polling place. Asked why, Wicker allegedly replied, "because it was dirty." (We take that to mean the floor, not Chicago elections in general.) In other words, the embodiment of the American can-do spirit: "If something needs to be done - do it!"
Yet I can't help but see that broom as a metaphor. On almost any given day, sitting on tables around the statue, one can find the homeless and the poor who use the park as a shelter and gathering place. Surely, city and park officials as well as many local residents would like to see such elements "swept away" in an effort to make the park as tidy and sanitized as possible for the suburban set and new investment. In some ways, many of these park regulars have become victims to the culmination of a real estate speculation process that began some 138 years ago, when brothers Charles and Joel Wicker helped develop the area, using the green oasis to increase their land's value.
That's not all that Wicker's broom is sweeping away. The installation of this statue in the western portion of the park, between picnic tables and facing east, represents a sanitization of historical memory and place as well. It represents the aesthetic validation and glorification of the Established Political Order at the expense of the community's labor, working-class, anarchist, and artists' cultures - a continuum stretching back some 130 years. The park bears scant trace of those historic layers, which have either been erased or remain un-mined.
It is typical in Daley Village that a neighborhood park - a park in a neighborhood as contested as Wicker Park once was, with its storied labor heritage and gentrification struggles - would feature a monument to a developer-politician. It's all too perfect.
Visiting the park these days - and I am a 23-year denizen - one gets no sense of its (and its surrounding neighborhood's) role in the Haymarket Affair, in labor and union activities, in the making of a spirited artistic and alternative community that has largely been dispersed to make way for a "post-industrial neo-bohemia" where new bohemians work and play but can no longer afford to live - not to mention Poles, Puerto Ricans, African Americans, and other former residents. (The park does bear a small marker honoring Ignacy Jan Paderewski, the famed Polish composer and statesman who spent a night at 2138 W. Pierce in 1915; yet, contrary to claims, there's no proof he performed an outdoor concert there.)
Instead, what we get is a traditional, heroic bronze personifying Official History, seemingly sweeping all the other histories away - perhaps because they're "dirty." Is this the park's most fitting memorial? Is this the best symbolic image of the park - and, by extension, the neighborhood - that we want to project to the city and world? (Aside from several temporary art projects, some by children, I've never understood why a park in a purported artists' neighborhood never saw more permanent sculptures by its artists.)
Interestingly, it's debatable whether the district deserves to be named after Wicker at all: recent evidence suggests it wasn't his land to begin with, and that it really ought to be called Lee Park. Apparently, Wicker's clout ensured the endurance of his name.
Charles and Joel settled in Chicago in 1839, opening a wholesale grocery business. Charles went on to own two railroad lines, and to serve as alderman, Cook County supervisor, and state legislator. It's said he was also an advisor to President Lincoln (which may explain the hat). In 1870, the story goes, the Wickers purchased 80 acres of land along Milwaukee Avenue and staked out various-sized lots (so factory workers, managers, and owners could all live together). The lots surrounded a four-acre park, which the Wickers donated to the city for public use. It just so happened that the Great Chicago Fire of 1871 spurred the first wave of development, and Wicker Park became a fashionable middle- and upper-class district, mostly inhabited by Germans and Scandinavians.
However, longtime resident and historian Elaine Coorens writes in her 2003 book Wicker Park: From 1673 thru 1929 and Walking Tour Guide that it's not the whole story. Researching title-company tract books, she discovered that the land (including what's now the park) originally belonged to a D.S. Lee. When Lee died in 1860, the land became the property of his mother Nancy Lee and his wife Mary. When Nancy died in 1868, the so-called Lee Addition was incorporated into the City of Chicago. It was the remarried Mary Stewart who donated the parkland in 1870, which the city transferred to the West Park Commission 15 years later.
Still, the Wickers played a major role in developing the area, since the park bore their name from the beginning. It's likely they advertised their properties as being close to a park, which would increase their lots' value. The more things change . . . So: where is the statue of D.S. Lee, or Mary Lee Stewart? Who will commemorate them?
Up until a couple years ago, there was a labor-related memorial in Wicker Park, offering residents and visitors a sense of historical continuum in the neighborhood, one that linked anarchist and working-class movements in the 1880s with anti-gentrification, affordable-housing, and human rights movements more than a century later.
Dedicated in May 1995, the public-art installation Spiral: The Life of Lucy E. Parsons in Chicago, 1873-1942, by neighborhood artist Marjorie Woodruff, was sited in the northwest corner of the park. (Big Disclosure: I met Woodruff while writing a story for the Chicago Reader on her three-year battle with the Park District to install the piece, in 1995. We are now married.) Parsons, of mixed African-American, Mexican, and Native American descent, achieved international acclaim as a labor activist, anarchist, feminist, and author; she was the wife of Albert Parsons, one of the four Haymarket martyrs (of eight convicted) who fought for workers' rights and the eight-hour work-day, but were executed in 1887.
The artwork was made of wood, metal mesh, boulders, and ceramic tile. It was composed of two pieces - a "conversation box" (in which visitors could deposit written comments) and a spiraling park bench (on which visitors could sit). Both featured text in three languages that highlighted themes in Lucy Parsons' life and connected them to the present day. At the time, it was the only public artwork in the city's parks system that commemorated Chicago's leading role in the nation's late-19th century labor conflicts - and one of only two that honored a woman. The bench quickly became a gathering place for folks of all kinds, from CHA seniors to brown-baggers to anarchists. (Mary Brogger's Haymarket Memorial at Randolph and Desplaines - the site of the 1886 protest meeting, bomb throwing, and police riot that resulted in the deaths of seven policemen and four workers - would be dedicated in September 2004.)
Wicker Park played a major role in these events, too. The four Haymarket martyrs - August Spies, George Engel, Adolph Fischer, and Parsons - all lived in the West Town area. After the execution, Lucy and her kids moved near Division and Milwaukee (not far from the Nelson Algren Fountain). On November 13, 1887, the Haymarket martyrs' funeral procession began at the Spies home, 2132 W. Potomac, and proceeded along Milwaukee, picking up the bodies (which had been returned to their families) on the way. An estimated half-million people lined the street to watch the thousands of marchers.
Further, in his opening address at the Haymarket trial on July 15, 1886, State's Attorney Julius Grinnell made the egregiously trumped-up charge that Wicker Park - the park - was to be the site for the beginning of the anarchist takeover of Chicago; he claimed they had planned to set a building on fire near there to start the revolution. And, in the days after the riot, police dug up the park - which at that time featured an artificial lake - because they believed bombs had been buried there. None were found.
Visiting the park, few would know these facts anymore. What was Studs Terkel's phrase - the "United States of Amnesia"? In fact, one doesn't learn anything about Charles G. Wicker by studying the statue, either. It lacks an explanatory plaque telling us about his life and livelihood, why he's sweeping the bronze floor with a broom, etc. All that's there are names and dates on the back of the base. There is no information inside the field house.
Warren Leming, longtime neighborhood resident, writer, and chair of the Nelson Algren Committee, has led tours in Wicker Park highlighting sites associated with the Chicago author as well as with the labor movement and anarchists. Some years ago, he had the idea of installing plaques marking what he calls the neighborhood's "extraordinary radical background and history, going back to the Haymarket and before." Leming met with a number of groups to help effect the plan, including the Chicago Historical Society (now the Chicago History Museum). But he says its officials "turned down" the proposal to provide resources for a marker program.
"What is significant is not the history of the bourgeoisie in Wicker Park," Leming says. "What is significant about Wicker Park is that in the 1880s and 90s there was a thriving working-class culture that was very radical here, which - through attenuation, judicial murder, and other forms of coercion - slowly disintegrated. It was a culture of resistance to the merchant class, which is still in power. Our only historical role is to preserve those whose memory has been carefully forgotten. That's why we're doing what we do, because memory is vengeance." In that sense, he adds, site markers "would be an example to the rest of the world that Chicago has not forgotten the working people who made it. It wasn't the Palmers, the McCormicks, the Fields, and the rest of them who made Chicago."
Nevertheless, artist Marj Woodruff (still a West Town resident) won her battle with the Park District to memorialize Lucy Parsons in Wicker Park by the mid-1990s. Spiral, partly paid for by city grants, was intended only to be a two-year installation. But in 1997 the Park District accepted ownership of the piece, including liability costs, with the condition that it would eventually be returned to the artist. Despite her periodic repairs, the work deteriorated. Following Woodruff's requests (lasting two years), the artwork was finally removed by city workers on May 4, 2004 - coincidentally, the 118th anniversary of the Haymarket Riot.
Perhaps not so coincidentally, the piece was dismantled at a time when the Park District's proposal to name a planned Northwest Side park after Lucy Ella Gonzalez Parsons was drawing controversy and media attention. The chief critic was Mark Donahue, president of the local Fraternal Order of Police, who protested in a letter to the Park District. On April 15, 2004, he told the Chicago Sun-Times that Parsons "promoted the overthrow of the government and the use of dynamite in getting [her] way." (The newspaper's brackets.)
That's funny. Donahue was a member of the city-convened committee that selected the design for Brogger's Haymarket Memorial not long before that. He told me in January 2004 that he was honored to be one of two police officials serving on the committee. "We're part of the labor movement now, too, and glad to be there," he said.
According to various published accounts, including a January 5, 2006 Chicago Journal article, sculptor Nancy Wicker undertook her own labor-intensive quest to get a statue of her great-grandfather in their namesake plot of ground. She first had the idea in the 1980s, when she was invited to speak at a Wicker Park gathering. But she was hampered by a series of aesthetic and technical setbacks over the years. Wicker secured city and state grants to complete the project, which was eventually approved by the Chicago Park District. From what I was told, the design met little resistance, but the agency misplaced paperwork, delaying installation. (It's also unclear who "owns" the statue, because it wasn't a city public-art commission. The artist had to raise funds for maintenance.)
The Park District Board of Commissioners voted in favor of naming a park after Lucy Parsons on May 12, 2004. But nearly five years later, little has been done. The former parking lot at 4712 W. Belmont, at Kilpatrick, remains fenced, weedy, and trash-strewn. The site has only tenuous connections to Parsons' legacy: While flanked by old factory buildings, it is almost two miles west of her final home at 3130 N. Troy, where she and companion George Markstall died in a fire in 1942. (The house's location is now under the Kennedy Expressway.)
Until other artists take the initiative to tell Wicker Park's story with meaningful public art that engages local environment, history, and community, preferably in Charles Wicker's park, all we'll have is this bronze figure that's sweeping, forever sweeping, the past into the dustbin of history. Who will present another vision, an alternate vision, one that's the metaphorical equivalent of a broomstick being snapped in two over the head?
As Spies proclaimed on the gallows: "There will come a time when our silence will be more powerful than the voices you strangle today." These days, I'm not so sure.
-
Jeff Huebner, a 2005 recipient of the Nelson Algren Community Service Award, is a Chicago-based arts journalist and freelance writer who often writes on public-art projects and issues. He is the co-author of Urban Art Chicago: A Guide to Community Murals, Mosaics, and Sculptures and Chicago Parks Rediscovered: The Photographs of Frank Dina, among other books.

Posted by Beachwood Reporter at 12:28 AM | Permalink
February 11, 2009
The [Wednesday] Papers
Where's the coverage?
That's the question Rich Miller asked on his Capitol Fax Blog yesterday about the race to replace Rahm Emanuel in Congress.
Answer: Noticeably missing.
But that's nothing new.
I've been writing for years that the Chicago media doesn't cover congressional and aldermanic races, first in my old Press Box column for Chicago magazine, and later here on the Beachwood.
"Tribune metro editor Hanke Gratteau [once] told me the paper didn't do more to cover city council races because it didn't think residents cared to read about races in wards other than their own," I wrote in 2006.
I wrote something similar in 2007 and I've made many other references to this major media malpractice, which is all the more galling when the papers criticize voters for not being more engaged.
Miller has also asked recently if the embarrassing performance covering Rod Blagojevich had changed his readers' opinions of the national media. He didn't mention coverage of Roland Burris, but he might as well have. As has been shown, Burris is far from the genteel man of integrity he was portrayed as. Of course, we all know what a terrible job the media did covering not only the run-up to the war in Iraq, but the whole of the Bush administration. In other words, awful media performance is not an isolated incident; it's the way they operate. It's systemic, like City Hall corruption and police brutality. (And if you think the lone exception was brilliance in covering the Obama campaign, your delusions are beyond healing.) The media's belated realization that it must change to survive is focused on everything but the actual conventions and culture of how it does its job. It's not about interactivity and multiple platforms and gimmicks and entertainment; technology is a tool. The endgame is journalism, and very few people inside newsrooms - or operating websites, for that matter - actually understand how to produce the kind of sophisticated reporting that is the most salable product we have, and for which unassailable brands can be built.
COMMENT 2:15 P.M.: A regular Beachwood reader writes:
Um, and what about the bottom-of-the-ballot races, like the judges? Is there a quantum lower than "nil"?
COMMENT 3:42 P.M.: A regular Beachwood reader writes:
When Drew Peterson's love life is in flux, who has the time to cover congressional races?
But I have a serious question. When did shit-on-the-ground-you-find-after-snow-melts become a news story? Sunday night I yelled at my boyfriend to watch a Channel-32 9pm news segment with me. I could not believe it dispatched a reporter/producer/videographer to Lincoln Park to talk to people about all the things found on sidewalks after the snow melted (sure there were gloves and cigarette butts, but the focus was on dog excrement [also, when did the preferred term to use on TV become "poo"? It was quite disconcerting when the news bunnies during their banter used that word numerous times]). Later, when I finally got around to reading the Sunday Trib, I learned Channel 32 probably cribbed the story from Mary Schmich and Eric Zorn. Unbelievable. And then there's Richard Roeper today mentioning sidewalk detritus. What the hell?
The Mayor Is A Liar
Why won't the media call Mayor Daley a liar?
The mayor was caught on camera recently saying "No, no, no" to a question asking if money for the so-called O'Hare Modernization Program was on his super-secret stimulus wish list.
Yesterday we learned that was a lie. Today, the Tribune reports that "Mayor Richard Daley met with lawmakers Tuesday to push for Chicago's share of a federal stimulus package, including $50 million he said would be crucial to keeping the expansion of O'Hare International Airport on track."
Upon hearing the news, Bensenville village president John Geils made plans to go to Washington himself to fight against the O'Hare aid.
President Obama should make good on his transparency rhetoric and make all wish lists public. Portions of the funds will be awarded in blocks; taxpayers should have a say in how that money gets spent.
After all, it's our money.
Give Me An "O"!
"[Obama] made significant concessions to Republican demands, most notably adding more tax cuts," the Sun-Times editorial page says today.
My understanding, in part from his own words, is that Obama made his tax cut proposals before meeting with Republicans in order to lure them to his side. And it didn't work. And now we're stuck with ill-advised Republicanish tax cuts.
That's Neil!
Oy. I don't even have the strength.
This was the Sun-Times cover story today, by the way.
Jumping Jack News Flash
"Only a few months before City Hall threatened to ax the [Jumping Jacks] program, the city signed a three-year deal to run it with a security firm owned by three former bodyguards for Mayor Richard Daley," the Tribune reports.
Why would the city hire a security firm to "run" the Jumping Jacks program? Don't you just, um, drive the, ah, Jacks out to city festivals, inflate them, and watch the kids play?
"The city will pay Security Management Group of America as much as $4.26 million under the agreement with the Mayor's Office of Special Events for 'staffing services for various city festivals'."
Whoa!
Um, maybe city festivals should be cancelled this year to save money.
"SMG was the low bidder for the deal, which also includes security work at Taste of Chicago."
This story is confusing me. So this is a security contract? And that includes security at all Jumping Jacks?
"The Daley administration previously had city workers staff the 74 Jumping Jacks loaned out for block parties, church picnics and other events. Officials say the program is run more efficiently by the private company than the city."
Let's outsource our patronage and cronyism, too. I'm sure the private sector could do a more "efficient" job.
Something doesn't smell right in this story, but I'm not sure the reporting is finished.
Terms of Service
I had some fun with the Tribune website yesterday. At one point in the afternoon, "Terms of Service" was listed as the site's most-viewed "story."
So I read it.
Wow!
The Trib is nuts.
"You may use the Content online only, and solely for your personal, non-commercial use, and you may download or print a single copy of any portion of the Content solely for your personal, non-commercial use, provided you do not remove any trademark, copyright or other notice from such Content."
So if I print out two copies of any article, I'm violating the terms!
"If you operate a Web site and wish to link to chicagotribune.com, you may do so provided you agree to cease such link upon request from chicagotribune.com."
Um, gee, thanks for your permission! But you can't make me take down a link any more than you can stop me from pointing to one of your newspapers blowing across the park.
"You may not republish any portion of the Content on any Internet, Intranet or extranet site or incorporate the Content in any database, compilation, archive or cache."
You mean like I just did?
And so on.
At the time, the story was rated one bad star. I clicked on the bad star and a message appeared saying "You hated this post."
Then I noticed the Digg tab, so I dugg it.
*
Most Viewed and Most E-Mailed are fun features, but they are poor metrics on which to base any sort of judgements. For example, how many people click on a story merely because they see it in one of those lists? You could put a story no one is reading on one of those lists and watch the clicks explode. And what if you put a category next to Most Viewed and Most E-Mailed called Most Important? I bet those stories would get a lot more clicks too.
Programming Note
* Peoples Gas Journal. Read my tale, tell your own.
* Police Story. Kid cop co-opted.
* CHA plan fritters away. Is Plan for Transformation dead?
* Dating Drew. What's next?
* Being Bill Daley. What's next?
The Beachwood Tip Line: Now in paisley.

Posted by Beachwood Reporter at 10:16 AM | Permalink
Fantasy Fix: The A-Rod Factor
Major League Baseball was rocked this week by the confession from Alex Rodriguez that he "experimented" with steroids while playing for the Texas Rangers, a span of three seasons during which he had two of the three biggest single-season home run tallies of his career.
I will leave the condemning of A-Rod to others, and let you privately mull whether or not A-Rod's career is marred beyond repair. It may sound cold (and ironically supportive of steroids usage, though I assure that is not the case), but all we care about in the fantasy baseball world is numbers, and the factors which might affect those numbers.
Can A-Rod be counted on again for numbers that made him the consensus No. 1 fantasy baseball pick for at least the last four seasons?
Unless he has been juicing for the last four seasons and masking it (which he denies), recent numbers suggest nothing less than a Top 5 fantasy performance for this year. Shortstop Hanley Ramirez arguably already has replaced A-Rod as the consensus No. 1 heading into this season, but A-Rod is definitely No. 2 and on an improved Yankee squad, could end up stealing the show.
It's certainly possible that distractions for A-Rod will increase this season, though considering what he has been through in NYC already, I think the affect will be minimal. I think he's capable of this kind of line: 41 HRs, 110 RBIs, .299 AVG, 20 SB, 120 runs, 80 BBs. That's close to 2008 production for a player who has been very consistent throughout his career, regardless of what he was taking and when.
So, whose draft position could be hurt by steroids usage? How about SS Miguel Tejada, who is being charged with lying to Congress about steroids. Tejada reportedly plans to plead guilty, and while it's not clear how quickly and how strongly he will be punished, you might want to skip him this season. Not that you weren't already planning on that - Tejada started out strong last season, but faded fast.
Meanwhile, fantasy baseball registration and draft materials still aren't available for most leagues, but the experts are hard at work:
* The Yahoo! Fantasy Baseball Mock Draft was into its sixth round earlier this week (A-Rod went at No. 2 overall), with catchers only just becoming a factor. A lot of leagues wait until later-middle rounds to draft catchers, and often the first catcher pick is merely noted, as owners look to fill other positions they consider more pressing. But the second catcher pick usually starts an avalanche, with everyone panicking to grab one of the four or five really good catchers before the end up being forced into the second tier, where stats really drop off. To me, that's an argument to grab your favorite catcher a round earlier than seems logical - it will be great fun seeing everyone else scramble to adjust their own strategies.
* Baseball Prospectus (subscription required to read the full post) takes a look at the Top 10 fantasy first basemen, without many surprises, except perhaps up-and-comer Chris Davis at No. 10. The young Ranger punished the ball during limited play last season. I do worry about his average, but I'll go out on a limb and say he finishes second in HRs among all MLB 1Bs this year (with Ryan Howard topping the list, of course).
Fantasy Basketball Round-Up
Enough already about seasons that haven't started yet. What's going on in the fantasy basketball world?
Is it all LeBron vs. Kobe, and beyond, just a great abyss. Last week, it kind of seemed that way. My second-place team got beat by the Kobe-holding last place team on the strength of Kobe's points, field goals made, free throws made and FT% - but that team remains in last place, which clearly shows that Kobe can't carry you week in and week out.
This week, a short week due to the NBA All-Star Game, my guys are matched up with a team led by LeBron - ugh. But, despite appearances, neither of these two superstars has the hottest shooting hand over the last month. That honor goes All-Star Kevin Durant, who is averaging more than 30 PPG over the last 30 days, and has been sinking FGs during that period at a stunning .517 clip. Durant was ranked 52nd overall in the pre-season, and is proving to be the steal of the draft for anyone who got him as a fifth-rounder. If Durant keeps up the pace, he's likely to be a first round pick next year (unless he hurts himself playing H-O-R-S-E this weekend).
The All-Star break also indicates that the fantasy basketball trade deadline is nigh.
* Fantasy Basketball Cafe breaks out some fancy number crunching to predict who will be hot hands worth trading for to prop up your second half (or really the final two months of the season). Chicago's own Joakim Noah tops the list, based on second-half performance last year. Noah has been coming alive of late, though just as in the Scotty Skiles era, you never know who Vinny Del Negro will play and how much - only that he won't play Larry Hughes.
* Fantasy Basketball Cafe also has Jose Juan Barea listed as its Sleeper of the Week, as Jason Terry, the starter blocking him from more playing time with the Mavericks, is now injured. There was a little bit of buzz about Barea in the pre-season as a back-up to the aging Jason Kidd, but Kidd has been great this season, and Barea coming in at shooting guard with Kidd on the court makes Barea a quick scoring threat.
* ESPN's Fantasy Blog mentions Ramon Sessions, another player who had a fair amount of pre-season buzz. Lately, with Michael Redd out for the season, he's been living up to it, with 23.4 points, 7.6 assists and 1.8 steals on average over the last week or so.
-
Dan O'Shea's Fantasy Fix appears every Wednesday, except when it appears on Thursday. Tips, comments, and suggestions are welcome.
Posted by Beachwood Reporter at 8:08 AM | Permalink
Peoples Gas Journal
This is a copy of an e-mail that I sent out to a handful of friends on Tuesday afternoon - with two of the replies I got back. The dialogue with the Peoples representative has been smartly edited for clarity and comedy, but it's almost all exactly how it went down.
*
Peoples Gas sucks so hard . . . it's like in a third-world country where they call the name of some nationalized industry Peoples Steel or Peoples Television.
So I got a notice in the mail that I had not responded to an earlier notice about a federally mandated meter inspection. Well, I don't own the building!
Plus, they had my apartment number wrong. Have I been paying for someone else's gas? Is that why my bills went up so much starting last spring? I pay more for taxes than on actual gas! I barely use any therms at all! (I don't pay for heat.)
So I called up to ask about this and I couldn't get to a human no matter what numbers I pressed. Finally I screamed into the phone "How about what number to press to talk to a fucking human!"
"We will connect with an operator."
It worked!
ME: Um, I was just wondering . . . there are only four units in this building, it's a house. Our meters are all in the basement right next to each other. Do we all need to schedule an appointment?
PEOPLES GAS: If you got a letter, you need to schedule an appointment.
ME: Well, can't the guy just look at the meters all at once? We could save him three trips!
PEOPLES GAS: If you got a letter, you need to schedule an appointment.
ME: In Russia, the appointment schedules you!
PEOPLES GAS: Let me look up your account. Can you give me the last four numbers of your social?
ME: You mean you don't know who this is? I'm the guy who got the letter! Do people schedule fake appointments?
PEOPLES GAS: And your cell phone number.
ME: Why, are you going to sext me?
PEOPLES GAS: If you got the letter, you have to schedule an appointment.
ME: I was just concerned because the apartment letter was wrong. I mean, do all four of us really have to set aside a different two-hour window to get our meters read? Maybe the letter wasn't meant for me. And maybe I'm being billed for someone else's gas.
PEOPLES GAS: Do you use gas?
ME: Barely. I don't pay heat. But my bill has skyrocketed.
PEOPLES GAS: You don't take hot or cold showers?
ME: Not three times as many as I used to!
PEOPLES GAS: You have a credit right now.
ME: Huh?
PEOPLES GAS: And you get billed every two months.
ME: I get a bill every month!
PEOPLES GAS: If you got a letter, you have to schedule an appointment.
ME: My apartment is 3E, or just 3. You have 3A.
PEOPLES GAS: Are there two apartments on the third floor?
ME: Yes. Three East and Three West.
PEOPLES GAS: Maybe we call them A and B.
ME: Maybe!
PEOPLES GAS: Would you like to schedule an appointment?
ME: No, I'll do that on the internet.
PEOPLES GAS: Is there anything else I can help you with?
ME: No, this conversation has only confused the matter. I'll seek help elsewhere.
I then scheduled an appointment on the Peoples website, but I'm pretty sure that appointment is with North Shore Gas, because that's all the website would allow. Oh well, I don't plan on being home when they come anyway.
*
UPDATE: I was home for the appointment. Peoples Gas never showed up.
*
REPLY FROM FRIEND 1: I've received the same letter and had the same conversation - twice. The same thing happened both times: scheduled my appointment (I got tired of the threats), explained to the nice People's Gas handyman that I don't have access to the meters (they're in the basement and I don't have a key - a fact I always try to explain to the operators when making appointment). Once, my landlord was around and let the guy in. The other time, the People's Gas guy said he would take care of it. I also felt/feel like I might be paying for my landlord's gas. My bills are crazy. But, the operators I talk to say no, and my landlord of course says no. I have no way of knowing.
REPLY FROM FRIEND 2: When I lived on LeMoyne my first gas bill was for roughly 3 grand. I, needles to say was blown away by it. I never got any answers over the phone and finally went to the gas company to find out what was going on. After dealing with the first tier customer service who couldn't help they called a supervisor over. I was advised it was under review and should just pay the current charges. Never mind the fact that it appeared on my credit rating as an unpaid debt. I asked how they could charge it to me since it was obviously the owners bill and my account was a new account. Their advice again was to pay the current charges so that my gas wouldn't be turned off. I complained to my landlord who managed the building for the owner and that was useless. This went on for TWO YEARS and I still believe it would still be going on if one of the local news stations during May sweeps hadn't covered a similar problem on the air.
COMMENT 2:19 P.M.: A Beachwood reader writes:
For the guy who thinks his gas is being used by another unit, tell him to shut off the gas when it's a bit warmer & put his own padlock on the meter. Then see what happens!
READER TALE 1: Marianna Swallow writes:
Oh, boy, how do I make this short? I've had to reiterate this tale for the State's Attorney as well as the book I'm writing, not to mention all the legal documentation I was doing to try to get my effing PG debacle straightened out. So, I'll give you the Reader's Digest version, best I can.
1. May, 2007. I buy a brand new condo (new construction - bad mistake!) in a new, 4-unit building. There is a Garden Unit, then 1, 2, 3. I'm on the top, so I'm 3. I set up my gas service.
2. We (husband and I) pay every bill we get.
3. January, 2008. Peoples Gas turns off all gas - we can't cook and we're FREEZING. We make emergency call at 9 p.m. We are told that we never paid a bill. Technician comes out at 10:30, tells us this happens all the time - they crossed our meter with an unoccupied unit (that the builder never bothered to pay the bills on.). Technician tells us he'll make a report, report will then fix this problem. We have gas again.
4. March, 2008. Gas turned off again. Same scenario, calls, technicians. (the tech from Jan. never filed said report. what a shocker!) I call PG in the a.m., LIVID, demanding a supervisor, and demanding they fix this. "We'll send a technician out."
5. Technician (named Kirk) is an absolute asshole. Huffs at me when I ask for identification. Takes one look at the meters, and says, "Yeah, they're crossed. I'll file a report . . . blah blah blah."
6. I call customer service to make sure this is being taken care of. Of course it is! they say. To make sure, I send a written letter to the CEO (who now works for Obama) as well as customer service.
7. July, 2008. Same thing. Here we go again. This time, more calls, I will only speak to a customer service supervisor, and this time I deal with a woman named Rachel, who sees that, yes, indeed, I did pay, they did mix up our meters, she's so sorry. She informs me it will take 1-2 billing cycles for this to correct, so just hang onto any bills I get until the *right* meter is billed. Then she says, and I quote: "We will never turn your gas off again, even if you don't pay your bill."
(Can you hear it coming? I can . . . )
8. Sept. 2008 - Gas turned off again. At 10:30 at night, when they won't come out and fix it. (10 p.m. is their cutoff.) The next morning, at work at 6:55 a.m., I am, again, on the phone and livid. I am told they will turn it on, send a technician SUPERVISOR, fix it, yadda yadda yadda. Guess who shows up again to "fix" it? Kirk the asshole.
9. I file a complaint with the State's Attorney and - whiz bang - meter problem is somehow, a year later, miraculously, straightened out. And I have a credit on my account - well deserved, I might add. Apparently, People's Gas calls us "Unit #4" even though, legally, we are "unit 3." This isn't news to me - we explained this on every effing customer service call, and yet they somehow managed to still screw it up - and keep turning off our gas, even though we paid our bills.
P.S. After this was all straightened out? People's Gas sent me a letter informing me that they "inadvertently" reported on me negatively to Equifax. Yes, they are now, supposedly, removing that report. The State's Attorney is aware of this as well.
READER TALE 2: A Beachwood reader writes:
We went through the EXACT same scenario as you a week ago. Same type of multi-unit building, same letter, same inane and unhelpful calls to costumer service, same "if you got a letter, you need to schedule an appointment" BS answer . . . ARRRGG! People's Gas is just terrible.
Just a heads-up to anyone having more serious trouble with this completely dysfunctional utility: the Illinois Commerce Commission has rules in place to protect consumers from PG just cutting off your gas. Find out about your rights here.
READER TALE 3: Jessica writes:
Thank God for this posting. I've lived in Chicago for three years, in three different apartments, and have fought constantly with People's Gas.
In my first apartment - my first time living on my own EVER - I was slapped with a $450 heat bill out of nowhere one month, even though my apartment was by all normal standards tiny, and even though I had the thermostat set at 55 degrees. It really felt more like 30 degrees, as I literally hung out in my apartment in layers, gloves, hats, and 3 pairs of socks. Every time I called, as clueless as a 19-year-old first-time renter would be, they offered no solutions or help, not even suggesting I have my meter read (I had no idea what that meant at the time, anyway, but . . . ) My parents were absolutely clueless, as well, as this is unheard of back home in Kansas. They eventually shut off my gas in the dead of winter because I couldn't pay, and I was convinced I was going to freeze to death. It got so bad at one point that my roommate and I decided to suck it up and sleep in the same bed to share body warmth. Seriously.
I finally called the Citizen's Utility Board, and the rep I spoke with was amazing. She was incredibly sensitive, helpful, and empathetic to my situation as a terrified kid thousands of miles from home just trying to figure out what the heck was going on. She gave me lots of advice and tried to help by calling People's Gas for me and talking to the city about my issues with an unhelpful landlord, but, in the end, I had to take out another student loan to get my heat turned back on. The situation never got resolved, but I think I got the last laugh: My landlord who insisted I just had my thermostat set too high moved his daughter into my apartment after I left. Maybe he'll believe me now?
And I just got that ridiculous threatening letter for the mandated inspection, too. I've been charged too much again for heat in the apartment I'm in now ($60 bill for ONE WEEK in August when I first moved in and also left for vacation. What?) so I'm finally going to schedule that meter reading they owe me and also try to read the meter myself.
Citizen's Utility Board is amazing. I would recommend going to them for ANY questions about utilities. Check out the FAQ and the reading-your-meter fact sheet.
READER TALE 4: A Beachwood reader writes:
Oh boy - Peoples Gas single-handedly destroyed my credit.
2005: I'm 22, just out of college and have moved back to Chicago from Iowa to start my first job making $25K/ year. This is my first apartment after college and I have no idea what a gas bill is supposed to cost. I set up my account and we start getting our monthly bills. But they're only $12.00/month! . . . $12!!! We pay every single bill on time and in full and think nothing of the fact that these bills are so damn inexpensive, because again, I've never had to pay a gas bill before.
After about six months of paying these bills, I receive a notice in the mail that Peoples Gas will be coming around to check the meter. They come out, check the meter, and the following month I get a bill for $1,500.00! Turns out that the meter had been broken since we moved in, and we were now being back-charged for all the gas we'd used over the past 6 months! I was shocked! I was only making $25,000 per year, I couldn't afford such a huge expense.
After several unsuccessful calls to PG customer service dept, trying to get these charges reversed, I was informed that I had to pay the bill, or I would be reported to a collections agency.
How the hell is it my fault that they didn't maintain their meter for 6(+) months!?!?
READER TALE 5: Jimmy writes:
Peoples Gas is the most consumer-unfriendly company I have ever had any dealing with. Every contact with them is a struggle, and an unpleasant one at that.
I could write a book about how bad this company is. Some examples . . .
One time I was having gas service put in and the Peoples Gas employees hit me up for cash to get the job done ("This pipe looks a little loose; you could call a plumber, but it might be awhile before we can get back here. The boys here could save you a lot of time and money and take care of it for you, if you buy them lunch"). Of course there was nothing wrong with the pipes. And it was the usual goon squad of six people who watched while one person worked. $70 and 30 minutes later the horrible problem has been solved.
Another time, the gas in a small apartment building I own as shut off. Must be a mistake, I thought, as I am up to date with my payments. Turns out it was shut off, but no one know why (the typical Peoples Gas scenario). After an hour of being shuttled around, cut off several times and generally abused, I found out that they didn't have a copy of the LLC certificate that the gas was billed to. Mind you, they never asked for the certificate. Nor did they contact me to tell me the gas as being turned off. And - because the service as shut off - it would be 3 DAYS before they could turn it back on. No hot water for 3 days, the tenants sure enjoyed that news. Fortunately, the local alderman and the People Gas PR guy managed to get it cut down to 2 days. Nice work, Peoples Gas.
Then there was the Peoples Gas meter reader who instead of getting buzzed in, would stick his big pry bar in the door and pop the door open, leaving big gouge marks in the wood door. I saw him leave out the back (and asked myself how he got in) then the guy across the street confirmed it was a Peoples Gas meter reader who wrenched the door open. I talked to Peoples Gas Security Dept. and they said "File a police report." I asked my neighbor to do it and he said no way, understandably. Peoples Gas said they talked to the employee (who denied it) and assured me it wouldn't happen again. The next month I'm in the back yard, and he comes out the back door. I knew he broke in again, since I didn't buzz him in. I said People Gas promised me it would never happen again. He said, "So it was you that called my boss. I could have lost my job. You don't know who you are messing with. Where I'm from, things happen to people that mess with other people's jobs" Nothing like being threatened by your local utility worker who thinks it's quite OK to force locks on a routine basis. Peoples Gas did NOTHING to stop this thug from breaking into my building and threatening me.
And, just the other month my check was lost in the mail. Normally that isn't a huge problem, just pay it with the next bill, with any fees. But before the next bill was due I got the collection onslaught! A letter with "DISCONNECT" in big red letters. And the most irritating third-party automated phone machine that would make a a screechy call demanding immediate credit card payment called every two hours. There was no way to stop this thing. And that month's payment wasn't even due yet! Mind you I've had up to 4 accounts at Peoples Gas at any one time for the past 30 years and have almost NEVER had a late payment.
Really, why more Chicagoans don't rise up against Peoples Gas is beyond me. We pay the highest gas prices in the country and get the most surly service. This is a Soviet-era service monopoly at its worse. They have earned all the hate that comes their way.
READER TALE 6: Teri Smith writes:
I, the landlord, had to intervene, twice, because People's Gas refused to cancel the bill of a former deadbeat tenant and put the gas service into the name of the new tenant.
I called People's Gas the first time to help my new tenant establish service, I talked to a manager, faxed in documentation to prove the existence of the unit the new tenant was moving into, and told the People's Gas representative that this new service was to be in effect immediately. 3 months later I had to call again because People's Gas "lost" the information my new tenant sent in, and the information I sent in before. I reminded the person on the phone that I had sent in documentation, and I asked how they could have lost it.
The representative replied, "Look. We have millions of customer, and we can't keep track of everything."
As far as I'm concerned, if you can't handle your customer base, you shouldn't be in business. This is the perfect example of a company too big, too unregulated and too incompetent to be in existence.
*
Tell your Peoples Tale! Please indicate if we can use your name or if you wish to remain anonymous.
Posted by Beachwood Reporter at 5:46 AM | Permalink
February 10, 2009
The [Tuesday] Papers
I'm still trying to figure out what bipartisanship means, because the way it's been framed by the administration and the press is that it means the party in the minority should suck it up and go along with the president and the party in the majority.
But isn't that what we hated so much about Democrats in the Bush era - that they went along with a phony war and the erosion of civil liberties and an exploding budget deficit to avoid being tagged as "obstructionist," or, as the case may be, anti-American?
It was the same story in the 80s when Democrats were afraid to oppose the relatively popular Ronald Reagan.
So what is bipartisanship, and is it really desirable?
After all, Chicago government is so unified it's unipartisan. How is that working for everyone?
And how can we tell if Democrats in Congress are acting in a bipartisan manner? Is bipartisanship incumbent on Republicans to go along with Dems, or must Dems do something too?
It seems to me that true bipartisanship would result in a lot more Democrats opposing the stimulus bill - both from the right and especially from the left, because bipartisanship means putting country above party.
Or does it simply mean that everyone should get in line?
Finally, I find the word bipartisanship an oxymoron to begin with. Bi means two, right? So we're calling for dual partisanship. Isn't what we're really after non-partisanship? Do what you think is right regardless of party dictate?
Come to think of it, bipartisanship is just about right to describe our politics. John Kass calls the Illinois version the Combine. I don't see how things are much different in the federal government.
*
Didn't the great presidents get that way because they were bipartisan? Lincoln, FDR . . . I don't think so. I think they were great because they had the courage to fight for their beliefs and bring the country along with them. Similarly, those out of power should have the courage to fight for their beliefs when the country is being led astray. That's how our democracy is set up. It's called checks and balances. Not by party politics, mind you, but by exactly the opposite.
False Frame
"I can't afford to see Congress play the usual political games," President Obama says.
Mr. President, please describe which games you are talking about. And name names.
*
And how is it that the administration isn't playing the usual political games?
*
"Do you want the government to do nothing, or do you want it to do something?"
Those aren't the choices on the table. The question is what government should do, not if it should do anything at all. And rushing through a stimulus bill loaded up with massive spending on pet projects and a litany of Democratic agenda items - as worthy as they may be - is hardly a smart approach.
Yes, there is urgency. That's why a smaller bill focused on state aid, unemployment benefits, and maybe something like a cut or suspension in the payroll tax should have gone first, while the New New Deal we've all been waiting on in Obama's first 100 days could be studiously crafted.
The Tribune editorial page is right today when it says "the spending has to be timely, targeted and temporary."
The Tribune is also right when it says "Serious reform of a system this complex requires a lot more debate than this has received."
Isn't that what we've been preaching about here in Chicago? Instead, Obama has taken a page from Daley's playbook and tried to push something through a legislative body without serious discussion because it's an emergency and the deal has to be done immediately, no time for examination and debate, like signing a parking meter contract.
We're still finding out what's in this stimulus bill - and if it was a Republican bill, Democrats would be the ones howling that it's loaded up like a Christmas tree. The only reason why it has no earmarks in it is because it's all earmarks. You don't have to add earmarks to a bill already comprised of the very things you would earmark!
It was White House chief of staff Rahm Emanuel who said "You never want a serious crisis to go to waste."
What he meant was that the stimulus bill was an opportunity to exploit.
Maybe in a political sense Obama can't afford "the usual political games." But in a financial sense, we're the ones who can't afford it. We're not just getting the money; we're the ones who are spending it.
Poker Putz
I wish I had written sooner what I told friends a few days ago, just to prove I was out ahead of this one . . .
When Obama put tax cuts into the stimulus bill to attract Republican support, he made the same mistake that Hillary Clinton told him he was making by opposing mandates in his health care proposals: taking a bargaining chip off the table before negotiations had even begun. (Similar as well to his fake insistence on not requiring preconditions before meeting with brutal dictators at the White House.)
Remember, Obama has, shall we say, limited experience crafting and passing significant legislation. Emil Jones pushed his stuff through in the Illinois legislature, where he was known as a conciliator, and his limited accomplishments in the U.S. Senate were, um, limited.
So I took special notice when I saw Obama say this:
"The Republicans were brought in early and they were consulted. They were pleasantly surprised and complimentary about the tax cuts . . . Those cuts are still in there. I suppose what I could have done was started off with no tax cuts, knowing that I was going to want some, and then let them take credit for all of it. And maybe that's the lesson I learned."
At the same time, the tax cuts for middle-class families are on the order of what Democrats made fun of when Bush was sending us rebate checks. And when Obama says he wants to get money in the hands of people who will spend it, he means poor people. But is that what we really want - poor people spending money to stimulate the economy?
Better to raise taxes on the wealthy, don't you think? With the Dems in the majority, it's very possible that boosting the highest tax rate by just one percent could have been pushed through to help pay for some of this. Among other ideas.
Speaking Power To Truth
Obama repeated his desire to not investigate former Bush officials for war crimes violations. "My general orientation is to say let's get it right moving forward."
That's always the general orientation, and that's why they keep getting away with it.
*
"In a closely watched case involving rendition and torture, a lawyer for the Obama administration seemed to surprise a panel of federal appeals judges on Monday by pressing ahead with an argument for preserving state secrets originally developed by the Bush administration," the New York Times reports.
The Daley Show
"These lists are not part of any public funding process," Daley said Monday about the stimulus request list that he refused to make public.
He then denied being the mayor, and that it was Monday.
*
Someone please FOIA the list so I don't have to.
Fact-Checking Obama
Via the New York Times.
Reimagine Illinois
Sign the petition here.
Programming Note
At NBCChicago.com:
* Defending Blago. Who his next lawyer might be.
* Lincoln Logged. Enough, already.
* Obama's Shirtsleeves. Why he works in them.
The Beachwood Tip Line: Coding red.
Posted by Beachwood Reporter at 8:37 AM | Permalink
SportsTuesday
This week's observations were going to write themselves. It started with Monday's featured game on ESPN, where I was sure I would watch, and then describe, another stellar performance by the Chicago guy who has lifted his college basketball team the highest so far this season. Sherron Collins had done everything during inexperienced Kansas' surprising undefeated run through the first eight games of the conference campaign. He led the team in points (18 per game) and assists (five) going in. Sure enough, Collins led the Jayhawks to a 14-point lead at halftime over Big 12 rival Missouri.
Later on in the column I figured I would dive into what appeared to be obvious angles regarding the Hawks and the Bulls. Everything was all set. Except it wasn't. Ah, sports.
First of all, Collins, who played for Crane on the West Side after growing up in the Lathrop Homes that spread out on either side of Diversey in between the North Branch and Damen to the south and Clybourn to the north, played his worst 20 minutes of the season after halftime. And not surprisingly, Kansas failed to hold on, falling to 19-5 overall with a 62-60 Big 12 loss to oh-so-fortunate Mizzou, which won despite playing very poorly for a half and a half of a half.
Collins scored only three of his nine points post-intermission. The junior guard who set a Kansas record earlier this season by making 35 straight free throws missed three of four Monday. He committed several big turnovers down the stretch, threw up some late, low-percentage, off-balance bank shots that didn't go in, and obviously ran out of gas on his way to playing all 20 second-half minutes. Just about all of the Jayhawks struggled in some way during the final 10 minutes, but none as comprehensively the former Crane Cougar.
And now for a bit more back story: Collins was the only prominent contributor to return from a Kansas team that shocked Derrick Rose's Memphis squad in the national championship final last year. In that one, the Jayhawks rallied from a big deficit late to tie the game in regulation on Mario Chalmers' ultra-clutch three-pointer (off an assist from Collins) and then won in overtime.
Collins hasn't just been the team's statistical leader. Early in Monday's broadcast, sideline reporter Holly Rowe reported that "Sherron Collins told his young team . . . " some obvious information about how important it was to play for Kansas against big rival Missouri. But what Collins said wasn't the point. It was the fact that Rowe observed that this was his team. The first half saw Collins do his best work with his passing. After he had a shot swatted out of bounds with Missouri leading by a couple, he led successive fast breaks that finished with his pass for an alley oop dunk, followed by his pass for a layup. Collins also hit a couple tough lay-ups of his own against far taller players, and in general played with complete poise against Missouri's full-court pressing defense and in front of a rabid crowd in Columbia. Kansas soon took the lead and added to it consistently leading into the break.
The second half began well enough. A few minutes in, Collins missed his first free throw, but then tracked down the rebound of the second and put in a 16-footer. A few minutes later he grabbed a loose ball and used his raw speed to create a fast break that a teammate finished with a put-back three-point play. At that point there was still no reason to believe the Jayhawks would do anything other than cruise to another convincing win. Kansas still led 58-51 with only 3:49 remaining. And then the roof fell in.
The most important thing is Collins, who is a beefy 5-11, has legitimate pro potential. But he'll have to get lucky, i.e. he'll have to sign on with a team where, for whatever reason, decent playing time materializes. He has shown a decent long-range jumper so far this season but he missed a couple early Monday and stopped firing away from beyond the arc. Still, with his strength and speed, he can run an NBA offense and guard opposing guards. But because of his size, teams almost certainly won't see him running the show for them unless he has a chance to show them he can do it.
Hawk Talk
The Hawks gave up seven goals (in a loss at Vancouver that barely mattered late Saturday)! And Cristobal Huet was the starter between the pipes! It is obviously time to abandon the almost always alternating goalie scheme employed by coach Joel Quenneville for much of this season and name Nikolai Khabibulin the full-time starter (taking only an occasional break) isn't it? It isn't in sync with the long-range plan (where the younger and cheaper Huet eventually assumes command). But . . . wait a minute . . . the Hawks probably pulled the goalie after it started getting embarrassing (OK, OK, I admit it, I was otherwise occupied and didn't see the game - but I've seen a bunch of other ones this season, so there). They probably did so after five or six goals, right?
Whoops. It turns out Huet headed for the bench after the first period, during which he stopped six of the nine shots on goal he faced. So Khabibulan actually ended up allowing more goals (four) during the final forty minutes of play. I guess it isn't quite yet time to anoint The Bulin Wall as this season's savior.
One other Hawk note: The tricky thing with the Hawks overall is that in order to best position themselves for a successful playoff run this year, they probably need to make a trade or two for veterans, preferably ones with a physical presence. But several of the Hawks' most valuable assets may have only started to fulfill their potential. They could be stars down the line. And one also have to wonder if it will be tougher for GM Dale Tallon to trade any of these guys because of his personal connection to them. Remember that all of the Blackhawks surprised him by giving up an off day during the first big West Coast trip of the year to travel to Tallon's home town (in northern Ontario I believe?) and attend his father's funeral. It will be awfully tough for Tallon to pull the trigger.
That's Amare
If the Bulls have a chance to get Phoenix's Amare Stoudamire for Drew Gooden, Tyrus Thomas and whoever else, of course they have to do it right? This is a no-brainer, a slam dunk, a . . . except Stoudamire doesn't play a lick of defense, and he had major knee surgery relatively recently, the dreaded micro-fracture procedure that has worked for some guys (enabled them to resume productive NBA careers) and not so much for others. Then again, if anyone knows whether Stoudamire is worth it, its My Coach Vinny. Mr. Del Negro was a member of the Suns' front office until he took the Bulls job last year, after all. Be it Stoudamire or someone else, the time has long since passed for John "Action" Paxson to prove his general manager worthiness. Sure, there have been very few signs yet that he has the capability. But hope springs eternal on 50-degree February days.
-
Jim Coffman brings you the city's best weekend sports roundup every Monday because he loves you. Except when he brings it to you on the occasional Tuesday. You can write to him personally! Please include a real name if you would like your comments to be considered for publication.
Posted by Beachwood Reporter at 5:53 AM | Permalink
Cab #4494
Date: February 1, 2009
From: Wicker Park
To: Humboldt Park
The Cab: A cute little hybrid? It's like a stout modern van-thing. It only has 19,334 miles on it. It's cozy, with close proximity to the driver and a clear view of the dashboard. Hey, what's that blinking light? It's me! I don't have my seat belt on! A clean, black interior spoiled only by the use of newspapers as floor mats.
The Driver: After taking our destination, he returns to the low grumble of whatever conversation he is in over his wireless, thus depriving me of the chance to ask him about his cab. To make matters worse, he's driving a silent cab - no radio or music of any kind. Very selfish. The cab is also slightly overheated and I think I'm going to be sick. Cab sickness strikes again.
The Driving: Classic herky-jerky. Speed up to the stop sign, then correct for overplaying it by cringe-inducing braking. Stop and go. Go and stop. I think I'm sweating. And what's with the shocks? A rough ride. Someone please let me out. We're not going far.
Overall Rating: Two extended arms.
- Steve Rhodes
*
There are more than 6,000 cabs in the city of Chicago. We intend to review every one of them.
Posted by Beachwood Reporter at 4:45 AM | Permalink
February 9, 2009
The [Monday] Papers
Are "we" game for the Olympics?
That's what the big front page story in the Tribune said on Sunday, based on a Tribune poll. (The online version had a more, um, tempered headline.)
But that's not what the ill-executed poll said at all.
Let's take it from the top.
"Nearly two-thirds of Chicago-area residents want the city to host the 2016 Summer Olympic Games, but most don't want tax money to pay for it, a new Tribune poll found."
Too late!
"Yet many supporters - as well as a vast majority of those opposed to bringing the Games here - don't buy the idea that private funds will cover nearly all the costs."
Okay, we have several problems right away.
First, the question highlighted on the front page is: "Do you favor or oppose Chicago hosting the 2016 Olympic Games?"
The answer: 64 percent in favor.
But inside the paper we learn that 75 percent of those polled disapprove of "using tax revenue to cover a revenue shortfall for the Olympics."
Ignoring for the moment the awkward wording of the question - shouldn't it just ask if respondents approve or disapprove of spending tax dollars to host the Olympics? - isn't the headline that 75 percent of Chicago-area residents don't want to host the Olympics if it will cost them tax dollars?
From what I can tell, the question was never asked quite that way, but that's what I believe the answer is telling us.
Sure, 64 percent of those asked favor hosting the Olympics - in a vacuum, without considering any details. Who wouldn't want to host the Olympics?
[COMMENT 9:26 A.M.: An observant Beachwood reader writes:
Ooh, ooh! I know this one!
Isn't the answer 36 percent? And isn't it something that, all else aside, ignoring the cost and the threat to neighborhoods and the prospect of security issues and, don't forget, the cost, even if all the question asks is, you want them or no, 36 percent said "no, even if they were free and wouldn't wipe neighborhoods and parks off the map and didn't raise the specter of a police state in our city, I still wouldn't want them." Wow.]
But that's besides the point.
What's worse is the Tribune engaging in the fiction that (massive) tax dollars have not already been committed to the project and not challenging Mayor Daley's statement to the paper on Saturday that "There's no city tax money whatsoever."
The Tribune does acknowledge deep in its story that "Chicago will have to pay about $45 million for city services such as street cleaning to support the Olympics. The city also has pledged property tax revenue to cover infrastructure improvements for the planned Olympic village. The federal government is expected to spend $1 billion or more on security." (One billion or more! I'm betting on more!)
I wonder if Trib pollsters informed respondents of those facts, and then told them about the city's $500 million guarantee, as well as the state's commitment of funds.
Or sent them the the links I provided above so they could brush up on the subject matter, including the Trib's David Greising writing that "Taxpayers already have skin in the game."
But that's not all.
Let's move on to another question.
"Which of these, if any, do you think would be the major advantage if Chicago hosted the Olympics?"
* Boost to the local economy: 40 percent
* Enhance city's global reputation: 25 percent
* Improve city transit services: 16 percent
* Other/don't know: 18 percent
You might as well ask respondents, How dumb are you?
Study after study shows that sporting events - and building stadiums like Soldier Field - do not result in additional economic activity. Just displaced economic activity. There are only so many dollars to go around. Perhaps the Trib could have asked, "Are you aware that the Olympics has almost always been a costly boondoggle for host cities resulting in little short-term and no long-term economic benefit?"
Just ask latest chumps Vancouver and London.
After all, also in the Tribune on Sunday:
"With the deadline for Chicago's final Olympic bid less than a week away, a piece of property on the South Side is casting a long shadow over the city's plans.
"The property, now the site of a foundering hospital, is where officials want developers to build a privately financed, $1.1 billion Olympic Village to house athletes for the Summer 2016 Games.
"But the global economic crisis is expected to make international Olympic officials question whether Chicago can deliver the massive project. And taxpayers are likely to wonder whether they will end up paying the bill.
"These concerns have intensified in the past few weeks because of news out of Vancouver and London, the cities that will host the next winter and summer Olympics. As credit has dried up, both have been forced to bail out high-priced construction projects that were supposed to have been built with private money."
And that's just the latest in those cities' long string of problems.
As far as whether the Olympics would "enhance the city's global reputation," maybe the Trib should have asked residents how much they would be willing to spend on an international public relations campaign to clean up our image as corrupt pols who tolerate police torture.
And it would have been nice to have asked if city transit services should be improved regardless of whether we get the Olympics here.
The next question asks about disadvantages to hosting the Olympics. Congestion/inconvenience won 28 percent of the vote. But the Trib didn't ask if two weeks of congestion was enough of a problem to oppose the Olympics. Like we can't take two weeks of clogged roads. (Security problems/terrorism threat was named by just 18 percent as a disadvantage.)
What was the objective of this poll?
It's too late to ask if Chicago-area residents support an Olympic bid. We're a finalist. It doesn't matter.
And we know the bid isn't possible without tax dollars. That's been established.
A better poll would have asked Chicago-area residents how upset they are that Daley keeps lying about how the Olympics will be funded - and what they intend to do about it.
COMMENT 1:40 P.M.: Another observant Beachwood reader writes:
The statistic that "impressed" me was that 97 percent of those polled who declared opposition to the games also cited their opposition to having their taxes used to pay for them. So, who are the other 3 percent?
COMMENT 2:45 P.M.: And yet another observant Beachwood reader writes:
And isn't the bloated salary we pay for our squeaky-clean Police Superintendent already a sunk cost of the chase-the-Olympics-folly? He's the one who had all the terrorism experience, to reassure the Olympic Committee. He's the one who warranted the enormous salary because he was going to be in charge of the Police and disaster preparedness and so much more. Oh, that's until they took half his duties away from him.

Weis reminds me of a vignette in the series, The Wire. Whenever the Baltimore detective would need to meet his friend in the FBI, the Fed could never manage to position his car so that the two drivers could talk. And the Baltimore Detective would say, "You never worked Patrol, did you?"
Chumps
From page two on Sunday - on the other side of the page from the Trib's Olympic poll:
"There's only one question in the Kass poll. Just ask yourself: Does wanting the Olympics in Chicago make me a big chumbolone?"
*
There's always enough money for the rich and powerful to throw their parties and build their stadiums. Meanwhile . . .
*
"As of Sunday, it has been 1,615 days since the mayor promised he'd find out who promoted ex-gangbanger Angelo Torres to run his scandal-plagued Hired Truck program that cost taxpayers at least $40 million," Kass writes. "We're still waiting."
A real City Hall press corps would ask him this question every single day - and publish and broadcast the answer. Every single day.
Obama's Shirtsleeves
Filling in the Washington press corps.
Value Meals
"Starbucks, Wendy's Revamp Breakfast to Win Customers."
Wendy's to offer coffee; Starbucks to serve shakes and baked potatoes.
Oil Spill

-
The Beachwood Tip Line: A toxic asset.
Posted by Beachwood Reporter at 8:41 AM | Permalink
Slumdog Wages
In 1986, with the release of his album Graceland, Paul Simon found himself in a curious position. His album was receiving the highest kudos from music critics the world over, but at the same time he was being protested, criticized, and vilified. The problems were many. First and foremost, he had violated a cultural boycott of South Africa, a boycott that was endorsed by the United Nations, by using South African musicians and recording in Johannesburg. Simon's supporters argued that he was giving exposure to the musicians of South Africa at a time when the world was ignoring them. His detractors claimed he was exploiting them, using them for backing rhythms, knowing that in the event of controversy, he could pull out the "I'm just trying to help" excuse. After all, without Simon it was argued, their careers in South Africa would have never taken off.
Many critics, most notably Charles Hamm and Dave Marsh, didn't buy the story then and still aren't buying it today. Marsh once quipped, concerning Simon's rationalizations, that he was "still lying after all these years." Hamm has written that the musicians Simon used and gave songwriting credit to, including Joseph Shabalala and his group Ladysmith Black Mambazo as well as General M.D. Shirinda and the Gaza Sisters, were and are of the Conservative Black wing that, simply put, did not suffer during apartheid. They were doing well already, and Simon did not dig deep into the bowels of Soweto to find what the locals would call "the real deal." And to add to the offense for many, the music was non-politicized. In most of Europe and North America that meant little, but to many musicians and artists in South Africa, it was a betrayal of the basis for using these musicians in the first place. That is to say, Simon went to all that trouble, breaking the cultural boycott and defiantly using South African musicians, only to make the grand political statement of "You Can Call Me Al." Simon said political songs would have endangered the musicians. Hamm and many South African artists disagreed.
The final insult came with the use of Linda Ronstadt on vocals for "Under African Skies." The problem? Ronstadt was a habitual Sun City player and her presence on the album offended many. Writing in the Village Voice upon the album's release, preeminent rock critic Robert Christgau wrote, "The offense is compounded, of course, by who Shabalala's sister-in-song happens to be: a prominent violator of the Sun City boycott. Even if her lyric called for total U.S. divestiture, Ronstadt's presence on Graceland would be a slap in the face to the world anti-apartheid movement - a deliberate, considered, headstrong slap in the face."
Finally, there was the matter of payment, the one area where there was no controversy. Simon claimed that not only were all the musicians paid according to American union standards, but triple that. Even Hamm agreed, the musicians were well paid.
*
There is a similar situation today, not with music, but with the movies. Not with musicians but with actors. The movie is Slumdog Millionaire, the actors are Rubina Ali and Azharuddin Ismail, and this time the money situation isn't so easily defended. Here is what the filmmakers and the studio distributors have to say.
FILMMAKERS' STATEMENT
From the moment that we hired them and long before the press became interested in this story, we have paid painstaking and considered attention to how Azhar and Rubina's involvement in the film could be of lasting benefit to them over and above the payment they received for their work.
The children had never attended school, and in consultation with their parents we agreed that this would be our priority. Since June 2008 and at our expense, both kids have been attending school and they are flourishing under the tutelage of their dedicated and committed teachers. Financial resources have been made available for their education until they are 18. We were delighted to see them progressing well when we visited their school and met with their teachers last week.
In addition to their educational requirements, a fund is in place to meet their basic living costs, health care and any other emergencies. Furthermore, as an incentive for them to continue to attend school a substantial lump sum will be released to each child when they complete their studies. Taking into account all of the children's circumstances we believe that this is the right course of action.
Since putting in place these arrangements more than 12 months ago we have never sought to publicize them, and we are doing so now only in response to the questions raised recently in the press. We trust that the matter can now be put to bed, and we would request that the media respect the children's privacy at this formative time in their lives. - Danny Boyle and Christian Colson
DISTRIBUTORS' STATEMENT
The welfare of Azhar and Rubina has always been a top priority for everyone involved with Slumdog Millionaire. A plan has been in place for over 12 months to ensure that their experience working on Slumdog Millionaire would be of long term benefit. For 30 days work, the children were paid three times the average local annual adult salary. Last year after completing filming, they were enrolled in school for the first time and a fund was established for their future welfare, which they will receive if they are still in school when they turn 18. Due to the exposure and potential jeopardy created by the unwarranted press attention, we are looking into additional measures to protect Azhar and Rubina and their families. We are extremely proud of this film, and proud of the way our child actors have been treated. - Fox Searchlight Pictures, Fox Star Studios, Pathe International
*
You may have noticed no one mentions what the two children were paid. The distributor release says,"For 30 days' work, the children were paid three times the average local annual adult salary." Triple, just like Paul Simon. Only Simon was paying triple union wages. Fox says they were paid triple the adult salary for the area. Do you want to know what the average adult salary for the area is? Rs 48,954. That's 48,954 Rupees. If you use a currency calculator like this one, you will find that 48,954 Rupees converts to $1,006 dollars. In the reports that do state how much the children were paid the figures of a little over $1,060 and $3,600 for Rubina and Azharuddin, respectively, are used, which jibes with the annual salary figures. Now, for those who would argue that "well, it's still three times," one would have to ask, "Is it fair to pay someone in Mexico 25 cents an hour just because the normal wage is 10 cents an hour?"
The cost of living in India is actually not so low that an average salary of $1,000 puts you on Easy Street. No, that average salary is well below the poverty level. It's just that for that area, the average wage earner is impoverished.
So, if you are a producer, or director, or distributor and have it within your means to pay these actors at least American or European union scale, why wouldn't you? The basic rates for a performer according to this rate sheet are as follows: $624 and $775 for a Day Player, category I, or II, and $2,190 and $2,712 for a Weekly Player (five days), category I and II. Now, if we take the low end, $624 and multiply by 30, we get $18,720. If we go weekly, again on the low end, and multiply $2,190 by six (30 days or six five-day periods) we get $13,140. Either way, it's well higher than what they got.
But Danny Boyle, the director, and Christian Colson, the producer, state they have also set up a trust fund, which will take care of the children's education and become theirs once they are 18, provided they stay in school. And if they can't stay in school or prefer to learn a trade so they can begin earning money at 14? Well, I guess they're screwed. Why they cannot have the trust fund set up and a lump sum of three or four times union wages paid upfront I have no idea. If they were paid three times union scale, as Paul Simon did with the musicians on his Graceland album, an album that did not make nearly the amount of money that Slumdog Millionaire has, then the children would have been paid, using the low end weekly figure, $39,420 each. For first-time actors in major supporting roles in a major motion picture, that's fair.
So why didn't they get that? I don't have the answer, and it may surprise you, but I still think it's possible that nothing wrong happened here. Maybe that trust fund is good for millions. The California Child Actor's Bill, popularly known as the Coogan Act, was enacted in 1939 after it was discovered that Jackie Coogan, one of the most successful child stars in Hollywood in the 1920s and 30, had lost almost all of what he had made. His parents had appropriated nearly $4 million of his money, and Coogan, who sued, was awarded only $126,000.
The Coogan Act applies to Hollywood productions only, but maybe Boyle and Colson were and are acting in its spirit. Maybe Boyle and Colson have paid them more but will not reveal the entire sum because they don't want the family put in jeopardy for theft. Of course, recent reports of the children still living in abject poverty don't give much support to this hope, but it's possible. However, we can never know until we get answers, and so far we're just getting the runaround. I have sent an e-mail to Fox Distribution but have received nothing back yet. I will try again. My e-mail request was simple: How much, specifically, in total monetary terms, were they paid?
*
I am not here to judge one way or the other, and cannot until I have enough evidence to make any kind of a reasonable judgment. Film bloggers Rick Olson, Pat Piper, and I have now posted on this, but we are little fish indeed in this big movie-blogging pond. Perhaps if some of the bigger ones got involved, say Jim Emerson or Roger Ebert, we could get some answers. Bigger fish would greatly increase the odds of getting an answer and putting this to rest. Until then, many people have a bad taste in their mouths - the taste of exploitation - and it won't go away without answers.
-
Jonathan Lapper is the proprietor Cinema Styles, from where this was adapted for the Beachwood, as well as and The Invisible Edge, a humorous repository for print advertising from years gone by.
Posted by Beachwood Reporter at 4:38 AM | Permalink
Suburban Decay
The American dream of the past century involved becoming middle class by moving to the suburbs with a house, garage, dog, children, and sense of safety with good school system. In fact, many scholars and policy analysts still make the city versus suburbs comparison with the underlying assumption that the city is poor and congested while suburbs are affluent and spacious. But just as many cities offer a great deal of economic and demographic diversity, not all suburbs are alike.
The most visible change in many municipalities is the composition of their residents. By and large, many towns are aging rapidly. For examples, while Blue Island's total population grew only by 3.8 percent in seven years, those between 50 and 64 grew by 55.2 percent; Burbank's growth of 5.3 percent is magnified for those between 60- and 64-year-olds, which grew by 55.3 percent, and Calumet City's 6.7 percent growth included sizable growth of those over 80 years old (43 percent).
Oak Park's overall stagnation (0.9 percent growth since 2000) does not reflect the 55.4 percent growth between 55 and 69 year-olds, and Evanston, which lost total population by 7.2 percent since 2000, gained residents over 80 years old by 25.1 percent during the same period. Similarly, Oak Lawn's decline in population by 1.6 percent did not deter the increase of the population over 80 by 24.6 percent. The sizes of growth in older residents in these areas indicate that they have yet to have an influx of young residents, or are losing younger residents, to balance their towns. Without a healthy proportion of residents who participate in the labor force to generate taxes, a community becomes difficult to sustain with such a large proportion of residents with fixed income.
Another change occurs in housing. One major stereotype of suburban residents is that they are consisted of homeowners. However, a number of suburbs that directly border Chicago experienced substantial increases in rental housing since 2000. For example, Dolton's rental housing increased by 30.4 percent, Calumet City's by 18 percent, and Harvey's by 16.1 percent by 2007. Incidentally, these towns all experienced a loss in home ownership while affluent suburbs like Evanston and Oak Park managed to increase home ownership with reductions in rental housing; Evanston experienced a 5.5 percent increase in home ownership and a 22 percent decrease in rental, while Oak Park had 5.8 percent increase in home ownership and 17 percent decrease in rental.
Not every municipality benefitted from overall increases in housing values across the area between 2000 and 2007. Oak Lawn and Burbank once maintained higher housing values than Chicago; now they have 16.7 percent and 12.8 percent lower median housing values, respectively, than does Chicago. Some areas that already had lower housing values, including Blue Island (42.1 percent lower than Chicago), Calumet City (50.9 percent), Dolton (49.1 percent), and Harvey (63.8 percent), fell further behind the city.
As a result of these changes, in addition to massive gentrification in the city, the latest estimated housing value in Cook County suburbs ($260,354), as well as that of all the suburbs in Chicago metropolitan area ($243,412), is lower than the estimated value for the City of Chicago ($270,700).
[See Estimated Housing Values in Selected Suburbs]

As a result of deteriorating conditions, some suburbanites are moving back into the city. But the more likely scenario for many of them is to go even further away from Chicago, contributing to urban sprawl while expanding the boundaries of Chicago's metropolitan area. Unfortunately, those who move further away from the city are met with other problems, from the stifling traffic congestion of Huntley and Lake in Hills to poor school conditions including the use of trailers in Aurora and Gurnee.
Combined with harsh conditions longstanding in poor suburbs like Robbins, a decentralization of poverty is underway throughout the region similar to the decentralization of business, housing and economic development that originally marked suburban growth.
-
Read more about who we are from Kiljoong Kim in the Who We Are archives.
Posted by Beachwood Reporter at 1:52 AM | Permalink
February 7, 2009
The Weekend Desk Report
Sadly, the Weekend Desk is going to melt away on Saturday. But that won't stop us from covering the stories that matter.
Market Update
Although the week saw a sizable rally on Wall Street, You didn't fare too well. Your first period earnings were way off and Your asset valuation has been slashed by a couple hundred billion. And let's not even discuss Your overseas holdings, which have taken a pounding recently.

Caveat Emptor
In other news, duh.
Man for All Seasons
Newly appointed Chicago schools CEO Ron Huberman has reacted swiftly to a reduction of education funds included in President Obama's economic stimulus plan. Huberman says if new funding is not secured by a certain nebulous date, he will be forced to slash services and hike fees. Sadly, we're not kidding.
Strongman for All Seasons
Meanwhile, Police Superintendent Jody Weis was hammered at a recent city council meeting due to several high-profile gaffes. Not wishing to see another of his favorites pilloried further, Mayor Daley has announced Weis will now run the CTA.
He's Just Not That Into You
Despite repeated infidelities, U.S. Secretary of State Hillary Clinton says she remains committed to her toxic relationship with Vladimir Putin. Sources say Clinton's close friends are willing to look the other way, despite the fact Putin is "clearly not the man she fell in love with anymore."
Batman for All Seasons
Finally this week, actor Christian Bale has apologized for an explosive rant during a recent film shoot. Not wanting to see another of his favorites pilloried further, Mayor Daley has announced Bale will be Chicago's new top cop.
-
Sunday Note From the Lake County Desk
Looks like former Lake County GOP chairman, Green Oaks mayor, and onetime bigwig business dude Tom Adams finally is going to face judgment for his hobby: child porn. He was busted in 2006 (so long ago we didn't even know who Barack Obama was) for shipping some dicey materials to a friend he made in Florida who turned out to be an undercover cop decoy (don't they always?). The court system in Lake County - composed primarily of almost all GOP office-holding prosecutors, sheriffs and judges - managed to play Where's Waldo for years before shipping Adams' case to Kane County. He's dodged and pirouetted long enough to avoid mandatory sentences for distribution and now will face only the possession rap. In the meantime, he's been evaluated for the last four months at the Community Youth Network in Grayslake. Sentencing is set for June.
- David Rutter
Posted by Natasha Julius at 8:03 AM | Permalink
February 6, 2009
The [Friday] Papers
The Sun-Times asks on its front page today - way down in the corner - if Mayor Daley ripped city workers. "You decide," the paper says, leading them to a story and audio posted online.
I just listened to the audio, and it's exactly as reported. What's to decide?
Even worse, Daley is not only denying what is on tape, but he's blaming the media.
"I said that some people just watch the clock-government workers or anybody else-and leave. But here in Chicago, we're fortunate that people just don't watch the clock."
"I never said city workers of . . . Chicago are not good workers. Would you correct that for me? I know it's hard because I'm a ping-pong ball for the media. If you don't have the Daley name, I guess they don't read the newspapers. But just correct that . . . Don't misinterpret what I say to try to bring confrontation against city workers. That's really unfair."
"City workers work hard. I talked about the city in a positive way. But you're trying to follow me in a negative way so you have people yelling at me. I know that's your gig. But be responsible."
Instead of asking readers to decide, why not use big bold letters on your front page that say: "You Said It, Not Us."
Maybe under that: "Mayor Denies What Is Clear On Tape."
How many more times must I ask why in the world you all let this guy get away with this nonsense? He's a liar. He has a pattern of lying. Call him on it.
Private Pap
The Tribune editorial on the matter is a mixed bag. On one hand, the paper acknowledges what we all know: that there are indeed slackers on the city payroll. But whose fault is that? Or, in other words, who hired Angelo Torres? (Or, for that matter, who told the mayor's (convicted) patronage director to hire drunks and dead people?)
Says the Trib:
"Who's the boss of those clock-watchers? Daley, that's who. How long as this been going on? Forever. The mayor presides over a workforce bloated with the friends of relatives of campaign workers and the relatives of campaign workers' friends."
The Trib goes off the rails, though, when it pretends that the private sector isn't riddled with the same problems. "If private employers get more out of their workers, it's because they demand it."
Um, ever look at your own newsroom? Even the slimmed down Trib workforce is riddled with deadbeats and layabouts - many hired and/or promoted by pals.
(Or just look to Wall Street for the latest example of the private sector's vaunted efficiencies.)
Finally, let's stop for a second and consider Daley's argument that government isn't cut out to manage parking garages and airports the way the private sector is. Well, what gives city managers expertise in managing libraries, parks and police departments? And didn't Daley just tell us he made Ron Huberman the chief executive of the Chicago Public Schools despite having no background in education because he's such a great manager? Why not lease every public asset? In fact, why have government at all? Let the citizens choose from competing service-providers!
Top Secret Stimulus
Meanwhile, the mayor is refusing to make public the wish list he has apparently shared with federal officials for ways to spend our taxpayer money that would fund the stimulus bill.
"We have our list," Daley said. "We did not put that out publicly because once you start putting it out publicly, you know, the newspapers, the media is going to be ripping it apart . . . "
See, the mayor has already privatized city government.
"It's very controversial," the mayor says of the list. "It's very complicated."
He did say, according to the Trib's other editorial today, that the list includes projects for the CTA, the park district and the school system.
We shouldn't worry our pretty little heads over it, though. We're not customers, just citizens.
Freedom!
If reporters haven't already filed a Freedom of Information Act request for the list, they ought to. But here's another idea: file the request with federal officials, who after all were just instructed by President Obama to actually cooperate with the law.
Class Cluelessness
The Tribune's front page features a photo of a birthday celebration at restaurant with the amount each person is paying for dinner written in, for a story about, um, paying separate checks. The totals: $210, $162, $135, $85, $60. Tough times, indeed. I wonder which editor's birthday it was.
UPDATE 1:46 P.M.: The folks at TimeOut Chicago point out another embarrassment on the Trib's front page today.
COMMENT: 3:55 P.M.: A Beachwood reader writes:
Point well taken. But the larger question is this: with all that's going on in the world (not to mention this state and this city alone), the best the Tribune had to offer today was a bunch of fluff on . . . splitting the bill! Are they kidding? The Trib has long since ceased to be a serious publication and, as a result, lost my subscription about two months ago. It wasn't without a lot of sadness (I'm a J-school grad and former longtime newspaper reporter), but front pages like today's keep me from regretting my decision. Oh, and in case you're wondering, I now pick up the New York Times instead and browse the Trib Web site to get my local news.
Programming Notes
* I'm more than pleased to introduce Thomas Chambers today as our Beachwood handicapper-in-residence, or Our Man On The Rail. As he explains in his debut column today, he's a horseplayer not a gambler. His column will appear every Friday.
* Speaking of appearing every Friday, if you haven't been reading Stephanie B. Goldberg's Five Dumbest Ideas of the Week, you should get into the habit.
* We've got a whole new set of Political Odds today, from Fritchey's chances in the Fifth to the re-election chances of Quinn, Stroger and Durbin.
And at NBCChicago.com today:
* Daley vs. Daley. Says he didn't say what we know he said.
* Exclusive! What's on Daley's secret stimulus list.
* How the Blue Man Group will cope with layoffs.
Beachwood Classified
Just a reminder from The Beachwood Help Wanted Desk
* Deep Pockets. We have a beautiful business plan that will make you even richer. Inquire within.
* Techie proficient in Movable Type and human social behavior. For one-off and short-term projects or a long-term partnership.
* Honest advertising and marketing specialist who understands our brand and wants to help grow the company. Our business plan really does kick ass. Brains better than experience. No slicksters.
* Wanna edit a Beachwood section? Let's talk.
* Additional writers always welcome. Worldview better than experience.
* We're still accepting memberships in return for door prizes to be named later. (Speaking of which, our Super Bowl Halftime Bracket prizes should go out today.)
As always, you can contact the boss here. Or through the tip line. Much like the pipes in your home, it all ends up in the same place.
The Beachwood Tip Line: On the rail.

Posted by Beachwood Reporter at 10:59 AM | Permalink
The Five Dumbest Ideas of the Week
1. Andy Card, the former chief of staff to George W. Bush, got his nose out of joint this week over President Obama's penchant for working in his shirt sleeves. "I do expect him to send the message that people who are going to be in the Oval Office should treat the office with the respect that it has earned over history," Card said.
Then again, if Obama was really going to treat the office with the respect it earned during the Bush administration, he'd dress like this.
2. Speaking of wacky clowns, Bill Gates unleashed a swarm of mosquitoes on an unsuspecting audience this week while giving a speech on malaria. And here I thought he was trying to illustrate the joys of using Vista.

3. Another Sex and the City sequel? Isn't Sarah Jessica Parker getting a little long in the tutu for this kind of thing? Starring Jack Lemmon and Walter Matthau as Carrie Bradshaw's new suitors.
4. How would you like your frosted flakes? With or without Michael Phelps? Rejected responses: the Special K dime bag and the Froot Loops Snack Pack, Dude.
5. Bet you didn't know that Dildo is the name of a town in Newfoundland, Canada. Are you up for a Dildo Island adventure tour? Have a bite at the Dildo Dory Grill. And my personal favorite: "Every summer Dildo sponsors Dildo Days . . . a community celebration." Wonder if this will be passe by then.
-
Stephanie B. Goldberg brings you The Five Dumbest Ideas of the Week every Friday.

Posted by Beachwood Reporter at 5:59 AM | Permalink
TrackNotes: Our Man On The Rail
I am not a gambler. I am a horseplayer.
Horseplayers like to think that through experience, diligent research, finding the key elements of a horse's past performances and just plain following the game, finding a winner is more intellect than guesswork. But don't tell me that after a 42-1 shot wires a bunch of $5,000 claimers. After races like that, either your hindsight sharpens to Superman levels or you still wouldn't have picked him in a million years.
Relatively speaking, I haven't played the game on a serious basis for very long. I would say my first real campaign was in 2002, the year War Emblem won the Kentucky Derby and the Preakness after bursting on the scene in that year's Illinois Derby in the last big event for old Sportsman's Park. I remember Dancer's Image being disqualified after winning the 1968 Derby (his good-old-boy owner always maintained that he just wasn't enough of a good old boy for the good old boys of Kentucky), everyone getting caught up with Secretariat, and I can remember like yesterday Bill Shoemaker guiding Ferdinand like a Ferrari in the 1986 Run for the Roses. (Ferdinand was unceremoniously slaughtered by his Japanese owners because he just wasn't "useful" anymore and, hey, there's only so much square footage in an island nation).
But the real impetus for getting into the game was losing my last straw of tolerance for athletes of the human genus. They're never paid enough, in either respect or money. Too many of them dog it to first base or play alligator in the crossing pattern. Ownership isn't particularly bright and coaching decisions leave me scratching my head. We here in Chicago experience the strongest symptoms of these ills. I don't bet on the humans either. That was cured when Wannstedt made a half-assed attempt at scoring seven at the end of a half when a field goal would have been quite nice, a lot nicer than the zip-zero points he did get. And is Lovie Smith any different?
Flip 180 degrees: a horse will run as fast and as far as he possibly can for you, looking only for a splash of water afterward to cool down. And the jockeys? How about balancing on the balls of your feet trying to control a 1,200-pound animal while cruising along at 40 miles per hour? Now those are some athletes. And it's a piecework profession!
* * *
So we're into yet another Triple Crown season. Since my early-millenium epiphany, we've had four horses (War Emblem, Funny Cide, Smarty Jones, Big Brown) win the first two legs of the Triple Crown, only to be denied (two were short horses, one a short human who got in the way, the fourth a story from bizarro world) in the grueling Belmont Stakes.
The Kentucky Derby is a very peculiar race. It's too easy to get into, evidenced by the 20 starter-fields of recent years. It's a big traffic jam and some of the best horses have real problems with it, not to mention the horses that really don't belong. It's the irony of being one of the most prestigious races in the world that actually does require a lot of guesswork. And you don't fall in love with a Derby hopeful now, for he may not even make the race. Commitment comes only at the betting window. See Saratoga Sinner below.
Some random thoughts on three-year-olds who ran last weekend:
Looking Good
* Saratoga Sinner
* Bear's Rocket
* Masala
* Take the Points
* Capt. Candyman Can
* Hello Broadway
* Mr. Hot Stuff
* Warrior's Reward
* Mr. Fantasy
Looking Not So Good
* Saratoga Sinner (suffered a knee chip in the Holy Bull Stakes and is off the Derby Trail)
* Nicanor (The full brother of Barbaro started well in a maiden special weight but grabbed a quarter - stepped on his own hoof - and was shut down by jockey Edgar Prado. The first-time runner was hammered on the tote board down to 2-5 at one point, simply because of his famous brother. And you thought that only happened at City Hall.)
* Checklist
* Dubinsky
* Idol Maker
* Rockland
* Stately Character
* Well Positioned
* Break Water Edison
* Danger to Society (owners ripped him from Kenny McPeek's barn and sent him to Richard Dutrow, Big Brown's man behind the curtain).
Races to Watch This Saturday
* Bob Baffert's 3-year-old Pioneer of the Nile in the Robert B. Lewis Stakes, Santa Anita. Baffert likes him. A lot. Filly Stardom Bound is most certainly pointed to the Kentucky Oaks and goes Saturday in the Las Virgenes.
* Big day of stakes racing at Fairgrounds, including the Grade III Risen Star Stakes (a prep for the Louisiana Derby) and the Silverbulletday Stakes for 3-year-old fillies. Illinois-bred(!) Giant Oak is the morning-line favorite in the Risen Star (Dust Commander in 1970 is the only Illinois-bred Derby winner). Also look for Friesan Fire, Indygo Mountain, and Soul Warrior. I hope to get a price on Chamberlain Bridge in the Colonel Power Stakes.
On The Local Scene
Chicago gazillionaire owner Frank C. Calabrese and trainer Wayne Catalano have divorced again, this time FOR GOOD. Something about Catalano disrespecting Calabrese down at Gulfstream Park recently. These two can't live together and they can't live apart. They won many owner and training titles at Arlington and Hawthorne primarily by playing the claiming game. That is, claiming a $30k horse and dropping him down in class to $15k or $10k, just to get the win. It's like putting your hulking high school senior son into a Pee Wee game.
But the question is, will Frank's new trainers be as good as Catalano? I thought Catalano did a great job with Dreaming of Anna (Breeders Cup two-year-old winner in 2006 and U.S. Champion 2-Yr-Old Filly) and her full brother Lewis Michael, who won a bunch of purse money after they targeted him for synthetic-track races. On a day of industrial racing at the local tracks, that makes a big betting difference.
-
Thomas Chambers is the Beachwood's man on the rail. He brings you Track Notes every Friday. You can reach him here.

Posted by Beachwood Reporter at 12:01 AM | Permalink
February 5, 2009
The [Thursday] Papers
"Holy Name Cathedral is so thoroughly woven into the fabric of Chicago's life that it transcends its Catholic core," Blair Kamin writes.
"A rival of Al Capone once was murdered on its front steps.
"When Pope John Paul II visited Chicago in 1979, he came to the cathedral not once, but twice - for performances by Luciano Pavarotti and the Chicago Symphony Orchestra.
"Now dwarfed by ungainly residential towers, the Gothic Revival cathedral at 735 N. State St., dedicated in 1875 and designed by Brooklyn architect Patrick Charles Keely, is a beloved throwback to the decade after the Great Fire of 1871 when the pinprick spires of churches, not the crowns of skyscrapers, ruled the skyline. Its 210-foot spire, at the time the highest in Chicago, made it the Sears Tower of its day."
Also on Kamin's Skyline blog:
* Protecting the city's historic buildings from fire: A warning from 2006
* Fire in Cathedral roof reignites conversation about how to safely renovate historic structures
Note: I am in no way endorsing the use of "reignites" in this headline.
School Tools
"Mischelle Sumpters knows a thing or two about school closings in Chicago," Micah Maidenberg writes in the Chicago Journal.
"Sumpters, a parent of three and resident of the Circle Park apartments near Ashland and Roosevelt, has seen the last three Chicago Public Schools she enrolled her youngest children in shuttered."
The story is called "Vagabonds of CPS: Near West families jostled when neighborhood schools are shuttered."
Park Politics
"The superintendent of the Chicago Park District has sweeping new powers to lease green spaces across the city to the 2016 Olympics Committee, potentially without prior public review," the Chicago Journal reports.
"Under the new rules, unanimously approved by the Park District's Board of Commissioners Jan. 28, General Superintendent and CEO Tim Mitchell will be able to sign a variety of agreements handing over the use of parks across the city to the 2016 Committee.
"Such agreements normally require approval from the board in a public meeting. Now, only those leases that bring the Park District more than $10,000 would go to the board for a vote."
Look for a lot of $9,999 leases.
"Though few people commented on the Olympics during the Jan. 28 meeting, board president Gery Chico took several minutes before the vote to justify the move to the audience.
"'These are rather extraordinary commitments we're making,' Chico said. 'On the other hand, this is a rather extraordinary opportunity'."
It's always during "extraordinary" times that people in power choose to suspend the rules for their own purposes. And when are times extraordinary? Whenever the rules need suspending.
Chicago Abroad
"A woman is awaiting sentence after admitting pushing over a stilt-walker who was handing out flyers for a nightclub," the Sentinel of England reports.
"Kerrie Harrison appeared at North Staffordshire Magistrates' Court yesterday and pleading guilty to common assault on Joanna Flude on November 10 last year.
"Harrison assaulted Ms Flude, in Hanley town centre at 10.40pm, as the experienced stilt walker was handing out flyers for Chicago Rock Cafe in Trinity Street and Foundry Street.
"Ms Flude was wearing a Supergirl outfit at the time, as well as her 4ft stilts, with her head being about 9ft above the ground."
Freedom Smothered in Crib
"Less than three years after it's original opening in a low-rise annex to Tribune Tower, the McCormick Freedom Museum has announced it will be shutting its doors on March 1," Lynn Becker writes at ArchitectureChicago PLUS.
"The museum was a mixed bag, but it was a bright, welcome respite to the sprawling galleries of conspicuous consumption outside, a/k/a the Mag Mile. It was a bracing counterpoint reminding us that - the way we spend our average days notwithstanding - freedom is about far more serious things, with far serious demands, than the freedom to choose from an infinity of cell phone models."
Becker reviewed the museum upon its opening here.
*
I also reviewed the museum upon its opening, writing that "It's easy to make fun of the Freedom Center, but freedom geeks will also be inspired." The piece is "Freedom Museum Rocks Acceptably."
Better still, our very own Natasha Julius and Tim Willette wrote the incomparable "Freedom Museum Exhibits We'd Like To See."
Asset Ass
"Mayor Richard Daley reaped a windfall and avoided further budget cuts when he secured fast-track City Council approval of a 75-year lease of the parking-meter system, but an economist's analysis concludes he also gave up hundreds of millions down the line," the Tribune reports.
"The complex agreement, the first of its kind in the United States, nets the city a one-time cash payment of nearly $1.2 billion when the deal is closed this month.
"But the city could have earned $1.5 billion - in today's dollars - if it kept the meters and simply raised rates to the same levels it granted the winning bidder, according to H. Woods Bowman, a professor of public service at DePaul University."
This is not the first examination to conclude that the parking meter deal will short-change taxpayers.
"On Monday, we received word from the Mayor's Office that a deal was to be signed with Morgan Stanley," Ald. Scott Waguespack said at the time. "While I did receive the draft ordinance, no financial analysis was forthcoming, so my staff and I put together our own financial analysis to determine if the $1.15 Billion was a good deal or not.
"According to our analysis, the city would receive about $1.5 Billion if we sold as is.
"If we quadruple the prices of some meters, as Morgan Stanley will do on January 1, 2009, and increase again by 2013, our analysis shows that the actual value over 75 years is closer to $4 Billion."
Maybe the mayor is the one who should go to business school.
*
It's entirely possible that the city could have crafted a deal more beneficial to the taxpayers. But as the Chicago Journal wrote, it's "Hard to know what history will say about meter lease because no one discussed it."
Then again, it was an extraordinary opportunity at an extraordinary time, so the rules of democracy were suspended.
The More Things Change
-
The Beachwood Tip Line: First principles.
Posted by Beachwood Reporter at 8:40 AM | Permalink
Fantasy Fix
First basketball, then baseball.
-
The depths of the Pacific Division in the NBA's Western Conference may seem an unlikely place to find waiver wire bargains, but three players with the bottom three teams in that division had great weeks.
* Eric Gordon, now starting at shooting guard for the L.A. Clippers, averaged 20.8 points per game last week and has been steadily improving of late. Last week, we linked to a post talking about how rookies start to flag around this time of the season, but Gordon is in a zone, as we old-school ballers used to say. He's only 71 percent taken in Yahoo! leagues.
* Ronny Turiaf, power forward and center with Golden State, averaged 3 blocks per game last week and almost 7.8 rebounds per game. He doesn't get a lot of playing time, and those rebound stats were well above his season average, but he can immediately cure your team's block deficit if that is the only thing keeping you from the top tier. He's only 21 percent-owned.

* Jason Thompson has stepped up in Sacramento, and also averaged 7.8 RPG last week, with 15.7 PPG. He gradually is becoming the rebounding ace in Sacramento, with his playing time increasing over would-be star Spencer Hawes. Even of more value is his three-position qualification: small forward, power forward and center. He's 50 percent-owned.

The fantasy basketball experts gallery has more:

* Bleacher Report says that you must pick up Lamar Odom now, in response to yet another injury to Andrew Bynum. It is probably too late for that move in most leagues, though. Odom was 87 percent-owned in Yahoo! leagues as Tuesday this week. Odom has been sub-par this season, with points and rebounds way down from last year. He will indeed get more playing time as Pau Gasol moves to center, though it could also mean players like Luke Walton and Derek Fisher might get the ball more.

* ESPN's Eric Karabell proposes that aforementioned Illini-jilter Gordon could be Rookie of the Year. He has taken over the scoring for a team that needed someone to step up in that department. I still wonder how much of Gordon's current performance is just a hot streak, though, and my ROY dark horses would be Kevin Love and Brook Lopez.

* ESPN's John Cregan has a pretty amusing spin on the "25 Random Things . . . " chain post that recently has taken over Facebook.

Arms War
The fantasy baseball mock drafts are starting up, but the free agent market has not nearly settled. Manny Ramirez, Bobby Abreu and many others had no homes yet as of early this week. What if Abreu ends up at The Cell? That could add 10 homers to his stats.
It's a good idea not to get too far ahead yet, but after offering my own potential first round for the upcoming fantasy baseball season last week, I wanted to show you my top five pitcher picks.
* Tim Lincecum. San Francisco has improved, which could means 20+ wins and maybe even the lofty 300 Ks
* Johan Santana. Will it be the Mets year? Either way, Santana will carry them on his back.
* Brandon Webb. Mr. Consistency could have another 20-win season.
* CC Sabathia. His new team could help him to the 20-win ranks, but no more CGs for CC.
* Cole Hamels. No reason for the Phillies to slide. His ERA and opponents' batting average have been trending down.

Meanwhile, the experts are starting to chatter. Here's one worth taking a look at:

* Andy Behrens at Yahoo! has the first round of his mock draft up, and I have to say I agree with most of his choices, though I would take David Wright before teammate Jose Reyes.

Things should start getting interesting after league sign-ups actually begin.
-
Dan O'Shea's Fantasy Fix appears every Wednesday, except when it appears on Thursday. Tips, comments, and suggestions are welcome.
Posted by Beachwood Reporter at 7:21 AM | Permalink
Lincoln Lamps Could Be Yours!
Any editorial comment or mention that you may give this press release would be greatly appreciated.
-
THE LAMPS THAT LIT LINCOLN'S WEDDING TO BE AUCTIONED
YONKERS, NY - The set of three lamps by which the young Abraham Lincoln read and studied, and which illuminated his 1842 wedding to Mary Todd, will be sold at auction on February 25, 2009.

This is only the third appearance of these iconic bronze and crystal lamps on the market in some 166 years. For decades, they were displayed at the Lincoln Homestead in Springfield, Illinois, and were seen by millions. The pre-sale estimate for the trio is $40,000 - $70,000. Here are two of them.
Also to be sold is the original handwritten letter ordering the Springfield cemetery to stand by for arrival of Lincoln's body, April 26, 1865 ($7,500 - $10,000).
Over 500 other lots of collectibles in the auction include:
* Slaves offered as intact families, in an 1850's poster ($2,750 - $3,500).
* Very rare letter of Emma Lazarus, the poet who wrote the immortal words at the base of the Statue of Liberty ($10,000 - $13,500).

* When America had 789 different models of automobiles. An automobile archive of nearly one thousand official documents, each with the identifying marque of a different bygone car, truck or bus. These are the "birth certificates" for GM's doomed Oakland, Oldsmobile and Viking cars, the first Chrysler of 1924, old time Fords, 1930 Checker Cab, Duesenberg, Lincoln, Rolls-Royce, Studebaker, Tucker and many more. The now-unique documents reflect the golden era of an industry that once had hundreds of American auto manufacturers, from Aerocar to Wizard - far from the Big Three struggling today (total of 919 items, estimate $45,000 - $65,000).

* The handwritten journal of a plantation overseer during the Civil War, part of a major collection of rare letters and documents on life in the old South (over 110 items, $40,000 - $60,000).

* Rare complete sheet of 100 labels sold to raise funds for the Scottsboro Boys, the nine blacks falsely accused in 1931. The case attracted international attention, and is regarded as an early cornerstone of the civil rights movement. All were found innocent; it took twenty years for one of the defendants to gain his freedom ($850 - $950).

In a historical coincidence, just two weeks before Lincoln was killed, the auction house's Yonkers building was rented by one of the Lincoln assassination conspirators. In a lesser-known parallel plot, the saloon-keeper "Snevel" vanished, was caught by the Secret Service, and brought before Congress to testify.
There are many other unusual, historical items in thirty-four categories.
Contact Information:
Bob Snyder
Cohasco, Inc.
ESTABLISHED 63 YEARS
P.O. Drawer 821
Yonkers, New York 10702
Phone: (914) 476-8500
Fax: (914) 476-8573
E-mail: info@cohascodpc.com
Posted by Beachwood Reporter at 6:13 AM | Permalink
February 4, 2009
The [Wednesday] Papers
"What bothers me is I'd hate to see it at Halloween if everybody walks in - a 12- or 14-year-old walks into a police station on Halloween, they'll be handed a desk," Mayor Daley said on Tuesday. "They'll give them a car. They'll give them a badge . . . That's a real concern that we have."
As a service to readers, The Beachwood Calendar Affairs Desk would like you to know that there are just 269 days 'til Halloween.
Blagojevich Democrats
"Though two years ago Vallas considered running again for governor against Blagojevich, his residency was raised as an issue," Carol Marin writes today. "His allies say fellow Democrats were behind court efforts to stop him."
I've found it odd, or maybe not, that Pat Quinn's declaration in 2006 as Rod Blagojevich's running mate that he "has always been a person who's honest and one of integrity . . . I have confidence the governor does the right thing all the time" has been questioned by the media, but not the far more enthusiastic backing given by President Barack Obama.
"In the Summer of 2006, then-U.S. Sen. Obama backed Blagojevich even though there were serious questions at the time about Blago's hiring practices," ABC News recalls.
"At the time, numerous state agencies had had records subpoenaed, with U.S. Attorney Patrick Fitzgerald telling authorities he was looking into 'very serious allegations of endemic hiring fraud' with a 'number of credible witnesses'.
"In an interview with the Chicago Daily Herald in July 2006, then-Sen. Obama said, 'I have not followed closely enough what's been taking place in these investigations to comment on them. Obviously I'm concerned about reports that hiring practices at the state weren't, at times, following appropriate procedures. How high up that went, the degree at which the governor was involved, is not something I'm going to speculate on.
"'If I received information that made me believe that any Democrat had not been acting in the public interest, I'd be concerned,' Obama said."
Anyone who recalls Obama's similar denials about the investigation into Tony Rezko at the time of their house deal, since recanted, as well as recalling what we already knew about Blagojevich at the time and also with knowledge of how voraciously Obama reads the papers knows how disingenuous this is.
"At the Illinois State Fair in August 2006, Obama spoke on Blagojevich's behalf.
"'We've got a governor in Rod Blagojevich who has delivered consistently on behalf of the people of Illinois,' Obama told the crowd."
Question Quinn all you want for his failure to stand up and tell the truth. It's appropriate. But why does Obama get a pass?
My guess is because Quinn is a true reformer with a record of action, not just talk. His failure to speak up about Blagojevich was an unfortunate anomaly. Obama has always endorsed Machine candidates over reformers; Blago was no exception. Reporters find Obama's actions unremarkable, despite being at odds with the lofty rhetoric that got him elected president.
That's why some of us are hardly surprised that Obama has gotten entangled with the Tom Daschles and Timothy Geithners of the world. The media's shock and horror that the only change Obama brings to the White House - outside of the huge and entirely heartening breaking of a racial barrier - is a return to normalcy from the utterly devastating and treasonous Bush years.
In other words, Obama is bringing us change back to business as usual.
It is an improvement, but still.
Similarly, the installation of the Machine's John Cullerton as state senate president is a vast improvement over the ultra hackery of Emil Jones in that business as usual will now return to the General Assembly. But it's not reform.
The Daley Show
Similarly, much has been made of Michael Madigan's co-chairmanship of Blagojevich's 2006 re-election campaign. I always viewed that as merely ceremonial; after all, Madigan is also the chairman of the Illinois Democratic Party. But guess who the other co-chairman was?
A beer on me if you knew the answer was Richard M. Daley.
UPDATE 11:34 A.M.: I've been made aware of conflicting information about whether Daley or Emil Jones was Blago's other co-chair. I've been unable to resolve this conflict through Google searching. If anyone has definitive information, please send it along.
CORRECTION 11:46 A.M.: No wonder I was struck when I saw reference on the website of a trusted source to Daley's co-chairmanship of Blago's 2006 re-election campaign; apparently it's not true. I just found this (By Kristen McQueary, Daily Southtown, Aug. 13, 2005):
"Firing a warning shot to anyone considering challenging Gov. Rod Blagojevich in next year's primary election, top Democratic leaders announced Friday they would co-chair Blagojevich's re-election committee.
"Senate President Emil Jones (D-Chicago) and House Speaker Michael Madigan (D-Chicago) will coordinate the governor's re-election effort and work to unite the state's Democrats around the incumbent, Blagojevich 's campaign announced."
If anyone has any additional information regarding Daley, please send it along. Otherwise, I stand corrected.
CORRECTION CLARIFICATION 5:27 P.M.: A Beachwood reader writes:
"Daley chaired Blago's 2002 campaign. I don't have time now to find the source, but I'm sure Daley chaired it."
Sure enough, I found this from a recent Sun-Times article:
"In 2001, Mell abruptly dropped his opposition to Home Depot on the same day his ward boundaries were redrawn so the controversial corner was no longer in his ward. Four months later, Daley agreed to serve as chairman of Blagojevich's campaign - an unprecedented move for the mayor. He had never done that for any other candidate for governor."
Barack Burris
Obama also worked hard trying to get Blagojevich elected in his first gubernatorial race in 2002 - after first supporting Roland Burris in the primary.
Yes, that Roland Burris.
The one who, among other things, tried to kill Rolando Cruz.
Maybe Obama didn't follow that story closely either.
Blago on Letterman
You've probably seen this exchange already, but just in case:
LETTERMAN: Why exactly are you here, honest to God?
BLAGO: Well, you know, I've been wanting to be on your show in the worst way for the longest time.
LETTERMAN: Well, you're on in the worst way, believe me.
Top Ten-it is
Ten demerits to the Sun-Times editorial page for a Top Ten list today that ends with "1. Elvis has left the building."
Gee, no one's made that joke yet! Hilarious!
Refusing to even link.
Anti-Commerce
Obama's new Republican nominee to head the Commerce Department once vowed to eliminate it. Good or bad?
Union Yuks
"Last February, in the hours before the County Board voted to raise the sales tax by a percentage point, union leaders darted in an out of several board members' offices, tightening their puppet strings," the Tribune editorial page says today. "Then, after the board's midnight vote to approve all of the grossly featherbedded 2008 budget, union reps danced and cheered in the boardroom - some of them high-fiving pliant commissioners. All of which was a step up from 2007: That year, union reps actually sat at some of the county commissioners' office computers, furiously typing budget amendments they wanted the board to approve."
This isn't any more acceptable than when Republicans allow corporate lobbyists to write legislation.
Police Press
"The Chicago Police Department has unleashed a new anti-violence strategy in four West Side districts - and the results have been dramatic so far, police officials say," the Sun-Times "reports," without any apparent attempt to verify if this bold claim is actually true except using a very questionable metric of comparing murders from this January to last January.
Here's an idea: if the Sun-Times wants to get out of its financial mess, it might considering charging a fee to republish press releases.
Cullerton's Change
"Cullerton defended the ability of legislative leaders to raise money to dole out to their members - something critics contend has made rank-and-file lawmakers less independent in their voting," the Tribune reports.
"'The goal is to keep control of your party,' Cullerton said."
When can we start the John Cullerton impeachment proceedings?
Bean Scene
Punishing The Bean Scratcher.
Ginsu Governor
If you haven't read this yet, you really ought to.
Eddie Schwartz
The radio veteran has died.
He contributed these pieces to the Beachwood:
* Con Ed
* Nuclear Chicago
* Cops Shop
The Beachwood Tip Line: Ginsu-ready.
Posted by Beachwood Reporter at 10:44 AM | Permalink
Ironside: The Past Is Prologue
Our look back on the debut season of Ironside continues.
*
Episode: The Past is Prologue
Airdate: 7 December 1967
Plot: Ironside must help an old friend beat a 19-year-old murder conviction before the fugitive is extradited back to New York State where an electric chair waits with his name on it.
Guest stars: Harrison Ford! Harrison Ford! It's Harrison Ford! Oh, and some other guy named Victor Jory.
It's Harrison Ford! The episode opens with a very young and nearly unrecognizable Harrison Ford yuk-yuk-yukking it up as the center of attention at his college graduation party. Ford plays Stanford valedictorian Tom Stowe, who regales party guests with the story of how years ago - when Tom was a dumb, hubcap-stealing punk - Chief Ironside put him on the straight and narrow. Ford's acting style has all the subtlety of Ron Howard's Richie Cunningham.
Okay, I know it's a graduation party, but why is everyone acting so drunk? First Tom yells his story to the group, then a glowing Ironside winks at him, and finally Tom's father Walter, when encouraged to give a speech, waves a half-eaten cocktail sausage around the room while violently gesturing with all the gusto of the inebriated blue-collar guy he's obviously supposed to be.
Someone needs to cut this man off: "What's there to say except how proud I am a'him, eh? He-he-he, my kid at the top of his class. Heh-ahhh-how'm I ever gonna make a CAR-penter out of him nowwwww, huh?"
Hokiest dialogue this side of The Andy Griffith Show:
Proud Son: "I'll build a stairway to the moon, Pop!"
Proud Father: "You got aaahnny idea how much LUMber that would take, eh? Haa haaa."
Timing is everything: Just as dad's speech is about to get really embarrassing, cops walk through the front door looking for Walter Stowe, alias Frank Tomachek. Cue ominous dulcimer music.
Major buzz kill: Seems Tom's dear old dad is a fugitive, convicted of murder 19 years ago and wanted back in the state of New York for execution. I certainly hope Tom's degree is in law.
You say Tomachek, I'll say Tomlachek. Let's call the whole thing off: I have no idea what this character's name is really supposed to be. For every time that someone pronounces it one way, another person says it the other.
Why, oh why, do they always pick up the gun? Wally tells Ironside his sad story. It's a classic case of an innocent guy stumbling upon a dead man, picking up the murder weapon, and getting caught red-handed. And don't they always say, "I don't know why I did it."
Why hello, Chief Ironside. I hear you're the nice man who's trying to set my husband's killer free: The widow Chase welcomes Ironside into her home with all the smiling graciousness of a woman hosting a tea party. She doesn't seem in the least upset by the Chief's request that she write a letter of clemency on Wally's behalf. "I suppose I could write a letter of clemency. I mean, as a Christian I believe in forgiveness."
Oh, she's that kind of Christian: "But I also believe one must pay for the sins one commits. No, I won't write your letter."
I've never seen such fake eyelashes that weren't attached to a sleepy-time baby doll: You know, the kind where the eyes close when you lay the doll down and pop open when you pick her up. The murdered man's daughter, Phyllis Chase, enters the room wearing a complete riding outfit - tweed coat, jodhpurs, knee-high boots and riding crop, finished off with a cravat secured at the neck with a big gold stick pin. When she blinks or looks down, her ice-blue eye shadow sets off the two-inch long caterpillars hanging off her eyelids. Even when she looks up, her eyes look closed.
Reduce, reuse, recycle: Ironside's next New York visit is to the widow Chase's lawyer, Mr. Whittier. The law office set is too familiar, having been used in at least three previous episodes.
The classic legal opening power move: When Ironside rolls into the lawyer's office, Whittier shows him who's boss by completely ignoring the Chief. The lawyer makes a big show of shuffling papers as Ironside waits. And waits. Shuffle, shuffle, wait, wait, shuffle, shuffle.
Ready for her close up, Mr. DeMille: In the original case file, Ironside finds the most ridiculous crime scene photo. In the background, two cops hover over the dead man's body, while the distraught widow stands prominently in the foreground, clutching her hand to her mouth in a stagy pose of exaggerated grief. It looks very contrived. And guess what? It is, as we'll see later in the episode.
Who's a quitter? Ironside meets with Malcolm Henderson, the New York governor's legal aide. He succeeds in buying his team 24 hours to gather evidence to get Wally a pardon from the governor. Ironside knows it's a gamble but one worth taking, since Wally's life hangs in the balance. And yet, in the very next scene, after discussing one - and only one - theory with his team, Ironside gives up ("We're dead") and sends everyone home. What, no all-nighter? Shouldn't Eve be making coffee? What happened to that fighting Ironside spirit?
Oh man, in nearly every episode Eve wears an outfit that makes me bust out laughing: This time, it's a mustard yellow suit with pumpkin orange banding around the cuffs and neck, and two wide stripes on either side radiating from her neck to the shoulders. The jacket zips up with a gold hoop zipper pull. All she needs is one of those bright orange foot-high equestrian hats and she'd be all set for her job at Orange Julius.
A woman, a dead body and a wristwatch: In trying to account for a missing hour to corroborate Wally's sworn testimony and gain his acquittal, Ironside's evidence all comes down to the crime scene photo that so prominently featured a distraught Mrs. Chase. Now we know why.
Thank god the crime scene photo lab is open 24 hours: Ironside has commissioned a series of photos blown up from the original. Of course, in the interest of suspense, no one in the room has had a chance to look at them prior to Ironside's meeting with the governor's aide to see if they confirm or refute his theory. The first two viewed aren't zoomed in enough or clear enough to show the time on Mrs. Chase's watch. But wait, there's more!
This just in: Ed rushes out and re-enters with two more blown-up photos. Everyone cranes forward, squinting at the screen as Mark fiddles with the focus on the overhead projector. You can cut the tension with a knife.
Moral of the story: Don't forget to reset your watch when daylight savings hits. It could save a life!
-
Previously:
* A Cop and His Chair
* Message From Beyond
* The Leaf in the Forest
* Dead Man's Tale
* Eat, Drink and Be Buried
* The Taker
* An Inside Job
* Tagged For Murder
* Let My Brother Go
* Light at the End of the Journey
* The Monster of Comus Towers.
* The Man Who Believed
* A Very Cool Hot Car
Posted by Beachwood Reporter at 8:34 AM | Permalink
The Super Bowl's Five Worst Moments
1. You mean that Matt Millen is an analyst? Seeing the man who single-handedly (OK, so he used both hands) destroyed the Detroit Lions being trotted out as an expert football assessor is like, oh, I dunno, like trotting out Bob Davie as an analyst. Oh, wait . . .
COMMENT 11:11 A.M.: Kelly Murphy writes:
Just had to add, Detroit was not very happy about Millen either. Here is a video that shows a scroll during the game.
-
See also: "Warning! Matt Millen's On."

2. Bruce Springsteen, now officially older that Jagger and dirt. As one of only two people in the Western Hemisphere who does not get Springsteen's allure, I am now more confident of announcing in public that Springsteen is older than anyone now performing on a stage - other than Don Rickles. And the E Street Band, which Springsteen insists is now at the top of its game, looks like a mass breakout after someone left the back door unlocked at the nursing home. Sounds like it, too.
3. Thank God that James Harrison wasn't the MVP. It wasn't his 100-yard interception for a touchdown that you should remember about his performance. It was the punt on which he assaulted - I mean literally assaulted - Cardinals blocker Aaron Francisco in the general felonious definition. He not only whacked the guy, he was punching him like a mugger going for a wallet and prompted usually amused John Madden to suggest he be jettisoned from the game. Harrison escaped a legal fracas for whacking his girlfriend last spring. We'd guess the court-ordered anger management class didn't totally solve all his issues.

4. Hey, Comcast, why didn't we see this? Everybody else's cable TV package (our word) is always better than ours. Somebody in Tucson cross-wired 30 seconds of porn into the Super Bowl telecast, and Comcast has agreed to pay $10 to every customer who was "impacted" (their real word) by the event. The feed was sent through Cox Communications. Really.

5. What's second prize? The governors of Arizona and Pennsylvania exchanged customary Super Bowl bets, but this time they decided to make it insipid on a more Super Scale. Arizona bet a trip to Phoenix. Pennsylvania bet a trip to Pittsburgh. We think each is a bit like a blind date with the ugliest girl in North Dakota. Or the ugliest guy in South Dakota if you're gay. At least some lucky Steelers fan might find Arizona cable-TV offerings more interesting than what they get back home.
Posted by Beachwood Reporter at 7:11 AM | Permalink
February 3, 2009
The [Tuesday] Papers
1. Joey the Clown Lombardo sentenced to life. Here's the profile of Lombardo I wrote for Chicago magazine in 2005.
2. Lombardo's alibi in the murder of Danny Seifert has always been that he was reporting a lost wallet to police when Seifert was killed. A little too perfect.
On Monday, Lombardo wielded a police report placing him at the station as a last-ditch plea.
"In the report, a Chicago Police officer stated Lombardo approached him in [a pancake house] to report his wallet had been stolen from the glove box of his car while he'd been having breakfast," Mark Brown writes.
As if Joey the Clown Lombardo would ever leave his wallet in a glove box.
COMMENT 2:00 P.M.: From Beachwood reader Mark:
So those commercials were true - mobsters really do go to Denny's.
3. "Lombardo reported the theft at a police district led by William Hanhardt, who went on to become chief of detectives and was convicted of running a jewelry-heist ring connected to the Outfit," the Tribune reports.
I still can't get over the fact that the Chicago police department's famed chief of detectives was a master crook. This stuff runs deep, folks.
4. After meeting with Mayor Richard M. Daley, new Gov. Pat Quinn says he'll do "whatever is necessary" to support Daley's Olympic bid. And if that means Daley won't stand in the way of Quinn's re-election, so be it!
*
No word on whether Quinn will do whatever is necessary to fund the city's mental health centers - or if reporters even asked.
5. "Speaking to WGN-AM, [Michael] Madigan specifically noted a secret 2004 inspector general report reviewed by the House impeachment committee that accused the governor's patronage office of driving hiring even for jobs that were supposed to be free of political influence," the Tribune also reports in its Quinn story.
"The Chicago Tribune disclosed the confidential report during Blagojevich's 2006 re-election campaign."
Meanwhile, President Obama said that he had no idea the governor was under federal investigation when he gave him a rousing endorsement in 2006. Maybe he was too busy helping Todd Stroger to keep up with the news.
6. "Madigan also said he expects to push for a number of ethics measures that had passed the House previously but stalled in the Senate while Blagojevich held office," the Tribune notes.
Those measures didn't stall because Blagojevich was the governor, but because Emil Jones was the senate president. You know Emil Jones, Barack Obama's self-proclaimed political mentor . . .
7. "Daschle: 'I Deeply Apologize'."
Says Geithner told him his taxes were just fine.
8. "Hope Or Nope?" a Sun-Times headline reads today. "President already hiring people he said he wouldn't."
9. "Barack Obama came to the White House promising to meet a higher ethical standard than his predecessors - 'a clean break from business as usual,' as he put it shortly after taking office. In time, he may accomplish that goal," the Tribune editorial page writes today. "But so far, what's striking is not the higher standard he proclaims but the new administration's frequent unwillingness to meet it."
It's only striking if you haven't been reading the Beachwood the last two years.
"To proclaim high standards and then suspend them exposes Obama to charges that he is either hypocritical or obtuse."
Proclaim high standards and suspend them once, shame on you. Proclaim high standards and suspend them a zillion times, shame on us.
10. "The children of this country are counting on all of us," Michelle Obama said on Monday.
No word on what designer she was wearing when she said it.
*
"Do as we say, not as we do," First Lady declares.
Or maybe that was just me.
11. "The looming federal trial of a former top aide to Mayor Richard Daley promises to open old wounds into hiring abuses inside City Hall and to provide fresh evidence of the campaign misdeeds of a pro-Daley political group, according to court records filed Monday," the Tribune reports.
President Obama said he had no idea the Daley administration was under federal investigation when he endorsed the mayor's re-election.
12. Tony Rezko out of the hole.
President Obama . . .
13. . . . lied.
14. Alternate universe:
"The bipartisan honeymoon is over for John McCain as Democrats accused the new president as being out-of-touch with the American people by filling Cabinet posts with millionaires who failed to pay their taxes and high-level administration positions with lobbyists just days after announcing a new policy against doing just that."
15. I wonder when Chief of Staff Rahm Emanuel will have his first meeting with Transportation Secretary Ray LaHood . . .
16. "Nearly $1 million in drugs and medical supplies were spoiled or unaccounted for in a Chicago Health Department warehouse, the city's inspector general said Monday, and record-keeping was so poor it was impossible to tell if some of the medicine was stolen," the Tribune reports.
I know there's a Rod Blagojevich joke here somewhere, but I can't find it.
COMMENT 1:59 P.M.: A Beachwood reader writes:
I thought the joke was in the story itself, but it wasn't a Rod Blagojevich joke; it was when the mayor's spokesperson said that (1) Hoffman got it wrong about the program being mismanaged and wasteful, but (2) the warehouse was being shut down anyway. Because it was so successful, it had put itself out of business. Or something. Media flaks tell the best jokes, especially when they don't mean to.
17. "'We are not just going out and asking for more money and being reckless,' [Todd] Stroger said Monday, noting the county for years had borrowed money to cover operating costs. 'This is well thought out'."
Nah . . . too easy.
18. Rod Blagojevich is scheduled to appear on the David Letterman show tonight. Todd Stroger is booked for Wednesday, Roland Burris will appear on Thursday, Ray Wardingley is up next Monday, Rickey Hendon next Tuesday, Blagojevich returns next Wednesday, and Daley will appear next Thursday.
19. "McCormick Place Lands New Comic Exposition."
Newspapers ready their "comics are for adults, too" stories.
20. Earmarks out; shovel-ready in.
21. The Shovel-Ready CTA.
The Beachwood Tip Line: Keep shoveling.
Posted by Beachwood Reporter at 9:34 AM | Permalink
February 2, 2009
The [Monday] Papers
"Your job as a congressman is to represent the people, not simply to be accountable to Mayor Daley and take what he says as gospel."
My Lord, who dared to say such a thing in public?
State Rep. John Fritchey (D-Chicago), at a forum on Sunday for candidates to replace Rahm Emanuel (D-Daley) in Congress.
Here's more from the Fighting Fifth!
That's Roland!
In a story in which the junior senator from Illinois protests that reports of his arrogance are a media creation, Roland Burris informs us that "I have had one of the most interesting lives of anyone who has ever lived."
I've got news for you, Roland: You haven't had had one of the most interesting lives of any Illinoisan who has lived. Not even close.
*
Burris also defends his massive mausoleum by saying that "It's best to have your crypts or your mausoleum already set aside. It takes a major burden off of your family."
Good thinking! I'll get started on my mausoleum right away. Hmmm, is TRAIL BLAZER taken?
*
"The cemetery in Oak Woods insisted when I went out to plan my estate that my resume be put on it," Burris says. "That wasn't me. That was the manager of the funeral home. They insisted that my resume be put up and they came up with that design and did all that."
And that new funeral home legislation he's proposing? That's not him either. The funeral home is the one insisting on it.
Blago Beat
Rod Blagojevich is scheduled to appear on David Letterman's show this Tuesday. Here are a couple stabs at the name of the Top Ten List Blago will read:
* Top Ten Reasons Why I'm Actually Still The Governor
* Top Ten Reasons Why Ed Genson Quit As My Attorney
* Top Ten Reasons Why The Senate Didn't Let Me Call Witnesses
* Top Ten Reasons Why Everything I Did Was To Help People
* Top Ten Reasons Why I'm Such A Putz
Reaching Obama
How local pols will do it.
Quinn's First Week
A to-do list.
Worst People In Illinois
These people are hogs.
Fare's Fair
"Most top managers at the CTA have gotten double-digit salary increases in the last three years," the Sun-Times reports.
So that's where that extra fare money is going.
"You need to take into account that those bosses had to pay more in taxes, and also had to start paying 6 percent into pension and health accounts, Huberman said."
It's that kind of reasoning that will make Huberman a great schools chief. After all, we really have to take into account that by increasing the taxpayer-funded salaries of CTA managers, those managers could actually see their income taxes rise as well!
"Huberman defends the 2008 raises as deserved and necessary to hold on to talent."
A) I know! Cleveland has totally opened their wallet this off-season.
B) God knows without the raises we'd lose our irreplaceable CTA medical review officer and our crack assisant secretary to the board.
C) As opposed to keeping fares reasonable to hold on to riders.
Beachwood Super Bowl Bracket!
Congratulations to our very own Scott Buckner, winner of the First Annual Beachwood Super Bowl Halftime Bracket.
More Beachwood Super Bowl coverage:
* Julia Gray's Beachwood ad review
* Jim Coffman's Super Bowl edition of SportsMonday
Blago Ginsu
Former Illinois Governor Rod Blagojevich Sells Cutlery to Pay for His Legal Defense.
Evil Ways Crew/Chicago


-
The Beachwood Tip Line: Still more feedin'.

Posted by Beachwood Reporter at 11:25 AM | Permalink
Super Bowl Ad Review
Advertisers paid a total of $260 million for ad space during the Super Bowl XLIII and I'm wondering if we got the best Madison Avenue could give. Here are the ones - both good and bad - that I found most memorable.
1. Bud Light (Meeting)


Comment: I'd like to fire this commercial and toss it out of a window.
Grade: F
-

2. Audi
Comment: It's slick, quick and fun to see the old-school cars in the chase scenes. But, if you've seen movies with car chase scenes, you've already seen this ad.
Grade: PG
-
3. Bridgestone Taters
Comment: It's nice to know that Potato Head wives gripe at their husbands as much as their human counterparts do. I'm thinking the ad person who came up with this one doesn't like his wife very much. Or potatoes.
Grade: Three potato wedges.
-
4. Bud Light (Conan)
Comment: Even a funny guy can't make this beer taste good.
Grade: C Light.
-
5. Castrol
Comment: A clever mix of chimps, Iron Butterfly, and an air filter.
Grade: Four bananas.
-
6. GoDaddy (Enhancement)
Comment: Danica Patrick begins her inexorable slide into her post-racing pornography career.
Grade: Eight cylinders and a pair of fake boobs.
-
7. Pedigree
Comment: This ad makes a great point in a not so obvious manner. Rhino dung would be a bitch to get out of the carpet but it would do wonders for your garden. Also, if you didn't like your exotic pet collection, you could always kill it for food and wall hangings. But, when all is said and done, you're better off getting a dog.
Grade: Three ostrich burgers.
-
8. Budweiser (Clydesdales and Circus)
Comment: Like Conan O'Brien, an equine love story can't make this beer taste good. Wasn't it Mike Royko who once quipped that Budweiser tastes like it's been brewed through a horse? But it does make me want to run off and join the circus.
Grade: One circus peanut.
-
9. Cash4Gold
Comment: It's nice to see that Ed McMahon and MC Hammer are working again. This commercial oughta keep them both from begging for money on Larry King for a couple of months.
Grade: Four gold stars.
-
10. Teleflora.com
Comment: I'd love to hear what a box of flowers would say to me.
Grade: Four long-stemmed roses.
-
11. Monster.com
Comment: Moose ass. That's all I have to say on the subject.
Grade: One antler.
-
12. Cars.com
Comment: The creator of this ad should burn his Wes Anderson library and maybe visit a brothel for inspiration.
-
13. E-Trade
Comment: I don't know what this ad is selling because I'm too disturbed by the creepy babies and that Mr. Mister song.
Grade: One broken wing.
-
14. CareerBuilder
Comment: Longest one-minute spot ever.
Grade: One want ad.
-
15. Jay Leno
Comment: Thanks for totally ruining that old Sam & Dave song for me.
Grade: One chin.

Posted by Beachwood Reporter at 10:26 AM | Permalink
SportsMonday: Super Bowl Sunday
How did we ever survive a decade of Super Bowl blowouts? From 1992 to 2001, eight games were decided by 10 or more points - the other two featured seven-point spreads and only one of those games was still legitimately on the line in the final seconds. We're spoiled now, what with the last eight contests featuring three field-goal wins by the Patriots and the last two big games coming down to back-and-forth "you think that was incredible? Try this!" touchdown drives.
Actually, the Cardinals' final touchdown was less the result of a march and more a matter of one perfectly executed play. In it, frazzled Steeler safeties were enticed to try to jump intermediate routes run by receivers out wide on both sides and Larry Fitzgerald (who finished another multiple-touchdown playoff game with a just-about insurmountable lead in the "greatest post-season ever by a wide receiver" competition) found nothing but wide open territory in front of him after he turned upfield in the middle. Had the Steelers lost this one, that 64-yard touchdown would have haunted coach Mike Tomlin and his staff for the rest of their lives.
Pittsburgh still had plenty of time when it got the ball back down 23-20, but there is no overstating the degree of difficulty involved in putting these sorts of drives together. There are so many things that can go wrong on the offensive side of the ball (and one did, immediately, when the Steelers were called for holding on the first play) and defenses these days deploy fewer bend-but-don't break, prevent schemes. Those are the ones that, all together now, actually prevent the team that holds a late lead from putting away a win.
Going into the winning drive, it was clear Pittsburgh receivers other than Santonio Holmes were struggling to create any kind of substantial separation from Cardinal defensive backs. So Ben Roethlisberger zeroed in on his primary target. And zeroed in again, and again. The final march covered 88 yards after that holding penalty. Four passes from the quarterback to his favorite receiver covered 73 of those yards, capped off by Holmes on his tippiest toes hauling in the game-winning touchdown over double-coverage. An encore is going to be tough.
Seeing Yellow
What was your favorite penalty during this flag-fest? Mine was the one where the ball-carrier stiff-arms a potential tackler by stuffing his hand right into his face mask, the defender responds by getting a brief handful of the ball-carrier's mask (but not dragging him down by it) and is flagged for 15 yards (let's amend the rulebook to say that if a ball-carrier pounds a defender in the face, the defender can then do the same).
Or was it that ridiculous roughing-the-quarterback brought on by the usually ultra-sturdy Roethlisberger crumpling dramatically after an Arizona linebacker brushed against him?
It is fair to say that the two late holding penalties on the Steelers - one resulting in the safety and the other backing Pittsburgh way up at the start of the eventual game-winning drive, evened things up after too many earlier infractions were whistled against the Cardinals.
And it is always easy to complain about the officiating in the abstract, i.e. without going back, breaking down the individual flags and deciding which ones didn't need to be called.
But this one was downright tough to watch at times.
Hey, and I think we should all tune in one more time today for one last replay review, perhaps of some exciting footage of one of the clean-up crews in Tampa, just to stretch out the Super Bowl experience as long as we possibly can.
Buh-Bye
One final item as we say our final good-bye to the 2008-09 football season: as bad as it was between 1992 and 2001, the 12-game stretch of Super Bowls from 1977 to 1988 was worse. A fearsome 10 of those contest featured spreads of 10 or more points. Remind me again how our nation came to be obsessed with this game?
Blunderbuss
First of all, thanks to alert reader Mark M. for pointing out a wonderful blunder in last week's SportsMonday. Perhaps displaying a deep-seated, subconscious need to take gratuitous shots at the Manning family, I substituted Eli and the Giants for Donovan McNabb and the Eagles as the Cardinals' foe in the NFC championship game. Then again, maybe it wasn't about Manning. Maybe it was about McNabb, a proud son of the South Side whom I actually watched play basketball with Antoine Walker way back when at Mt. Carmel. Clearly this was my attempt to subtract his latest playoff setback from the written record.
Actually, McNabb played beautifully for long stretches of the Eagles' loss to the Cardinals. It was the highly touted and perhaps overconfident Philly defense that lost that one, especially after McNabb rallied the troops from several scores down to take the lead late.
Editor's Note: I missed it too, perhaps because I was distracted by another Peyton Manning commercial and subconsciously transferred my annoyance at Eli.
My Coach Vinny
Last week's John Paxson and Jerry Reinsdorf "we know the Bulls stink and we're really upset about it" tour kind of floundered, didn't it. when it became apparent there was no way in the universe anyone was going to accept that it is all My Coach Vinny's fault? The general manager and the owner took turns trying to reassure Bulls fans that they are on top of things despite the team's struggles. The bizarre Reinsdorf attempt over the weekend to blame the assistants or perhaps some otherworldly, superhuman shadow coach who controls Vinny Del Negro's every action capped things off nicely. The timing was a bit unfortunate as well, coinciding as it did with the Bulls' first three-game winning streak in many a moon. The men in charge should have waited until this week - the Bulls' schedule is much tougher.
Hawk Tawk
On the bright side . . . the Hawks notched a huge victory at San Jose late Saturday. The Sharks are well out in front off the rest of the NHL in the points race so far this season; the 4-2 decision was only their second regulation loss at home. Jonathon Toews knocked in a couple goals but the guy who clearly makes the biggest difference, the guy who was out of the lineup during the Hawks' rough patch before the All-Star break last weekend, is defenseman Duncan Keith. Given how well the Hawks have played in notching a couple victories in their first three games of their current West Coast road trip, it is becoming ever more clear that Keith is this team's MVP.
-
Jim Coffman brings you the city's best weekend sports roundup every Monday because he loves you. You can write to him personally! Please include a real name if you would like your comments to be considered for publication.
Posted by Beachwood Reporter at 8:53 AM | Permalink
Ginsu Blago
Former Illinois Governor Rod Blagojevich Sells Cutlery to Pay for His Legal Defense
First off, Gladys - may I call you Gladys? - I really want to thank you for inviting me, the former governor elected twice by the people of Illinois, into your home today. It's an honor to have served you, and it will be an honor and a privilege to present to you what I believe is the planet's finest cutlery. Now, I'm not here to sell you anything. I am here to help hardworking families like you to live a little piece of what I like to call "The American Dream." I just want to tell you my side of the story, and why I believe in these knives. I am hoping that this morning you will consider what I would have to say, and who knows, you will give me a chance and believe in these knives, too.
Now, I'm going to give you the truth, the whole truth and nothing but the truth here, Gladys. We didn't always have great cutlery in our home. I want to tell you that up front because I believe in honesty. My wife Patti, well, she's the cook in our house, and she makes a fantastic Thanksgiving dinner. We have turkey, stuffing, cranberries, gravy - you know what I mean, right Gladys? You're a cook, I can tell.
Of course, you know that making the stuffing can be a lot of work. Chopping the celery, the onions, the chestnuts. Patti would labor for long hours using dull knives. Sacrifice for me. For our children. It was painful. That Thanksgiving dinner, I had whole bunch of thoughts about my children, and my wife. And then I thought about Mandela, Dr. King, Gandhi and tried to put it all in perspective. What would they use if they were making a delicious Thanksgiving dinner with all of the trimmings for their children? Would they use some substandard Wüsthof knife set from Crate and Barrel? Gladys, that is when I decided to fight. I fought to get my wife Patti something better. And holy cow, it happened. You know, that's when you've hit something that maybe you never thought you'd have. But we had it. We got it: the planet's finest cutlery. And I was a believer.
Please let me demonstrate. See this tomato? Could an ordinary knife make slices this thin? No. Now trust me, Gladys. This is one sharp knife. Look at it slice through this aluminum can. See? This loaf of bread. Nice, huh? Now I will take a different approach, ruffling feathers here, because most door-to-door knife salesmen would just slice through one sheet of paper to show you how sharp this baby is, but no, not me. I am going to slice through this really big stack of paper. Look at how this knife works! We also have vegetable peelers, carving forks for turkey and ham, and kitchen shears to cut your really tedious vegetables and herbs, like green onions and chives.
Do we sell hair shears? Oh, that's funny, Gladys, and not the first time I have heard that one. No, ma'am, we do not sell hair shears, but maybe we should, and I will pass on your suggestion.
Gladys, I have heard the stories of mothers like you, trying to feed their families. I want to give a mother a chance to chop up some tomatoes and onions and cilantro and make her dead abuela's salsa recipe for her daughter's Quinceañera. Give a Chinese immigrant mother the chance to make her family barbeque chicken and lettuce wraps, an appetizer that you can imagine requires a lot of chopping and dicing. Hopefully allow her to have upward mobility and protect her from those who might want to sell her subprime knives and make it harder for her to chop food for her children. I think about ordinary people I've met along the way a lot. And how I have been able to help them with the planet's best cutlery. It's gratifying, Gladys. It's gratifying.
Okay, maybe I am pushing too hard. Maybe I am fighting too hard here for your American Dream. But this morning, as we sit here at your kitchen table, I am asking you to look at the evidence I have presented here. Look at these knives. Look at what they can do here, and tell me, Gladys, what you think these knives are worth?
Really? That's all? Gladys, these knives are a fucking valuable thing. You just don't give them away for fucking nothing.
No, Gladys. You are taking that out of context. How can you throw me out of your home? I've done absolutely nothing wrong here. Imagine yourself in my place, standing before you. I'm asking you to think about all the good things we've been able to do here. Dice tomatoes. Cut through an aluminum can. Shred a copy of the Illinois Constitution. Give me a chance to stay here so we can roll up our sleeves and continue to do good things. Peel some carrots! Make a pot roast! I haven't even had a chance to show you the cheese knife . . .

Posted by Beachwood Reporter at 8:25 AM | Permalink
Connie's Corner: So Long, See You Tomorrow
To go through the door of memory, you must shrink like Alice in Wonderland; the door is tall and slotted - some light seems to filter in through the cracks. Because you can only see partly, can memory of what happened in your childhood be trusted?
William Maxwell says in his 1980 American Book Award-winning novel So Long, See You Tomorrow, "In talking about the past, we lie with every breath we draw." Even so, his narrator tries to again become the small boy whose world could not return to the normality of tomorrow after being visited by violence and death.
The narrator, whom I'll call William (because he is unnamed in the novel), first meets death in rural 1920s Illinois when his mother dies while giving birth to his younger brother when he was 10 years old. He goes through the first door then: "I had to find an explanation other than the real one, which was that we were no more immune to misfortune that anyone else, and that I had inadvertently walked through a door I shouldn't have gone through and couldn't get back to the place I hadn't meant to leave. Actually, it was the other way around; I hadn't gone anywhere and nothing was changed, as far as the roof over our heads was concerned, it was just that she was in the cemetery."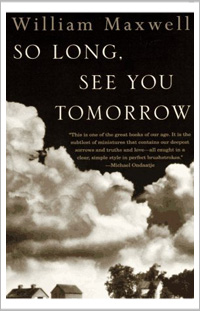 He comes to another door when his father decides to remarry: "What I was looking at was a snake in the act of swallowing a frog that was too large and wouldn't go down . . . it wasn't enough for me, or for my older and younger brother and me, to slip through that door to the way things used to be, when the time came; my mother would expect us to bring my father with us. And if he was married to another woman, how could we?"
All these doors soon become part of a new house that his father is building for his new family. William starts to meet a classmate there, Cletus Smith, to climb the beams and rafters of this house where the walls and floors are thin air that only the imagination can fill in. This house becomes a kind of home for both of them; Cletus has also suffered family loss - his parents are divorced over his mother's adulterous affair with another man, Lloyd Wilson. "We played together in that unfinished house day after day, risking our necks and breathing in the rancid odor of sawdust and shavings and fresh-cut timber." After the last time the two boys part - "so long, see you tomorrow" - Lloyd Wilson is found shot to death with his ear cut off and Cletus' father is missing.
As an adult, William describes a sculpture by Alberto Giacometti called "Palace at 4 a.m."; he sees it at the Museum of Modern Art while living and working in New York City. "It is made of wood, with no solid walls, only this uprights and horizontal beams . . . " Giacometti describes making this sculpture because of dreams he had in which he built this house over sand over and kept seeing his dead mother in it. Cletus Smith and William are separated from their house by a pistol shot, but it remains in their dreams.
The long slope of further disasters engulf both boys in ways both predictable and unpredictable; William Maxwell's prose limns their lives with unshadowed lines. The powerlessness of childhood and the untrustworthiness of adults etch these lines with no room for pity or regret. Security from evil is as fragile as the matchstick beams of the Giacometti scupture.
Have you ever visited the neighborhood of your growing-up and found too may things missing? Maxwell, who wrote this misplaced masterpiece when he was 70 after having a long career as the fiction editor of The New Yorker, tries to fill in the missing pieces. He builds a house . . .
. . . Made of moonbeams and starlight,
Whose lovely stairs and halls can lead
To another now.
-
Previously in Connie's Corner:
* "Heavier Than Air." Nona Caspers creates a tapestry of small towns and chronicles the lives of people living there who have a hard time coming down to earth.
* "Pale Fire." Nabokov creates a novel that doesn't seem to have coherent plot but a story that contains a do-it-yourself kit.
* "Out Stealing Horses." A coming-of-age story that reveals a father's secret life during wartime.
* "An American In Iceland." Answering the riddle: how many Icelanders does it take to change a light bulb?
* "The Physics of the Dalai Lama." How Buddhism squares with quantum mechanics.
* "Finn." Some kind of monster.
* "The Master Bedroom." Betrayal, revelation, metaphor, and a swan in a dirty sheet.
Posted by Don Jacobson at 8:01 AM | Permalink
Springsteen's Super Bowl Suckage
Also posted in Sports as The Beachwood Super Bowl Halftime Bracket, now with comments on Bruce's performance.
*
OK, everyone. It's time for the only Super Bowl wager that really matters: the half time entertainment bracket. It's not actually a bracket, but that sounds more sports gambling-y so I'm going with it.
You don't have to know a thing about football to participate. You do, however, have to know a little about the kind of vaguely wholesome, arena-packing, fully-clothed, non-nipple-baring musicals acts that are invited to play during the part of the Big Game most of us use to go to the bathroom. The rules are simple: choose three songs that will be played by the Super Bowl half time entertainment. Why three songs? Because that seems to be the standard number, other than last year when Tom Petty played his entire back catalog. For the record, Smitty remains the only person ever to go three-for-three, correctly predicting Prince would perform "Let's Go Crazy," "Baby, I'm a Star" and "Purple Rain."
This year's featured artist is Bruce Springsteen and the E Street Band. There's a massive pool of songs from which to choose. Will the Boss go with a few classics or mix in some of his newer material? Will we get anthemic Springsteen, contemplative Springsteen, or some kind of post-Obama celebration of hope?
To spice things up a little this year, you must give your picks in the order in which you think they will be played. As a tie-breaker, predict what Springsteen will be wearing and how many guitars he will use throughout the performance. Get your choices in to me before the Big Game starts to be included.
Winning this bracket doesn't get you much of anything, really. Just bragging rights, and possibly a Beachwood door prize. The Beachwood Media Company reserves the right to reject any entry obviously derived from disallowable research or inappropriate contact with the band or any of its associates. Send entries here and they will be posted. Don't forget the tiebreaker!
-
ENTRY 1. Natasha Julius
1. The Rising
2. Hungry Heart
3. Born in the USA
Bruce will be clad in the classic Born in the USA-era uniform of faded jeans, white T-shirt and red bandanna. He will use two guitars, one electric and one acoustic.
-
ENTRY 2. Marilyn Ferdinand
1. Born to Run
2. The Wrestler
3. My Lucky Day

Blue jeans, white t-shirt (maybe with Obama image), black denim vest. Two guitars - one electric, one acoustic.
-
ENTRY 3. Jeff Ruby
1. Dancing in the Dark
2. The Wrestler
3. Born to Run
He will dressed all in black, with a shirt unbuttoned one button too many so you can see some kind of necklace and chest hair. Two guitars - one electric, one acoustic.
-
ENTRY 4. Eric Cup
1. Dancing in the Dark
2. Born to Run
3. Rosalita

White t-shirt, black boots. One guitar.
-
ENTRY 5. Matt Gamewell
1. Thunder Road
2. My Lucky Day
3. Born to Run/Born in the USA medley
Jeans, black shirt, black boots. Alas, no Blago wig. Two guitars.
-
TIEBREAKERS, PEOPLE! What he'll be wearing, how many guitars.
-
ENTRY 6. Scott Buckner
1. Born to Run
2. Glory Days
3. Born in the USA
Unbuttoned button-up shirt with the short sleeves rolled up way too high and tight, jeans, and boots. He'll go with one guitar, an electric.
-
ENTRY 7. Steve Rhodes
1. The Rising
2. The Wrestler into that 50s medley he used to do including Devil With The Blue Dress On
3. Born to Run
White shirt, rolled up sleeves under black vest; necklaces a la what Ruby said. Cowboy hat. One guitar: the Telecaster.
-
ENTRY 8. Jeanette Pesnikov
1. Working on a Dream
2. My Lucky Day
3. Born to Run
Black shirt with the sleeves rolled up, unbuttoned halfway down his chest and faded blue jeans. Two guitars - acoustic and electric
-
ENTRY 9. Mike Knezovich
1. Cover Me
2. The Rising
3. Born to Run
Black jeans, black denim jacket. Two guitars.
-
ENTRY 10. Eric Emery
1. Pittsburgh Steelers Polka
2. Here We Go Steelers (2008 Edition)
3. The Steelers Better Win Or I'm Going To Be Hung Over On Monday.
-
ENTRY 11. Stephanie Goldberg
1. Rosalita
2. Thunder Road
3. Born to Run
-
ENTRY 12. Kelly the Counter
1. Born to Run
2. Glory Days
3. Dancing in the Dark
White t-shirt, black boots and one guitar.
Extra: He will pull Courtney Cox up on stage for Dancing in the Dark.
-
ENTRY 13 (A-E). Spencer Maus
A. City Themes
1. Streets of Philadelphia
2. Atlantic City
3. Viva Las Vegas
Bus driver's uniform with black work shoes.
*

B. Sports Theme
1. Glory Days
2. Theme from The Wrestler
3. Born to Run (I know it's a stretch)
Football jersey, jeans, tennis shoes.
*

C. "I really want to be Johnny Cash"
1. Walk the Line
2. Folsom Prison Blues
3. Born in the USA (has to sing one of his own)
Black jeans, black shirt open to reveal a black undershirt, black bandana, black socks, black cowboy boots.
*

D. "I really miss Courtney Cox"
1. Dancin' in the Dark
2. Tunnel of Love
3. Hungry Heart
Tuxedo, cummerbund, bow tie, black patent leather shoes, black socks, no shirt.

*
E. "I always wanted to be on Broadway"
A medley from Jersey Boys, Mama Mia and Thriller (now playing in London).
Numerous costume changes with one wardrobe malfunction
-
ENTRY 14. Tom Gaines
1. Born in the USA
2. Working on a Dream
3. The Rising

A very Born in the U.S.A. look: blue or black jeans, bandana, white t-shirt, black leather jacket.
-
ENTRY 15. Michelle-Renee Perkins
1. Born to Run
2. The Wrestler (I would like to hear The Rising AGAIN! There may be a Bruce/E Street Band medley!)
3. Born in the USA
"The Bruce" will be wearing black jeans, boots and a black shirt. Mickey Rourke will sing back up.
-
ENTRY 16. Sarah Cunningham
1. Girls In Their Summer Clothes
2. Badlands
3. Born to Run
Blue jeans, white t-shirt. Two guitars.
-
ENTRY 17. Cathy Haibach
1. Promised Land
2. My Lucky Day
3. Born in the USA
I think he will start off the set with a song he played at his Obama concerts, one that acknowledges the President's success. The second song will be one off of his new album, and I'm taking a total shot in the dark with "My Lucky Day" because I haven't heard it, but this one seems to have a relevant message. And he will end with "Born in the USA," which I'm guessing on even though IMHO it's one of the most boring and repetitive songs he ever wrote, because he'll think he needs to reassure the Republicans who can't believe that he played Obama concerts that he is really a good American after all, so they will buy his new record with "My Lucky Day" on it.
He will use two different guitars and a harmonica. He will be wearing a white T-shirt and jeans, which one of his dancers will rip off by mistake revealing a red bandana G-string. And also he will end his set with the words "Thank you."
-
ENTRIES ARE NOW CLOSED.
-
Bruuuuuuuuce!
Commentary by Steve Rhodes.
1. Tenth Avenue Freeze-Out
COMMENT: Um, what? Nobody picked this. A feel-good opener, but a strange tune to go back to in 2009.
2. Born to Run.
COMMENT: You'd think this would be the song he'd wrap things up with. Or open with.
COMMENT: Prince was way better. This is nothing.
COMMENT: Too many fireworks. Cheesy boring fireworks.
3. Working on a Dream.
COMMENT: And now a new song that pales dramatically in comparison to the last two. He ought to have done that Pepsi commercial, not Dylan.
4. Glory Days.
COMMENT: Some people did pick this, and it works. But he's cheesing it up. The band doesn't sound good. It might as well be a crappy cover band. Paging Prince!
COMMENT: They really need that many people on stage to play such a thin-sounding version of this song?
COMMENT: Oh my Lord! That referee just ruined Bruce's entire career. This is a mockery.
COMMENT: Oh please! Is that it? That sucked!
COMMENT: That just totally sucked.
*
TIEBREAKERS: Black shirt with sleeves rolled up under a black vest. Medallion necklace thingie. Black jeans; black boots. One guitar: the Telecaster.
-
THE JUDGES ARE NOW REVIEWING THE ENTRIES. A WINNER WILL BE ANNOUNCED SHORTLY.
-
AND THE WINNERS ARE . . .
Honorable Mention: SPENCER MAUS. Spencer picked Born to Run and Glory Days in his Sports Theme entry, and while Bruce was not wearing a football uniform, a referee did run on stage.
Co-Runners Up: JEANETTE PESNIKOV AND KELLY THE COUNTER. Jeanette picked Born to Run and Working on a Dream, while Kelly picked Born to Run and Glory Days. In the tiebreaker, Jeanette had the black shirt, but erred with blue jeans and two guitars. Kelly had block boots and one guitar, but erred with the white t-shirt.
Winner: SCOTT BUCKNER! Scott picked Born to Run and Glory Days. He won on the tiebreakers by picking a button-up shirt, jeans and boots, with one guitar.
PRIZES
To redeem your prizes, each of the four medalists should send us their mailing address. We will publicly announce what they've won once the prizes have been delivered. Thanks for playing, everyone!
Posted by Beachwood Reporter at 7:13 AM | Permalink
Chicagoetry: Pigeon
PIGEON
I scanned a bronze and teal pigeon at loiter on the black snow.
I blanched at reports from a pistol in the alley.
I remain enhanced, wait, enchanted
By the night skyline
Pixelated
On the
Bleak
Black
Lake.
-
J. J. Tindall is the Beachwood's poet-in-residence. He can reached at jjtindall@yahoo.com. Chicagoetry is an exclusive Beachwood collection-in-progress.

Posted by Beachwood Reporter at 1:25 AM | Permalink