« April 2006 | Main | June 2006 »
May 31, 2006
A Trademark Checklist
"This Trademark Checklist is a handy guide to some of the best known federally registered U.S. trademarks. This list is a sample of the International Trademark Association's (INTA) list of nearly 3,000 trademarks and service marks with their generic terms."
747 airplanes and structural parts thereof
Absolut vodka
Academy Awards annual award program
Ajax soap and household cleaner
Atkins Diet food supplements
Balderdash word and board games
Band-Aid adhesive bandages
Black Hawk military helicopter
Blistex medicated lip ointment
Bon Bons ice cream
Books On Tape pre-recorded audio cassette tapes
BOTOX injections for pharmaceutical and cosmetic purposes
Brita water filtering units
Bubble Wrap cellular cushioning packaging material
Budget renting and leasing of motor vehicles
Butterball poultry
Craftmatic electric adjustable bed
Diet Coke soft drink
Doc Martens footwear
Dockers clothing, footwear, accessories
Dogpile online search engine
Dreamweaver computer software
Duraflame artificial fireplace logs
eBay online auction services
Egg Beaters egg substitute
Electrolux vacuum cleaners and parts
Express Mail delivery services by mail
E-Z-Pass collection of tolls using an electronic system
Febreze fabric deodorizer
Filofax loose-leaf diaries and agenda books
Frigidaire appliances
Frisbee toy flying saucer
Gardenburger vegetable-based meat substitutes
Glow Stick toy lightsticks
Glucometer blood glucose meters & reagents
iTunes audio data computer software
Jaws of Life rescue tools
Jeep all-terrain vehicles
Kleenex tissues, napkins
Laundromat electric laundry washers
Lycra spandex fibers
Mach3 razors, razor blades
MapQuest online access to geographic information
McAfee computer virus software
MetaCrawler online search engine
Metallica entertainment services, clothing, stickers
MetroCard magnetically coded metro fare cards
NASCAR National Association for Stock Car Autoracing, Inc.
Netflix video rental and retail services
Nexis data storage and retrieval
Outlook computer programs
Palm personal and handheld computers
Phish Food ice cream
Photoshop computer software
Ping-Pong game played with rackets and balls
Pixar entertainment services in the field of film and television
Plasticine modeling paste
Play-Doh modeling compound
Realtor member of the National Association of Realtors
Red Cross charitable fundraising blood banks
Red Hots candy
Retin A acne preparations
Ritalin stimulant (methylphenidate)
Rite Aid retail drug stores services
Sheetrock plaster wall board
Silly Putty modeling clay
Spark Notes study guides in the field of literature
Spinning stationary bicycle training and instruction
Sterno solid fuel
Tae Bo instructional teaching services for aerobics & martial arts
Taser non-lethal firearm
Teflon fluorine-containing resins, coatings
Telecopier fax machines
Thermos bottles, jars, decanters, flasks
TiVo subscription television broadcasting services
TLC cable television network broadcasting services
U-Haul truck and automobile trailer rentals
VirusScan computer programs for data integrity and security
WebCrawler online search engine
Wite-Out correction fluid
Xbox video game system
Posted by Beachwood Reporter at 4:48 PM | Permalink
The [Debate] Papers: Gloves Off in Gov Debate. Brains, Too.
The first gubernatorial debate between Gov. Rod Blagojevich and challenger Judy Baar Topinka - broadcast last Sunday on Dick Kay's City Desk - was a truly weird and disturbing affair whose freakishness was nowhere near adequately captured by the media covering it.
Perhaps intent on providing a "balanced" account rather than a true one - and enthralled by a real, unscripted debate in which the challenger actually, um, challenged the incumbent - the media reports focused on the fact itself that a debate actually broke out at a debate rather than examining the incredibly lame and reckless behavior of the participants.
Personally, I found myself wondering at times if Judy Baar Topinka was doing lines of coke during the commercial breaks or was simply overly mindful of advisors urging her to attack, attack, attack. The unhinged Topinka, who by the way is the state treasurer, and a Republican, reminded me of one of those cranky old folks who rise to speak during the public comments portion of city council or school board meetings and is so incensed about her complaint of the day that she can't spit out a coherent sentence. She made me wonder if our state's money was really safe with her.
On the other hand, I found myself wondering at times if the pouty Blagojevich was going to cry as he pleaded with mom that he really had been a good boy.
Is there still time for someone not named James Meeks to make a third-party run?
And yet, I find it incredibly easy to declare a winner amidst the hijinks.

If only by default due to Topinka's incredible lack of preparation combined with a complete lack of anything constructive to say, I have to give it to Hot Rod.
(You can see the debate for yourself here.)
It's still not clear whether Topinka really wants to be governor, and if her campaign so far is any indication, she has no plans for what she would do in the office for four years except moan about what a bad a job Blagojevich did.
I say that as someone who is not exactly a huge fan of the governor. I wrote during the primary campaign of 2002 that he was a phony, empty suit. I still believe that. In Paul Vallas - someone whose record as head of the Chicago schools was decidedly mixed in my view - we would have nonetheless had a governor who was an expert in education and budgets who also had experience as a chief executive running a calcified bureaucracy. I can hardly think of a better fit of candidate to job, but that's ancient history.
Now we face the prospect of four more years of the Boy Governor or four years of the Crazy Aunt in the Attic.
I was scoring the debate at home. This is how I sized up the action.
ROUND ONE: MONEY
Topinka sets the tone for her approach early by casting aspersions without having facts. She struck me as a tabloidish candidate who I'm pretty sure will at some point question the governor's marriage and spout off about Dick Mell with no regard to what she actually knows versus what she infers through the press.
Topinka says the governor is "just loaded with money, which is probably a question in itself."
Which would be a fine line of attack if she were, say, proposing campaign finance reform. She's not. She would take the Blago campaign's bank account in a heartbeat. So her real complaint is that he's been able to raise a ton more money than she has been able to raise.
Blagojevich, on the other hand, deflects the conversation away from his finances to the finances of the state, talking about "the mess we inherited." It's been four years, Rod. Yes, you inherited a mess from George Ryan. Get over it. Time to move on.
SCORING: Half a point for Blagojevich - or, rather, deduct half a point from Topinka.
Blago 0. Topinka -1/2.
ROUND TWO: MINIMUM WAGE
Topinka says Blagojevich's plans to increase the minimum wage will be "another broken promise. There is no minimum wage increase coming around."
Wow. That's pretty bold. I'm not so sure he won't be able to do it - he did it in his first term, raising it from $5.15 to $6.50 - but if he can't do it again, isn't that more likely to be the fault of the General Assembly?
Meanwhile, what is her position on a minimum wage increase? She's against it.
Unasked question: Ms. Topinka, where would you set the minimum wage if it was up to you?
SCORING: Blagojevich may be full of broken promises, but to use his proposal to increase the minimum wage to try to make that point isn't very good politics. Point for Blagojevich.
Blago 1. Topinka -1/2.
ROUND THREE: GUNS
"We have enough gun laws on the books, so why bother?" says Topinka. "Guns are already illegal now . . . Enforce the gun laws we have and we'll be in good shape. There's more than enough laws on the books."
Blagojevich counters by informing his opponent that AK47s, Uzis, and other assault rifles remain legal in Illinois.
Memo to Topinka: You can be against "gun control" while agreeing that AK47s and Uzis probably shouldn't be available to any aggrieved mope who struts into a Cicero gun shop. And showing a little compassion for those whose families and neighborhoods have been torn apart by gun violence wouldn't hurt either.
More importantly, Ms. Topinka, is enforcing the gun laws more stringently your only answer? Do you really think that will be enough? How do you intend to strengthen enforcement? Are you saying police officers are doing a lousy job enforcing the current laws?
SCORING: A no-brainer. A point for Blagojevich, and a half-point deduction for Topinka.
Blago 3. Topinka -1 1/2.
ROUND FOUR: SLEAZE
Seriously, is Topinka loaded? She's starting to just throw out names and phrases with no explanation to viewers - and often no verbs either. "Talked to Tony Rezko lately?" she asks the governor. Maybe only insiders watch City Desk - well, let's face it, only news geeks watch it - but any members of the public at-large watching by accident might not get the reference. They aren't stupid, they just have jobs.
Now, I happen to believe that the governor's association with folks like Tony Rezko, just one controversial member of Blagojevich's kitchen cabinet who appears to be in the sights of federal investigators, could blow up before the election. But running a smear campaign isn't the best way to score political points - the facts themselves are disturbing enough.
Blagojevich, ever the smooth-talker, shows Topinka how it's done. In questioning Topinka's practice of collecting campaign contributions from state employees, including her own, as well as collecting contributions from banks in which she deposits state money, Blagojevich says, "I'm not suggesting it's illegal, that's for others to decide." And then he suggests it's, well, if not illegal, certainly wrong.
Topinka, astonishingly, responds by claiming that Blagojevich is the most investigated governor in the history of Illinois. Has Topinka been frozen since the day of George Ryan's inauguration? In fact, Ryan was probably the most investigated governor in state history even before he actually became governor, given his criminal tenure as secretary of state.
Topinka also says that because the FBI has interviewed Blagojevich he must be in "hot water." Well, that certainly could be true. I think he's in trouble. But an FBI interview alone isn't sufficient to make the charge. There are plenty of reasons why the FBI would be interested in interviewing the governor, given the type of cases involving the administration that federal prosecutors are pursuing.
But Topinka doesn't stop there. She says it's a matter of "when, not if," Blagojevich will be indicted. I'd say it's still a question of "if." Unless Topinka has some inside information she'd like to share with the class, she might want to stick with what she knows, not what she hopes for.
Is this the kind of person we want to be governor? Someone of this temparament and disregard for facts who can't keep her mouth shut?
And again, what does Topinka propose? Where is her ethics package? Blagojevich did pass one, whatever you think of it.
Not only that, but Topinka is now interrupting both Blagojevich and Dick Kay repeatedly. It's aggravating.
Blagojevich, on the other hand, is missing a chance to rise above her peculiar performance by keeping his cool. Instead, he looks like the schoolboy being scolded by the mean, old, teacher.
Wait, she's not done!
"He's the new George Ryan!"
If only Blagojevich's comeback was: "And you're the old one!"
Topinka is going to have a hard time distancing herself from Ryan given that she was the chair of the Illinois Republican Party during Ryan's last two years as governor. (And in that capacity, she oversaw the wildly successful back-to-back Senate nominations of Jack Ryan and Alan Keyes.)
Who let all these morons in here?
SCORING: I can't give Blagojevich any points, and in fact, I deduct a point for his Little Boy Lost routine. Topinka, meanwhile, has not only every right, but a duty, to press Blagojevich on the ethical concerns of his administration. She'd be better off, though, trying the direct approach. "Governor," she should ask, "will you look into the camera right now and say you did not exchange seats on state boards and commissions for campaign contributions? Governor, will you say that donors received nothing in return for their money but your honest service - no jobs, no contracts, no access? Will you swear to us right now that this is true?"
But that's not what Topinka did. Instead, for a brief moment, she morphed into Andy Martin, earning a five-point deduction.
Blago 2. Topinka -6 1/2.
ROUND FIVE: PENSIONS
Don't roll your eyes, this is really about balancing the state budget. Actually, yes, roll your eyes.
Suffice to say, Blagojevich, who, in case you forgot, inherited a mess, has used smoke-and-mirrors to balance the budget. But Judy, where is your budget? What would you have done differently if you had been governor? What taxes would you have raised? None? Then what programs would you have cut?
SCORING: If you run as a candidate of change, you have to offer change. Topinka has yet to offer anything. No points for anyone. And no dessert.
Blago 2. Topinka -6 1/2.
ROUND SIX: EDUCATION, HEALTH CARE, ECONOMY
Blagojevich keeps insisting he wants to talk about these topics. And I believe him. But it would just turn into a stump speech for him. After all, he can't attack Topinka's positions on these issues because she doesn't have any.
Topinka says Illinois is 46th in job creation, though later she seems to amend that to saying Illinois is in the "46th percentile" - of something. Blagojevich says the state ranks fourth in the nation in job creation.
Blago attacks Topinka for saying on her Website that her office created 100,000 jobs. (The Treasurer's Office creates jobs? I mean, besides for friends and family?)
Topinka says that might be a "misprint."
Topinka rips Blagojevich's plan to sell or lease the state lottery to fund school improvements. Blago asks where her education plan is. She says it's coming this summer.
Apparently, up to now, she hasn't really thought about education. She says she's "not in a rush." She spits out the words "mentoring" and "high-tech."
Blagojevich and Dick Kay, in effect, say to her, You've been a state legislator for 23 years, a treasurer for 11 years, and a candidate who has already gone through a primary and you don't have an education plan?
Kay: Would you scuttle the governor's plan?
Topinka: No, some of his ideas are very good.
Okay, then.
"Most investigated! FBI! Public Official A!"
Whoa, where did that come from? Is she stuck on some sort of tape loop?
SCORING: No points for Blagojevich because he's only doing his job, and not very well at that. But Topinka fumbles badly on her insistence that businesses are fleeing the state because of high taxes (isn't that from a really old Republican script, circa 1983?) and no plan whatsoever for our state's schools, to go along with the rest of her no plans. Minus five.
Blago 2. Topinka -11 1/2.
And that's being charitable - to both of them.
Posted by Beachwood Reporter at 3:11 PM | Permalink
Bob Dylan Plays Ball
We're getting to know the inscrutable Bob Dylan a little better each week as his Theme Time Radio Hour continues through its first month on XM Satellite Radio. Not that he gives us any heart-to-heart, Oprah-style public soul-searching, and that's probably a good thing, all told. I'm really past the point of caring about that anyway - whatever I may discover now about how he thinks isn't going to change my life like it may have 30 years ago. In fact, it could probably only lower him in my estimation, and God knows I need to hang on to whatever tattered bits of idealism I have left from my so-called youth.
Instead, Bob continues to let us know him through poetry and music. That's how it should be. After theme shows about the weather, mothers, drinking and now baseball, I'm really beginning to think Dylan is just a regular ol' guy at heart. Mom? Booze? Baseball? Hell, sounds like my life. After listening to his shows, I'm becoming convinced that Dylan's godlike aura came about largely because of his refusal to deal with the voracious publicity machine rather than from any kind of mystical superiority. (See? That's just the kind of thing I didn't need to know, dammit! I want to worship my heroes, not go bowling with them!)
However, I'm finding my attempts at describing Dylan's radio shtick to be insufficient. Nothing I can say can quite capture it. So I'm going to just give up and let those of you who are too cheap to go out and get XM Radio for yourselves to read a transcript of his baseball theme show in late May.
The show opens with Dylan speaking the lyrics:
"Nelly Kelly loved baseball games,
Knew the players, knew all their names,
You could see her there ev'ry day,
Shout 'Hurray' when they'd play.
Her boyfriend by the name of Joe
Said, 'To Coney Isle, dear, let's go,'
Then Nelly started to fret and pout,
And to him I heard her shout.
(Dylan sings)
"Take me out to the ball game,
Take me out with the crowd.
Buy me some peanuts and Cracker Jack,
I don't care if I never get back,
Let me root, root, root for the home team,
If they don't win it's a shame.
For it's one, two, three strikes, you're out,
At the old ball game.
(back to reciting)
"Nelly Kelly was sure some fan,
She would root just like any man,
Told the umpire he was wrong,
All along, good and strong.
When the score was just two to two,
Nelly Kelly knew what to do,
Just to cheer up the boys she knew,
She made the game sing this song.
". . . and I just sung it fer ya."
1. Skeletons. "Take Me Out to the Ballgame"
Stepping up to the batters box first, we got Miss Mabel Scott. She played for a while with the Jimmie Lunceford Orchestra and was a regular at the Club Alabam in Los Angeles. She sang with a group led by Lorenzo Flennoy. In the early '50s she moved over to King Records where she sang this song about the greatest game on Earth.
2. Mabel Scott. "Baseball Boogie"
Can you catch? Can you hold the ball? When you step up to the plate, will you swing and foul? Baseball Boogie, by Mabel Scott, on Theme Time Radio Hour.
3. Chancy Halladay. "Home Run"
In the '50s, every red-blooded American boy either wanted to play baseball or be Elvis Presley. Here's a rockabilly song by Chancy Halladay that combines the best of both worlds.
Knockin' the cover right off the ball, that was Chancy Halladay stepping right up to the plate, hittin' a grand slam, sweepin' ya off your feet, scoring a home run with ya, and with me too. "Home Run," on Theme Time Radio Hour.
I caught up with Charlie Sheen at the Car Wash. He's a big baseball fan, and he's got a lot of opinions about the game.
(Short interview with Charlie Sheen comparing baseball to life)
(Tape of Curt Gowdy's call of Ted Williams' final at-bat - a home run)
4. Johnny Darling. "Baseball Baby"
A little doo-wop from the King record label telling us all about a baseball baby.
5. Lawrence Ferlinghetti. "Baseball Canto"
Next we have a "Baseball Canto" by Lawrence Ferlinghetti, a well-known poet who lived in San Francisco. He started the City Lights Bookstore. His publication of Allen Ginsberg's Howl in 1956 led to his arrest on obscenity charges. He was a brave man and a brave poet.
Watchin' baseball, sittin' in the sun, eatin' popcorn,
Readin' Ezra Pound
And wishin' Juan Marichal would hit a hole right through the
Anglo-Saxon tradition in the first canto
And demolish the barbarian invaders.
Well, why I don't let Larry say the rest of it?
6. Cowboy Copas. "Three Strikes and You're Out"
Here's Cowboy Copas, a honky-tonk singer from the late '40s. He was making a comeback in the early '60s when he died in the same air crash that killed Patsy Cline and Hawkshaw Hawkins. Three strikes and you're out. Here he's talkin' about love being like a game, where if you don't win, you can pout, you can make three strikes and you're out.
7. Sister Wynona Carr. "The Ball Game"
If diamonds are a girl's best friend, why do so many of them get mad when you want to go to the ballpark? You tell me. Sister Wynona Carr was a powerful gospel singer. She also recorded some rhythm and blues numbers. Her best known, however, is a gospel song and it's all about the game of baseball.
That's Sister Carr talkin' about life being a ballgame, where every day anyone can play, and Jesus is at the home plate, at first base is temptation, second base is sin, third base is tribulation and King Solomon is the umpire. Satan's trying to psyche you out and Daniel is up at bat, Satan pitches a fastball and Job hits a home run. You got to just swing at the ball, give it your all, Moses is on the sidelines, he's waitin' to be called.
8. Buddy Johnson Orchestra. "Did You See Jackie Robinson Hit That Ball?"
Next we have Buddy Johnson with his jump-blues song, "Did You See Jackie Robinson Hit That Ball?" He's talking in the song about Satchel Paige and Roy Campanella, Don Newcombe and Larry Doby, too. Singing about, "yes, boy, yes, Jackie can hit that ball, did you see Jackie Robinson hit that ball?" I don't know, I wasn't there, but I sure feel like I was.
The man who broke the color line in the major leagues.
9. Les Brown. "Joltin' Joe DiMaggio"
You know, Abbott & Costello said that many baseball players have funny names.
(excerpt from "Who's on First?" routine)
But they also have funny nicknames. Ted Williams was known as the Splendid Splinter. Babe Ruth, the Sultan of Swat. Ty Cobb was known as the ol' Georgia Peach. Let's not forget Mordecai "Three Fingers" Brown. And the Yankee Clipper, Joltin' Joe DiMaggio. And while we're on the subject of Joltin' Joe, let's hear a song about him, featuring Les Brown and his Band of Renown, and Joltin' Joe makes a little guest appearance himself.
10. Billy Bragg & Wilco. "Joe DiMaggio's Done it Again"
Here's something by Billy Bragg and Wilco, from the album Mermaid Avenue, where they take the unfinished lyrics of Woody Guthrie and add music to them. Woody Guthrie, of course, was the dean of American folk artists. At the time of his death in 1967, Woody left behind some 2,700 unfinished songs. The lyrics about New York streets, film star idols, drinkin', lovin', dyin' and even spaceships were chosen because they presented a completely different aspect from Woody's public persona. Here's a song that Woody wrote about Joltin' Joe, the Yankee Clipper.
11. Teddy Reynolds. "Strike One"
We heard about Jackie Robinson earlier. This song here is about Don Newcombe. Don Newcombe really throws that ball, he winds up and throws it. He was a 6-foot-4, 225-pound fireball thrower. The only baseball player to have won Rookie of the Year three times in a row.
12. Sonny Rollins. "Newk's Fadeaway"
Sonny Rollins used to have the nickname "Newk" 'cause everyone thought he looked like Don Newcombe. Here's tenor saxophonist Sonny Rollins with his song, "Newk's Fadeaway." There's a big-league sound, covering all the bases, "Newk's Fadeaway."
13. Treniers. "Say Hey"
Alright, Cliff and Claude Trenier were twin brothers who sang with a bunch of lounge bands but branched out into rock and roll. Here they have a special guest with them by the name of Willie Mays, on their song, "Say Hey," from the Okeh Records label.
Let's check out the e-mail basket, but don't throw us a curve. Today's e-mail is from Jamie Christensen of Las Vegas, Nevada. She writes, "Dear Theme Time, I enjoy listening to the ballgames late at night. My boyfriend says the radio keeps him up. What should I do?" Well, Jamie, you should do what I used to do. When I was supposed to be asleep, I'd take the bedside radio and slip it under my pillow, press your ear close to the pillow, which is what you're supposed to do with pillows, anyway, and listen to the second game of the doubleheader, without bothering anyone else in the house. Millions upon millions used to do the same thing back when radio was king. And I hope you still do that with Theme Time Radio Hour, your private pillow pal. Thanks for your letter. Press your ear up close to the pillow, Jamie.
14. Sam Bush. "The Wizard of Oz"
Osborne Earl, that's his name, brought a whole new level to the game. That was Sam Bush. Sam is a great fiddle and mandolin player, a big session man over there in Nashville, and he's a big baseball fan. We're talkin' about Ozzie. No, not that Ozzie. We're talking about the Wizard of Oz, the MVP, Osborne Earl Smith. He was elected to the Baseball Hall of Fame in 2002. In 2003, he was inducted into the St. Louis Walk of Fame. And this year, he was played on Theme Time Radio Hour.
15. Ry Cooder. "Third Base Dodger Stadium"
16. Damn Yankees. "Heart"
Got to have heart. Got to have a lot of things. Got to have something on the brain. Got to have correct postage. You gotta have a dog you can trust. You got to have a dry hat and your lawyer's phone number. Got to have your girlfriend's credit card. You got to have it all together. You've got to have room to move. You got to have what it takes. You've got to have a hot meal and a warm place to sleep. You got to have heart. From the original soundtrack of Damn Yankees.
Well, that's it for another show, I'm going to head back to the dugout. See if I can find myself a relief pitcher. See ya again next week on Theme Time Radio Hour, the field of dreams, schemes and themes.

Posted by Beachwood Reporter at 11:35 AM | Permalink
The [Wednesday] Papers
Are you excited about the new Treasury chief nominee? The Tribune editorial board sure is. They love Henry Paulson Jr.. Normally I wouldn't weigh in on such a thing, but the Tribune's love letter to Paulson this morning was so off the mark it bears close analysis. Stay with me on this one.
"President Bush's nominee to be the next treasury secretary has a history of speaking truth to power," the Tribune opines. "We'd like to think that comes from the more than 20 years that Goldman Sachs Chairman and CEO Henry Paulson Jr. spent in Chicago, a town that likes bluntness.
"Bush's two prior treasury secretaries - the chief spokesmen for the president's economic and tax policies - didn't have Paulson's top-drawer reputation. It was clear from the get-go that Bush's first treasury secretary, Paul O'Neill, never really bought into the Bush economic program, particularly tax cuts; O'Neill oddly let himself become a Cabinet back-bencher during a war.
"The second, John Snow, who resigned Tuesday, was ineffective - even sour - when he was sent out to sell Bush's bold plans for revitalizing Social Security and the tax code."
I would take issue with the notion that the job of Treasury Secretary is to be a press secretary, but let's skip over that and get to the heart of the matter.
Paul O'Neill didn't have a top-drawer reputation? He was the widely-admired CEO of Alcoa. But don't take my word for it. A January 2001 editorial in the . . . Chicago Tribune . . . described O'Neill as "blunt-speaking," you know, just how Chicago likes it. In fact, the editorial was titled "Listen To Truth-Teller At Treasury."
Not only that, but the central theme of the editorial was that O'Neill had stated an uncomfortable truth at his confirmation hearing, one the paper said "President George W. Bush has yet to acknowledge: That big tax cut package Bush made the centerpiece of his campaign won't do much to boost a slowing economy."
Now the paper complains that O'Neill "never really bought into the Bush economic program, particularly tax cuts."

But back in 2001, the Trib editorial page wrote that O'Neill's economic priorities were "precisely" right, and that "the last thing President Bush should do is jerk the nation back into the dreary era of federal budgets scripted in red."
(Also, what does it mean to say, as the Trib edit does, that "O'Neill oddly let himself become a Cabinet back-bencher during a war"? What should O'Neill have done as Treasury Secretary, issue war bonds? And how is one simultaneously a back-bencher and one who is too outspoken, which got him fired? And how did the Tribune editorial board feel about the truth-telling of O'Neill's The Price of Loyalty? I'll tell you how. In a 2004 editorial, it disparaged O'Neill's central revelation - that the president was trumping up a case to invade Iraq from the moment he got into office - as old news.)
Now let's move on to John Snow: Again, the biggest criticism of Snow was his, well, bluntness, particularly in stating that the number of job losses suffered under the Bush presidency was a myth, and that the outsourcing of American jobs was good.
But to lay blame on Snow for also failing to advance the president's agenda, as the Tribune does, might lead cooler heads to consider whether it has been the president himself who has failed.
But then, the Trib editorial board is all over the map on this one. For example, the paper stated in a 2002 editorial that the job of the then-incoming Snow was "to make the president's case that tax cuts would spur economic growth" - just a year after it praised O'Neill for taking exactly the opposite tack.
At the same time, the Tribune noted that Snow was not a supply-sider and in fact was a strong critic of budget deficits.
In other words, Bush - the MBA president - twice named Treasury secretaries who were fundamentally in opposition to his economic program. And in both case, the Tribune editorial page praised the picks but later turned on them - just like the president.
This time around, the Trib is pleased as punch that Henry Paulson is so rich that he "doesn't need this job."
I'm not sure there has ever been a Treasury Secretary who "needed" the job. And certainly, O'Neill and Snow were really, really, really rich too.
In fact, the Trib gets the equation exactly backward. The job was so wanting it desperately needed Paulson. "Mr. Bush has been looking for months outside his circle but has had trouble finding someone who wanted the post so late in his term and in such an embattled administration," the Wall Street Journal reports, in just one of many accounts describing the difficulty of finding someone wanting to be the next Secretary of the Treasury of the United States of America.
Not only that, but Paulson may be the most reluctant Treasury Secretary in history. It has been widely reported by now that he had to be aggressively recruited to take the job. His arms must still be sore from all the twisting.
"Mr. Paulson accepted an invitation to have dinner with Mr. Bush in mid-April but then cancelled because he didn't want to lead the president to believe he would take the job, according to a person close to him. Among his concerns was that Treasury secretaries in this administration have had relatively little power," the Journal says. Backbenchers!
"Mr. Bush and Mr. Paulson met at the White House on Saturday, May 20. Mr. Paulson was still reluctant - but relented the next day."
It seems to me that we're in for more of the same, no matter what assurances Bush gave Paulson about how much flexibility he would have to do his job honestly. Consider this passage from The New York Times this morning: "Like Mr. O'Neill, Mr. Paulson has strong views on economic policies that support balanced budgets, which may not match with the Bush administration policies that have contributed to historic budget deficits."
Skyway to Heaven
Of course, we don't know if city workers put extra toll collectors on the Skyway to make sure the mayor didn't have to wait on his return from weekends at his Michigan cottage because the mayor ordered it (unlikely) or because they were just being tiny men (likely), but more significant is the absolute absence of any coherent defense of the mayor's boys at the Sorich trial.
Judging by the Tribune's account today, the defense has stumbled badly.
"[Defense lawyer] Cynthia Giachetti on Tuesday suggested that [former Streets and San personnel director Jack] Drumgould was so desperate to find toll collectors that he gladly took recommendations for new employees from a variety of people.
"Drumgould responded that he received plenty of names of people to hire from the mayor's office and from then-Streets and Sanitation Commissioner Al Sanchez, a leader of the pro-Daley Hispanic Democratic Organization."
Oops.
"Sorich's attorney, Thomas Anthony Durkin, pointed out that Drumgould received immunity from prosecution in exchange for his testimony even though he was involved in the alleged corruption."
[Um, you got immunity because you were in on it with my client? Doesn't that acknowledge his client's guilt?]
"You never violated a criminal statute?" Durkin asked.
"Drumgould responded that he had not but he acknowledged violating the federal Shakman decree, which prohibits political influence in hiring and promotion for most city jobs."
Oops.
Durkin tried the old but historically ineffective line that political hiring has long been a fact of life around here but is only now being prosecuted as a crime. He then tried to ask questions about the hiring policies of the late Mayor Harold Washington, who has not been charged in the case.
"Outside the presence of the jury, [U.S. District Court Judge Robert] Coar told Durkin he was 'getting way beyond what's reasonable here' and told Durkin some of his theories 'are beyond far-fetched.'"
Or, perhaps better said, it's the same defense George Ryan's lawyer, Dan Webb, tried without the style. And it's heading toward the same conclusion.
The best hope for the defense is that there is an recalcitrant juror on the panel. Or that we'll soon see the criminal backgrounds of the jurors exposed and the case will be thrown into a tizzy. But even that didn't work for Ryan, a slim chance at a successful appeal notwithstanding.
Wi-Fi Sigh
Huh. The Sun-Times published a press release from the mayor's office and accidentally put the name of one of their reporters on top of it.
But seriously, wouldn't it be great to have city-wide Wi-Fi?
Sure. But isn't it also a bit more complicated than the early reports? For example, where will the points of corruption be? Because this is Chicago; we know it will happen. Which of the mayor's pals are already setting themselves up for a slice? Who will get the contracts?
Beyond that, what kind of service will we get - will it be like cable TV? Or cell phones? Will the service just kind of blank out during high winds or aldermanic campaigns?
And is this fair to private businesses? Where is the Starbucks lobby?
All interesting questions. Far more interesting than wild assertions like a mayor "determined" do something for the poor saying "We'll be the first major city to move ahead in [bridging] this digital divide. No other city has done that in America."
The Tribune's account quotes an expert noting that Philadephia is close to launching Wi-Fi, having approved a contract with EarthLink, and that San Francisco, Portland, and Anaheim are also working on deals.
I have a feeling the digital divide question has come up in those cities as well. So unless he can back up his mouth, the mayor ought to cool the hyperbole and the press ought to stop reporting it.
Letter Carriers
"Ald. Eugene Schulter's idea to implant microchips in dogs should first be tested on Chicago aldermen," suggests Ken Marier, of Lakeview.
"When Ozzie Guillen became manager of the White Sox, he put the fun back in the fundamentals. When Dusty Baker took over the reins of the Cubs, he took the mental out of the same," observes Reese Thompson, of the Near North Side.
Both in the Sun-Times.
Katie's Cuts
All I have to say about Paige Wiser's examination of Katie Couric's various hairstyles over the years is . . . boy, Katie had a bad 90s.
All in the Sun-Times Family
The Sun-Times is a family newspaper. Today, the wife of the publisher writes a send-off column to their college-bound son. A couple weeks ago, their daughter wrote about her vacation with mom (second story in the package). What's next, a column from the family pet?
The Beachwood Tip Line: Free with purchase of an education-funding lottery ticket.
Posted by Beachwood Reporter at 9:22 AM | Permalink
May 30, 2006
The [Tuesday] Papers
1. Who among the two personalities appearing on the front page of the Tribune's Tempo section today is more annoying, shock-jock Erich "Mancow" Muller or shock-matron Caitlin Flanagan? The voting starts now.
2. The Tribune Company announced today that it will repurchase up to 75 million shares of common stock because, well, nobody else seems to want them. The stock buys "reflect our strong belief that Tribune's current share price does not adequately reflect the fundamental value and long-term earnings prospects of the company's businesses," said Dennis FitzSimons, the company's chairman, president and chief executive officer, in press release.
In another move, FitzSimons will send Andy MacPhail to Wall Street to berate analysts for their unfair coverage of the company.
3. Betsy Hart, whose syndicated column appears in the Sun-Times, won't read current fiction because, like, there's no way it could ever be as good as the classics. She has, however, given in to American Idol, in part because she doesn't detect any sexual innuendo on the show. I asked my senior staff for a punch line to this item, and features editor Natasha Julius responded instead with this far-better broadside:
"I've only seen American Idol once or twice, but I think we need to start the Betsy Hart Grandmother Watch, because if you can't pick up on the blatant sexual innuendo of tarted-up teenage girls caressing microphones, Paula Abdul openly drooling at anyone with a penis (although to be fair the drool may be an involuntary function of being Paula Abdul), and the faux-homophobic banter between the gayest little host in Texas and that nasty British judge, how are you going to have a clue when your children start bringing their 'friends' home to 'study' in their room with the door closed?"
4. Among the goodies in the May/June issue of the the immensely pleasureable PRINT magazine is Dave Eggers's explanation of how he came to use an Icelandic printer for McSweeney's; a historical exploration of the color orange as "a branding tool of democracy" even before the Orange Revolution; a short but appreciative look at the new album covers of Nordic death metal bands Satyricon (Now, Diabolical) and Dismember (The God That Never Was); and why Planters does a better job of retro-packaging than Band-Aid and Morton Salt.
5. If you haven't already, hoist a glass to Red Madsen.
6. I'm sure the Deep Tunnel is every bit the engineering marvel it's cracked up to be, but it took 30 years to "officially" complete the array of tunnels within the Tunnel. And the entire system won't be done for another 17 years, by one account, and 30 years by another.
I wonder who has those contracts.
7. Does this sound like just about the worse idea yet in terms of Iraqi reconstruction? "On the western bank of the Tigris River, scenes of intense activity rarely witnessed in Iraq are unfolding behind the fortified perimeter of the closely guarded Green Zone," the Tribune's Liz Sly wrote on the front page Monday.
"Trucks shuttle building materials to and fro. Cranes, at least a dozen of them, punch toward the sky. Concrete structures are beginning to take form. At a time when most Iraqis are enduring blackouts of up to 22 hours a day, the site is floodlighted by night so work can continue around the clock.
"This is to be the new U.S. Embassy in Iraq, and it will be the biggest embassy in the world. It also is the biggest construction project under way in battered Baghdad, where the only other cranes rising from the skline belong to Saddam Hussein's abandoned project to build the world's biggest mosque."
8. "People ask: Why don't they come legally? Why don't they wait in line?" Jeffrey S. Passel, a demographer at the Pew Hispanic Center, a research organization in Washington, told The New York Times. "For most Mexicans, there is no line to get in."
The Times reports that the United States offers 5,000 permanent visas worldwide each year for unskilled laborers. Last year, two of them went to Mexicans. In the same year, the Times says, 500,000 Mexicans crossed the border illegally - and most of them found jobs.
In another recent account - where I can't recall - I read that Mexicans who "wait in line" will wait for 16 years before getting a chance to emigrate. If it was your family in a desperate situation, what would you do?
9. Convicted exortionist Joe Cari's face shows up in a campaign TV ad - in California. Soon, I suspect, we'll be seeing a similar ad from the Topinka campaign.
10. CHA CEO Terry Peterson vs. Residents' Journal publisher Ethan Michaeli. Who are you apt to believe? (Midway down on the link.)
11. Fred Barbara appeals to Carol Marin. But why did she let him have his say almost all off-the-record? Marin is so good she gets the benefit of the doubt here. I'm guessing she'll put what Barbara told her to good use.
12. "The Chicago Skyway sale scores poorly in terms of the public interest," a senior fellow at Harvard's Kennedy School of Government testified recently before a U.S. House subcommittee.
But the Chicago press loves that deal, and they're the experts, right? I mean, surely they gave it a thorough going-over?
13. What George W. Bush should have said about the Swift Boating of John Kerry, if Bush were a real leader and statesman: "I'm not going to stand by and watch my opponent - a decorated war veteran and patriot who loves his country and risked his life to serve - be smeared by this ridiculous nonsense. That's not the way I want to win this election, and it's not the kind of presidency I intend to lead."
What John Kerry should have said: "If you want a fight, you've got one. I'll meet anyone anywhere at anytime to talk about the combat we saw in Vietnam. We can talk about the bodies we saw blown apart, about the limbs strewn on the field, and the emotional messes that washed up on our streets afterwards who were forgotten by our leaders. I'll meet anyone anywhere at anytime, and that includes the president, who can tell us what he was doing during the war and how he chose to serve his country."
Then again, Bush should have said in 2000 that it was clear that not only had his opponent won the popular vote, but that it was clear that a majority in Florida at least intended to vote for his opponent, and the best thing for the soul and unity of the country was for Al Gore to become the president. A moment later, he could have declared his intention to run again in 2004 and stand as the loyal opposition until then. What a wonderful world it could be - if our leaders (and the media who instead thought the statesmanlike move was for Gore to concede) weren't children.
14. Channel 5 anchor Marion Brooks gets a DART in the May/June 2006 issue of the Columbia Journalism Review for an egregious violation that should end the career of any "journalist." Here it is:
"DART to WSB-TV, the ABC affiliate in Atlanta, for discretion without valor. The recent trial of former mayor Bill Campbell on federal corruption charges raised embarrassingly belated questions about news practices at WSB-TV when a key witness named Marion Brooks described first-class trips and high-end gifts she got from the big-spending mayor during their four-year affair in the 1990s. During some of that time, Brooks was a reporter and anchor for WSB, where, according to accounts in the Atlanta Journal-Constitution, the relationship was common knowledge in the newsroom - though not deemed appropriate, evidently, for public airing."
15. ABC News recently hired Charles Gibson as its new nightly news anchor. Maybe they should have hired Bob Schieffer. In fact, Schieffer and Marion Brooks would make a good match.
16. I must take issue with Tribune pop culture blogger and print writer Mark Caro on two recent points: I always took the Who lyric "Hope I die before I get old" to be metaphorical, not literal, as Caro seems to assert in his piece about Paul McCartney turning 64. I'm not sure lyricist Pete Townshend really wanted to die before a certain age. Instead, I always thought he was saying, he would rather be dead than to think old, kind of like how the Tribune tends to think.
Also, I like the song "Seasons in the Sun." And not even ironically, but for real. I like it. It touches me. I am not ashamed. And it's not a goof; it was originally written by in French by a Belgian poet-composer and reminded singer Terry Jacks, who re-arranged it, about the death of a close friend. It was also covered by Nirvana.
17. The National Review's John J. Miller says The Who's "Won't Get Fooled Again" is the best "conservative" rock song of all-time. I think he may be right, though much of the rest of his list is ridiculous. I've always had trouble with this song because it sounds to me like a broadside against the idealism of the 60s, and seems to advocate instead a cynical, punk-like withdrawal from politics and causes - otherwise known as life - in favor of sitting around by your self-absorbed self playing your guitar.
(Pete Townshend responds to Miller here. Miller catalogs other responses and adds a second round of songs here.)
18. Dump your Home Depot stock. Start shopping somewhere else, too, just to stick it to 'em.
19. I haven't seen Al Gore's new movie, but whatever you think of him he is enormously smart and talented. Can you imagine George W. Bush making a movie? Or starting a TV network? Or having a coherent policy discussion? What will a Bush post-presidency look like? It's hard to imagine him doing much of anything except sitting on a couple corporate boards or being the commissioner of Major League Baseball one day - and bungling that job too. He certainly isn't capable of writing his own book. Maybe he can join the military and learn a trade.
20. "The days of being charged $4.50 for a Diet Coke from the minibar may be coming to an end, Hotel magazine reports," according to the second item in this New York Times piece.
21. We fixed a glitch with our cool Beachwood Link Buttons. Now you can paste them all over the place.
The Beachwood Tip Line: Sort of like the Deep Tunnel, only not as deep. Or extensive. Or complicated. Or wet, really.
Posted by Beachwood Reporter at 8:15 AM | Permalink
May 26, 2006
A Righteous Film Fest Spans Lubbock to Northern Ireland - With A Stop At Mardi Gras
As our long nuclear winter of human rights abuses continues with authorization to build the Great Wall of the Rio Grande as well as desecration of privacy rights, particularly of the people we honor on this Memorial Day weekend, there comes a glimmer of sanity from the North Side. Beginning this evening, the Human Rights Watch Traveling Film Festival stops at Facets for a one-week engagement.
Human Rights Watch, the festival's sponsoring organization, started its international film festival in 1994, "in recognition of the power of film to educate and galvanize a broad constituency of concerned citizens." Organizers rigorously fact-check
selected films for accuracy, though no point of view is censored. Until four years ago, the festival played only in New York City and London. Recognizing that the enemy of freedom is ignorance, HRW started making a sampling of the best of the fest available to venues anywhere in the United States and Canada that wanted to host them. Facets has been showing them ever since.
The 2005-2006 selection of 12 films includes both features and documentaries. I caught two of the films on The Sundance Channel and both are worth a look. The Education of Shelby Knox focuses on the attempts of a conservative, evangelical Christian teenager to force her Lubbock, Texas, school district to offer sex education classes to stem the high rate of teen pregnancies and STDs. Shelby Knox proves that, yes, conservatives have brains, too, and can use them in the service of the common good - she's really a remarkable person. I saw Mardi Gras: Made in China on the eve of New Orleans's first such celebration after Killer Katrina drowned its streets. I became the official killjoy in my office when I rejected the beads my co-workers were handing out by saying, "I know the near-slave who burned herself putting those beads together is very happy for you." Yes, definitely don't invite me to your next party. But do see this movie.

If you've got the scratch ($75-$250), I strongly urge you to support Human Rights Watch by attending the benefit showing of Omagh on June 1 at the Museum of Contemporary Art. This feature, written and produced by Paul Greengrass, is one of the miracles I occasionally run across in my filmic adventures. Greengrass has carved an indelible niche in the film industry making docudramas about atrocities. Omagh tells of the 1998 bombing of the Northern Irish city of Omagh by a splinter group of the IRA four months after the Good Friday Accords brought peace to Northern Ireland. Although the aftermath of the bombing looks a bit like a disaster drill, the film quickly penetrates deeply into the grief and outrage of the families who lost loved ones as they seek truth and justice from their police force and elected officials. Omagh highlights how politics can often run over innocent bystanders and leaves us with questions about what actions truly serve the greater good. This film will move you and make you think. You must purchase tickets in advance by phoning (212) 216-1805.
Greengrass is also the director of another film I want to recommend, one particularly relevant to Memorial Day in its broadest context, but one that many of you may have been avoiding and possibly condemning sight unseen - United 93. I was one of the people who thought it was too soon for a movie dealing with the 9/11 tragedy. I am relieved to say that Greengrass has produced a genuine masterpiece - sensitive to a still-traumatized public, reportorial when he could have been sensational, sympathetic with the very real confusion such an unthinkable event causes its players, and ever-so-slightly critical of a president and vice president who were nowhere to be found when they were needed most. See Omagh first to assure yourself that Greengrass can be trusted with delicate material. Then, take a deep breath and go see United 93. You actually might hurt less if you do.

Posted by Beachwood Reporter at 3:39 AM | Permalink
The Weekend Desk Report
Savor this special Memorial Day edition of The Weekend Desk Report, if only because it tastes better than that crappy potato salad you'll politely choke down at that lame barbecue. That's no way to honor our fallen. The Papers will return on Tuesday.
Market Watch
On the Constitutional Crisis Index, separation of powers saw its stock rise considerably on news of concessions from its chief executive. Freedom of speech futures were once again sharply lower, leading some analysts to predict a sell-off. And due process staged a rally on strong consumer confidence numbers. Analysts caution, however, that the market could cool when sentencing figures are released this fall.
Sforza Italia
Silvio Berlusconi continues to insist he is the democratically-elected leader of Italy despite his opponent already having been sworn in. In keeping with tradition in these situations, he has already been booked for an appearance on Saturday Night Live.
Short-Changed
Memorial Day Weekend marks the official start of rollercoaster season (the savvy amusement park aficionado waits out spring training) and with that, America's vertically-challenged citizens suffer another round of humiliating height inspections. New this year: You must be as tall as the top bunk to gain admittance to Prisonland.

Iran Wasteland
Aching for more respect, Iran this week complained that the United States totally still treats Iran like a frickin' 5-year-old. The United States responded coolly, indicating it would treat Iran like a grownup only when Iran begins to act like one. Meanwhile, Britain is still trying to work out visitation. Both countries did admit, however, that they don't always get things right with their young democracy, even as they reiterated that whatever they do, it's only because they love Iraq so much.
Mart Smart
The city council of Hercules, California, dealt a blow to retail behemoth Wal-Mart recently by voting to seize land intended for a new store. The town cited a Supreme Court ruling supporting the use of imminent domain to protect the public from vast amounts of cheap, tacky crap. It is believed this same principle may be used in the future to shield city residents from an influx of uninspired clothing and press-board furniture every already owns.
Oil Slick
Holding a comfortable 3-1 Western Conference Championship Series lead, the Edmonton Oilers are poised to reach the Stanley Cup finals at the expense of the Mighty Ducks of Anaheim. This comes as no surprise given the lop-sided history of the oil vs. duck rivalry. While no data exists to handicap a potential Oilers-Sabres finals match-up, we can project a comfortable win for the Carolina Hurricanes should they win through in the Eastern Conference.

Posted by Beachwood Reporter at 3:30 AM | Permalink
Cab #3693
Date: March 26, 2006
From: Wicker Park
To: Navy Pier
The Cab: Relatively clean, but with the sound-and-feel of a workhorse, with its bumpy suspension and telltale squeaks and harrumphs. A real respectable piece of work, though, like a hard-working family cab just trying to do its best for its cab family.
The Driver:"Navy Pier!" were the only words he uttered. It was hard to tell what he meant by that. He was driving silent when he picked me up, but, perhaps upon spotting my armful of newspapers, he quickly switched on the radio - to Amy Goodman's Democracy Now!
He also wore a satisfying fishing hat that was not quite the measure of Lt. Col. Henry Blake's, but slightly better than this one.
The Driving: Full of the quick stop-and-gos that tend to make me nauseas. Poor timing of (Dunkin' Donuts) coffee-drinking imperiled safety. Fumbling for CDs almost put us into the back of a stopped school bus. Music was hard to place: Dido meets Shakira. Latin but not revolutionary.
Overall rating: 2 extended arms
- Steve Rhodes
Posted by Beachwood Reporter at 2:02 AM | Permalink
May 25, 2006
The [Thursday] Papers
1. City council members are seeking a $20,000 raise over the next four years because, as Ald. Bernie Stone puts it, "we deserve it."
Stone can be reached at bstone@cityofchicago.org. His ward phone number is (773) 764-5050; his City Hall phone number is (312) 744-6855.
2. "In a newly unsealed court document," the Tribune reports, "Scott Fawell says former Gov. George Ryan and he had a simple approach to the business of government: 'Looking out for friends and contributors was the overriding factor in handing out contracts and favors.'"
3. Same goes for the Daley Administration.
4. And this is as powerful a pleading as you may find as to why it matters.
5. Jackie Heard thinks she works for the mayor, but we pay her salary.

6. Jay Levine thinks he had an interview with the mayor. And he did - if he's looking for a job in the Daley Administration.
7. The Tribune Company is full of great media managers. Take this nugget deep in a Cubs commentary by Tribune Cubs beat reporter Paul Sullivan - recently dressed down by team president Andy MacPhail - on the weirdness surrounding a recent incident in which a fan threw a baseball at Cubs outfielder Jacques Jones, apparently without consequence:
"The Cubs did a masterful job of stonewalling reporters on that incident. No one except manager Dusty Baker was available to discuss it, even though a security official addressed the team the next day in a closed-door meeting.
"Cubs security officials were ordered to keep quiet, and to this day no one knows why a fan was able to throw a baseball at a player and not be held accountable for her action. Baker's explanation that the fan was simply drunk and oblivious - unable to distinguish the difference between throwing back an opponent's home run ball and throwing a ball at a Cubs player - was particularly weak."
8. (5 ILCS 460/20) (from Ch. 1, par. 2901-20). Sec. 20. Official language. The official language of the State of Illinois is English. (Source: PA 87-273.)
- via Rich Miller, The Capitol Fax Blog
9. Meribeth Mermall of the South Loop writes to the Sun-Times today: "Your May 15 editorial providing women with the 'fashion tip' to 'tuck that flab in' was insulting. I ask myself why would a major newspaper in a major city waste space, time and energy in an editorial column, no less, to let all of us know that your editorial board agrees that women should tuck in their flab? This isn't Stepford, but it sounds like your editorial board wishes it was. Grow up, and start addressing issues that really matter. Good grief!" (Second item in the link.)
10. "Couples Waiting A Little Longer To Marry," the Sun-Times reports. Key word: Little. According to the chart provided and sourced to the U.S. Census Bureau, the median age of a male's first marriage was 26.1 in 1890, compared to 27.1 in 2005. For women, the median marrying age was 22 in 1890, compared to 25.8 in 2005.
11. The mayor thinks the condition of Cook County Board President John Stroger is none of our business.
12. "The only countries I know that punish desecration of flags are China, Iran and Cuba."
- Nat Hentoff, in today's Sun-Times
13. Large McDonald's Chocolate Triple Thick Shake (32 oz): 1,160 calories.
Large Burger King Vanilla Shake (32 oz): 820 calories.
7-Eleven Super Big Gulp of Coke, (44 oz, including ice): 410 calories.
Starbucks Coffee Frappucinno, venti (24 oz): 350 calories. Add 100 calories if you get the whipped cream.
Starbucks coffee venti (20 oz.): 500 milligrams of caffeine.
An 8 oz. Red Bull: 80 milligrams of caffeine.
- The June issue of the Nutrition Action Healthletter, published by the Center For Science In The Public Interest.
14. "Appeals Judge J. Michael Luttig, a Supreme Court contender and longtime fixture of the conservative legal landscape, made a sudden announcement Wednesday that he was leaving the 4th U.S. Circuit Court of Appeals immediately for the job of senior vice president and general counsel of the Boeing Co. . . .
"Luttig readily acknowledged that the low salary of federal judges was a factor in his decision. Luttig has two children approaching college age, and family obligations weighed heavily in his decision.
"After 15 years on the appeals bench, Luttig was paid $175,100 a year."
15. Fantasy air traffic controllers.
16. Jennifer Hunter, the wife of Sun-Times publisher John Cruickshank, is against young people getting jobs through connections.
17. "This is a city that never recovered from deindustrialization. Paradoxically, there has been a huge influx of yuppies who want to live in a city and have a taste for cute Belgian bistros."
- Philadephia Inquirer reporter quoted in The New York Times.
You mean it's happened in cities without mayors named Daley too?
18. The Tribune is running RedEye stories about dirty poles in El cars and the Sun-Times is running Gary Post-Tribune stories about a woman turning in a wallet with $1,200 in it. Is the news getting smaller, or just the people behind it?
19. The Voice of America pulled out of Baghdad six months ago. So the lack of good news out of Iraq is their fault.
20. Corn Cob Bob.
21.taylorhickssucks.com is coming soon. Not from us, quite unfortunately, but it's coming. And in case you were wondering, soulpatrol.com is taken.
Note From Beachwood HQ
Apologies for not posting a Wednesday Papers column yesterday afternoon as promised. I was distracted by various projects in the works to better serve you, the reader. Projects, by the way, which stand a better chance of coming to fruition if you donate to The Beachwood Reporter. Our advertising program is also almost set, and editorial improvements are on the way. If you'd like to join our cause - in tech, ad sales, various business issues, as well as editorial - drop me a note. Watch this space tomorrow for The Weekend Desk Report. The Papers will return on Tuesday.
The Beachwood Tip Line: And by tips, we mean tips.
Posted by Beachwood Reporter at 8:23 AM | Permalink
May 24, 2006
The [Wednesday] Papers
Note to readers: The [Wednesday] Papers will appear later today, while I attend to issues designed to enhance your Beachwood Reporter experience. In the meantime, enjoy the funkified stylings of Scott Gordon, as he describes the the scene at the University of Chicago last weekend, when George Clinton landed the Mothership in Hyde Park; paste one of our cool Beachwood link buttons on your site and anywhere else you can think of; and stir things up in our neglected forums - including telling us how we can do better. Then check back in again this afternoon for The [Wednesday] Papers.
The [Tuesday] Papers
In the two years that the paper has been investigating the city's Hired Truck program, the Chicago Sun-Times had never requested an interview with Mayor Richard M. Daley until it submitted written questions in advance of an interview that never happened regarding the paper's current series on the Roti family, reporter Tim Novak said last night on Chicago Tonight.
Hello?
Even if the mayor refused to comment for two years, that refusal should have been in every story, and in fact the mayor's refusal should have been a story in itself.
Instead, the mayor didn't even have to refuse, or spin, or otherwise dodge facing serious questions about the paper's findings. (The questions Daley faces at his frequent press conferences don't count; I can hardly think of a less productive environment for reporters to do their jobs in. Those press conferences exist for the convenience and message-massaging value to him and his administration, not for the press or the public.)
At the least, I'd like to see the Sun-Times publish the list of questions they sent to mayoral press secretary Jacquelyn Heard (a former Chicago Tribune reporter), who says she read the list but decided not to present the questions to the mayor.
Why, Jackie? Too tough?
Chicagoans deserve more - from their press and their mayor.
Roti Reading: That said, the Roti series is worth plowing through despite being an organizational mess. Because at its core it's an inside look at how the city's power interests intersect, with city government as the pivot point.
Clout Trial
The Robert Sorich case continues with a former deputy commissioner of the sewers department testifying about "a piece of shit" city worker who often left work early getting promoted because of his political work for the Daley-created Hispanic Democratic Organization, in a prime example of what prosecutors argue has been a "massive fraud" perpetrated on taxpayers by this administration.
Green Scene
Pundit extraordinaire Paul Green has a great line in an otherwise aggravating Op-Ed piece today in the Sun-Times about political favors lists. In describing the way campaign contributors seek access to officeholders in exchange for their cash, Green says: "This is the reality. Of course, Illinois is probably more realistic than any other state in the Union . . . "
The aggravating part is how Green not only continues to see nothing wrong with clout- and cash-based politics, but in fact is convinced that life can't go on without it.
Clean politics, he says, would make governing impossible.
Why? He doesn't say.
Nor does he say where he would draw the line. I mean, why even have elections? Why not just auction public offices to the highest bidders? Why not make policy the same way? I mean, if you don't have the cash, why should you have any say in how a democratic government works? We can't let everyone get in to see their elected representatives.
How such a likable, sharp and witty local observer (who was kind enough to ask me once to contribute to one of his books) can actually believe that the Chicago Way is the best way for the city to do its business is beyond me.
Second That Emo Shun
In a post to his blog responding to the Tribune's recent emo report, and my criticism of it, Lake County Coroner Richard Keller agrees that emo groups on MySpace "aren't necessarily a bad thing" because they can function as support groups; explains why "cutting" is highly unlikely to result in accidental death; and says that while the Tribune describes kids who think mental illness is "ultra-cool," in his experience mental illness is still seen as a stigma.
Offensive Attack
Does Sun-Times letter-writer Sonja Dalton of Barrington have a point?
"[Suburban high school board member] Leslie Pinney is not asking that seven books be 'banned.' ('7 Deadly Books? Talk Of Ban Hits Burbs') She is recommending that books not be placed on a required reading list," Dalton writes today.
"I challenge the Sun-Times: If materials at culturecampaign.com are innocuous, print them in the newspaper for adults to read. I wonder why you wouldn't do that. Oh, it's because newspaper editors don't think profanity and explicit depictions of sex with oneself, sex with the same sex and the opposite sex, forcible sodomy, oral sex and sex with a dog are 'appropriate' for their adult readers."
I think she does have a point. But it's more about newspaper editors than school reading lists.
Sherman's March
Whatever anyone may have thought about him, Sherman Skolnick was a true character. He died in his sleep on Sunday, and Mark Konkol got his obit just right.
Dempster and North
If anyone can sort out who said what and who misquoted whom, let me know. But in the meantime, check out the far more important news from The Score - Mike North's interview with Tribune Cubs beat writer Paul Sullivan about team president Andy MacPhail's view of how a sister subsidiary ought to act.
Papers Chase
Catch up with The [Sunday] Papers and The [Monday] Papers.
And don't forget to donate to The Beachwood Reporter. You will be put on our clout list and qualify for fabulous prizes.
The Beachwood Tip Line: Even if nobody sent you.
Posted by Beachwood Reporter at 6:41 AM | Permalink
May 23, 2006
Feeling the Funk: U of C's Dorkadelica
They gave up the secrets of the atom, but can they give up the funk?
George Clinton and his P-Funk All-Stars headlined this year's Summer Breeze, the University of Chicago's annual private outdoor party, on Saturday night. One thing to avoid here, because it's misleading, is the funk-dork comparison. Saturday was the first time I'd ever seen a Wikipedia T-shirt, a Very Large Array T-shirt, or a "The Gates" t-shirt, but the truth is that even students at a prestigious university have a way of melding nerdiness into passable coolness. On the U of C's campus, one sees all the normal college types, from the squirmy dork types to the kinda-skanky precocious beauties, and lots of neutral-looking cargo shorts-and-sandals boys and casually dignified girls in between. Remember, most of these people had to survive high school.
Walking around the campus before the show opened, I felt like I was on any one of the other college campuses I've visited. Students lined up at booths to buy hamburgers and get their faces painted, or played around in a few of those inflatable bounce-houses (see, even U of C kids can act like toddlers!). A couple of students pranced around on a small stage and sang to some pre-recorded beats (think Dismemberment Plan and Postal Service collaborating after a severe stroke). I sat down in a nearby quad and soon got hit with a Frisbee.
As students started filtering in to the courtyard, the familiarity hit me even harder, beaming me so many weeks back to my own college days. Here were all the personality and style staples, churning my memory: The guy in flattened dreds and a Jack Johnson T-shirt; guys my age wearing deck shoes; the budding politician in chinos and a conservative dress shirt; scruffy young men greeting each other with muscular, stiff-backed handshakes. As a student at Northwestern, I used to take them for granted, especially at the annual Dillo Day outdoor concert and smaller concert-hall performances by artists like Rufus Wainwright. As sometimes happened at Northwestern, the U of C's activities board adamantly kept Summer Breeze private, even refusing outside press (I ended up buying a ticket through a student), and only now did I understand the result: A concert full of people who didn't seem to belong at concerts.

The less than a thousand kids who attended the show, in a fairly small courtyard behind the student union, had the bands to themselves, and I think that's where most of the enthusiasm came from. Sure, they showed plenty of enthusiasm for the music itself, but it often waned, and much of it depended on very specific conditions. All the artists had a fair number of fans in the crowd, but for the most part, college audiences don't come to college shows just to see the specific artists. They come because it's basically a party thrown just for them. If they enjoy the music itself, it's because they can break it down into a few specific elements they can relate to. I doubt they liked P-Funk enough to pay three or four times the student price ($15) and ride a bus for an hour to see them somewhere else.
Growing up with a generation that's compacted Dave Matthews, Bob Marley, Phish, and countless rap and soul artists into one crude and vague category, I realize that high school and college kids will dig anything they can associate with smoking pot and/or raunchy sex. And if funk's not about pot and raunchy sex, with a friendly glaze of universal love, then it's not about anything.
On the other hand, the Maroonies liked supporting DJ RJD2's concoctions insofar as they sounded like ballin' and clubbin' music, and they liked opener Dar Williams's songs for their coy suggestions of weirdness. Williams sounds so much like a cutesy open-mic singer in Purgatory that that's really all there is to enjoy, by the way. Songs like "Babysitter's Here" (about a hippie babysitter) are about as fun as listening to your friend tell you about this really weird David Sedaris story he heard about from his other friend.
Getting back to pot, it wasn't until about two hours into the show, during RJD2's set, that the smoke of a joint floated over from somewhere inside the crowd. The dancing was even more lame. Granted, RJD2 would be hard to dance to anyway, as he's constantly shifting between dozens of rhythms and hooks during his near-continuous set, but the students didn't attempt anything beyond brief little joke dances. In other words, dancing was something to do for 10 seconds and giggle about for 30. The whole evening, I only saw one couple bumping and grinding - a pair of chunky lesbians near the back of the crowd.
RJD2's set reminded me of a private Zwan/Queens of the Stone Age concert I attended at Northwestern in 2003. As the Queens ripped into their set, about 100 people near the stage started thrashing. Behind us, about a thousand Northwestern kids stood deathly still, and someone screamed "YOU SUCK!" at Nick Oliveri as he screeched out the lyrics to "You Think I Ain't Worth a Dollar, But I Feel Like a Millionaire."
Allmusic's Stephen Thomas Erlewine wrote that the Queens are "so concerned with pleasing themselves with what they play that they don't give a damn for the audience," but that's what makes them fun. The P-Funk are just the opposite. Despite the musical talent they cram onstage, they put most of their effort into the usual crowd-rousing techniques: call-and-response; "HOW YA DOIN' CHICAGO! SAY WHAT?"; getting people to clap their hands to the beat; wearing costumes that included a diaper and massive red and white fur coats and hats; admittedly awesome 10-minute guitar solos; and advocating sex, pot and fashionable political positions.
Clinton seemed fiercely determined to make the students participate. The crowd usually delivered during the many call-and-response sessions, especially when it came to the more familiar and catchy party-funk singles.
CLINTON: To the window! To the walls! Till The sweat run down my balls! [Holds microphone out to audience]
STUDENT HORDE: Gee-gee-gee-gee-gee-gee-god-damn! Gee-gee-gee-gee-gee-gee-god-damn!
But when the audience failed to respond, Clinton shushed his backup singers, repeated his part, and angrily stabbed his microphone back out toward the audience. Maybe I'm wrong about this, but he seriously looked pissed the few times this happened.
There was really only one moment of drama for the picky Funkadelic fan: A 10-minute performance of "Maggot Brain," a heroic guitar solo that begins, on the album Maggot Brain, with this incantation from Clinton: "Mother Earth is pregnant for the third time, for y'all have knocked her up. I have tasted the maggots in the mind of the universe, and I was not offended, for I knew I had to rise above it all, or drown in my own shit." Unlike P-Funk's many infectious party slogans, this did not raise a holler, familiar as it must be to many Clinton fans. One can't expect everybody else to enjoy music in a specific way, but it's discouraging when an audience wants to be entertained without being surprised or intrigued.
If the activities board had sold, say, a couple hundred tickets to the general public, the courtyard would have been packed and the streets outside crawling with fans trying to scrape up tickets. If this Marie Antoinette audience must play milkmaid for a day, why not let some peasants in to enrich the experience? The U of C crowd didn't quite manage to fill up the modest square in front of the stage. Which also makes the board's refusal to issue press passes seem exceedingly absurd. Sure, it's their business if they want to arrange a private event. But why flag down the Mothership if you can't give it a fitting welcome?
Posted by Beachwood Reporter at 10:10 AM | Permalink
The [Tuesday] Papers
In the two years that the paper has been investigating the city's Hired Truck program, the Chicago Sun-Times had never requested an interview with Mayor Richard M. Daley until it submitted written questions in advance of an interview that never happened regarding the paper's current series on the Roti family, reporter Tim Novak said last night on Chicago Tonight.
Hello?
Even if the mayor refused to comment for two years, that refusal should have been in every story, and in fact the mayor's refusal should have been a story in itself.
Instead, the mayor didn't even have to refuse, or spin, or otherwise dodge facing serious questions about the paper's findings. (The questions Daley faces at his frequent press conferences don't count; I can hardly think of a less productive environment for reporters to do their jobs in. Those press conferences exist for the convenience and message-massaging value to him and his administration, not for the press or the public.)
At the least, I'd like to see the Sun-Times publish the list of questions they sent to mayoral press secretary Jacquelyn Heard (a former Chicago Tribune reporter), who says she read the list but decided not to present the questions to the mayor.
Why, Jackie? Too tough?
Chicagoans deserve more - from their press and their mayor.
Roti Reading: That said, the Roti series is worth plowing through despite being an organizational mess. Because at its core it's an inside look at how the city's power interests intersect, with city government as the pivot point.
Clout Trial
The Robert Sorich case continues with a former deputy commissioner of the sewers department testifying about "a piece of shit" city worker who often left work early getting promoted because of his political work for the Daley-created Hispanic Democratic Organization, in a prime example of what prosecutors argue has been a "massive fraud" perpetrated on taxpayers by this administration.
Green Scene
Pundit extraordinaire Paul Green has a great line in an otherwise aggravating Op-Ed piece today in the Sun-Times about political favors lists. In describing the way campaign contributors seek access to officeholders in exchange for their cash, Green says: "This is the reality. Of course, Illinois is probably more realistic than any other state in the Union . . . "
The aggravating part is how Green not only continues to see nothing wrong with clout- and cash-based politics, but in fact is convinced that life can't go on without it.
Clean politics, he says, would make governing impossible.
Why? He doesn't say.
Nor does he say where he would draw the line. I mean, why even have elections? Why not just auction public offices to the highest bidders? Why not make policy the same way? I mean, if you don't have the cash, why should you have any say in how a democratic government works? We can't let everyone get in to see their elected representatives.
How such a likable, sharp and witty local observer (who was kind enough to ask me once to contribute to one of his books) can actually believe that the Chicago Way is the best way for the city to do its business is beyond me.
Second That Emo Shun
In a post to his blog responding to the Tribune's recent emo report, and my criticism of it, Lake County Coroner Richard Keller agrees that emo groups on MySpace "aren't necessarily a bad thing" because they can function as support groups; explains why "cutting" is highly unlikely to result in accidental death; and says that while the Tribune describes kids who think mental illness is "ultra-cool," in his experience mental illness is still seen as a stigma.
Offensive Attack
Does Sun-Times letter-writer Sonja Dalton of Barrington have a point?
"[Suburban high school board member] Leslie Pinney is not asking that seven books be 'banned.' ('7 Deadly Books? Talk Of Ban Hits Burbs') She is recommending that books not be placed on a required reading list," Dalton writes today.
"I challenge the Sun-Times: If materials at culturecampaign.com are innocuous, print them in the newspaper for adults to read. I wonder why you wouldn't do that. Oh, it's because newspaper editors don't think profanity and explicit depictions of sex with oneself, sex with the same sex and the opposite sex, forcible sodomy, oral sex and sex with a dog are 'appropriate' for their adult readers."
I think she does have a point. But it's more about newspaper editors than school reading lists.
Sherman's March
Whatever anyone may have thought about him, Sherman Skolnick was a true character. He died in his sleep on Sunday, and Mark Konkol got his obit just right.
Dempster and North
If anyone can sort out who said what and who misquoted whom, let me know. But in the meantime, check out the far more important news from The Score - Mike North's interview with Tribune Cubs beat writer Paul Sullivan about team president Andy MacPhail's view of how a sister subsidiary ought to act.
Papers Chase
Catch up with The [Sunday] Papers and The [Monday] Papers.
And don't forget to donate to The Beachwood Reporter. You will be put on our clout list and qualify for fabulous prizes.
The Beachwood Tip Line: Even if nobody sent you.
Posted by Beachwood Reporter at 8:46 AM | Permalink
May 22, 2006
The [Monday] Papers
I have to admit the promotions leading up to today's first installment of the Sun-Times's three-part "First Family Of Clout" series piqued my curiosity. Clearly, from the artwork, this wasn't going to be a story about the Daleys. So who?
It turns out, according to the paper, that Chicago's First Family Of Clout is the Roti clan, from the late patriarch and Al Capone-associate Bruno Roti Sr., to his infamous alderman (and made Chicago mob member) son Fred Roti, to grandson Fred Bruno Barbara, a close pal of none other than Mayor Richard M. Daley. (The family's influence extends in many directions - Frank Caruso Jr., convicted in the beating of Lenard Clark, is the grandson of Bruno Roti son-in-law Frank "Skid" Caruso, who authorities say inherited the Roti criminal empire, and the son of union leader and mob associate Frank "Toots" Caruso.)
The case the Sun-Times makes is persuasive: It seems the Rotis have been in it from the start, at the nexus of the organized crime, politics, labor, and public works that has shaped this city.
This is not just ancient history, either. The Roti family is directly linked to the scandal-ridden Hired Truck program - and to the current mayor.
"Daley is close friends with one Roti family member - longtime trucking mogul, Fred Bruno Barbara - a Bruno Roti Sr. grandson who was once charged, and found not guilty, in an organized-crime case," the paper reports. "Barbara also has been a city contractor, making a fortune off city business, including the mayor's much-criticized Blue Bag recycling program."
The paper promises that parts two and three will explore the Roti family's supervision of the city's street-paving operation as well as the case of Barbara, who "made a fortune hauling the city's garbage to landfills."
Of course, it is Barbara's relationship with Daley that lends this series particular significance.
What does the mayor have to say so far?
Nothing.
"The Chicago Sun-Times tried to interview Mayor Daley for this series," the paper says. "His press secretary, Jacquelyn Heard, asked that questions be submitted in writing. After receiving the questions, Heard said she decided not to present them to the mayor."
Wasn't it just last week that Daley was bizarrely bragging - and not for the first time - about how accessible he was to the media?
More appalling, though, is the paper's willingness to submit its questions to the mayor in advance.
I've worked in several news organizations big and small where this simply wouldn't be allowed - including my high school and college paper. And rightly so. Where are we, Beijing?
Similarly, today's Sun-Times story "CHA Chief's Former Ward Rakes In Contractor Cash" includes this passage: "A 17th Ward official who responded to a call to [Ald. Latasha] Thomas asked that questions be e-mailed. No one responded to the e-mail."
Perhaps the Chicago media ought to go back to journalism school. I was taught to go stand outside an unwilling public official's car, house, or office to get a comment - and to shame them in the paper if one wasn't forthcoming.
But Daley, Thomas, and others in Chicago are rewarded, not punished, by toying with the press. Where is the downside for them? The press has to make it hurt. I suggest a running daily compilation, for example, of the mayor's "no comments" and non-responsive answers, including a running tote board on page one of how many days it has been since Daley said he doesn't know who hired and promoted Angelo Torres.
So submitting questions to the mayor in advance of an interview that didn't happen anyway is a disappointing demerit in the First Family Of Clout series.
But I'm still eagerly awaiting the next two parts.
CHA CHA Twist: You can read more about the link between CHA chief Terry Peterson and political contributions to his old ward organization from CHA contractors on the Residents' Journal website here. And while you're there, read the text of the speech that the Journal's publisher, Ethan Michaeli, gave at the recent Studs Terkel Media Awards.
Mission Creep
Neil Steinberg, shamelessly angling for a Billy Goat interview with President Bush, wrote today that he'd nonetheless skip Bush's speech at McCormick Place.
"It isn't as if your topic - Iraq and the War on Terror - is apt to provide any revelations. In fact, I bet I can sum up the speech right now: Iraq - getting better. War on terror - winning it. Got a long road ahead of us, sure, but terrorists? On the run. Military: strong and sure. American people: united and confident. God bless America."
If only Steinberg had been as observant three years ago when he castigated critics of the president's flyboy landing on the USS Abraham Lincoln, scene of the infamous "Mission Accomplished" banner.
"I view it differently," Steinberg wrote then. "When I saw the president take off his helmet, smile broadly and greet the assembled servicemen and women, I thought: That looks fun."
Added Steinberg: "Bush doesn't really need to underline his commander-in-chief chops - the Iraq War did that nicely. Rather, I believe, he chose to arrive on the Abraham Lincoln the way he did because it seemed like a hoot."
Condo Boomerang
This came in over the Tip Line: "You wrote: 'I wish some eyes would be on the dramatic transformation of the neighborhoods between downtown and the suburbs - you know, the place where most Chicagoans live.' Were you on vacation last Sunday, or skip the Sun-Times entirely?"
My (anonymous) correspondent is referring to the Sun-Times's examination of five changing Chicago neighborhoods.
That piece had some interesting data in it, but in my mind it utterly failed to explain the forces behind the changes and the consequences going forward (besides not being about the condo construction I was referring to in my original item).
A city newspaper - and this goes for the Tribune as well - ought to be reporting dramatic neighborhood transformations as they happen, not by dipping into census data every five years.
I found the Sun-Times report to be a starting point for exploring changes in the neighborhoods it picked out, but not a finished product.
Perhaps a better approach would be to post reporters in those neighborhoods permanently, or at the very least commit to spending the next year documenting a Chicago neighborhood whose issues best encapsulate those that residents are coping with citywide.
Papers Chase
* The [Sunday] Papers.
* The [Immigration] Papers.
* The [Dusty Baker] Papers.
* And the Papers-like Cubs Conflict: Team Blue About Tribune Coverage.
The Beachwood Tip Line: Transforming daily.

Posted by Beachwood Reporter at 6:00 PM | Permalink
The [Sunday] Papers
The Tribune's campaign against youth (and the ever-so-dangerous Internet) continues apace on Sunday, this time in a story about "emo" culture in the Q section that is so predictably misguided and laughable it's more of a bore than an outrage.
The formula is the same one that's been employed for years in wonder of other youthful, music-based subcultures, including goth, grunge, punk, and metal:
Discover dispossessed teens.
Disparage their unapproved clothing and haircuts.
Dismiss their emotional pain as posing.
Fail to ask why so many kids feel so shitty, generation after generation. (Hint: It's usually upon discovery of what a crappy and crooked world has been bequeathed to them.)
Rinse. Repeat. Recycle.
Just once I'd like to see a take on what's really alarming about youth culture: The continued dominance of jocky Homecoming kings, vacant cheerleaders, and student councilors getting an early start on vapid lives of ego-fed exploitation of those searching for more meaning in their lives than which house they will rush in college and which suburb they will live in afterwards while pulling down a paycheck as a clueless corporate hack.
Instead, the Tribune treats us to whopping revelations about teenagers who - brace yourself - dabble in prescription drugs and pen dark entries into their online diaries!
Reporter Barbara Mahany's particular angle in this story is that emo kids, like all behavorial problems, are getting younger.
"In Chicago, you can find the ever-more-youthful emo trend from Hyde Park to Lincoln Park, Rogers Park to Beverly," Mahany writes. "In the suburbs, it's in junior highs from Aurora to Schaumburg, Wilmette to Hinsdale, Homewood to Arlington Heights."
Was Kurt Cobain really referring to this sort of media coverage when he sang about feeling stupid and contagious?
"[Emo] has spread, thanks to the Internet, faster than you can type, 'Seeking desolate landscape populated by preteens,'" Mahany writes.
If only the Internet weren't around to unite lonely kids instead of letting them suffer in silence the way we did.
In a sidebar, "Be Savvy About Emo Culture," we're told that "Emo, however, is not for outcasts." If emo is now trendy, and it may be in what is its third or fourth wave, it really isn't, by definition, emo anymore. In fact, Tribune rock critic Greg Kot said three years ago that, "As a fresh idea, (emo) is probably over." Kot pointed out then that as early as 1991 Seattle bands made fun of those using the grunge label, but a label is what cultural gentrifiers use in order to commoditize what they are about to steal. Look for emo to show up in the Tribune's fashion coverage soon.
But these kids are cutting!
Yes. They cut before emo, and they'll cut after it's long gone. Kids will mope and resist and confound, and God bless 'em. But instead of treating them like aliens from another planet, let's investigate the very real sources of their pain.
As for the posers, well, you'll know them because they'll be the popular kids trying to get hip.
In the meantime, the media will continue to propagate the notion that each generation is worse than the previous one. It's almost enough to forget that sensitive 70s singer-songwriter James Taylor - some might call his stuff really hardcore emo - was a junkie. Less acceptable is the catalog of dreck he foisted on the world, which, I'm guessing, lives on in the collections of many a Tribune reporter and editor. Because that seems to be about the time when youth culture turned dark and incomprehensible to their narrow minds.
Parentcore: "If the story is true, it must mean that parents are much worse these days," says Beachwood special affairs editor Tim Willette. "I mean, all these kids are screwed up, right?"
Slow News Nation
The cover story of the Tribune's Sunday magazine this week celebrates the 100th anniversary of Upton Sinclair's The Jungle, but fails to note the showing of the book's latest mantle-inheritor, Fast Food Nation, at Cannes. Maybe in a hundred years.
Stone's Throw
Halfway into Fran Spielman's paean about how well neighborhood repairs are going in the wake of a City Hall housecleaning, Ald. Bernie Stone, the city council's buildings committee chairman, says "he'll believe the Daley administration's promises of additional neighborhood work when he sees it."
Maybe Stone and Spielman ought to trade jobs.
Police Puzzle
Mary Mitchell writes thoughtfully - again - on the bizarre and sad case of the California woman who fell, jumped, or was thrown from a seventh-floor window of the remaining building of the Robert Taylor Homes.
Penny Lane
It's not fans downloading songs who are ripping off artists. It's their record companies. Jim DeRogatis breaks it down.
Service Revolver
"A front-page article on Friday about the confirmation hearing for Gen. Michael V. Hayden as director of the Central Intelligence Agency misstated the color of his uniform in some copies. As an Air Force Officer, Hayden wears what the service calls Air Force blue, a color slightly lighter than navy; he does not wear navy blue."
- New York Times
In other military news, the United States Air Force announced it would no longer purchase clothing from Old Navy.
Condo Boom
"While all eyes have been focused on the downtown Chicago condominium market, condo construction has been booming in the suburbs as well, a new study indicates," the Tribune reported on Saturday.
I wish some eyes would be on the dramatic transformation of the neighborhoods between downtown and the suburbs - you know, the place where most Chicagoans live.
None Of That Jazz
A Tribune letter-writer points out that the jazz station recommended by former Tribune editor Jack Fuller in a recent Op-Ed has been off the air for years (since 2003), among other fallacies in his arguments about the popularity of jazz.
Tollway Taxes
Ralph Martire fairly frames the issue of privatizing the state's tollways - while raising questions about the city's sell-off of the Skyway, which has gone unquestioned by the press.
Romance in Durango
"A Durango woman issued a court summons to The Durango Herald, its publisher and its chairman on Thursday, demanding the newspaper compensate her for her attempt to uncover what she believes is a conspiracy to suppress the truth about the Sept. 11, 2001, terrorist attacks."
If I had a dollar for every conspiracy The Durango Herald was at the center of . . .
- Tim Willette
Cop Block
By the way, The Durango Herald is podcasting its police blotter.
Telco Talk
Rhodes: Mark Shields said tonight on Jim Lehrer that lawyers for the phone companies spent hours wording their denials about the NSA story.
Willette: Well, they do have unlimited nights & weekends to hash these things out.
In Today's Reporter
See Cubs Conflict: Team Blue About Tribune Coverage for the latest reason why a newspaper company shouldn't own a baseball team.
The [Monday] Papers will be posted later today.
The Beachwood Tip Line: Emoting daily.
Posted by Beachwood Reporter at 9:55 AM | Permalink
The Friedman Frequency
The World Is Flat - A Brief History of the
Twenty-First Century
by Thomas L. Friedman
Farrar, Straus and Giroux, 496 pp.
ISBN: 0374292884
Everyone get global! 2004! Better lot! American
products wanted! Bangalore call center! Indian phone
work! Chinese supply chain! UPS! Free market! India,
China, America! Even Muslim customers use internet!
See! Flattening forces started! Web went economic!
Information business! Big science! Research come home!
Need money now!
Employees own two percent! Another first! Able workers
got down!
University! Computer school! People should go!
Knowledge good! Young really know! Different software!
Still, things take time! Think government! Want
service today! Right, say companies! Million years!
Countries going! Technology put states between jobs!
Best part next! New day! Flat system! Whole world
united! These are the 100 most frequently used words in
this book!
Posted by Beachwood Reporter at 9:47 AM | Permalink
May 20, 2006
The Weekend Desk Report
Seek the truth. We'll stick with the news.
Market Roundup
The American Civil Liberties Index took a beating this week as privacy, equality, and free speech all posted major losses. Health and prosperity rallied briefly on news of a new vaccine, but ethics complaints wiped out the early gains.
Bordering on Insanity
Now that the U.S. Senate has approved construction of a barrier along the nation's border with Mexico, attention has shifted to other issues of border security. The vast construction project has fueled fears that waves of Canadian softwood lumber will flood Northern states in search of work. Reports suggest that President Bush is preparing to mobilize 15,000 National Guard troops to cope with the problem. Sources also indicate he will send 1,250 troops to police the testy Illinois-Indiana border and keep another 45,000 on active duty to secure wedding receptions, senior proms and children's birthday parties.

You Know Urine Trouble When . . .
Just in time for the busy Memorial Day weekend, New York authorities announced plans to deploy talking urinal cakes that will lecture men on the dangers of drunk driving. Officials will target bars known for patrons who are generally hammered enough to accept the advice of a loquacious toilet. Given estimates of the average frequency of drunken bathroom visits, the conversations could be lengthy and robust. No word yet from the NSA on whether these communications will be monitored for signs of terrorist activity.
The Hollywood Code
Here at The Beachwood Reporter Weekend Desk, we strive to always be neutral in our coverage of the stories that shape your world. However, some issues are simply too important for us not to weigh in. And so we add our collective voice to the calls to boycott a very dangerous new film, filled with absurd notions and outright lies. You may think a group of talking animals is just harmless fun, but it's not hard to see the hidden agenda.

Posted by Beachwood Reporter at 10:12 AM | Permalink
May 19, 2006
The [Friday] Papers
The Chicago Tribune's account of Gen. Michael Hayden's testimony to a Senate committee considering his nomination to be the next CIA director is startling.
From the top:
"Gen. Michael Hayden, nominated to be the next director of the CIA, told a Senate committee Thursday that he initially doubted the legality of a Bush administration program to expand domestic wiretaps on U.S. citizens after the Sept. 11 attacks, but that White House officials convinced him the program was lawful."
White House officials convinced him the program was lawful? Does that sound like a legitimate legal opinion? What did the Constitutional experts at the NSA say?
"Hayden told the Senate Intelligence Committee, which is considering his CIA nomination, he at first told then-CIA Director George Tenet that the NSA was doing all that the law allowed on surveillance."
You would think that would be the case. Why would the NSA hold back?
"Director Tenet came back to me and said, 'Is there anything more you can do?' Hayden testified. "And I said, 'Not within my current authorities.' And he invited me to come down and talk to the administration about what more could be done."
So the White House had to talk him into it. And it did. Questions about Hayden's ability to act independently of politics and presidential power become clearer.

"After that talk, Hayden said, he was convinced the NSA could go further. Then-Atty. Gen. John Ashcroft provided the NSA with a memo giving a basis for that eavesdropping authority, he said.
"Hayden said he did not read the memo, but on Oct. 6, 2001, the NSA launched what the Bush administration has called a terrorist surveillance program. That program - along with the reported NSA collection of millions of domestic phone records from telephone companies for analysis - has complicated Hayden's confirmation."
Hayden did not read the memo.
Does this make you feel more secure? Or do you get the sense that this is an Administration making things up as they go - including the law?
Bell Toll: "As lawsuits mount against BellSouth Corp., the phone company faxed a letter to USA Today demanding the newspaper retract 'the faults and unsubstantiated statements' outlined in an article naming the company as having provided domestic calling records to the National Security Agency."
Faxed?
That letter is probably still sitting in a basket next to the broken copy machine by the college interns.
Krazy Koran
I haven't read the Koran in its entirety, but I'm pretty sure what Neil Steinberg wrote about it today isn't true: "If you read the Quran, all of Christianity is dismissed as one big blasphemy - as saying something dirty about God, because suggesting Jesus is the son of God implies He's having procreative sex and siring sons."
Code Breakers
* Maybe Steinberg meant to say, "If you read The Da Vinci Code . . . "
* Maybe the hype around The Da Vinci Code has misled critics into thinking it's an important film rather than just another piece of Hollywood trifle like RV, resulting in overthought critical analyses that nevertheless serve to buy wholly into the studio's PR campaign.
* Roger Ebert seems to think so. "On second thought, maybe it was not such a great idea to hold the world premiere of The Da Vinci Code at the Cannes Film Festival.The critical reception here was negative, but what would you expect? As someone who enjoyed the film (good, not great; better than the book), I am possibly typical of many of the people who will pay to see it. But when you open at Cannes, those people are not your target audience," Ebert writes today.
"As for the critics who saw the film here even before the festival began, they are very serious, never more serious than on opening night, when they suspect they are witnessing the death of the cinema. . . . I suppose it takes a certain perversity to say, hey, it's not that bad; it's more or less precisely what you would imagine a movie made from The Da Vinci Code to be like."
* The official opening dinner after the Da Vinci Code screening was at the Palais Du Festival. So maybe that's where the blood in the water did not belong to Jesus.
Cubbiedumb
Are Cubs players dumb?
This became a brief topic of debate on The Score yesterday, and that was before Neifi Perez tried to bunt his way on with two outs and two runners on in the bottom of the 9th, down by two runs.
Perez said later that he was trying to load the bases for . . . John Mabry.
"Manager Dusty Baker defended Perez's decision as the proper one," the Sun-Times reported.
The Cubs continuing glaring lack of fundamentals does not speak well for Baker. True enough, he wasn't the one at the plate in the bottom of the 9th. But on a well-managed team, Perez would have known what the proper hitting strategy was in that situation, and that it wasn't to bunt.
Baker should have made sure that Perez knew. On a team like this, as much as you would like to show trust in your players, you can't take a laissez-faire approach.
But we've seen it over and over again with Baker.
Perhaps an even better example of how Baker's management style does not fit this team is the fact that the Cubs are last in the National League in on-base percentage and walks.
Blame Jim Hendry for this roster, sure. And blame Andy MacPhail for a still-sucky minor league organization that does not produce finished players. But blame Baker too for not insisting his players learn how to take smarter at-bats - or else.
Illinois Has To Go, Too
"The Senate agreed on Thursday to make English the national language of the United States and moments later also adopted a milder alternative calling English the country's 'unifying language.'" (Reuters, 5/18).
"City of Skunk Cabbage" has a nice ring to it, but restenciling all those garbage trucks is going to cost a fortune.
- Tim Willette
The Beachwood Tip Line: In any language you like, as long as it's not an official one.
Posted by Beachwood Reporter at 7:08 AM | Permalink
May 18, 2006
The [Thursday] Papers
It's true the Sun-Times has been running a series of stories for days throughout the paper under the rubric "Da Vinci Code Week," including a Travel section article informing us that "You don't need to decipher a message in a cryptex to plot a great European vacation following in the footsteps of the characters in Dan Brown's The Da Vinci Code," and a Food section article - with recipe - about the special Da Vinci Cod entree at a local restaurant called, well, Vinci.
But I'm not sure that kind of madness tops the Tribune's front-page story today about the press screening of the movie at the Cannes film festival.
The Tribune's piece opens awkwardly with another writer's description that newly named lead movie critic Michael Phillips must have desperately liked better than anything else he came up with on his own, considering the way it's shoehorned in there, and then slides into a weird religious reference that I might call offensive if I knew what it meant.
"There was blood in the water by the Palais on Tuesday, as Toronto Globe and Mail correspondent Simon Houpt put it on his blog, when The Da Vinci Code screened for a press and industry crowd prior to Wednesday's official opening of the 59th Cannes film festival," Phillips wrote. "And the blood didn't belong to Jesus Christ."
Whoa! What?
First, while the blood line appears to be Phillips's own clever addition to Houpt's opening line, the whole thing comes from Houpt. "There was blood in the water by the Palais tonight, and it didn't belong to Jesus Christ," Houpt wrote on his blog Wednesday night.
So Phillips copped the entire lead.
Second, well, I don't really know what to say about it except that I don't get it. I'm assuming it's a reference to an incident in the book, but I haven't read the book. And I'm guessing there are still a few others in Chicago who haven't read the book and are also scratching their heads in wonder at the harsh, seemingly offensive words on the front page of their Chicago Tribune this morning.
I'm guessing it's not a Biblical reference because I can't remember Jesus and/or his blood being anywhere near the Palais in the Bible. But hey, I haven't read that book either. At least not in its totality. Only the good parts.
Phillips did come up with a clever line to open his accompanying review when he wrote, "How can a film contain so many clues yet remain utterly clueless?"
Phillips gave it a star-and-a-half.
Having not been at Cannes for the screening and thus unable to judge the movie's merits, I'm more persuaded by Roger Ebert's seemingly effortless yet simply elegant take:
"They say The Da Vinci Code has sold more copies than any book since the Bible. Good thing it has a different ending. Dan Brown's novel is utterly preposterous; Ron Howard's movie is preposterously entertaining. Both contain accusations against the Catholic Church and its order of Opus Dei that would be scandalous if anyone of sound mind could possibly entertain them. I know there are people who believe Brown's fantasies about the Holy Grail, the descendants of Jesus, the Knights Templar, Opus Dei and the true story of Mary Magdalene. This has the advantage of distracting them from the theory that the Pentagon was not hit by an airplane.
"Let us begin, then, by agreeing that The Da Vinci Code is a work of fiction. And that since everyone has read the novel, I need only give away one secret - that the movie follows the book religiously. While the book is a potboiler written with little grace and style, it does supply an intriguing plot. Luckily, Ron Howard is a better filmmaker than Dan Brown is a novelist; he follows Brown's formula (exotic location, startling revelation, desperate chase scene, repeat as needed) and elevates it into a superior entertainment, with Tom Hanks as a theo-intellectual Indiana Jones."
Ebert gives it three stars.
And the stars don't belong to Jesus.
Cannes Crucible: Phillips, in turn, appears on Houpt's blog.
Falcon and the Snowmen
Will the federal investigation into City Hall hiring reach the mayor?
"In a meeting at his City Hall office, the patronage chief for Mayor Richard Daley directed Mary Jo Falcon and her group of Asian city workers to help the mayor's re-election effort, Falcon testified Wednesday," the Tribune reports.
But she did not implicate Daley.
"She also acknowleged that prosecutors had asked her about what her higher-ups knew about hiring practices," the Trib report says.
"But when [Sorich defense lawyer Thomas] Durkin asked whether prosecutors had ever asked whether Daley was involved in creating hiring lists, Falcon replied, 'I don't remember that question, sir.'
"Falcon said a grand juror had asked her that question. When Durkin asked for more detail, prosecutors objected and U.S. District Judge David Coar sustained their objection."
Duke, UCLA, and CHA
Mary Mitchell contrasts reaction to the rape allegations against members of the Duke lacrosse team and the mysterious case of the UCLA student killed in a fall from a seventh-floor window of the last of the Robert Taylor Homes.
Checkbook Journalism
Washington Mutual announces a new branch office conveniently located inside the Chicago Sun-Times newsroom.
A Modern Stone Age Family
"One of the most detailed comparisons yet of human and chimp DNA shows that the split between the two species was a long, messy affair that may have even featured an unusual evolutionary version of breakup sex."
Zany Cheney
Wolf Blitzer's interview of vice presidential daughter Mary Cheney last night was extraordinary TV just to watch how incredibly similar her gestures and facial expressions are to her father's. It was like watching a Saturday Night Live parody to see her with her slightly cocked, downward-tilted head, her half-smirked way of talking out of the side of her mouth, and her utter contempt for intellectual honesty.
CHENEY: I think that they have handled Iraq exactly right.
BLITZER: You do?
CHENEY: Just think about it, Wolf.
BLITZER: No mistakes?
CHENEY: No mistakes.
BLITZER: Exactly right? Because those are strong words.
CHENEY: Three years ago - exactly right. Those are very strong words.
BLITZER: Tell us . . .
CHENEY: Three years ago, Wolf.
BLITZER: Yes.
CHENEY: Twenty-five million - 25 million people are free today who were not free three years ago in Iraq. Iraq has managed to hold three national elections and every single election, more people came out and voted than voted in the previous election.
These are people who are going to the polls, and voting and casting votes for their leadership for the first time in their lives. They deserve an enormous amount of respect from us and they deserve our help, and we are doing everything we can to help them. And quite frankly, I think we are doing it exactly right.
BLITZER: But don't you think if there would have been a better plan for the post invasion to deal with an insurgency, to deal with the reconciliation, the disbanding of the Iraqi army under Saddam Hussein, more than 2,000 troops might not necessarily have been killed if it would have been handled better?
CHENEY: As I said, I think it's been handled exactly right.
NSA Today
* The Tribune publishes a Baltimore Sun report about a pilot program tested but abandoned by the NSA in the late 90s "that would have enabled it to gather and analyze massive amounts of communications data without running afoul of privacy laws."
* Just spotted: Former Reagan Administration lawyer Bruce Fein, aghast at the NSA's surveillance programs, told the Senate Judiciary Committee in March that the president ought to be censured.
* USA Today's latest: Select members of Congress were briefed 30 times about NSA surveillance programs since 9/11. Also: Nat Hentoff with a refresher course on civil liberties for Gen. Michael Hayden, and legal scholar/pundit Jonathan Turley on the media, Congress, and the president's threat to the Constitution.
* Parsing the latest telephone company denials. CNET News on AT&T and a possible legal loophole.
The Beachwood Tip Line: Formerly the Chimp Channel.
Posted by Beachwood Reporter at 7:46 AM | Permalink
May 17, 2006
The [Wednesday] Papers
The early-going in the Robert Sorich trial does not look good for either the current defendants or a potential future one - the mayor.
To wit:
* The former personnel director for the sewer and water departments, Mary Jo Falcon, testified Tuesday "that Mayor Richard Daley's aides dictated which job applicants were to be hired before openings were posted or interviews were held," the Tribune reports.
* When Falcon took the job in 1994, she says, she was told "My boss was the mayor's office," the Sun-Times reports.
* "She also recounted dozens of times she had walked out of Sorich's office with a list of which political workers to hire before she fudged documents and doctored the ratings of job candidates," John Kass writes.
But most devastating of all is Carol Marin's telling of the story of Andy Ryan, the son of a union boss who, at 19, got a $50,000-a-year building inspector job with the city. Lead prosecutor Patrick Collins "prominently featured Andy's employment saga" in his opening statement, Marin writes.

"According to a recent government filing, a top Daley administrator complained that a 'Carpenters Official was busting my balls to hire' Andy Ryan," Marin writes. "And also hire Kevin Sexton, the son of Carpenters Union President Mike Sexton. Just like Ryan, the Sexton kid wasn't remotely qualified.
"As the story unfolded in the fall of 2004, just about every city official I talked to obfuscated, backtracked, or outright lied about what really happened. That included Stan Kaderbek, who was the city building commissioner at the time."
Those who consider patronage not only harmless but necessary ought to consider what the potential consequences might be of loading up the city payroll with 19-year-old building inspectors and other connected but otherwise unqualified workers.
In the case of former governor George Ryan, for example, the scandal wasn't just that taxpayer money went into the pockets of his friends; it was, particularly at first, that unqualified truckers were set loose on our highways because they bought their drivers licenses with bribes that went into Ryan's campaign fund.
It's not hard to see a corollary in the Sorich affair.
"What made [Andy Ryan's] hiring even more shocking was it came just a year after a fatal porch collapse and a nightclub disaster," Marin writes. "Those tragedies had, in the starkest terms, established the life-and-death significance of city inspections."
And of a meritorious hiring system unsoiled by politics.
The Union Label
Gov. Rod Blagojevich's office kept a clout list of its own early in its administration. Unsurprisingly, confidantes Tony Rezko and Chris Kelly show up on the document, obtained by the Sun-Times, as top political sponsors.
More striking to me, at this stage of what could be a developing story, is the rationalization put forth by Illinois AFL-CIO President Margaret Blackshere for sponsoring her son for a $69,684-a-year job with the state Department of Commerce and Economic Opportunity.
"I gave my son an opportunity by saying, 'OK, here's an opportunity. You'll have to earn it. You'll have to do the interview, the application, that's all. Everything else is up to you, young man," Blackshere told the Sun-Times. "With his degree, with his experience, all of that, he earned the job."
As opposed to those who applied for the job without a political heavyweight as mother and sponsor.
Daley Dose
"I'm very accessible to the Chicago press, more than any public official," the mayor said Tuesday from China, where he declined to comment on the opening of the Sorich trial.
Council Bores
Aldermen are upset that the U.S. Attorney Patrick Fitzgerald insists on upholding the law.
Pickett Punditry
How much is Chicago Tonight paying Debra Pickett to deliver commentaries like her "thoughts about political corruption" last night that included a joke in which she pretended to confuse former Chicago Bear Chris Zorich with real-world City Hall defendant Robert Sorich and her confessions that, like many transplants to Chicago, she doesn't know what a ward boss is or where Lakeview ends and Lincoln Park starts or what the "old way" of practicing Chicago politics is anyway? Because I'm pretty sure I would be at least twice as good for less than half the pay.
Grace Note
In a case that he called odd because of its confusing and complicated set of circumstances, Cook County judge Vincent Gaughan found George Thompson guilty of involuntary manslaughter - instead of first-degree murder - in the death of Chicago-based Time magazine reporter Julie Grace.
Air Daley
Boondoggle.
NSA Today
So did they or didn't they? BellSouth and Verizon now say they didn't supply phone records of their customers to the National Security Agency. But several news reports note the careful wording of their denials. USA Today says it is "confident in our coverage of the database story" but will "look closely into the issues raised by the BellSouth and Verizon statements."
Roger and Me
According to the marketing piece I received in the mail yesterday encouraging me not to give up my quest to win The New Yorker's cartoon caption contest, Roger Ebert has also been an entrant.
In Today's Reporter
Our report on Jobs Americans Won't Do. Including reviving America.
Also including Jobs Americans Will Do. Including managing the Cubs.

Unfortunately, Americans named Dusty Baker don't do that job very well.
And Jobs You Can Help The Beachwood Reporter Do. With donation opportunities available to all, regardless of legal status.
The Beachwood Tip Line: Get on our clout list.
Posted by Beachwood Reporter at 7:41 AM | Permalink
Across The Chatham County Line
Whenever I see four guys on stage wearing suits, I can't help thinking about the Fab Four, with their ultratight action slacks and their skinny ties. And of course the Beatle boots. Funny how rock bands went so quickly from wearing suits to representing everything that was not about suits.
Of course, in country music suits and boots meant something different in the 1960s. It meant the Nashville/Opry thing where dressing up was a statement that you were a real American and certainly not a hippie. It also meant you were upwardly mobile and striving for the mainstream status that that type of sucky corporate country music unfortunately now enjoys - although even there, the suits were jettisoned sometime in the 80s in favor of carefully chosen, faux-cowboy big hats and scrupulously white muscle T's.
So what to make of a suit-wearing country band nowadays? In the case of Raleigh, North Carolina's Chatham County Line, the nice threads and ties seem to be the visual manifestation of the band's utter seriousness about traditional bluegrass music. That seriousness, expressed in throwback virtuoso musicianship on the fiddle, mandolin, banjo, upright bass, and pedal steel, is not-too-subtly mixed with an alt-country acoustic rock streak, a la the Byrds of the Sweetheart of the Rodeo days.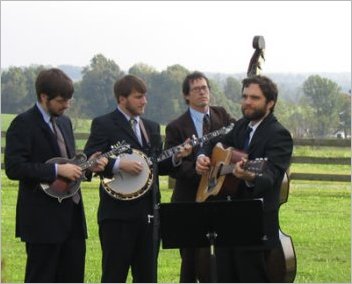 The result is what lead singer and guitar picker Dave Wilson calls "new traditionalism," which I take to mean the use of the most basic and familiar musical styles of mountain music and adding lyrics that appeal to heard-it-all post-moderns, producing songs that are literate, even thought-provoking, delivered in Wilson's distinctive tenor.
On their new album, Speed of the Whippoorwill, Chatham County Line spins out songs about struggling to survive heartache and the pain of being poor - traditional territory to be sure, but delivered with fresh relevance in an era that's spiraling into its own hard times.
On the title cut, Wilson sings: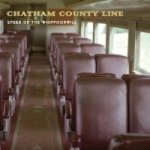 I know I had to leave you
There was work to be done
I swear when this job is over
It's to you I'm going to run
Blow wind blow
Blow on down the line
I'll be in the arms of my Darlin'
In just three weeks time
I'll be coming home
Pockets full of bills
I'll be coming home
At the speed of a whippoorwill
The haunting "They Were Just Children" tells of a father who quits his job working in a mine to exploit the musical talents of his two boys - brothers who, after months on the road, "sleeping on the floors," ask their father, "What are we fighting for?" The answer is, "You boys are worth more than what a miner can find." This being country song, of course the whole enterprise comes to no good end.
Other songs tell the tale of a Confederate solider on the run who is sheltered by a woman; of "misadventures" down by the riverside; and of a mother comforting a sickly child with stories of a home in the sky and a "waiting paradise." Somehow, none of this is maudlin.
I don't know. Maybe it's the suits, but this new traditionalism thing seems to work for Chatham County Line. By several accounts, the band - which includes former members of Tift Merritt's combo - made a big impression at last month's MerleFest roots music festival in North Carolina. They're slated to appear at the Chicago Country Music Festival on July 1 and at Fitzgerald's in Berwyn the next night. Only band members are required to wear suit-and-tie.
Posted by Beachwood Reporter at 2:56 AM | Permalink
May 16, 2006
The [Tuesday] Papers
The NSA story has disappeared from the Chicago papers, but if you simply plug "NSA" into Google News you'll find plenty of developments being reported elsewhere.
Here are a few we found, with assists also to Altercation and the Drudge Report.
1. The Washington Post reports that "Negroponte Had Denied Domestic Call Monitoring." The Post's full collection of NSA stories can be found under the rubric "NSA: Spying at Home," including links to what bloggers are saying about their articles.
2. An intelligence expert tells Salon that we'll soon find out that Internet and cell phone companies have also cooperated with the NSA.
3. "NSA's Data Mining Explained," by CNET News.
4. USA Today reports that cooperating phone companies may face a growing legal problem.
7. A senior law enforcement source tells ABC News the feds are tracking reporters' phone calls.
8. Margaret Smyth of Charlestown, Mass. writes to The New York Times: "Good luck to the National Security Agency if it can decipher my phone records. It will need more success than I had in understanding information provided by AT&T and Verizon when I spent hours analyzing my bills trying to find less expensive plans."
9. This is not your government's NSA.
10. "Inside Bush's Secret Spy Net," by Time magazine.
*
Lamest Defense Ever
So let's get this straight. The defense strategy in the Robert Sorich trial is to blame Harold Washington and John Kass? The mayor is in big trouble.
Cubs Culture
Cubs GM Jim Hendry is officially a doofus. Perhaps this would help him see the light. Put us out of our misery, Jim. Fire Dusty, if for no other reason than his quote in the Sun-Times today saying "I'm the motivator and the leader, but sometimes it's hard because how do you motivate the motivator?"
Government Press
The Sun-Times once again turns over precious editorial real estate to a politician's press release. What is this, Doodah, Iowa?
What's worse is that the press release is from Don Rumsfeld, and is about, of all things, a free press. The multiple levels of absurdity are beyond my punch-line writing ability.
Rove Rap
Truthout reported on Saturday that Karl Rove has been indicted, with an announcement coming this week.
UPDATE 3:45 p.m.: Truthout's Rove story is getting a thorough workout in the blogosphere. Salon's roundup is the best I've seen thus far.
UPDATE 4:45 p.m.: Another good roundup on Truthout and its Rove reporter, Jason Leopold, on Capitol Hill Blue.
Meanwhile, Truthout stands by its story.
By the way, Truthout is apparently not related to Truthdig, the relatively new Website led by former Los Angeles Times columnist Robert Scheer. But I think no matter how the Rove story turns out, Truthdig has a branding problem, because, quite frankly, I was thinking of Scheer's outfit this whole time. Maybe I'm an idiot, but, as John Lennon once said, I bet I'm not the only one.
The Beachwood Tip Line: Be an unindicted co-conspirator.
Posted by Beachwood Reporter at 8:19 AM | Permalink
The [Immigration] Papers
1. In a national address, President Bush pledged last night to secure our borders, and proposed a temporary worker program as part of an immigration reform package that he says will "live up to the promise and values of America."
Oh, wait. That was two years ago.
2. Jesse Jackson recently noted that until 1918 the United States didn't require passports to enter the country and the Mexican border was unguarded, in a column debunking immigration myths.
3. Finally, a presidential plan that would reverse the flow of people across the border.
4. A new development: Illegal Immigrants Returning To Mexico For American Jobs
5. These foreign flags didn't seem to upset a soul.
6. Wait a minute, what year is this? The naturalization application for immigrants still asks if you have ever been associated with the Communist Party? And worse, if you have ever been "a habitual drunkard?"
7. Jobs Americans Will and Will Not Do.
8. Us vs. Them.
9. Hispanics continue to remake the city, but skyrocketing home prices noted as an aside in a graphic here may be having a more dramatic impact as Chicago becomes unaffordable to the middle- and working-class. A Lou Dobbs two-fer!
10. Sue Ontiveros got me thinking.
What if we all rallied around the immigrant coalition as an animating force of unity, a vehicle with which to move forward with optimism in these dreary times. What if we took now the road not taken after 9/11 - the road of affirming our values instead of eroding them out of fear. The road of uniting ourselves before the world as a true beacon of democracy by winning hearts and minds with our best qualities, instead of leading through the evangelical fervor of misguided military misadventure. We live in a world changed far more by the ever-more-entwined global economy (and a seeming worldwide trend toward democracy) than by terrorists and Al-Qaeda.
This country made a grievous mistake in Iraq, and indeed in its "war on terror." We never should have tried to fight a "war on terror." We should have fought a war for freedom and tolerance, the true enemies of Al-Qaeda. We would still have much of the world on our side if we did, and our country would be stronger and safer. We should have led by example. Instead, we are a historic cautionary tale.
Perhaps immigrants can set us free again. The immigration issue forces us to confront our own past, who we are, and what we want to be. We are a country where your ethnic, geographic ties are to be celebrated, but aren't supposed to define you or your life. We are the country where people from all over the world come because they believe in the idea of America - free speech, free religion, and, yes, a free economy. America is not popular because it is a police state. Immigrants new and old have come here to escape countries where the government spies on its citizens and fights phony wars. That is not supposed to be us.
So perhaps the immigration "movement" can infuse America with something more important than their labor: Their spirit.
Posted by Beachwood Reporter at 6:44 AM | Permalink
The Great American Jobs Machine
JOBS AMERICANS WON'T DO:
1. Work 80 hours a week picking fruit in the Florida heat for $2 a day.
2. Learn the names of their political representatives.
3. Be Naomi Campbell's personal assistant.
4. Certain wrestling smackdowns.
5. Clean hotel lobby restrooms used by conventioneers for $7/hour.
6. Bat .210 for less than $2 milllion a year.
7. Sacrifice for the public good.
8. Work as an indentured servant in a bleak Southern chicken parts factory alongside children.
9. Fix a speeding ticket for less than $37.95.
10. Pass meaningful immigration reform.

JOBS AMERICANS WILL DO:
1. Spy on fellow citizens.
2. Game show host.
3. Bull semen collection.
4. Human semen donation.
5. Produce Hannity & Colmes.
6. Surrogate motherhood.
7. Manage the Chicago Cubs.
8. Have their lives filmed and ridiculed 24 hours a day.
9. Full body cavity searching.
10. Sell political favors for campaign cash.
Posted by Beachwood Reporter at 4:43 AM | Permalink
May 15, 2006
The [Dusty Baker] Papers
1. The Onion was right.
2. Baker stinks.
3. In its Dusty Baker entry, Wikipedia includes these frequent criticisms of the embattled Cubs manager:
* Overuse of starting pitchers, possibly leading to short-term and chronic injury (see: Mark Prior, Kerry Wood, Russ Ortiz).

* Handling rookie players poorly, putting them in positions to fail or unfairly passing them over in favor of older players.
* Ignoring statistics when filling out the lineups. For example, in a good portion of 2005 he put Corey Patterson and Neifi Perez in the top of the batting order, despite having two of the worst on base percentages on the team.
* Lacking focus
* Earning the nickname "double switch dusty" Baker often overlooks that a pinch hitter doesn't need to be placed in the field.
* Baker almost never comes out of the dugout to back up a ballplayer on a disputed call.
4. Dusty Baker is apparently still hawking a "You Can Teach Hitting" product line. The site still has video of one of his more successful students, Corey Patterson, on it.
5. Dusty Baker likened to former FEMA director.
6. How Dusty plays the media.
7. I know he's Greg Maddux and everything, but who is managing this team anyway? "Things turned for Maddux in the eighth, with a pair of singles and a throwing error by right fielder Jacque Jones leading to an unearned run." the Sun-Times reported. "After Maddux walked pinch hitter Paul McAnulty, he summoned the infield and Baker to say he was done.
"I felt the way the game was going it wasn't good to face that lineup a fourth time," said Maddux, who threw only 73 pitches. "The bullpen has been the strength of our pitching staff all year, and they still are."
Shades of Sammy Sosa deciding his own spot in the batting order.
8. WLS-Channel 7 sports anchor Mike Giangreco, in the Sun-Times: "[Baker] just doesn't seem to be a disciplinarian. He doesn't make players pay for obvious mistakes. There have been comments in the paper . . . it sounds like they're not preparing themselves for games. There aren't scouting reports, and it's kind of lax. He's not very happy here and is very defensive."
9. A little love for The Beachwood Reporter, please. On May 8, Maxim online posted its piece naming Dusty Baker the game's worst manager. That same day my brother sent me an e-mail with the link. On May 11th, I posted the link. On May 14th, the Sun-Times noted the Maxim story, though it didn't note the Reporter.
10. Dusty Baker, bullshit artist.
*
BONUS MATERIAL: The [Cubs] Papers
1. Lacy Banks goes in search of Sammy Sosa, who seems to have fallen off the face of the Earth. Someone could probably win a National Magazine Award doing the same and piecing together a true profile of one of the oddest and yet mesmerizing characters in Chicago sports history, if not in Major League Baseball. Does anyone feel yet that we really know who Sammy Sosa is?
2. Richard Badger writes to the Tribune: "Eight is not enough, but apparently nine is? That seems to be the message from Phil Rogers' May 11 column. He points out that in the last 11 years, no MLB team has lost nine or more games in a row and then come back to make the playoffs. Nine teams, however, have managed to make the playoffs after eight-game losing streaks during the regular season. His conclusion: The Cubs faced 'the first must-win game of the season' May 10 when they beat the Giants after losing eight in a row.
"Does Rogers really believe there is some magic line between eight- and nine-game losing streaks? In his generally interesting and informative pieces, Rogers occasionally drops in some statistical tidbit that must have taken him a lot of effort to discover. Sometimes the significance of the data is obvious, and I appreciate that he brought it to our attention. This was not such a case."
Badger is right. Rogers confuses cause and effect when he writes that If the Cubs were to lose their ninth in a row, the odds that they come back to make the playoffs drastically decrease, possibly even to zero. The more useful way to interpret the statistic Rogers has dug out is to say that playoff teams tend to avoid hideously long losing streaks; for example, in the last 11 years no team that has made the playoffs went through a losing streak longer than eight. On the other hand, I wonder how many teams went through longer losing streaks period. It could be that even non-playoff teams don't often have losing streaks that long. You can see how quickly this statistic evaporates in significance, not to mention that like in the stock market and corporate finance, past performance is no indicator of future success or failure.
3. Wouldn't we all be having a lot more fun if Mark Grace and Steve Stone were still around? And Rick Sutcliffe?
4. Phil Rogers recently wrote: "[T]he Tribune Co. and Cubs President Andy MacPhail, the bridge between 435 N. Michigan Ave. and 1060 W. Addison Ave., continue to run their baseball team in mysterious ways." Please elaborate. I mean, besides the obvious inability to field a decent team.
5. Just who is Mike Kiley of the Sun-Times calling a liar? "Anyone who chooses not to believe Cubs officials who let it be known privately they haven't inquired about a trade for Arizona first baseman Tony Clark should know this: Diamondbacks general manager Josh Byrnes said Thursday he hasn't heard from the Cubs about Clark," Kiley wrote recently. "A report that the asking price for Clark is too high for the Cubs is fiction because the parties haven't spoken to this point."
Posted by Beachwood Reporter at 4:24 PM | Permalink
The [Monday] Papers
The NSA story gripping the nation continues to go MIA here in Chicago. For an analysis, read The [Sunday] Papers. Then donate to The Beachwood Reporter so we don't have to sell your phone records to stay in business.
As for today's papers, well, to my way of reading, the Sun-Times letters page is the most interesting page in all of Chicago on this gray day. Let's take a look.
Noel Brusman of Hyde Park writes: "An article by Fran Spielman suggests that Rep. Luis Gutierrez has plans to run for mayor of Chicago, [and] that he thinks Mayor Daley 'has wasted time and money on Millennium Park and attracting the 2016 Summer Olympics at the expense of public schools.'
"Well, now. Any Chicago resident with half a brain knows that making the city beautiful and attractive to visitors brings new money into the city. The beautiful downtown and neighborhoods not only enhance our lives, they bring others here to spend money. The tax revenues bring money to all city services."
Brusman raises a good point. The mayor's office should tell us just how much money they've been able to pour into the education budget because of Millennium Park. Or is it possible that the city's share of the cost and its deficit-ridden parking garages have cost the schools some funding? Or is there no connection at all?

Crancich Stefano of Melrose Park writes: " This is a comment to Robert Adelman's letter, 'Sing anthem in English.'
"I am tired of people who continue to use the term 'America' as a country. Maybe you need to go back to geography class, but America is a continent, not a country. Mexico, Argentina, Venezuela are all part of the Americas; therefore the inhabitants of those countries are also Americans. This country is called the United States. Also, the United States does not have an official language. Although English is spoken throughout the government, English is not the official language. You should get on the government's back if you feel English should be the official language."
I admit I have used the term "America" interchangeably with "The United States of America," but I believe Stefano is right insofar as we live on a continent called North America. Beyond that, if you look at a map of the Americas - North, Central, and South - that make up with islands like Cuba and Haiti the Western Hemisphere, it is dominated by Spanish-speaking Latinos. It is really Americans (United States of Americans?) who are strangers in a strange land. Our forefathers were kicked out of every decent country in the world. But we've been kicking ass for 200 years. We're 11-2.
Mary Ann Simmonds of Uptown writes: "I often see letters expressing disdain for the efforts spent on animals' rights, i.e., 'Why are we wasting time on a foie gras ban, or sending the man to jail when he was already fined for cruelty, etc., when there are so many other really important issues that need solutions?'
"My belief is, until we value the least of these, we value nothing. Until we have mercy and compassion for all, animal and human, we have no restraints on war, poverty, hunger, genocide. People don't seem to realize that it's all connected. You don't turn it on and off. You either have it or you don't. The bad news is - we don't."
The media quickly picked up on Mayor Daley's foie gras talking point - that the issue was a waste of time when, for example, kids were being shot in Englewood. But did any reporter ever ask just how much time was spent on foie gras? I'll bet it wasn't much. But it made for the kind of good, lazy punditry and accepted political cynicism that passes for knowingness among Chicago media.
Wal-Mart of Bentonville, Arkansas writes: "The Chicago Federation of Labor made some pretty wild accusations about Wal-Mart's new Jobs and Opportunity Zones program in its April 23 letter, and I'd like to take this opportunity to set the record straight . . . "
Buy an ad or respond to reporters' queries. The newspaper shouldn't be in the business of printing press releases - for labor or Wal-Mart. Or for pols (second item).
Cease Funding
The mystery - to readers at least - surrounding the state funding of the anti-violence CeaseFire program continues. "Gang Peacemakers Get More Money From State" raises more questions than it answers. Tracy Swartz of the Sun-Times reports that CeaseFire has secured $6.25 million in funding, a $1.4 million increase its previous outlay.
"It's almost like extortion," state Sen. Donne Trotter (D-Chicago) told the paper. "Why should we continue to give . . . money when we do not know the real efficacy of this program?"
Trotter's position sounds reasonable. Why should we?
"Trotter wants salary information, details of the program's range of operations and evidence the group is spending the money to make the most difference in troubled communities," Swartz writes. "The Senate last month unanimously approved Trotter's call for a state probe of CeaseFire's finances."
There's just one lingering question: Who approved the new spending? Was it a legislative committee? A committee that Trotter is on? Or did it come from inside the Blagojevich administration? In other words, who is responsible for handing over this chunk of taxpayer money?
It's the same question that went unanswered when CeaseFire's funding first became an issue in March. Please, just tell us: Who decides how much money CeaseFire gets and which neighborhoods it gets spent in? Name names. That's how journalism works.
Killing Conan
Allison Benedikt, off to a strong start writing about TV for the Tribune, nails it in her review of Conan O'Brien's "four nights of remarkably subpar to mediocre late-night television" broadcast from Chicago last week.
Jury's Journey Into Night
Abdon Pallasch wraps up what went on inside the George Ryan jury room once and for all. Pallasch's account fleshes out the problems jurors had with Evelyn Ezell, the holdout who was eventually dismissed for failing to disclose a long arrest record. Pallasch also persuasively draws a picture of a studious jury that closely examined the complex tangle of evidence - and how indisputable Ryan's guilt really was. The only outstanding question seems to to surround jury foreperson Sonja Chambers, who failed to disclose her own involvements with the justice system and may have spoken about the case outside the jury room.
Lame Laura
"First Lady Hammers It To Bush: Gay Marriage Not A Political Tool." But obviously she is, as she is sent out to try to help the president recover in the polls. Question: Where was Laura on gay marriage when it mattered, during the 2004 campaign? And, like her husband, Laura simply refuses to believe facts she doesn't like.
Fuller Of It
If someone can decipher what former Tribune editor and Stars and Stripes reporter Jack Fuller is trying to say about Michael Hayden's nomination to be CIA director, let me know.
The Beachwood Tip Line: Sponsored by Qwest . . . in our dreams.
Posted by Beachwood Reporter at 2:15 PM | Permalink
The [Sunday] Papers
If you turned to Chicago's newspapers this weekend to learn more about the NSA's controversial phone-call tracking program, you were severely disappointed.
As the debate raged on elsewhere in the country - in the nation's elite newspapers, on the Internet and the cable news networks, and, from all available evidence, among the public itself - the papers here satisfied themselves with the barest of efforts.

On Saturday, the Sun-Times published a single Associated Press article on page two that read just like you would expect a story with the headline "CIA Nominee: We Followed The Law" to read.
The Tribune did better with a front-page story about the potential legal liability of the phone companies, noting that Qwest declined to turn over its records because it determined it would be a violation of telecommunications privacy law - which in fact is now the basis of a $5 billion lawsuit filed against Verizon.
The paper also had an inconsequential piece about the president's nominee for CIA director, Gen. Michael Hayden, that provided no extra value beyond what could have been picked up off the AP wire. The two reporters who worked on it may have been better deployed on the intriguing but still incomplete phone company story.
For example, if the NSA isn't collecting records from all the phone companies, can its program really be successful? I mean, does the absence of Qwest records mean that terrorists in the West are more likely to escape detection?
If the phone records are so important, why didn't the NSA seek a court order to compel Qwest's cooperation?
What was the nature of the discussions between Qwest and federal agents?
What do the legal counsels for the other phone companies have to say for themselves? Have they ever been sued for turning over phone records for commercial purposes? Have they turned over phone records to the government en masse before - say, during World War II? Would they object to just tying their computers right into the NSA? And if so, why?
Can I switch my phone service to Qwest?
If you were disappointed in what the Saturday papers had to say but figured they were saving their big pieces for Sunday, well, you were once again foiled by false hope.
In its news pages, the Sun-Times on Sunday printed a six-paragraph Bloomberg News story reporting on a Newsweek poll showing that "Phone Record Search Goes Too Far For Most In U.S."
The paper also published a 10-paragraph piece combining the reporting of Bloomberg News and AP on a New York Times story revealing that after 9/11, Vice President Dick Cheney wanted the NSA to monitor domestic communications without warrants. That was on page 26.
(Yes, the Sun-Times relies on other news agencies to report on stories appearing in yet other news outlets. It gets confusing, but it's a cheaper way to do business.)
True enough, the paper's Controversy section, which captures at least a slice of the Web's vitality each Sunday, featured the NSA controversy on its cover. But "Ten Reasons The NSA Should Hang Up Now" was reprinted from the Daily Kos, and the absolutely bizarre "The Real Big Brother Is On Capitol Hill" was reprinted from the National Review Online. They hardly sufficed.
The Tribune on Sunday also dodged the most compelling aspect of the story - the NSA is building the largest database in history tracking at minimum the phone calls of American citizens and possibly, based on recent data-mining efforts, medical records, credit card activity, banking records, and whatever else is out there under the direction of a president who may be acting outside the Constitution - in favor of a front-page wet kiss to Hayden in "The Man Behind Spy Flap - Hayden Seen As Washington Archetype, Effective Bureaucrat."
Do you feel smarter having read that? Feel like you really know this guy and what he's been up to snooping into your life? Or do you feel like you've just read yet another cliched script of a story that newspapers serve up time after time?
The Tribune also effectively blunted the significance of the NSA phone records story by placing on its front page an irrelevant piece about how much of your life is digitally documented by a variety of public and private concerns. "Privacy? What Privacy? - Cameras, Cards And All Sorts Of Data-Gathering Techniques Can Follow Almost Your Every Move" diminishes the NSA's data-mining operation by telling readers, in a light tone, that this sort of thing happens all the time.
Of course, the recording on a CTA smart card of which stations the card is used at is a little bit different than the federal government maintaining a huge database of all of its citizens.
More absurd is the front-page graphic, in which the paper offers three examples of "How the information age can invade your privacy." The first is that anyone can type your phone number into Google and get directions to your home.
Yes they can. As opposed to the old days when addresses weren't listed in phone books and maps weren't available to the general public.
(The other two: "Internet service providers keep logs of everything you do online, which can be made available to police." Just like phone service providers. Only you might have heard recently that the authorities don't need a warrant to get the phone logs; and "Your Internet address can be captured by a skilled hacker who can then figure out your home address." Maybe even by using Google.)
The Tribune states near the start of its story that "We live in a digital fishbowl, an overlooked aspect of the fiery debate that erupted last week with the reports that the National Security Agency is collecting information on America's telephone calls."
Good thing the Tribune is smart enough to locate the overlooked aspect of the NSA story rather than focus on the NSA story itself. Because I've never read a story before about new threats to privacy posed by the digital age. Apparently the Tribune has gotten there first.
(The story also contains the Tribune's obligatory slap at "young people," as if they are another species with which they are barely familiar, by stating near the top of the story that "Young people, in particular, who consider the Internet a virtual coffee shop to gather and chat, think little of exposing themselves with each visit."
(Let me tell you something: "Young people" are those hackers who are finding not just your home address but a list of the porn sites you've been looking at. If anyone knows how to use technology to shield their identity, it is "young people," not, say, newspaper reporters.)
The Tribune added one more piece to its coverage on Sunday, a seven-paragraph story under the headline "Bush: Americans' Privacy Protected." It was a summary of the president's weekly radio address. Isn't that the same thing as the president reading a press release on the air? How is that news? (Or was it the president's assurance that Hayden is "supremely qualified" that was so important to bring to readers?)
The paper's Perspective section also punted, enlightening us only with a story on its front cover entitled "Will This Military Man Say No?" about Hayden. Didn't I read this story on Saturday?
How can the real story here not engage our editors? There are serious questions here not only about how far the NSA's data-mining goes, but about whether this program is legal - whether the president has violated the law. The privacy of Americans from the intrusive force of the government is one of the bedrock principles of this country. We do not spy on our own citizens and maintain a database tracking their movements. Isn't that what made the Soviet Union an evil empire?
And if the program is legal - and effective - than so be it. But let's get to the bottom of it first. Doesn't this story demand our utmost attention? Or do our editors just assume by now that we get most of our news elsewhere? And if so, why do they even exist? To bring us Q?
The only shining light in all the muck was "A Nation Of Suspects In Land Of The Free," by Tribune editorial board member and columnist Steve Chapman.
It makes you wonder what stories he would've ordered up if he was the paper's editor.
The Beachwood Tip Line: Data-mining at its best.
Posted by Beachwood Reporter at 7:36 AM | Permalink
May 13, 2006
The Weekend Desk Report
The Beachwood Weekend Desk patrols the unsecure border of news and science fiction this weekend.
Orwell That Ends Well
Remember when you were a child and you received a really nice but completely age-inappropriate birthday present? Maybe it was a beautiful but fragile doll, or a complicated model airplane kit with dozens of tiny pieces. Whatever it was, you wanted it desperately and some kindly but misguided relative went a little overboard and bought it for you. So your parents, thinking they'd preserve the gift for a time when you could enjoy it without breaking it, took it away from you and hid it somewhere. Well, according to Michael Hayden, freedom's kinda like that, too. If the pattern holds, by the time we get our civil liberties back we will have thoroughly lost interest.
One for the Road
According to a recently-conducted poll of adult Americans, a hummer really isn't that big of a deal in the long run. GM was quick to respond.
They Hate Us Because They Like Us
In the time-honored tradition of smitten seventh-graders everywhere, Iran passed the U.S. a note in Home Room on Monday. America initially responded with a swift "eeeeeewwwww!" Secretary of State Condoleezza Rice subsequently indicated, though, that if Iran, like, maybe wanted to hang out with a bunch of Europeans and, like, the U.S. was there too or whatever, maybe that would be cool. We remember those first frightening days of teen romance, and can confidently predict these two crazy kids will be making out in the back of a movie theater any day now. And we're pretty sure we know what they'll be watching, too.
Saturday Night Fever
Suddenly, the guy with the binoculars seems a lot more reassuring.
What You Want Is Not Always Worth Getting
Hopes were dashed when the hotly-anticipated excavation of one of England's enduring cultural symbols yielded little more than the vague scent of whiskey and a few lame jokes. Scientists feared these disappointing results might make it more difficult to gain access to similar sites in the future.
Posted by Beachwood Reporter at 6:08 AM | Permalink
May 12, 2006
The [Friday] Papers
Score one for White House media strategists who rushed the President in front of cameras yesterday to respond to an explosive USA Today story about the National Security Agency collecting phone records of American citizens.
That's how a nimble Administration turns a headline such as "NSA Collecting American Phone Records" or "NSA Examining Your Phone Calls" into one like "Bush: No Laws Were Broken," which appears across the top of the Chicago Tribune today.
(At least the Tribune decided the story was the most important one of the day. The Chicago Sun-Times thinks it's more important that U.S. congressman Danny Davis might like to be Cook County board president.)
I understand the impulse that newspapers have in our new hyperspeed media environment to report beyond yesterday's well-known events. But it's one thing to be up-to-date and another to speed by the original story in the process.
The president's closely crafted statement is just that - a document closely crafted by his media managers and designed to shape the discourse in his favor rather then elighten the electorate. Some might call it propaganda.
The reaction of various influential members of Congress is certainly important, though it must also be distilled through a political lens.
But we here in Chicago haven't yet absorbed the story everyone is reacting to. When I read in the Sun-Times front page promo for its NSA story that "Some lawmakers howl over news that [the] National Security Agency is building a database of every call within the country," I'm not thinking about the howling, I'm thinking, "Wait a minute. They aren't just collecting phone records but they are BUILDING A DATABASE OF EVERY CALL WITHIN THE COUNTRY?!"
In terms of news judgement, isn't that, like, HUGE?
We already know the NSA has an eavesdropping program that may be illegal, a fact that currently imperils the president's new choice to head the CIA.
And we know that this adminstration once propsed a Total Information Awareness data-mining program, curbed by Congress, that would have collected information on individuals such as credit-card purchases, bank transactions, and drug prescriptions.
So maybe fleshing out the initial core of this story and placing it within the larger context of an agency and a presidency indisputably in a constitutional no-man's land deserves higher priority than the president's scripted response or the reaction of congressional members who so far have been feckless in overseeing this administration's wayward moves into an unconstitutional presidency. Not to mention Danny Davis's possible Cook County board candidacy.
For example, this part of the Tribune's story sure stuck out:
"But Russell Tice, a former NSA analyst who disclosed the surveillance program Bush was referring to, said that NSA is conducting a number of programs that violate U.S. law. The NSA employees doing that work, said Tice, a 20-year intelligence veteran who was fired from the NSA last year, know it is unlawful.
"Everyone at NSA knew what they were doing was illegal," Tice told the Tribune, "because it's drilled into our heads over and over that it's against NSA policy that you do not do that [domestic surveillance]. The choice is to speak out and get fired."
Those were the final two paragraphs of the Tribune's story. Perhaps the paper could have oriented its story around the NSA and what folks like Tice are saying, as well as the astounded legal experts I saw on the cable news shows yesterday, rather than waste space with administration's spin efforts such as:
"White House spokeswoman Dana Perino said that Thursday's disclosure of the NSA phone records database program was unlikely to affect [CIA director nominee] Hayden's confirmation chances.
"'I think Gen. Hayden has had a really good start to his confirmation process,' she said."
Did the paper really have to make room for that kind of nonsense?
The Tribune story moved quickly from the president's response to congressional response to the potential impact on Hayden while I was still trying to get my head around what the NSA is doing. And the paper didn't include what sounds to me like the most significant revelation yet, the aforementioned aspect that the Sun-Times mentioned (but did not follow-up on in an even more inadequate report): THE NSA IS BUILDING A DATABASE OF EVERY PHONE CALL MADE IN AMERICA!
Every conspiracy theory is now back on the table.
Boarding School: The Tribune's editorial board does better. In fact, the first three paragraphs of its NSA edit could have properly stood as the opening of a front-page news story.
Back in the USA: For a more complete view, here are today's USA Today stories.
Bush Legacy: With conservatives now disliking this president as much as liberals, at least he is finally proving to be a uniter and not a divider.
Book It
The new Sun-Times books editor is Cheryl Reed.
United Center
David Greising explains what's really going on with United Airlines making noise about leaving Elk Grove Village. Greising used to be perhaps the city's best columnist and maybe even the country's best business columnist before Tribune management decided he wasn't serving readers well with the depth and breadth of his business knowledge nor his unusually incisive insight, wit, and truth-telling abilities. I'm sure you'll agree that the Tribune's business section has become a much better read since Griesing's column was killed.
Duckworthy
Lynn Sweet got it right: the congressional candidate's stance against earmarks is news. The Trib buried it beneath an account of Emily's List praising Duckworth for her pro-choice stance, which certainly isn't news.
Poor Judgement
Federal Judge David Coar, presiding over the trial of Robert Sorich, the former patronage chief for Mayor Richard M. Daley, seems to have an awfully short memory. Coar lambasted the media for doing what he won't allow lawyers in the case to do: Background checks on prospective jurors. I have no idea if Coar is a buddy of Daley's, but you can see the mistrial from here.
The Beachwood Tip Line: Buy a membership and we'll listen harder.

Posted by Beachwood Reporter at 9:53 AM | Permalink
May 11, 2006
The [Thursday] Papers
Skip the newspapers today (jury selection in Sorich trial begins; United Airlines explores headquarters options; Daley distracts us with possible Olympics bid) and read these offerings instead.
1. The accused murderer of Chicago-based Time magazine reporter Julie Grace goes to trial today. You can read more about the case in this fine profile by Chicago magazine's Jennifer Tanaka.
2. Publication of the online Will County Insider has been suspended. So has Steger Matters.
3. Yellow Dog Democrat points us to what looks like a fascinating new book arguing why government should not be run like a business.
4. Chicago writer and musician John Cook asks and answers the question "If You Don't Like Rap, Are You a Racist?" in an article that scolds New Yorker music writer Sasha Frere-Jones and nicks one of my favorite music writers, Chicago's Jessica Hopper.

5. Mary Chapin-Carpenter, briefly, on depression.
6. The evolution of journalism that left alcoholism behind.
8. At Overheard in New York:
Man: This is stupid . . . and incredibly boring.
David Blaine: Hey, I can hear you!
- Lincoln Center
A guy and girl approach a sleeping David Blaine in his bubble.
Security guard: Hands of the glass, sir.
Guy: It's okay, it's okay . . . I just wanna talk to him.
Guy and girl, putting both hands on glass: WAKE UP DAVID BLAINE!
Security guard: Exit! Exit!
- Lincoln Center
9. Maxim Online says Dusty Baker is the worst manager in baseball. Their analysis sounds right, but their credibility is shot by ranking the Twins' Ron Gardenhire second-worst. In any case, Roman Modrowski at Full Court Press thinks Dusty is done. So the Dusty Death Watch has begun.
10. This 2002 story about newspapers cutting back on statehouse coverage is even more true today. Will newspapers take responsibility for Americans who are as uninformed and ill-informed as they are?
11. So I guess it's no surprise that reading a newspaper does not make you more literate, despite what industry editors have been telling you.
"Newspaper circulation variables correlate with nothing other than themselves. There is virtually no relationship between number of papers circulated per person & any of the other literacy factors, including reading a newspaper on the internet."
- America's Most Literate Cities
You can also see on this site where Chicago falls on the newspaper circulation per citizen scale.
12. New Political Odds from the Beachwood bookmakers, including just how slim chances really are that Chicago will bid for the Olympics.
13. What's up with that new mascot in Gary and Jake the Diamond Dog in Kane County? It's in our latest updated Minor League Report.
14. The Alphabetically Spangled Banner.

POST-MORTEM
Tim Willette presents Noteworthy Washington Post Corrections and the Stories That Prompted Them/April 2006.
"An article in the April 30 Business section about ads on placeholder Web sites misidentified the general manager of Yahoo's ad service for parked Web addresses. He is Josh Meyers." (The Web's Million-Dollar Typos)
"An April 22 article incorrectly said that Rep. Stephanie Tubbs Jones (D-Ohio) took a lobbyist-funded trip to Puerto Rico in 2001. Jones's initial travel report said the trip was financed by the lobbying firm Smith, Dawson & Andrews, but after media reports of the trip surfaced, she produced documentation showing that her filing had been in error and that the trip was funded by a nonprofit organization, Todo Puerto Rico Con Vieques." (Democrat Leaves Ethics Panel: Financial Reports' Accuracy at Issue )
"An April 18 Metro article incorrectly reported the year that abolitionist Frederick Douglass spoke at a District celebration of the city's Emancipation Day. It was 1883." (Parading Past Some Hurdles in The District: Like the Turnout, Grasp Of Emancipation Day by Crowd Lamented as Low )
"An April 6 article and an accompanying graphic said the HIV rate among people in Botswana ages 15 to 49 was 34.9 percent. More recent information shows the rate to be 25.3 percent. The faulty statistic from the article was also used in an April 10 editorial." (How AIDS in Africa Was Overstated: Reliance on Data From Urban Prenatal Clinics Skewed Early Projections)
"An April 3 article about a paper on the Israel lobby misstated Stephen Walt's title at Harvard University's John F. Kennedy School of Government. He is the academic dean." (Report on Effect of Israel Lobby Distorts History, Critics Say)
Note From Beachwood HQ/Membership Update
You can now donate to The Beachwood Reporter by buying a membership. We have already filled orders at the Bauxite, Tin, and Aluminum levels. We don't have a lot to offer yet in return, but depending on your giving level, you may be able to schedule the Beachwood Weather Monkey for a birthday party or have me over some day to wash your car. More tangible rewards to come later.
We're not just looking for beer money. We have a business strategy - including other already-conceived sites - if we can only sustain this effort long enough to execute it. So give a lot and give often. You can "become a member" as often as you'd like. Build up your points now for our forthcoming Frequent Member Program.
The Beachwood Tip Line: A precious metal in its own right.

Posted by Beachwood Reporter at 7:49 AM | Permalink
The Alphabetically Spangled Banner
Air and and and at
banner bombs brave bright broad
bursting by can dawn's does
early fight flag free gallant-
ly gave glare gleaming hailed
home in land last light night
o o o'er o'er of of
our perilous proof proudly
ramparts red rockets say
say see so so stars star-
spangled still streaming
stripes that that the the the
the the the the the the the
the there through through
twilight's was watched wave we
we were what whose yet you

Posted by Beachwood Reporter at 12:37 AM | Permalink
May 10, 2006
The [Wednesday] Papers
Jury selection begins today in the federal corruption trial of four aides to Mayor Richard M. Daley, including Robert Sorich, who was once the mayor's patronage chief.
Federal prosecutors rarely lose these cases, and the official preview of the evidence in the case is rather damning, not just to Sorich and his pals, but to Mayor Richard M. Daley.
Which makes me a little curious about what U.S. Rep. Luis Gutierrez is up to. He's spent the last couple days campaigning for mayor - if you saw his appearance on Chicago Tonight last night (or apparently his speech the other day) - it's nearly impossible to conclude that he's not running for mayor.
The weird thing about Gutierrez's nascent campaign, though, is that he's not talking about corruption on the eve of perhaps the gravest moment for Daley.
Instead, he's talking about how he would have spent his energies on Chicago's schools instead of building Millennium Park or, now, chasing the Olympics.
A valid position, but a strange one to build a campaign around at just the moment when the Daley Machine may come tumbling down.

Far be it from me to suggest that Gutierrez is providing the mayor with a welcome distraction. Conspiratorially, that is. But his attacks are actually, at least accidentally, providing the mayor with a little cover.
Consider the stories in today's papers. Fran Spielman at the Sun-Times does her usual job of stenography in typing up the mayor's response to Gutierrez's latest jabs, describing himself as the most courageous mayor in the land. Gary Washburn at the Tribune presents a somewhat more sober report, though you still have to wonder if reporters challenged the mayor on any of his assertions.
(Is it settled history that Daley asked for control of Chicago's schools, rather than having it thrown in his lap by devious Republicans? "[W]hen Illinois lawmakers considered the measure giving the mayor school policy authority, Daley lobbied against it and only grudgingly embraced the law," says Stateline.org in "Chicago School Takeover Seen As Model For Urban Reform," just one of many similar reports. And hasn't it been documented that the "Plan for Transformation" is, in many respects, a failure when it comes to public housing residents, as opposed to, say, developers and politicians? )
In each case, Daley was able to present himself - in between trips to the Middle East and China as an Olympics-level international statesman - as a man who took on the city's most intractable problems and won
It strikes me as odd in this place and time in Chicago for Gutierrez to base a campaign on education. This is one of those rare moments when the campaign has a chance to be based on a choice between corruption and clean government.
A true reform candidate could certainly argue that the benefits that flow from clean government would include more funding for schools, and that might be effective, but to ignore the rot of City Hall borders on bizarre.
And yet, when Gutierrez talks of the city needing fresh faces and new viewpoints, he doesn't mention the dirty contracts and hiring schemes that have come to define the new Daley Machine.
Instead, his highest priorities, he said last night, are teacher pay and more charter schools.
To his credit, Gutierrez is addressing the city's lack of imagination about what Chicago might look like had there not been a Daley reign. Perhaps Millennium Park would not exist, but perhaps that's half a billion dollars and growing that could have been better spent elsewhere, not to mention the man-hours of energy and effort that could have gone into the schools, social services, or any number of other worthy areas.
Interestingly, Gutierrez said last night that his decision on running for mayor would not hinge on whether Daley or anyone else (such as Jesse Jackson Jr.) was in the race. I find that hard to believe, but at any rate Gutierrez, fresh from his star turn as a national pro-immigration spokesman, is showing that if he's a serious candidate we may actually get a serious campaign. Both he and Jackson actually have an ability to talk about the issues in public in a way our current mayor utterly fails at. It would be a crime, though, if corruption wasn't one of those issues.
Boss Jr.: The online version of John Kass's column today previewing the Sorich trial includes a link at the bottom to Kass's 1996 must-read magazine profile of the mayor.
Steno Job
Why not just hand the keyboard over to Todd Stroger and let him type in the story himself?
Scribble Dribble
Just like the rest of the nation's lazy media moralists, Jennifer Hunter didn't look it up. America's young adults are actually doing better than ever on that big geography test.
And while the Tribune corrected their own boneheaded error on the subject, they have still failed to correct its entirely wrong premise.
Drinking and Drugging Dribble
The Tribune's recent editorial about underage drinking did not mention a recent study claiming that underage drinkers account for one-third of alcohol company revenues, but The New York Times built a front-page story around it.
Oops.
The media loves stories about wayward youth - remember superpredators and teen wolf packs? - and they especially love stories about wayward youth and drugs. But those stories are usually misguided at best and outright wrong at worst.
For example, as I pointed out yesterday, the Tribune has so far let stand the recent Washington Post story about teen use of morning glory seeds as hallucinogens, despite this debunking.
Sometimes you have to wonder if reading a newspaper actually makes you dumber.
Rush Job
U.S. congressman Bobby Rush got the Sun-Times to publish his complaint (second item) about Lynn Sweet's recent story revealing that the charitable arm of SBC (now AT&T) gave $1 million to Rush's Englewood community center. Rush sits on the congressional committee dealing with telecommunications legislation.
Rush argues, as he did on Chicago Tonight last week, that because the House Ethics Committee verbally told him that there was no technical conflict-of-interest, there was no conflict-of-interest and therefore no story.
I'm sure we can all agree it's a good thing the House Ethics Committee doesn't edit the nation's newspapers.
Particle Boards
The editorial boards of the 100-plus newspapers that make up the Sun-Times News Group have given the matter great thought and come to the consensus that they are in favor of particle physics.
Caroling
As usual, Carol Marin gets to the bottom of the story. This week it's about how the governor is screwing manufactured home owners.
Field's Hands
The Sun-Times continues its bid to win over the new owners of Marshall Field's and their lucrative ad budget. Today it's the breaking news, promoted on page one and accompanied by two large photos, that Field's will upscale its hair salons in three Chicago locations.
Last month the paper gave Field's this big wet kiss.
Conn Job
Roe Conn joins the new Glenn Beck show on CNN Headline News tonight, reports Robert Feder. Wonder if Beck will ask Roe to wear leather?
Note From Beachwood HQ
You can now donate to The Beachwood Reporter by buying a membership. We don't have a lot to offer yet in return, but depending on your giving level, you may be able to schedule the Beachwood Weather Monkey for a birthday party or have me over some day to wash your car. More tangible rewards to come later.
We're not just looking for beer money. We have a business strategy - including other already-conceived sites - if we can only sustain this effort long enough to execute it. So give a lot and give often. You can "become a member" as often as you'd like. Build up your points now for our forthcoming Frequent Member Program.
The Beachwood Tip Line: For a small donation, your name and/or a pithy phrase of your choosing can appear here.
Posted by Beachwood Reporter at 9:03 AM | Permalink
May 9, 2006
The [Tuesday] Papers
To little apparent public reaction, the student newspaper at the College of DuPage published the now-infamous Muhammad cartoons on Friday, though the Chicago Tribune noted (in a brief report that I'm not sure even made the city editions) that the cartoons were hard to find on campus because "most of the free papers had been removed from distribution bins," a circumstance under investigation by campus police.
You can see the cartoons with accompanying explanation by the editors of the College of DuPage Courier in this PDF.

It might seem like the editors of the Courier are late to the party, but the cartoons are still the subject of great debate even right here in Chicago.

The Tribune, which has not published the cartoons, covered a panel discussion in late April at the University of Chicago about the U.S. media's response to the cartoon controversy, though the same panel was blogged more interestingly here by Scott Gordon, who has since become a Beachwood contributor.
Just last week, the McCormick Tribune Foundation Freedom Museum hosted a panel discussion on the matter as well that featured a member of the Tribune editorial board, two Northwestern University professors, and the executive director of Interfaith Youth Core. (Or at least they were scheduled to - I couldn't find evidence on their Website or anywhere else that the event actually ocurred.)
And on Saturday, the Tribune published a cartoon cleverly inserting the controversy into the silliness over the Spanish-language national anthem that was drawn by the Green Bay Press-Gazette's Joe Heller (yes, the Green Bay Press-Gazette has an editorial cartoonist but the Chicago Tribune does not). It went like this:
TV newscaster: Muslim anger over the Muhammad cartoons seems to have died down.
Joe Sixpack: Good! I just never understood why they got so worked-up over it!
TV newscaster: In other news, the Star-Spangled Banner was sung in Spanish today.
Joe Sixpack: That song is sacred!
David Blaine: Next
David Blaine: Immolated Alive
Blaine spends one week wrapped in cord, suspended in a giant glass container and repeatedly doused with kerosene. After a thorough soaking, he is lit on fire, thereby literally bathing mid-town Manhattan in his self-important glow.
David Blaine: Fried Alive
Blaine has himself repeatedly egg-battered and breaded over the course of a week, at the end of which he dips his left hand into a deep-fat frier and allows curious passers-by to pull his fingers clean off.
David Blaine: Leeched Alive
Recycling the giant fish tank used in Drowned Alive, Blaine spends a week wading in chest-high pond water stocked with 5,000 hungry bloodsuckers, including three ABC producers.
David Blaine: Depressed Alive
In light of the immolation, deep-fried amputation, and leech-induced blood loss, Blaine's final televised special sees him sealed in a sound-proof container for one week, howling tearfully at the injustice of it all. During a live, two-hour prime time special, Blaine beats his head against the side of his specially-designed box until he loses consciousness.
See also: David Blaine: A List
- Natasha Julius and Tim Willette
Todd's Turn
Mary Mitchell outlines today the delicate problem surrounding a Todd Stroger ascendancy to Cook County board president. See, this is what you get. Corruption for some means you have to allow corruption for all. And cynicism begets cynicism - the breeding ground for opportunism. In other words, neither the Madigans, the Lipinskis, the Hynes's, the Burkes, or the Daleys have demonstrated civic leadership. Or rather, they showed bad leadership by opening the door to this ridiculousness.
Which isn't to say I don't see the other side. Society is great at asking minorities and/or the poor to exhibit greater moral character than we expect of whites and/or the rich.
But there is also something wrong with the argument put forward by the Stroger people. Alderman Arenda Troutman is wrong to say that to not allow Todd Stroger to inherit a public office would be to employ a double-standard. The problem with Troutman and other Stroger supporters is that they are countering a double-standard with hypocrisy. Nobody wins in that game, except the cynical insiders. The rest of us - the taxpaying citizens - are once again the losers.
Pay Pal
Gov. Rod Blagojevich says he will veto post-election pay increases state legislators are angling for.
Pete Springsteen
In his print column today, Eriz Zorn extolls the virtues of Bruce Springsteen's new recording of Pete Seeger songs. On his Change of Subject blog, you can watch the video of "Pay Me My Money Down."
But after listening/watching, tell me if you don't agree that the Boss owe a little something to Billy Bragg and Wilco's two Mermaid Avenue volumes.
Zorn also replies to my mention of him in The [Political] Papers: A Colbert Report. I plan to respond in kind later today.
Geography Crisis Spreads to Adults
"An editorial Thursday on the shaky state of Americans' geography knowledge incorrectly suggested that North and South Korea are not on the same continent as Iran, Afghanistan, and Pakistan. All five nations are in Asia."
- Tribune
Adults Stupid In Other Ways, Too
Two-thirds of Americans don't know all the words to the national anthem (when sung in English), reports say. And of the one-third who say they do, only 39 percent know the words that follow "whose broad stripes and bright stars." It's "through the perilous fight."
Most of those surveyed, though, could adequately describe the difference between an enchilada, a burrito, and a soft-shell taco.
And one in five Americans surveyed by the McCormick Tribune Foundation Freedom Museum say the right to own pets and drive cars are First Amendment rights.
Unlike the enchilada item, this is not a joke.
Drunk Tank
In more teenage alarmism, the Tribune opened its "The Spring Drinking Season" editorial yesterday with this: "Using powerful new imaging technology, scientists now suggest that the human brain isn't fully mature until the mid-20s."
Good grief. Is someone over there having trouble with their kids? Because the editorial page really isn't the appropriate place to work it out. Besides, as the saying goes, you're only young once, but you can be immature forever.
Cops and Robbers
Robert Feder asks whether Peter Karl should be profiling local murder cases for WMAQ-Channel 5 when he's also getting paid $468,000 a year to produce and host CrimeWatch, the biweekly crime prevention series for the Chicago Police Department that airs on various channels at various times to various people who find themselves watching involuntarily due to sheer inertia.
Wait a minute. Karl gets $468,000 of taxpayer money to produce and host CrimeWatch, the biweekly crime prevention series for the Chicago Police Department that airs on various channels at various times to various people who find themselves watching involuntarily due to sheer inertia?

The Beachwood Tip Line: A First Amendment right. After the thing about owning pets.

Posted by Beachwood Reporter at 8:12 AM | Permalink
May 8, 2006
The [Monday] Papers
Just hours ago, in The [Sunday] Papers, I noted in reference to the mayor's sudden international travels: "We don't know the rest of the [media] strategy his team has mapped out for presenting Daley as above and beyond the Sorich trial."
In a revised edition cleaning up some typos, I appended the statement "But we will soon find out."
I didn't know it would be this soon. It looks like strategic leaking has begun. To wit:
"In a confidential, sworn statement to federal investigators, Mayor Daley said his Office of Intergovernmental Affairs recommended people for city jobs but did not order their hiring, the Chicago Sun-Times has learned.
"Daley's statement, made to investigators last year, runs counter to what federal prosecutors say was the case. They say the mayor's IGA office routinely ordered city departments to hire or promote people based on politics.
. . .
"Daley said in the statement - the contents of which were previously unknown - that people did not have to do political work to get city jobs, according to people familiar with the matter."
People familiar with the matter who are sympathetic to Daley, it would seem.

Which is one thing. Another is why the Sun-Times would apparently base a story around such a content-free leak coming from a source sympathetic to the mayor who says, shockingly, that the mayor denies that politics have anything to do with city hiring. Particularly when the paper has been told about the statement, but apparently has not seen it for itself.
My response, as a reporter, might have been, "So what? You'll have to do better than that."
One clue may be in the double-byline of Steve Warmbir and Fran Spielman. Warmbir is one of the paper's ace reporters who has teamed with Tim Novak to break the bulk of the Hired Truck scandal. Spielman is the pliable stenographic City Hall reporter always game for content-free anonymous quotes and trial balloons from Daley aides. (Or, in this case, possibly from the Sorich defense team, whose interests align with those of Daley.)
"Daley's statement supports an argument that attorneys for Sorich and his three colleagues are likely to make at trial: that any hiring lists of people from the IGA's office were recommendations, not demands," the story goes on to say.
And yet, Daley will not comment on the case and tell us this in his own words.
The "statement" is further devalued as news by the very fact noted by the Sun-Times that it is unlikely to come into evidence and ever be heard by jurors - unless they are reading the Sun-Times today.
But there is the media trial and the trial trial, and it's not always clear which is more important and to whom.
Machinations: The Tribune, on the other hand, offers a nice front-page trial preview under the headline, "Chicago Rebuilt Machine, U.S. Says."
More Media Management: The Tribune also fills in a couple details today about the political considerations both home and abroad surrounding Daley's trip to the Middle East.
"On the last day of his trip to the Middle East, Chicago Mayor Richard Daley abruptly canceled a planned visit Sunday to Israel's controversial separation barrier in the West Bank," Joel Greenberg reports.
"Daley attributed the change to a scheduling conflict. But last-minute phone consultations between Israeli army officers accompanying the aborted visit suggested Daley's aides wanted to avoid media images of the mayor against the backdrop of the contentious project."
"The cancellation of Daley's visit to the barrier sharpened questions about the planning of the mayor's visit to Israel, which was sponsored by the Jewish Federation of Metropolitan Chicago and the Israeli Foreign Ministry."
That might answer the question about who is paying for the trip. Press secretary Jacquelyn Heard has said that the city does not pay for the mayor's international trips. Is the Jewish Federation of Metropolitan Chicago footing the bill? Either way, as a sponsor, they could surely clear up the matter of when this trip was scheduled and put to rest the notion that it was timed to coincide with the run-up to the Sorich trial. (Left open is the question of who is paying for the mayor's trip to China later this weekend, and how and why that came together so quickly.)
"The mayor's visit to Israel was billed as an opportunity to study security measures that could be applied in Chicago, and it included briefings on urban and airport security," Greenberg writes. "Yet Sunday's trip to the West Bank barrier, a major Israeli security project, was called off at the last minute.
"[A]s the mayor's entourage approached Israel's border with the West Bank, problems appeared to arise.
"An army press officer waiting for the mayor's group talked on the phone with a colleague traveling in the mayor's van, and they discussed changing the venue of the briefing from the settlement to a location inside Israel and separating the media from the mayor.
"The officer, who did not give his full name, said Daley's aides were concerned about what they called 'negative' coverage and did not want the mayor to be seen against the backdrop of the barrier.
"When the mayor's vehicle arrived more than a half-hour late, he did not get out, and reporters were told that time constraints forced the cancellation of the barrier tour."
Which, as we shall see, sounds a bit too convenient.
"Daley did not want to be late for an important briefing on airport security at Israel's Ben-Gurion Airport, said Michael Kotzin, executive vice president of the Chicago Jewish Federation, who was accompanying the mayor.
"Daley gave the same explanation when he was asked about the cancellation at a meeting later with Shimon Peres, the veteran Israeli leader who is a minister in the new government.
"'We were going there . . . we were late, and we went right to the security system at the airport," Daley said, dismissing the suggestion that a visit to the barrier would have been problematic."
UPDATE 2:20 p.m.: Steve Johnson has posted bonus items on his Hypertext blog to his Sunday print piece imagining Chicago-style Olympic events. The 1,158,000-meter springboard is particularly good.
One-Man Gentrification Band
Lynn Sweet reports today that U.S. Rep. Luis Gutierrez moves every couple of years "to cash in on the Near Northwest Side real estate market."
Gas Prices Are All In Your Head
The Sun-Times business page today informs readers in a box labeled "Financial Terms - Defining Money" that price gouging doesn't exist. "Price gouging isn't an economic term," the paper says. "It's a political term invoked frequently by politicians to describe a price that is much higher than what is seen as 'fair' under the circumstances."
Right. Price gouging.
"In colloquial usage, it means that the speaker thinks the price is too high, and it often degenerates into a term of demogoguery."
Unlike the direction this feature is taking.
"There is no such comparable term, such as 'consumer gouging,' when prices drop sharply, such as the price of zucchini in September."
No. But there is reader gouging, which takes place nearly every day.
The Beachwood Tip Line: Media gouging that really exists.
Posted by Beachwood Reporter at 12:50 PM | Permalink
David Blaine: A List
David Blaine: Seriously Not Breathing
David Blaine: Drowned Alive, Yet Brain Dead?
David Blaine: Buried Alive Until He Rots
David Blaine: Beheaded
David Blaine: Beaten With A Rolling Pin
David Blaine: Thrown From A Tall Building
David Blaine: Eaten By Sharks
David Blaine: Just Kind Of Stops Breathing
David Blaine: Pulls a Janis Joplin
David Blaine: We Think It Was The Chicken
David Blaine: Drives Drunk
David Blaine: Oops.
David Blaine: Food Poisoned
David Blaine: Fell in the Tub
David Blaine: Drowned Alive
David Blaine: Beheaded Alive
David Blaine: Drank Himself To Death Alive
David Blaine: Trapped in a Real Estate Seminar
David Blaine: Tangled in the Phone Cord
David Blaine: Stuck Zipper
David Blaine: Bitch of a Hangnail
David Blaine: Biopsied Alive
followed of course by
David Blaine: Mole Frozen in Time
David Blaine: Stuck on the Dan Ryan
David Blaine: Forced to Watch "Pepper Dennis"
David Blaine: Forced to Watch "David Blaine: Drowned
Alive"
David Blaine: Sitting at a Desk for 40 Years (Weekdays
8:30-5, 7:30-4 Central)
David Blaine: Unable to Feel Anything Anymore
David Blaine: Alienated From His Friends, Family, Coworkers
David Blaine: It's Amazing He Makes It Through The Day At All
David Blaine: Even Getting Out Of Bed Is A Huge Accomplishment Lately
David Blaine: His Last Special
David Blaine: For Sure His Last Special
David Blaine: Seriously. Last One.
David Blaine: Huge in Vegas
David Blaine: Of Course I Look Familiar. I Was On TV.
David Blaine: No, I'm Not David Copperfield
David Blaine: Buy My Amazing Ginzu Knife
David Blaine: My Agent Left Me. Alive.
David Blaine: Skim or Whole?
David Blaine: No, I'm Not David Copperfield
David Blaine: David Copperfield Is A Fucking No-Talent Hack
David Blaine: Obviously You Don't Know Shit About Magic
Posted by Beachwood Reporter at 10:42 AM | Permalink
The [Sunday] Papers
Mayor Richard M. Daley will return today from his sudden trip to the Middle East only to turn around and jet off to Beijing at the end of the week to study that city's plans for the 2008 Summer Olympics in preparation for his own possible Olympics bid.
Is all this unexpected traveling a way for Daley to get out of town while former patronage chief Robert Sorich and three other aides go on trial in federal court for alleged "massive fraud" in city hiring?
While determining pols' motives isn't always possible, you'd think reporters who have raised the possibility would at least be able to nail down just when these trips got scheduled and put some tough questions to the mayor's people. After all, it would be in their interest to clear up any misconception some of us might have.
Not only hasn't that happened, but the coverage of the mayor's trips has only confused the issue.
Let's take a look.

On April 10, the mayor refused to comment on the Sorich case, but proclaimed that "This government is running smoothly."
Just eight days later, Daley announced his trip to the Middle East.
Fran Spielman in the Sun-Times opened the speculation in her April 19 report:
"Daley's trip to the Holy Land is expected to take him away from Chicago during a pivotal two-week period," she wrote. "The mayor's former patronage chief, Robert Sorich, and three other former city officials are scheduled to go on trial next month on charges they rigged city hiring for more than a decade to benefit pro-Daley armies of political workers."
But the mayor came home from his 10-day trip today. Perhaps he was trying to avoid pre-trial publicity, but the real thing starts on Tuesday.
On Friday, though, the Tribune reported Daley's plans to go to China.
"The details were sketchy Friday, and the duration of the trip was not known," Mickey Ciokajlo wrote. "The trip would put Daley overseas just as a federal corruption trial against his former patronage chief, Robert Sorich, and three co-defendants is getting under way."
As with the Middle East trip, all appearances are that this was a hastily planned affair.
On Sunday, Spielman wrote that Daley press secretary Jacquelyn Heard "denied that the back-to-back overseas trips were timed to take the mayor away from Chicago during the trial of his former patronage chief, Robert Sorich. Well aware that it might appear that way, mayoral aides shortened the China trip to four days and scheduled it over a weekend, she said."
Really? The mayor shortened his trip to China to learn about Olympics preparations in order that the trip not look politically-timed? How inconceivable does that seem? At the same time, being away for four days doesn't exactly protect him from trial fallout.
"If the goal was to avoid negative publicity generated by the Sorich trial, Heard said, 'It's unlikely he'd be returning to the city a day before the trial begins and that he'd be there for the opening arguments, which, as you know, are often the toughest part,'" Spielman wrote.
That's a stretch. The trips are good ways for the mayor to garner positive publicity through compliant news crews and scenic photo ops (was it the mayor's people who supplied that photo of Daley Sunday to the Sun-Times that ran without a credit?), as well as to depict a towering mayor with plans as grand as holding an Olympics, while the hacks back home worry about who hired whom.
We know from Heard that the mayor's brain trust considered the political ramifications of his trips. We don't know to what extent; and perhaps more importantly, we don't know the rest of the strategy his team has mapped out for presenting Daley as above and beyond the Sorich trial. But we will soon find out.
Trip Wire: "Mayoral press secretary Jacquelyn Heard stressed that Daley would be in Chicago for Wednesday's meeting with U.S. Olympic Committee Chairman Peter Ueberroth and other USOC officials," the Sun-Times reports. "The China trip is a natural off-shoot of that meeting, she said. Like all of the mayor's overseas trips, the cost will not be borne by Chicago taxpayers."
Why not? If this trip is for official city business, as it is purported to be, why should the mayor pay for it out of his pocket? Or is someone else covering the cost?
Gamesmanship: Steve Johnson beat us to the punch line with his contribution to the Tribune Perspective section's package imagining an Olympics held in Chicago.
In "Our Kind of Games," Johnson notes that "an Olympics in Chicago would need Chicago-specific events."
Among his suggestions:
"Hard discus: The winner hurls City Hall employment records, stored on government hard drives, the farthest distance into Lake Michigan."
"High jump: Mayor Daley says 'Jump,' and the contestants (all of whom are aldermen) vie to leap farthest heavenward."
We cannot do better and have shelved our plans to try.
UPDATE 2:20 p.m. Monday: Steve Johnson has posted bonus items on his Hypertext blog to his Sunday print piece imagining Chicago-style Olympic events. The 1,158,000-meter springboard is particularly good.
Field Work
The good folks at Macy's/Marshall Field's held back something from their PR offensive a couple weeks ago: They are cutting 250 jobs - 1 percent of their workforce. Most of the lost jobs will be sales positions.
"Marshall Field's has modified its staffing levels in its stores as part of an ongoing process to ensure we're better serving our customers and operating as efficiently as possible," said Jennifer McNamara, a spokeswoman for Field's.
Because customers are better-served with fewer sales clerks. It's more efficient that way.
Burning Burns
B.H. Jacobson of Evanston writes to the Sun-Times: "How disappointing that Diann Burns and her husband did not choose one of the excellent black contractors in Chicago to do the work on their house."
Keeping Up With Jones
A week after the November elections, the state senate will take up the issue of granting themselves 13 percent pay hikes. State senate president Emil Jones supports the pay raise, but didn't have the courage of his convictions to call for a vote before the election. His district phone number is (773) 995-7748. His e-mail is jones@senatedem.state.il.us
Note: The rank-and-file would see their annual pay increase about $7,500 to around $65,000. The top four party leaders in each chamber would get an increase from $80,957 to about $91,500.
M*A*S*Hed
"An obituary on Wednesday about Stanley Hiller Jr., a leader in the helicopter industry whose company made some of the craft used for medical evacuation in the Korean War, credited his company erroneously with a television role. The helicopter shown in the M*A*S*H series was made by Bell Aircraft, not Hiller."
- New York Times
Smushed
More importantly, The New York Times has retracted its widely-circulated front page story on stand-up airplane seats which, alas, was too good - or too bad - to be true. Wouldn't have wanted to write this Editor's Note (last item). Here's how it happened (last item).
Morning Glory Story
Perhaps the Tribune owes its readers a correction of this Washington Post story it ran on May 4 about the purported surge of kids using morning glory seeds as hallucinogens. Jack Shafer at Slate sets the record straight.
Dolts
"In a move one government watchdog dismissed as 'laughable,' Dolton has installed its mayor's twin brother in a newly created $70,000-a-year inspector general post."
His first assignment will be to investigate his own hiring.
The Beachwood Tip Line: Not your brother's watchdog.

Posted by Beachwood Reporter at 9:44 AM | Permalink
The Weekend Desk Report
EDITOR'S NOTE:
Stephen Colbert has been spotted in Chicago. Read about it in The [Political] Papers: A Colbert Report.
The [Sunday] Papers will be posted shortly.
The [Monday] Papers will be posted shortly thereafter.
In the meantime, here are the stories we kept an eye on for you this weekend. Our other eye was on the ponies.
Another Mission Accomplished
Apparently CIA chief Porter Goss has completed the Herculean task of reforming the agency in a mere 18 months. Or perhaps we should say he has presided over the end the major reform operations. No official acknowledgement yet as to the CIA being in a state of civil war; perhaps the administration has been too busy blaming the media for not reporting the good stories coming out of the CIA to notice.
Intervention
Saying he was mindful of other high-profile people who have wrestled similar demons, congressman Patrick Kennedy announced he is seeking treatment at the Mayo Clinic for his incredibly jacked-up hair. We wish him the best of luck for a full and speedy recovery. With the proper care and attention, he could be marked for greatness.
Mutually Reassuring Destructive Tendencies
A hearty thank you to Vice President Dick Cheney for busting out the administration's new approach to foreign policy, the Nostalgia Doctrine. The threat of nuclear attack was much easier to cope with when the other side didn't really mean it. But Porter Goss's decision to accompany the new doctrine with briefings for the vice president that used old Movietone newsreels instead of more contemporaneous news sources may have played a role in his undoing.

Ancient Relic Rises From Ruin
Archeologists this week were forced to postpone the planned excavation of one of England's oldest and most mysterious cultural sites when it was discovered the ancient wreck had checked itself out of the hospital. Long thought to be abandoned, the prehistoric ruin now appears to have never stopped since unknown peoples first started it up.
One Flu Over the Cuckoo's Nest
All those who've been living in mortal fear of the avian flu were calmed to learn today that when potentially infected birds reach North American shores, they will be greeted by a solitary dude with binoculars. More help is expected soon as the Bush Administration moves to privatize FEMA.
Posted by Beachwood Reporter at 8:16 AM | Permalink
The [Political] Papers: A Colbert Report
The news blackout in Chicago on Stephen Colbert's controversial keynote speech at the White House correspondents dinner a week ago ended on Sunday when the Sun-Times packaged a review by its TV critic with an edited transcript of the performance on the cover of its Controversy section, under the headline "The Mocking Of The President 2006."
That's right. If your only source of news is the Chicago newspapers, you've been in the dark about a story that has engaged not only the mystified political insiders and their media brethren in Washington, D.C., and the nation's newsrooms, but the political outsiders who shape public political debate on the Internet, talk radio, and cable-TV.

The Sun-Times put it this way in bold type above critic Doug Elfman's story: "For perhaps the first time, the president was forced to sit and listen to 'a litany of criminal and corruption allegations,' but the press 'gave Bush a free pass.'"
Left unsaid was the inclusion of the Sun-Times - and the Chicago Tribune - in Elfman's indictment. (And Elfman should know that the Colbert story isn't just the province of liberal blogs; some conservatives think Colbert was hired to do a "hit job" on the president.)
Before Sunday, the Sun-Times hadn't reported a whit about Colbert's performance in its print pages; Washington bureau chief Lynn Sweet was forced to address the matter on her blog when she was taken to task for ignoring Colbert.
She didn't do well, complaining at one point, "I write a lot of serious stuff that never gets this much attention."
Which prompted this response:
"I think your comment about 'serious stuff' betrays the sort of thinking that would cause you to view Colbert's comments as no big deal. To many, Colbert's evisceration of the president and the press was exactly the sort of critique that's been missing for a few years now. Instead of writing about it, you noted the president's self-deprecation, as if we should be honored to have a president who can do a 'Who's dumber?' routine with an impersonator."
The Tribune is in the same boat, having let Colbert's performance and the ensuing controvery go unreported on in its print pages while being forced to join the debate online.
After the press dinner, Washington correspondent Frank James mentioned Colbert in a post to the paper's D.C. blog, The Swamp. James's post generated 125 comments, most similar to those that Sweet received.
Why? Well, James didn't get around to mentioning Colbert until the 15th paragraph of his post - after noting far more important matters such as spotting former New York Giants quarterback Phil Simms and singer-pianist John Legend making their "grand entrances" to the event.
You also have to scroll through photos of Henry Kissinger and Madeline Albright before getting to Colbert.
Once there, James demonstrates that, like most of the media there, he doesn't get Colbert, and is likely as unfamiliar with him as the White House Correspondents Association that hired him having heard he was popular. Maybe they thought they were getting Carrot Top.
James, for example, doesn't seem to recognize Colbert's comic persona - the one his entire show is built around - when he writes, "He was very hard on the president, with back-handed compliments like 'The greatest thing about this man is he's steady. You know where he stands. He believes the same thing Wednesday that he believed on Monday, no matter what happened Tuesday.'"
Yes, back-handed compliments.
James goes on to say the performance "raised that age-old question that goes back to the republic's start. How do you criticize the president without disrespecting the presidency?"
I'm facing a similar dilemma. How do I criticize a Chicago Tribune reporter holding a highly-prized and exceedingly important position as a Washington bureau correspondent while showing my utmost respect for the job? I think by criticizing the reporter.
And then James writes this: "Then there's the human dimension. Here's a comedian dissing a man non-stop in front of the subject's wife."
Mr. James? It's 1955 calling. They want their sensibility back.
James says that Bush impersonator Steve Bridges was the highlight of the night and, unlike with Colbert's insightful, cut-to-the-quick performance, recommends that readers watch Bridges on C-Span's Website or YouTube, which one of his kids probably told him about.
Here's what Elfman says about that.
"How did Bush tickle reporters? He made fun of the fact that he can barely speak English (he is quite simply the worst communicator of all U.S. presidents), that our vice president is a heartless face-shooter, and that Bush is basically an idiot.
"Ha ha, our 'war president' knows he's a village idiot? To members of the White House press corps, that's some real funny stuff."
Indeed, the only Tribune report on the dinner to make it into print was this brief from April 30:
Bush Lampoons Self At Press Corps Event
It was twice the fun for members of the White House Correspondents' Association and guests Saturday night when President Bush invited a look-alike, sound-alike sidekick to poke fun at himself.
"Ladies and gentleman, I feel chipper tonight. I survived the White House shakeup," the president said.
But impersonator Steve Bridges, stole many of the best lines, referring to Vice President Dick Cheney's hunting accident.
"Speaking of suspects, where is the great white hunter," Bridges said. "He shot the only trial lawyer in the country who supports me."
Stop, you're killing me.
To not be familiar with Colbert and his schtick is to be woefully out of touch not just with popular and comic culture, but with political culture. Obviously it didn't occur to the correspondents association that hiring Colbert to speak at their dinner for the president was akin to, say, hiring Hunter Thompson to speak at a dinner for Richard Nixon. In a perfect world, that would be just the reason to hire Colbert; in this case ignorance served us well. But in a perfect world, Washington reporters wouldn't be having jokey dinners with the president and his chums in the first place.
This blind spot about Colbert and his place in the culture is reminiscent of Tribune columnist and blogger Eric Zorn's schoolmarmish complaint earlier this year when the American Dialect Society chose Colbert's signature phrase "truthiness" as its 2005 Word of the Year.
"So rather than a word anybody actually uses or has heard of, the dialecticians give us a gag from a cable-TV comedy show," Zorn wrote.
Or, you could look at it this way: Even the friggin' American Dialect Society had heard of truthiness! But not our press.
Our political discourse does not take place in newspapers anymore, though. It takes place on talk radio, cable-TV, and the Internet. For all the faults of those mediums, they are open to the public in a way that newspapers are not. They are the public squares that were once limited to network news shows and Op-Ed pages, places that were never really public at all.
Despite the hand-wringing, this isn't a bad thing. It would be better, though, if mainstream journalists would come out of their holes and join the debate.
Otherwise they'll be left playing catch-up by publishing packages about stories they missed.
Posted by Beachwood Reporter at 6:11 AM | Permalink
May 5, 2006
The [Friday] Papers
The moment when former CIA analyst Ray McGovern questioned defense secretary Don Rumsfeld after a speech in Atlanta yesterday was a remarkable one.
I saw it on one of the cable news networks and felt like I was watching history; that this exchange would go down in the books as one of those crystallizing events marking some watershed of a botched war and a historically failed presidency, re-broadcast for the ages perhaps alongside President Bush declaring "Mission Accomplished" and implying in a State of the Union address that Iraqi agents were traversing Africa in search of yellowcake they would soon transform into nuclear weapons that would threaten America.
It also felt like a succinctly culminating moment for the embattled Rumsfeld that could finally cost him his job, a low point for the administration that even the stubborn Bush would not be able to ignore.

Indeed, McGovern's exchange with Rumsfeld electrified the Web and became the topic du jour on the cable networks, not normally an arbiter I would turn to for validation of my own news judgements but one that seemed to have it right in this case.
After all, McGovern had done what the White House press corps had not: He caught Rumsfeld dead to rights.
And how did he do it? He merely read back to Rumsfeld his own words about how he knew where the weapons of mass destruction were, not to mention the connection he spoke of between Al-Qaeda and Iraq. Now that we know those statements to be wrong, McGovern asked Rumsfeld if he lied or if he had simply been misled.
The exchange became historic when Rumsfeld then denied ever claiming he knew where the WMDs were. It wasn't hard for news organizations to dig out the transcripts that proved citizen McGovern right and the defense secretary wrong.
Any shred of credibility Rumsfeld may have had when he woke up yesterday morning vanished in that instant.
The blogosphere buzzed. The cable news networks yakked. The press yawned.
If you get your news from the Chicago Tribune or the Chicago Sun-Times (or even The New York Times), you might not be aware of what exactly happened in Atlanta yesterday.
The Tribune played the story on page seven, under the headline "Rumsfeld Heckled, Grilled On Iraq Intelligence At Speech." The accompanying photo was that of heckler Gloria Tatum, so you may have dismissed the piece, which came from the Los Angeles Times.
The Sun-Times put an Associated Press story about the matter on page 39, also with a photo of Tatum, and without the key exchange between Rumsfeld and McGovern.
It's not just Chicago's editors who are missing the boat.
My edition of The New York Times didn't have the story at all.
The Washington Post also carried a dispatch from AP's reporter on the scene, one that ignored the central exchange, and lightly focused on disruptions to Rumsfeld's speech being somewhat typical of what administration officials are now facing. It was on page 20.
Perhaps the press figures we already know that Rumsfeld's statements were wrong. But isn't it news when he's not only confronted with them, but denies making them? And isn't it news when the questioning comes not only from a citizen but a 27-year CIA veteran who used to give the first President Bush his morning briefings?
This isn't the beginning of the end for Rumsfeld, it's the end. He's done, whether figuratively or literally.
And the press missed it.
Decide for yourself. See CNN video here; see MSNBC video here.
A transcipt in part can be found here.
Front Page Follies
The Tribune did find room on its front page, though, for stories about how Esquire magazine has named Kentucky the "most stylish state in the Union" and latest installment of "Teens At The Wheel" - pulled from the good ol' standby "Today's Wayward Youth" file - which details with sorrow the obstacles that took down a draconian piece of driving legislation in Iowa.
Over at The Bright One, the Sun-Times's lead story is the stunning development that the city's inspector general has set up a hotline and Website for tips of wrongdoing. (The paper also produced an editorial on the hotline: They're in favor of it!)
Map Madness
So now comes Kevin Drum of the Washington Monthly pointing out that "on every question that had been asked previously, today's kids did better than those of 1988 and 2002" on that geography test that has the media a-flutter.
Don't expect the Tribune and Sun-Times to amend their knee-jerk editorials railing against stupid kids, though. Accountability is for everyone else, not editorial boards.
Pay Pals
It's not clear from press reports whether state lawmakers are poised to get 13 percent raises or not. What's worse is that the reporting on this is buried in budget stories instead of broken out - and ridden hard - in their own stories.
The Tribune, in two paragraphs near the end its report, says the pay raise is dead. Sorta.
The Sun-Times did a little better, hinting that a manuever was in the works that could trigger the raise.
Carol Marin's political panel on Chicago Tonight last night also indicated that chicanery could be in the offing. This quote in the Sun-Times from senate president Emil Jones doesn't inspire confidence.
"I believe lawmakers are not second-class citizens," Jones said, "and I believe that they deserve raises."
Apaprently Jones believes that lawmakers are first-class citizens, and the rest of us are in that second class.
If there is a class that doesn't deserve a raise, though, surely it's the political class. What have you done for us lately, Mr. Jones, except pass another sham budget that papers over the state's fiscal reality?
Stroger Shift
As long indicated by The Beachwood Reporter's political oddsmakers, Todd Stroger is making his move to replace his father as Cook County board chairman.
"If I haven't paid my dues, then nobody has paid dues," Todd Stroger says in the Sun-Times.
Except maybe somebody who actually stood for election.
In a just world, Stroger's lack of self-awareness and obviously unmoored ethical compass would eliminate him from consideration.
But in Cook County, the odds are still on his side, despite the unsavvy nature of his power grab.
Steinberg's Due
Speaking of lack of self-awareness, Neil Steinberg blames voters for the possibility of a Todd Stroger-led county board without even hinting that it was his column questioning whether John Stroger really had a stroke and equating it with dirty picnic areas in the forest preserves that galvanized Stroger voters.
Steinberg then had the gall to issue a faux apology, further patronizing African-Americans just a short time after he also called congressman Jesse Jackson Jr. stupid.
But Steinberg has a skewed sense of journalism. For example, today he extolls retiring society columnist Mary Cameron Frey because "she has money and didn't just report on society - she belonged to it." He marvels at how she "knew who was important and who should stop putting on airs and slink undocumented back to the buffet table," and how she had "the sort of larger-than-life personality rarely produced at journalism schools."
I see Steinberg's point: Journalism needs more rich reporters who belong to "society" and know who's important and who isn't instead of those reality-sized personalities that come out of journalism schools.
Pallmeyer Punts
So Judge Rebecca Pallmeyer will question Evelyn Ezell, but not Sonja Chambers. I know how tired I am of the ongoing travails of the George Ryan jury, so I can imagine how Pallmeyer must feel.
But does she have to be so grudging about getting to the bottom of this jury's mess? After all, justice for two men is at stake.
Pallmeyer says of her decision not to question Chambers, "I simply don't believe anyone's divorce case makes any difference in whether they can be fair."
That's not the point, and she has to know it. It wasn't just Chambers's failure to disclose a divorce as a previous court proceeding she had been involved in. That would have been perfectly understandable. But Chambers's divorce was a bitterly fought court battle that included orders of protection. She also failed to disclose a civil lawsuit involving a furniture company. Add to that her apparent blabbing about the trial with a coffee stand operator and her apparent dishonesty about it when questioned by Pallmeyer and it's not hard to infer that maybe she wanted to be on this jury real bad. And that would be a problem.
Higgins Hacks
Jack Higgins's editorial cartoon today in the Sun-Times is almost as offensive as radio host Don Wade's recent comments about "wetbacks."
And while Wade was wrong on the rhetoric, Higgins is wrong on the facts. He depicts a Mexican waiter in a Mexican restaurant shouting "I want legal status now! I want full citizenship now! I want the national anthem en espanol now!"
The father of a white family looking at a menu says, "Swell . . . And is there anything else you want to order?"
As far as I can tell, nobody is demanding "legal status," whatever that is, or "full citizenship," now. The congressional legislation supported by pro-immigration activists would put "illegals" through a series of requirements to earn citizenship in something like 10 years.
Meanwhile, I think the waiter in the cartoon ought to have some legal status, given that he is working an actual job for an actual legal American business.
And I'd like Higgins to name one person who is demanding a Spanish-language national anthem, rather than enjoying just the latest pride-filled version of a song that has been - and should be - sung in a variety of ways.
I wonder if Higgins will be lunching with Steinberg today to get advice on crafting an apology in light of a possible boycott threat.
In Today's Reporter
Has anyone written more eloquently about Bob Dylan's new satellite radio show than our very own Don Jacobson?
Has anyone written more elegantly about the death of the Hostess Pie Magician than our very own Marty Gangler?
Has anyone better tracked the latest crap to come out of the mouth of Ozzie Guillen than the Beachwood Sports Affairs Desk?
I didn't think so.
And don't forget to watch tomorrow for our crack Weekend Desk Report, starring Natasha Julius.
The Beachwood Tip Line: Demanding legal status now.
Posted by Beachwood Reporter at 8:00 AM | Permalink
May 4, 2006
Iowa Cubbie Blue: Joe Hicks's Day in the Rain
The rain fell like big wads of spit on Saturday, the day Joe Hicks returned to Des Moines to be honored for his hitting prowess two decades ago. Hicks got used to waiting in the late 1980s, when his record-setting performance as an Iowa Cub failed to stir the interest of the front office in Chicago, who already had an offensive-minded player named Leon Durham playing first base.
So maybe it was fitting that Hicks never got a chance to throw out the first pitch or to sign autographs for the few hundred fans between games of a doubleheader on Joe Hicks Day. Hicks' career was all about waiting.
When he barreled into the press room on Saturday with his wife, Karla, and kids Michael and Jodi, nobody took much notice. The beat reporter from the Des Moines Register was watching the pro football draft on ESPN and most of the employees seeking refuge from the rain were more interested in the big tins of pasta the organization had set out than they were in Hicks.
Still, it's one of those mysteries of baseball that Hicks never even got a whiff of The Show. Hell, the I-Cub record book wouldn't be the same without him. He hit more home runs and collected more RBIs than any player in franchise history; collected the third-most hits (1661); the fifth-most doubles (85); and the fourth-most runs scored (244) in the 25-year history of the club.
When he returned to Principal Park in Des Moines last weekend, it was the first time he had been back Iowa since leaving the I-Cubs in 1989. His hair has turned to the color of steel and his waistline has expanded some, but his love for the game hasn't diminished much. Hicks was scheduled to throw out the first pitch of the doubleheader against the Memphis Redbirds and to sign autographs between games, which he would spend in a boxed seat reliving old memories.
"I loved every minute of it," he says of his time in Iowa. "When I was drafted by the Cubs in the first round I wasn't even expecting to be drafted. It was a thrill, just an absolute thrill."
Hicks started his playing career at Florida State in 1977 but was drafted after two years of college. After he signed with the Cubs, he spent his first season in rookie ball and was paid $99 a month, not even enough to cover basic living expenses.
By 1981 he had climbed to Triple-A ball, playing in Iowa for the first time during the club's last year as the Iowa Oaks. (The next season the team became the Iowa Cubs.) He was a consistent hitter for Iowa, many years one of the league's home run hitters. But the Chicago Cubs were building an offense around left-handed hitters and didn't have room for a right-hander like Hicks. At the end of the 1985 season, he became a free agent on the minor-league market. Fifteen teams offered him contracts to join their farm systems. The best offer came from Oakland, who tempted him with the promise of getting at-bats with the major league club as a pinch-hitter against lefties. But the Hankyu Braves offered him $500,000 to come play in Japan.
"It was the toughest decision I ever made," he says. "I finally had a chance to play major league ball. But league minimum was $42,000 and I thought that if I had a good experience in Japan, other opportunities would present themselves."
In Japan, Hicks hit 22 home runs for the Braves but was released at the end of the season. Japanese teams only allow two foreign players on a roster and Hankyu sent him home to make room for a relief pitcher they wanted. After drifting around baseball for two more years, he spent a final season with the I-Cubs.
When his career was over, he returned to college. Now, he and his wife operate a chiropractic clinic in Kokomo, Indiana, and are just beginning a side business selling nutritional supplements.
When the game was in doubt on his special day last weekend, Hicks offered that his departure time on Sunday was late enough that he could probably return for at least part of a make-up game the next day. But the rain fell again and the games were cancelled, so Joe Hicks will have to continue to wait for his day in the sunshine.

Posted by Beachwood Reporter at 11:01 AM | Permalink
Bob Dylan's Record Geek Radio Hour
Cue the thunder and the sound of rain splashing on concrete. A husky-voiced, female announcer says:
"It's nighttime in the big city. Rain is falling. Fog rolls in from the waterfront. A night shift nurse smokes the last cigarette in her pack. It's Theme Time Radio Hour, with your host Bob Dylan."
Then comes that irreplaceable, raspy, moody voice: "It's time for Theme Time Radio Hour - dreams, schemes and themes."
And Bob is on the air.
This week's much-anticipated debut of Dylan's XM Radio show gave us something we certainly hadn't heard before - the chatty, Record Geek side of Bob. You always knew he probably started out like so many rock and folk icons, spending whatever resources he could muster obsessively tracking down the obscure vinyl of his heroes, and obtaining them by whatever means necessary. Serious collectors are truly ruthless about their passions. It reminded me of the story told by a still-somewhat-bitter Tony Glover in Martin Scorsese's No Direction Home about how Dylan stole Glover's rare folk records in Minneapolis in the late '50s because he wanted to listen to them so badly and it was the only way he could.
Old record geeks never die, I guess; if they're good enough they get their own radio shows. And as the title of his show indicates, Dylan will take a theme each week and play songs whose titles and lyrics touch on the subject. This week it was "weather." Not a bad device, I suppose. I probably would have preferred something based on musical influences or strains, but I think what this may show is that first and foremost Dylan is a poet and cares most about the emotions and images conveyed by words.
Chicago's place in the pantheon of Dylan's musical imagination is pretty apparent right off the bat. The very first song he plays he introduced by saying, "We're going to start out with the great Muddy Waters, one of the ancients by now but whom all moderns prize. One of his early songs on the Chess label, 'Blow Wind Blow,' featuring Jimmy Rogers, Otis Spann and Little Walter. From the Windy City of Chi-ca-go, 'Blow Wind Blow.' Here's Muddy."
Then, after Muddy wraps it up, Bob continues:
"Chicago's known as the Windy City, but it's not the windiest city in the U.S. The windiest city in the U.S. is Dodge City, Kansas. Other windy cities are Amarillo, Texas, and Rochester, Minnesota," which he pronounces the Coen Brothers-Fargo way of "Minn-ee-soooh-tah."
As a Minn-ee-soooh-tahn, all I can say is . . . cooooool. Bob is all about his roots, after all. (He also pointed out that Judy Garland, "like Prince," is from Minnesota. She was born only a few miles from Dylan's Iron Range hometown of Hibbing, in Grand Rapids, Minn.
Indeed, Dylan was a font of fascinating music trivia during the show. He noted that former Louisiana Gov. Jimmie Davis performed "You Are My Sunshine" at his 100th birthday party in 1999; mused that we forget how much Elvis wanted to be Dean Martin; told the story of how the governor of Tennessee arranged for prisoner Johnny Bragg to be released in 1953 to record for Sun Records; riffed on "alto-cirrus and alto-cumulus" clouds and how the Santa Ana winds are like "the winds of the apocalypse"; noted the difficulties of mastering the tremolo bar; reported how Fats Domino was found alive after Hurricane Katrina; and reminisced about "probably" seeing the ill-fated 1959 Winter Dance Party Tour with Buddy Holly, "the day the music 'supposedly' died."
Oh, man, he knows his stuff. Of course, we knew that, but still . . . it was thrilling to hear The Man himself tell these stories. He likes to use a noir-ish voice to recite some of the lyrics of the songs he's about to play, giving us a spoken-word version of the song interpretation skills we all know so well. It's an invaluable glimpse into what makes Dylan the music fan tick.
One other note for XM Radio listeners: His delivery and the style of the show are very similar to Tom Petty's DJ turn on the satellite station, Tom Petty's Buried Treasure. Both concentrate on early rock-roots tunes and come from their private record collections. Together, they alone are worth the $13 per month subscription fee.
Here's the playlist from Dylan's first show:
1. Muddy Waters, "Blow Wind Blow"
2. Jimmie Davis, "You Are My Sunshine"
3. Joe Jones, "California Sun"
4. Dean Martin, "I Don't Care If the Sun Don't Shine"
5. The Prisonaires, "Just Walking In the Rain"
6. The Consolers, "After the Clouds Roll Away"
7. Jimi Hendrix, "Wind Cries Mary"
8. Judy Garland, "Come Rain Come Shine"
9. Irma Thomas, "It's Raining"
10. Saint Basil/Deaf Poet, "Didn't It Rain"
11. Slim Harpo, "Rainin' In My Heart"
12. Lord Beginner, "Jamaican Hurricane"
13. Fats Domino, "Let the Four Winds Blow"
14. The Spaniels, "Stormy Weather"
15. Stevie Wonder, "A Place in the Sun"
16. Frank Sinatra, "Summer Wind"
17. Staple Singers, "Uncloudy Day"
18. Carter Family, "Keep On the Sunny Side"

Posted by Beachwood Reporter at 10:28 AM | Permalink
The [Thursday] Papers
Predictably, both the Tribune and Sun-Times editorial boards are up in arms about the state of today's "young adults," this time because of their apparent lack of geographic knowledge.
The familiar editorials they each run on the matter today seem to come from stock files in their libraries right next to the clip art, sprinkled anew every few years with pained attempts at updated cultural references and sent out to the masses as the wisdom of the elders.
(Note to Tribune: It's "borrrrrring," not "boriiiing." Note to Sun-Times: The Daily Show is a popular satire on the news that is in large part making fun of you.)
Are today's young people (18- to 24-year-olds) less geographically knowledgeable than those of previous generations?
We don't know, because the newspapers haven't offered a comparison.
Are they less geographically knowledgeable than older generations?
We don't know, because the newspapers haven't offered a comparison.
A cardinal rule of using statistics in journalism is that they are meaningless without comparison which provides context.
So it's hard to know what to make of the fact that a bunch of 18-year-olds don't know that English isn't the most widely used language in the world. It's Mandarin Chinese.
Did you know that? I didn't.

The Tribune editorial steps back for half a second to say that "We're not sure a sample of Americans older than 24 would score one whit better on a geography test."
That's as much as the paper will concede before lamely arguing that "In not that many years, though, today's young people will be running this country."
Okay, I'm a little more concerned about the people running the country right now. The adults. They're the ones who worry me, especially a president endorsed twice by the Tribune and a phony, misguided war still supported by the Tribune - gymnastically - in disregard not only of this administration's intellectual shortcomings and lies but of the lessons of history.
I'm also a little more concerned about the adults running our newspapers. I'm pretty sure the majority of 18- to 24-year-olds surveyed could have produced something vastly better than the Sun-Times's loopy editorial today (second item).
Let's break it down.
"Remember the days when geography was such a popular subject?"
Um, no. But I remember the days when editorial writers knew a little something about English usage.

"When kids would happily complete projects designed to teach them the locations and shapes and capitals of all the states, as well as their resources and rivers and such?"
On what planet?
"Well, those days appear as lost to history as the TV dinner, judging by a new poll that reveals an amazing lack of geographic awareness on the part of Americans ages 18 to 24."
You mean the TV dinner is dead? Then what are these Lean Cuisines and HealthyChoice things I've been eating in front of the tube all these years?
"There is no single explanation for this trend, but we have to wonder whether one cause is the decrease in young people watching TV news, with all its maps and other tricked-up visual cues."
So now you want kids to watch more TV? And, um, tricked-up visual cues?
"If that's so, it's incumbent on their preferred source of information, the 'Daily Show,' to beef up the graphics."
Obviously the editorial writer (and editor) has never seen The Daily Show, because this statement is beyond absurd on multiple levels.
"At least many viewers could learn the difference between Washington, D.C., and Washington state."
Ha-ha-ha-ha! Can't stop laughing! Good one.
The kids are alright. The media clearly isn't.
Book Smart: Maybe it's those textbooks we adults give them.
Juror Jujitsu
Now comes George Ryan juror Leslie Losacco filing a motion asking that Judge Rebecca Pallmeyer not allow interviews of her and her colleagues on the panel.
Here's what caught my eye:
Dismissed and aggrieved juror Evelyn Ezell has said that juror Denise Peterson "quoted chapter and verse of case law that said jurors could be thrown off the jury for not deliberating in 'good faith,'" the Sun-Times reports today. "Ezell said after that, Losacco told Peterson to read Ezell a different case about 'bribery.'
Now, Ezell has her own credibility problems. But still.
"In her motion filed Wednesday, Losacco never denied that case law was read aloud during deliberations, but she argued that the case law 'had nothing to do with charges against Mr. Ryan and Mr. Warner.'"
If the case law had nothing to do with the case, why was it read aloud in the jury room? To pass the time?
If the inference is that the case law was generic, with no specific relevance to the Ryan/Warner case, well, that's just plain impossible. The relevance is obvious; that was the point.
The Sun-Times's Abdon Pallasch notes elsewhere in his story that "Federal appellate courts have ruled that such 'outside influences' on a jury are among the few grounds they consider for overturning convictions."
City Raccoons
The Sun-Times has the big story today about a raccoon rescued from the top of the 43-story federal building downtown, where it was living. The Beachwood Reporter believes it broke the story first.
State Weasels
"As the House stamped its approval on a $56 billion state budget," the Sun-Times reports, "lawmakers Wednesday still had not killed off a proposal to boost the pay of Gov. Blagojevich and other state officials by more than 12 percent."
Please give the governor and your other elected representatives a friendly call today and suggest they forego the raises and direct the money to new textbooks instead.
A Bunch of Pussies
So let me get this straight. The city engages in what federal prosecutors allege is "massive fraud" in hiring, including willfully breaking the law by ignoring a decree imposed by a federal judge, forcing hiring to come under the oversight of a federal monitor, and it's the monitor's fault that the terribly urgent hiring of sign hangers to warn of street sweeping has supposedly been slowed and that the city must pay the monitor's legal fees to boot?
Let's give the pay raise aldermen want to the monitor, Noelle Brennan, instead. Sounds like she's just getting started.
Strip Tease
"As a second village credit card bill reveals an additional trip to a Chicago strip club by New Lenox Mayor Mike Smith," the Sun-Times reports today, "trustees are backing off his request for a salary increase."
However, one trustee slipped a $5 bill under Smith's thong.
- Tim Willette
Stroger Tease
How is Cook County government operating without its president, the ailing John Stroger?
Stroger chief of staff James Whigham says Stroger is in charge. Stroger's son, though, has said his father is still too sick to be running country government.
"Asked if he could name one county-related decision Stroger has made in the last seven weeks, Whigham said he could but he refused to say what that decision was," the Tribune reports.
"'I'm giving you a very fair answer. I'm not going to disclose confidentiality,' Whigham said.
"Whigham said there is a 'transfer of information that occurs' when he meets with Stroger."
Board member and defeated Stroger challenger Forrest Claypool called Whigham's comments "vague and not very reassuring."
He meant bullshit.
Metro Mediocrity
The centerpiece of the Tribune's Metro section today is a RedEye story (!) about the blurring of neighborhood names and boundaries, particularly by unscrupulous real estate agents. You know, one of those stories the paper re-runs every couple years, along with how bikers are not the greasy mean men you think they are, about how tattoos have gone mainstream, and about how young people are stupid.
Hey Trib Metro, if you're out of ideas, just give me a call. I've got about a hundred of 'em I haven't gotten out the door here yet.
And if you want to avoid further "cost containment," you might want to prove the value of your existence.
Chicago: Contract City
The Illinois Bureau of Tourism spent $113,000 to come up with the tagline "Simply Magnificent" to promote Chicago to overseas tourists.
There wasn't room to fit in "Except For Our Textbooks And Newspapers."
The Beachwood Tip Line: Magnificently Simple.
Posted by Beachwood Reporter at 8:37 AM | Permalink
May 3, 2006
The [Wednesday] Papers
It's hard to believe that U.S. congressman Bobby Rush is so dense as to not understand why accepting a million-dollar grant from AT&T's charitable arm for his Englewood community center while sitting on a committee that helps set the nation's telecommunications policy could be fairly construed as a conflict-of-interest, so we can reasonably conclude that he's simply being disingenuous in his attack on Chicago Sun-Times reporter Lynn Sweet, who broke the Rush story last week.
Appearing on Chicago Tonight last night, Rush called Sweet's story "shoddy journalism" and called Sweet "lazy" for apparently not calling the House ethics committee for a determination of whether Rush had a conflict-of-interest.
If she had called, Rush insisted, she would have learned that there was no conflict. Hence, no story.
Rush can't really believe this. But instead of explaining why the confluence of events looks bad - particularly because he is the only Democrat to sponsor a controversial phone industry-backed bill - but is in reality an entirely up-and-up matter, Rush won't even concede that it looks bad.
"No, it doesn't look bad!" he exclaimed. "As a matter of fact, it looks pretty good!"

Any remaining benefit of the doubt one might have extended to Rush disappeared with that statement.
I would never accuse Rush of being lazy. But he is, in the least, practicing shoddy politics, with a side order of stupid for the way he has now opened himself up to further scrutiny. It sure sounds like he deserves it, because, after all, what else is he up to that "looks pretty good" despite the facts on the ground?
Note: Rush, who routed a challenger named Barack Obama in 2000, is expected to slaughter Republican opponent Jason Tabour in the fall. So the system works.
City Council Cash Crunch
Speaking of conflicts-of-interest, city council finance committee chairman Eddie Burke once again led all aldermen in trading on their elected positions for extra cash through outside employment.
The Sun-Times's report on the latest financial disclosure forms focuses on the curious case of Burke's Wal-Mart stock, while reminding readers again that it once disclosed "that Burke used a rare parliamentary maneuver to change the record of four past Council votes involving his airline clients dating back as far as seven years."
The Tribune notes that "although there is no legal prohibition against outside employment, most [aldermen] in recent years have opted against second jobs. Of those who receive other pay, most are lawyers."
(Aldermen make $98,125 a year and are trolling for another pay raise.)
Both papers noted that Burke did work for 37 clients that do business with the city or other units of local government.
Surprisingly, Burke was unavailable for comment.
Note: Burke isn't likely to face a serious challenge when he runs for re-election next year. So the system works.
The Other White Meat
Today's familiar headlines about the state budget negotiations - "Pork Back On Budget Menu" - calls out for another installment of Tim Willette's "DOG BITES MAN: News You Already Know."
1. "Violence Hurts Effort To End Sri Lanka War" (AP, 5/1)
2. "Stroger Campaign Official Gets County Job" (Sun-Times, 5/2)
3. "Program To Rebuild Iraq Troubled" (USA Today, 5/2)
4. "Crying Babies Linked To Depressed Moms" (LiveScience.com, 5/2)
5. "Lobbying Bill Quite Different From First Draft (USA Today 5/1)
Drowning The Evidence
City officials joked about throwing their laptops in Lake Michigan to destroy evidence of "massive fraud" in city hiring, prosecutors allege.
Wily Webb
Federal prosecutor Patrick Collins has some harsh words for defense attorney Dan Webb in the latest unsealed transcripts of private sessions between lawyers and the judge in the George Ryan trial.
"Collins said he had heard before trial that Webb 'is the greatest lawyer in America . . . and that his word is his bond,'" the Tribune reports.
"I have to tell you, that is not the way this trial has transpired," Collins told Judge Rebecca Pallmeyer in February, after a sealed matter had been leaked to the press. "We have been lied to."
The Tribune doesn't say what the matter was, but the Sun-Times reports that in late February Pallmeyer "appeared furious with Webb because she seemed to believe that his client, Ryan, or one of his family members, was the source of a Sun-Times story saying [Cynthia] McFadden was dismissed because of a 'personality conflict' with other jurors.
"Pallmeyer rejected the contention that someone from the prosecution side could have been the unnamed source of the story."
Also, Ryan's lawyers filed new papers Tuesday asking to question juror foreperson Sonja Chambers about her alleged discussions of the case with a coffee stand owner at the Lisle Metra station.
Adult Deficit Disorder
All my life I've read stories like this one today about how stupid young people are. At some point, those people grow up to be stupid adults, too. Some of them even work in newsrooms. So let's not confine our outrage to the kids.
Pickett Pablum
Sun-Times Smart Girls' Book Club columnist Debra Pickett made her regular Tuesday night appearance on Chicago Tonight last night, delivering her usual yuppie-inflected long windup on an important issue of the day before falling flat with absolutely nothing insightful to say.
Last night, the subject was "curbing dependence on foreign oil."
Pickett's solution? Leave your car at home on Saturday mornings when you run errands like going to the bank, the grocery store, and the dry cleaners.
At least she didn't say "try to use just American oil."
Baffling Burns
Channel 2 news anchor and multimillionaire Diann Burns once again had no comment last night on her allegations filed in court that a contractor did shoddy work rehabbing her home because she and her husband are African-American.
So Chicago Tonight filled in the blanks by noting a current exhibit at Bucktown's Metalworks Gallery entitled "Playing the Race Card."
Burns, for her part, has said she doesn't wish to litigate personal matters in the media. She prefers to litigate other people's matters in the media.
Rocking the System
Carol Marin on Gov. Baloneyvich.
The Tribune Company on "cost containment" and other matters taken up at this year's shadowy annual meeting.
Hollinger International, parent company of the Sun-Times, on changing its name to the Sun-Times Media Group.
Memo to Neil Steinberg: Some of us even buy clothes at thrift stores. (Third dumb item.)
Memo to Jennifer Hunter: All my life I've been reading about the disappearing art of political conversation. I didn't believe it until I started reading your column.
Immigration Updates
Late posts from yesterday, repeated fresh this morning for your reading pleasure:
Deport Don: Does Don Wade still have a job?
A Day Without Taste: UPDATE - The headline in The Naperville Sun yesterday was "The Day The Lawn Wasn't Mowed." All other evidence of this story's existence seems to have been destroyed.
Not That Illegal: ArchPundit writes the Reporter to say that "being in the country illegally is generally a civil violation of the law and not a misdemeanor. The Sensenbrenner bill would have made it a criminal felony and then an amendment was introduced to make it a misdemeanor because Sensenbrenner figured out how much it would cost to provide defense lawyers for all of those defendants.
"All the more irony that, because Democrats voted against making it a misdemeanor because they thought it shouldn't be a criminal matter, the GOP then claimed Dems wanted to keep it a felony as the bill originally called for."
ArchPundit's own post on the matter is here.
And, this morning, Richard Roeper digs up a 1998 short film titled "A Day Without A Mexican."
The Beachwood Tip Line: A day without it is like a day without sunshine. Or rain.

Posted by Beachwood Reporter at 8:01 AM | Permalink
May 2, 2006
The [Tuesday] Papers
The big hang-up a lot of folks seem to have when it comes to pro-immigration marchers and activists is the difference between legal immigrants and illegal immigrants. And that indeed is an important distinction. It explains the comparison of this movement to the civil rights movement of the 1960s.
While not a direct equivalent, consider that in the civil rights struggle, African-Americans broke the law - practiced civil disobedience, such as sitting in the front of a bus or at the lunch counter at the local diner - to demonstrate both the rights that ought to have been theirs and the absurdity of the laws that made their actions illegal.
Our immigration laws are absurd.

While illegal immigrants didn't follow the law to get here, they did something even more courageous: They risked life and limb to make a better life for themselves and, in many cases, even more so, for their children. You might say that no one wants to be an American more than an illegal immigrant from Mexico.
The Sensenbrenner bill that passed the U.S. House in December and sparked this movement would have made illegal immigrants felons, among other anti-immigrant measures. I guess the crime of illegally entering the country had previously been a misdemeanor.
[UPDATE/CLARIFICATION 2:55 p.m.: ArchPundit writes the Reporter to say that "being in the country illegally is generally a civil violation of the law and not a misdemeanor. The Sensenbrenner bill would have made it a criminal felony and then an amendment was introduced to make it a misdemeanor because Sensenbrenner figured out how much it would cost to provide defense lawyers for all of those defendants.
"All the more irony that, because Democrats voted against making it a misdemeanor because they thought it shouldn't be a criminal matter, the GOP then claimed Dems wanted to keep it a felony as the bill originally called for."
ArchPundit's own post on the matter is here. ]
Making it a felony, among other provisions, is how we quickly move from the Sensenbrenner bill to the specter of rounding up and deporting 13 million or so people. It's untenable.
(Illegal immigrants, by the way, don't just come from Mexico. In one TV report I saw yesterday, an Irish-American leader said that there were thousands of undocumented Irish in Chicago. If Ireland were on our border, maybe we'd be talking about them, not Mexicans.)
No one is arguing that the law doesn't matter. They are arguing that there has got to be a better way to deal with immigration than making lawbreakers out of those whose dreams and determination to be Americans are the strongest.
And as far as rights go, the U.S. Constitution is built upon the idea that human beings have "inalienable" rights; borders, nation-states and governments are artificial creations, but every human being has the innate rights of the pursuit of life - the right to not be denied food and shelter, for example - and rights of expression both political and religious.
Do we really want to say that undocumented workers (and their kids) are not entitled to the basic rights of human dignity?
We all know that our border security is a joke. The Bush Administration has been in office for more than five years now; more than four years since 9/11. Security was supposed to be its strength. Let's not let the failure of this administration (and that of the Republican-controlled House and Senate) to secure our borders and develop a more sensible immigration policy wreak havoc on those whose aspirations strengthen our economy and whose cultural contributions strengthen our nation. Both, incidentally, make us more secure.
Illegal immigrants are here. I, for one, am heartened to see them grow into citizens willing to take to the streets to show us all democracy in action. If only more of us were like them.
Deport Don: Does Don Wade still have a job?
A Day Without Taste: At The Naperville Sun.
Front Page Focus: The cover of the Chicago Sun-Times today strikes me as a decent snapshot of where our country stands at the moment. Of course, the dominating feature is a huge photo of marchers on Jackson and Wabash. The headline is a quote from a banner: "We Are America."
Stripped above the photo is the name Tadahito Iguchi, today's featured White Sox player in the paper's "mini-baseball" promotion.
Below the lead headline is a much smaller one that points to America's still unfolding story concerning race: "Desegregation Fight Ending."
Aside that is another small headline: "FBI Got Personal Info From Brokers Under Investigation."
Yup, that's pretty much where we're at.
At the Blue One: The Tribune's front page headline is "United They March."
Rounding up the Best of the Rest: If you have neither the time nor the inclination to read all of the coverage, here is a roundup of the best and brightest from the two major metros:
In "Fairness For Immigrants More Important Than Fences," Mark Brown produces the day's best column. "The only thing more remarkable than the massive number of people who participated in Monday's immigrant rights march here was how quickly and quietly they dispersed upon finally arriving at Grant Park," Brown writes.
"It was as if they just melted into the background from which they had emerged that morning, seamlessly returning to the shadow society that they have been forced to create for themselves in the absence of sensible immigration laws.
. . .
"[I] would have liked for those who want to get rid of these folks to explain to me why exactly they belong here and the immigrants don't, other than that we were born on the opposite sides of an imaginary line . . . For me, the issues of social justice far outweigh concerns about the legality of border crossings."
*
On the Sun-Times Op-Ed page, Dave Gorak, executive director of the Midwest Coalition to Reduce Immigration, opens "Showing They Don't Respect The Law" with a quote from Antonio Garza, US Ambassador to Mexico: "There is no human right to enter another country in violation of its laws."
Does that also mean there is no human right to leave a country - say, Cuba - in violation of that country's laws?
*
Eric Zorn struggles to find the message of Monday's march until he alights upon a T-shirt that says "Don't take my dreams away."
*
Michael Sneed, who we learn has Mexican yardmen, "reports" from the North Shore by checking in with her dog-walker and her brother-in-law.
*
I've heard some folks say they are upset that illegals are "demanding" rights they ought not have because they are not citizens. But some level of rights accrues to those who work in our country, don't you think? "Immigration rights are also worker rights," union leader Christine Boardman told the Sun-Times.
*
Where would Jesus stand?
"After the speeches," the Sun-Times reports, "Cardinal Francis George and other priests led the crowd in prayers in Polish, Spanish and English. Next came a moment of silence to commemorate all who died crossing the border or in other immigration mishaps. They sang 'Amazing Grace' and 'The Lord's Prayer' in Spanish and released five white doves. 'God bless us all,' one of the priests said, closing the rally about 5 p.m."
*
There were no arrests.
*
"This is a condemnation of both governments," a teachers-union advisor in Mexico City told the Tribune's Hugh Dellios. "The government of Mexico, for not creating conditions so our countrymen can stay here with dignified jobs, and the U.S., for these anti-immigration laws that turn people into criminals."
*
How Illinois members of the House voted on the Sensenbrenner bill, courtesy of the Tribune:
Democrats Yes - Lipinski, Bean, Costello.
Democrats No - Rush, Jackson, Gutierrez, Emanuel, Davis, Schakowksy, Evans.
Republicans Yes - Kirk, Weller, Biggert, Hastert, Johnson, Manzullo, Shimkus.
Republicans No - None.
Republicans Not Voting - Hyde, LaHood.
*
Dave Hoekstra says in the Sun-Times that Bruce Springsteen "delivered the most expressive concert of his career" in New Orleans on Sunday. An exhilarating thought, given Springsteen's early, soul-baring marathons. But Bruce is in the moment right now, with his new record of Pete Seeger covers (apparently much better than that sounds) amidst a new slew of searching protest songs trying to comprehend a nation that seems to have unraveled. More to the point, has an American city outside of New York ever mixed this country's melting pot legacies, both proud and shameful, to better effect than New Orleans? Just sayin'.
The Beachwood Tip Line: Mexicans welcome. Legal or not.
Posted by Beachwood Reporter at 7:32 AM | Permalink
May 1, 2006
The Secret Subversion of Showgirls
Like a girl branded with a bad reputation, director Paul Verhoeven's 1995 film Showgirls has been called every nasty name in the book:
"Perhaps the worst film of the year." (Kim Williamson, Boxoffice magazine)
"Think Flashdance but with an unappealing leading lady playing a woman whose fierce ambition is to do something not admirable, just ridiculous." (Mick LaSalle, San Francisco Chronicle)
"A waste of a perfectly good NC-17 rating." (Roger Ebert, Chicago Sun-Times)
"Just plain awful." (Bob Thompson, Jam! Movies)
Showgirls drew attention to itself by garnering a rare NC-17 rating and because its screenwriter, Joe Eszterhas, became the highest-paid screenwriter in history for his series of sexploitative films, most notably Basic Instinct. Roger Ebert and many other critics who piled on Showgirls seized upon how poorly the film lived up to its rating. Others latched onto the noble-minded but ill-considered claptrap Eszterhas served up (that making the film was "a religious experience" for him) to make the film a laughingstock and skewer Eszterhas for polluting us with his personal fantasies. Still others called Showgirls a camp classic, with bad dialogue and stick-figure characters that could be imitated readily at the Baton Club for fun and profit.
Now that we're 10 years beyond the hype, it's time for a new appraisal of Showgirls, prompted by a recent bashing the film took in The Beachwood Reporter's Must-See TV box. I'll take on the criticisms first, then provide a new take on this unfairly maligned film.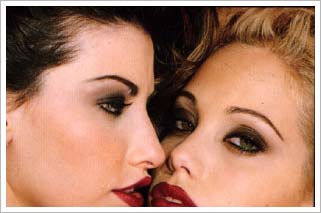 First, let's look at that NC-17 rating. All this rating actually means is that nobody under 17 is allowed into a theater to see this film. The best interpretation of what kind of film qualifies for an NC-17 rating is one that "may contain explicit sex scenes, an accumulation of sexually oriented language, and/or scenes of excessive violence. The NC-17 designation does not signify that the rated film is obscene or pornographic, simply that it addresses these topics."
Let's eliminate the excessive violence part of that interpretation because virtually no film would pass muster these days, and particularly not films for the lucrative PG-13 market. So that leaves us with sex. Now, there is only one actual sex scene in Showgirls, and it is not explicit. There is a lot of language about body parts, so maybe that qualifies for the NC-17. But let's be frank. It is the many, many bare female breasts and some full-frontal female nudity that got to the censors. So, this was a waste of a perfectly good NC-17 rating, but it wasn't the film's fault; it was the excessive prudishness of the raters who don't seem to know how to follow their own directions.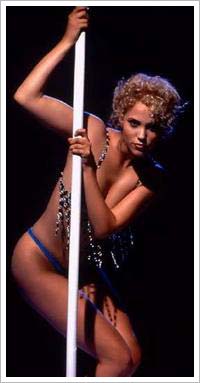 Nor, it seems, do film critics know what to expect from an NC-17 film, not even Roger Ebert, who championed the rating. The rating is not necessarily about eroticism, but everyone expected Showgirls to be just that. It isn't. What Showgirls is about is ambition told using one of the oldest stories in the book - an established veteran on the top of the heap facing a usurper, a story that goes back at least as far as Oedipus - transplanted to the Stardust in Las Vegas. This was an update that was right on time to capture the ambition-driven ethos of the go-go '80s and '90s. Before Showgirls, you'd have to go all the way back to 1950 to find another major film that dealt with this theme - All About Eve, a great film but wholly irrelevant in contextualizing success for the '90s. Nobody wants to be a star on Broadway, where the salaries are as small as the theatres, when they can pull down six- to seven-figure incomes in the glitz palaces on the Strip. I'm not sure this ambition is as ridiculous as critic Mick LaSalle suggests, at least by the "Greed is good" standards that still infect American society.
I think we are safe in assuming Showgirls is at least partially inspired by Eszterhas's fantasies. I'm not sure why his assertions that making Showgirls was a religious experience for him are considered ridiculous when similar thoughts from so-called auteur/sleazemeister Lars von Trier are considered profound, but my ticking snob detector is giving me a clue. And that's what really bugs me. Showgirls takes seriously the shows that entertain the folks who travel by Greyhound and the performers for whom the Strip is Broadway. Goddess, the big show at the Stardust depicted in the film, is as authentic a Vegas show as I've ever seen on film. I appreciate the artistry and entertainment value of this visually stunning show, as well as the skill of the dancers who perform it.
I guess now I'll have to deal with the camp aspects of this film, a charge not as easily dismissed. The usual way into the camp category is through stereotyped set-ups, bad or self-reflexive dialogue, and caricatures instead of characters. While it can be argued persuasively that our tough-as-nails, wannabe showgirl Nomi Malone (Elizabeth Berkley) comes very close to caricature, I don't think she crosses the line. Her traumatic background and need to use her body for survival are plain and real enough. She is never seen for one frame of this film without heavy make-up. She's willing to show everything but her emotions, and her face is a painted mask that never cracks. Her dialogue is similarly artificial and unemotional. When she likes something, it "doesn't suck." That sounds believable coming from someone like Nomi. I think Verhoeven made a mistake by not letting Berkley show more humanity; she emerges as a wooden, one-dimensional character that can be camped up because she is so blank. But I've seen Berkley in subsequent films and she really can act. Unfortunately, her career took the bullet for this misunderstood film.
Nomi takes on Cristal Connors (Gina Gershon), the star of Goddess. Gershon is the go-to girl in Hollywood for lesbian eroticism, which she delivers in Showgirls, but she does more than that. Cristal is an older version of Nomi, someone who scratched and slept her way to the top of the Vegas heap and knows that her looks won't last forever. She toys with Nomi and pulls rank, but she also sees the writing on the wall. When Nomi finally pushes her down the stairs, she has the sense to know that Nomi did her a favor. Her broken hip results in a large settlement from the Stardust, and she can finally retire and be herself. Significantly, Cristal wears no make-up when she says good-bye to Nomi with a deep kiss.
And what of Nomi? She finds herself and abandons the false accolades of a false town. At least, that's the outline of the plot. The way it plays, however, Nomi leaves Vegas the same way she came in- hitching and being picked up by the same larcenous truck driver - no less tough or searching, still with her war paint on, but realizing that Vegas was just another disappointment, like all the foster homes that bounced her and all the johns who stiffed her. In this sense, she accepts that she knows what she knows about the world and won't question whether she can have it all like the American Dream Machine promises. She knows she can't, and that clawing your way to the top for someone like her only means she'll drop without a safety net below when the time comes.
Showgirls turns the entire celebrity culture of America on its head at a time when it is at its peak. There is no transformation, only disillusionment and violence. That is a radical statement that perhaps could only come from Eszterhas and Verhoeven, two Europeans. In the very fruitful tradition of Europeans who appropriate American mythology for their own uses - most notably Godard - these two men filmed the myth against the backdrop of a very real Las Vegas and they did it with European bemusement at America's adolescent strivings. This film is very entertaining, and in its own way, very, very subversive.
Posted by Beachwood Reporter at 6:27 PM | Permalink
Optionetics
What It Is: A system of investing.
Description: A system of investing that makes money, as opposed to losing money. Apparently, the name "Optionetics" is the marriage of "options" and "pathetic."
Shills: George Fontanills, whose qualifications include appearances in stock footage for CNN and CNBC. Grace Carter quarterbacks the Optionetics effort from behind an anchor desk complete with fake stock ticker running in the background. If you watch carefully, you'll see the ticker runs from the same point during each Grace Carter appearance.
Set and costume: Carter appears svelte in business attire. Fontanills has exercised too many "put" options at the buffet.
Patriot Act: The background imagery during Carter's hard-hitting "interview" with Fontanills includes the United States Treasury building and an American flag. Not included: Footage of Alexander Hamilton rolling over in his grave.
Quote: "Make money no matter if the market is going up, going down, or going sideways."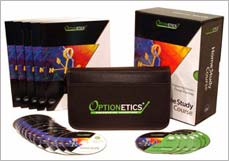 Gimmick: A series of people pump their fists while at their computers, as others testify about their best trades. Is it from a night at Resorts Chicago East? No! It's Optionetics!
Bonus Gimmick: Pilot compares trading options to flying a plane. Each requires practice, professional instruction, and a proven system.
Extra Bonus Gimmick: Financially-strapped OB/GYN bemoans cost of malpractice insurance and extols Optionetics for helping him make ends meet.
Cost: All you have to do is attend a free two-hour seminar coming to your area (Schaumburg, Lisle, Alsip, or Skokie). Laser light show possibly included.
Easy Payments? N/A
Evaluation: I was struck by the number of white people used in the testimonials. It seems that every white person (and one Asian) knows the power of options. Still, I watch infomercials for the wild promises of wealth and success. This one simply repeated the same talking points over and over in a matter-of-fact manner. In other words, it was like a George W. Bush press conference without the wild promises of wealth and success.
Rating: 2. If you enjoy listening to white people bragging about how much money they make, Optionetics is for you.
Condition of Viewer: Way too sober.
- Eric Emery
Posted by Beachwood Reporter at 5:30 PM | Permalink
Mix Tape 2003: Lollapalooza Road Trip to West Palm Beach
Let's not talk about Perry Farrell's merely respectable taste in arranging the 2003 Lollapalooza tour. The way I see it, The Music and Queens of the Stone Age (and of course Jane's Addiction) were true live treasures, but Incubus was mostly just good for selling tickets to teenage girls. Let's talk instead about my impeccable judgment in choosing 13 tracks for a mix tape my friends and I listened to on our way from Seminole County, Florida, to the tour's stop in West Palm Beach one sultry August day. Like Lolla itself, it was a judicious balancing of the weird and the accessible.
Something Better Change (The Stranglers, from Greatest Hits 1977-1990)
If the Mod kid of The Who's Quadrophenia hadn't been channeled through Pete Townshend and his strange Eastern dabblings, he would write a song like this. It's a giddy blast of snotfaced aggression and souped-up Farfisa organs. Get out your cheap amphetamines and dancin' shoes!
Wave of Mutilation (The Pixies, from Doolittle)
Hey, look, I included one artist who was at Lollapalooza. Two years later.
Ain't That Nothin' (Television, from Adventure)
Television could build songs on the most convoluted and bizarre riffs, or, as in this song, ridiculously simple patterns. Richard Lloyd, as usual, lays down a dizzying, bluesy solo without sounding like a failed Jimmy Page imitator.
These Days (Joy Division B-side)
People who've heard only this Joy Division song and no others might actually be surprised that singer Ian Curtis committed suicide in 1980. Compared to most of the Division's dirge-y catalog, this song is full of love and puppies - the bubbly synth being love and Peter Hook's snappy bass line being puppies, of course.
What In The World (David Bowie, from Low)
Sad thing is, Bowie would probably catch a lot of suspicion for singing a sexy song about "a little girl with grey eyes." For his music alone, though, Bowie's kinkier than Michael Jackson and R. Kelly combined.
Image Of Me (The Flying Burrito Brothers single)
"Oh I feel so ashamed/and I know I'm to blame/ 'cause I made her the image of me." Now that everybody knows what a nutty, Joshua-tree-worshipping cokehead Gram Parsons was, one has to feel sorry for the unnamed woman.
Blue Chair (Elvis Costello, from Blood and Chocolate)
That's right, 18-year-old Scott was extremely sensitive to the heartaches of 32-year-old Elvis Costello as expressed on Blood and Chocolate.
The Truth, The Whole Truth, Nuthin' But The Truth (Ian Hunter, from Ian Hunter)
Ian Hunter: Underrated ass-kicker or frizzy-haired, shades-wearing douchebag who just got a lucky boost from David Bowie and Mick Ronson? Even at his best, he often seems at a loss for good lyrical ideas. Then again, it takes a certain kind of skill to turn a cliche into a cheesy, loveable rock-monster like this.
The Endless Plain Of Fortune (John Cale, from Paris 1919)
Before 12 hours of heatstroke and straight-up hard rock, one needs a symphonic fix, preferably one that, in its own gibberish-ridden way, recalls the lush majesty of the British Empire.
King of Pain (The Police, from Synchronicity)
If Sting hadn't written it, Morrissey would have.
And Your Bird Can Sing (The Beatles, from Revolver)
For those who don't believe in God, John Lennon provides an excuse to act like self-righteous, self-denying monks. "When your prized possessions start to weigh you down/Look in my direction, I'll be round." So give all your shit to the poor and get someone to lend you a CD player, because George Harrison's punchy riffing is a must for any search for austere bliss.
Words (Between the Lines of Age) (Neil Young, from Harvest)
Jesus, I had no idea what I was doing with this mix, mood-wise. Did I really want to show up to Lolla weighed down by bucolic mopiness and tricky time signatures?
Positively 4th Street (Bob Dylan single)
Looking back on several generations of songwriters who've tried to re-create Bob Dylan's oblique, witty allegories, what's really impressive is that Dylan can do just as much with sheer personal hatred.
See also Mix Tape 1991: I'm 13 And Live In Evergreen Park and Playlist: Marfa Public Radio.

Posted by Beachwood Reporter at 4:35 PM | Permalink
Pie-Eyed And Blue
One of America's most underrated mascots is dead, and hardly anyone, it seems, is mourning this tremendous loss.
Well, I am. Let this be a tribute then, a tribute to a man I took for granted. A guy I thought would always be there for me, always there with my fix, my jump, my edge.
Farewell, Hostess Pie Magician.
You graced the waxy packaging of Hostess fruit pies for as long as I can remember, reporting to work in top hat and tux, blessing each pie with your special pixie wand.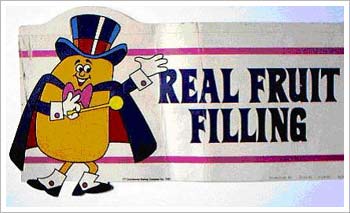 And now you've been replaced by a small bushel of fruit.
I miss you already.
The Pie Magician was my friend, even if I just learned his real name, "Fruit Pie the Magician." Which is kind of like introducing David Copperfield as "Human the Magician." Just one more indignity.
The Pie Magician is one of a long line of endearing Hostess characters, including King Ding Dong and Happy Ho Ho.
In case you don't remember, King Ding Dong is a Ding Dong with a crown and scepter, and Happy Ho Ho is a Ho Ho dressed like Robin Hood. Somehow that's what passed for a happy Ho Ho in the early days of Hostess marketing.
They also once created a crocodile wearing a pink hat pimping Chocodiles, and a leopard hawking a Twinkie with chocolate spots called Leopards. There was even the headdress-wearing Chief Big Wheel pushing Big Wheels.
It might just seem like Hostess is just doing away with character-driven snack cake marketing, but for some reason Captain Cupcake and Twinkie the Kid are still getting work. What kind of clout keeps them on store shelves and not the Pie Magician?
C'mon, Hostess, did you really give him a fair shake? Did you give him a chance to grow? Maybe make him life-size and put him on commercials and in parades? Pie Magician was an untapped marketing juggernaut.
So just know, Pie Magician, that some of us appreciated your hard work. Oh, I may still go for the cherry/apple pie combo at the two-for-a-dollar display at my local Citgo, but eating those sweet little pies won't be nearly as sweet without you.
-
-
1. From James "Rafe" Gegenheimer:
He will be missed, but at least he has his own Wikipedia page. There is also an attempt to save the Magician.
Also, apparently Captain Cupcake is also now gone and replaced by a character named Curly.

Posted by Beachwood Reporter at 3:11 PM | Permalink
Mexico, Illinois
In 1980, 69 percent of Illinois residents were born in Illinois.

The next highest place of birth among Illinois residents was Missouri, accounting for 2.4 percent (279,025 people) of our state's population.

By 1990, Missouri fell out of the top spot as the largest provider of Illinois residents born elsewhere. It was replaced by Mexico.


It was still close - Mexico accounted for 2.5 percent (280,170 people) of the state's population, compared to Missouri's 2 percent (229,965) - but Mexico was pulling away.

By 2000, the gap doubled, with Mexico accounting for 5 percent (622,932 people) compared to Missouri's 1.8 percent (218,079).

By 2004, the 5.4 percent of the state's population (665,196 people) provided by Mexico was more than those supplied by the top three states (Missouri, Indiana, and Mississippi) combined (5.2 percent; 648,480 people).

And these figures are believed to include only small proportion of undocumented residents, so the actual number of Mexican immigrants in Illinois is likely much higher. Such a high number of Mexican immigrants is not a big surprise to those of us who live in metropolitan areas where their presence seem to grow everyday. Mexicans not only work in area yards, restaurants, and grocery stores, but work as teachers, lawyers, reporters, nannies, and accountants.

It may surprise you to learn that there are just as many Mexicans in Illinois who were born in America as born in Mexico. In fact, in 2000, 46 percent of all Mexicans in Illinois (531,620 people), were born in the United States.

As you may expect, Chicago experienced the highest influx of Mexicans than anywhere in the state, seeing a 53.4 percent increase (186,005 people) between 1990 and 2000 - growth that certainly isn't confined to traditional Mexican neighborhoods like Pilsen and Little Village.

The suburbs are also seeing spectacular Mexican growth. Cicero's Mexican population increased 176.4 percent between 1990 and 2000 (from 21, 423 people to 59,205); Naperville went from having only 786 Mexicans in 1990 to 2,440 in 2000 (a 210.4 percent growth rate); Waukegan went from 11,524 to 30,441 (164.2 percent); Elgin from 11,550 to 27,787 (140.6 percent), and Aurora from 19,452 to 40,419 (107.8 percent).

Such massive increases in Mexican population across the region was an important one for the local economy, particularly for the City of Chicago, which would have lost population in the 1990s were it not for the substantial increase in immigrant population not only from Mexico but also from Poland, India, and the Philippines. The trend persists today. While the city is believed to have lost total population by 2.9 percent between 2000 (2,800,796) and 2004 (2,719,290), the Mexican population has increased by 6.1 percent during the same period (515,346 to 546,577).

Mexicans have been coming to and continue to come to this country to settle with or without the federal government's approval for a long time. Their presence is an inescapable fact - and an enriching one at that.

Kiljoong Kim is Research Director with the Egan Urban Center and a lecturer of sociology at DePaul University.


Posted by Beachwood Reporter at 3:04 PM | Permalink
The [Monday] Papers
I find today's immigration marches and rallies inspiring. How could they not be? Maybe I'm just a sucker for outbursts of civic engagement, but this is democracy at its best - right in the middle of a public debate over this nation's laws. Democracy at its best - being practiced largely by folks who were not born in America (and many who are here illegally).
How great is that?

Beyond that, many of those participating are not immigrants of recent vintage but those recognizing the immigrant lineage of their own heritage - be it it Irish, Polish, Asian, Russian, whatever. This is the great crazy-quilt of America, marching to help shape the future of this country.
It's sad, then, that President Bush, among others, is not similarly inspired. Democracy overseas is something the president likes to talk about, but encouraging democracy here at home isn't his strong suit.
It is just that void, though, that this movement is filling. This is about more than just writing an immigration bill. This is an explosion of civic leadership forcing us all to acknowledge once again our own immigrant heritage and to consider and re-affirm who we are as a nation. We are a nation of immigrants because America is built not upon ethnicity and race and religious belief - though we have not yet transcended those divisions - but built upon an idea that this is a place where all sorts of people can live together as long as we are all devoted to the freedoms of speech, assembly, and worship.
This is an expression that has been badly missing in this country since the days after 9/11, when this country's leadership took us down a path that turned its back on the best of America's core values and accomplished for ourselves what Al-Qaeda couldn't do by itself - give the world perfectly good reasons to hate us.
Instead of seizing a historic opportunity to lead the world against the religious intolerance and fundamentalism largely fueling not just Al-Qaeda but other aggrieved movements, we started spying on our own citizens, went to war in Iraq for reasons that are still being sorted out, and created a homeland security department pre-occupied with useless color-coded terrorist alerts but unable to respond to a hurricane we all knew was coming that wiped out a treasured American city.
Certainly there is great disagreement about which direction U.S. immigration policy should take. But perhaps this could be a starting point in any regard to relearn what this nation is about and pull ourselves out of the depths of a despairing time, because there's not much else to grasp onto right now.
And that is why, also, I am glad to see kids blowing off school to attend the rallies, unlike the disingenuous prigs who somehow think a single day without school will result in grave consequences in the lives of our children. If this isn't a "teachable moment," then no moment is. For today, these rallies are the best classrooms our students can find themselves in. Attendance ought to be mandatory. This is history, social studies, and economics all rolled into one, holding lessons all of us would do well to learn.
Radio Rally: Gather tomorrow at the offices of the Loop for a march around the building demanding "A Day Without the Immigrant Song."
- Tim Willette
In Today's Reporter
This is an abbreviated version of what we usually do in this space, but there's plenty else for you to enjoy today.
Catch up with The [Sunday] Papers and find out why Dennis Hastert is a phony and Rahm Emanuel is a prick.
Check out the The Weekend Desk Report to find out why George W. Bush haunts the dreams of our very own Natasha Julius.
Brush up on Mexican immigration to Illinois by the numbers.
Read about Warren Zanes of the Del Fuegos in part because it's so fun to say Del Fuegos.
Appreciate the wisdom (and prose) of Jane Jacobs, who knew what makes cities great.
And more.
The Beachwood Tip Line: Where freedom is on the march.

Posted by Beachwood Reporter at 1:38 PM | Permalink
The [Sunday] Papers
The thing about the new Spanish-language version of the national anthem is this: It is beautiful. It is poetry. These people love America.
On Saturday, the Chicago Sun-Times did us all a favor and printed the lyrics, translated to English (via the Associated Press).
("At night they said: 'It's being defended!/Oh say! Your starry beauty is still unfolding.")
And it is.

Tribunal
A guide to the Sunday Chicago Tribune: Skip the big front-page story on "Gender and the Brain" (ugh, almost as cliched as another story extolling the glories of 16-inch softball), but delve into immigrant employment story "Working in the Shadows" and "Bush Team Imposes Thick Veil of Secrecy."
Beachwood special affairs editor Tim Willette also suggests "Vice Squad," from The American Prospect. An excerpt:
"[Cheney's flacks'] job is saying nothing, and saying it often. His press people seem shocked that a reporter would even ask for an interview with the staff. The blanket answer is no - nobody is available. Amazingly, the vice president's office flatly refuses to even disclose who works there, or what their titles are. 'We just don't give out that kind of information,' says Jennifer Mayfield, another of Cheney's 'angels.' She won't say who is on staff, or what they do? No, she insists. 'It's just not something we talk about.' The notoriously silent OVP staff rebuffs not just pesky reporters but even innocuous database researchers from companies like Carroll Publishing, which puts out the quarterly Federal Directory. 'They're tight-lipped about the kind of information they put out,' says Albert Ruffin, senior editor at Carroll, who fumes that Cheney's office doesn't bother returning his calls when he's updating the limited information he manages to collect."
Recommended Elsewhere
The always sensible Ralph Martire on education investment.
The always insightful Carol Marin on aldermen who think they are beyond the law.
The New York Times on the efforts of Rahm Emanuel and Charles Schumer to get more Democrats elected to Congress this fall. (Emanuel's tactics will sound familiar to residents of the Illinois's Sixth District. "Mr. Schumer and Mr. Emanuel harangue contributors, micromanage their candidates, and aggressively court newspaper and television coverage." What they don't do, apparently, is show any concern for citizens.)
Comedy Writing Rights Revoked
City Hall's exploration of a full-scale naming rights program brought out the worst in our humor-impaired local reporters. These don't even come close to being witty or clever or merely amusing.
"Hinckley & Schmidt Water Filtration Plant; Morton's Salt spreaders. The ADT 911 Center. The Geritol Senior Citizen Center. Coke or Pepsi as official beverage. These are just a few of the intriguing possibilities, now that mayor Daley has decided to turn city assets into moneymakers."
- Sun-Times
"The Budweiser Taste of Chicago? The Poland Springs Water Filtration Plant? Who knows? Mountain Dew, Chicago's official soft drink? Could be. Hollywood Casino's City Hall? Penthouse Magazine's Millennium Park?"
- Tribune
Is it any wonder your newspapers are so dreadful?
(Although the Tribune story, by Gary Washburn, opened with a gem: "It turns out the skyway is not the limit when it comes to naming rights for the city of Chicago.")
Gas Groaners
Leave it to a former Tribune editor to conclude that "price gouging has no economic meaning" and that any "intellectually honest" person would see that the increase in gas prices "is our friend."
Leave it to a Sun-Times columnist to patronize those of lesser means as well as fail to see that rising gas prices are just one effect of the new costliness of oil, which impacts virtually all parts of the economy.
Leave it to Walter Kowalczyk and John Passarelli to set them straight. (Midway down the link.)
Baking Soda
"Tom Riley of the White House Office of National Drug Control Policy said it was 'naive' to assume rolling papers are for smoking tobacco. Riley said, contrary to public perception developed in the 1960s and 1970s that pot is a 'soft drug,' the marijuana today is much more potent and addictive. Thirty years ago, the mind altering component THC was 1 percent; today, it's 7 percent and certain hybrids can reach levels in the 20 percent range, Riley said."
- Andrew Herrmann, "Half-Baked Concert Promotion," Sun-Times
"In an early September op-ed in the San Francisco Chronicle, [then-Drug Czar John] Walters wrote: 'In 1974, the average THC content of marijuana was less than 1 percent. But by 1999, potency averaged 7 percent.' This is plain wrong. According to the federal government's own Potency Monitoring Project at the University of Mississippi, 1999's average was 4.56 percent. Referring to Walters' 7 percent figure, Dr. Mahmoud A. ElSohly, who runs the project, says, 'That's not correct for an overall average.'"
"As to Walters' claim that all those '70s hippies were getting goofy on the 1-percent stuff - the basis for his 30-fold increase claim - the number lacks credibility. No one smokes 1-percent dope, at least not more than once. You make rope with it . . . Walters is disingenuously comparing the best pot of today with the worst of yesterday, rather than comparing average marijuana of a generation ago with average marijuana now."
- Daniel Forbes, "The Myth of Potent Pot," Slate
Hastert Hijinks
"House Speaker Dennis Hastert of Ill., center, gets out of a Hydrogen Alternative Fueled automobile, left, as he prepares to board his SUV, which uses gasoline, after holding a news conference at a local gas station in Washington, Thursday, April 27, 2006 to discuss the recent rise in gas prices. Hastert and other members of Congress drove off in the Hydrogen-Fueled cars only to switch to their official cars to drive the few blocks back to the U.S. Capitol." (AP Photo/Pablo Martinez Monsivais)
- submitted by Tim Willette via Kevin Drum's Washington Monthly blog
Note from Beachwood HQ
Catch up with our weekend report, check out new offerings throughout the site, and look for The [Monday] Papers later today.
The Beachwood Tip Line: Even better in Spanish.
Posted by Beachwood Reporter at 9:25 AM | Permalink
The Death and Life of Chicago
A group of clergymen in Chicago, appalled at the fruits of planned city rebuilding there, asked,
Could Job have been thinking of Chicago when he wrote:
Here are men that alter their neighbor's landmark . . . shoulder the poor aside, conspire to oppress the friendless
Reap they the field that is none of theirs, strip they the vineyard wrongfully seized from its owner . . .
A cry goes up from the city streets, where wounded men lie groaning . . .

- from the Introduction to Jane Jacobs's The Death and Life of Great American Cities (1961)

The passing last week of Jane Jacobs, whose The Death and Life of Great American Cities exposed the folly of Establishment urban planning while arguing persuasively for the small, sacred triumphs of organic serendipity from which most great neighborhoods spring, spawned an array of commentaries at times grudging and beside the point, or failed to really connect with conditions today parallel to what Jacobs railed against so many years ago and throughout her life.
By all accounts, Jacobs didn't spend much time in Chicago (though she touted the Back-of-the-Yards neighborhood in her book). Jacobs fled her beloved Greenwich Village for Toronto when it turned sour at the exploitive touch of the trendseekers and the developers who cater to them, as well as the pols who work hand-in-glove with the lot of them.
I find it hard not to think about Jacobs when walking nearly every day on the streets of my once-beloved Wicker Park, to see still more sterile castle condos, inhabited by invisible people hostile to corner taverns and other less-than-shiny storefronts, replacing the humble working-class home or venerable three-flat; to see the buildings divided from the sidewalk by parking lots; to see the forbidding and dominating suburban-styled chain stores snuffing out the last remnants of quaint and original merchantry. I see the city writ small along Milwaukee Avenue, including the adjacent intersection of Beach and Wood, where the Big Tony's ribs and pizza parlor is now the Beachwood Commons condominiums, with balconies for yuppies to lord over a street too dirty for them in its original form; I see a city that does not truly care for its citizens - has it ever? - or for building community, for all the acclaim that goes to the unquestioned redevelopment of its widely acclaimed mayor, as if there were no other path or sensibility that would have "saved" the city; I see a city whose neighborhoods once so unique in character are melding into one giant honeypot for a select few whose pull gives them imperial imperative to push others around like chess pieces.
I see a lot of "extraneous people," as Jacobs once described the poor victims of urban planning, trampled on. They are often those who love the city the most, but have the least means to preserve it, except those qualities which ought to be the currency most valued by the policy makers, whose hidden hands instead drive processes such as gentrification that you are led to believe are "natural"; those qualities being a passion for a neighborhoods, not a way station to the suburbs; a thirst for the stability of roots balanced with a creativity energy for the evolution of unique form; a love - not a fear - of the ordered disorder of street life and the dynamism it brings to urban living, in contrast to the sanitizing "order" of city planners that ironically loosens roots, stability, character, caring, and unleashes its own disorder continually at odds with community. Those qualities are neither appreciated nor in vogue.
The mixed use of light industry, entertainment, small business, and residential dwellings that Jacobs so (rightly) pegged as a key to urban neighborhoods and which once in part defined not just Wicker Park but many city neighborhoods, has largely been vanquished in Chicago, as everything and everyone is put in their place. It is a mistake. The money people are the means, but not neither the beginning nor the end. We are disposing of that which ought to be most valued, and replacing it with that which is most disposable.
Jane Jacobs knew what made cities great. I'm not at all sure that Richard M. Daley does.
Here is Jacobs, for example, on the need for aged buildings, in a passage from The Death and Life of Great American Cities. Look around your neighborhood and try to imagine that the mayor and his team believe the same.
"Cities need old buildings so badly it is probably impossible for vigorous streets and districts to grow without them. By old buildings, I mean not museum-piece old buildings, not old buildings in an excellent and expensive state of rehabilitation - although these make fine ingredients - but also a good lot of plain, ordinary, low-value old buildings, including some rundown old buildings.
"If a city area has only new buildings, the enterprises that can exist there are automatically limited to those that can support the high costs of new construction. These high costs of occupying new buildings may be levied in the form of rent, or they may be levied in the form of an owner's interest and amortization payments on the capital costs of the construction. However the costs are paid off, they have to be paid off. And for this reason, enterprises that support the cost of new construction must be capable of paying a relatively high overhead - high in comparison to that necessarily required by old buildings. To support such high overheads, the enterprises must be either (a) high profit or (b) well subsidized.
"If you look about, you will see that only operations that are well established, high-turnover, standardized or heavily subsidized can afford, commonly, to carry the costs of new construction. Chain stores, chain restaurants and banks go into new construction. But neighborhood bars, foreign restaurants and pawn shops go into older buildings. Supermarkets and shoe stores often go into new buildings; good bookstores and antique builders seldom do. Well-subsidized opera and art museums often go into new buildings. But the unformalized feeders of the arts - studios, galleries, stores for musical instruments and art supplies, backrooms where the low earning power of a seat and a table can absorb uneconomic discussions - these go into old buildings. Perhaps more significant, hundreds of ordinary enterprises, necessary to the safety and public life of streets and neighborhoods, and appreciated for their convenience and personal quality, can make out successfully in old buildings, but are inexorably slain by the high overhead of new construction.
"As for really new ideas of any kind - no matter how ultimately profitable or otherwise successful some of them might prove to be - there is no leeway for such chancy trial, error and experimentation in the high-overhead economy of new construction. Old ideas can sometimes use new buildings. New ideas must use old buildings."
Maybe it's time for new Chicago to use some old ideas.
- with Tim Willette
Posted by Beachwood Reporter at 7:28 AM | Permalink
Warren Zanes Rises From the Del Fuegos Fire
When I think of the very first wave of early 1980s alternative rock groups - the first inkling that there was something beyond the Bon Jovi/Pat Benatar/Van Halen axis of radio evil - I think, of course, of the Replacements. To me, they were the eye-openers, blasting out of the Twin Cities with something akin to a righteous fury, totally rejecting the stranglehold corporations had put on the music industry.
But now that I think of it, right behind them out of Boston came the Del Fuegos. I bought and loved their Boston, Mass. album on Slash Records, which I think made me realize that alt-rock was bigger than just one group: It was a movement. Brothers Dan and Warren Zanes of the Fuegos (as well as their big admirer Tom Petty) quickly did for alt-rock's interpretation of garage roots music what the Replacements for its take on punk - redefined it for decades to come.
Still, until I picked up a copy of Warren Zanes' new solo album, People That I'm Wrong For, on Dualtone Records, I hadn't thought about them for many years. They and the Replacements both set the pattern for that first splash of great alt-rock bands by blazing to glory around 1984 or so, then signing with major labels, earning snide catcalls of "sellout," becoming commercial flops and shortly thereafter petering out as spent forces.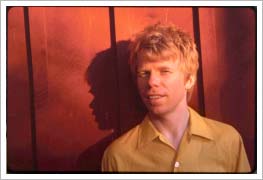 At least the Replacements got to play on Saturday Night Live before they self-destructed. The Del Fuegos, despite a prescient mix of raw and emotional garage sounds and Dan Zanes channeling the Everlys voices, folded so quickly that by 1987 it was virtually all over. But their impact was great - a lot of current garage revival bands owe much to them (just as a lot of alt-country bands owe a lot to another early-80s alt-rock band that mostly got overlooked, Jason & the Scorchers).
I knew that Dan Zanes, who was the main vocalist with the Del Fuegos, had carved out a successful niche as a children's music composer and performer. And I knew Warren, the guitar slinger, got a Ph.D and became a music professor. And with his new album, Warren Zanes is continuing a part-time comeback into the music business between his teaching duties at Case Western Reserve University, raising a family and, oh yeah, being the vice president of the Rock & Roll Hall of Fame in Cleveland.
And then there's the fact that he's a fine writer and author.
His first solo album, 2002's Memory Girls, drew a lot of praise for its lush melodies, hooky choruses and dash of Americana sounds - showing that Zanes had listened to a lot of alt-country in the intervening recent years, as well as not totally giving up his collection of 60s pop records. I've got a feeling People That I'm Wrong For will earn the same kind of praise because it's a continuation of that direction.
Zanes' music draws comparisons in my mind to The Honeydogs, a Minneapolis-based alt-country-turned-lush-pop band, and the Pernice Brothers, who have developed a distinctive style of leisurely, spare, twangy ballads with quiet, nearly whispered lyrics. Indeed, Zanes and Joe Pernice are friends and he gets a shout-out on the liner notes.
Several songs have low-key, haunting, hooky choruses that give a definite thrill, like "Fool the Moon" and "Carrying Me/Carrying You." Zanes' lyrics are literate in an un-showoffy way and mostly about longing for, as the album's title suggests, people and things you can't have. With the occasional pedal steel guitar and horn fills from Jim Hoke, the sound at times veers into both country and 60s pop.
The thing is, I'm not much of a fan of Zanes' quiet vocals. It would be nice if he had a bit more range to supply a missing element to the soaring tunes. Then again there are times when his harmonizing with producer Daniel Tashian is downright pretty.
But mostly, the new album showed to me, an old, old Del Fuegos fan, how when we all came together in a rebellion so many moons ago to spit on the flag of corporate rock, what it was indeed really all about was longing for roots - ones that we're probably still trying to find.
Posted by Beachwood Reporter at 1:07 AM | Permalink